I love a good dip recipe, whether it's for chips, bread, wings, or crackers. Sure, you can pick up salsa and other dips at the grocery store, but if you're ready to take your dip game to the next level, this is the list for you! There's something for everyone on here, from spicy to cool and creamy and everything in between. These recipes are sure to be a hit – they were voted on by our audience! Here are our top 10 5-star dip recipes: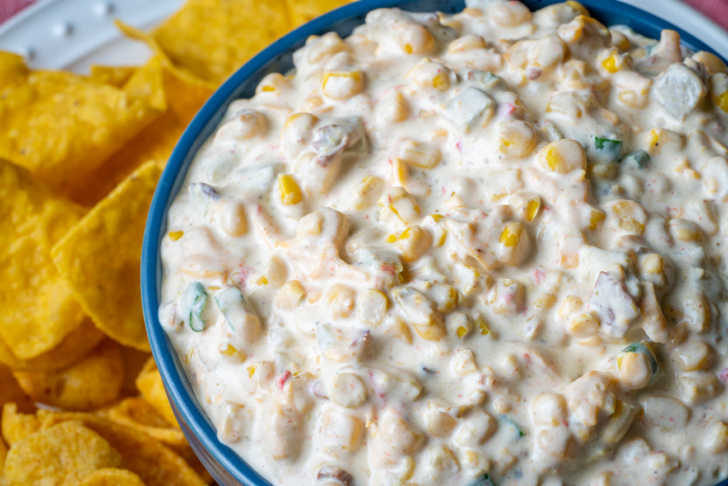 Corn Dip is a party staple, but I haven't yet had one that competes with this version. See, with this Cowboy Corn Dip it's not just about the corn, it's also about zesty and bold flavor that's all folded into an oh-so-creamy base. It's one of those addictive dips that keeps people hovering around the table (and earns you some rave reviews once the bowl has been scraped clean). Get the recipe here!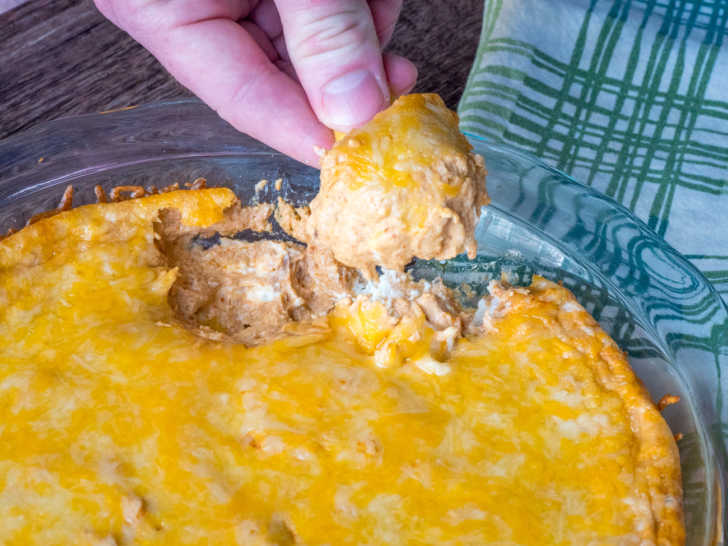 Bean Dip is a party classic and this is the best way we know how to make it. Packed with cream cheese, sour cream, and a layer of melty cheese on top for good measure, it's about so much more than the beans. It's a little bit zesty, very creamy and full of flavor. In other words, it's the kind of dip you're hesitant to step away from at a party because you're pretty sure it'll be all gobbled up when you return. Get the recipe here!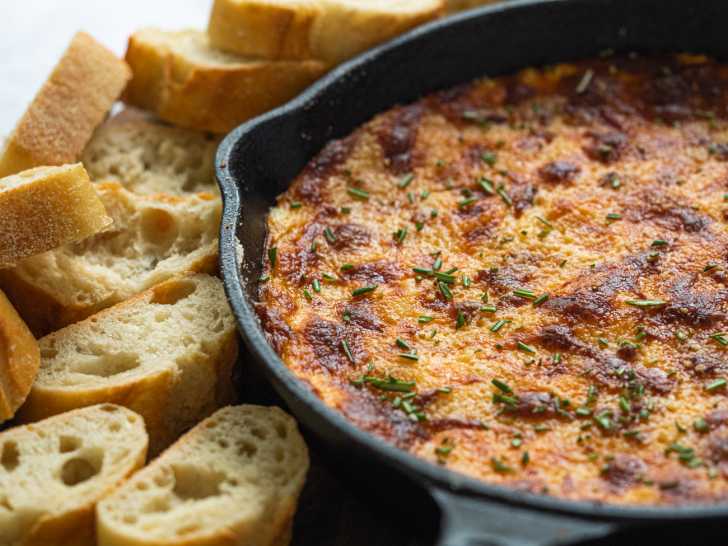 A baked ricotta dip is a simple thing. A few cheeses mixed together with some garlic (and maybe a couple of other goodies) and then baked until it's hot and bubbly and golden brown. It's not gussied up by bacon or breadcrumbs; rather, it's unapologetic in its cheesiness. Our version is tempered by earthy rosemary and bright lemon to keep every bite interesting, but it's still all about the cheesy simplicity that makes it so addictive. Get the recipe here!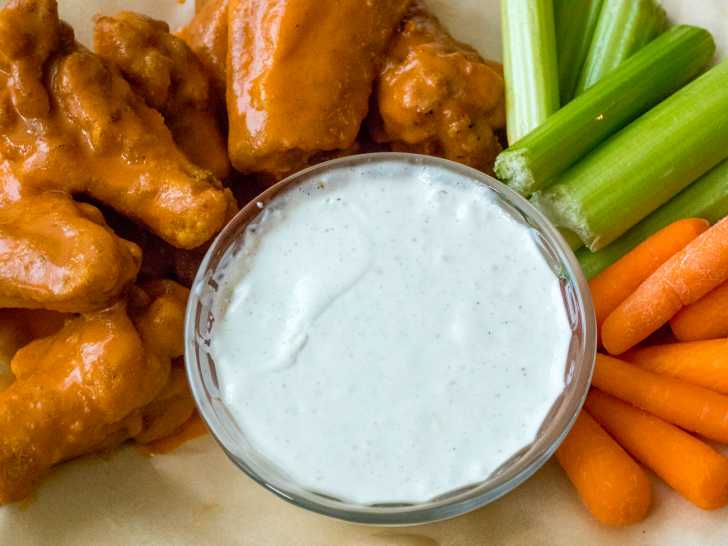 This creamy dipping sauce with a bite of blue cheese is the perfect balance for spicy buffalo wings. It is also great with crisp veggies like carrots and celery. And let's not forget about using this sauce as a salad dressing! There are so many uses for this over-the-top delicious and smooth dip. Get the recipe here!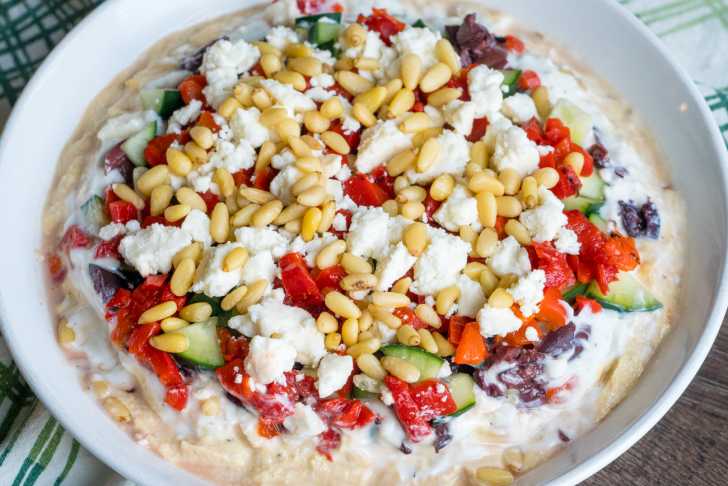 I just love a seven layer dip, a dip so legendary it speaks for itself, with a variety of combinations that typically has some fundamental ingredients, like beans, sour cream, and guacamole. When I find myself looking for creative, healthy takes on some of my favorite snack foods, I look for a way to keep the essence of the original recipe while swapping out healthier ingredients. I still want freshness, good texture, and obviously, some layers. I absolutely love this recipe for a Greek seven-layer dip because it checks all of those boxes. Get the recipe here!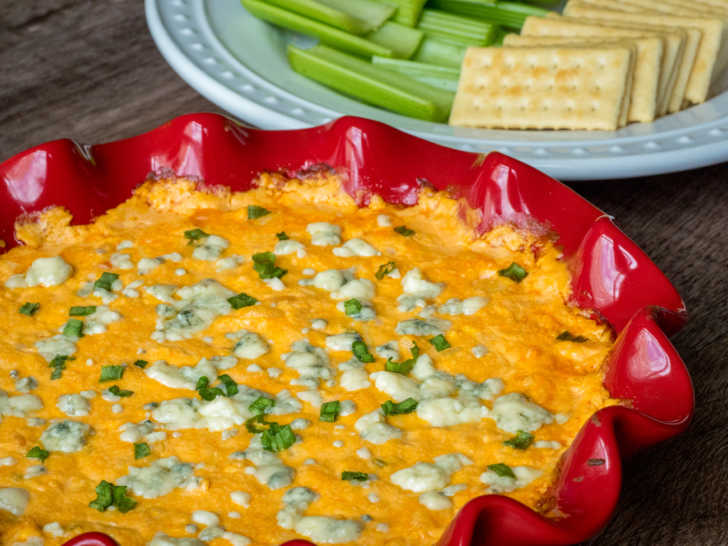 While you might usually see buffalo sauce paired with chicken, I can promise you that it's also the ideal partner to succulent shrimp and this creamy, cheesy, spicy dip proves it unequivocally. With bits of shrimp, plenty of buffalo sauce tucked into a creamy base, and some blue cheese to balance out that spiciness, you could say it's the be-all-end-all of party dips. (But luckily you ever need to limit yourself to just one dip option!) Get the recipe here!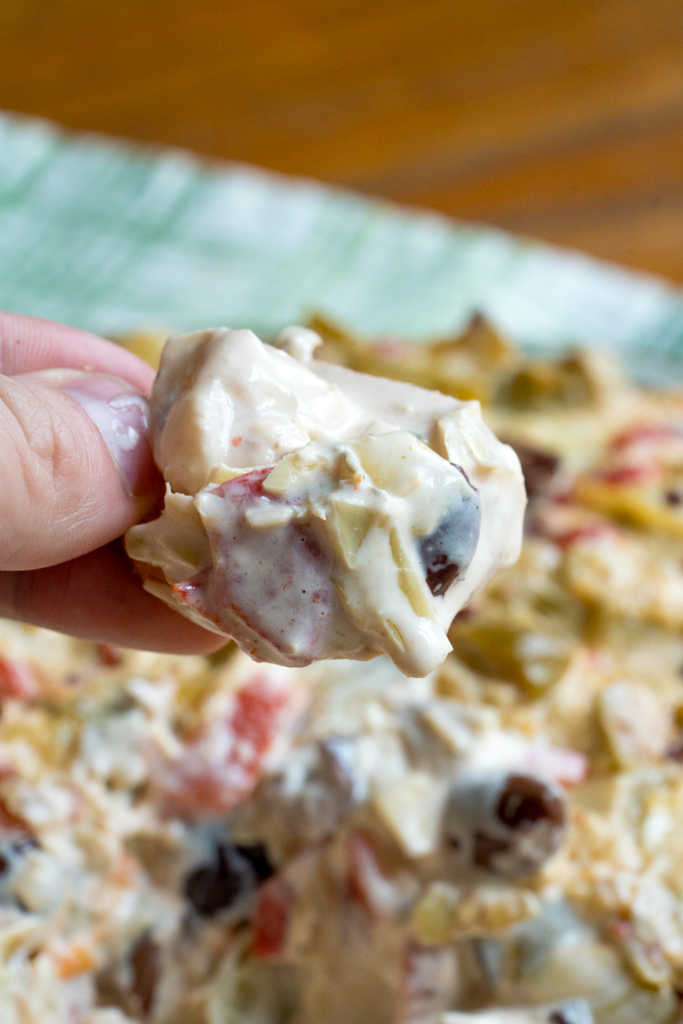 Roasted Garlic Artichoke Olive Dip. I know it's already kind of a mouthful, but I could have fit even more into the name of this dip. I could have added that it's cheesy and creamy and warm… but I had to show some restraint. (But it is all of those things, I promise.) It's chock full of flavor – olives and roasted garlic and marinated artichokes and red peppers and gooey Mozzarella – and it's baked up so the flavors form a nice, cozy union. It's delicious. And it's a dip that always disappears fast. Get the recipe here!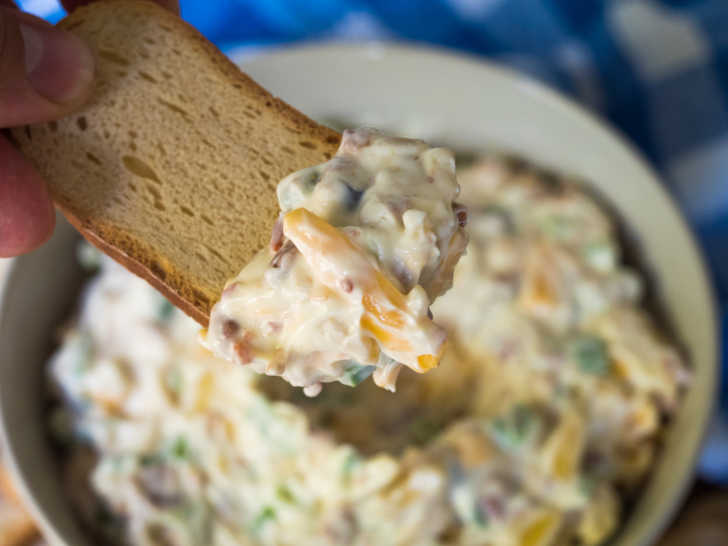 I don't think I've ever come across a cheesy dip I didn't like, but this one is darn near addictive. It's a creamy mayo base that's studded with cheddar cheese, bright green onion, crunchy sliced almonds, and the ingredient that makes pretty much everything better – bacon. There's no need to bake it or broil it or even cook a single thing… It literally takes five minutes to make. Get the recipe here!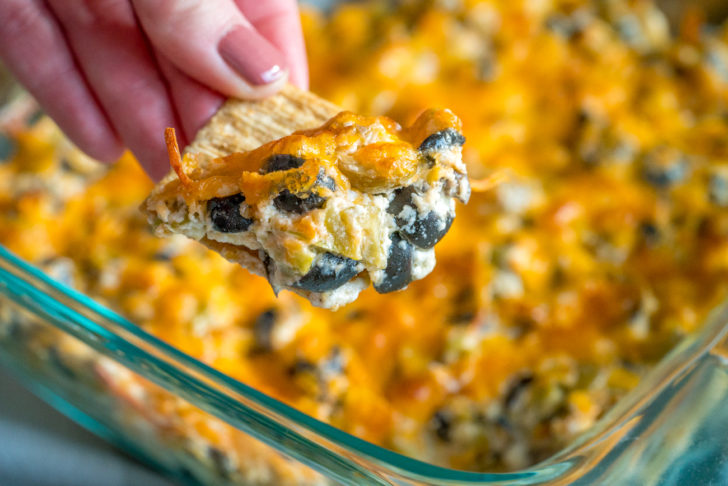 We've made olive dip before that we absolutely loved, but that was mostly just olives and cream cheese – a beautiful combo, surely, but this time we wanted a little more going on in the mix…so we went with a hot-from-the-oven, cheesy baked olive dip that sent our taste buds spiraling. It was so, so good! While you could cut back on ingredients by nixing the garlic and onion powders, we don't recommend that. All the flavors here work so well together and combine to make an all-star dip that will wow everyone every time. Get the recipe here!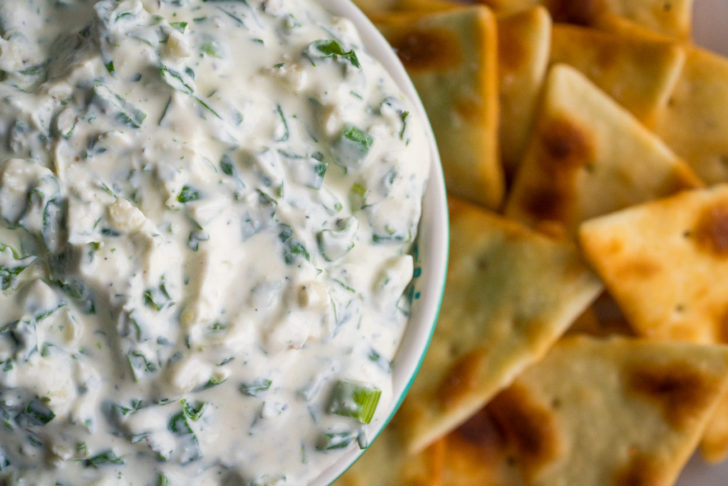 For any of you out there reading this and thinking, ew, green onions (or any onions) are gross, hang on a minute! Onions aren't for everyone, but when combined with parsley, garlic and lemon juice, along with sour cream and, most importantly, cream cheese, you get some serious magic happening. Onions, parsley, garlic and lemon juice give us the super fresh flavor – be prepared for some garlic/onion breath going on – and then the sour cream and cream cheese cut it perfectly and give us the creaminess that is a requisite for any good dip. Get the recipe here!
Try out one of these recipes for your next get-together!
SKM: below-content placeholder
Whizzco for 12T