It's a Mediterranean take on the classic seven-layer dip.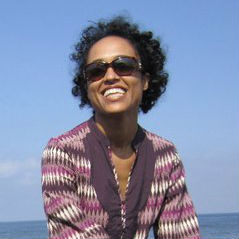 Sarah Cool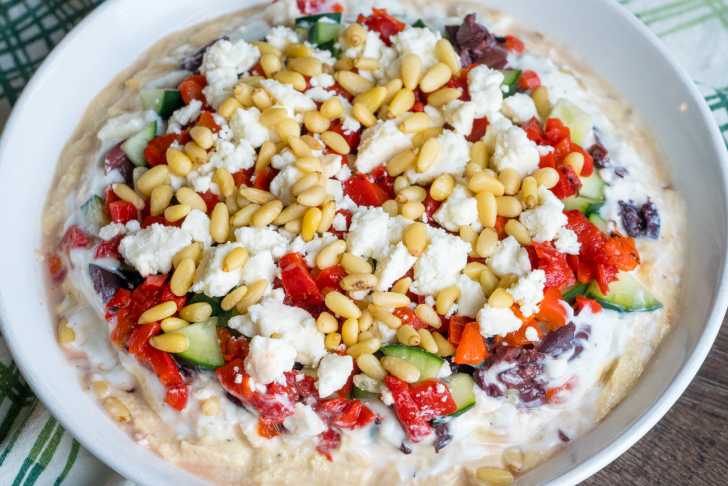 I just love a seven layer dip, a dip so legendary it speaks for itself, with a variety of combinations that typically has some fundamental ingredients, like beans, sour cream, and guacamole. When I find myself looking for creative, healthy takes on some of my favorite snack foods, I look for a way to keep the essence of the original recipe while swapping out healthier ingredients. I still want freshness, good texture, and obviously, some layers. I absolutely love this recipe for a Greek seven-layer dip because it checks all of those boxes.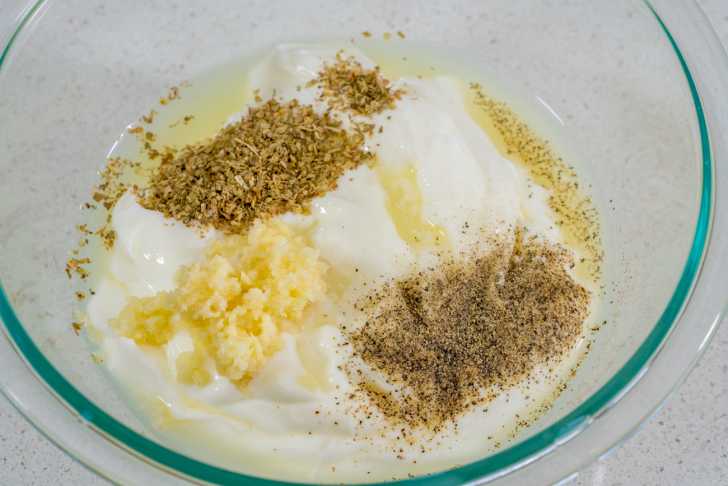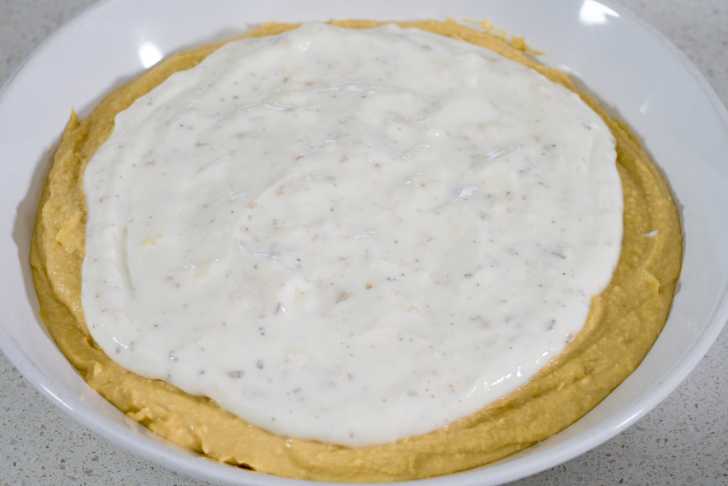 This amazingly fresh and delicious Greek seven layer dip is a healthy take on the traditional recipe. It's fresh, flavorful, and so colorful! Hummus and Greek yogurt make up the first two layers. Hummus is really easy to make on your own, but I find that, especially if I'm hosting, it's just easier to grab a prepared hummus, especially if I will need more than just a few servings. Then cool and tangy Greek yogurt adds a layer of creamy richness, and I like to add lemon juice, garlic, and herbs to really pep up the rather plain flavor of the yogurt.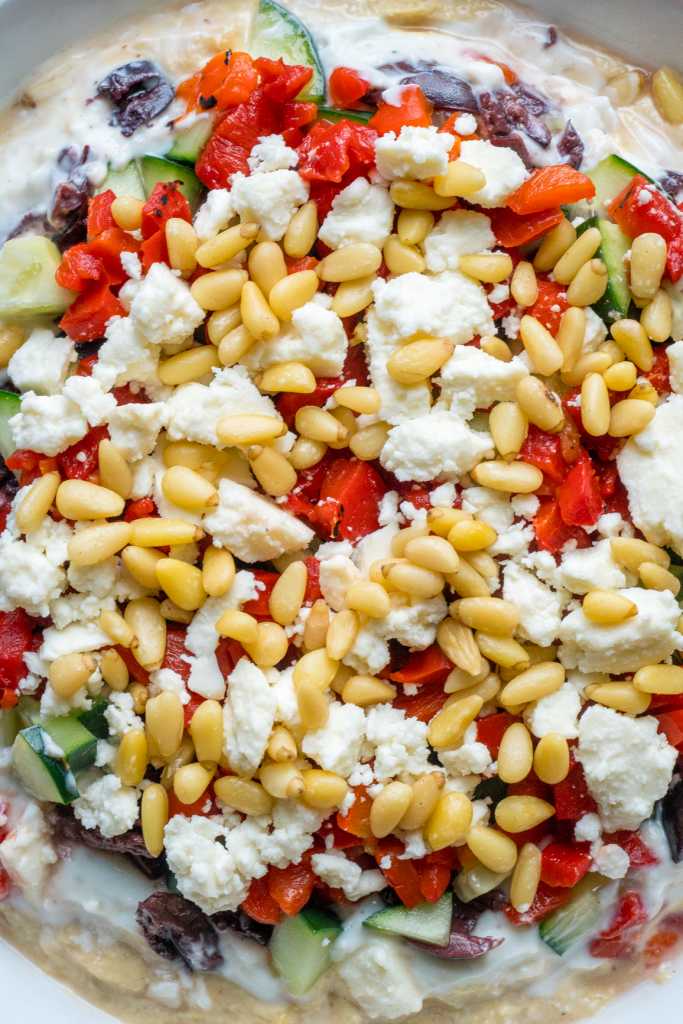 Cucumber, roasted bell peppers, and kalamata olives make up the next layers of this beautiful dip. I like to use English cucumbers when I can because they're seedless and have more crunch. To that cool, crisp cucumber, I'll add roasted bell pepper because it's got a nice smokey sweetness and adds a stunning pop of color. And the distinctive salty bite of those kalamata olives punctuate the dip in a way only these olives can.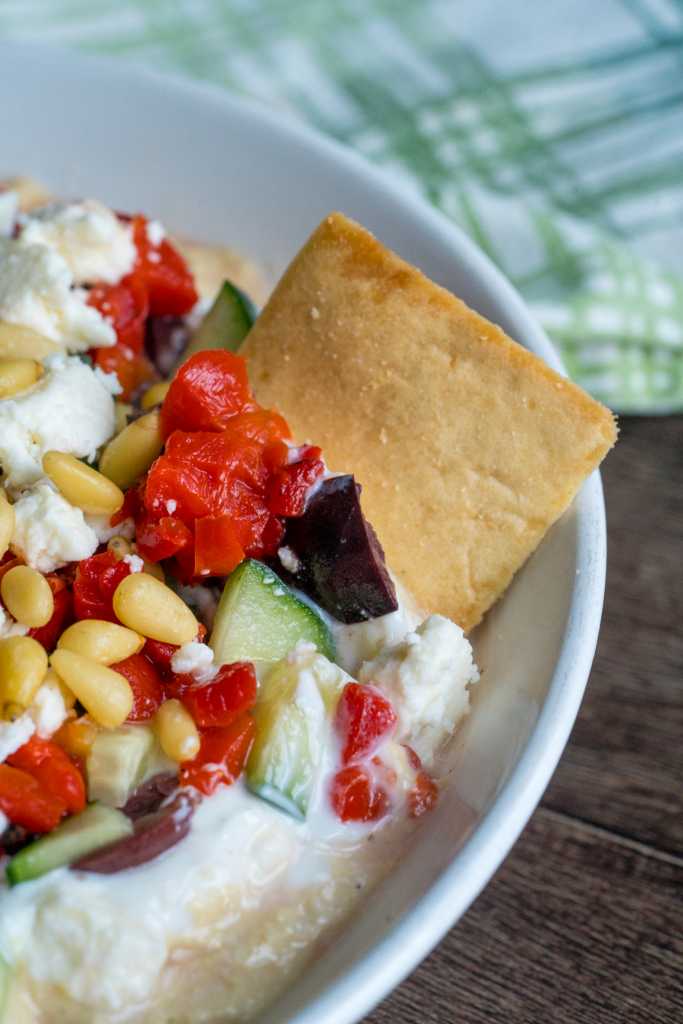 I love the peppery zip of red onion here, and that's the next layer. To balance that peppery onion bite, I add some feta cheese. To garnish the dip, I particularly enjoy to scatter some pine nuts and to serve, I'll drizzle the top of the dip with a generous glug of good olive oil. Now, all I need are some pita chips, just a store-bought box will do, but I also like to toast up slices of fresh pita as well, time permitting.
I'm drooling just thinking about this Greek seven layer dip! It's cool, crisp, full of flavor, and it's a beautiful dip to serve on any appetizer table. The best part is that I'm still able to enjoy all that I love in a traditional seven layer dip but with healthy alternatives that are equally, if not even more, delicious!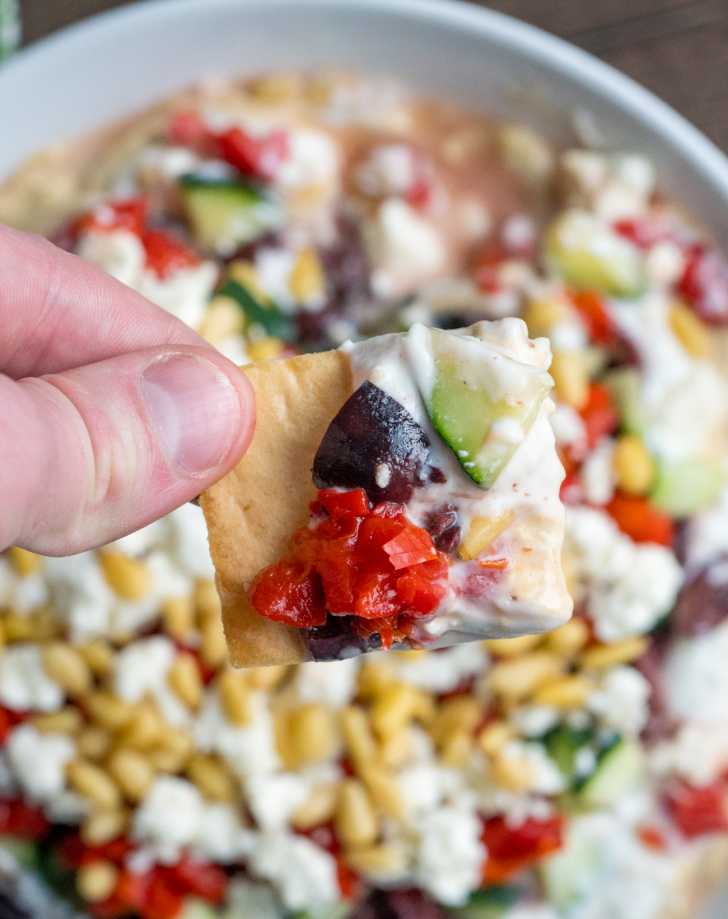 Greek Seven Layer Dip
Serves 8-10
10 minutes active, 2 hours inactive
Ingredients
1 1/2 cups prepared hummus
1 1/2 cups plain Greek yogurt
1 tablespoon fresh lemon juice
1/2 teaspoon dried oregano
2 cloves garlic, minced
1/2 cup cucumber, chopped
1/4 cup roasted red peppers, chopped (drained if canned)
1/2 cup Kalamata olives, pitted and chopped
1/4 cup red onion, chopped
1/2 cup feta cheese, crumbled
2 tablespoons toasted pine nuts, optional
Olive oil, as needed
Kosher salt and freshly ground pepper, to taste
Pita chips, for serving
Preparation
Spread the hummus out on a shallow serving platter or plate.
In a medium bowl, stir together the yogurt, lemon juice, oregano, garlic, and salt and pepper.
Spread mixture over hummus, leaving some hummus exposed around the edge.
Top with cucumber, red peppers, olives, red onion, feta cheese, and pine nuts, if using.
Chill for 2 hours, then season with salt and pepper and drizzle with olive oil before serving. Enjoy!
Recipe adapted from Cooking With Nadine.
SKM: below-content placeholder
Whizzco for 12T