Summer is fast approaching, and with it comes grilling season! Whether you're hosting a BBQ for friends and family, going on a picnic, or just grilling dinner for your family on a busy weeknight, we've got some side dishes you won't want to pass up. These pasta salads are the perfect companion for a freshly grilled burger or chicken breast. Go ahead and check out the list below to find your new favorite pasta salad recipe!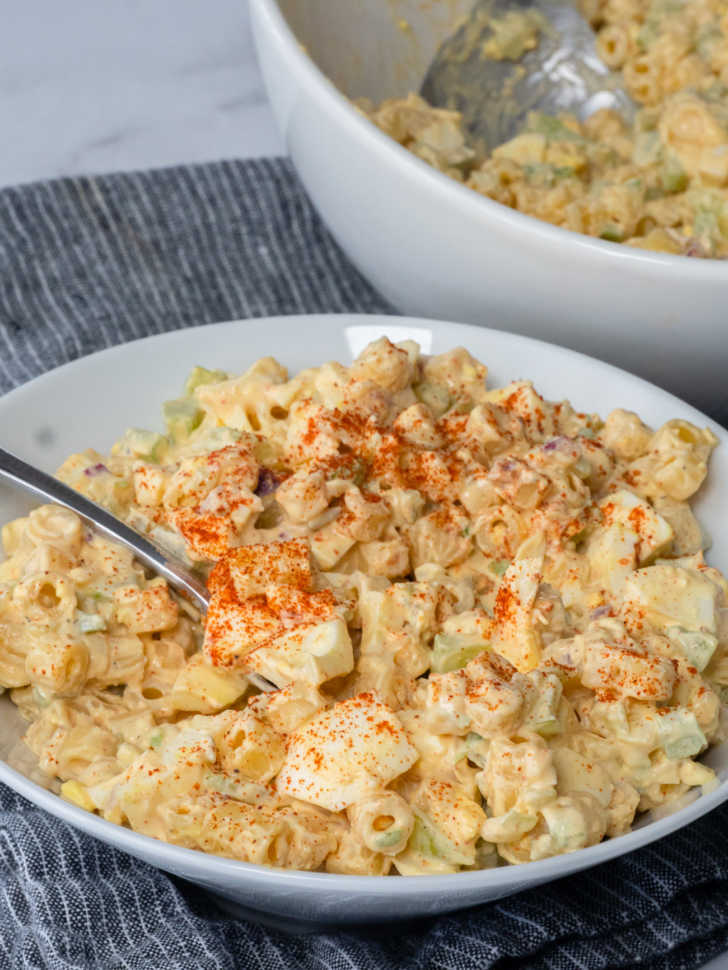 Deviled eggs and macaroni salad are both potluck greats, so why not just go ahead and have both at once? Meet our Deviled Egg Pasta Salad, which gives you that very option. The deviled eggs fit right in with the creaminess of a mayo-based pasta salad while the pasta rounds it out into a more filling option. And the dressing? Well, that has that same classic creamy and tangy deviled egg filling flavor that you know and love. It's a hard side to beat! Get the recipe here!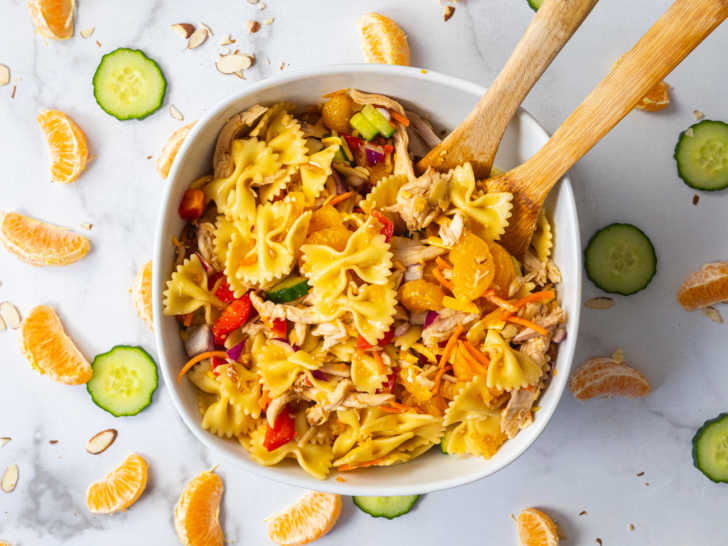 Not only does this salad come together in a snap, it's colorful and oh so tasty. With refreshing cucumbers, crunchy almonds, sweet mandarin oranges, and a tangy homemade dressing, what's not to love about this pasta salad? The perfect side dish for burgers, brats, and kebobs, this is one dish you won't want to miss. Get the recipe here!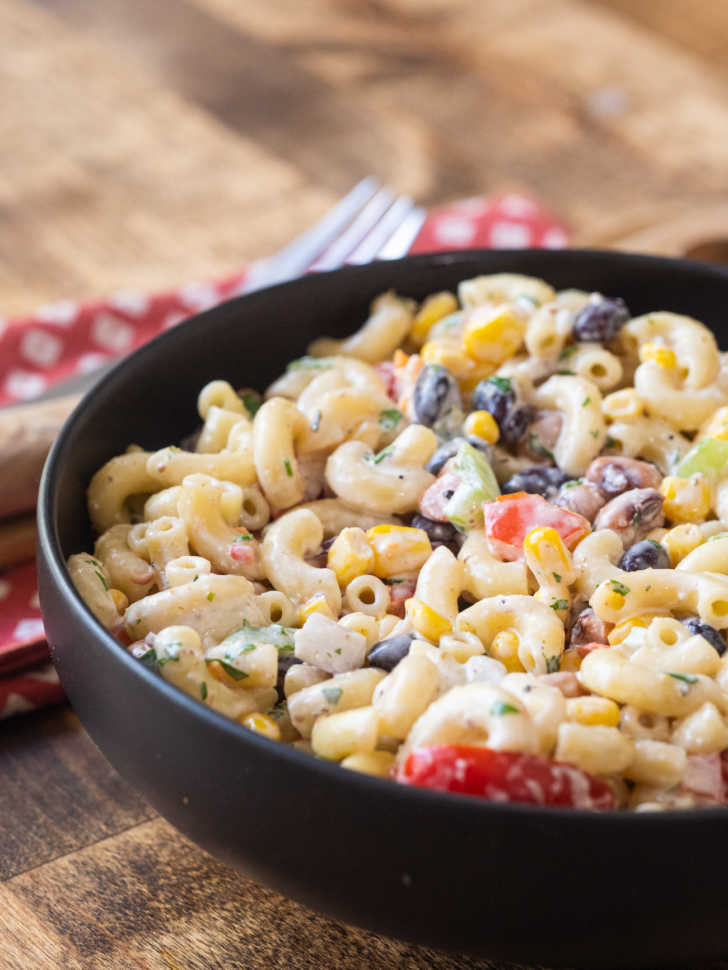 If caviar is not your thing, never fear. Texas Caviar is a far more casual affair and has nothing to do with fish eggs. Usually made up of black-eyed-peas, a few other goodies, a vinaigrette-style dressing, and served as a dip, it's zesty and truly delicious. And it just so happens when you fold it into a creamy pasta salad, even more deliciousness ensues. Get the recipe here!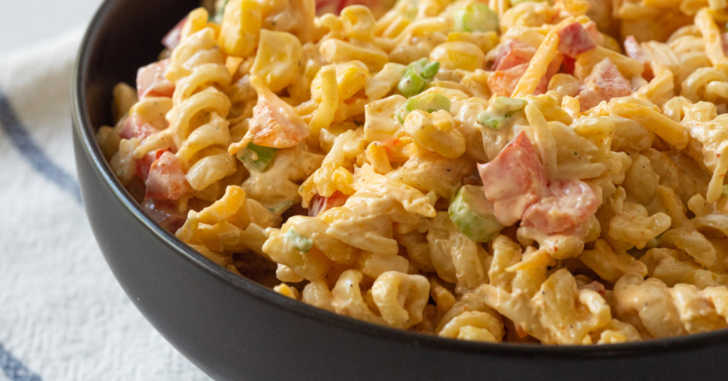 Grill-out season is here, which means it's time to round up your favorite side dish recipes. While there's nothing wrong with a classic, I love to mix things up a bit! So, if you're looking to break out of the traditional pasta salad mold, I've got you covered. This Ranch Taco Pasta Salad is loaded with spices, veggies, pasta, cheese, and of course, ranch! What's not to love about that combo? Get the recipe here!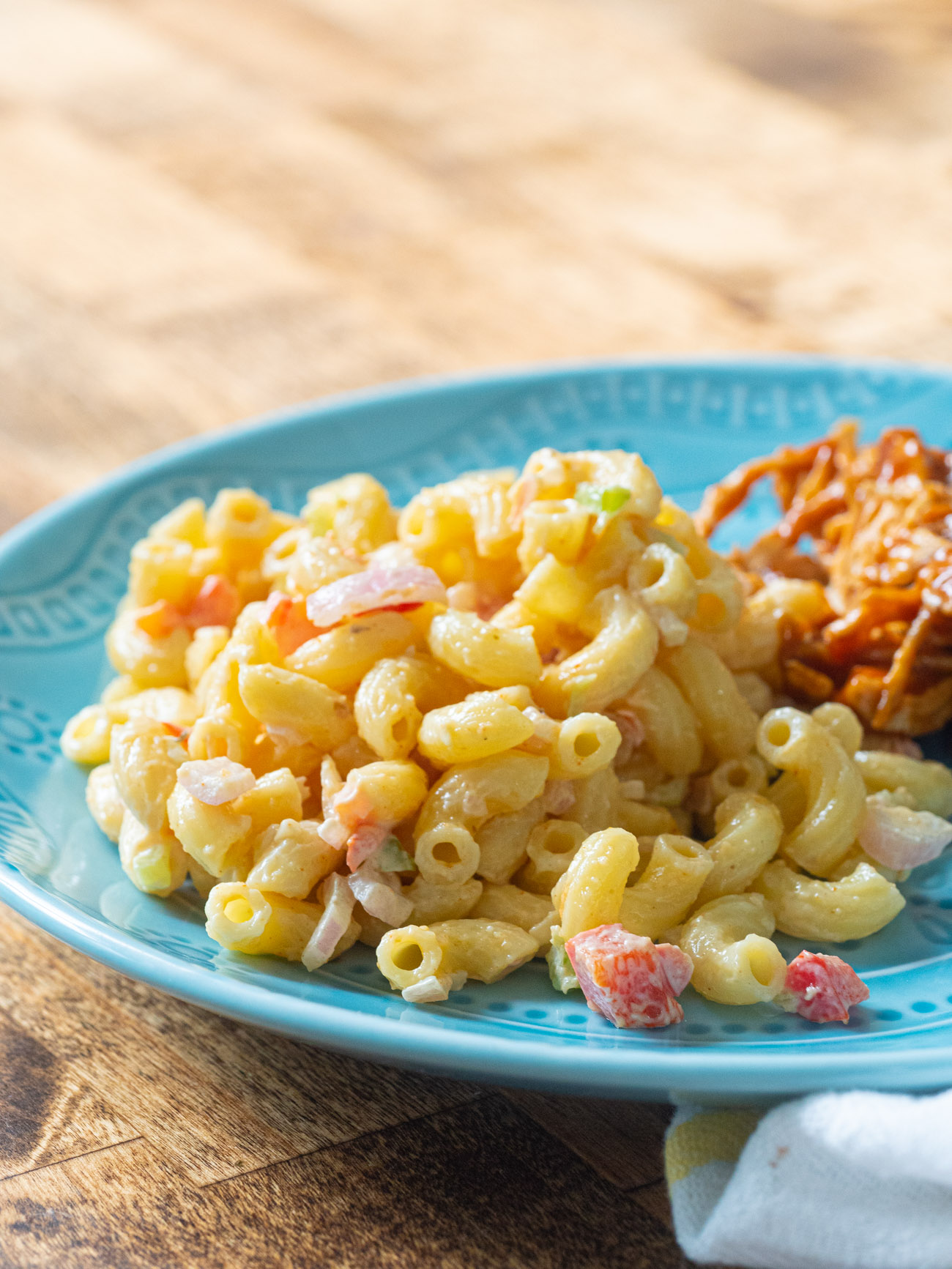 What makes this pasta salad so special is the addition of Cajun seasoning and diced red bell pepper. Combined with the creamy dressing and the crunch of chopped celery, the flavor and texture is simply outstanding. This recipe also calls for 1/2 teaspoon of white pepper, which brings just a little bit of heat to an otherwise tame dish. Get the full recipe here!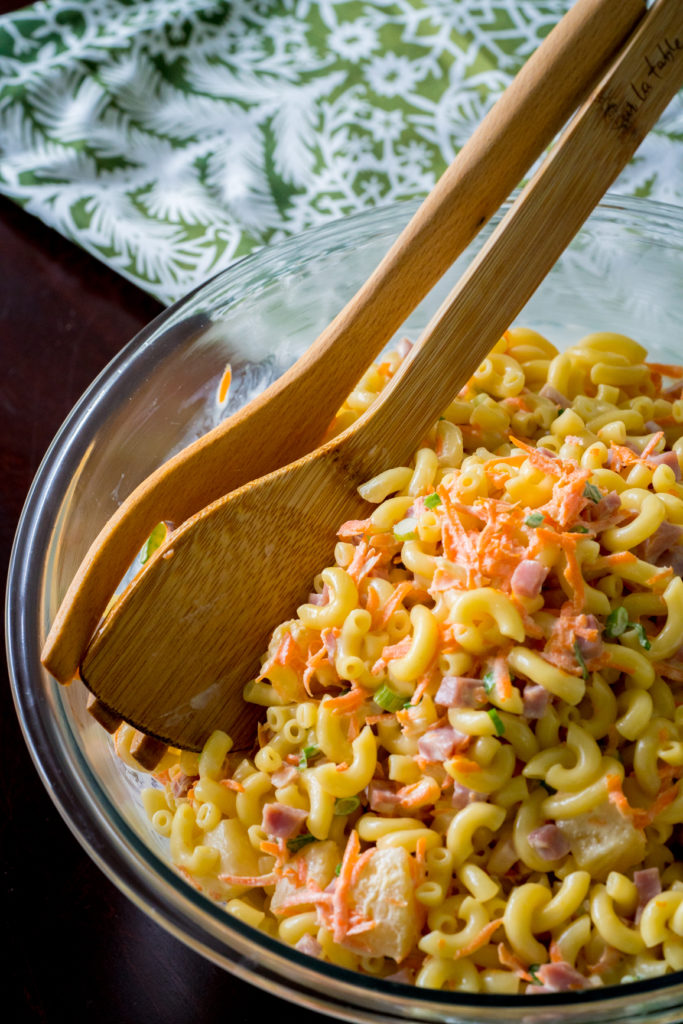 There are still elements of the classic pasta salad version we all know and love, but we incorporated several new ingredients that take this classic side dish to a whole new level. First up, you're going to give your cooked noodles a little apple cider vinegar soak; it smells…assertive at first, but this adds a little zing to the noodles and sets the base for the dish, ensuring it's the flavor-filled and delicious. Then it's just a matter of tossing in the chunks of sweet pineapple, bites of ham, fresh carrots and green onion. Get the full recipe here!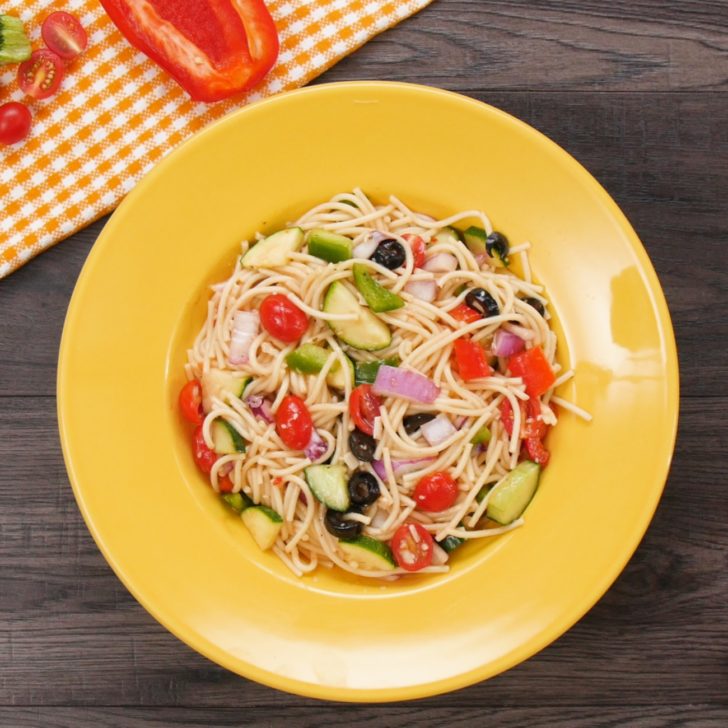 Usually when it comes to pasta salad, the star of the show is, well, the pasta, but that's not quite the case with this colorful dish. This California Spaghetti Salad is loaded with so many garden fresh veggies, and bursting with so many delicious flavors and vibrant colors, it's nearly impossible for them to not steal the show! It's a vibrant and crunchy summery salad that we just can't get enough of. Get the recipe here!
Looking for the perfect summer recipe that you can bring to every pool party and barbecue? We've got you covered. Instead of the heavy, cream-based pasta salads of yore, we've got a lighter, jam-packed salad that's got tons of flavor and is inspired by our favorite savory pie – pepperoni pizza. With noodles as the base, we added plenty of cheeses, tomatoes, pepperoni and lots of seasoning, ensuring that this pasta salad is always delicious and addictive. Get the recipe here!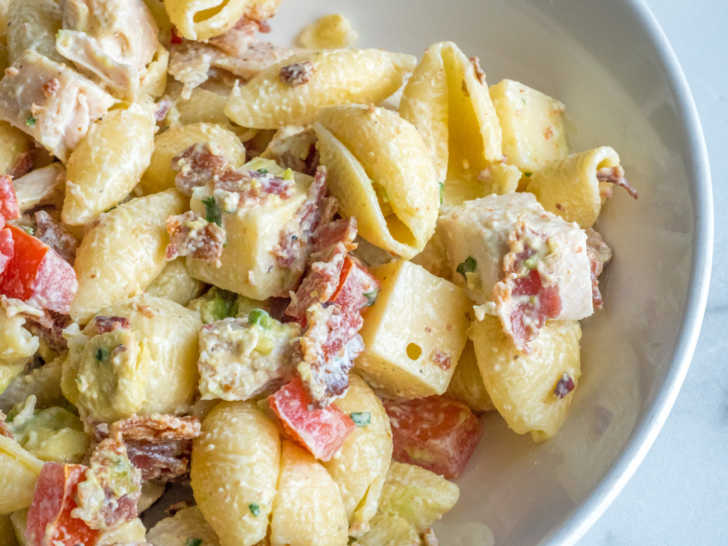 I was today years old when I learned that the "club" in club sandwich stands for "chicken and lettuce under bacon." And I'm a person who has eaten many a club sandwich, but I guess I was too busy enjoying them to stop to think about the name. And they really are easy to enjoy, aren't they? Hearty chicken paired with crispy salty bacon, nutty Swiss cheese, juicy tomatoes, and fresh lettuce all tucked in between a few layers of toasted bread. Yum. This recipe takes those same ingredients (save for the lettuce) and pairs them with chewy pasta instead of the toasted sourdough for a pasta salad that's a more than welcome addition to any potluck or picnic. (It makes a mighty fine lunch, too.) Get the recipe here!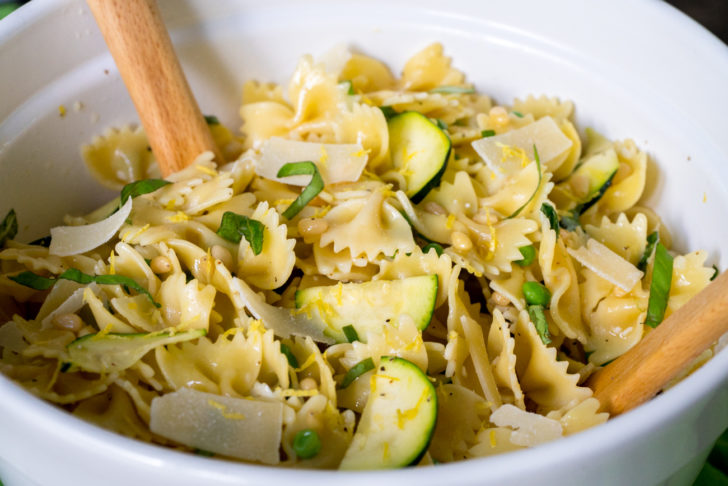 As the weather warms up, mayo-laden picnic salads become an all too common sight. This summer salad, though, is a horse of an entirely different color. It's a bright and cheery pasta salad, tossed in a vibrant lemon-based dressing and studded with thin summer zucchini, sweet peas, and fresh basil. A far cry from the standard macaroni salad, this Lemon Basil Summer Pasta Salad feels sunshiney in and of itself. It's a pasta salad that'll never weigh you down. Get the recipe here!
SKM: below-content placeholder
Whizzco for 12T