Here at 12 Tomatoes, we're all about delicious, flavorful food that's easy to prepare. While it's fun to roll up your sleeves and make a meal from scratch, it's also nice to have some quick and easy go-to recipes for busy weeknights. If that sounds like you, then good news! We've compiled a list of dinners the whole family will love – that start with a can of refrigerated biscuit dough. It doesn't get much easier than that! Go ahead and check out the list below and try out a few of these recipes this week.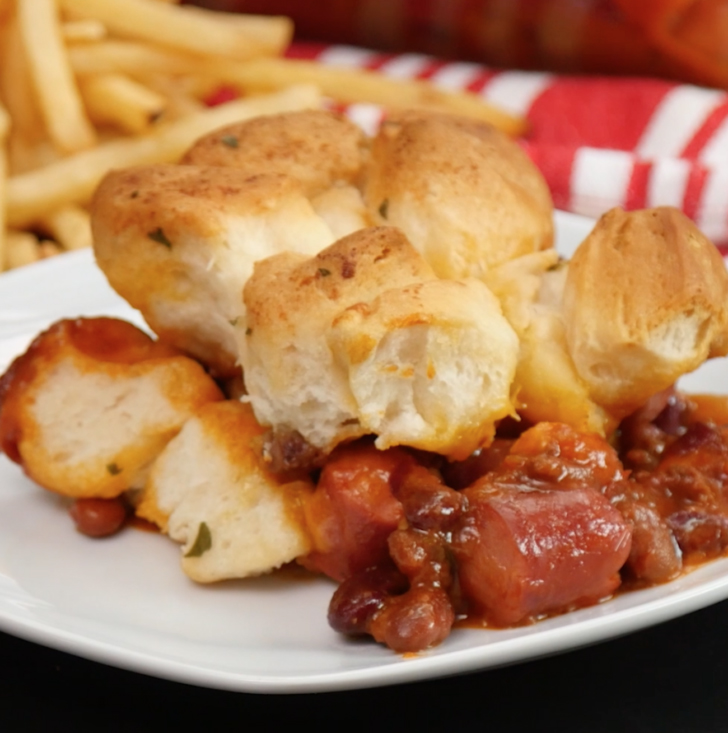 We've all had a chili cheese dog. We all know the delight of a savory hot dog topped with spicy chili and melty cheese. And they are gooooood (albeit a little bit messy). Now, imagine that you take those fine ingredients and combine them in a baking dish where you top them with herb buttered biscuit dough and let it all bake together until it's one bubbly, simmering dish of goodness. Get the recipe here!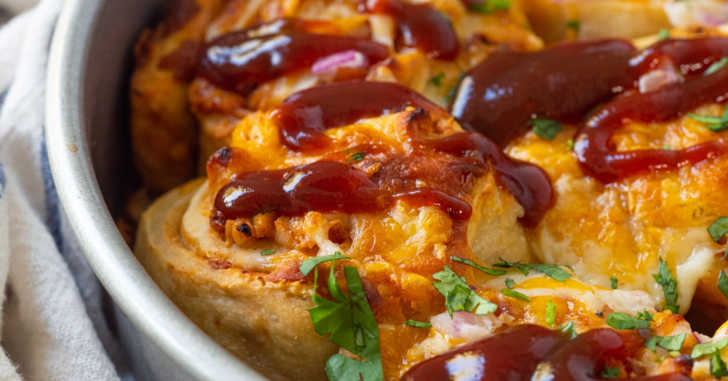 I don't think I'm alone in saying that I love pizza. I especially love homemade pizza, though I don't always have the time (or the energy) to do things from scratch. Enter: Cheesy BBQ Chicken Pizza Pinwheels. This dish is everything you love about BBQ chicken pizza all wrapped up in a fun, easy to make recipe.
There are two kinds of cheese, red onions, bacon, chicken, and of course, BBQ sauce, all rolled up in a delicious, flakey crust with extra cheese on top that's baked to a slightly crispy texture. Pour some more sauce on top and sprinkle some fresh parsley or green onions over everything, and you have yourself a new favorite weeknight dinner! Get the recipe here!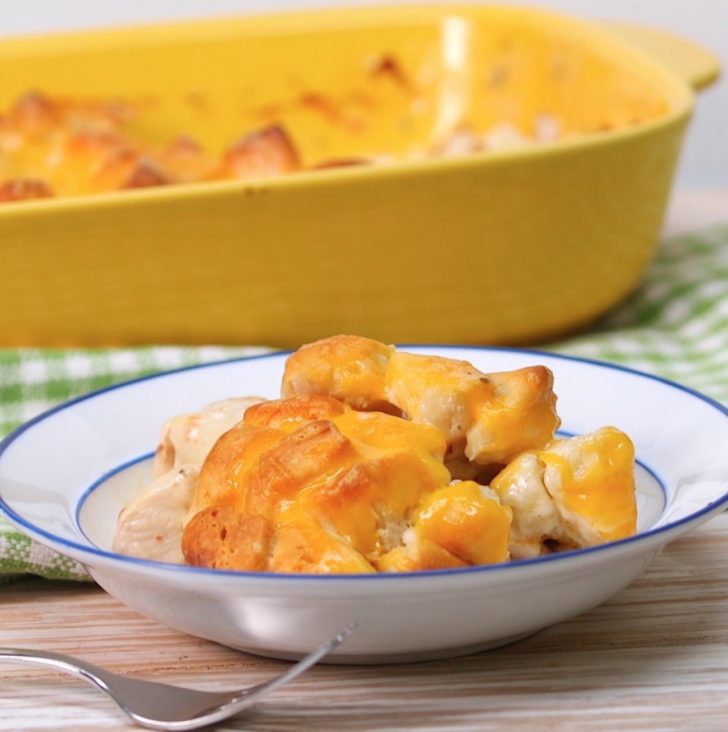 Chicken bacon ranch is a combo everyone loves, and fun dinner couldn't be easier. Cooked chicken is mixed with crispy bacon and ranch dressing in the bottom of a baking dish before it's topped with torn up biscuit dough and baked in the oven. A hearty sprinkling of cheese goes on before it spends a few more minutes in the oven to become all melty and ooey gooey and voila, dinner! That's awfully easy prep for a meal that the whole family raves about. Make this one tonight! Get the recipe here!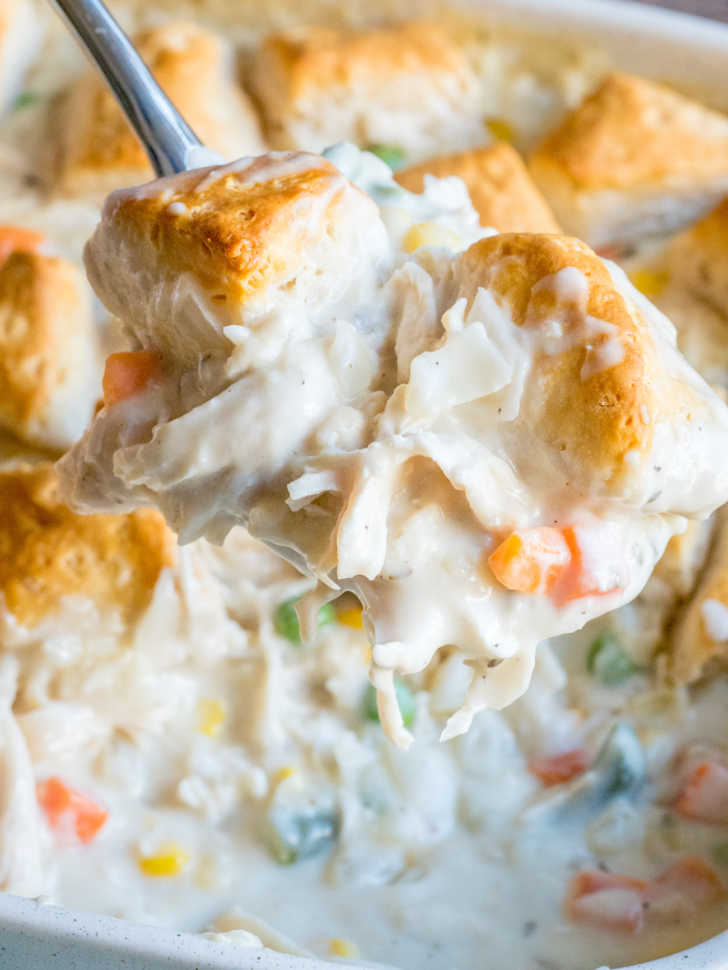 I've always been a big fan of Chicken Pot Pie. It's the perfect comfort food – a bubbly, somewhat creamy sauce full of hearty chicken and veggies topped with a flaky crust. But it's not the quickest thing to make. This "cheaters" version uses a couple of shortcuts (don't worry – no cream of whatever soup!) for a much easier version with all the same delicious flavors. It's just as comforting, just as tasty – it's just much easier on the cook! Get the recipe here!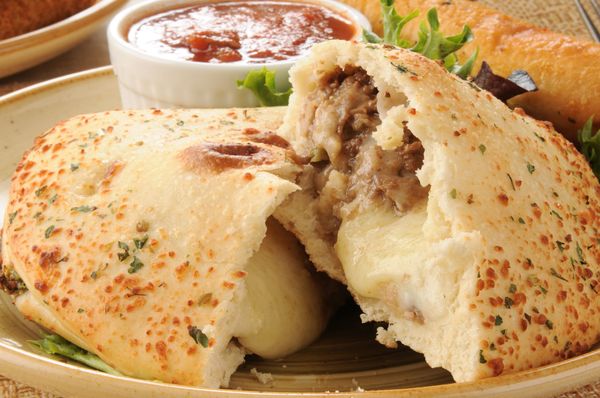 Okay, so this one uses refrigerated pizza dough instead of biscuit dough, but I think you'll agree it still sits firmly in the "easy dinner" category. Plus, it's cheesesteak! Part of what makes the flavor great is the use of cheesesteak ingredients; provolone or American cheese, flank steak and the pre-grilled veggies. Wrap it all up with even more cheese, pop it in the oven and you've got a seriously tasty lunch or dinner! Plus, with this recipe in your arsenal, you can tweak and customize to make a ton of delicious future meals, win-win! Get the recipe here!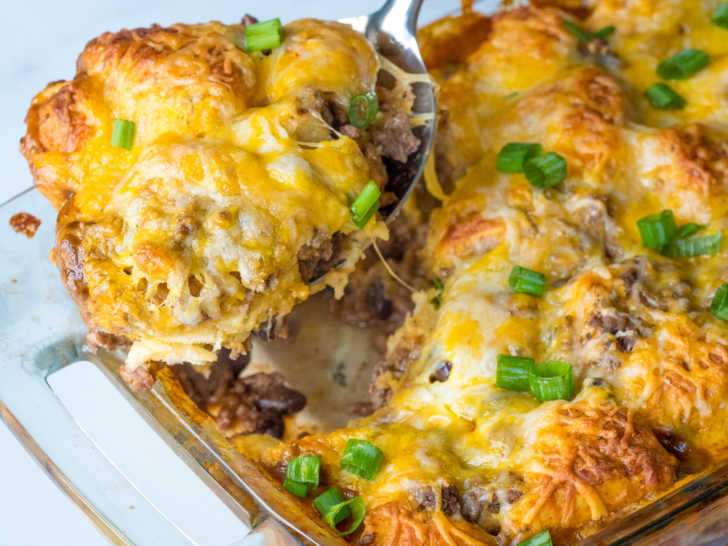 Enchiladas are made with tortillas. I think we can all agree on this. This bake, however, does not feature a single tortilla… so let's just go ahead and call it 'enchilada-inspired.' While it may not be in any way traditional, what it is is a bubble up style bake that makes it super simple to get zesty enchilada flavor on even your busiest weeknight. Since there are no tortillas to roll, it means there's very little prep – but you still get lots of yummy flavor! Get the recipe here!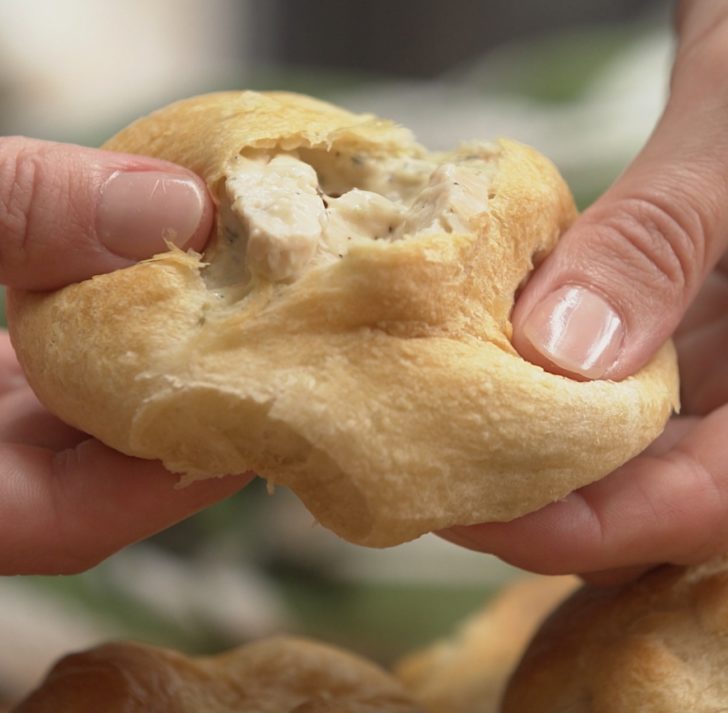 These are satisfying little hand pies and they couldn't be easier. Refrigerated crescent dough makes easy work of the crust and the filling takes just a few moments to mix together. They're great for a snack or even a light dinner – they're like little powerhouses of flavor! Get the recipe here!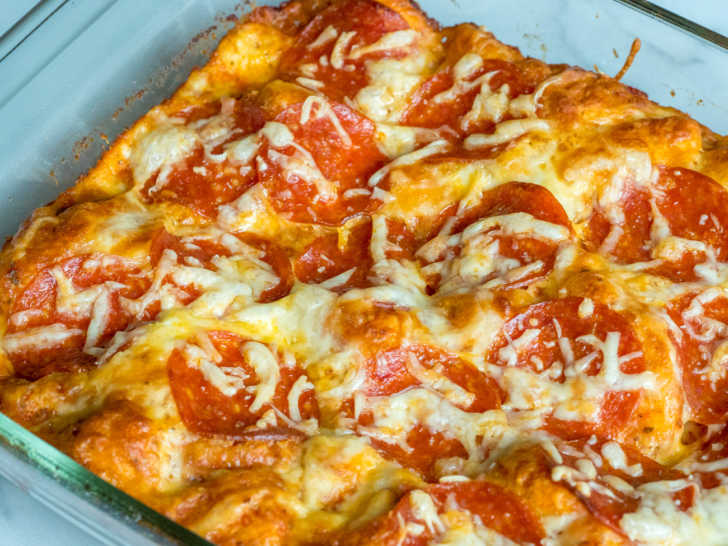 Looking to do pizza night a little differently? Then look no further than this incredibly easy Bubble Up Pizza. What's a Bubble Up, you ask? Well, it's kind of like a casserole… but, an easier, modernized, fun casserole. Morsels of refrigerated biscuit dough (or dumplings, or breadsticks, or even pretzel dough) top a delicious saucy concoction in a casserole dish, and as it simmers in the oven, the dough plumps up and the sauce below "bubbles up" and surrounds the biscuits with flavor. This is our pizza version and it's cheesy, hearty, and delicious and almost too easy! Get the recipe here!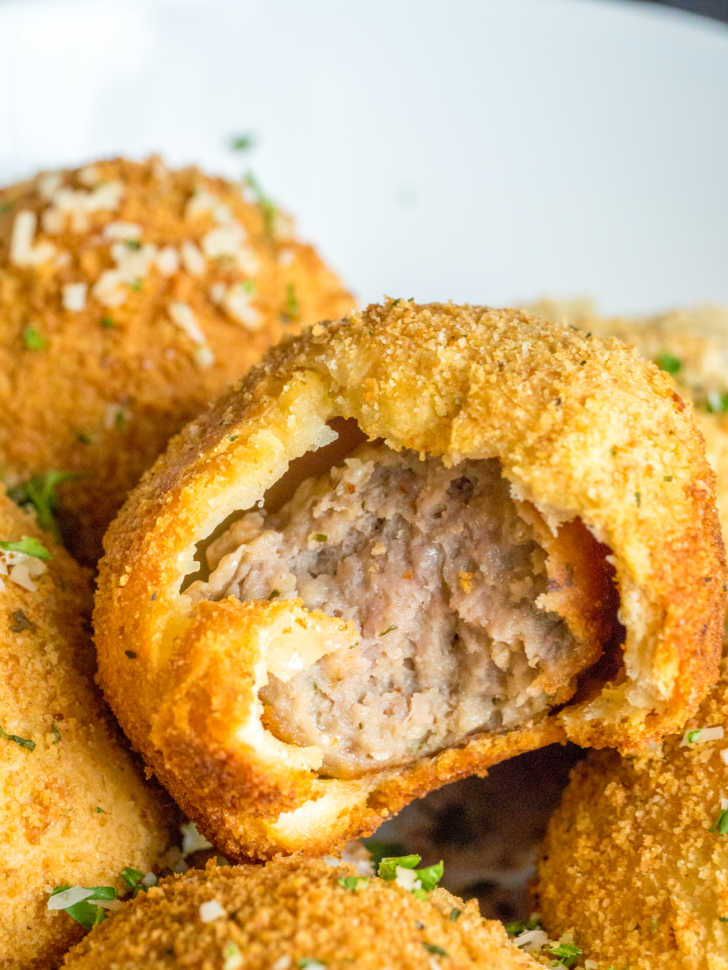 Cheesy. Meatball. Biscuit. Bombs. There's nothing I don't love about the name of this recipe. These bad boys have a crispy, seasoned crust, ooey-gooey cheesy goodness, and a delicious, meaty center. Throw in some marinara sauce for dipping, and you've got an appetizer that's sure to impress any crowd. Or, you can hoard them all to yourself. I get it. They really are that good. Get the recipe here!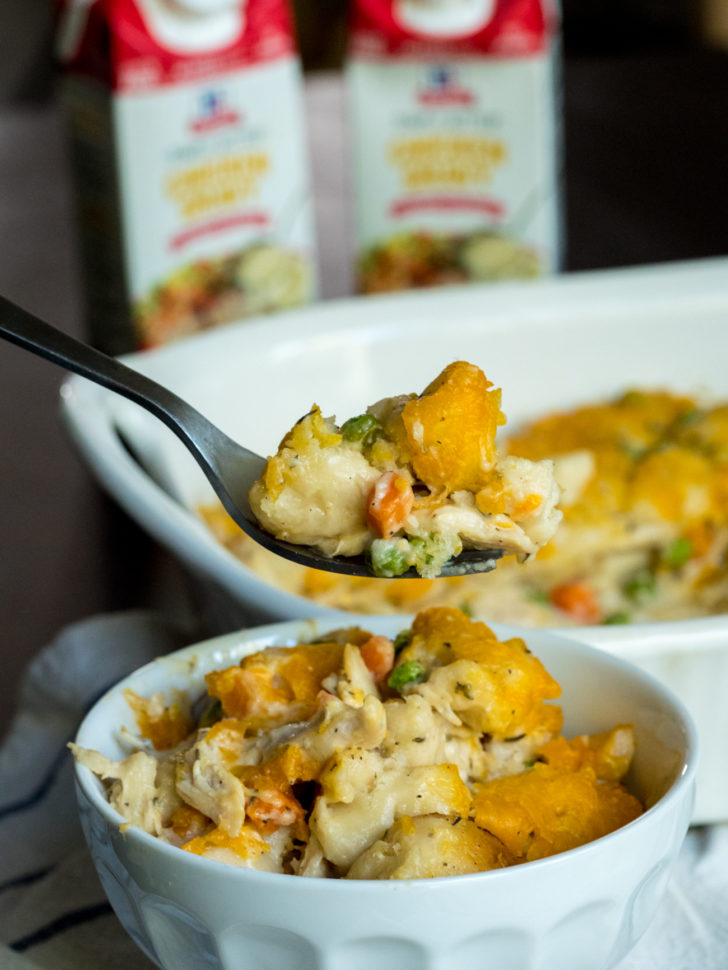 A bubble up is a type of casserole that has cubed biscuit dough incorporated throughout. There's typically a rich and creamy sauce, some form of protein and veggies, and then those delicious pockets of dough that perfectly punctuate each bite. Since this is a pot pie bubble up, we've got all the staples: chicken and peas and carrots. But let's talk about the sauce for a minute, okay? While a traditional pot pie has a homemade, roux-based sauce, we decided to take a little, delicious shortcut to get a thick, flavorful sauce that would save us time and give us tons of bang for our buck. Get the recipe here!
Got a can of biscuits? With these recipes on hand, you'll have dinner on the table in no time!
SKM: below-content placeholder
Whizzco for 12T