Once that first cold day hits, we're totally committed to all the cold weather foods that we can get our hands on (and subsequently get into our bellies). While we love soothing, broth-based soups for when we're sick, it's thick and creamy soups that we turn to when we need warming and filling up. These soups are luscious and dreamy and, while we're constantly on the hunt for and experimenting with new recipes, we rely on time-tested soups when we're in a recipe rut and need something to make for dinner.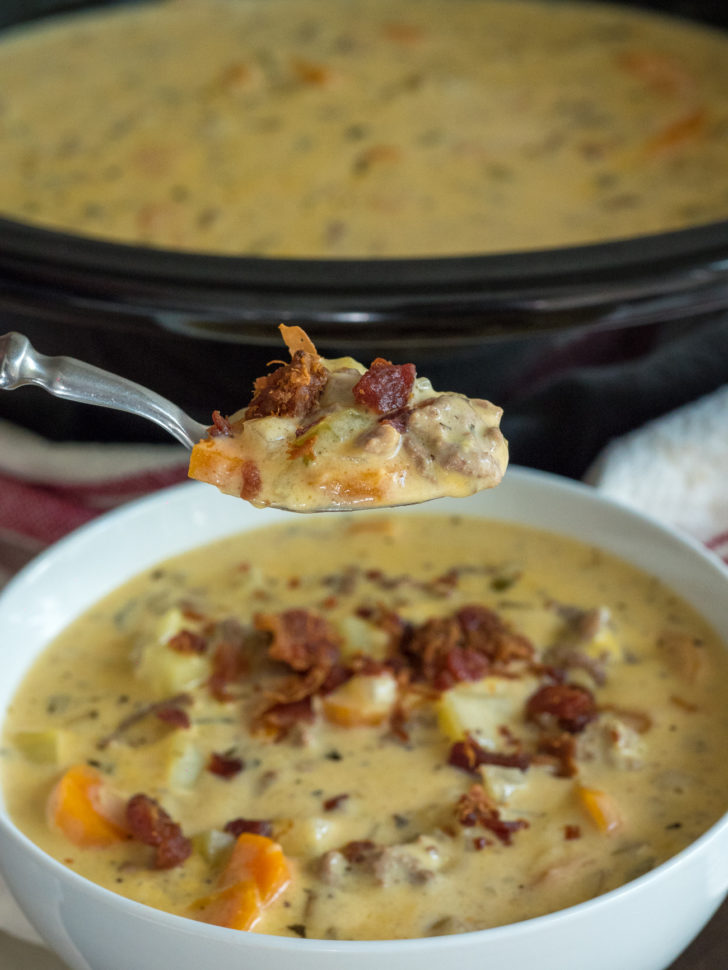 Sometimes you just need a thick and creamy, indulgent soup that will warm and fill you up. Chicken noodle is great and comforting and all that, but that's not what today's soup is about; we're looking for decadence and tons of flavor. Which is how this ridiculously addictive slow cooker cheeseburger soup came about. Now, we've done a slow cooker cheeseburger soup before, but we thought it was time to update it a bit, in regards to one ingredient in particular… Get the recipe here!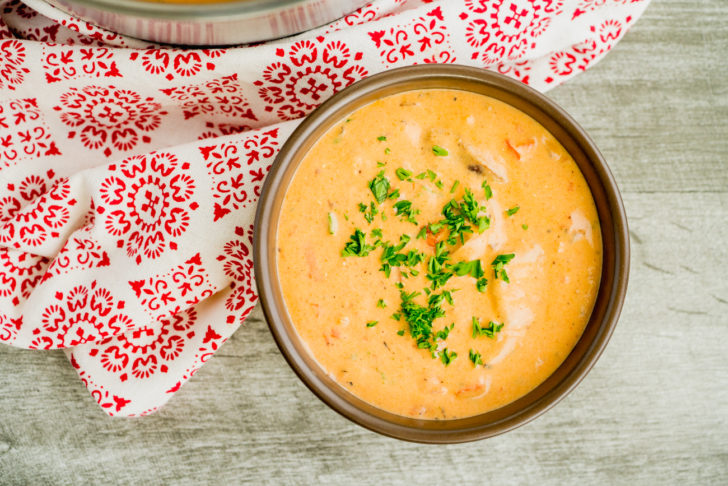 This roux-based soup packs a serious punch that we're totally hooked on, with sausage – you could use ground sausage or link sausage that you slice up into rounds – red bell peppers, fire-roasted tomatoes and plenty of cheese. It's perfect for cold days and something we look forward to making all week. Get the recipe here!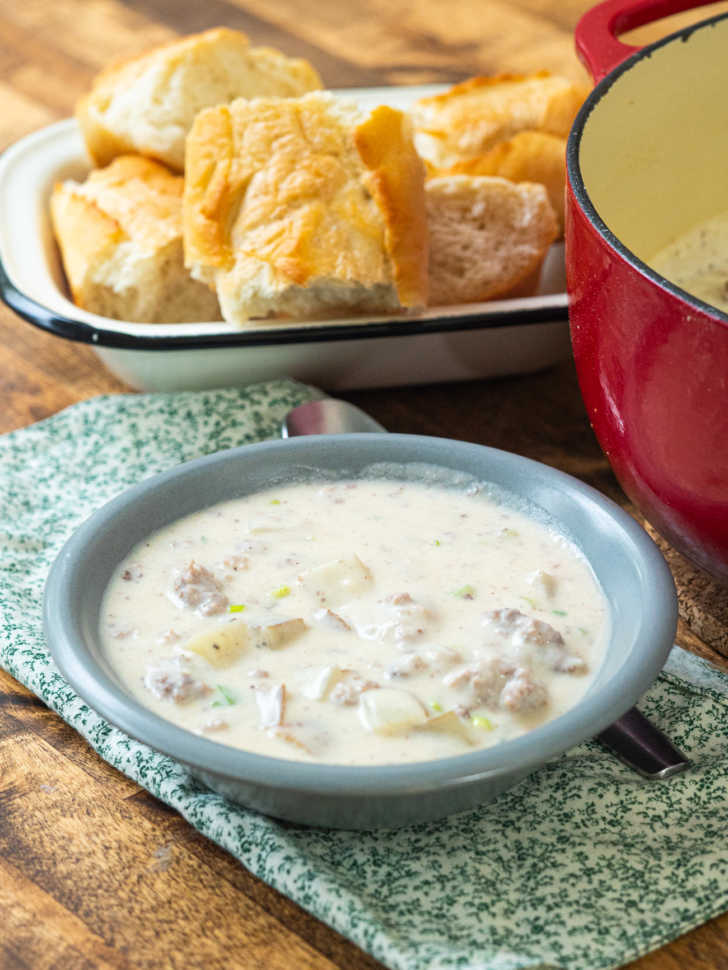 The one thing that we love about the weather getting colder (aside from the holidays and making a good fire) is that our love of soups and stews really gets to shine during the fall and winter months. As the temperatures drop, the desire to have a hot and savory soup for dinner goes up. And, there's nothing like homemade. Plus, this recipe for leftover meatloaf soup uses up what you've already got in the fridge, making it a double win. Get the recipe here!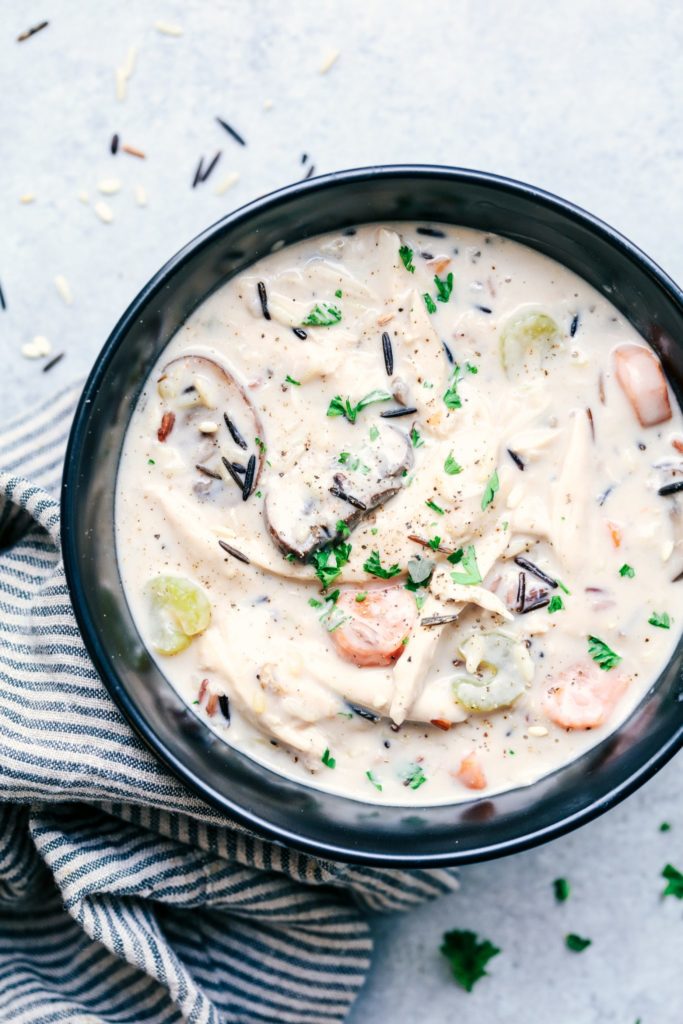 This soup is perfect for using up that leftover turkey from the holidays. And it has a secret ingredient that makes this soup rich, and full of delicious turkey flavor. McCormick's Simply Better Turkey Gravy. I have loved using these ready to serve gravy mixes in my recipes lately. They add quality flavor and the spices are already packed inside. It is so easy to just pour the gravy into the soup. The result was a thick and creamy soup that my family couldn't get enough of. Get the recipe here!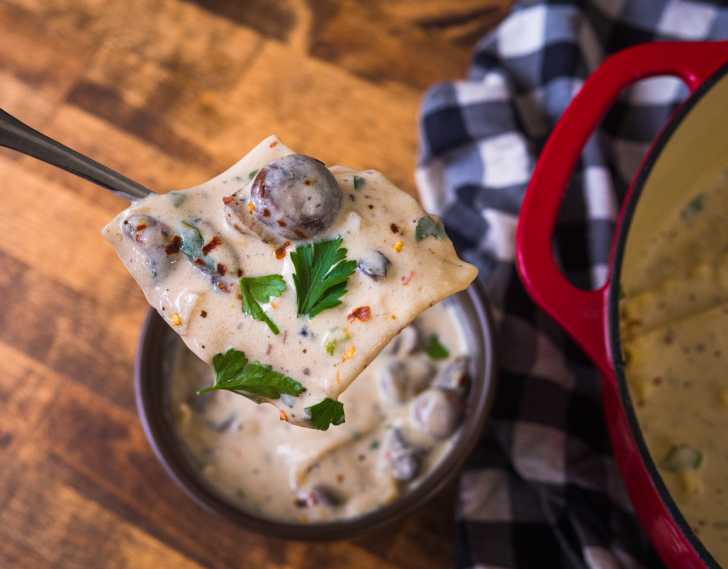 I love garlic. So much so, that when I see a recipe call for 2-3 garlic cloves, I'll often throw in an extra clove or three. For those who are in the same, garlic loving boat, this recipe is for you. This lasagna soup recipe is a bit of a twist on the traditional, red meat sauce lasagna, opting instead for alfredo sauce and veggies. Don't let this meatless meal deter you! I promise it's plenty filling on its own. Get the full recipe here!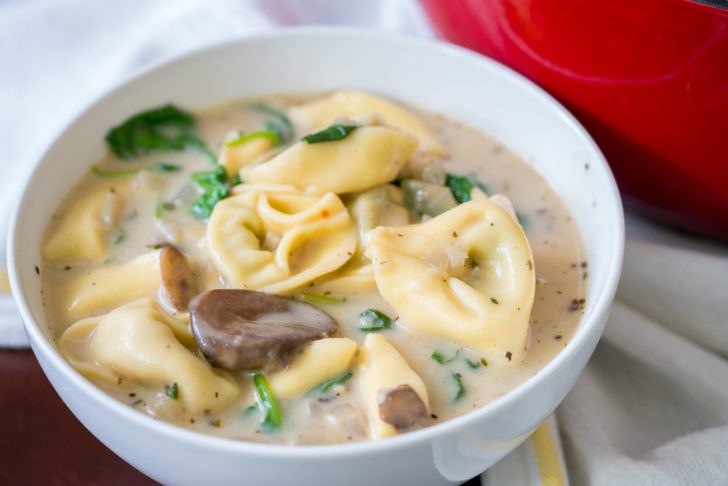 We don't know how this always happens, but we always fall into the pattern or forgetting how delicious and versatile tortellini can be! We only ever think to make them as a traditional pasta dish, but really there are so many more options. Basically unlimited soup options and we are most excited about this one that we made the other week. Creamy parmesan spinach mushroom tortellini soup to be exact. This stuff is creamy, flavorful and delicious, and we can't get enough. Get the recipe here!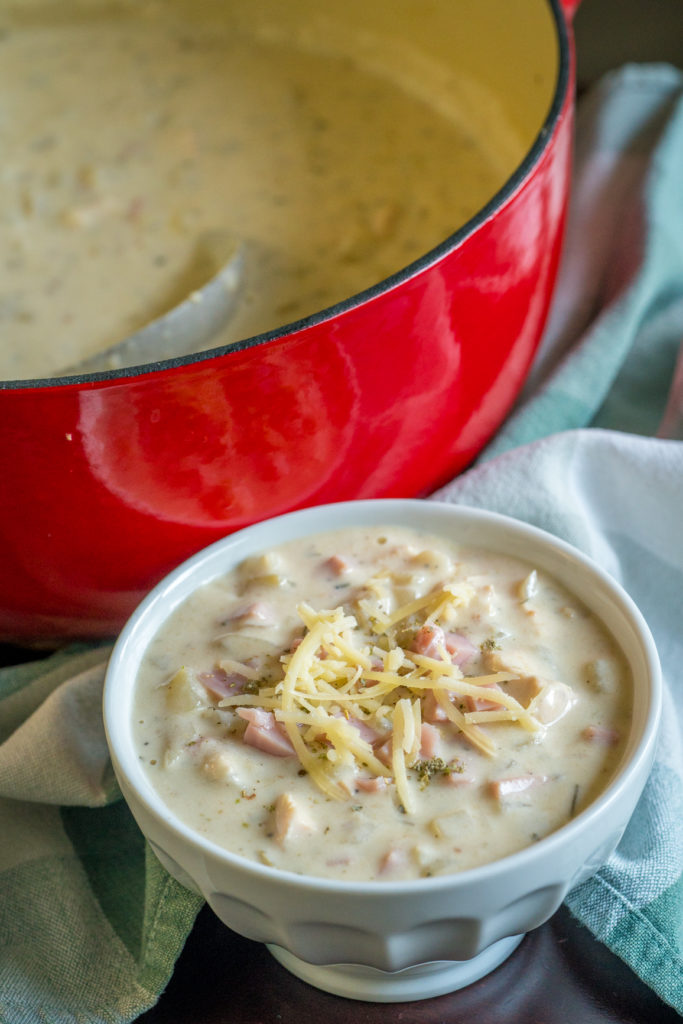 This hearty soup has chicken, ham, and Swiss cheese, but we also wanted to beef it up a bit, so we added potatoes and onion, then seasoned it with plenty of garlic, Dijon mustard and parsley, for a bit of bite and freshness. As for making this as thick and creamy as possible, we started with making a roux that gets stirred in at the end and really thickens the soup up and makes it extra hearty and filling. You'll want to whisk the flour into the melted butter and cook that until it's nice and golden, then you'll pour in the whole milk, whisking and cooking it until the mixture thickens. A roux is perhaps not the most appetizing thing on its own, but knowing how good it makes the finished product gets us super excited – this soup is so tasty! Get the recipe here!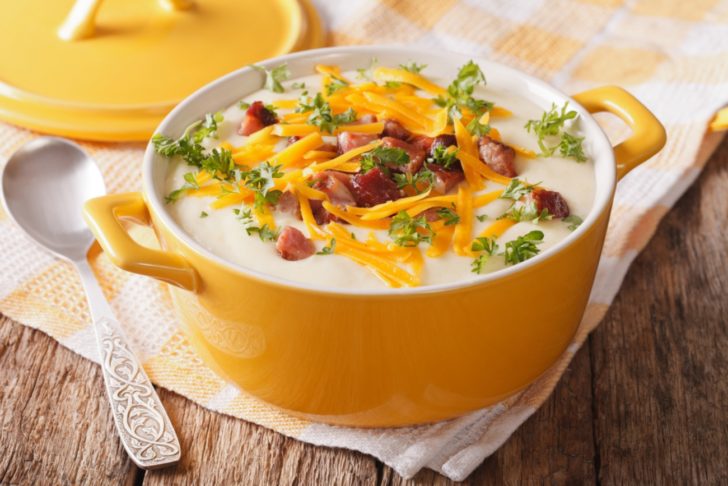 Rich, creamy potato soup is at the top of our list of ultimate comfort foods, especially when the temperature starts to drop. We're thrilled with this recipe because it's not just easy…it's fast, and it's delicious. Cream cheese really gives this soup a satisfying richness, and salty chunks of pancetta add wonderful flavor and texture. Get the recipe here!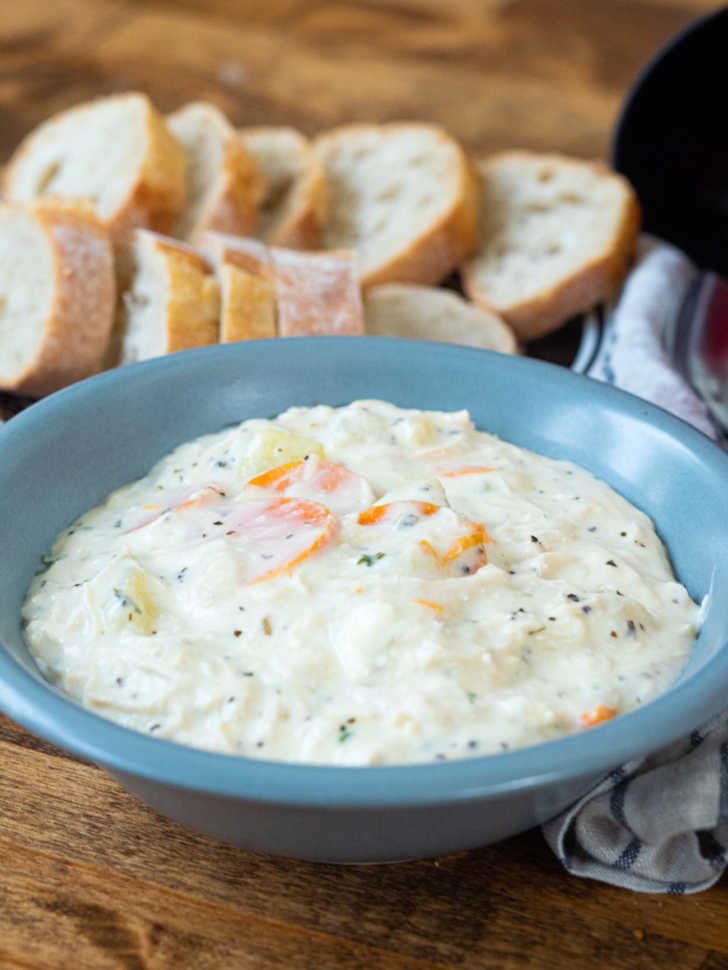 I used to think soups required hours of simmering and a delicate blend of seasonings to really bring out the flavor. While those things can help for certain recipes like chili or anything you'd make in a slow cooker, there are tons of soup recipes without a laundry list of ingredients. Adding on to that, there are lots of recipes that only take 30-45 minutes from start to finish. For example, this Cream Cheese Chicken Soup. Get the recipe here!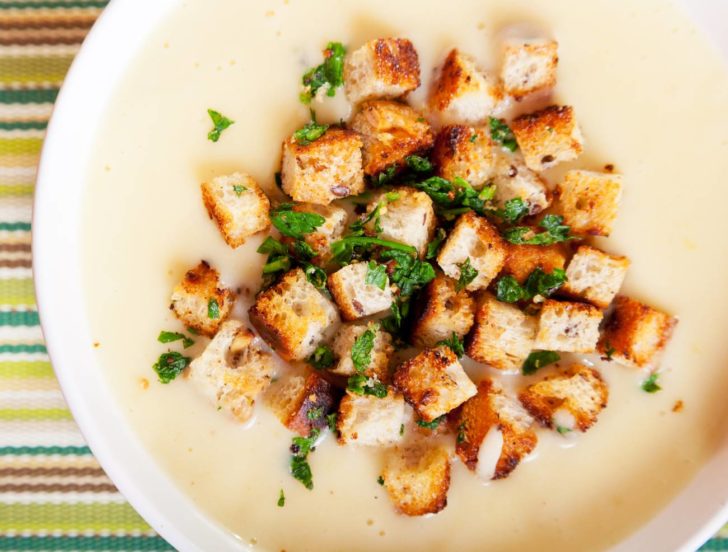 When it comes to the fall and winter seasons, soups are one of our favorite ways to stay warm and cozy. A canned soup is great, but we love to put a little homemade spin on our staple canned ingredients, so we took a few cans of beans and turned them into a rich and creamy soup that is sure to fill the belly with goodness. Oh, and did we mention homemade croutons? We could easily buy a bag at the store, but these fresh croutons make all the difference and they're super easy. Get the recipe here!
SKM: below-content placeholder
Whizzco for 12T