If you're looking for thick and creamy, this is it…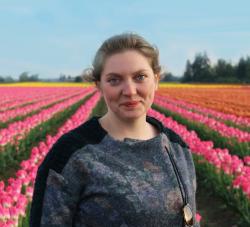 Decatur Macpherson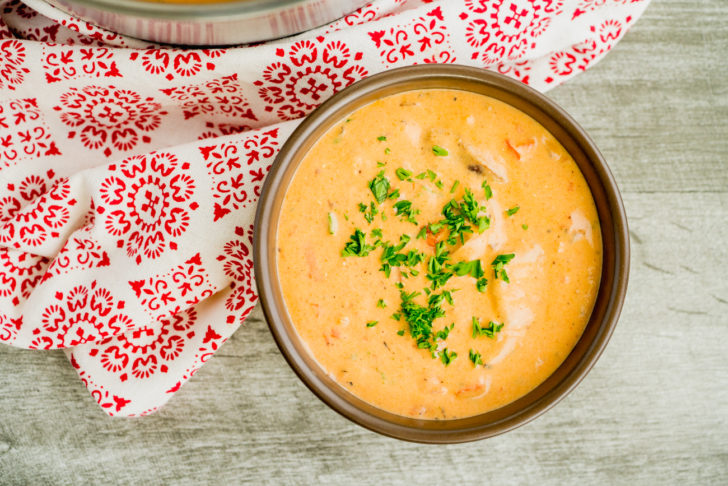 Now, it would seem we've got a thing for creamy sausage and red pepper soups, since we already have one that's super yummy, but then decided to make another one. We just couldn't resist once we realized we could bulk up this new version and make it thicker and creamier and just a smidge more filling. This roux-based soup packs a serious punch that we're totally hooked on, with sausage – you could use ground sausage or link sausage that you slice up into rounds – red bell peppers, fire-roasted tomatoes and plenty of cheese. It's perfect for cold days and something we look forward to making all week.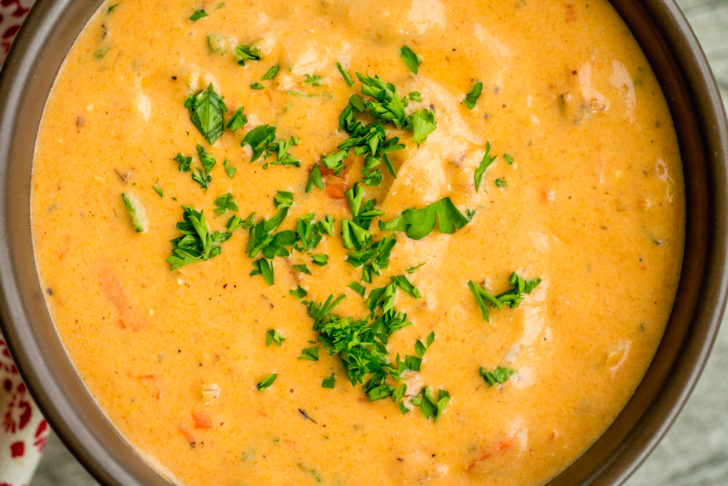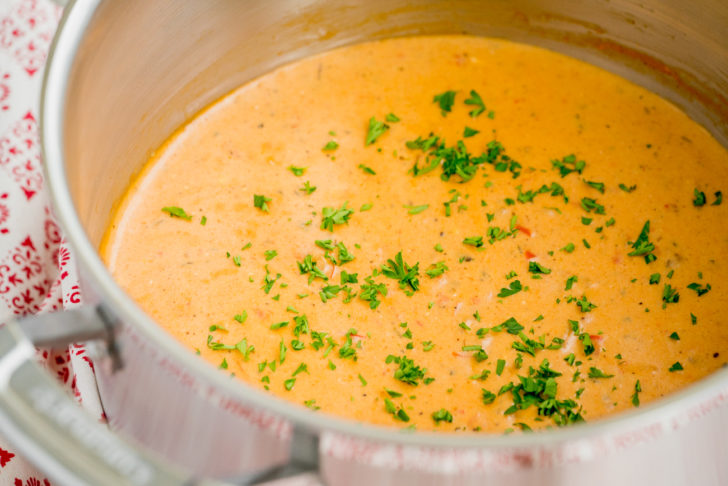 Seriously, this stuff is so, incredibly good. Let's walk through the process, shall we? We like to make our roux first, so that it's ready when we need it and we can just pour it in and move on. So melting your butter is the first step, then you whisk in the flour and pour in the milk and heavy cream. Cook this mixture until it thickens, then set it aside until the rest of your soup is ready. Which brings us to the yummy sausage and red peppers, the garlic and tomatoes, Italian seasoning and red pepper flakes. So good! To that we add a splash of white wine to deglaze the pan, then our chicken broth, roux, parmesan and…velveeta. Yep, we like to add both parmesan and velveeta because, where the parmesan adds flavor and tang, the velveeta makes this soup velvet-y (velveet-y?) and delicious. You don't have to add them both…but you should, 'cause they're great together.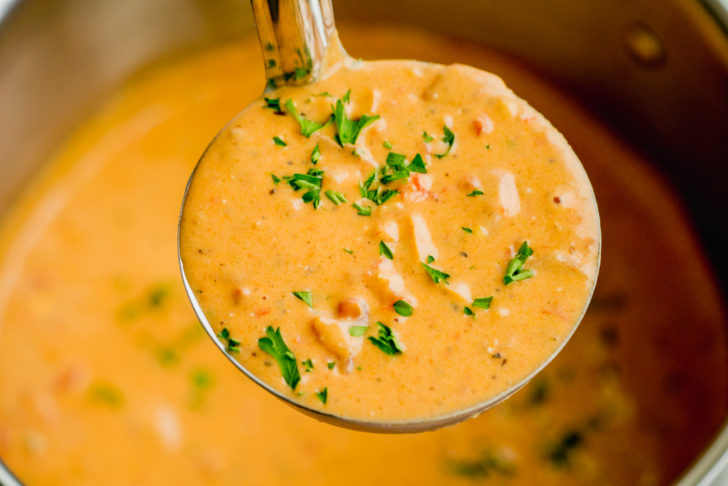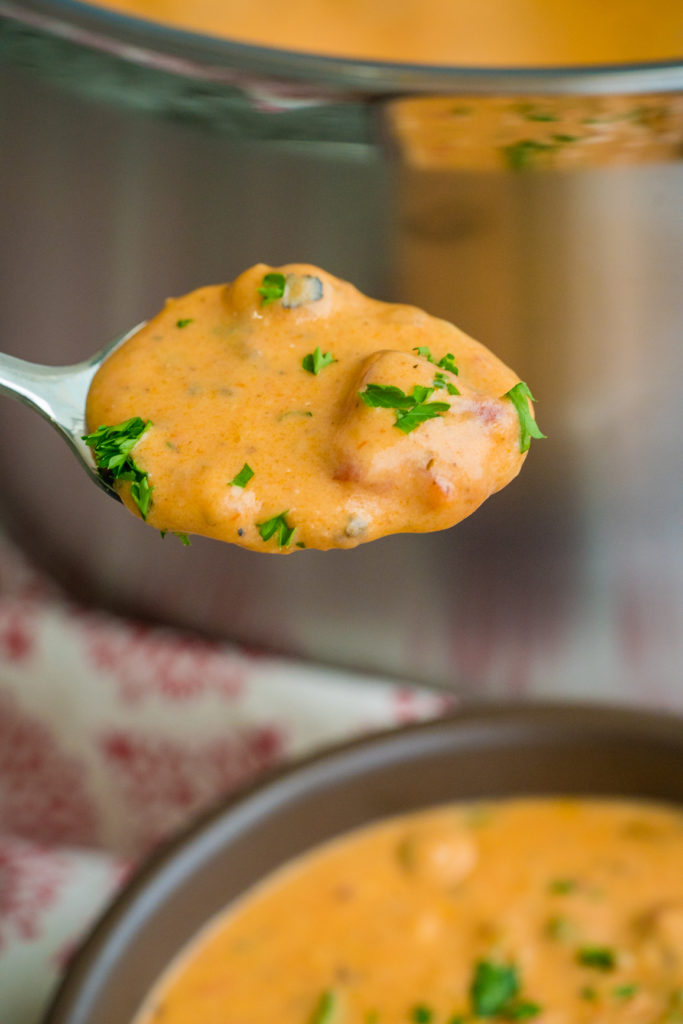 While we still love and make our other sausage red pepper soup regularly, we find that we make that to go with something else, whether it's a hearty side dish or pasta or garlic bread. Not this soup though; it stands alone, not needing any other accompaniment – although you're welcome to serve it with anything you like. It's so full of flavor, protein and veggies, and we absolutely love it. Trust us, you will too!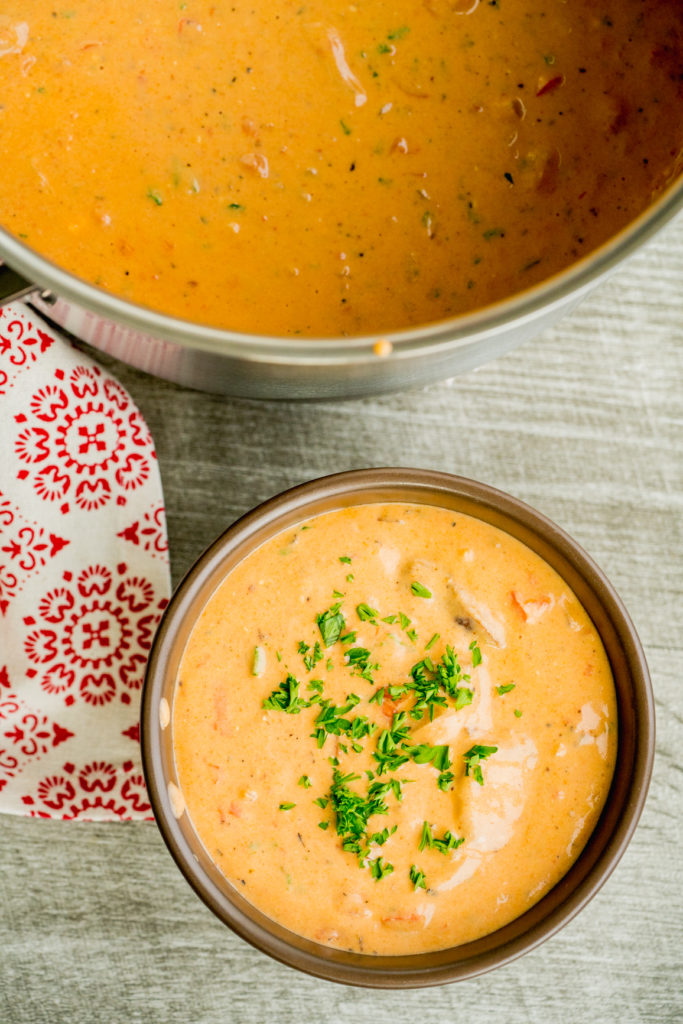 Sausage and Red Pepper Soup
Ingredients
Roux:
1/4 cup (1/2 stick) unsalted butter
1/4 cup all-purpose flour
1 cup whole milk
1 cup heavy cream
kosher salt and and freshly ground pepper, to taste
Soup:
1 pound ground Italian sausage or links
2 tablespoons extra-virgin olive oil
1-2 red or yellow bell peppers, seeds removed, diced
4 cloves garlic, minced or pressed
2 tablespoons tomato paste
1 (8 oz.) can tomato puree
1 (14.5 oz.) can fire-roasted diced tomatoes
1 1/2 teaspoons Italian seasoning
1/4 teaspoon red pepper flakes
2 cups low-sodium chicken broth
1/2 (8 oz.) package cream cheese, room temperature
8 oz. velveeta, cubed
1 cup parmesan cheese, grated
kosher salt and freshly ground pepper, to taste
Preparation
Melt butter in a large saucepan over medium heat. Sprinkle in flour once butter has melted, whisking to create roux.
Let roux cook, while stirring continuously, for 2-3 minutes, or until golden, then continue to whisk and pour in milk and heavy cream.
Cook for another 5-10 minutes, or until mixture thickens.
Remove from heat and set aside until ready to use.
In a large Dutch oven or stock pot over medium-high heat, season sausage generously with salt and pepper and brown until no longer pink, then transfer to a paper towel-lined plate and set aside. (If using links, brown them, then slice into bite-sized pieces.)
Discard all but 2 tablespoons fat, then sauté onion and bell peppers for 10-12 minutes, or until softened and translucent.
Season with salt, pepper, Italian seasoning and red pepper flakes, then add garlic and cook for another 1-2 minutes, or until fragrant.
Return cooked sausage to pan, add tomato paste and stir into veggie mixture, then add tomato puree and diced tomatoes.
Pour in chicken broth and bring mixture to a boil, then reduce heat and let simmer for 15-20 minutes.
Stir in roux, then cook for another 5-10 minutes, or until warmed through.
Add cream cheese, velveeta and parmesan to soup, stirring until melted and incorporated. Taste and adjust seasoning, if needed.
Transfer to serving bowls and serve hot. Enjoy!
SKM: below-content placeholder
Whizzco for 12T