Pecans are a vibrant, easily identifiable taste of fall, used to great effect in a variety of meals focussed on combining taste, texture, and crunch. The pecan is the perfect nut for widespread use because it brings a great mix of creamy richness and crunchy woodiness to your palate, while complementing other flavors you choose to cook with. From creamy dinner sauces and crunchy salads, to decadently rich chocolate desserts and even ice cream, there's plenty of delicious pecan inspired options for you to work with during fall.
The collection of meals below features a variety of outstanding pecan recipes, showcasing pecans in their traditional dessert style, but also as a tasty time saver when remixed with modern ingredients for quick dinners or salads.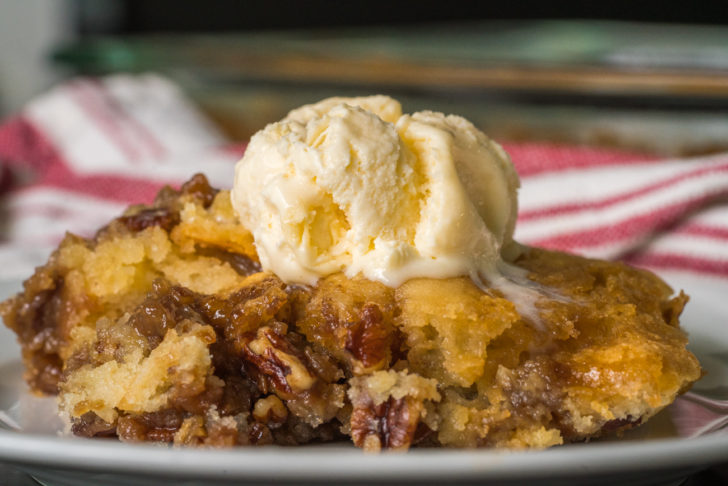 Pecan Pie Cobbler is irresistable, especially if your love for pie centers on nutty and rich ingredients. The pecan filling practically makes itself as it bakes, so all you really have to do is let the oven work its magic. The cobbler topping forms the perfect crust on top, which tastes delicious when combined with simple vanilla ice cream.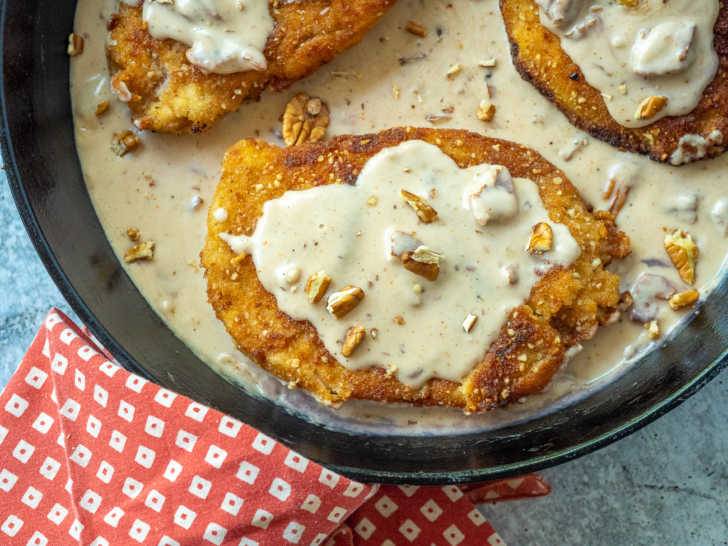 It's not hard to sell me on a combination of chicken breaded with crushed pecans luxuriously drizzled with a creamy bourbon sauce. Crispy Bourbon Chicken Skillet is a delicious dinner, full of rich flavors balanced by the nutty crumbed filets. If you are looking for fried chicken with an elegant edge, then this is an outstanding option for the family or guests, that goes well with mash or steamed green veggies.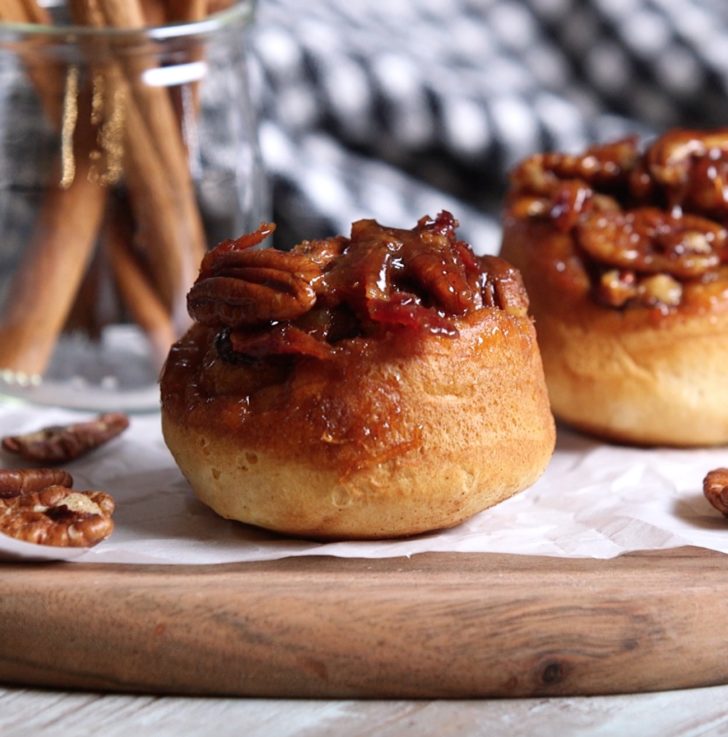 I love the way that Maple Bacon Pecan Sticky Buns taste even better than they look (like delicious little bundles of morning sunshine). This simple, delightful sticky bun recipe takes a simple doughy pastry and combines it with maple syrup, bacon, and pecans. These fantastic fall morning buns – sticky, sweet, crunchy – means you can't keep yourself to just one!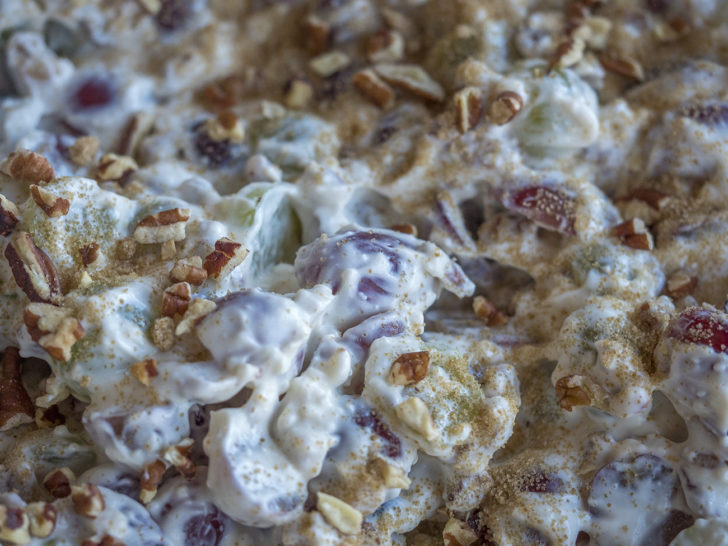 I find using pecans during fall is more enjoyable than other harvest additions. Its crunchy texture can be used to supplement an amazing range of dishes, especially when juxtaposing sweet flavor and juicy textures. This Crunchy Pecan Grape Salad is a perfect example, the crunchy nuttiness helps offset the pop of juicy, sweet green grapes and slightly tangy cream cheese and sour cream dressing. It's a brilliant alternative to traditional leafy salads.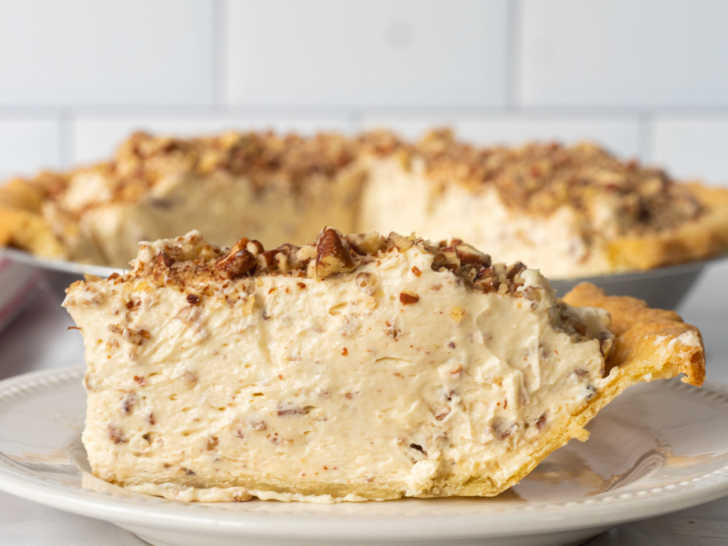 The best pie variations often involve cream! Pecan Cream Pie reminds me of butter pecan ice cream, but airier and with a delectably flaky pie crust. The filling has that wonderful nutty pecan flavor but it's all folded into a fluffy sweet and creamy filling. It's a completely different Pecan Pie experience with a cool, creamy vibe.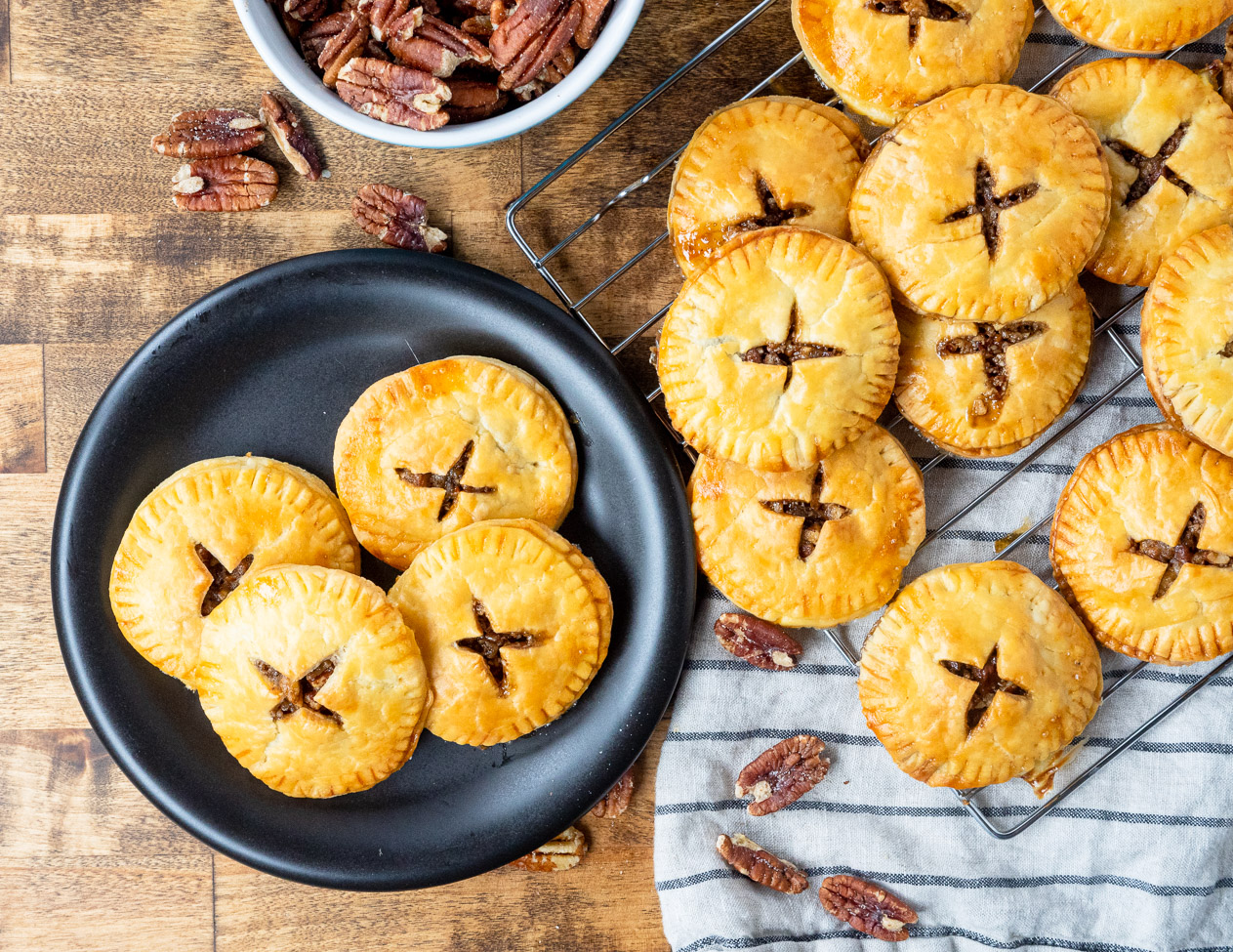 Take a pecan pie and shrink it down to miniature size and you not only have the cutest thing ever, you also have a wonderfully individual serve dessert treat. Mini Pecan Pies let the dough be the co-star of the show instead of just lingering in the background. The crust is very rich and flaky through the use of both cream cheese and butter in the dough.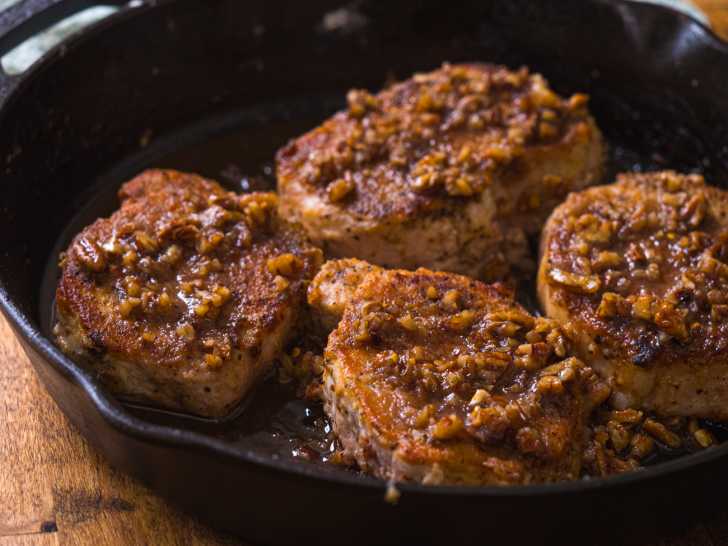 Dinner in fifteen minutes is good, but beautifully tender pork chops with the perfect sweet and savory balance, coated in an irresistible sweet honey and pecan glaze? Even better! 15-Minute Honey Pecan Pork Chops go well beyond the basic weeknight dinner you might throw together at the last-minute, with the perfect sweet and savory balance.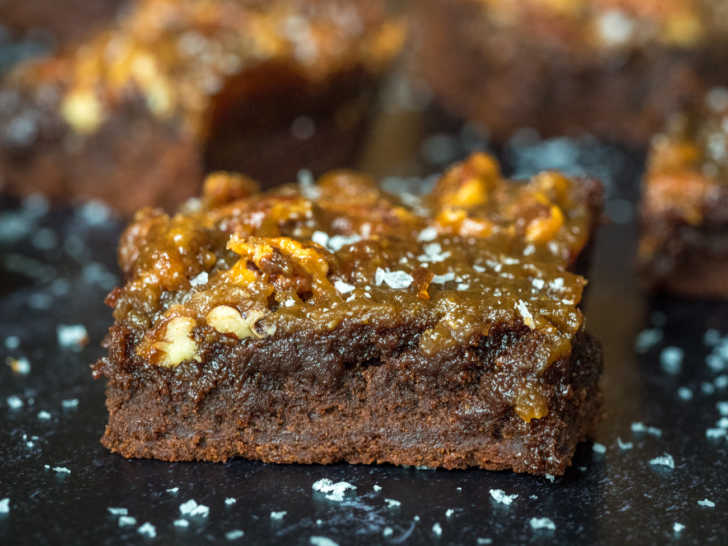 A rich and fudgy brownie is one of the greatest things in existence. But I also enjoy taking that gooey chocolate goodness and adding a pecan topping that contrasts crunchy nuts with delicate boiled sugar crackles. Salted Pecan Pie Brownies come out fudgy and rich, but every bite is blasted with delicious pieces of sweet chewy-crunchy pecans bits. This recipe should be on every best brownies list!
Apple Pecan Harvest Salad is a low key autumnal celebration featuring a great collection of fall flavors, but without any pumpkin (which can be a good thing!). There's a lot of contrasting textures – a bed of spinach topped with juicy apples, tart dried cranberries, crunchy pecans, and some blue cheese for saltiness. If that's not salty (or meaty) enough for you there's delicious chunks of bacon as well, which finishes off the salad brilliantly!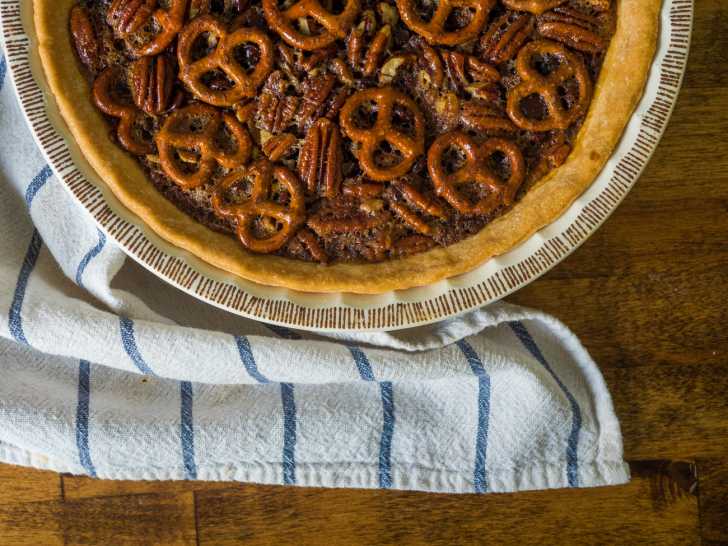 Is it any more trouble to make a Chocolate Pretzel Pecan Pie than a 'regular' pecan pie? No! Every bite has a three-tiered combination of contrasting textures that makes sure you love every gooey spoonful. Matching salty pretzels and pecans (bound by chocolate, which I'm a huge fan of) creates a pie that's a flawless harmony between sweet and salty.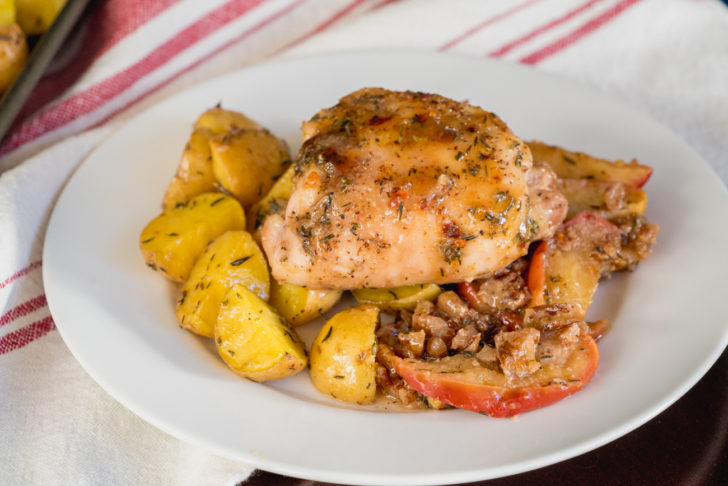 If you are looking for a super quick to throw together dinner with an autumnal vibe, our Sheet Pan Potato Apple Pecan Chicken is jam-packed with flavor. Simple fall ingredients – apples, pecans, maple syrup and nutmeg – are not too complex to put together and work nicely on the sheet pan to get a tasty meal in a short time.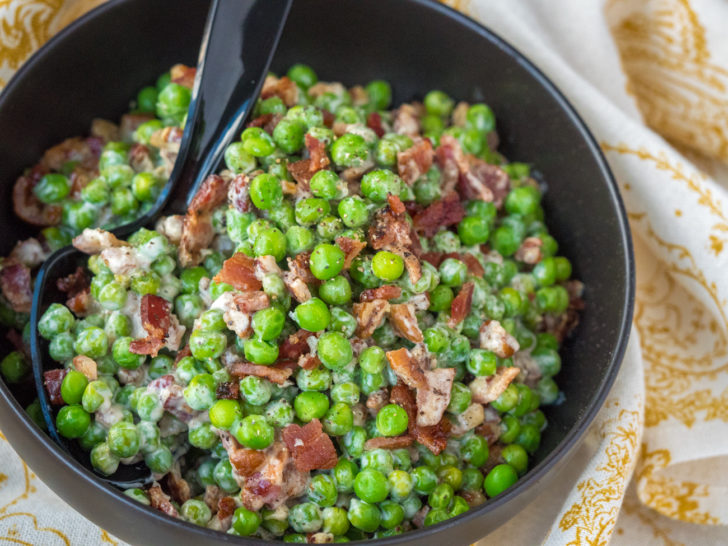 Sweet peas and crisp, smoky bits of bacon are a great plate combo that rises to another level when added to a creamy dressing. Toasted pecans give this delicious Bacon Pea Salad a bit of extra crunch and fall flavor that works brilliantly with grilled or roasted meat. This salad can turn just about anyone into a fan of peas – I was surprised how much my kids love it!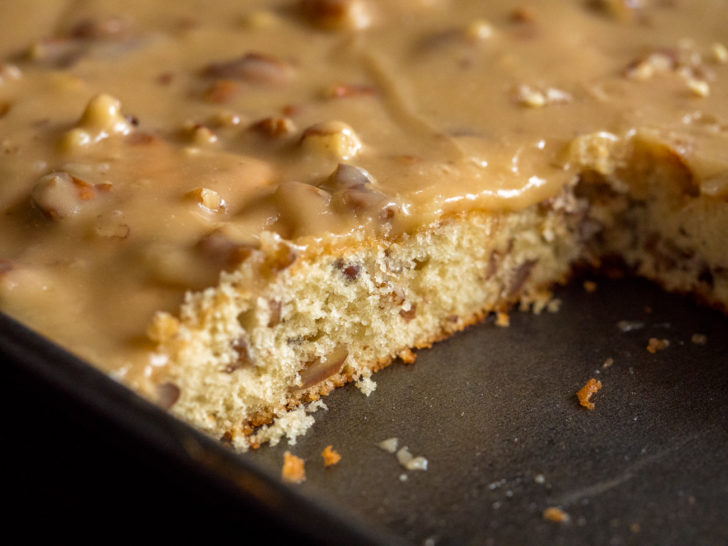 Why don't more people realize how great butter pecan treats are? Give it the love it deserves by using this brilliant Butter Pecan Sheet Cake. By making a thinner layer of cake and frosting you can amp up the flavor without the cake tasting cloying or overpowering. Quick and simple to put together, this sheet pan favorite is perfect for convincing butter-pecan skeptics how amazing it is to team crunchy fall nuts with a buttery layer of sheet pan cake.
Conclusion
I love that these fall recipes use simple, time effective, and common sense combinations to create all sorts of delicious pecan meals. Bottom line is, if you like to combine rich chocolate with a nutty, crunchy texture element, or balance creamy sauces with woody flavor, there are awesome options to put into your dinner plans!
SKM: below-content placeholder
Whizzco for 12T