Gluten-free spaghetti squash bowls made by Mother Nature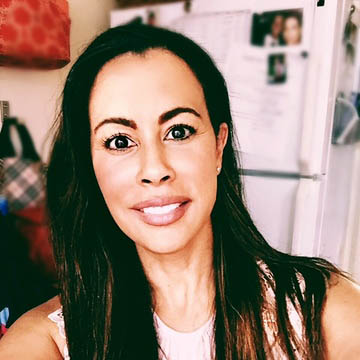 Melissa Maxwell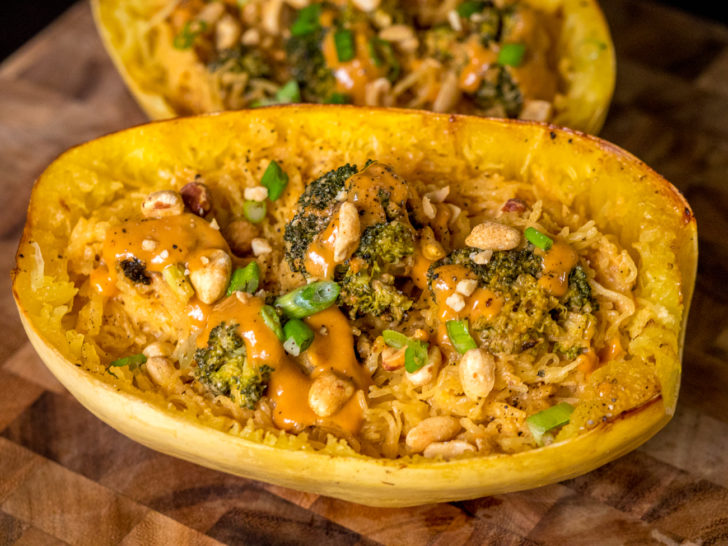 Finding creative ways to serve delicious, yet healthy meals can be a real challenge for us all, but thankfully that's not the case when it comes to this absolutely irresistible spaghetti squash dish! Have you ever seen this kind of squash at the grocery store? It's unique-looking and almost seems like a yellow melon on the outside – don't worry, it's not at all hard to find at your local grocery store and is also pretty inexpensive. Once cooked, you'll be pleasantly surprised to discover that it really does come darn close to the look and feel of traditional spaghetti pasta. So much so, in fact, that you might never know it's actually a plant! In addition to its sunny yellow color, spaghetti squash is also packed with nutrients and tons of flavor that we found get even better when we fold in the creamy homemade peanut sauce with fresh roasted broccoli and toasted peanuts. What an amazing way to eat something healthy that doesn't compromise on taste at all!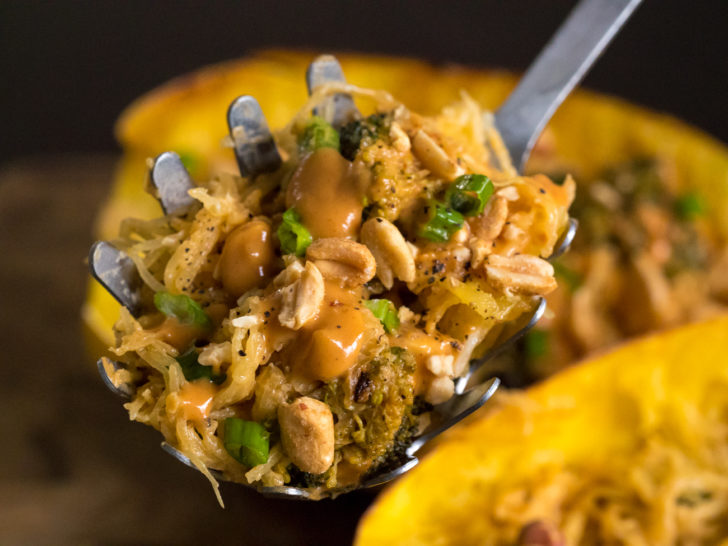 Cutting and roasting a spaghetti squash is also quick. Just chop off the very end with a sharp knife, slice it in half and scoop out the seeds. Drizzle the insides with a little olive oil, turn them over on a cookie sheet and roast them at 375 degrees for 40 minutes or so until tender. The fun part for us was taking a fork, after the squash has cooked and cooled a bit, and gently fluffing the inside to create the strings of "spaghetti". Who would have ever thought mother nature makes pasta? You can get everything done while the squash is roasting or you can cook the squash, cut up the broccoli and prepare the sauce a day or two in advance if you know you will be pressed for time later. It's that simple, healthy, and fun!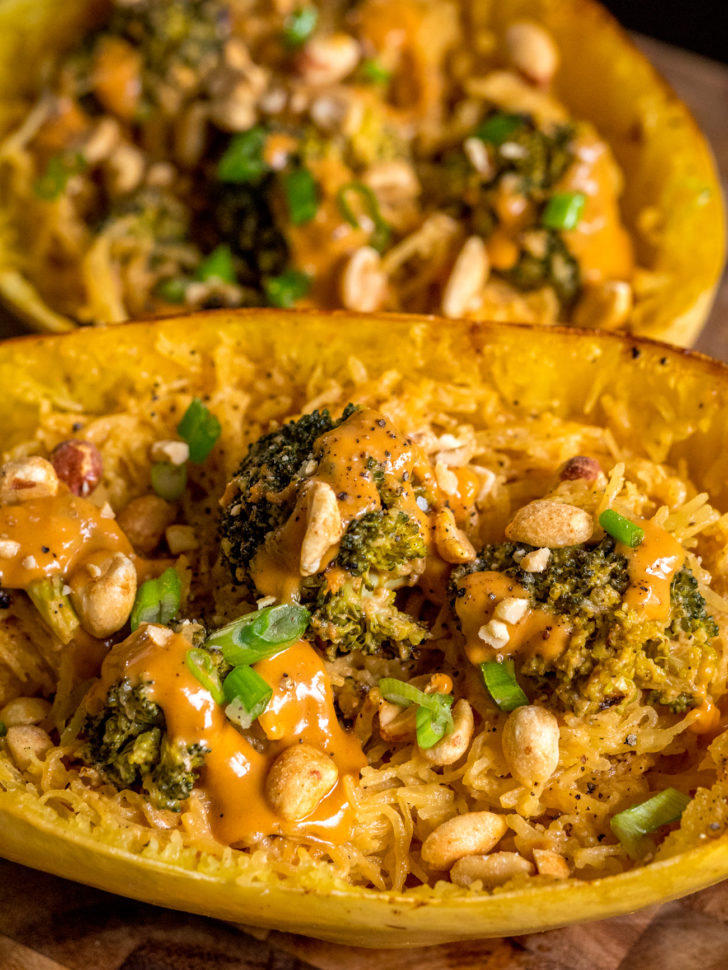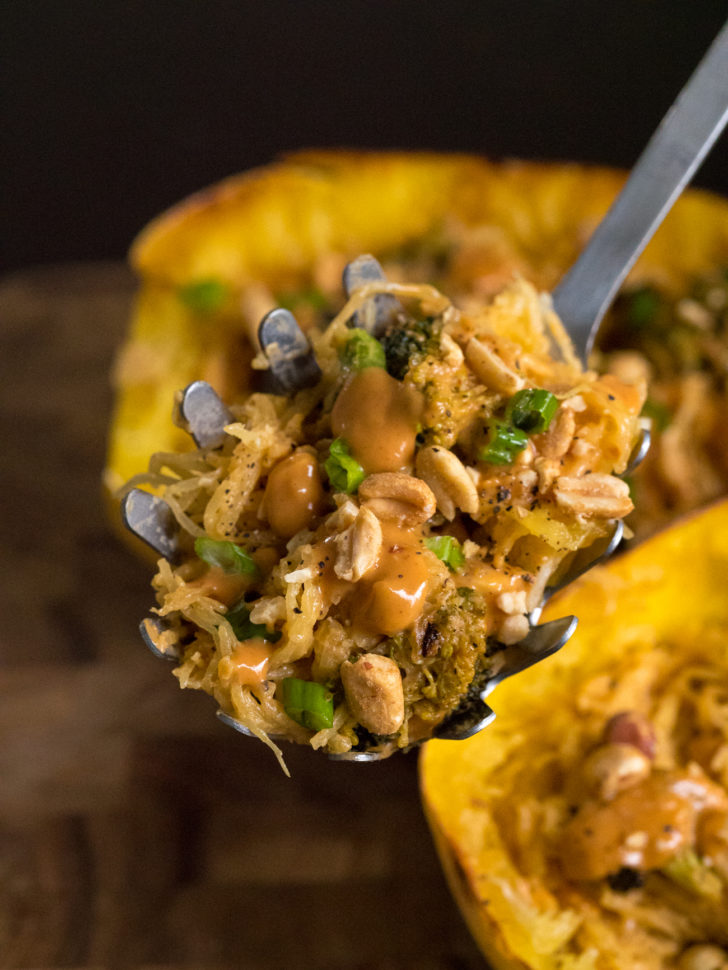 Speaking of fun, this is also a dish that we think both big and little kiddos in your life will love. As an added bonus, the fresh ingredients can also help anyone take an easy and tasty step in a healthy direction…even if you know some people who don't love vegetables, just leave the word "squash" out of the conversation and call it spaghetti! We won't tell. Seriously, most people really would never guess that they're eating veggies with this recipe because it's so flavorful on its own and doesn't feel like you're skimping on ingredients. In particular, it's the sweet and salty flavors of the peanut sauce that really do bring this one home, so feel free to drizzle any extra sauce over your squash for maximum enjoyment. And don't forget to sprinkle the peanuts on top before serving – that's the best part! We guarantee that you won't be able to get enough of this amazing dish!
Peanut Broccoli Spaghetti Squash
Serves 4
1 hour 15 minutes
Ingredients
1 large spaghetti squash, halved, seeds removed
2 tablespoons olive oil
1 head broccoli, cut into florets
Peanut Sauce:
1/2 cup creamy peanut butter
3 tablespoons soy sauce
2 tablespoons rice wine vinegar, optional
1 tablespoon honey
1-2 tablespoons sriracha or preferred hot sauce
1 tablespoon lime juice
1/4-1/3 cup warm water, as needed
3 cloves garlic, minced
1 inch fresh ginger, peeled and minced
kosher salt and freshly ground pepper, to taste
green onion, garnish
peanuts, garnish
Preparation
Preheat oven to 375º F and, if you haven't already, cut spaghetti squash in half. Remove and discard seeds.
Drizzle squash with olive oil, then season generously with salt and pepper. Place cut side down on a baking sheet and place in oven.
Roast for 40-45 minutes, or until fork tender.
In a large bowl, whisk together peanut butter, soy sauce, rice wine vinegar, honey, sriracha and lime juice until smooth. Then slightly with water (as desired), then whisk in garlic and ginger.
Taste and adjust seasoning, if necessary.
Place broccoli florets in a medium bowl and drizzle 1/2 peanut sauce over them [use as much or as little sauce as needed] and toss until they're all evenly coated.
Transfer broccoli to second baking sheet (lined with parchment paper, if desired), then place in oven and roast for 15-20 minutes. (While squash has 20 minutes remaining until cooked.)
Remove veggies from oven and let cool slightly.
When spaghetti squash is cool enough to handle, shred into "noodles" and toss noodles with roasted broccoli.
Return to squash halves and top with more sauce, green onions and peanuts. Enjoy!
Recipe adapted from Connoisseurus Veg
SKM: below-content placeholder
Whizzco for 12T