When you share or print a 12 Tomatoes recipe,
you're making mealtime meaningful.
100%
of the Share to Care sponsor fees fund meals for families in need.
Learn More
CLICK ANY LINK BELOW TO JOIN OUR CAUSE!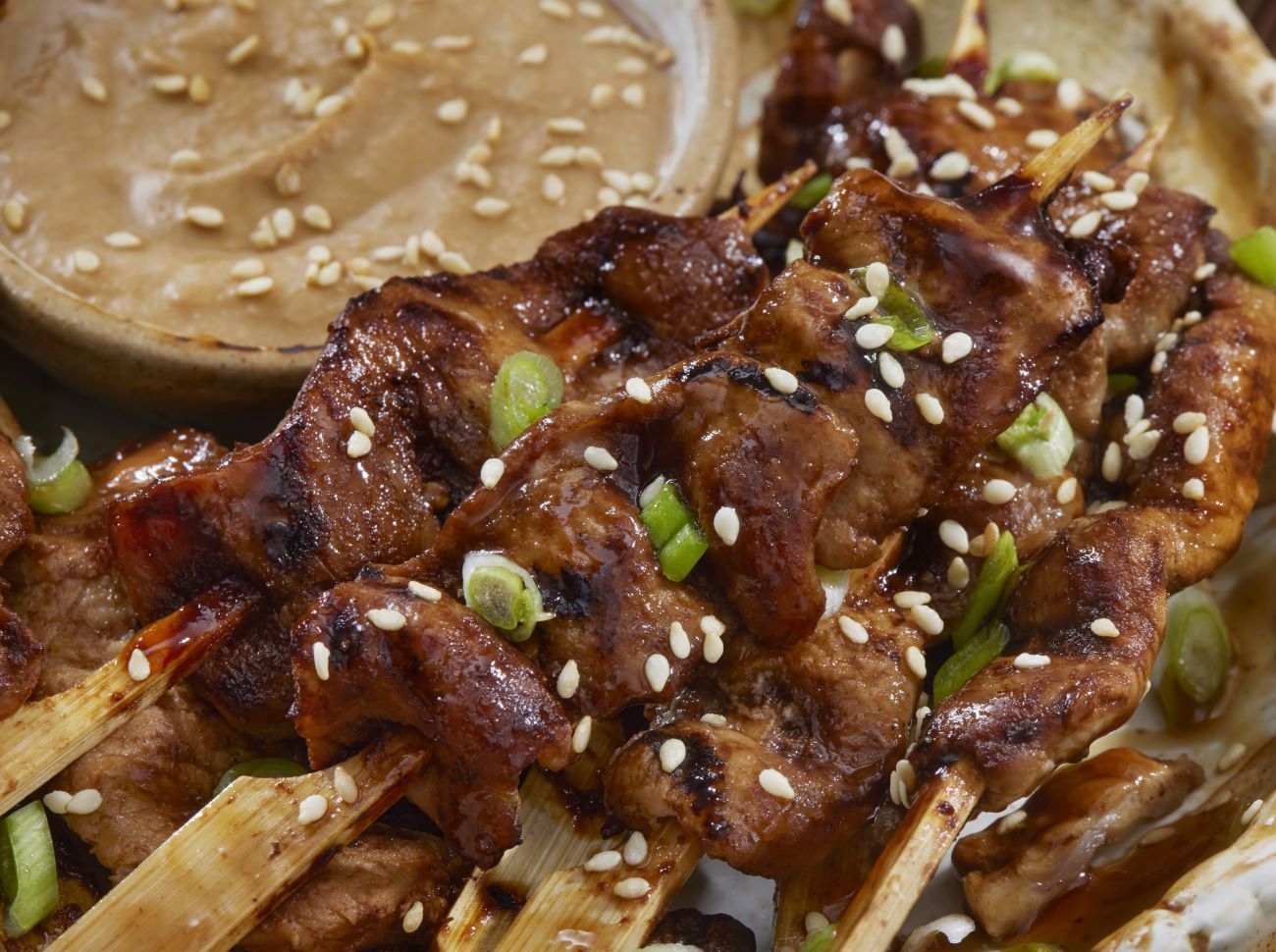 Teriyaki pork skewers are classic reproductions of the famed Japanese yakitori "meat on a stick." They are light on the veg but packed full of delightfully grilled meat, and are matched with goma dare, a hugely popular Japanese sesame based dipping sauce that you can make at home. The best thing about this recipe is that it takes little to no time to put together, yet could be served in a restaurant!
Teriyaki perfectly illustrates the matching of savory sweetness and texture known as umami, making it one of Japan's most popular marinades for western palates. Pork teriyaki and the irresistible sesame sauce pack both a visual and flavor punch that make for a deliciously enjoyable starter for the family, or for larger occasions.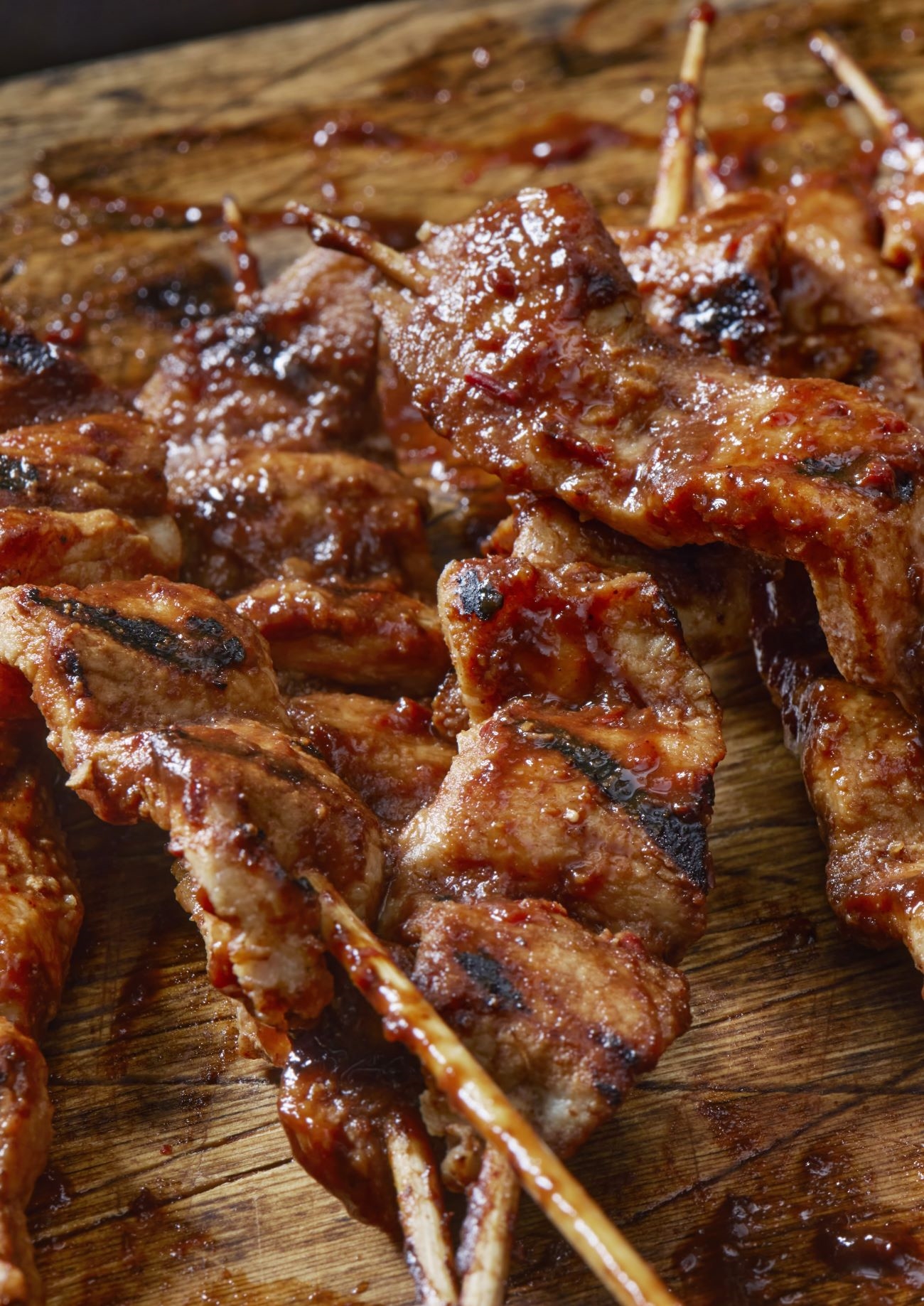 I made the choice to use a store bought teriyaki then add some other helpful elements – citrus juice, minced ginger, and BBQ sauce (for thickening). The distinctive umami taste is always going to hit the tongue with an explosion of flavor, and I really wanted to amp up that flavor base, so that the quick-grilled pork tenderloin dazzles on your tongue!
The goma dare (goma means sesame) dipping sauce I crafted myself, a task I learned while living in Japan nearly two decades ago. I wanted to go back in time while I cooked one of my old favorites. The ingredients aren't difficult to find at supermarkets and Asian grocers, and you only need to mix them together to make a deliciously versatile sauce. Once you've mastered your first richly flavored sauce, there are other amazing possibilities to accompany awesome Japanese dishes.
Both of the sauces included in this recipe you can create yourself or use from a store bought bottle if you want to save some time and effort. You just need to allocate time to marinating the pork, and make sure to pre-soak the skewers prior to grilling. While this version is made without accompanying veggies, you can use onions, squash, and peppers to add other color and taste elements, and make the skewers a more rounded starter or main meal.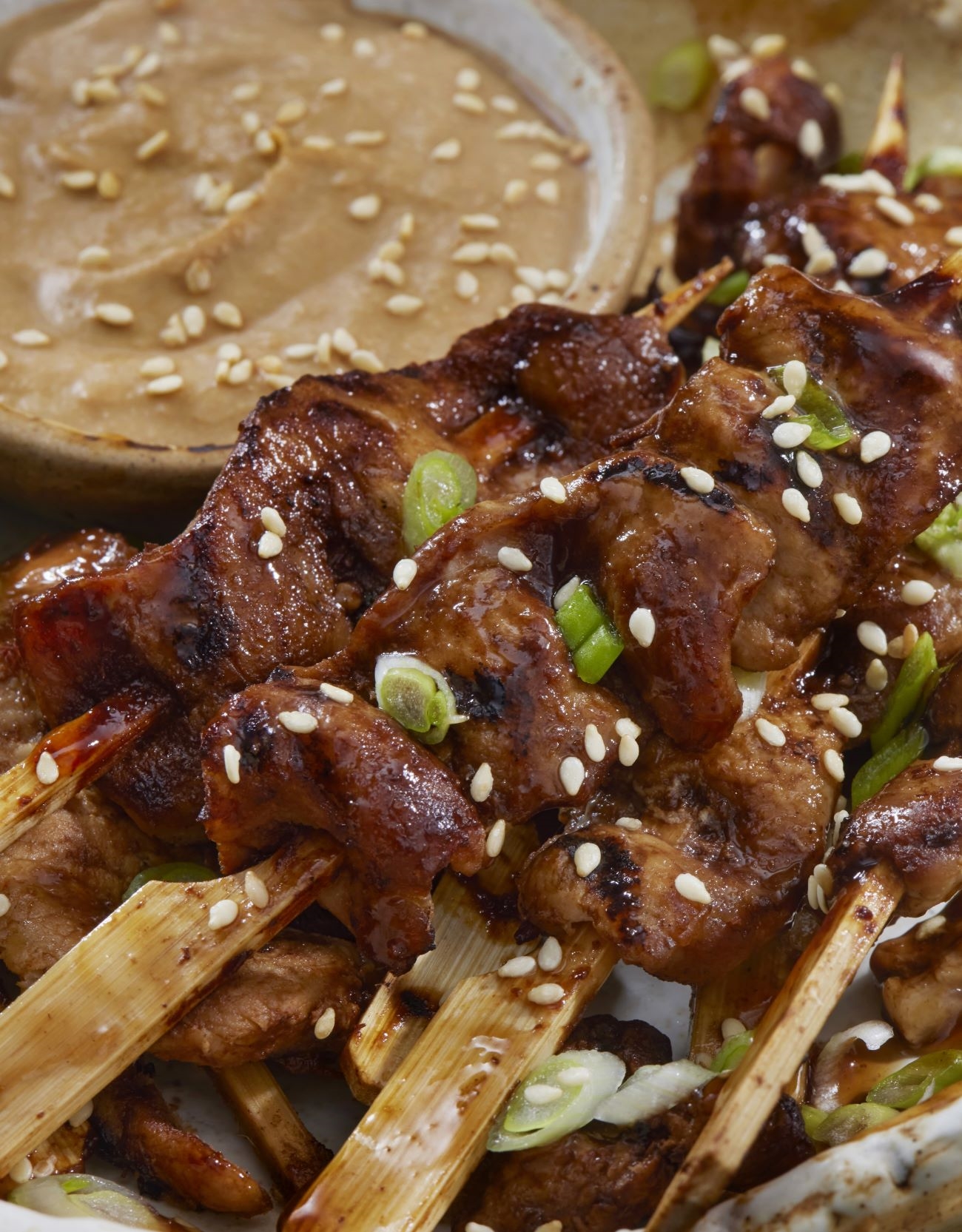 Teriyaki Pork Skewers with Sesame Dipping Sauce
Makes 12-14 skewers
10m prep time
10m cook time
1h inactive

When you share or print a 12 Tomatoes recipe,
you're making mealtime meaningful.
100%
of the Share to Care sponsor fees fund meals for families in need.
Learn More
CLICK ANY LINK BELOW TO JOIN OUR CAUSE!
For the Teriyaki Pork Skewers (Yakitori)
12-15 bamboo skewers (presoaked in water for 30 minutes)
1 1/2 lb pork tenderloin, sliced thinly
1 1/2 cups teriyaki marinade (store bought is fine)
1 teaspoon minced ginger
2 tablespoons lemon juice
1 tablespoon BBQ sauce
Kosher salt and black pepper, to taste
1-2 scallions, chopped finely
1 tablespoon sesame seeds, to garnish
For the Sesame Dipping Sauce (Goma Dare)
8 oz tahini
3 tablespoons soy sauce
3 tablespoons mirin
3 tablespoons rice vinegar
3 tablespoons raw sugar
4 oz Kewpie mayonnaise
2 teaspoons red miso paste
1 teaspoon dashi powder
1 teaspoon sesame oil
Kosher salt and black pepper to taste
1-2 teaspoons sesame seeds, to garnish
Preparation
In a large mixing bowl, combine teriyaki marinade, ginger, lemon juice, BBQ sauce, salt and pepper. Mix thoroughly, then add the pork slices and stir. Place in the refrigerator for 30-60 minutes.
In another mixing bowl, combine all sesame sauce ingredients. Stir thoroughly, then place into a serving bowl. Refrigerate until needed. Pre-soak the bamboo skewers at this time.
After the pork has been removed from the fridge, thread each skewer with marinated pork, leaving about 2-inches at the end of the skewer. Make sure that the pork is threaded so that it looks flat when placed on the grill.
Preheat the grill to medium-high. Cook skewers in batches for 3-4 minutes, turning once or twice. The meat will cook quickly because it is sliced thinly.
Place cooked skewers and dipping sauce onto a serving platter. Sprinkle with sesame seeds, salt and pepper, and scallions. Serve immediately.
Recipe adapted from Garnish and Glaze
SKM: below-content placeholder
Whizzco for 12T