You had me at brown sugar and pecans!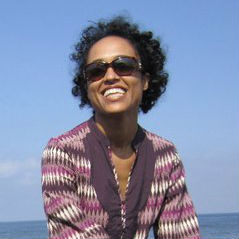 Sarah Cool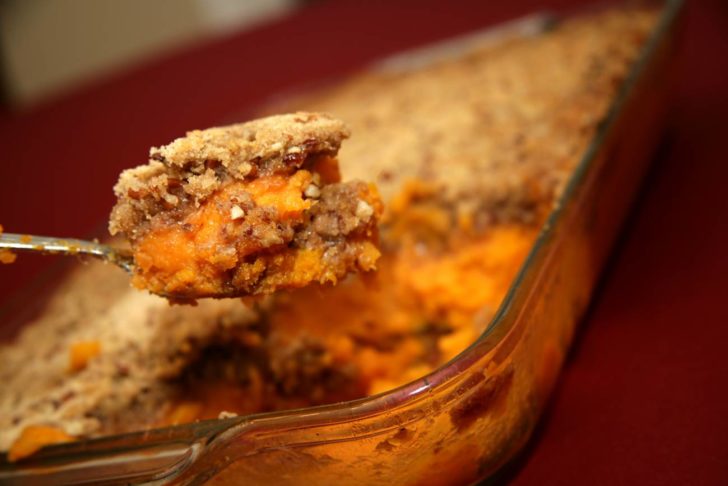 Many folks consider the turkey to be the true star of the Thanksgiving dinner, and for the most part, they'd be right. But what's a turkey dinner without side dishes? Arguably the most important part of Thanksgiving isn't the turkey but everything that surrounds those slices of juicy turkey on our plates. The usual suspects are all there: cranberry sauce, green beans, stuffing, and mashed potatoes. One side dish that is an absolute must at our dinner table is a sweet potato crunch casserole. The name says it all, sweet potatoes topped with a brown sugar and pecan crumble for crunch. Yum-yum!
Not everyone is a fan of sweet potatoes, but this recipe is sure to win over even the toughest of critics. Buttery sweet potatoes are mashed with more butter, brown sugar, and a little buttermilk to make the potato mixture smooth, creamy, and flavorful. While this bakes in the oven, we prepare a crumble topping with a little flour, more brown sugar, and chopped pecans. This bakes into a beautiful brown crust over top of orangy bronze sweet potatoes. It needs to cool down in order to set up a bit before it's ready to be served to the hungry crowd anticipating a great meal.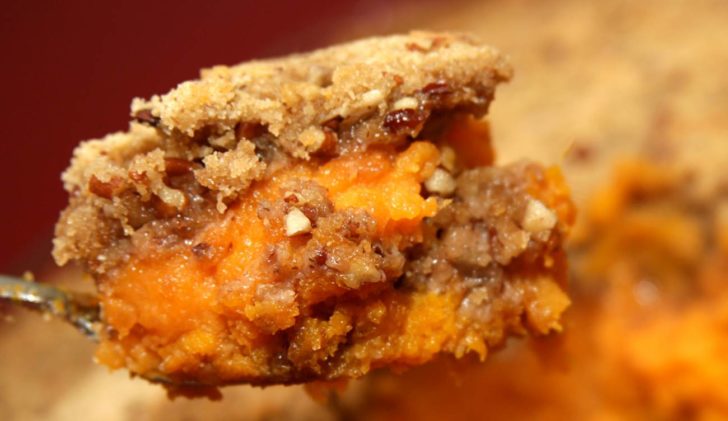 If you've been asked to bring a side dish to the party, you'll definitely want to arrive bearing this delicious sweet potato crunch casserole. It's intended to be a side to the main course, but it has a dessert-like quality in its sweetness, making dinner extra indulgent. With all of the savoriness going on our dinner plates, it's sometimes nice to have a contrast of sweetness to keep the whole meal nice and balanced. A sweet potato crunch casserole will team up beautifully with a tart cranberry sauce, a side of bright green beans, and of course a generous helping of the main event: the turkey.
Sweet Potato Crunch Casserole
Serves 8-10
1 hour + cooling time
Ingredients
4 medium-sized sweet potatoes, baked, peeled, mashed, and cooled completely
2 large eggs
¾ cup brown sugar
1 teaspoon vanilla extract
1 stick unsalted butter, melted
¼ cup buttermilk
1 teaspoon kosher salt
For topping:
1 cup brown sugar
⅓ cup unsalted butter, melted
⅓ cup all-purpose flour
1 cup finely chopped pecans
½ teaspoon kosher salt
Preparation
Preheat oven to 375°F. Coat a 9x13-inch (or 2 quarts) casserole dish with cooking spray. Set aside.
Beat mashed sweet potatoes, ¾ cup brown sugar, eggs, vanilla extract, ½ cup melted butter, 1 teaspoon kosher salt, and buttermilk together until well combined.
Pour sweet potato mixture into prepared casserole dish. Bake 25-30 minutes.
Prepare the crumble topping by mixing flour, chopped pecans, ⅓ cup melted butter, 1/2 teaspoon kosher salt, and brown sugar.
Remove sweet potatoes from oven and cover with prepared topping. Return casserole to oven and bake for an additional 12-15 minutes or until topping is browned and crispy.
Remove from oven. Casserole must sit for 20-30 minutes to set before serving.
Recipe adapted from Baked In Arizona.
SKM: below-content placeholder
Whizzco for 12T