An easy weeknight dinner that tastes like you've been cooking for hours!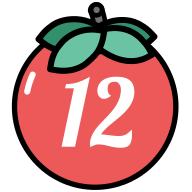 Dom Ruane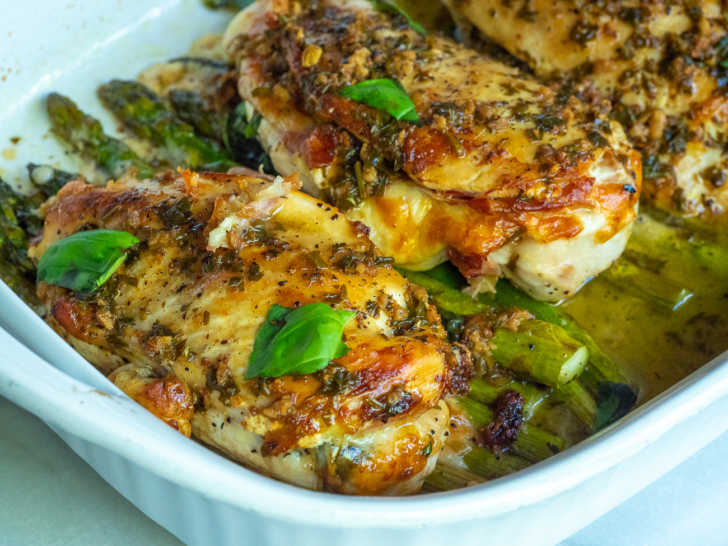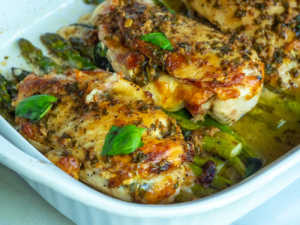 Introducing Chicken Provolone! A delicious stuffed chicken breast recipe that serves the whole family. Using simple techniques, this recipe will have you butterflying chicken and creating a pan sauce with the chicken drippings in no time. This chicken is stuffed with prosciutto, provolone, and fresh basil, a classic combination of delicious Italian flavors, and soon-to-be flavors you'll use all the time. Cheesy, salty, juicy, buttery vibes, this stuffed chicken has got it.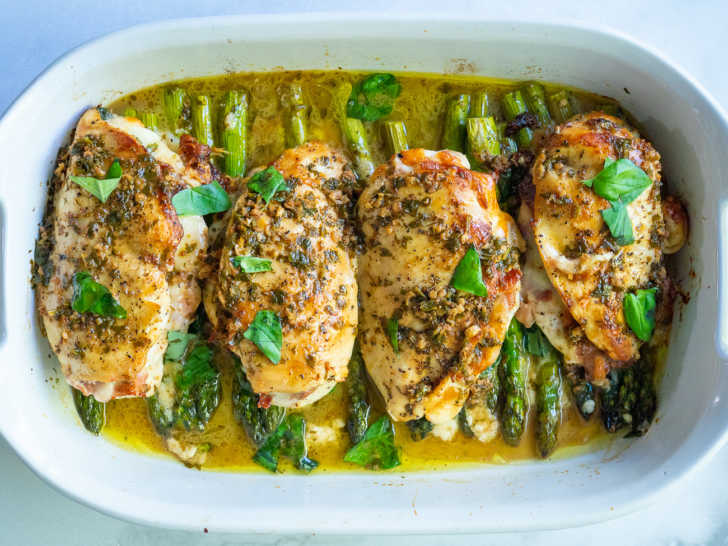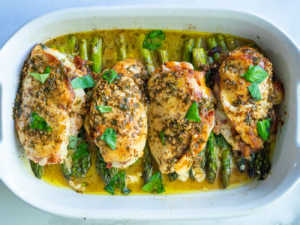 Stuffed chicken is elevated chicken and the key to this easy elevated chicken recipe is toothpicks. Nobody wants to truss with twine, so we toothpick to stick. Less time-consuming and easier to remove. The key to any stuffed meat is getting a good hot sear to develop exterior flavor and then finish cooking the meat in the oven for a more controlled even cook. This step is crucial here not only for flavor but also as a base for our pan sauce. That's why chefs love one-pot meals just as much as anyone. All the flavor stays in the pan. Whenever you finish cooking chicken in a pan, deglaze the pan with a little broth or water, and you will be amazed at how much flavor the pan has.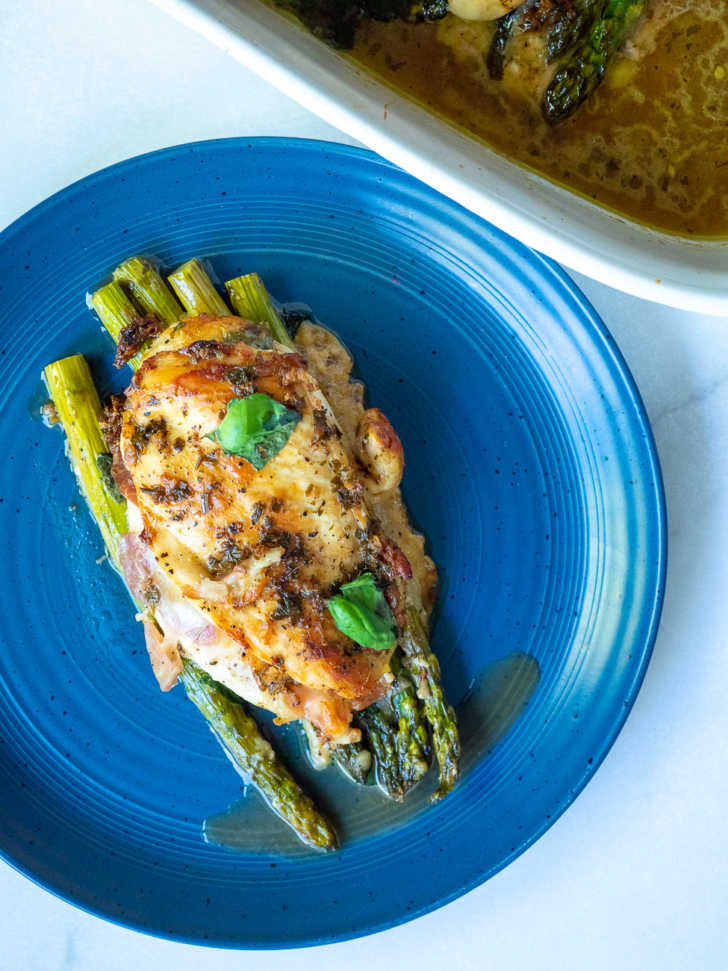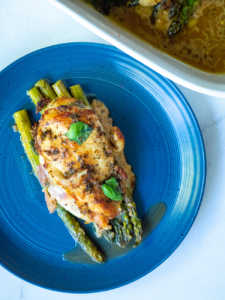 Boneless chicken can turn quite dry if overcooked, so it's important when baking chicken to think about timing for juiciness. When adding pork fat (prosciutto) to the chicken, you're basically adding a juiciness blanket that helps keep the chicken moist due to all the fat in the pork. We see this all the time in cooking, that's why bacon-wrapped anything is amazing. Prosciutto is the non-smoked version of bacon and has a crispier, meatier flavor as well. Try crisping up prosciutto! You'll want to put it in EVERYTHING.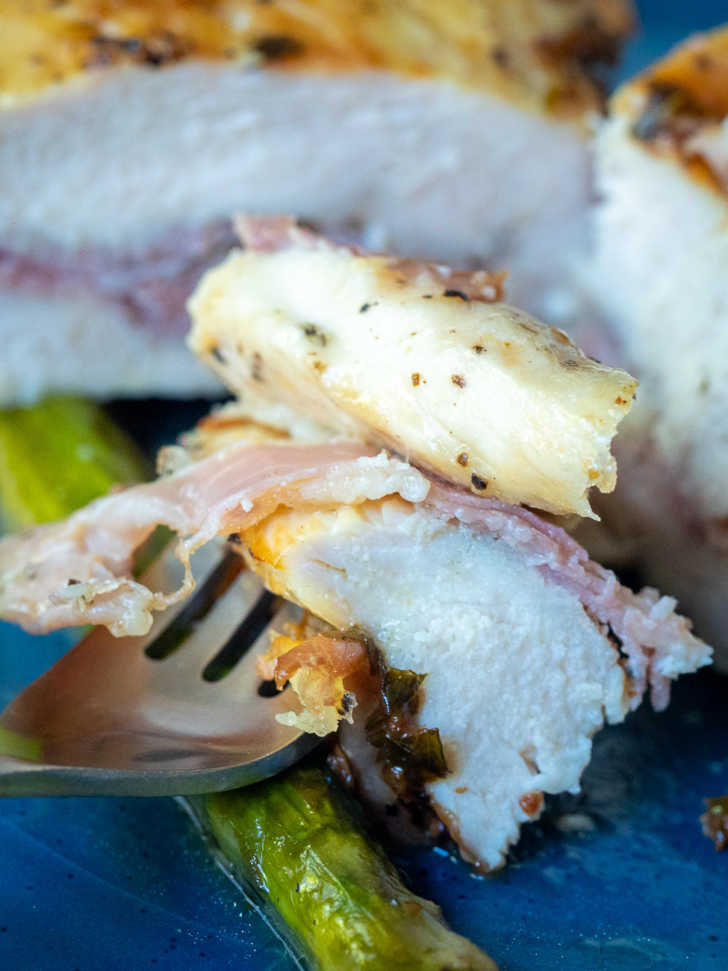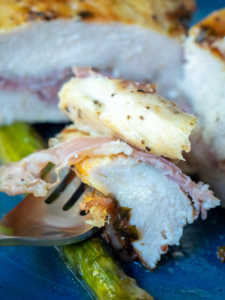 Stuffed Chicken Provolone
Serves 4
15m prep time
25m cook time
Ingredients:
4 skinless, boneless chicken breast
8 slices prosciutto
8 slices Provolone cheese
24 basil leaves
2 tablespoons olive oil
1/2 lb. asparagus, trimmed ends and cut in half
3 garlic cloves, minced
1/3 cup white wine
3/4 cup chicken stock
2 tablespoons fresh lemon juice
2 tablespoons fresh parsley, minced
4 tablespoons unsalted butter
Kosher salt and freshly cracked black pepper, to taste
Directions:
Preheat the oven to 450°F.
Prepare a 9 x 13 casserole dish with asparagus and a drizzle of olive oil. Season with salt and pepper and toss. Set aside.
Split the chicken breasts on a cutting board along one side cutting 90% through the chicken to create a flap. Repeat for other breasts and season inside of the chicken with salt and pepper.
Layer 2 slices of prosciutto, then 2 slices of provolone, follower by 6 basil leaves inside of cut chicken. Close chicken with filling, securing opening with two - three toothpicks.
Heat up a cast iron pan over medium high heat with 2 tablespoons of olive oil.
Season chicken and place season side down in hot pan. Sear chicken for 6 - 8 minutes, or until golden on each side. Leave cast iron with oils.
Remove chicken on top of asparagus in the casserole dish and bake for 15 -18 minutes, or until chicken reads 165°F.
In hot cast iron over low heat, add 2 tablespoons of butter and garlic cloves, cook until golden. Deglaze pan with white wine and let reduce in half.
Add chicken stock, lemon and parsley to sauce and bring to a boil. Reduce heat to a simmer and add in remaining butter. Cook sauce on low until sauce thickens and coats the back of a spoon. Season.
Remove chicken from oven and drizzle with pan sauce, garnish with basil.
Enjoy!
Recipe adapted from Bon Appetit.
SKM: below-content placeholder
Whizzco for 12T