The pumpkin pie you know and love with a little more crunch.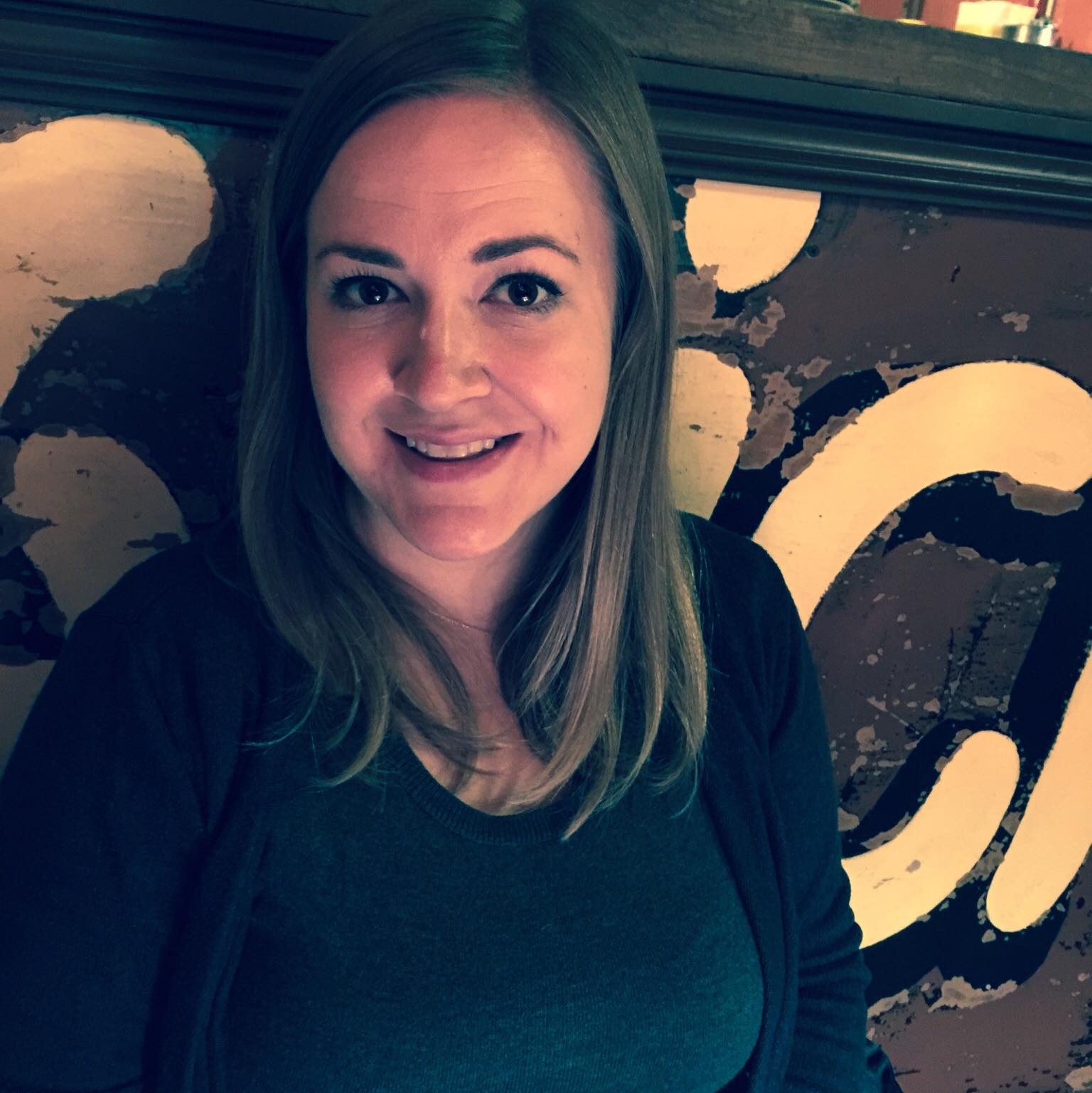 Kristy Norrell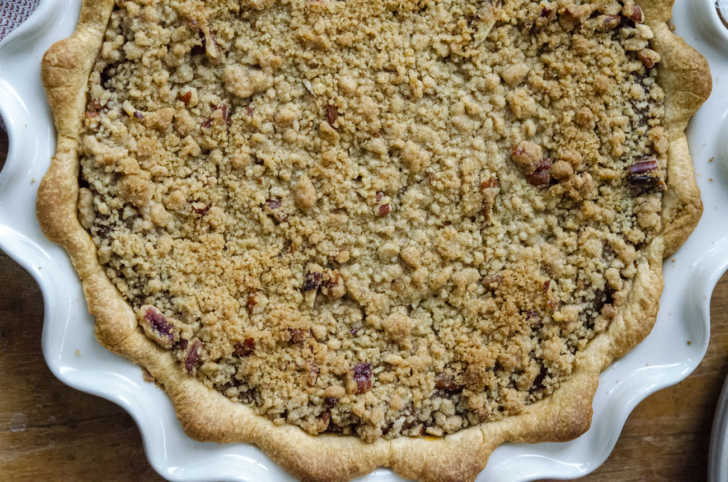 When it comes to the dessert category of the Thanksgiving feast, I do not have eyes for pecan pie, apple pie, sweet potato pie, or fancy cheesecakes. There is only one dessert for me and that always has been and always will be Pumpkin Pie. (With a very generous dollop of homemade whipped cream, of course.) While I truly appreciate the standard silky-soft custard of a traditional pumpkin pie, this streusel-topped version is just enough of a twist to feel original but still satisfies that Pumpkin Pie craving that's been gnawing at you all year long. A little sugary streusel crunch is just the thing to accent that smooth spiced pumpkin filling!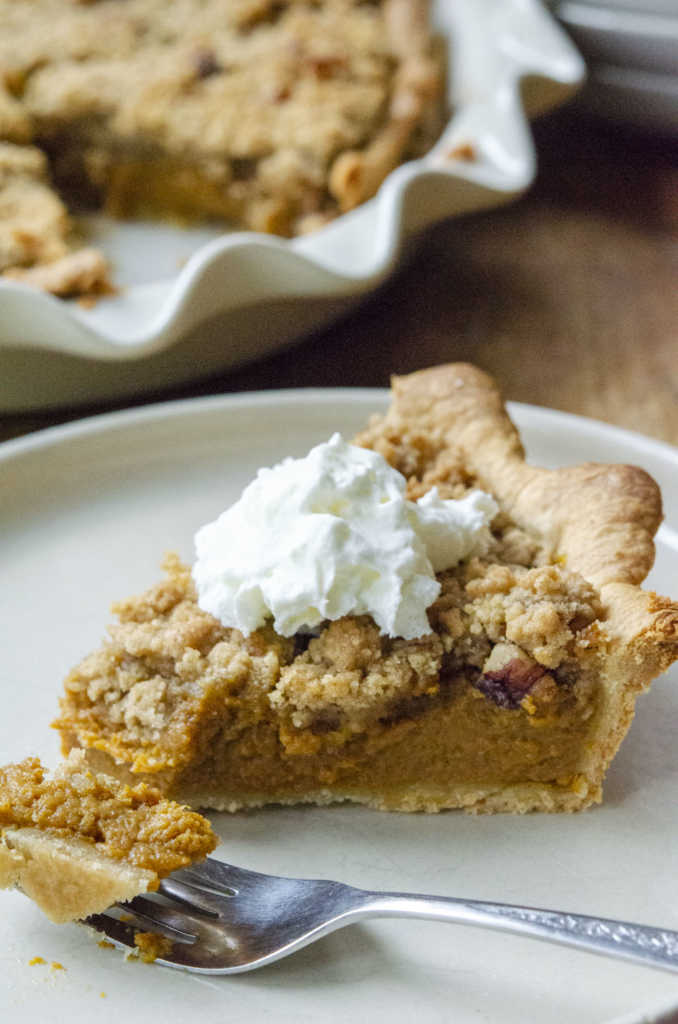 What I love about this is that it feels a little different than a traditional pumpkin pie, but it's close enough to the original that you barely notice. You're not reinventing the wheel – you're just adorning it with buttery brown sugar pecan goodness. I also love that it's just as easy to make as the basic pumpkin pie recipe on the back of the can. That extra topping is no extra trouble at all, truly.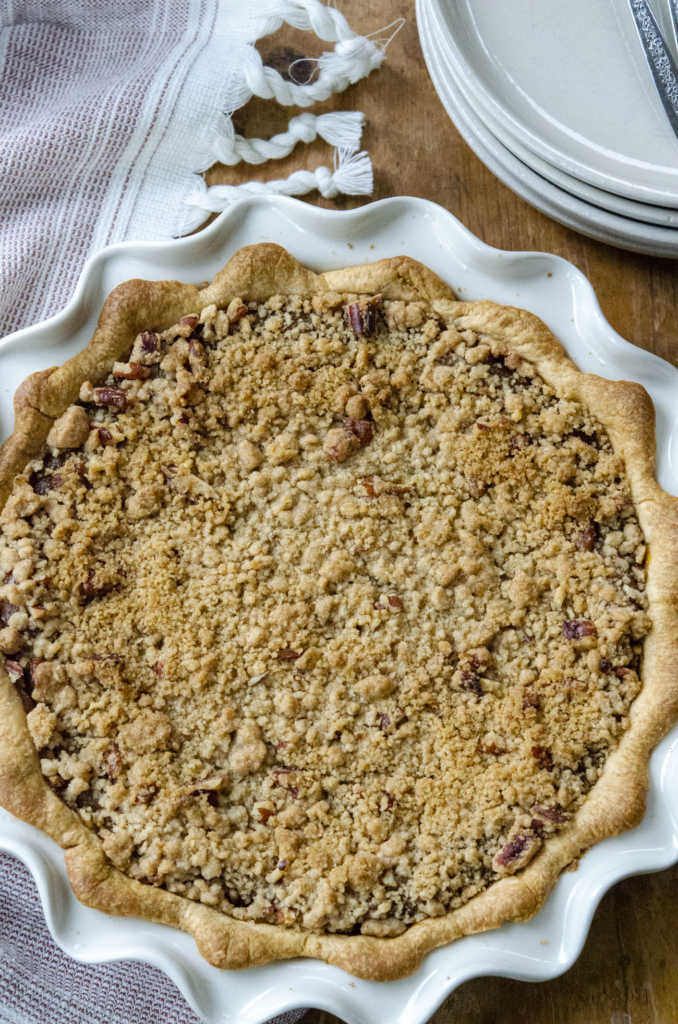 The first part of the process will look very familiar to you. You're simply going to mix some pumpkin puree with eggs, brown sugar, heavy cream, and the classic pumpkin pie spices and pour it into a pie shell. And then you'll bake it!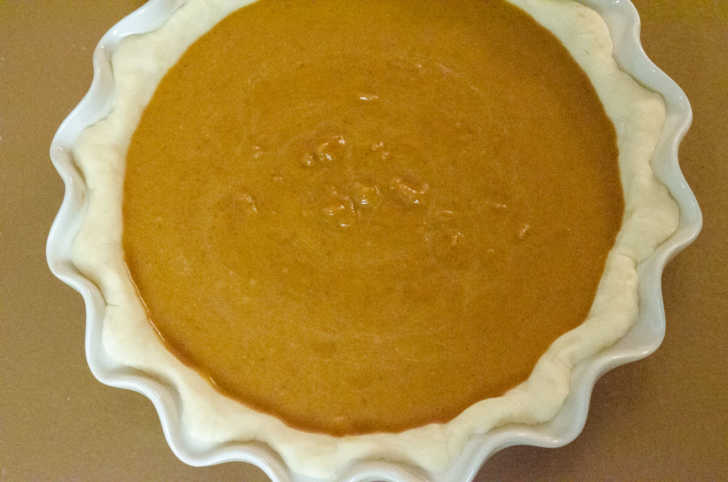 But what about the topping?! Excellent question. You'll work on that while the pie gets a head start in the oven. It's just a matter of stirring together some brown sugar, chopped pecans, butter, flour… just the right mixture to get toasty and golden brown and crispy. About halfway through the baking time, you sprinkle the topping all over the top of the pie and then close the oven back up.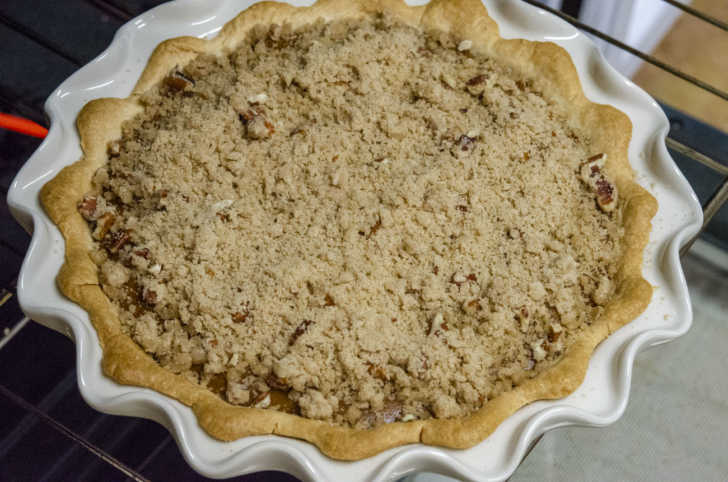 The end result is a pie whose essence is that warming spiced pumpkin flavor you know and love, but accented with a sweet brown sugar pecan crunch. The contrast of those two textures – the silky filling and the crisp streusel – is heavenly. The marriage of the flavors is too, and it's perfect with a scoop of vanilla ice cream or a dollop of whipped cream. (Or both.)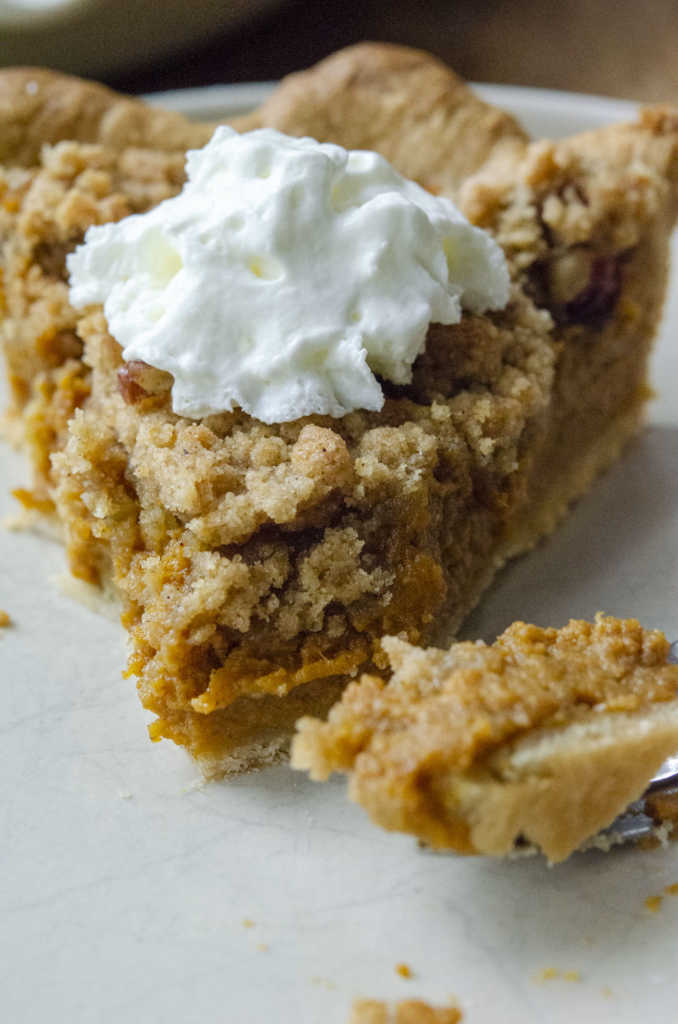 You know when you try to get too creative with a recipe and you just end up missing the real thing? Like maybe you add cranberries AND walnuts to an apple pie and though it's good, you end up wishing you had just had regular apple pie because that's what tastes nostalgic and traditional? This Streusel Pumpkin Pie is not that. It still tastes like a true pumpkin pie… it's just a little extra. And being a little extra is never a bad thing.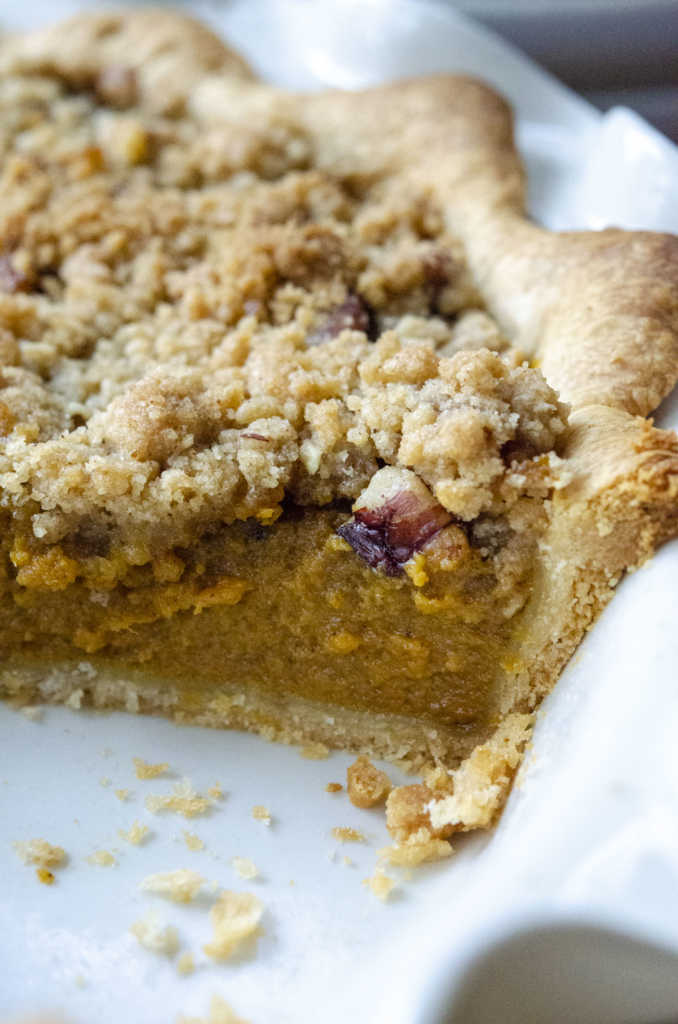 Streusel Pumpkin Pie
Yield 1 pie
15m prep time
1h cook time
Ingredients
For the filling:
2 eggs, beaten
3/4 cup brown sugar, packed
1 (16 oz) can pumpkin (not pumpkin pie filling)
1/2 cup heavy whipping cream
1 teaspoon pumpkin pie spice
1/4 teaspoon salt
For the topping:
1/2 cup all-purpose flour
1/4 cup brown sugar, firmly packed
1/2 teaspoon pumpkin pie spice
1/4 teaspoon salt
1/4 cup butter, softened
1/4 cup pecans, chopped
Whipped cream, for serving (optional)
Preparation
Preheat oven to 425°F and line a pie plate with pie crust.
In a large bowl, make the filling. Whisk together eggs, 3/4 cup brown sugar, pumpkin puree, heavy whipping cream, 1 teaspoon pumpkin pie spice, and 1/4 teaspoon salt until smooth. Pour into pie crust.
Bake 15 minutes, then reduce oven temperature to 350°F. Continue baking 20 more minutes.
Meanwhile, make the topping:
Combine the 1/2 cup flour, 1/4 cup brown sugar, 1/2 teaspoon pumpkin pie spice, and 1/4 teaspoon salt in a medium bowl. Stir to combine.
Add butter and cut in with a fork or pastry blender until a crumbly mixture forms. Stir in pecans.
Sprinkle streusel over pie and return to oven until a knife inserted into the center comes out clean, about 30 more minutes. Serve with whipped cream, if desired, and enjoy!
Recipe adapted from Land o' Lakes.
SKM: below-content placeholder
Whizzco for 12T