With no special tricks and no crazy ingredients, this pasta bake is the perfect weeknight dinner.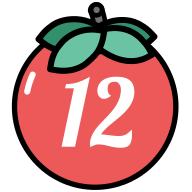 Victoria Brittain

When you share or print a 12 Tomatoes recipe,
you're making mealtime meaningful.
100%
of the Share to Care sponsor fees fund meals for families in need.
Learn More
CLICK ANY LINK BELOW TO JOIN OUR CAUSE!
No meat? No problem! This weeknight wonder will give you a casserole that you're bound to make again. Quick Spinach and Mushroom Pasta Bake is a gooey wondrous pasta casserole that uses simple pantry ingredients so you're going from prep to eating in no time. Better yet? It reads like a fancy cheese sauce, no one has to know how easy it was to make.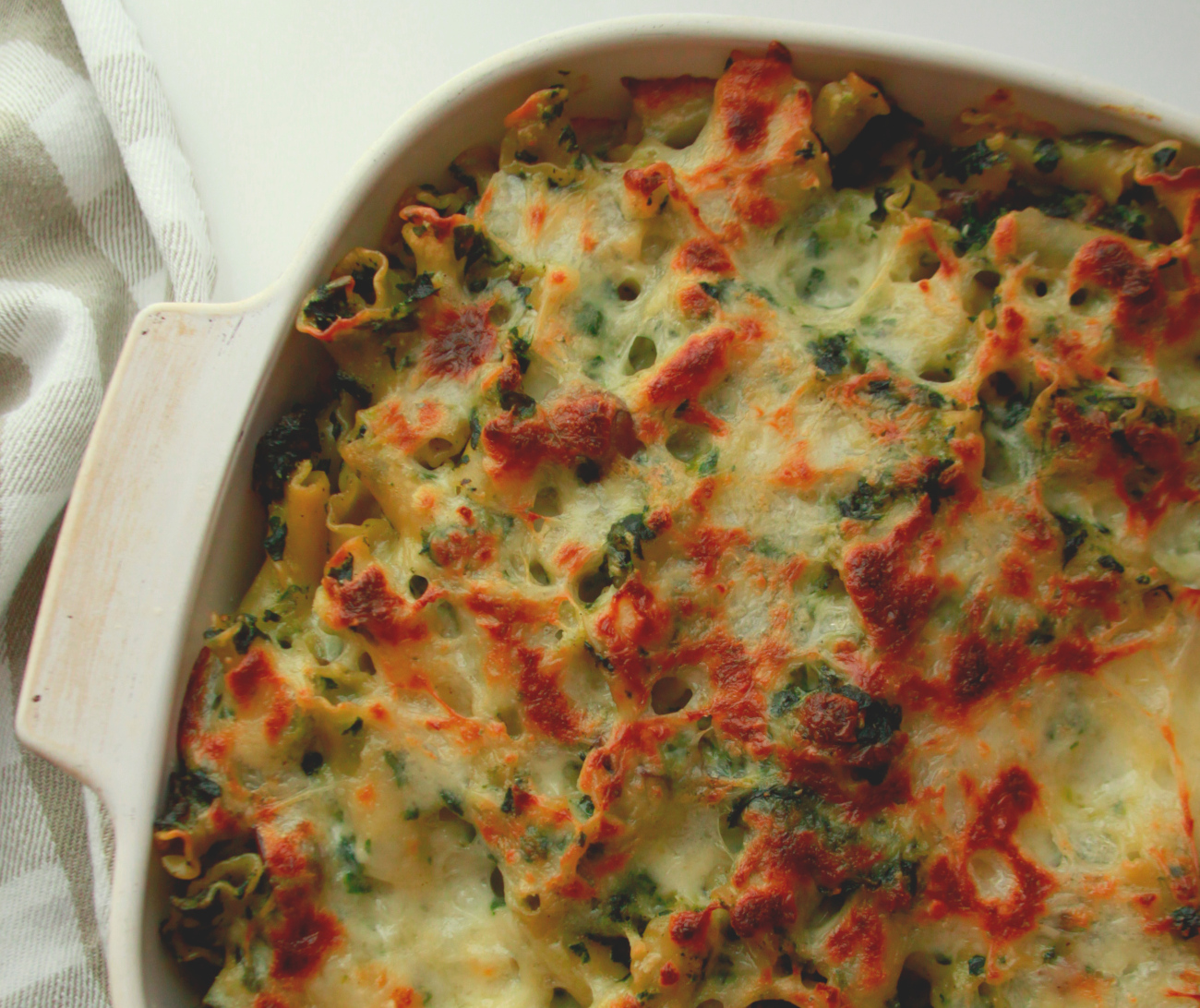 When faced with cooking, we hit the inevitable rut. There's always one specific, crucial ingredient that we don't have on hand. Without it, our meals fall flat. So what can we do with limited, simple ingredients on hand?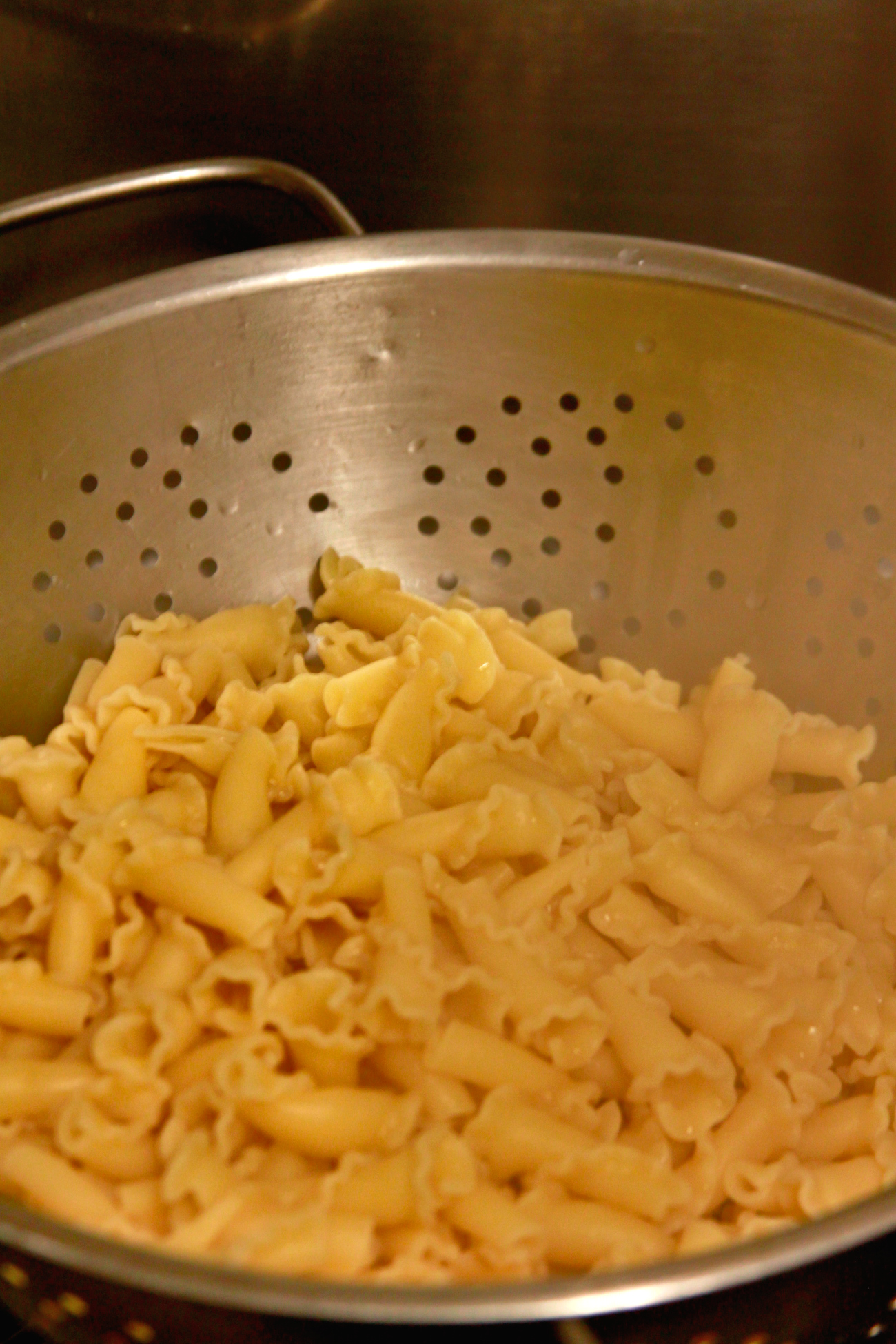 Luckily with this Quick Spinach and Mushroom Pasta Bake, there are no wacky ingredients and no fussy process. It's a simple prep on the stovetop, mix all together, a baking stint in the oven, and dinner is done. It's super flexible you can use a variety of pastas. Here I chose campanelle, but you can use a shell, fusilli, or farfalle, you just want something that will cling with the spinach, mushrooms, and cheese.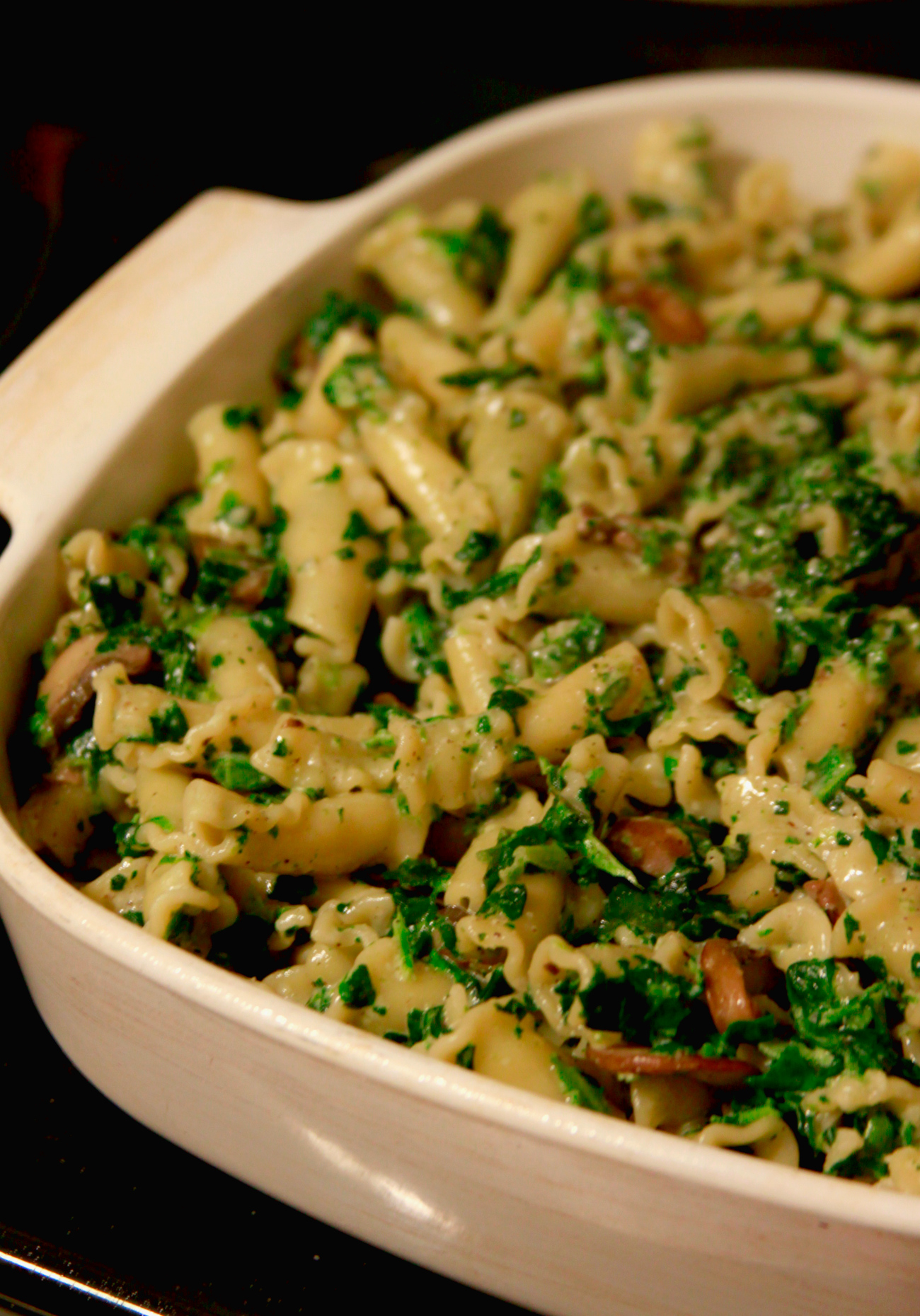 Before you get to cooking be sure to prep your baking dish. When you prep your dish make sure you grease it well, or else you won't get the good crispy side bits out (which are honestly the best parts).
For cooking the pasta you start by sautéing mushrooms until they have a golden color. Then comes the rest of the ingredients. Spinach, pasta, heavy, and spices all jump in at the same time. No mincing herbs or chopping onions here. The pantry spice cabinet is your source of flavor!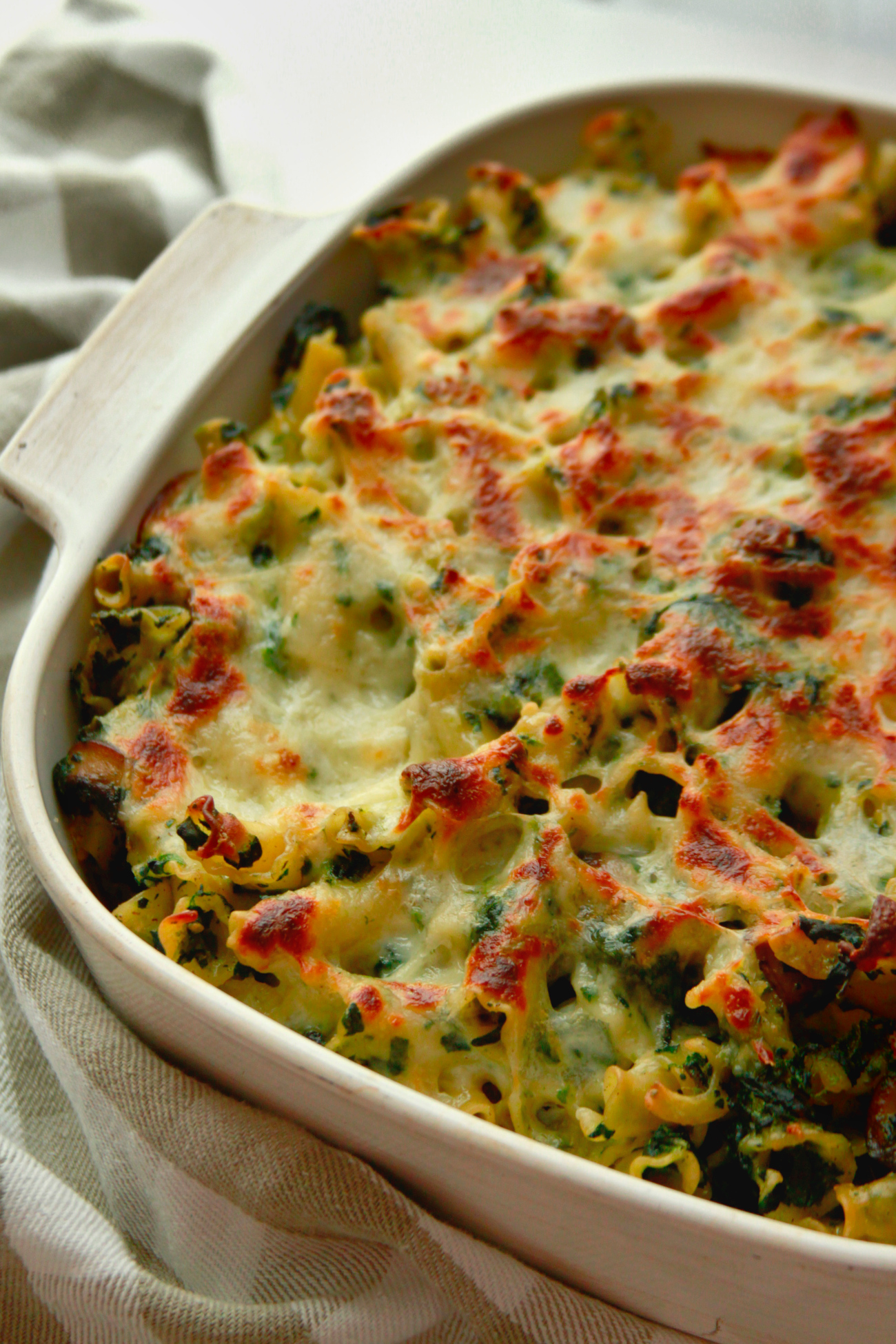 If you're finding the pasta sauce too thick, add a few tablespoons of the reserved pasta water (don't throw the pasta all out too soon)! The pasta water adds an extra bite of saltiness, and it has thickening power thanks to starches that seep out of the pasta and into the cooking water. You can it to be a little bit saucy before you pop it in the oven. The baking time is short, but it does evaporate some of the moisture from the dish.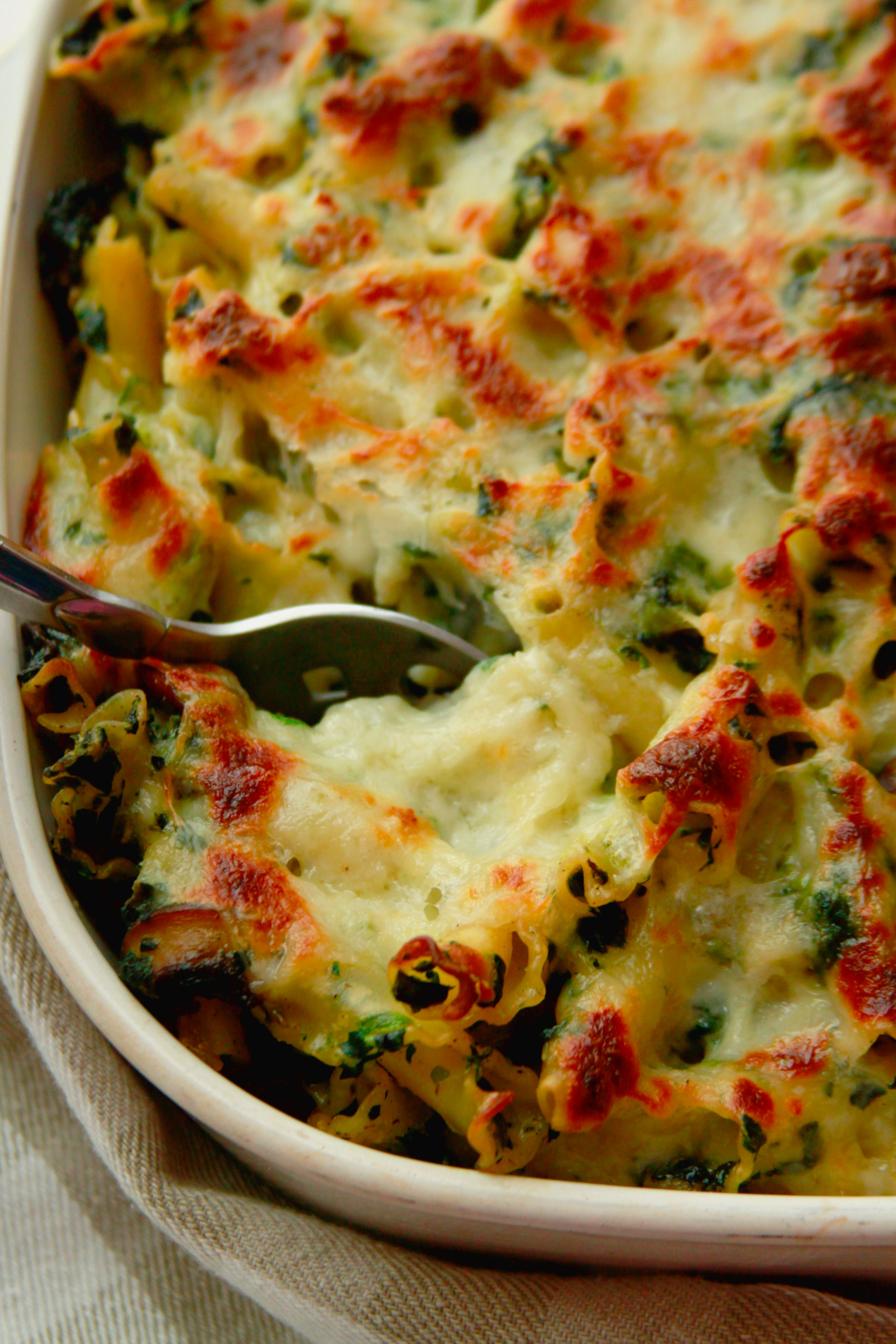 Now comes the tastiest part — the cheese. Parmesan cheese gets mixed into the pasta in the saucepan. Once you transfer everything into the casserole dish, the pasta bake gets a hefty coating of mozzarella cheese.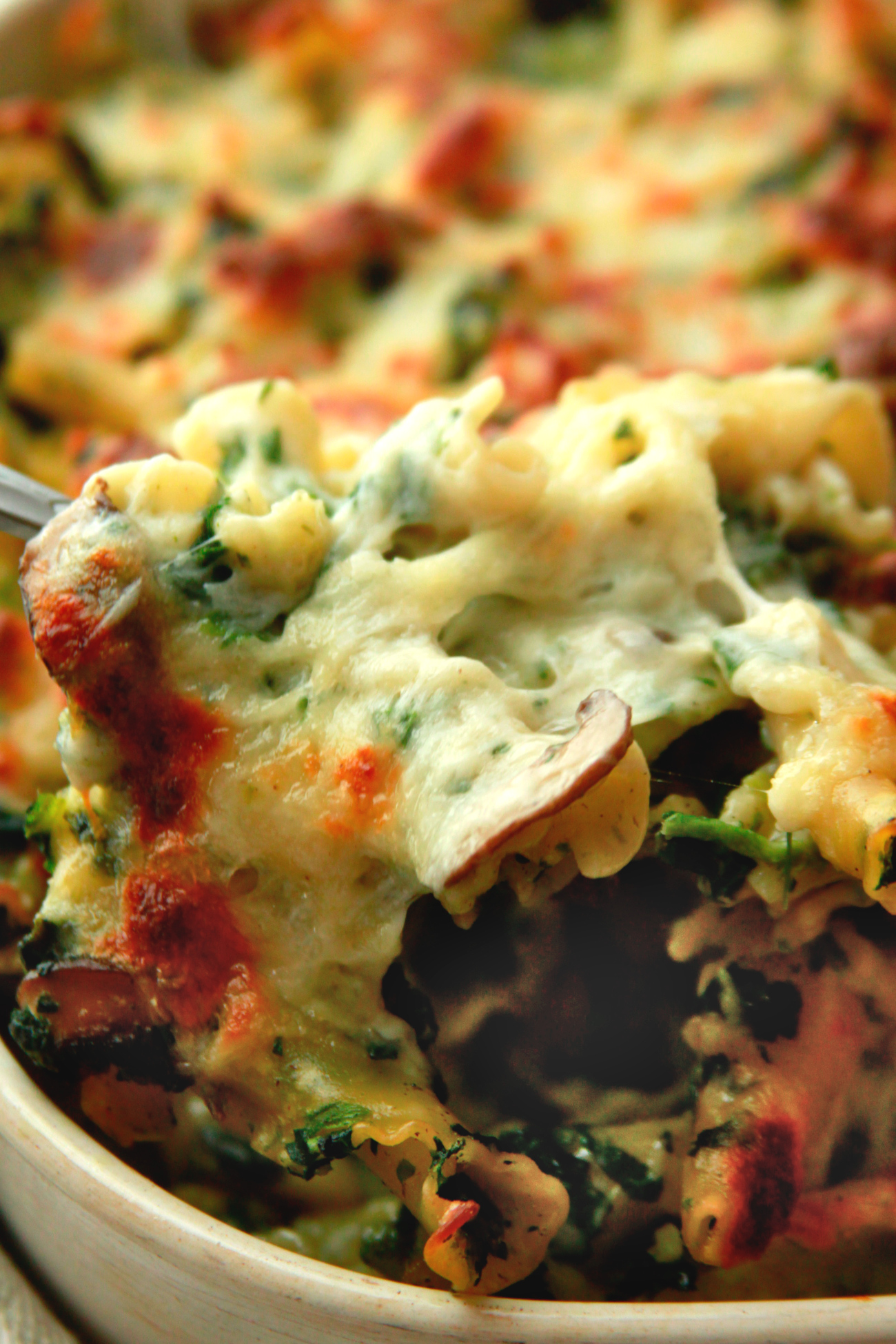 Since the pasta and the other ingredients are already cooked, your baking time is just a finishing touch that binds everything together and gives the top an amazing textural crunch. When the sauce starts to bubble, and the top is golden, you know you've hit casserole perfection.
Quick Spinach and Mushroom Pasta Bake
Serves 4 to 6
15m prep time
35m cook time

When you share or print a 12 Tomatoes recipe,
you're making mealtime meaningful.
100%
of the Share to Care sponsor fees fund meals for families in need.
Learn More
CLICK ANY LINK BELOW TO JOIN OUR CAUSE!
Ingredients
1 lb short pasta, such as campanelle, fusilli, or farfalle
4 tablespoons unsalted butter
1 lb mushrooms, thinly sliced
2 cups frozen spinach, microwaved and drained
2 teaspoons onion powder
2 teaspoons Italian seasoning
1 teaspoon garlic powder
1 teaspoon thyme
2 cups heavy cream
1 3/4 cup parmesan cheese, shredded or grated
1 cup mozzarella, shredded
Kosher salt and freshly cracked black pepper, to taste
Preparation
Preheat oven to 350°F and grease a 9x13-inch dish with butter, set aside.
Cook pasta according to package directions, then strain but reserve some pasta water, about 1/2 cup.
In a large saucepan set over medium heat, melt butter and saute mushrooms until golden, about 4 to 5 minutes.
Add pasta, spinach, onion powder, Italian seasoning, garlic powder, thyme, and heavy cream, stir to combine. Season with salt and pepper. If it looks too thick, add pasta water a tablespoon at a time. Mix in parmesan cheese.
Pour into prepared dish and top with mozzarella cheese. Bake until bubbling around the edges and golden on the top, about 30 to 35 minutes. Let rest 5 minutes before serving.
SKM: below-content placeholder
Whizzco for 12T