An aromatic and hearty cherry tomato based pasta filled with homestyle flavors!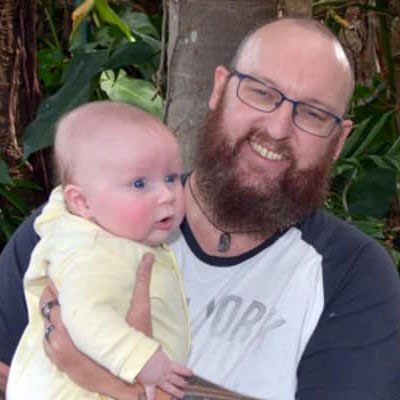 Jono Elderton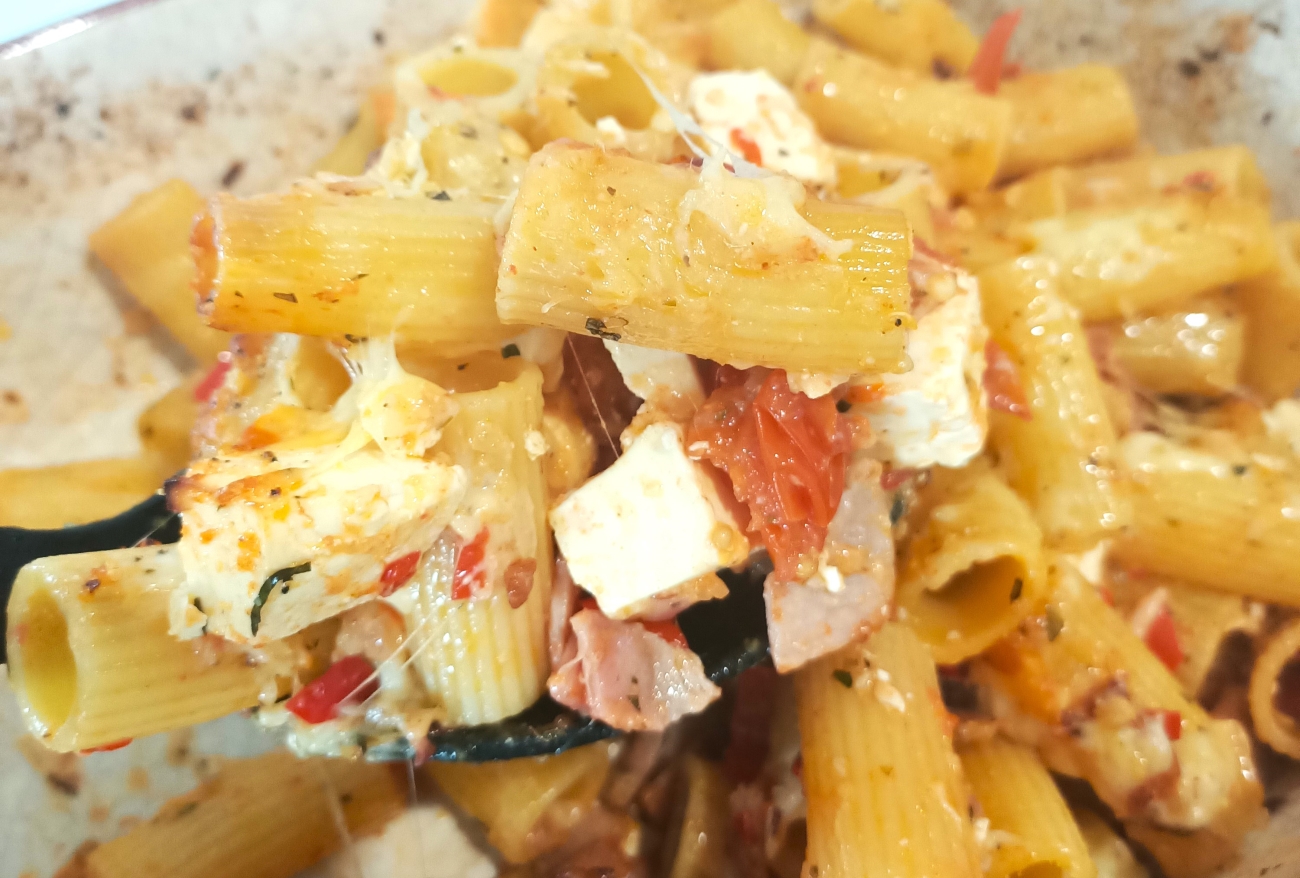 A simple feta pasta became the darling of social media for its tasty but quick to produce recipe. It became so popular that the viral dish created a feta shortage in the US! It's a tremendous recipe in its own right, but by adding a few much-loved ingredients and ramping up the flavor base with popular pantry herbs and spices, you can take feta pasta to a new level. It's a classic bake made with flair and innovation that you'll want to eat again and again!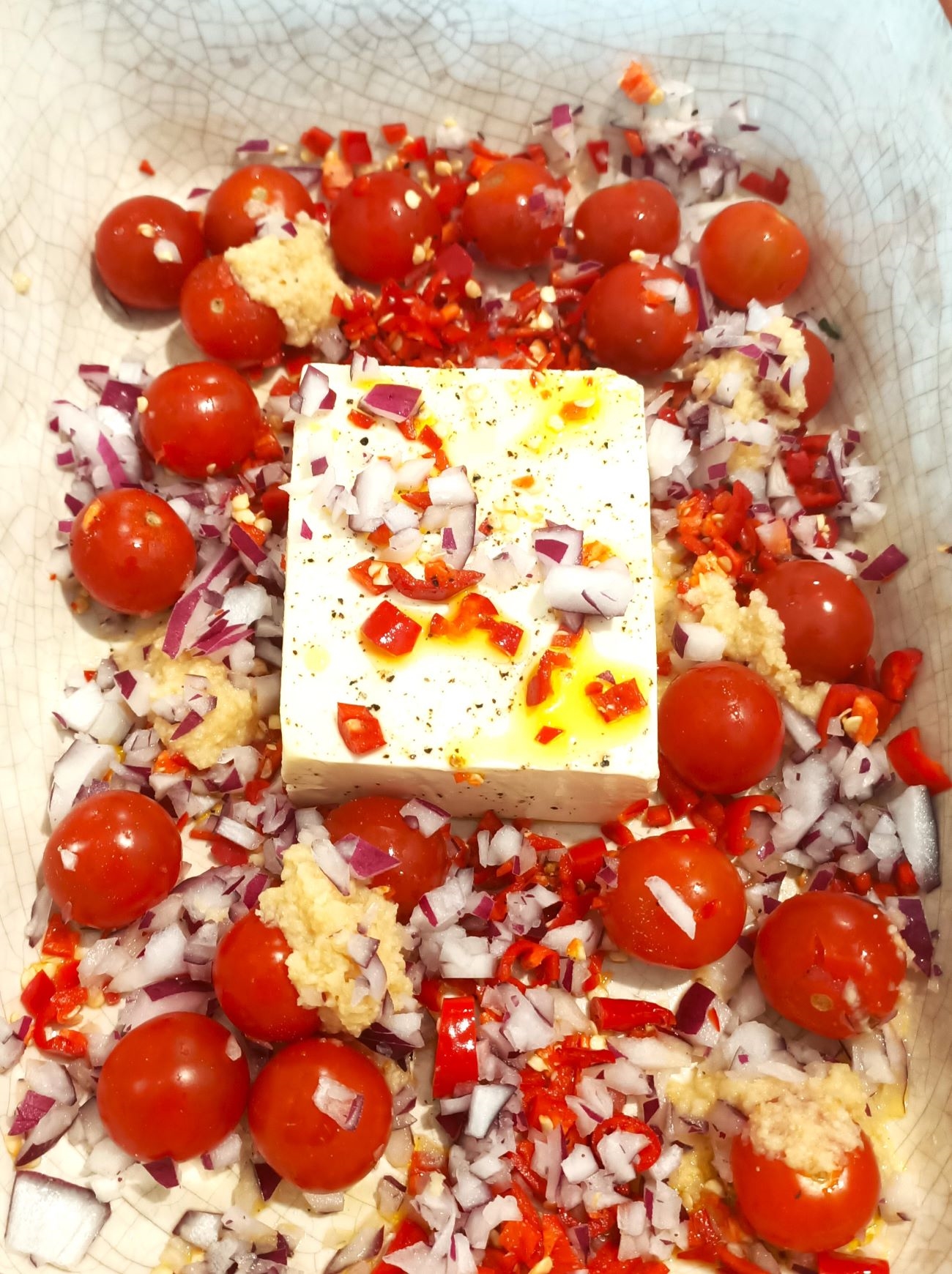 Our spicy feta and bacon pasta bake combines the flavors of red onions, and garlic with the freshness of ripe cherry tomatoes and fresh red chillies. Along with creamy feta chunks and the saltiness of crisp bacon, the herbs and spices combine to create a wonderfully vibrant yet cheesy sauce that melds wonderfully with the tunnels and ridges of rigatoni pasta.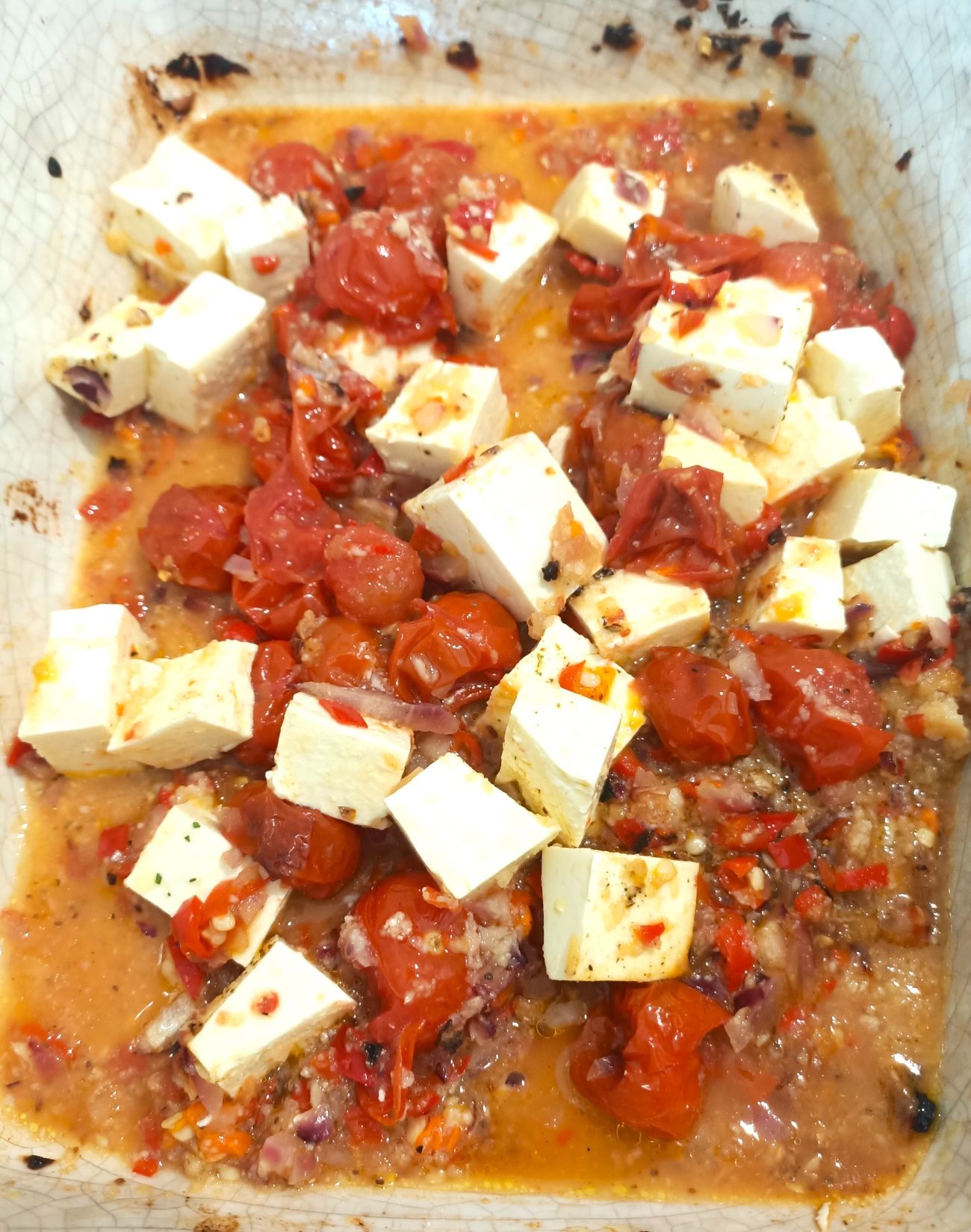 The most important ingredient, of course, is feta cheese. While generally I prefer cooking with the sharper, harder, and more bitey Greek style feta, this dish is perfect for using the smoother Danish feta cheese. After baking the block whole with olive oil, onions, tomatoes, fresh chillies and garlic, the cheese is imbued with a subtly warm flavor. When it's time to add the pasta and bacon, the cheese breaks up easily yet doesn't crumble, so when you pile the pasta onto your fork you are met with a creamy, decadent cheese bite that contrasts the subtle spiciness.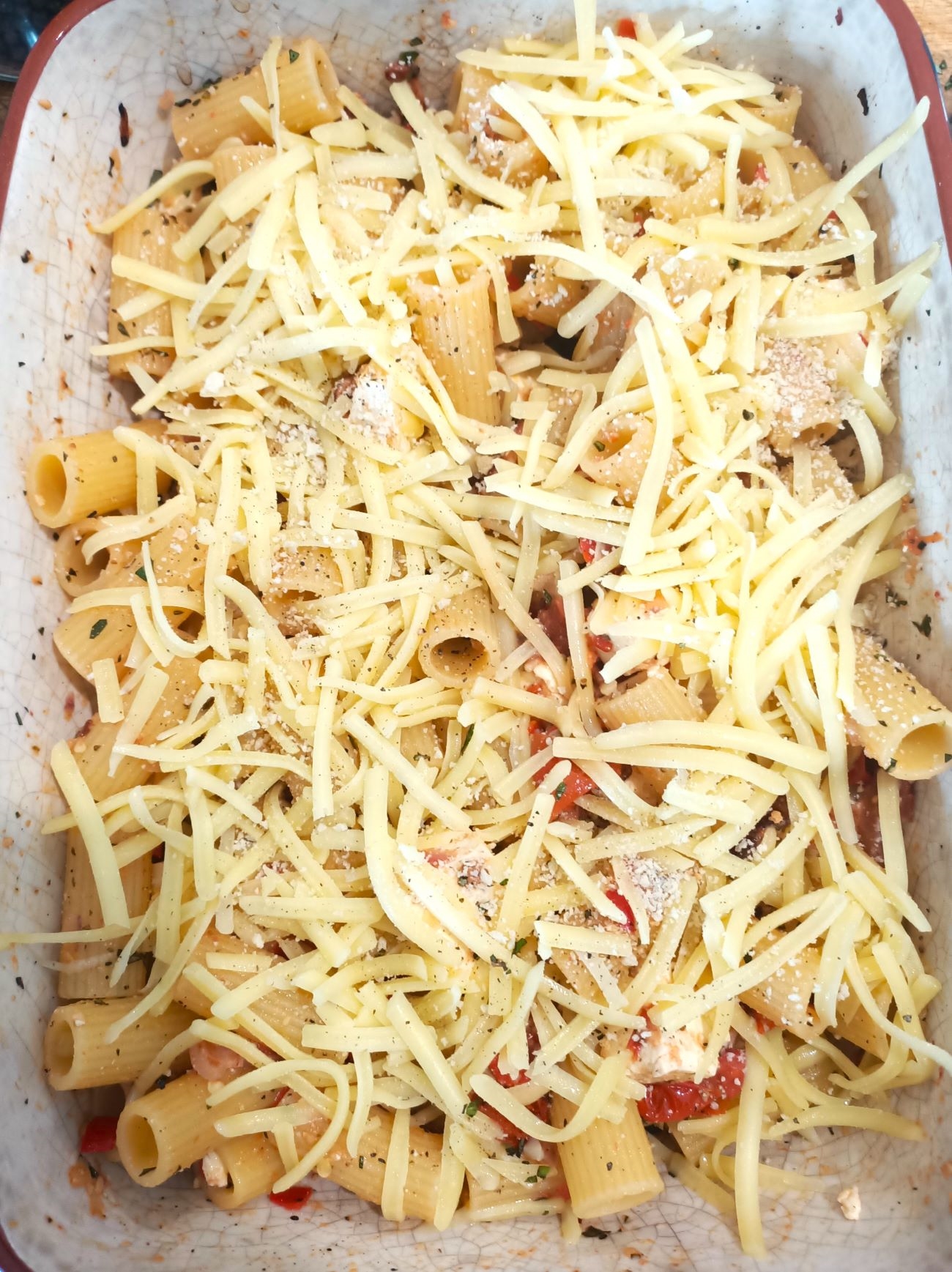 This spicy feta and bacon pasta bake takes more time than a simple dump and bake, but the dish is well worth a bit of extra effort. It takes a bit longer to cook, but I chose rigatoni because it's great when baked and provides lots of little nooks and crannies for cheese to melt and bits of flavor to wait for you to find them. If rigatoni isn't your thing, then macaroni, shells, or even spirals can have the same impact in your pasta bake. Also, if you're not enthused by the idea of fresh red chilies, you can sub them out for sweeter, but equally aromatic and colorful red bell peppers.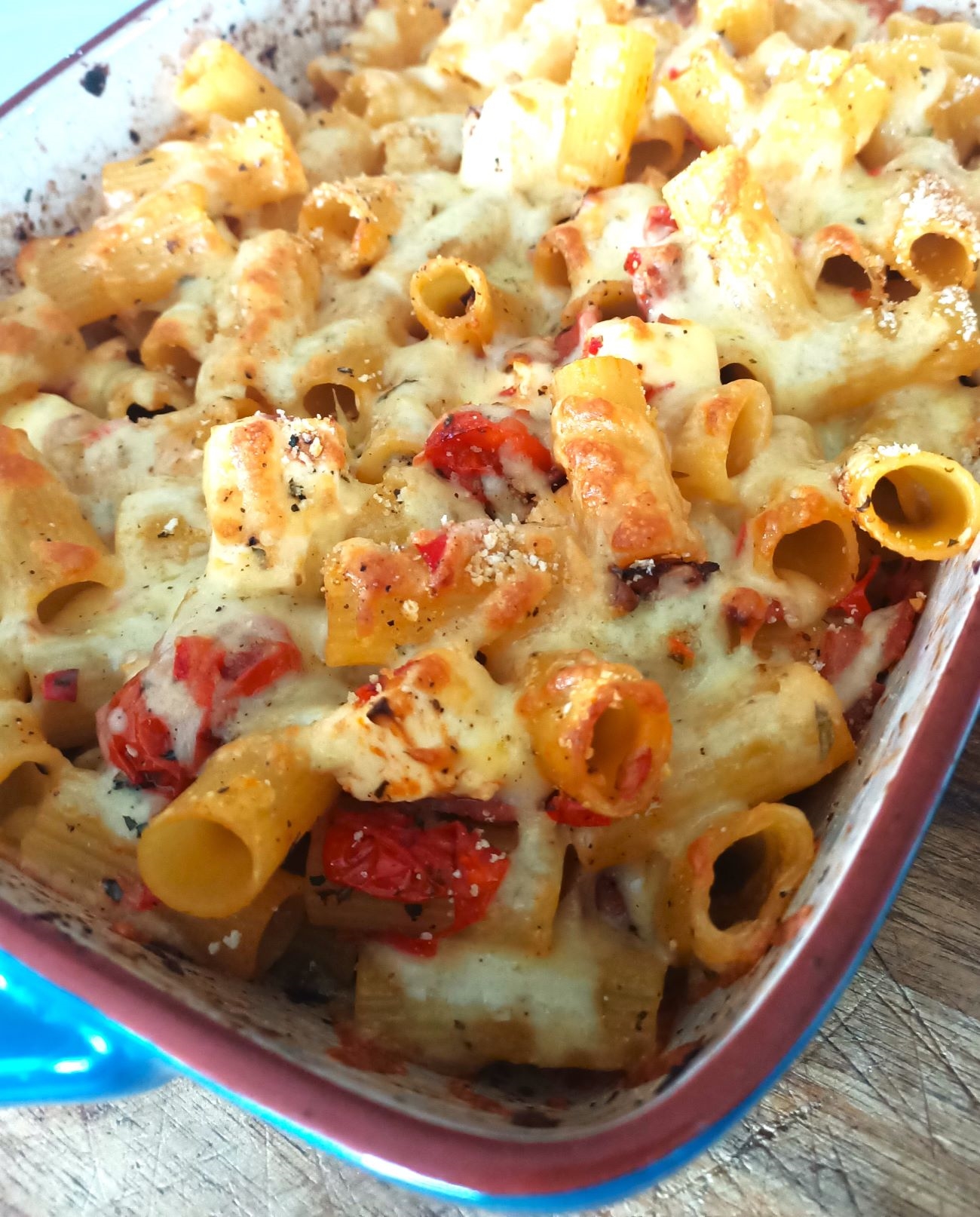 I love cooking and eating this spicy feta and bacon pasta bake; it goes above and beyond most other pasta bakes when it comes to complexity of flavor, and has a lot of pleasant warmth without being too spicy. It's also a yummy make ahead meal because of how well the rigatoni holds the flavor together when it's been reheated. And…bacon! The rich salty bite of crisped bacon will always make a meal extra amazing.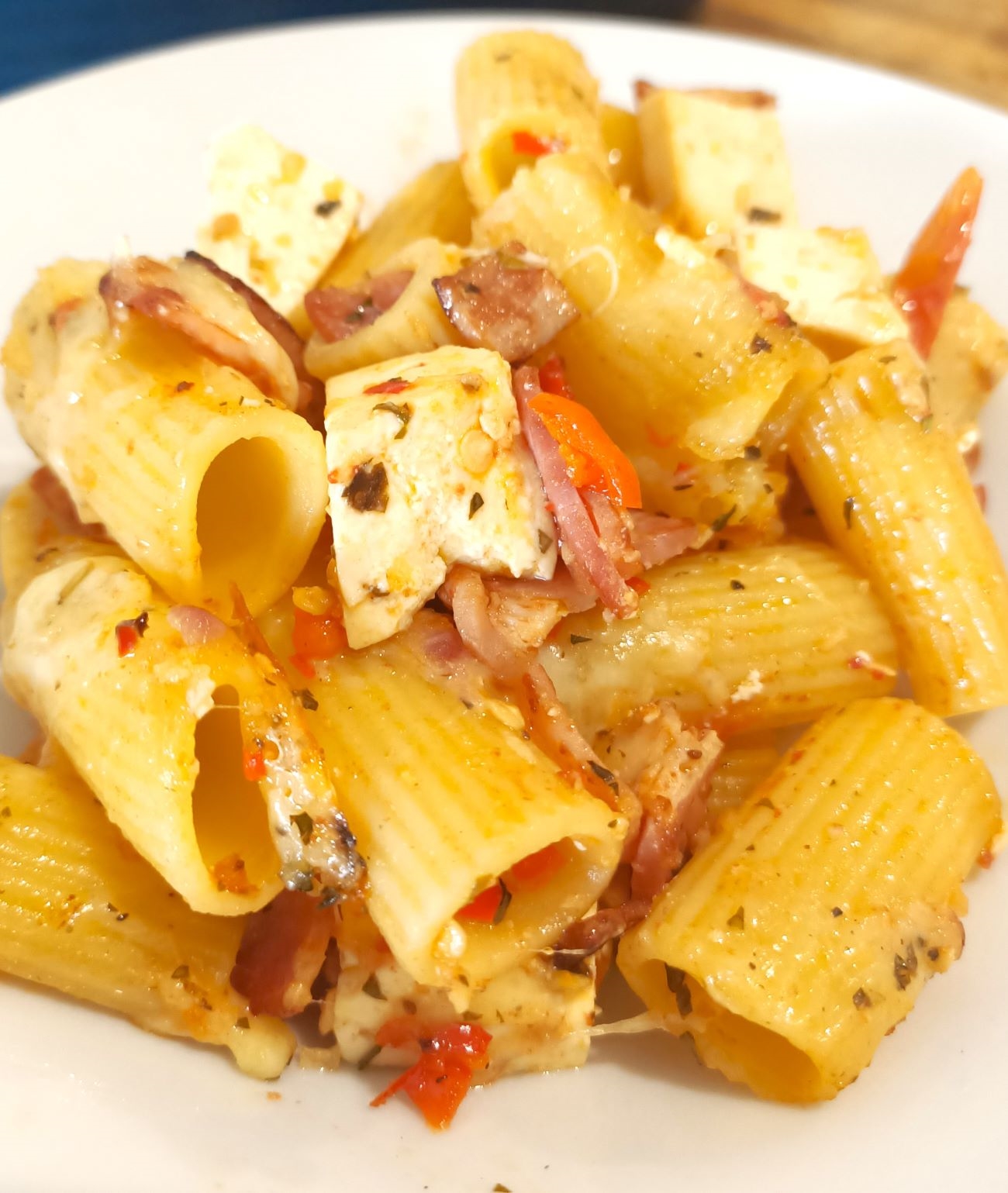 Spicy Feta and Bacon Pasta Bake
Serves 4-6
15m prep time
45m cook time
5m inactive
Ingredients
8 oz Danish style Feta
1 lb cherry tomatoes, whole
2-3 tablespoons extra virgin olive oil
4 teaspoons minced garlic
4 small red chillies, seeded and chopped finely
1/2 medium red onion, chopped finely
1/2 teaspoon celery salt
1/2 teaspoon Kosher salt
1/2 teaspoon ground black pepper
2-3 tablespoons fresh basil, chopped finely
3 rashers middle bacon, rind removed
1-2 cups shredded cheese
2 tablespoons plain breadcrumbs
Kosher salt and black pepper, to taste
Preparation
Preheat the oven to 400°F.
Place the whole feta block in the center of a large casserole dish. Arrange tomatoes, oil, garlic, onions, and chilies around the feta. Pour olive oil over the top, then add celery salt, Kosher salt, and black pepper. Bake in the oven for 30-35 minutes.
While the feta and tomatoes are cooking, chop bacon into small pieces then cook in a small non-stick pan until nearly crisp (5 minutes). Remove bacon pieces from the pan with a slotted spoon and drain on a plate lined with a paper towel.
In a large saucepan, cook the rigatoni according to package directions (begin around 15 minutes prior to removing the feta and tomatoes). Before draining the rigatoni, separate 1/2 cup of pasta water to use with the sauce.
Remove the spicy feta sauce from the oven. Break up the feta (it should separate easily) into pieces, add pasta water, and stir the ingredients together using a slotted spoon.
Add the rigatoni, bacon, and half the basil, and stir together to combine, before topping with shredded cheese, breadcrumbs, and the rest of the basil.
Bake in the oven for a further 10-15 minutes, or until the cheese has melted and begun to turn a golden color. Sprinkle with Kosher salt and black pepper prior to serving.
Recipe adapted from Taste
SKM: below-content placeholder
Whizzco for 12T