The Italian pumpkin pie I've been dreaming of!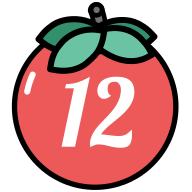 Dom Ruane

When you share or print a 12 Tomatoes recipe,
you're making mealtime meaningful.
100%
of the Share to Care sponsor fees fund meals for families in need.
Learn More
CLICK ANY LINK BELOW TO JOIN OUR CAUSE!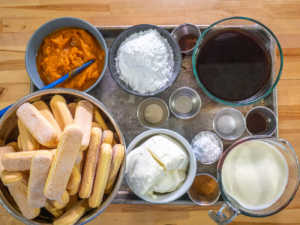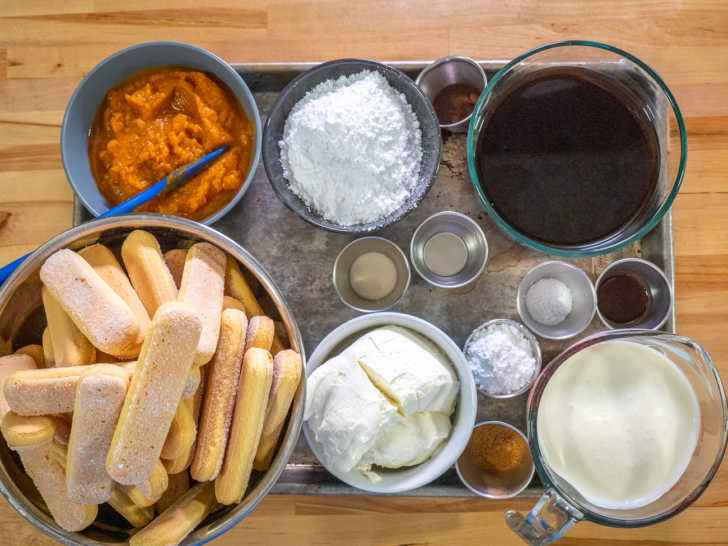 Tiramisu! A deliciously decadent dessert classically made with mascarpone cream and coffee-soaked ladyfingers. This dessert was shockingly divisive in my Italian family. I just think we loved to have strong, unwavering opinions on stuff. To me, this dessert tastes like a doughnut dipped in hot coffee. Just deliciously sweet and bitter bite.
Hello, 2022! It's fall time and you know what that means… Pumpkin-spice-a-palooza! Yes, we're back for everyone's favorite time of year, the time when we turn everything into a pumpkin. A pumpkin cream cheese layer over a salted whipped cream layer with strongly brewed coffee for dunking ladyfingers. I wanted to create a dessert that highlights my love for a good pumpkin spice coffee. What's a dessert with coffee that I can incorporate pumpkin into? Tiramisu! I decided to go with a tangier, less sweet version of the classic Italian dessert to highlight some of the bitter coffee flavors and tangy cream cheese. This is like the Italian pumpkin pie of my dreams.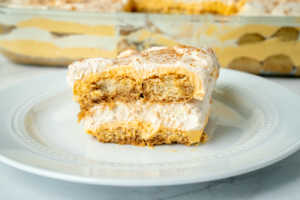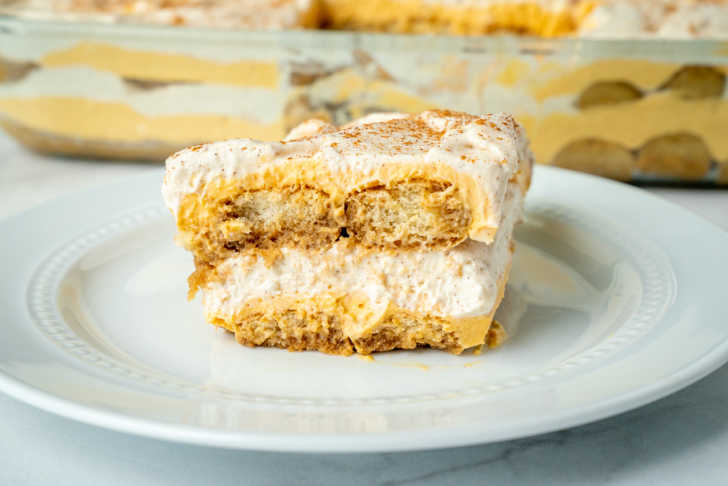 As much as I was going for the pumpkin spice coffee vibes, it takes on more of a delicious pumpkin pie vibe and I'm not mad about it. Ladyfingers are coated in sugar, so each dunk into even the strongest of coffee will be lightened by the sugar. That being said, the bitterness from the strongly brewed coffee definitely comes through the dessert, so it's important to decide the strength of your coffee. I love this dessert for how easy it is to adjust and layer flavors. You have this bittersweet layer over this pumpkin-y creamy layer which gets topped with an airy vanilla-y whipped cream layer, it's just heaven. This is a choose your own adventure dessert.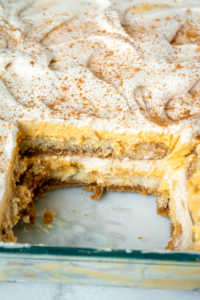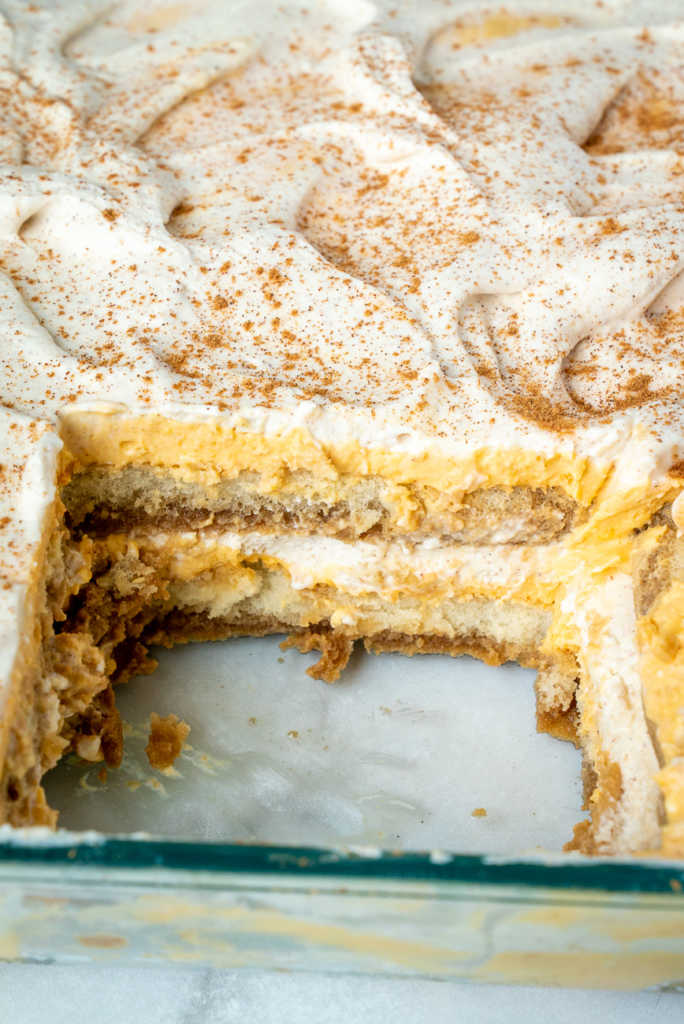 Just like lasagna, tiramisu should hold its layers. The ladyfingers will act as a forever sponge to the moisture from the pumpkin layer, which will solidify thanks to the cream cheese. The whipped cream layer on the other hand will not hold its air for more than a day or two. This is when we introduce gelatin. You can find powdered gelatin right next to all the Jell-O and pudding box mixes. Gelatin will stabilize the whipped cream, meaning it will keep the whipped cream from deflating. It may seem scary, but it's a very commonly used practice to keep desserts lasting longer. Pumpkin Spice Tiramisu will definitely be one for the books.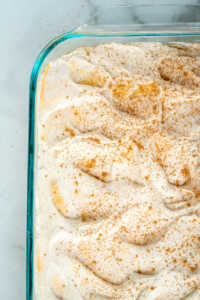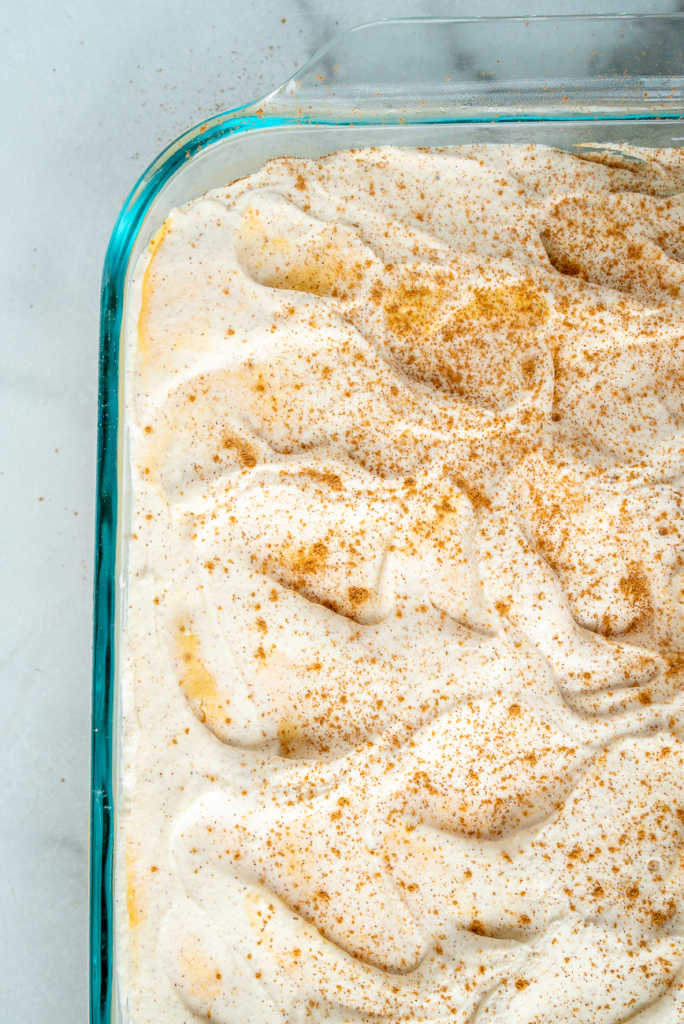 Spiced Pumpkin Tiramisu
Serves 8
20m prep time
1 cook time
4h inactive

When you share or print a 12 Tomatoes recipe,
you're making mealtime meaningful.
100%
of the Share to Care sponsor fees fund meals for families in need.
Learn More
CLICK ANY LINK BELOW TO JOIN OUR CAUSE!
Ingredients:
3 cups strongly brewed coffee
1 lb. cream cheese
15 oz. pumpkin puree
3/4 cup powdered sugar
1 teaspoon pumpkin spice
2 cups heavy cream
½ cup powdered sugar
1 teaspoon vanilla extract
1 teaspoon powdered gelatin (Knox)
2 tablespoons cold water
1/2 teaspoon salt
2 packages 14 oz. ladyfingers (40)
Chocolate shavings & pumpkin spice, for garnish
Directions:
In a bowl, whisk together cream cheese, sugar, pumpkin spice and pumpkin puree using a hand mixer, until combined. Set aside.
Using the hand mixer, whisk heavy cream, powdered sugar, vanilla extract and salt until whipped cream starts to thicken. Stop and prepare gelatin.
Mix gelatin and cold water together, then microwave for 10 seconds. Mix until gelatin crystals dissolve and add to whipped cream. Continue whisking until soft peaks form and the whipped cream can hold it's shape.
Dip ladyfingers in coffee mixture, fully submerged, and evenly line the bottom of a 9 x 13 pan.
Spread half of the pumpkin cream cheese over lady fingers, using a small offset spatula. Top with half of the whipped cream. Repeat layering with lady fingers, pumpkin then whipped cream. Let it sit in the fridge for at least 4 hours or best overnight.
Garnish with pumpkin spice and chocolate shavings, cut and serve.
Mangia!
SKM: below-content placeholder
Whizzco for 12T