This recipe is a showstopper.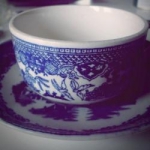 Rose Heichelbech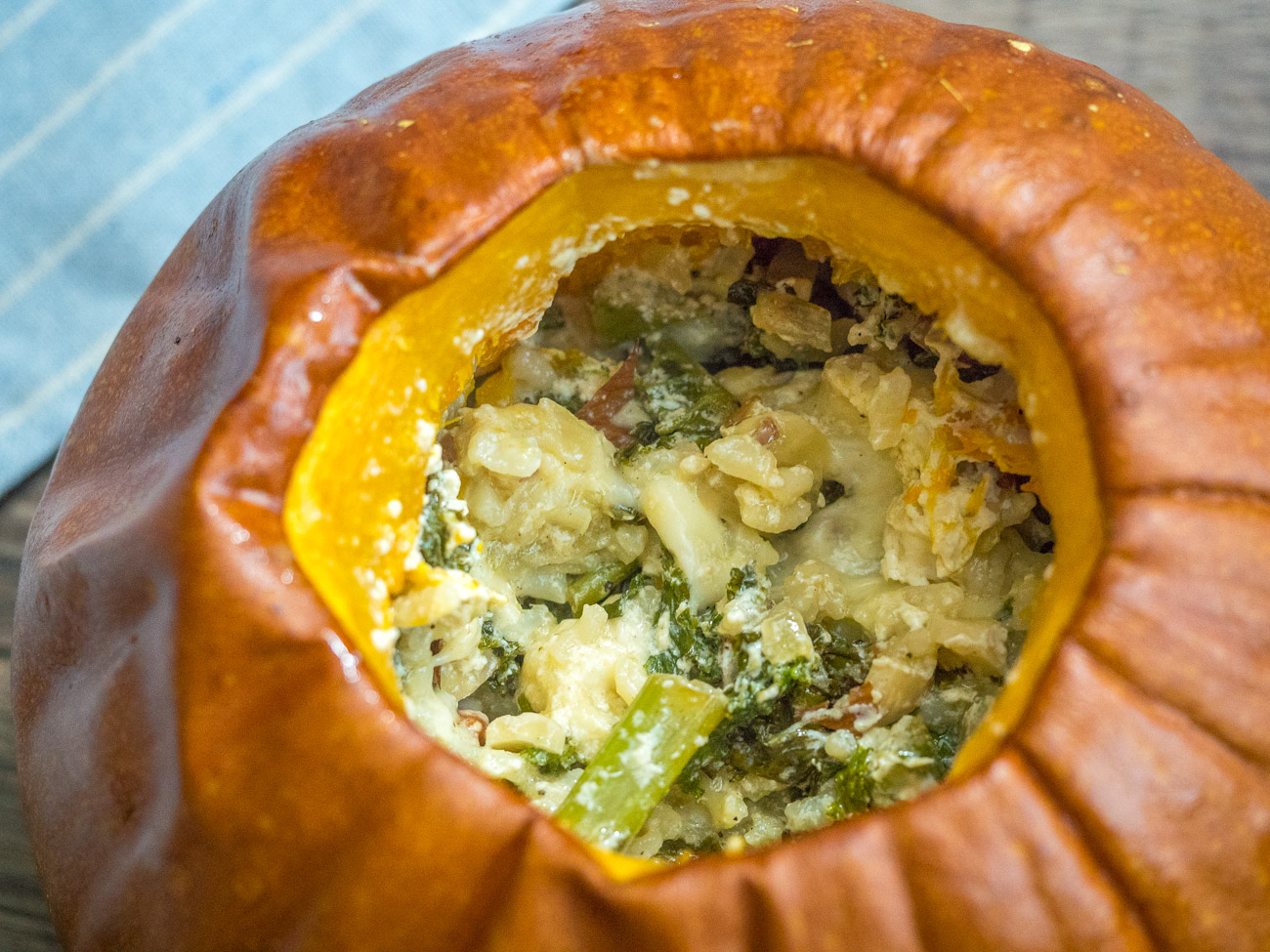 Pumpkins are the first food that folks think of when you mention fall and winter. And, if you've got a whole pumpkin on hand, you can make many different dishes. After you cut the top off the pumpkin and then remove the strings and seeds (and hopefully roast those seeds for a tasty snack later) you're ready to make a savory stuffed pumpkin.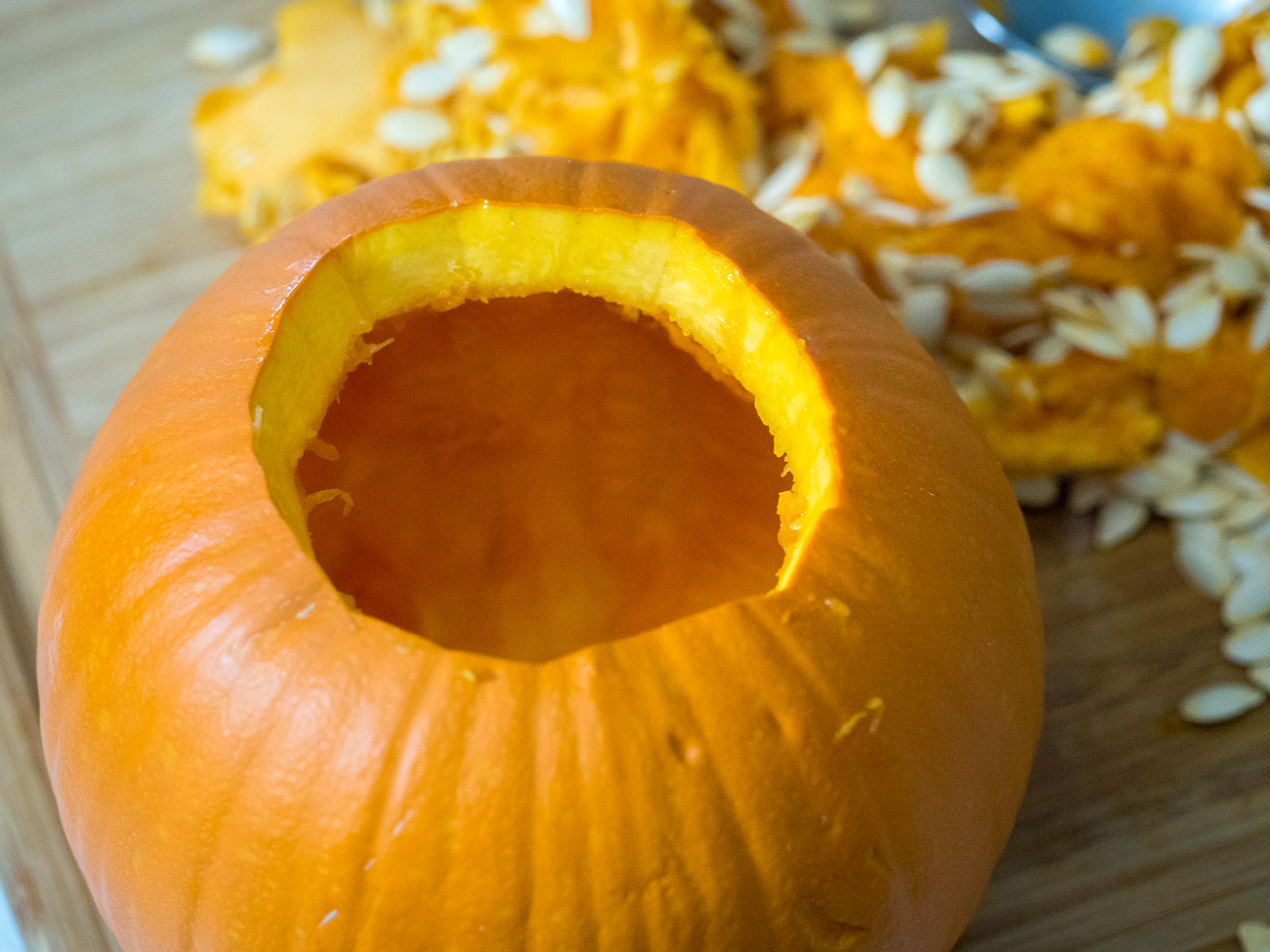 One of the best things about this recipe, aside from the taste, is the presentation. It's a real showstopper to serve a whole stuffed pumpkin at the table! We used a 4-pound sugar pie pumpkin for this recipe, which when filled is the perfect size to serve 4-6.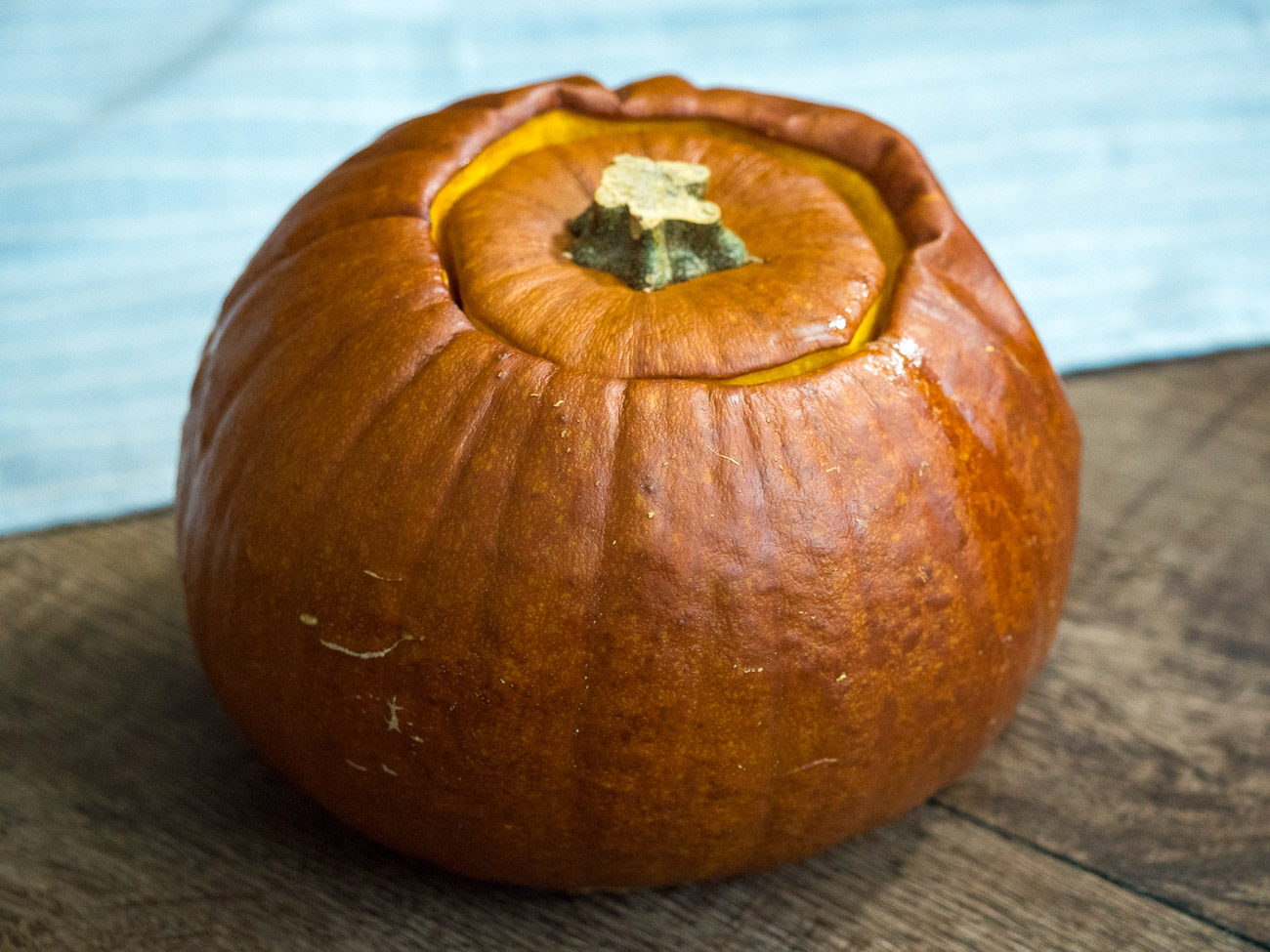 This stuffed pumpkin not only makes a lovely addition to the table, it's also a very tasty gluten-free option. Plus, it's a great way to serve pumpkin that isn't sweet or in pie form, because it's nice to have options when planning your meals.
This recipe is also very easy to alter. Don't like nuts? Leave them out. Want different spices? No problem. You could also add crumbled, cooked sausage (or even chopped fried bacon) to this to liven things up even more.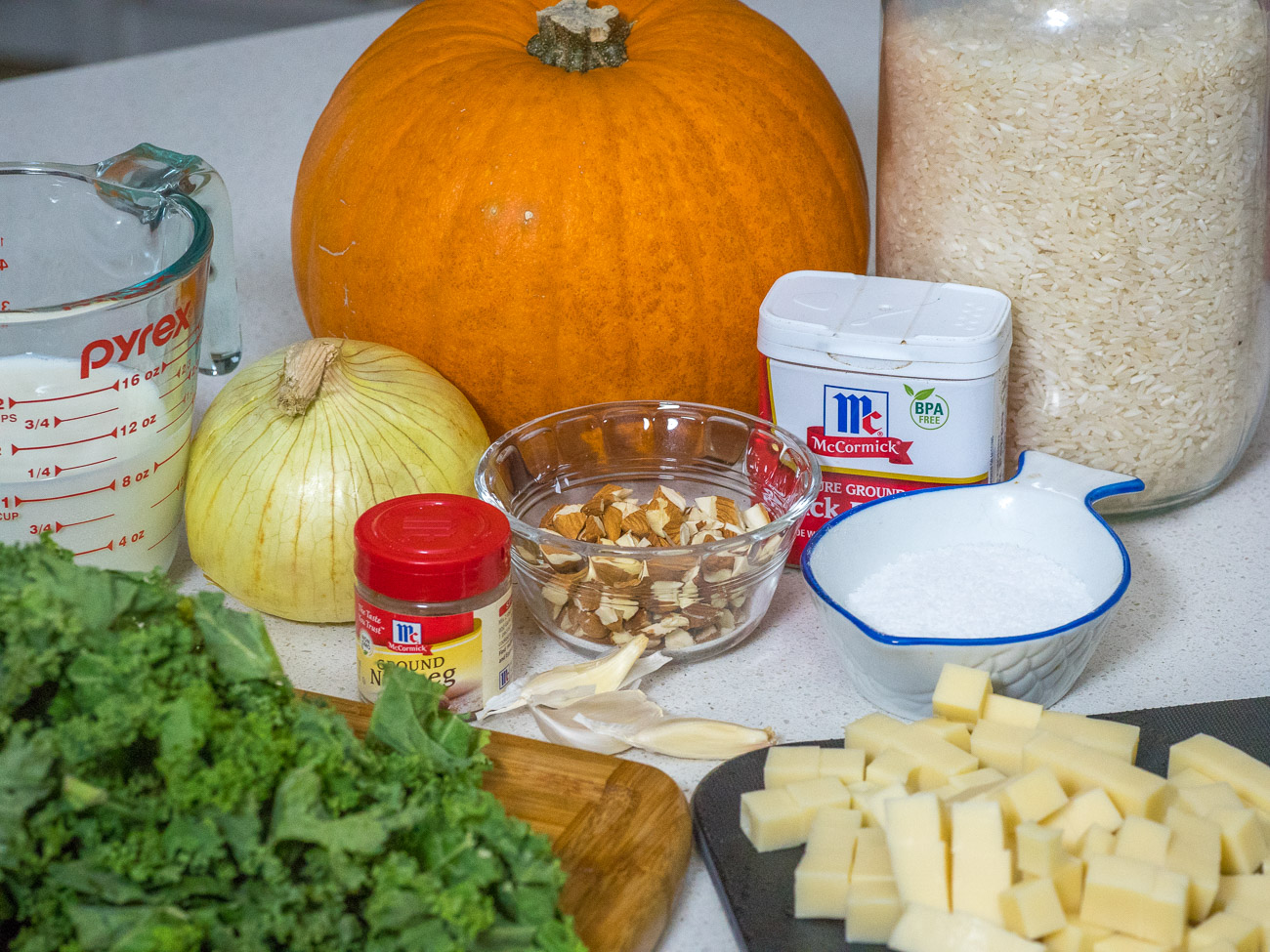 The stuffing inside is made from rice, chopped almonds, kale, and smidge of Swiss cheese. The stuffing also has a wonderful flavor of nutmeg, a spice that really get to shine when paired with pumpkin.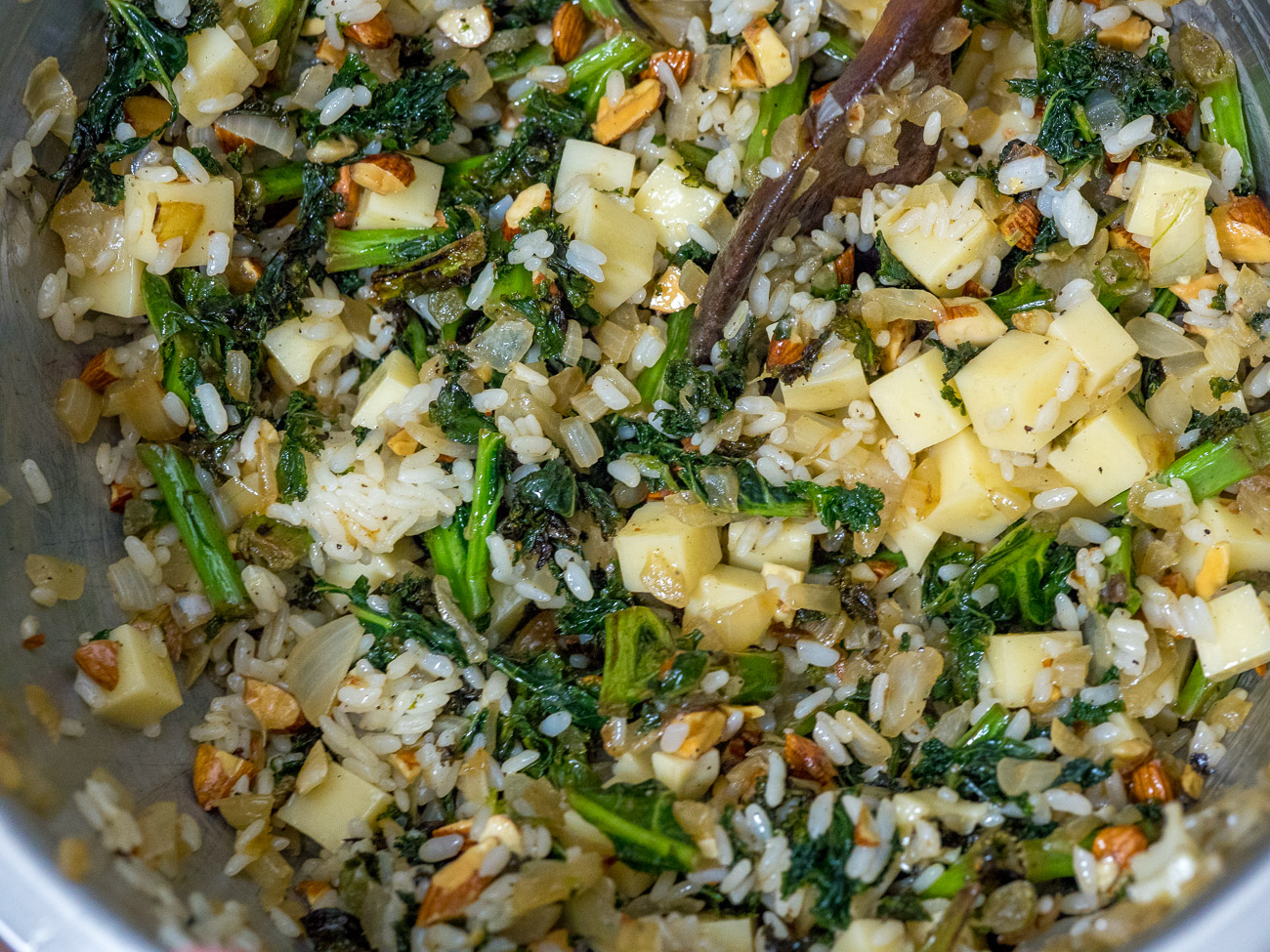 After cooking up the stuffing briefly on the stovetop, it's time to stuff the pumpkin. Once you've got the stuffing inside the pumpkin you fill it with milk so that everything is delectably tender when it's done baking. Replace the pumpkin top and then put the whole thing on a baking or roasting pan. The prep work for this dish isn't intense, but it does require up to 2 hours in the oven at 350˚F.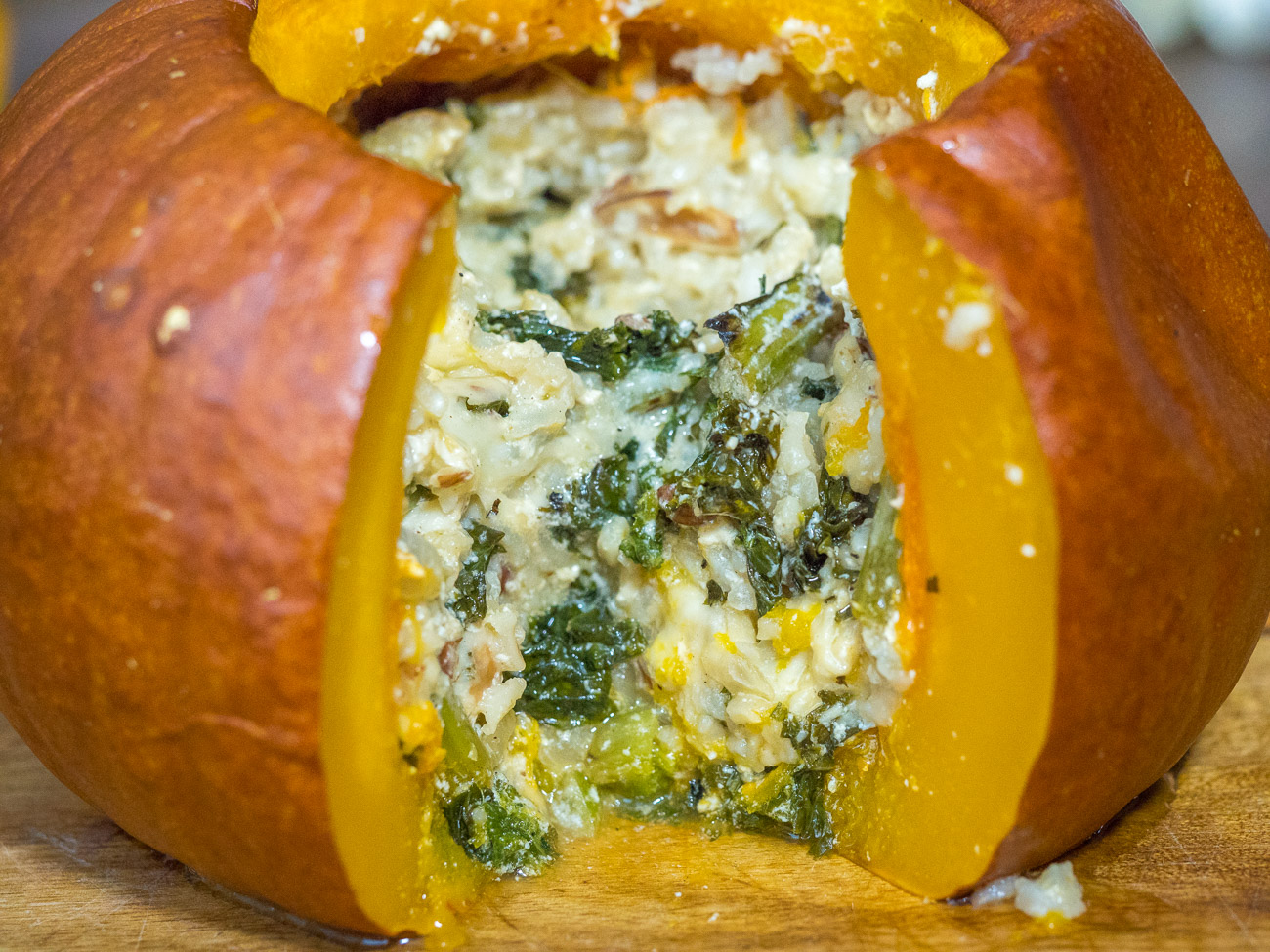 One important note is that you want the pumpkin top to be cooked, but it can become overcooked much more quickly than the rest of the pumpkin. For this reason, you'll want to take the top out of the oven at around 90 minutes or so and then pop the pumpkin back in the oven for another 20-30 minutes.
Once the stuffed pumpkin is done you can serve it at the table with the top on. We sliced ours into wedges to serve, and what beautiful slices they are.
If you're looking for a versatile and yummy way to make a pumpkin that isn't sweet, then this stunning stuffed pumpkin is just the ticket.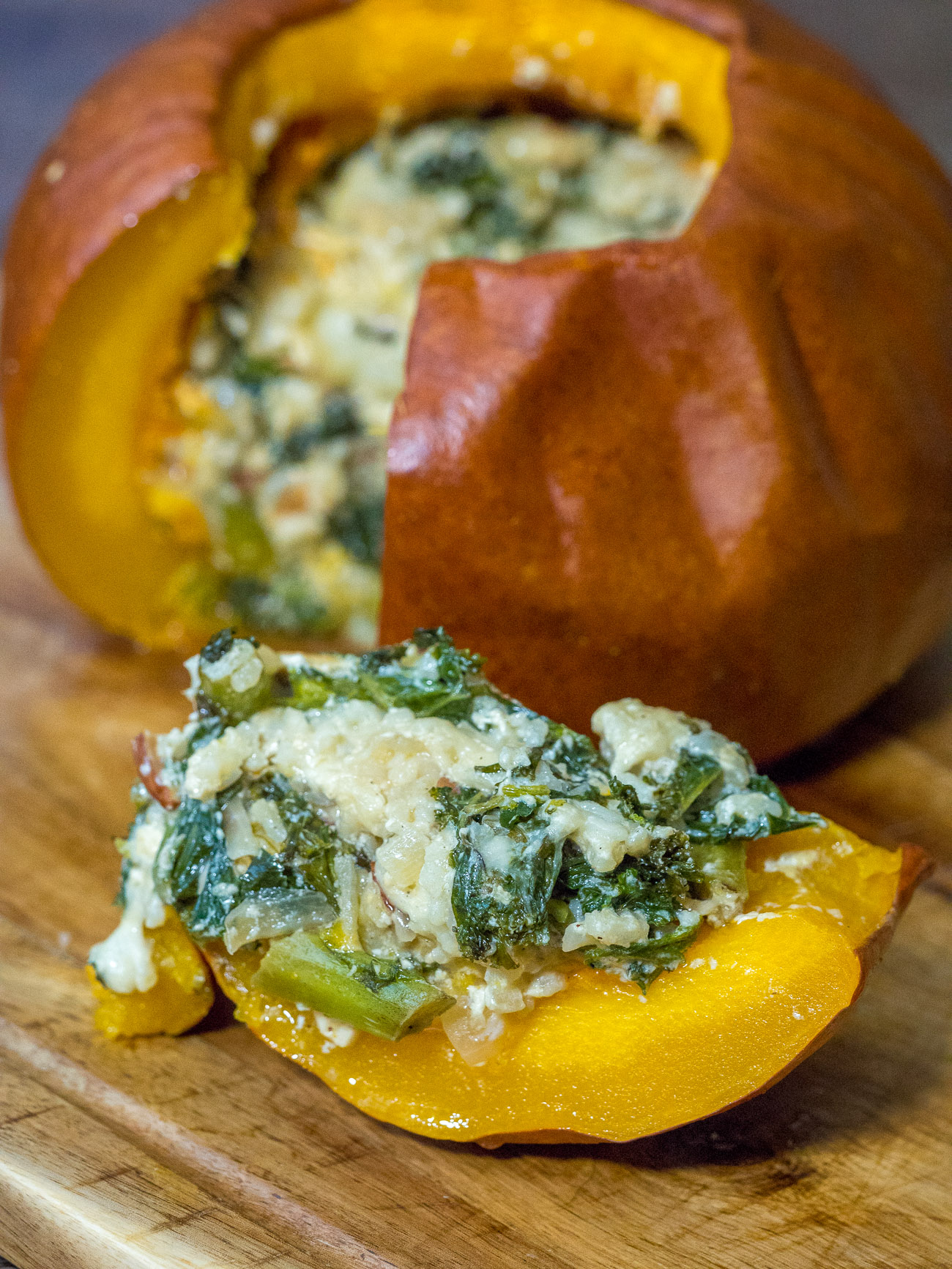 Savory Stuffed Pumpkin
Serves 4-6
25m prep time
2h cook time
1h 58m inactive
Ingredients
2 tablespoons olive oil, divided
1 yellow onion, chopped
1 bunch lacinato kale, stemmed and chopped
1/2 teaspoon salt
1/2 teaspoon pepper
1/4 cup water
3 cloves garlic, chopped
1 cup white rice, cooked
1/4 cup toasted almonds, chopped
1/4 teaspoon grated nutmeg
1 sugar pie pumpkin, about 4 pounds
1 cup milk
Preparation
Move rack to center of oven. Preheat oven to 350˚.
Over medium heat sauté onions in 1 tablespoon olive oil until translucent. Remove to a large bowl.
In same pan cook kale in remaining olive oil for 5 minutes on medium. Add salt and pepper. Add 1/4 cup water and cook (covered) for 5 minutes. Remove lid and add garlic to pan. Cook for 3 more minutes.

Add rice, cheese, almonds, and nutmeg to onions and kale in pan and stir to combine. Set aside.
Cut pumpkin across about 2 inches from the top. Remove strings and seeds, but leave the pumpkin flesh along the sides. Pour stuffing mixture into pumpkin and pour milk over the stuffing. You may need to need use less of the stuffing and/or milk depending on the size of your pumpkin. Cover with pumpkin top.

Bake for 90 minutes with the pumpkin top on. Remove pumpkin lid fro oven and bake the pumpkin for another 20-30. Serve with the pumpkin top as the "lid" over the whole thing.
Recipe adapted from Strudel and Streusel.
SKM: below-content placeholder
Whizzco for 12T