Peanut butter, caramel, chocolate, oh my! Check out this delicious no-bake recipe!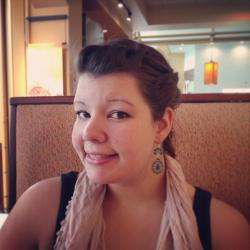 Jessica Griggs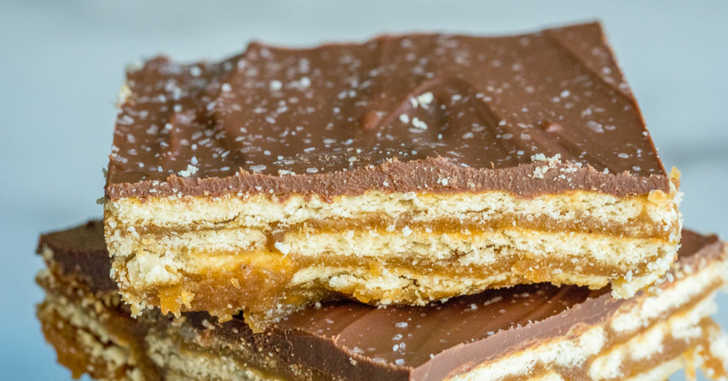 These delectable-looking bars have three of my favorite ingredients – chocolate, peanut butter, and caramel. When combined, the trifecta of desserts makes for a salty, sweet snack that the whole family will love. Not only are these Salt River bars tasty, but they are also gorgeous! Just look at those layers of sweet, savory perfection. Add a sprinkle of sea salt on top, and you've got yourself a truly addictive dessert.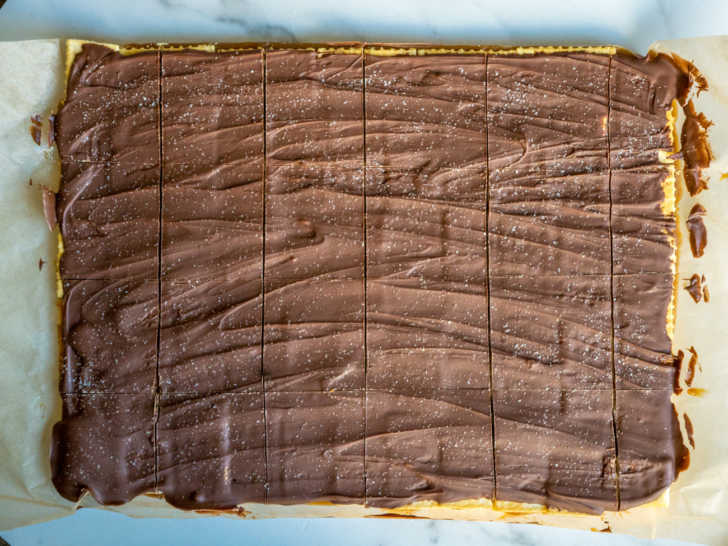 As if beauty and deliciousness weren't enough to convince me to try out this recipe, the fact that this dessert is easy to throw together and no-bake to boot sent me over the edge! The only real cooking comes in when making the caramel filling.
But first things first. Since you'll be working with sticky ingredients, make sure to line your pan with parchment paper, letting the long ends hang off so you can grab ahold of them and easily lift the bars out to cut them later.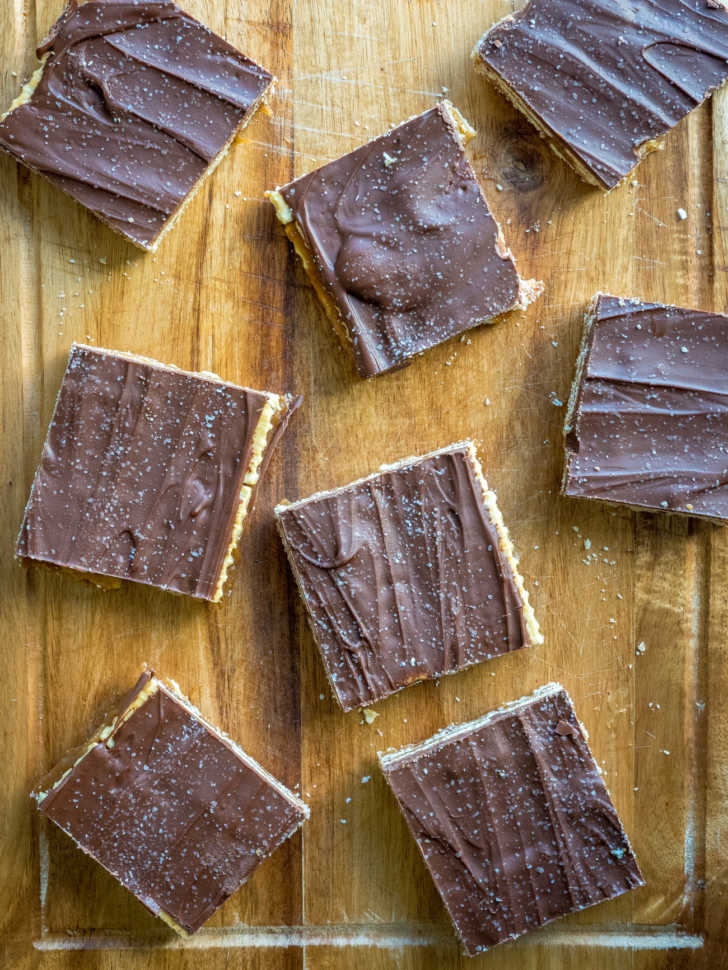 Next, line the prepared pan with Club crackers for the base. Set aside and whip up the creamy filling. This caramel goodness consists of brown sugar, heavy cream, and a surprising ingredient – crushed graham crackers! Once the mixture is melted, pour half onto the first layer of crackers. Quickly add another layer of crackers, then pour the second half of the mixture on top, followed by a final layer of crackers.
Now it's time for the chocolate topping. It may look like plain chocolate, but it actually consists of chocolate chips, butterscotch chips, and creamy peanut butter. Yum. Melt everything in the microwave or in a saucepan, stirring to combine. Top off the bars with the chocolate mixture and sprinkle sea salt on top. Refrigerate for a few hours before cutting.
This is sure to be a crowd favorite! You may want to make a double batch. Don't say I didn't warn you about how addictive these things are!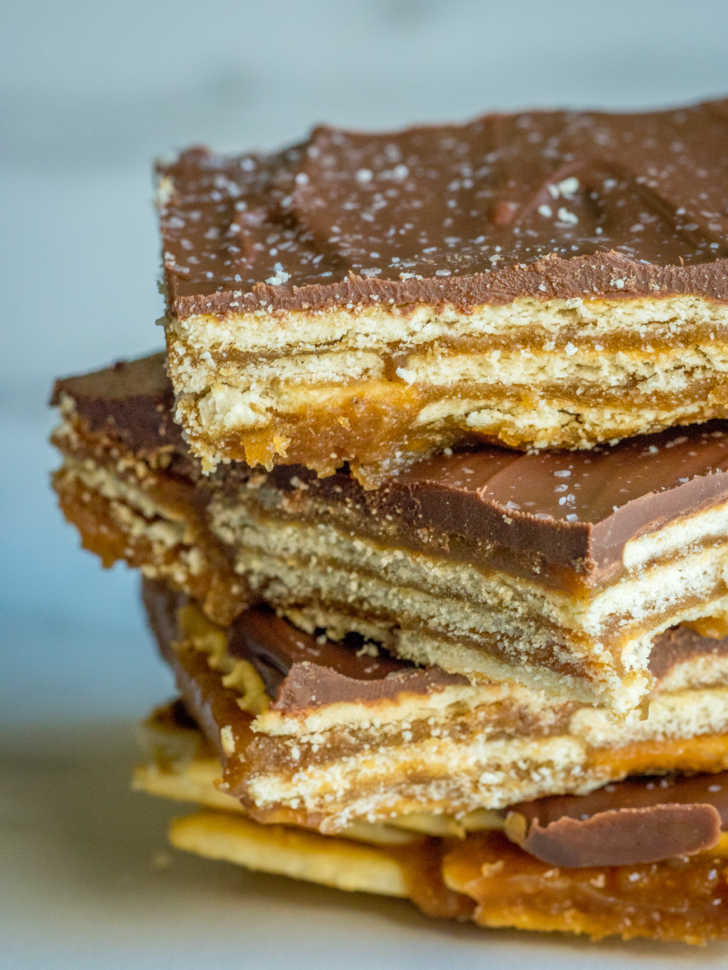 Salt River Bars
Makes 30 bars
20m prep time
10m cook time
2h inactive
Ingredients
150 Club crackers (or other similar crackers). This is typically about a box and a half of Club crackers.
1 cup salted butter
2 cups light brown sugar, packed
1 cup graham cracker crumbs
3/4 cups heavy cream
1 1/2 cups milk chocolate chips
1/2 cup butterscotch chips
1/2 cup creamy peanut butter
Sea salt for garnish
Preparation
Line a 9x13 sheet pan with parchment paper, leaving the longer ends hanging off the top and bottom so it's easier to remove the bars later. Spray the parchment and sides of the pan with nonstick spray. Cover the bottom of the pan with crackers, cutting them down to fit if needed.

Stir together butter, brown sugar, graham cracker crumbs, and heavy cream together in a medium-sized pan, over medium heat. Bring the mixture to a boil, continuing to stir, and boil for 7 minutes.

Pour half of the caramel mixture over the crackers, spreading it evenly to the edges of the pan. Working quickly, add another layer of crackers over the caramel.
Pour the rest of the caramel over the second layer of crackers, and then add a final layer of crackers. Refrigerate while working on the chocolate topping.

In a microwave-safe bowl, add milk chocolate chips, butterscotch chips, and peanut butter, microwaving in 15-second intervals until smooth.
Pour the chocolate topping over the final layer of crackers, spreading it evenly to the edges. Sprinkle sea salt over the chocolate layer for garnish.

Chill for 1-2 hours before using a sharp knife to cut into bars.
Recipe adapted from Lovely Little Kitchen.
SKM: below-content placeholder
Whizzco for 12T