A sunshiney cake from an old recipe card.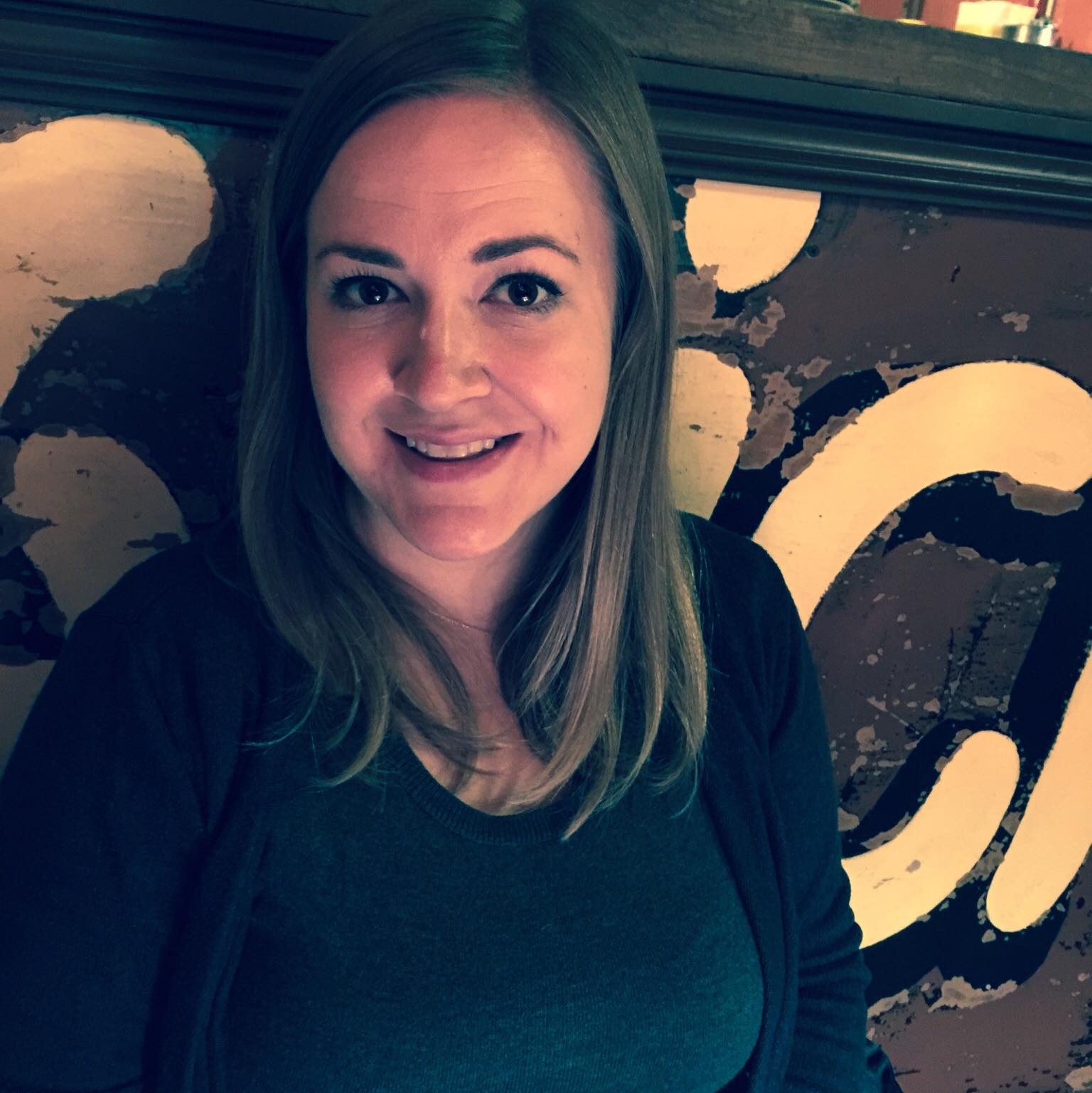 Kristy Norrell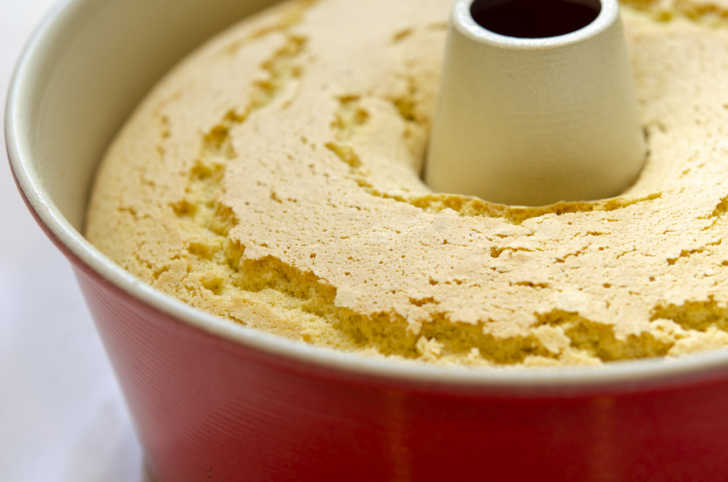 I like a simple cake. And so when I first saw the recipe card for this Gold Sunbeam Cake, I knew it would be right up my alley. Written on a basic index card and mostly made up of basic pantry staples, it's the type of cake you can throw together on a whim. It's a sunny, simple cake and just the kind of treasure I love to find in a vintage recipe tin!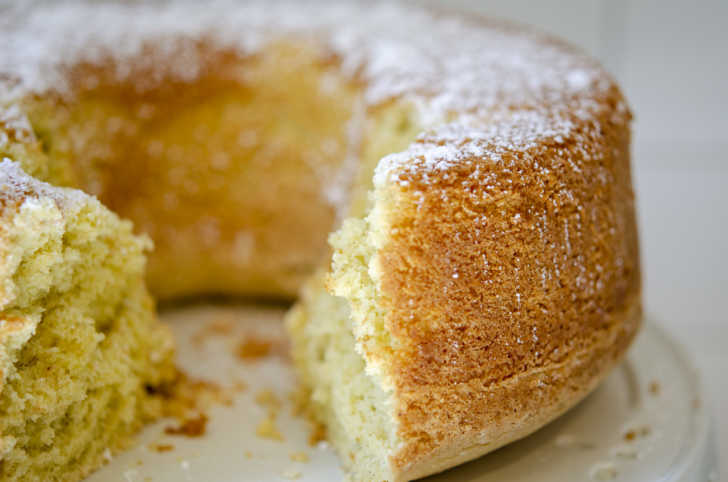 This recipe card came out of an old recipe tin that I've been cooking my way through. I call it the Recipe Tin Project. It's chock full of old recipe cards, most of which seem to be from the '60s and '70s. I love food history, and the idea is to breathe new life into these recipes from the past and maybe learn a technique or two from them along the way. There are everlasting classics in there like Carrot Cake and some not so timeless creations like Jellied Chicken Gumbo.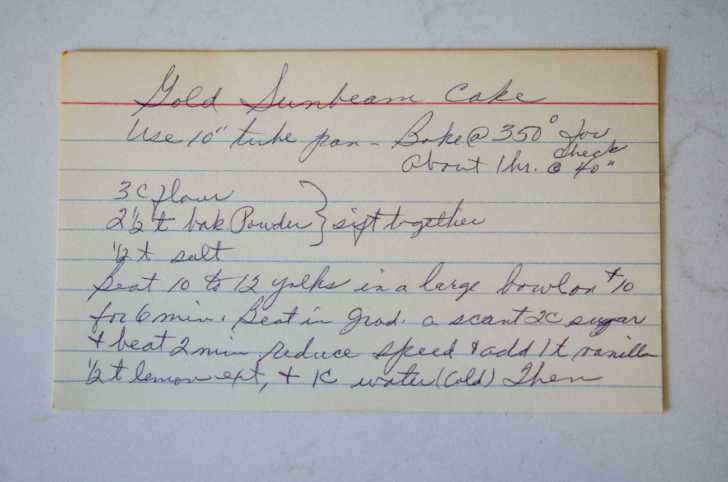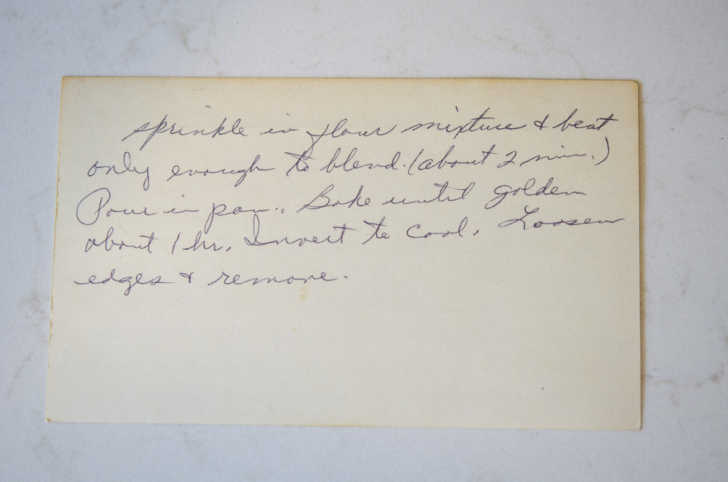 The card is very simple – just a basic lined index card with yellowed edges and a quick cursive. The dry ingredients are listed out first so you know to sift them together, but the rest of the ingredients are just incorporated into the directions. The directions don't go terribly in depth and as they go on the handwriting stretches out as if the original cook got a bit tired of the effort of writing them out.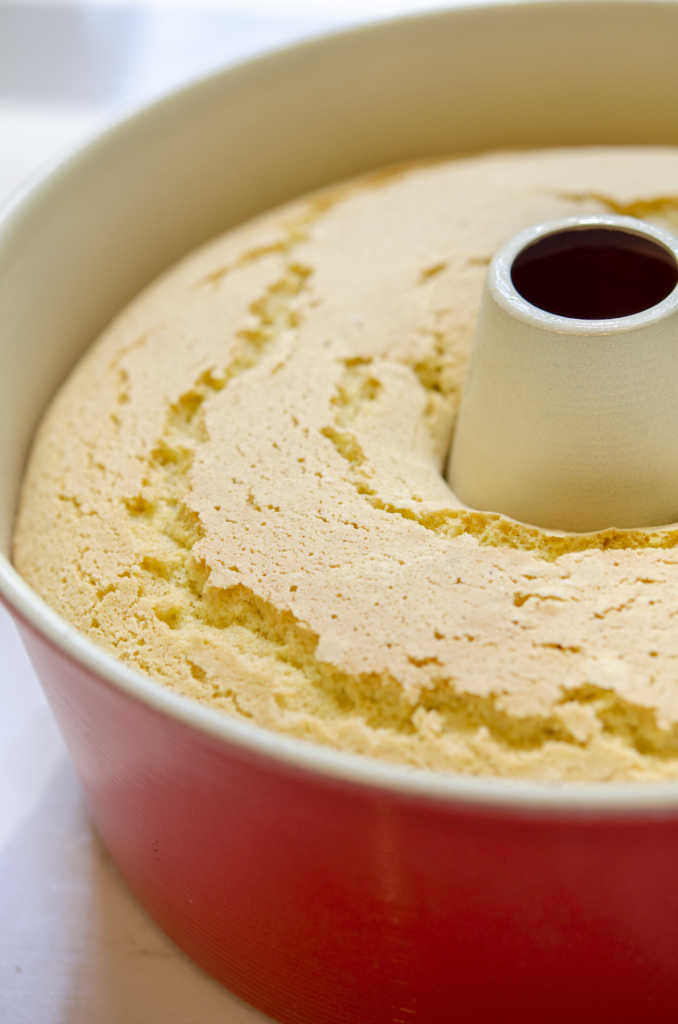 But nevertheless, it's easy to follow. (And I've typed out the whole recipe for you below if you'd like to make it yourself!) I would definitely suggest your grease and flour your pan here so your cake doesn't get stuck like mine. I suppose that's always a good plan with bundt or tube pans, though!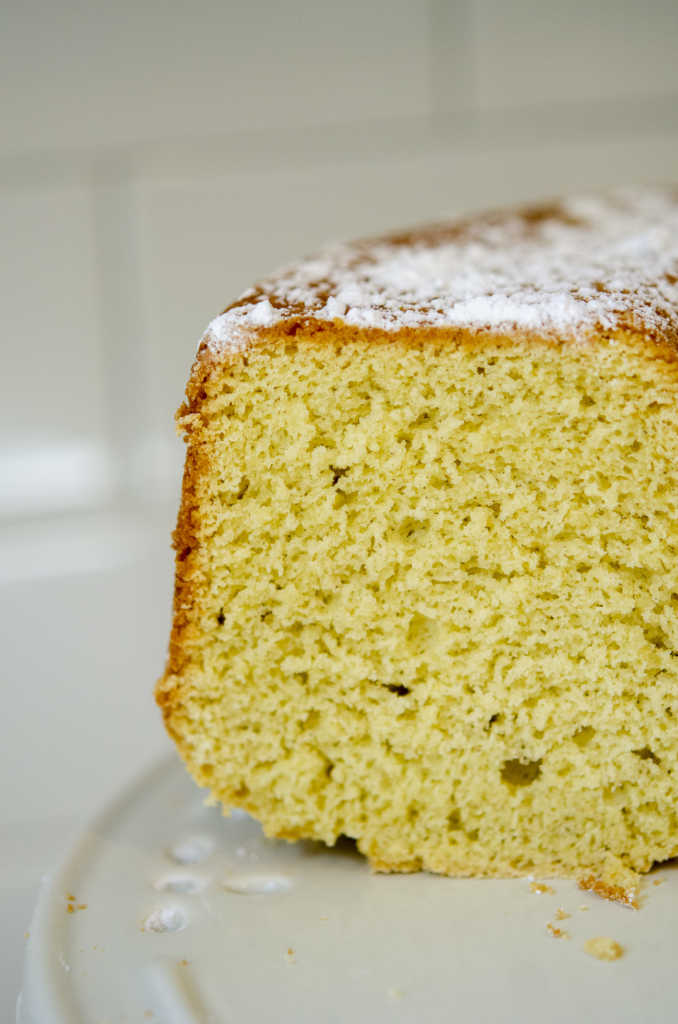 In the end, it still came out okay and while my breaking it didn't produce the prettiest cake in the world, it sure tasted good. The crumb is fairly light, if not airy, much lighter than a pound cake but not approaching the cloudiness of angel food. It's a sunny little cake with a light lemon flavor and while it could use a drizzle or quick glaze, it's very tasty for something so simple to make. A definite Recipe Tin Project success!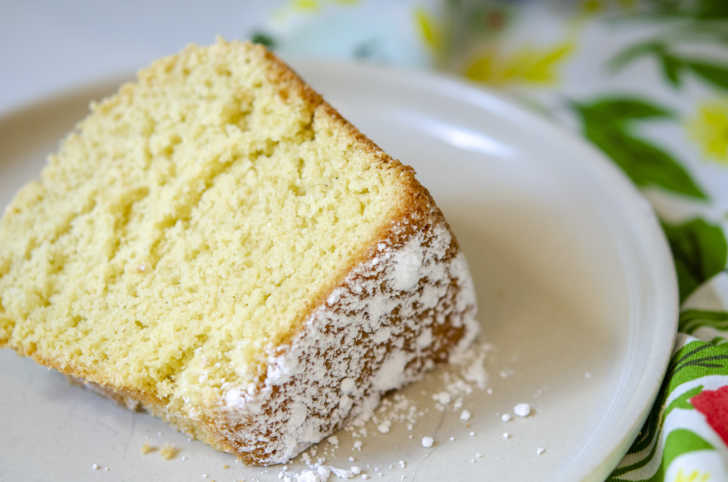 Gold Sunbeam Cake
Ingredients
3 cups all-purpose flour
2 1/2 teaspoons baking powder
1/2 teaspoon salt
10 to 12 egg yolks
2 cups granulated sugar
1 teaspoon vanilla
1/2 teaspoon lemon extract
1 cup cold water
Preparation
Preheat oven to 350°F and grease a 10-inch tube pan.
Sift together the flour, baking powder, and salt. Set aside.
In a large bowl, beat the egg yolks for 6 minutes on high with an electric mixer. Add sugar and beat 2 minutes more.
Reduce speed and add vanilla and lemon extract, followed by 1 cup cold water. Sprinkle in flour mixture and beat only enough to blend, about 2 minutes.
Pour into prepared pan and bake until golden, about 1 hour. Invert to cool. Loosen edges and remove. Enjoy!
SKM: below-content placeholder
Whizzco for 12T