A festive cookie from an old recipe card.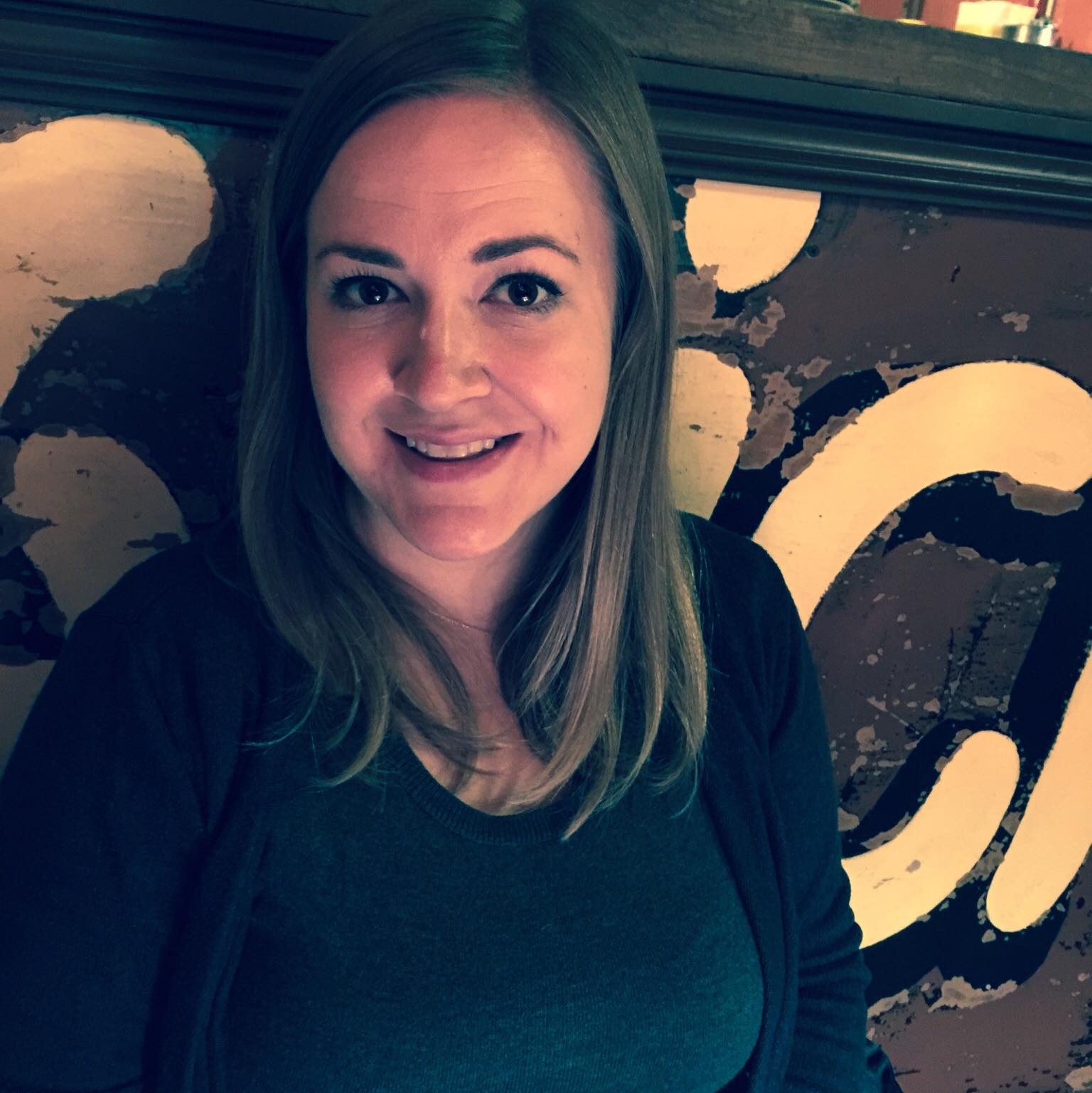 Kristy Norrell

When you share or print a 12 Tomatoes recipe,
you're making mealtime meaningful.
100%
of the Share to Care sponsor fees fund meals for families in need.
Learn More
CLICK ANY LINK BELOW TO JOIN OUR CAUSE!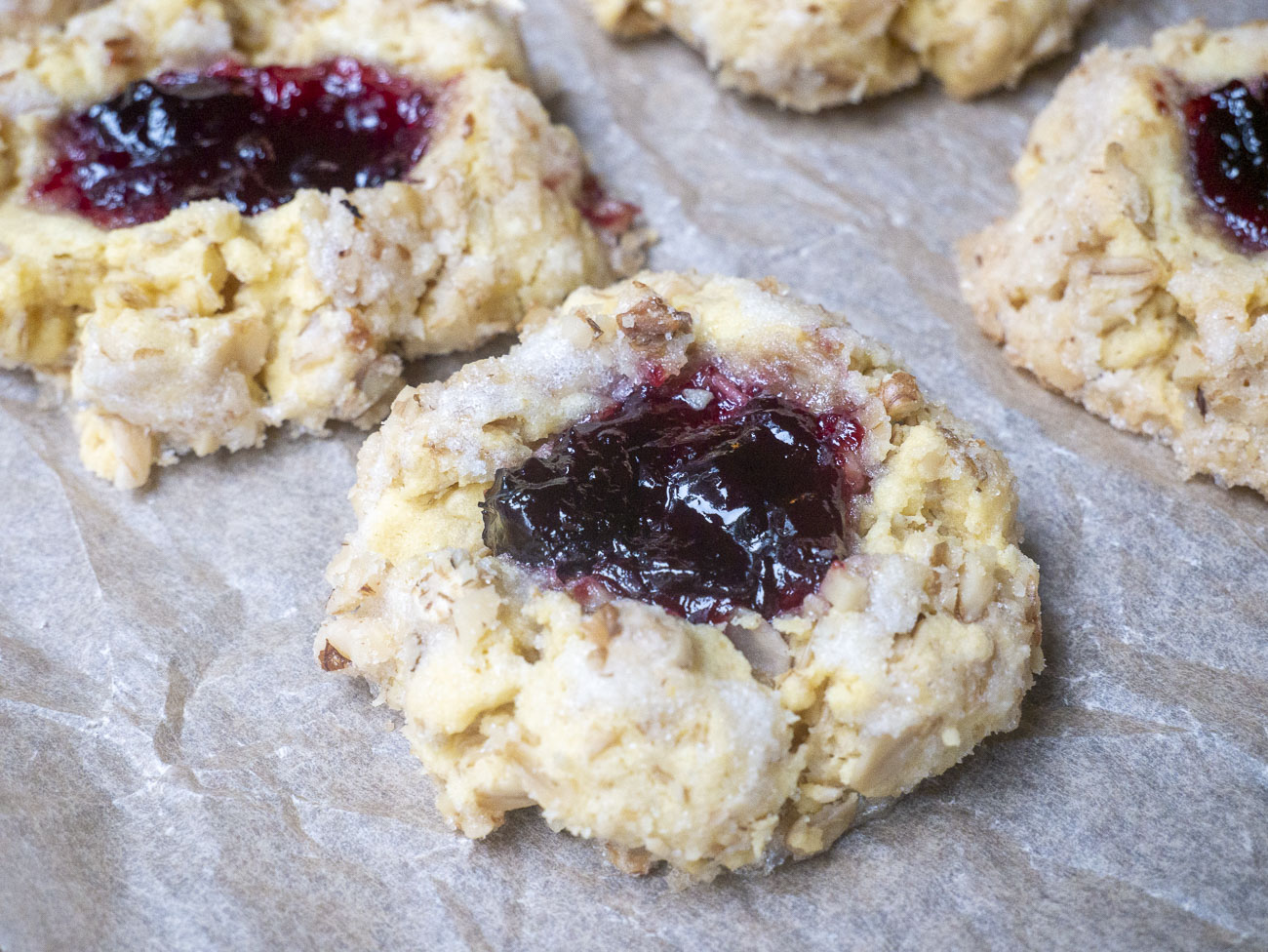 When I saw this old recipe card and that these were "Cherry Cookies" with a little notation that they were "nice for Christmas," I couldn't wait to make them… but they didn't turn out at all like I had envisioned! That doesn't mean they were bad — just that they weren't the bright red, Christmasy cookie I had pictured in my head. But luckily, all kinds of cookies work at Christmas and these work any other time of year too. And with a base of oats, pudding mix, and cherry preserves, nuts, and sugar to jazz them up, I've never had a cookie quite like them.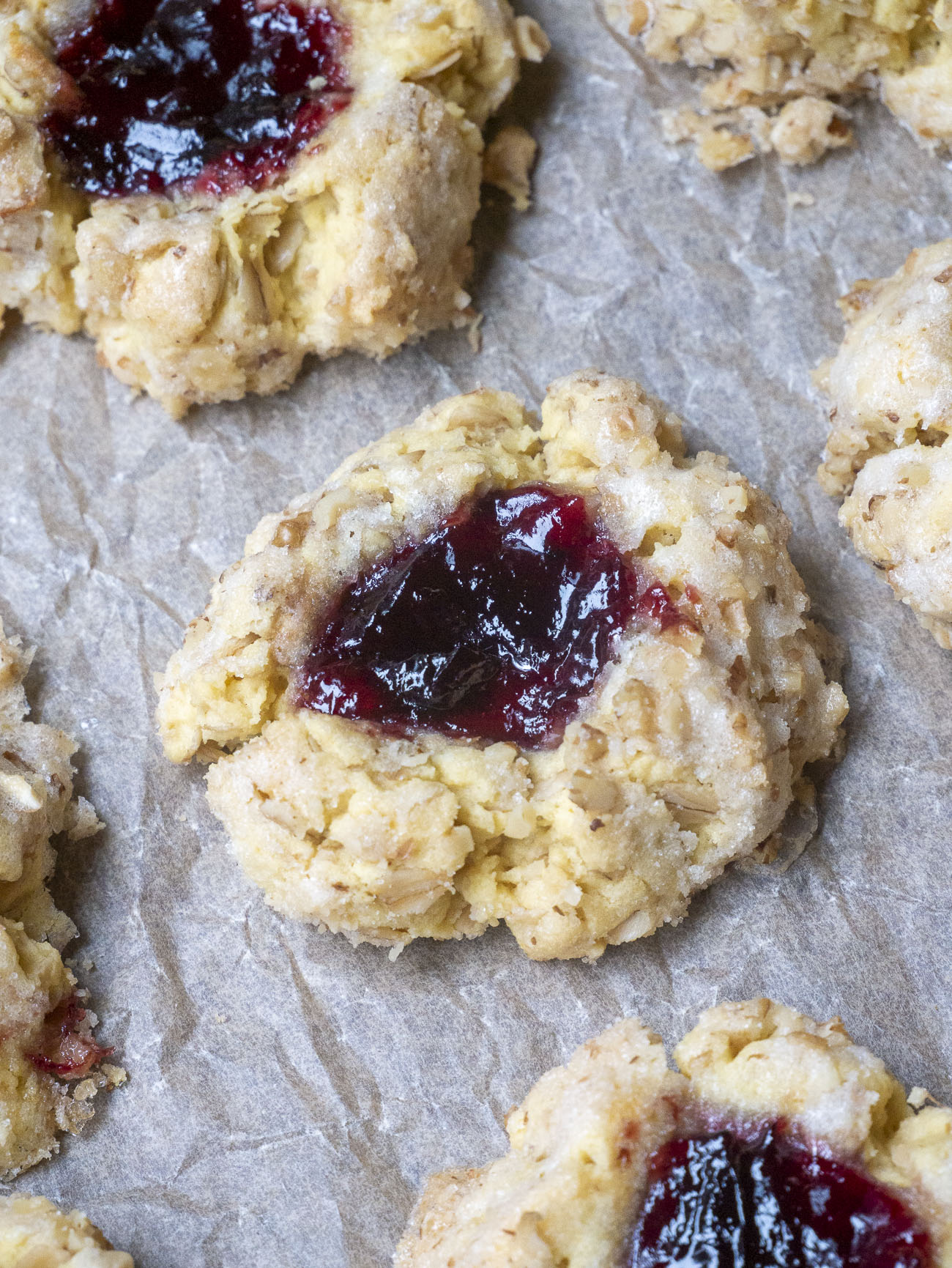 This recipe card came to me through the Recipe Tin Project, a project where I cook my way through an old recipe tin full of vintage recipes. But you might have already guessed that. It's chock full of old recipe cards, most of which seem to be from the '60s and '70s. I love food history, and the idea is to breathe new life into these recipes from the past and maybe learn a technique or two from them along the way. The recipes come from different people with different handwriting; some have sweet illustrations while others are on plain (often smudged and stained) index cards.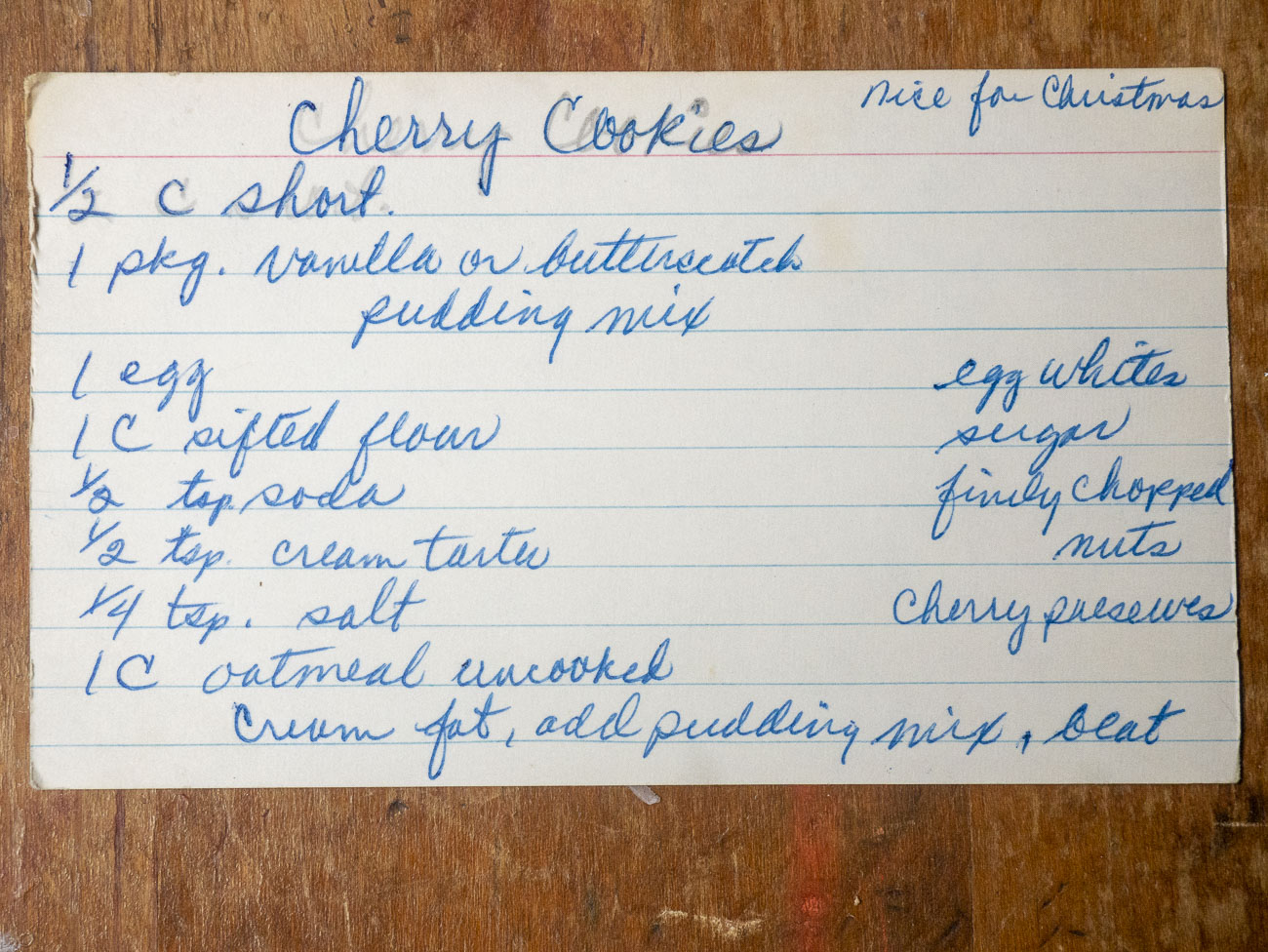 This particular recipe card is on a lined index card with few smudges but worn edges. It was started in pencil but then traced over and continued in blue ink. There's no name, just a note that these cookies are "nice for Christmas." Some of these cards have very little detail as far as ingredients and instructions go, some have plenty — this one is somewhere in the middle. While there's an easy-to-read ingredient list, there aren't quantities listed for the filling or topping and there's no package size for the pudding mix. (I did my best.)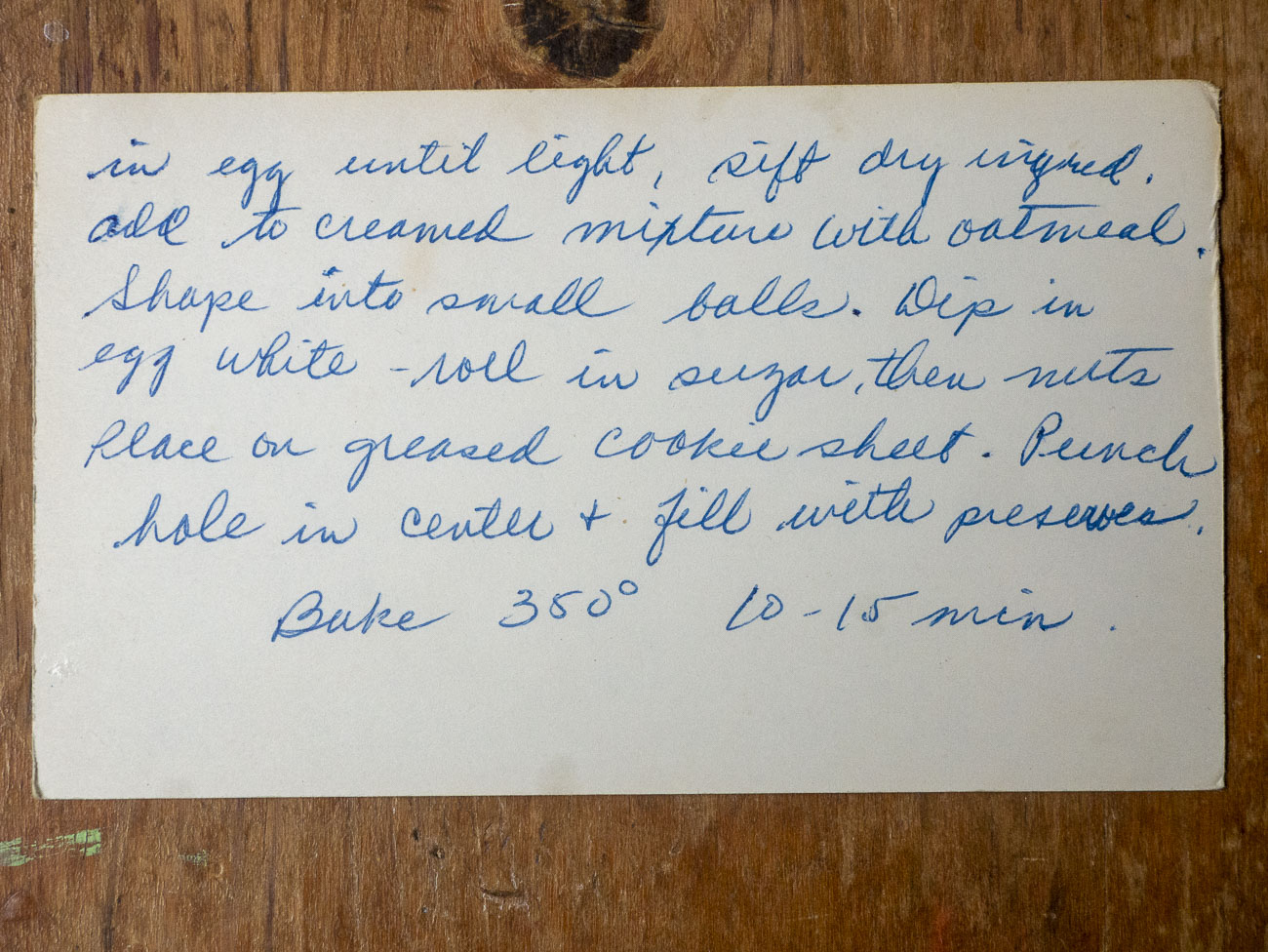 The first step is to cream the shortening and then add the pudding mix and the oatmeal. Now, the card calls for "oatmeal uncooked" but doesn't specify what kind. I used regular rolled oats, but after seeing the consistency of the dough, I think a quick or instant oat would have probably been a better option.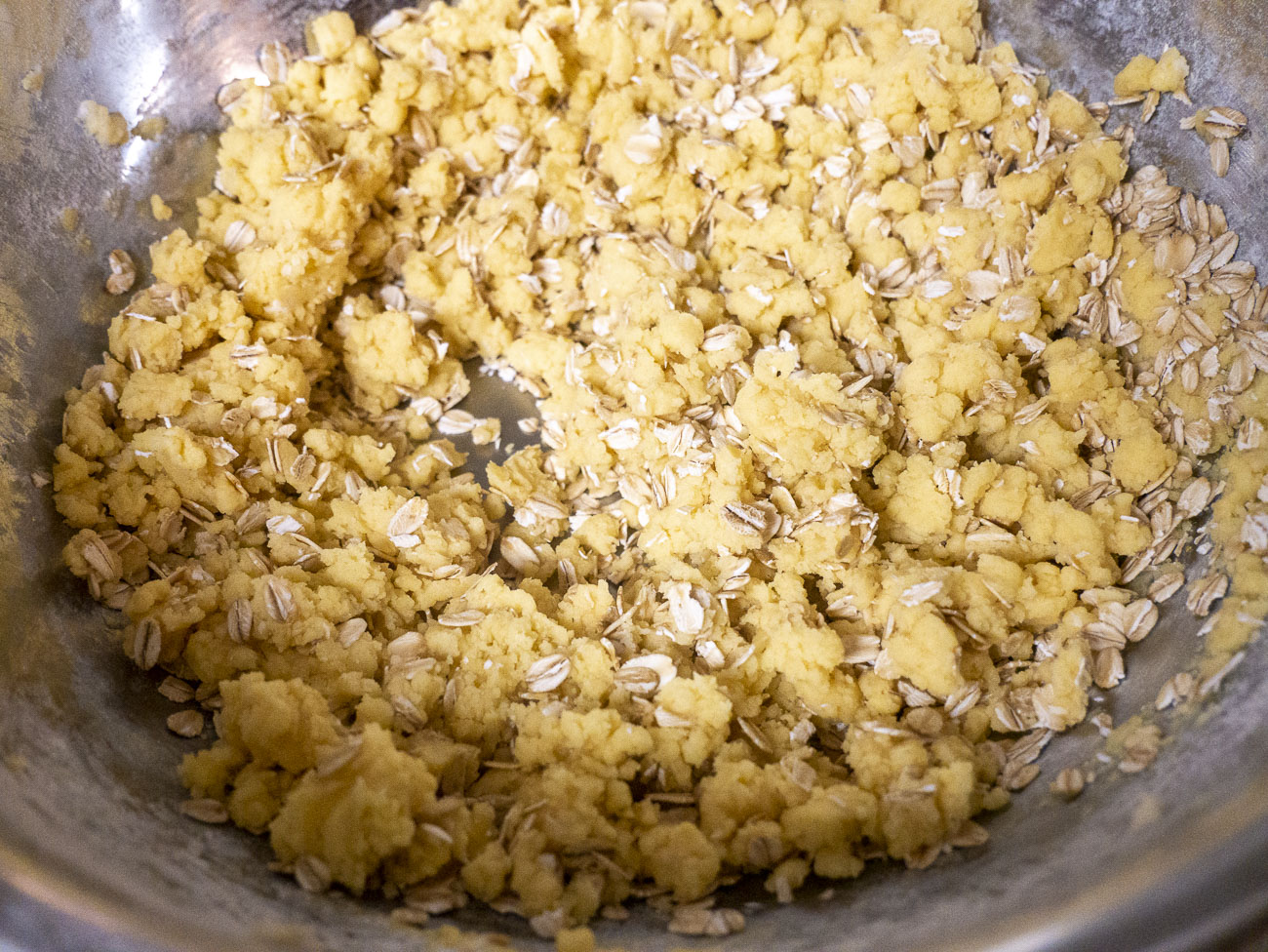 Once your dough comes together, you roll it into a ball and dip it in an unspecified amount of egg white. (I think I used two.)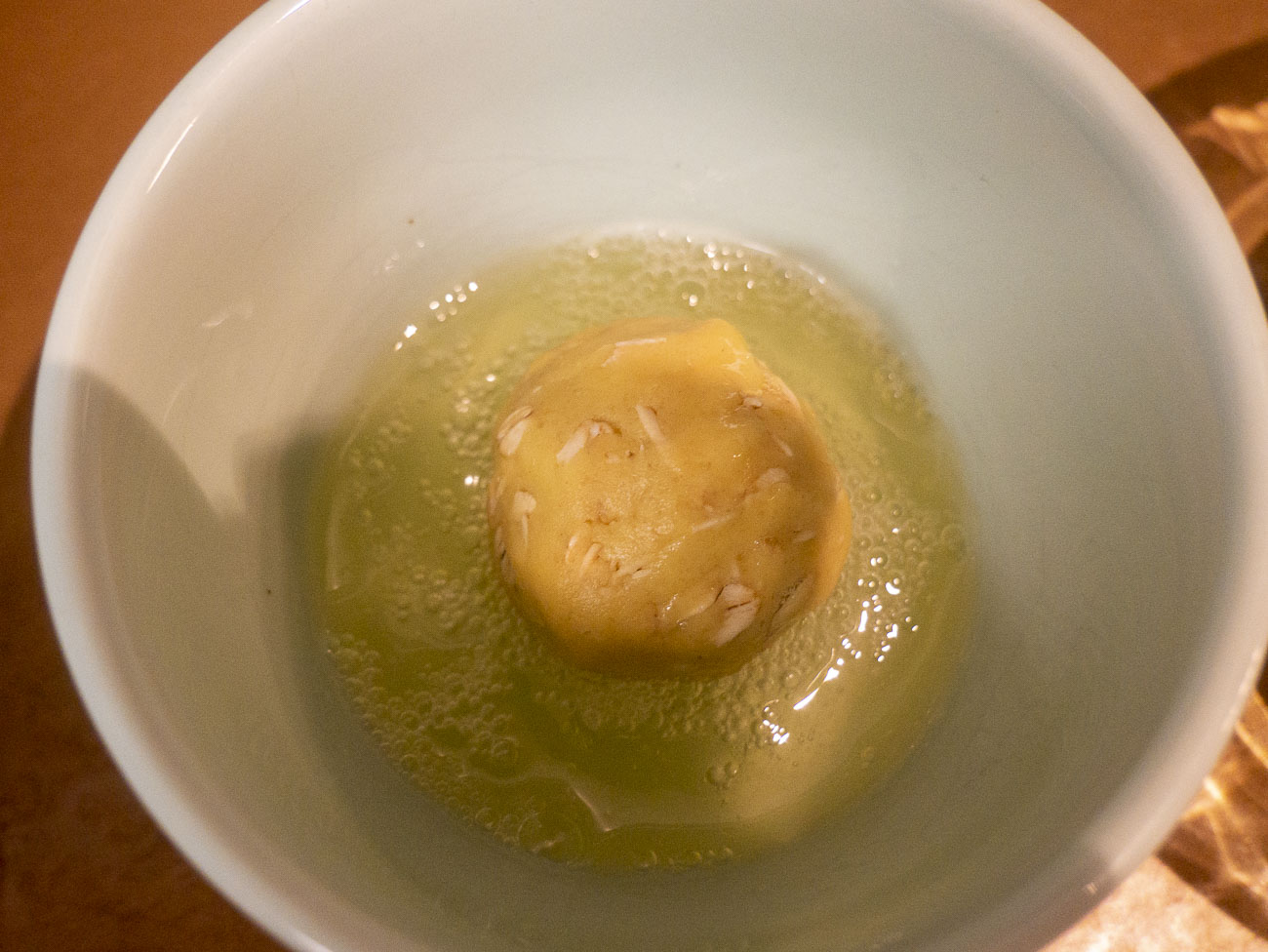 And then you roll it in an unspecified amount of sugar.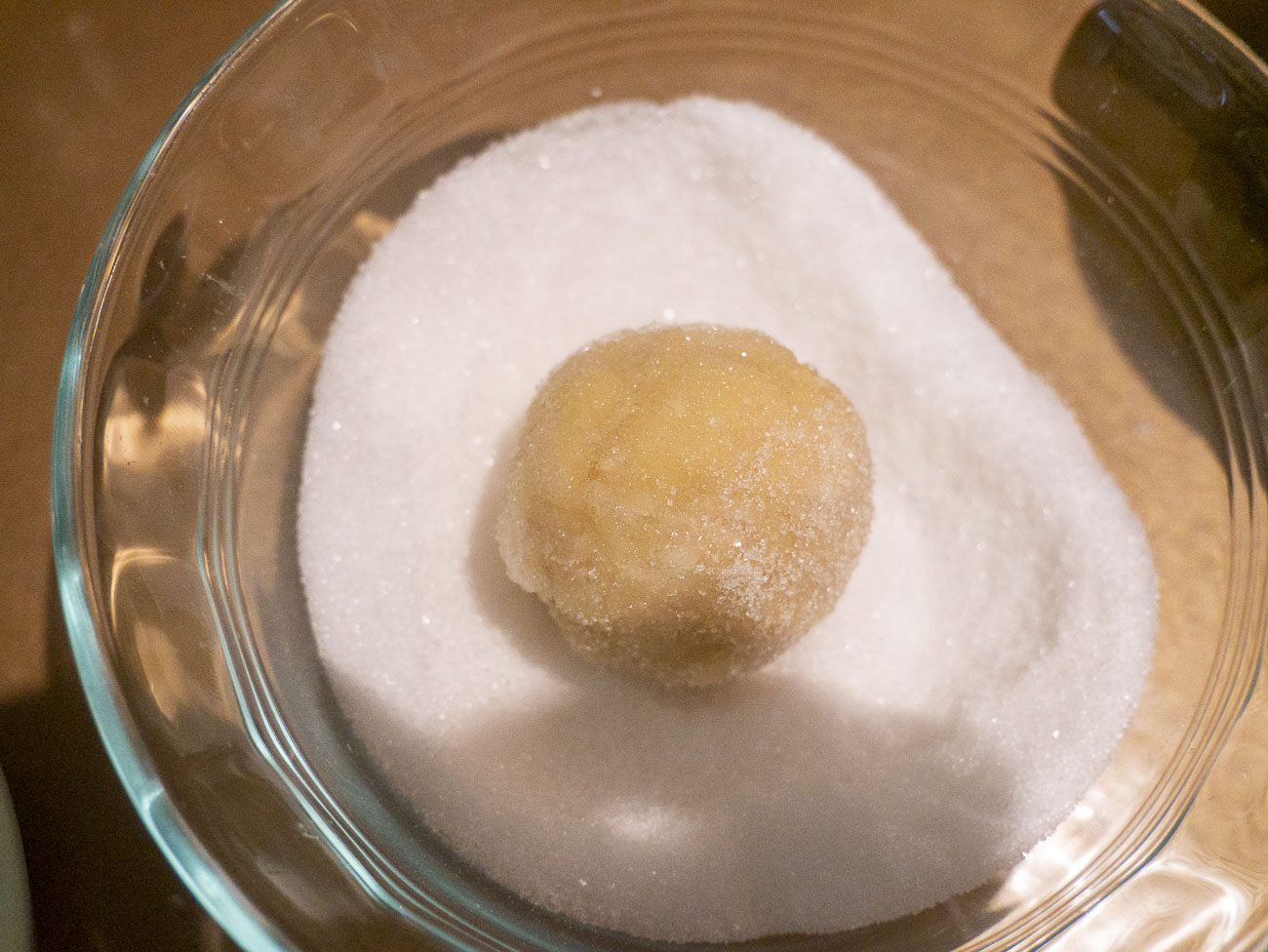 Next, you roll it in chopped nuts. Now, they don't stick particularly well at first, but if you keep at it, the sugar and egg white become more wet and get the nuts to stick.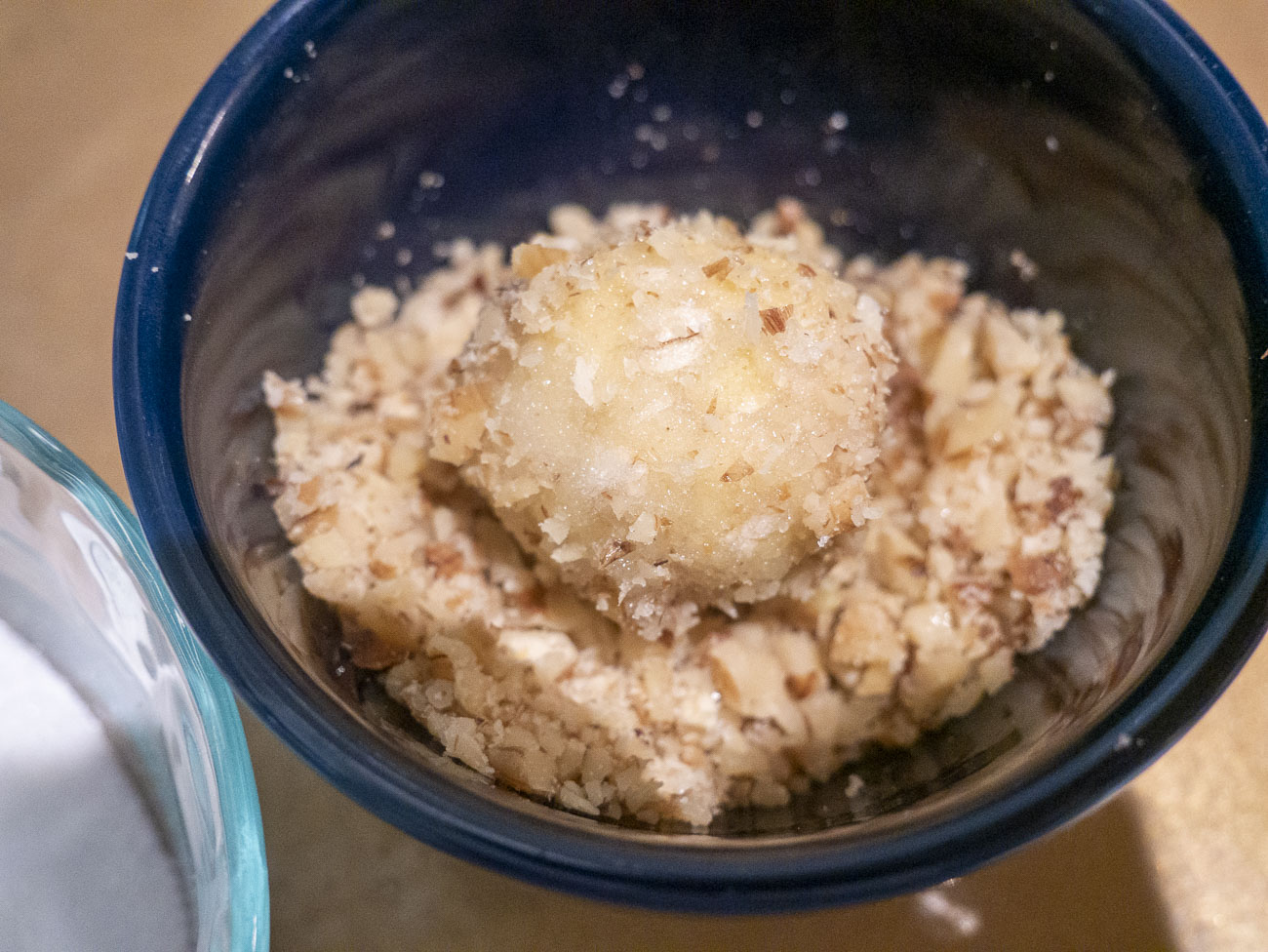 Then they go on a greased cookie sheet.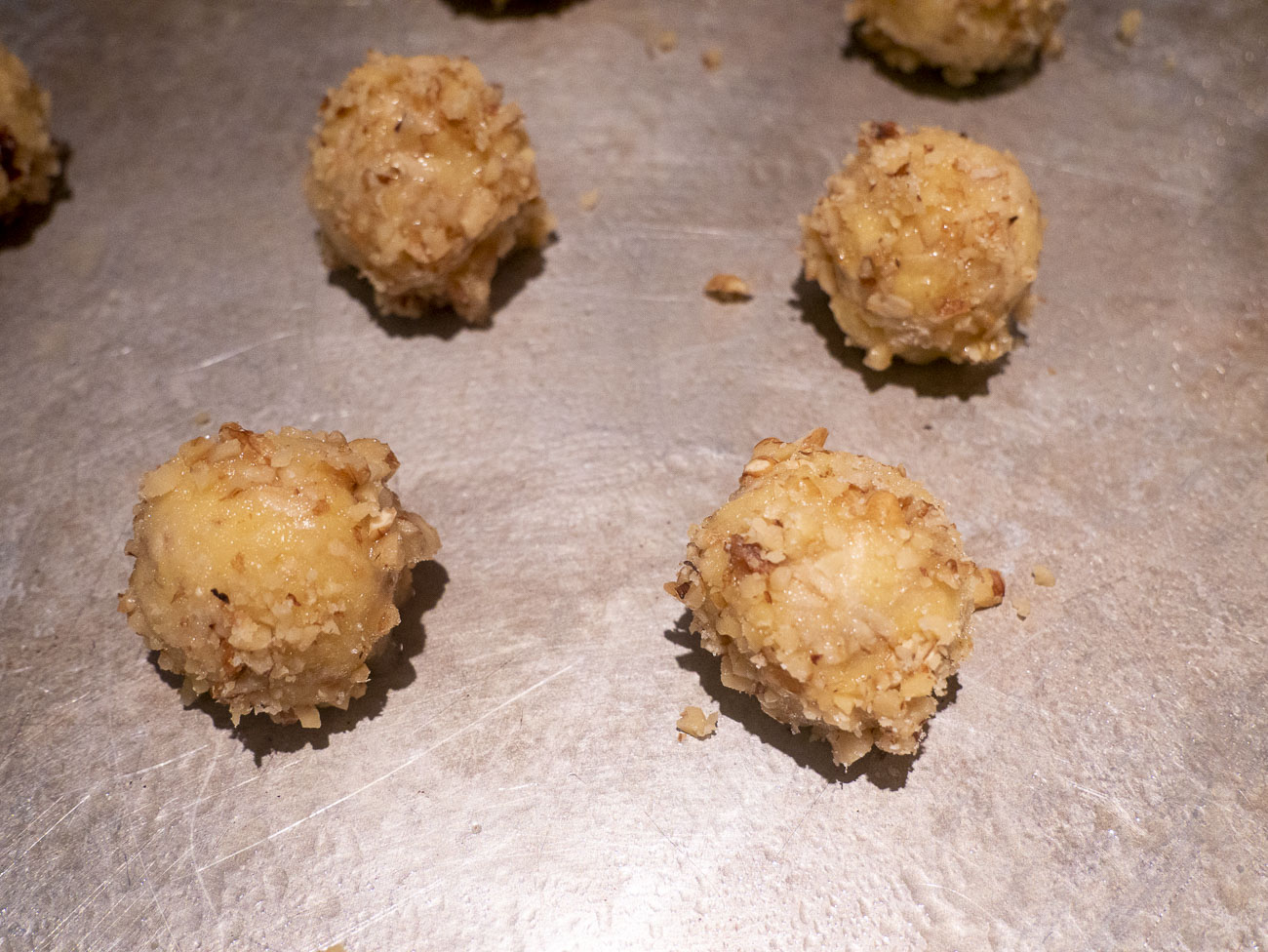 The card tells you to punch a hole through them and fill it with preserves, but I couldn't manage to do this without the whole cookie falling apart. (Again, it might have been the type of oats? Or too much pudding mix?) So I opted to go thumbprint style with this create an indentation for the preserves.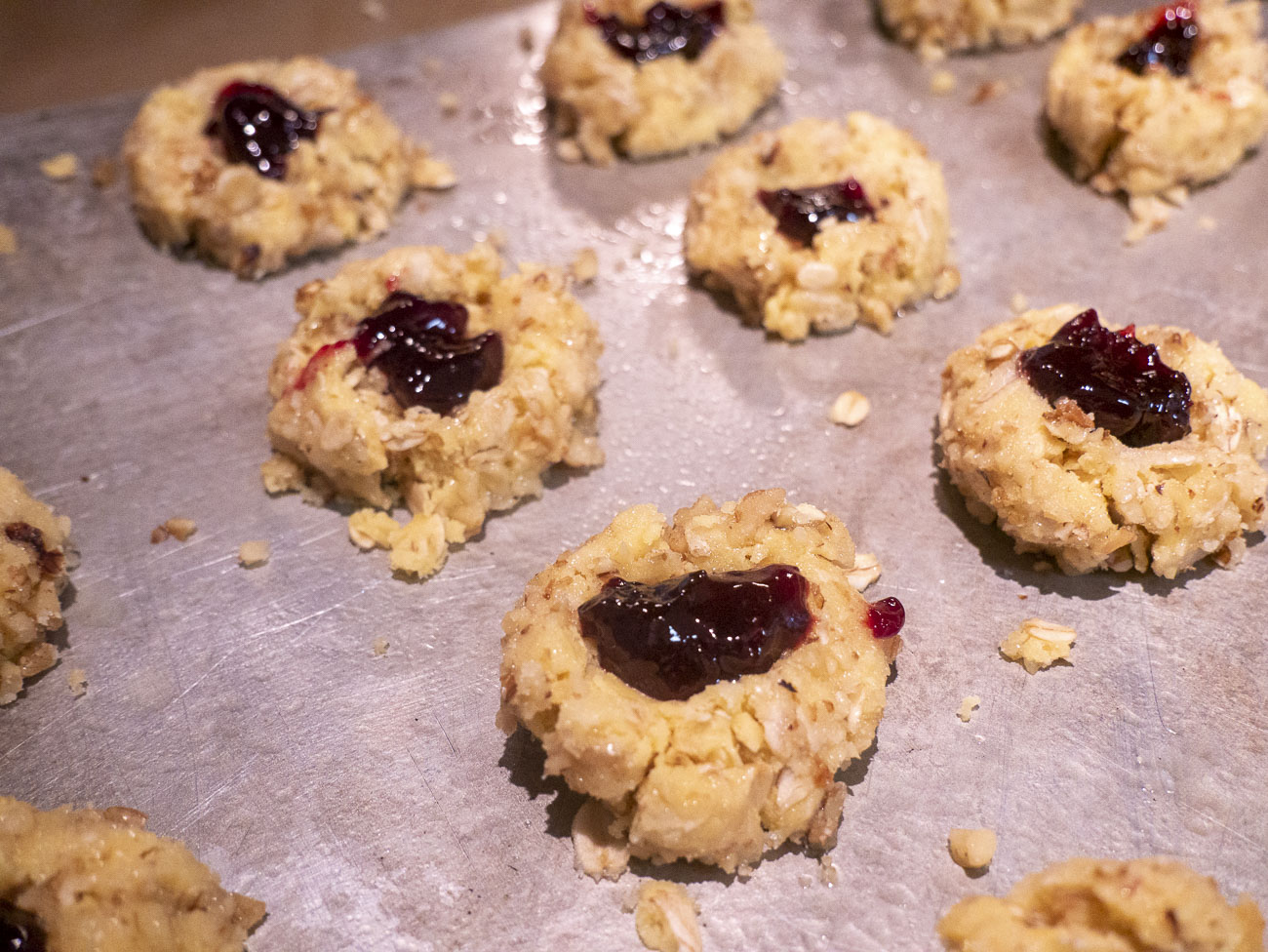 Easy enough! Then you bake for about ten minutes and you're ready to do some sweet snacking.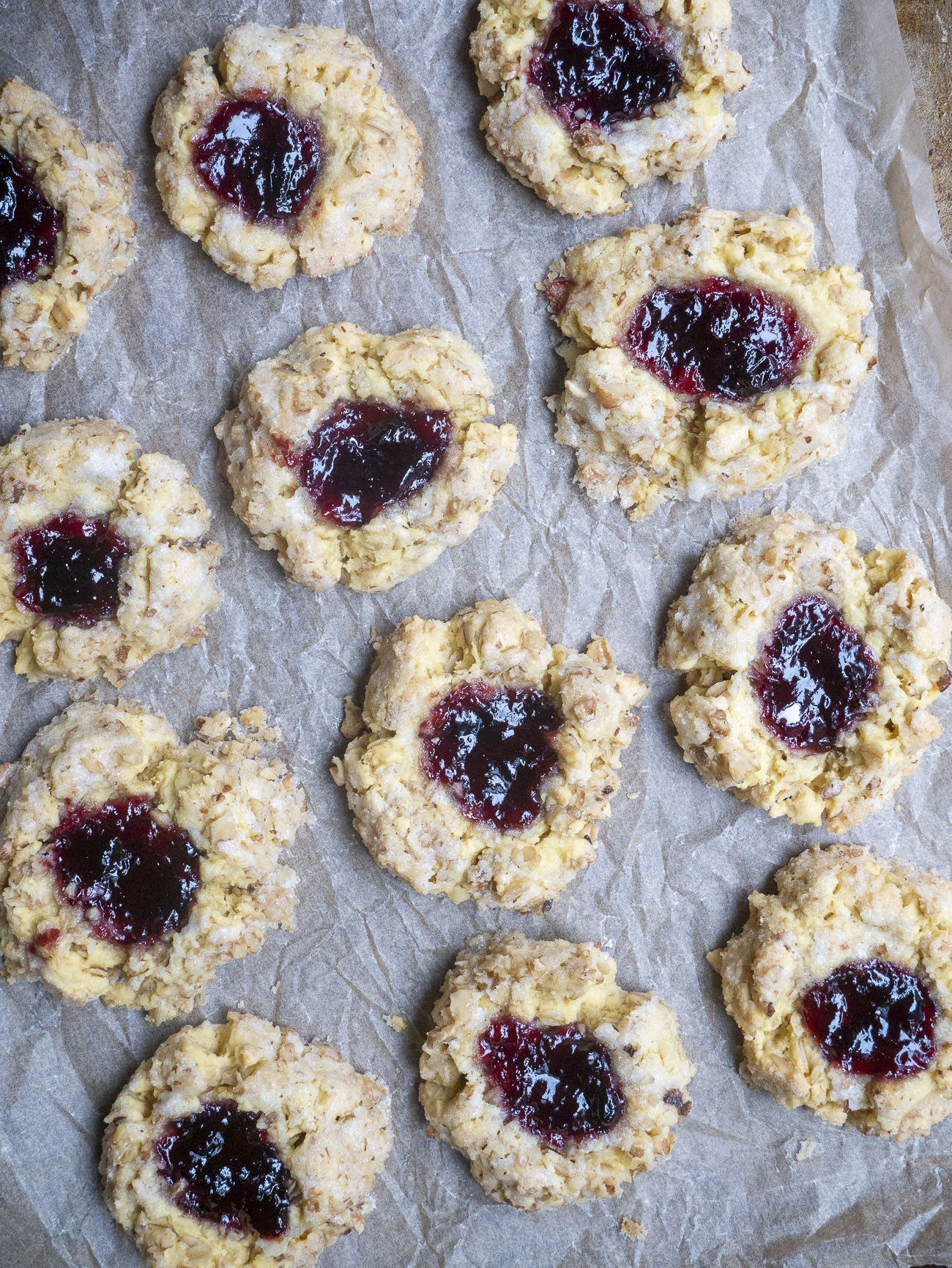 The results?
They're delicious! I've never had a cookie similar to these. The bite is soft with a little chew from the oats, but not crumbly. When you first bite into them, you get a little nuttiness and a delicate crust of sugar that gives way to a cookie that's vanilla-y in an almost creamy way, but you get the sweet-tart delight of cherries to go with it. At first glance, it seems like a cookie with A LOT going on, and it is… but still, it all makes sense.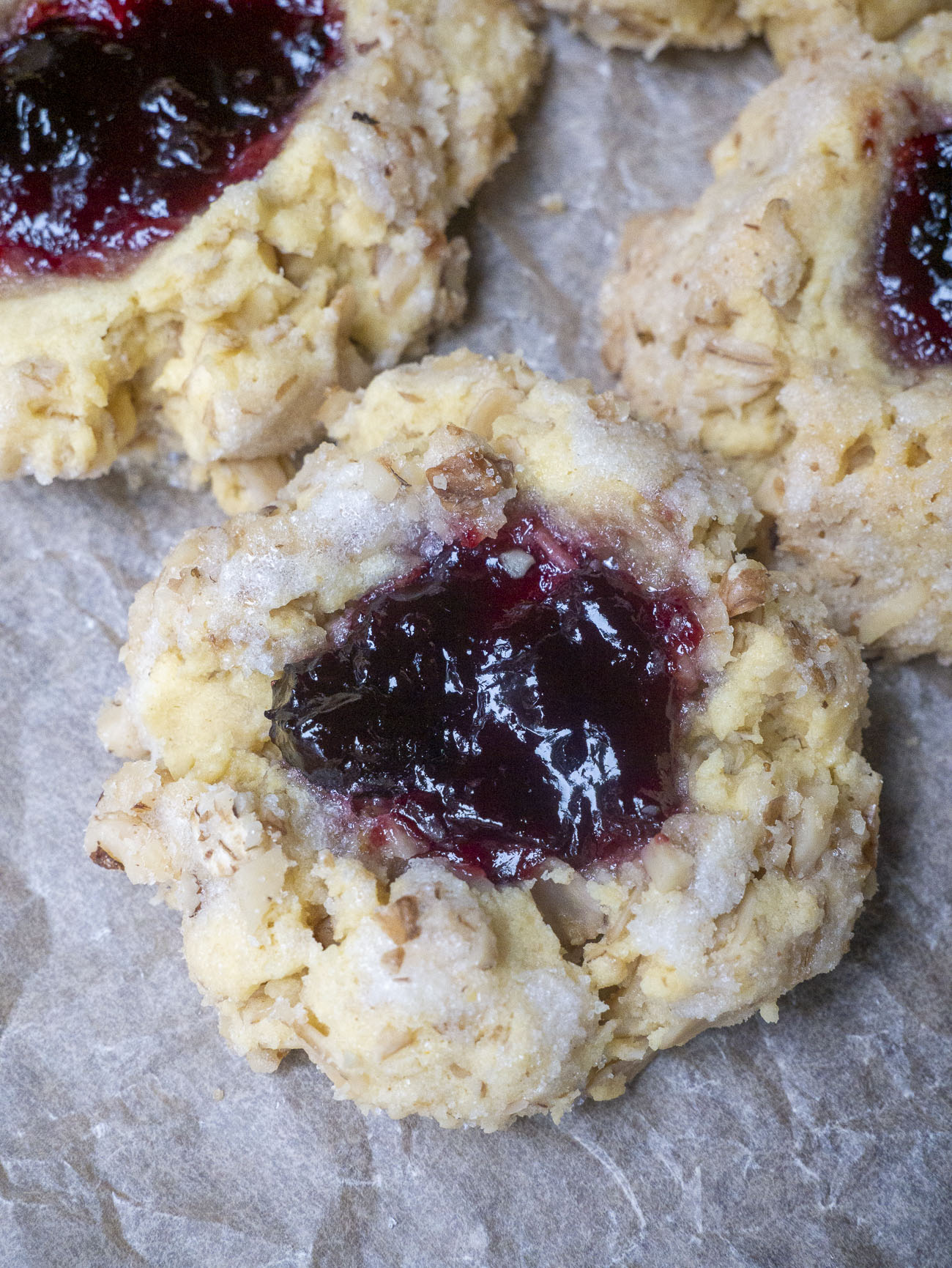 Recipe Tin Project: Cherry Cookies
Yield 18 cookies
15m prep time
15m cook time

When you share or print a 12 Tomatoes recipe,
you're making mealtime meaningful.
100%
of the Share to Care sponsor fees fund meals for families in need.
Learn More
CLICK ANY LINK BELOW TO JOIN OUR CAUSE!
Ingredients
1/2 cup shortening
1 package vanilla or butterscotch pudding mix
1 egg
1 cup all-purpose flour, sifted
1/2 teaspoon baking soda
1/2 teaspoon cream of tartar
1/4 teaspoon salt
1 cup oatmeal, uncooked
For rolling and filling:
Egg whites
Granulated sugar
Finely chopped nuts
Cherry preserves
Preparation
Preheat oven to 350°F and grease a cookie sheet with nonstick spray. Set aside.
Cream shortening, then add pudding mix and egg and beat until light.
Sift dry ingredients and add to creamed mixture along with oatmeal.
Shape into small balls. Dip in egg white, roll in sugar, and then nuts.
Place on prepared baking sheet, then punch a hole through center, and fill with preserves.
Bake 10-15 minutes.
SKM: below-content placeholder
Whizzco for 12T