A classic nostalgic brownie from an old well-loved recipe card.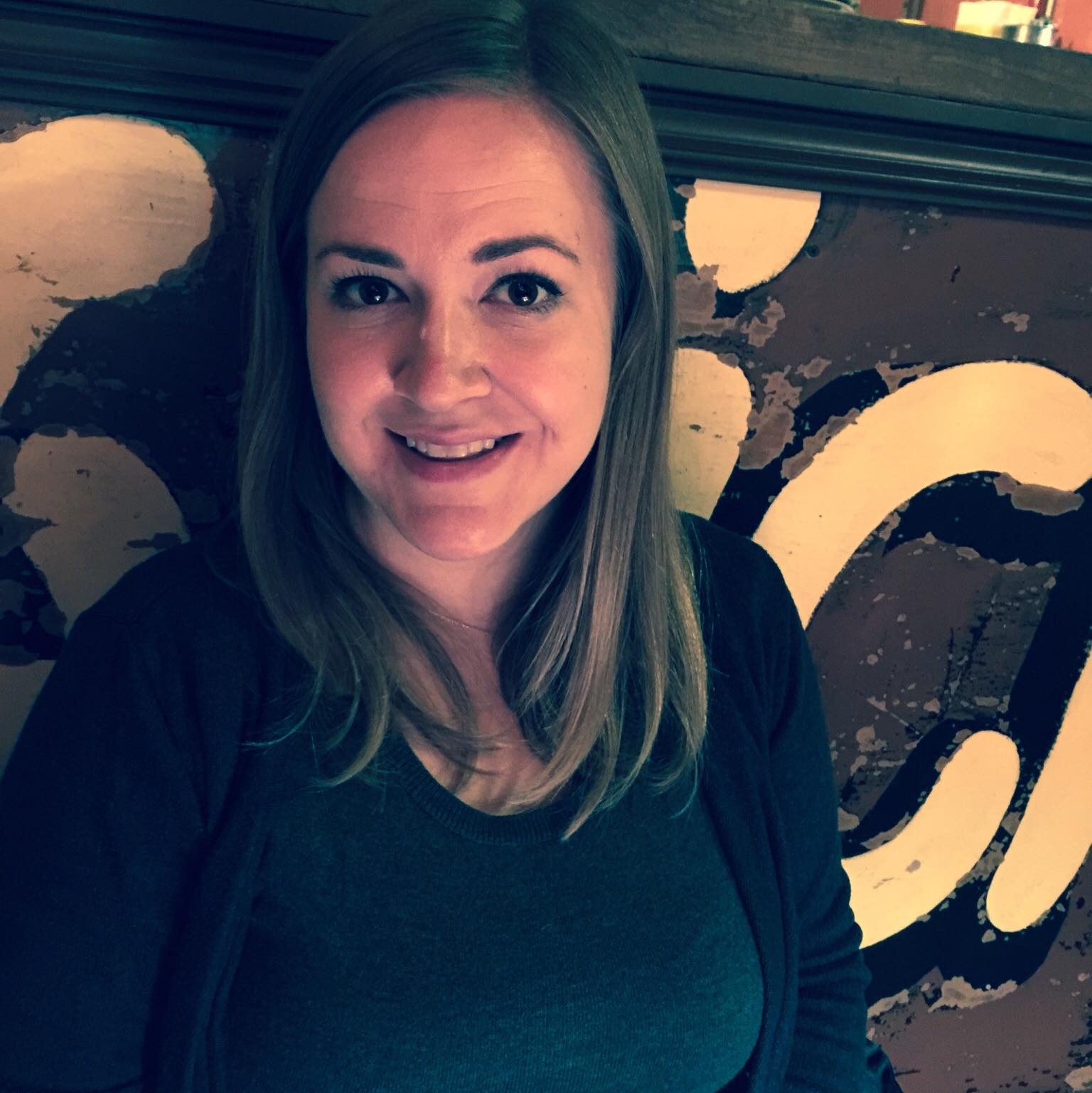 Kristy Norrell

When you share or print a 12 Tomatoes recipe,
you're making mealtime meaningful.
100%
of the Share to Care sponsor fees fund meals for families in need.
Learn More
CLICK ANY LINK BELOW TO JOIN OUR CAUSE!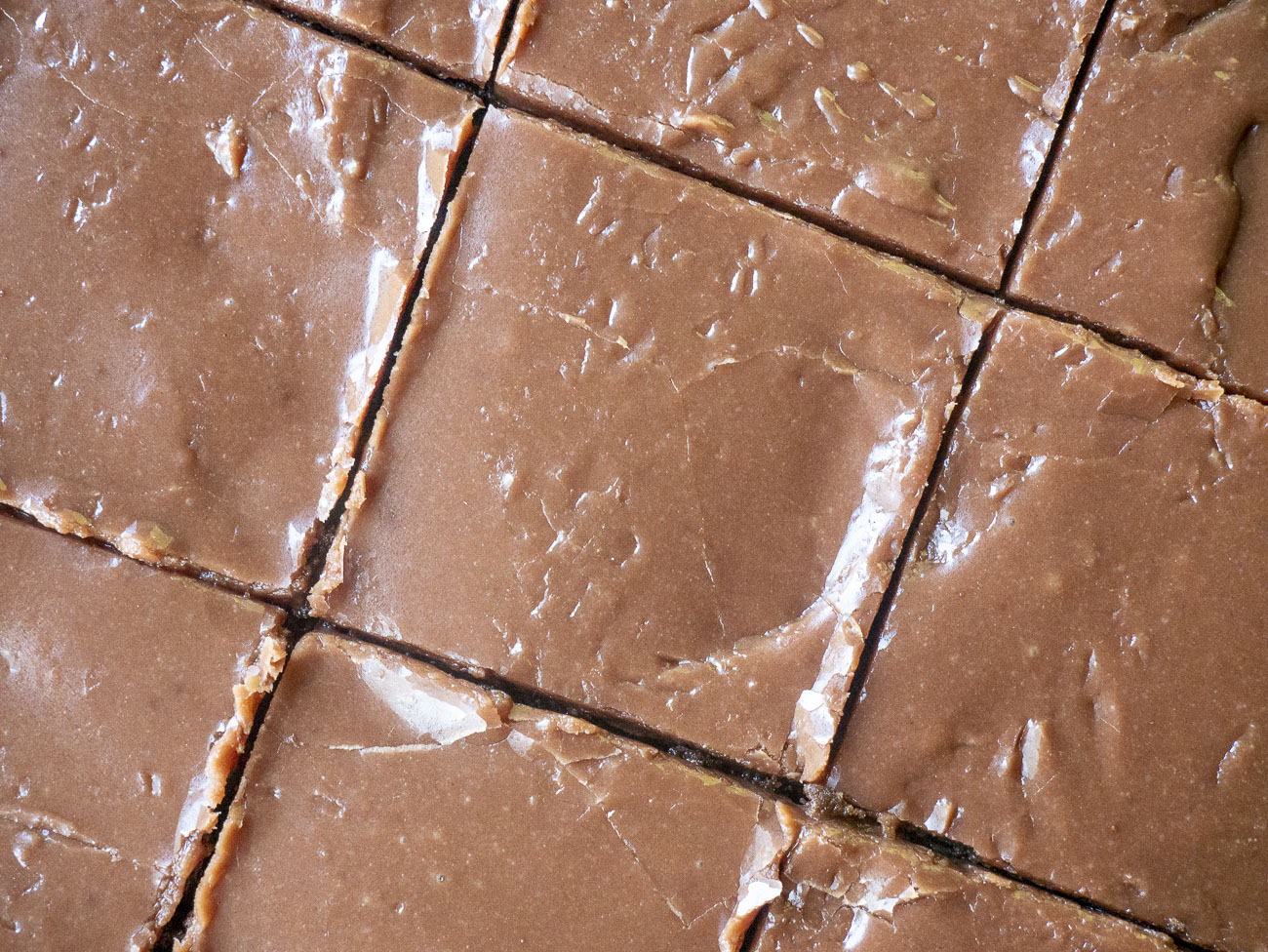 When it comes to brownies, I'm not all that picky. That's not to say I don't have a favorite type of brownie — I do (fudgy and rich and not crispy anywhere at all), but if I see a brownie recipe I'm pretty much game to try it and it's a pretty sure thing I'm going to enjoy it too. That's why when I came across this recipe for "Brownies for a Bunch" in one of my old recipe tins, I was delighted. Not only because it was, yes, a chocolatey brownie but also because of the adorable name, the attempt to preserve the card in a plastic sleeve, and the cost to make the recipe written in a second handwriting at the top. As charming a recipe card as I've come across and it's for something delicious to boot!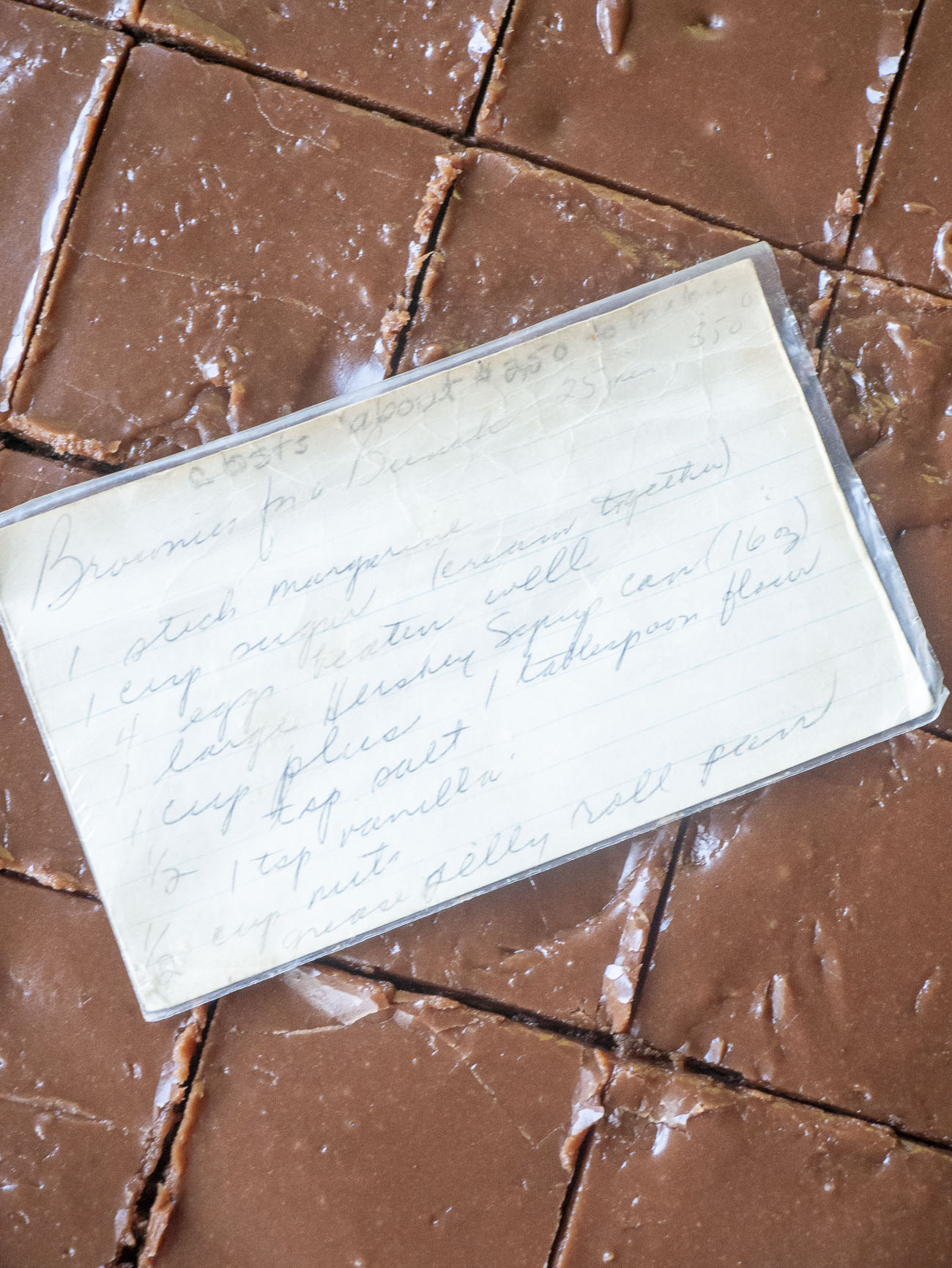 This recipe card came to me through the Recipe Tin Project, a project where I cook my way through an old recipe tin full of vintage recipes. But you might have already guessed that. It's chock full of old recipe cards, most of which seem to be from the '60s and '70s. I love food history, and the idea is to breathe new life into these recipes from the past and maybe learn a technique or two from them along the way. The recipes come from different people with different handwriting and some have sweet illustrations while others are on plain (often smudged and stained) index cards.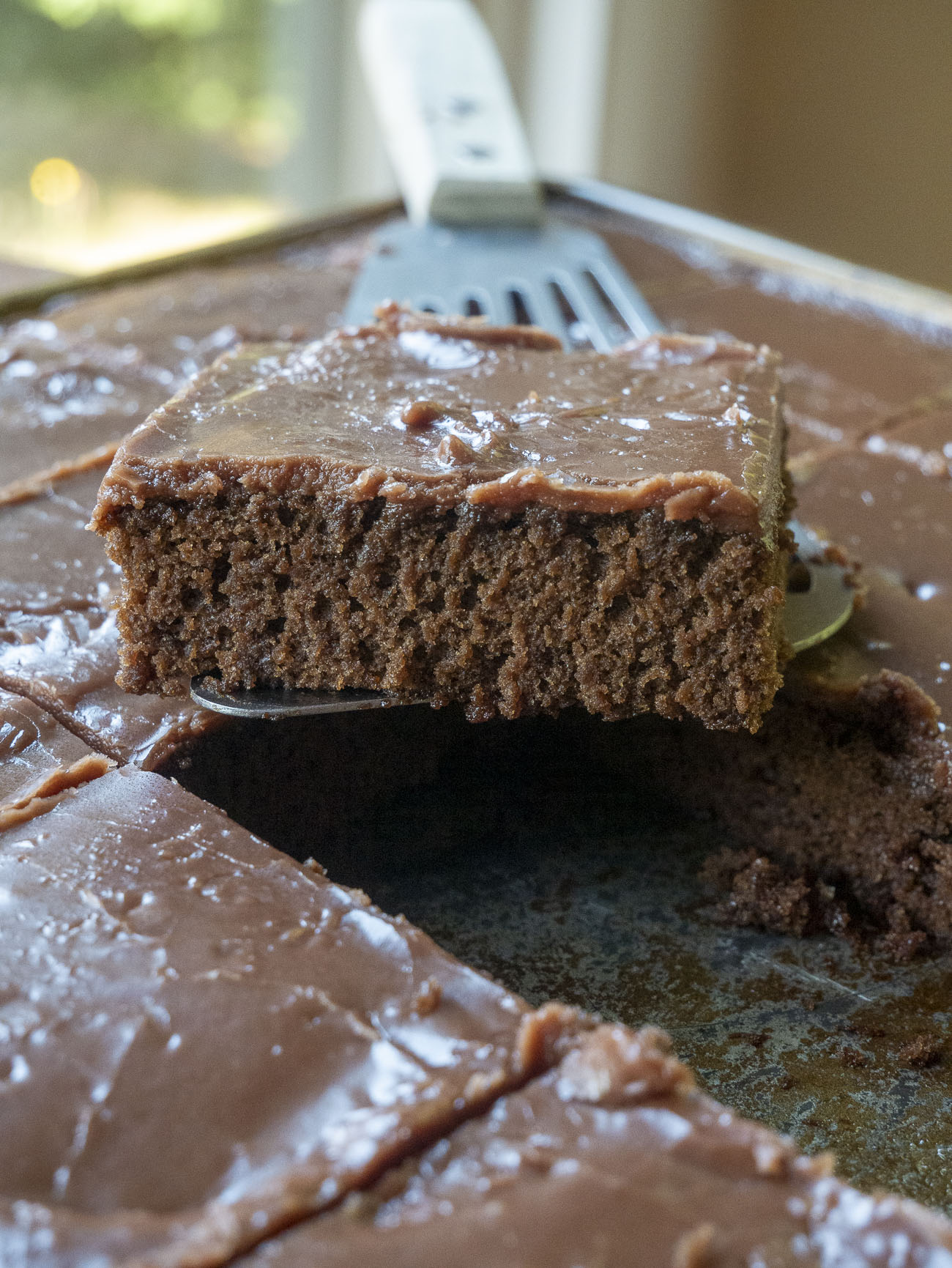 This one is one of the latter, and it was clearly a very well-loved card. Crinkled and yellowed and smudged, it was tucked into a plastic sleeve at some point in what I'm sure was an effort at preservation. The handwriting is a lovely casual cursive and there are extra notes about the type of chocolate printed in blue ink. There's a separate note in pencil scrawled at the top that it "costs about $2.50 to make" and I can just imagine the kind of savvy cook who would add such a reminder to one of (what seems to be) their most used recipe cards.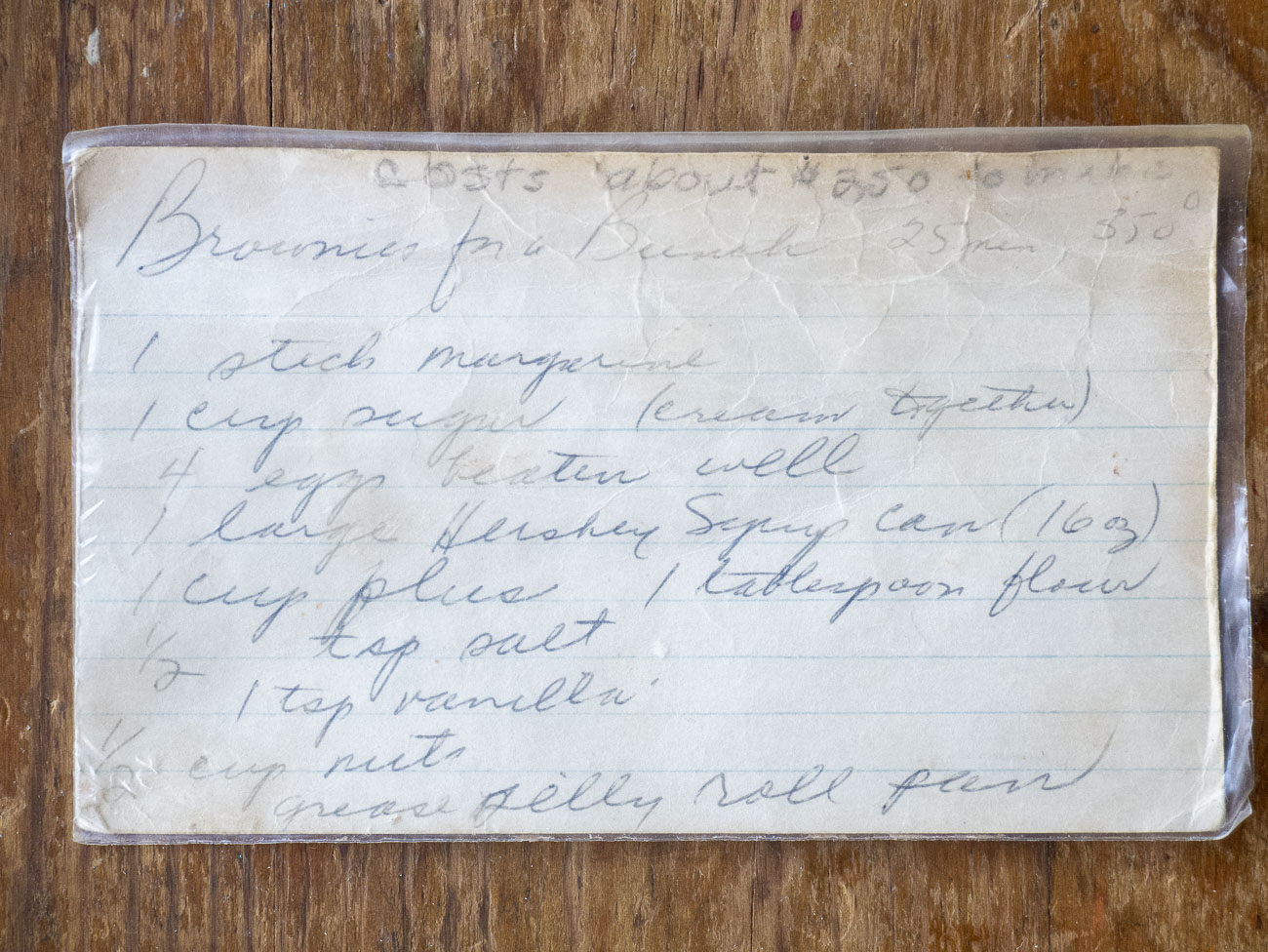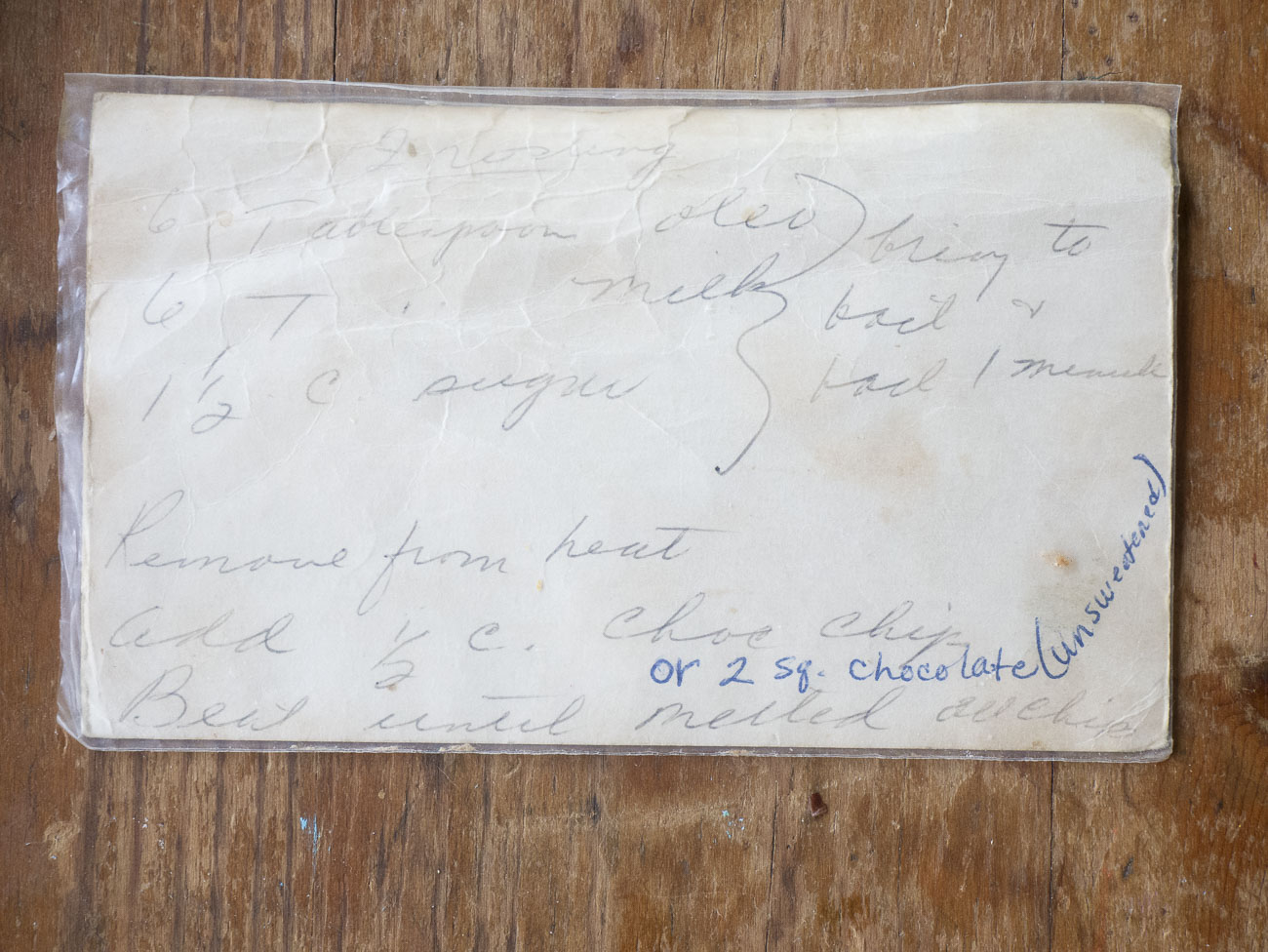 The card lists its ingredients out well, but there are barely any instructions, just a note to cream together the margarine and sugar and then a list of the ingredients that come next. So I kept it simple and just mixed everything together in one bowl! There's a little more to go on for the frosting, but I expanded the instructions in the printable recipe below. As for the ingredients: these are margarine heavy, calling for it in both the batter and the frosting. (It lists margarine for the batter and oleo for the frosting, even though they're the same thing.) These rely on a can of Hershey's syrup for their chocolate flavor but since Hershey's doesn't make cans anymore, you can just use the squeeze bottle. (I used the power of the internet to check and the syrup is the very same, so shouldn't affect the recipe.)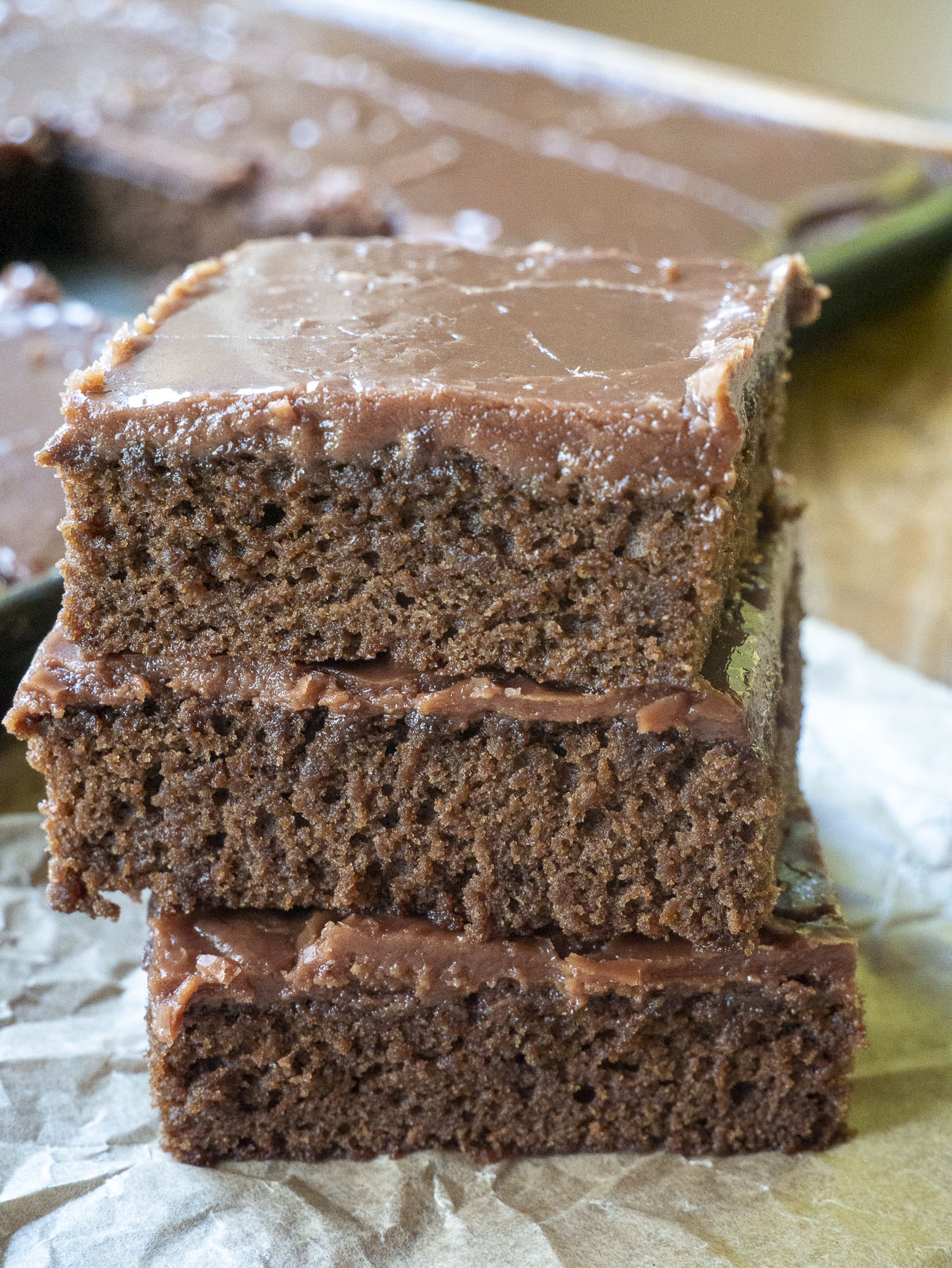 So the verdict? They're a serviceable brownie, soft and chewy with a cake-like crumb and a frosting that crusts over in its sugariness. But they don't pack a big chocolate punch. I imagine that the draw of these was that they're economical and so they're not particularly fudgy… Instead, they're subtle in chocolate flavor but that sweet and sugary frosting combined with the soft crumb still leaves you satisfied.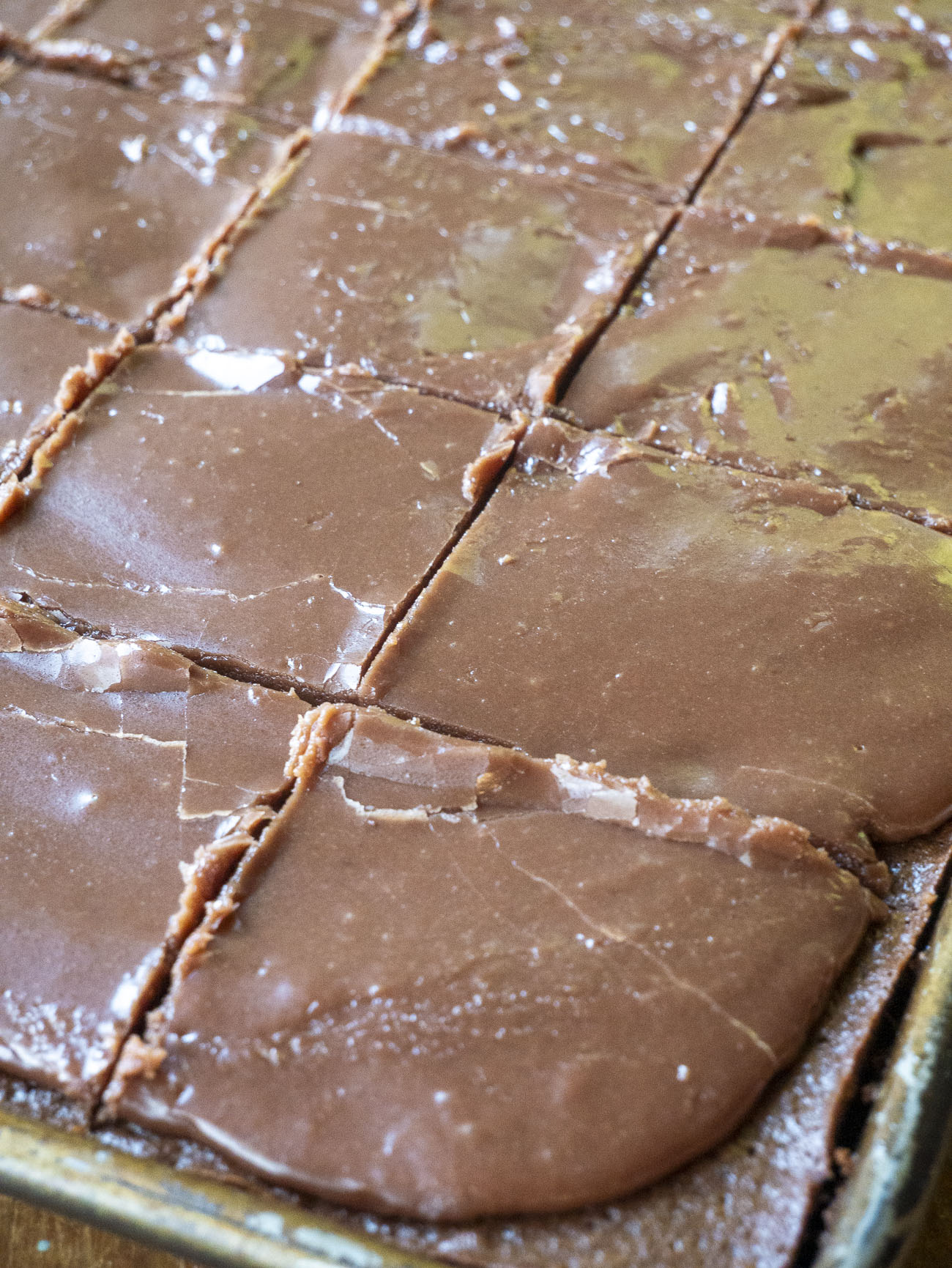 Brownies for a Bunch
Serves 12
10m prep time
25m cook time

When you share or print a 12 Tomatoes recipe,
you're making mealtime meaningful.
100%
of the Share to Care sponsor fees fund meals for families in need.
Learn More
CLICK ANY LINK BELOW TO JOIN OUR CAUSE!
For the brownies:
1 stick margarine
1 cup granulated sugar
4 eggs, beaten well
1 large can Hersheys syrup (16 oz)
1 cup plus 1 tablespoon all-purpose flour
1/2 teaspoon salt
1 teaspoon vanilla
1/2 cup nuts
For the frosting:
6 tablespoons margarine
6 tablespoons milk
1 1/2 cups granulated sugar
1/2 cup chocolate chips or 2 squares unsweetened chocolate
Preparation
Preheat oven to 350°F and grease a jelly roll pan with butter or nonstick spray. Set aside.
In a mixing bowl, cream together the butter and sugar.
Mix in eggs, chocolate syrup, flour, salt and vanilla until well combined. Stir in nuts.
Pour into prepared baking pan and bake until a toothpick inserted into the center comes out clean, about 25 minutes.
Meanwhile, make the frosting:
In a saucepan, combine the margarine, milk, and sugar and bring to a boil.
Let boil 1 minute, then remove from heat. Stir in chocolate and beat until melted.
Spread over brownies, slice, serve, and enjoy!
SKM: below-content placeholder
Whizzco for 12T