Scones with the freshness of summer.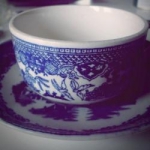 Rose Heichelbech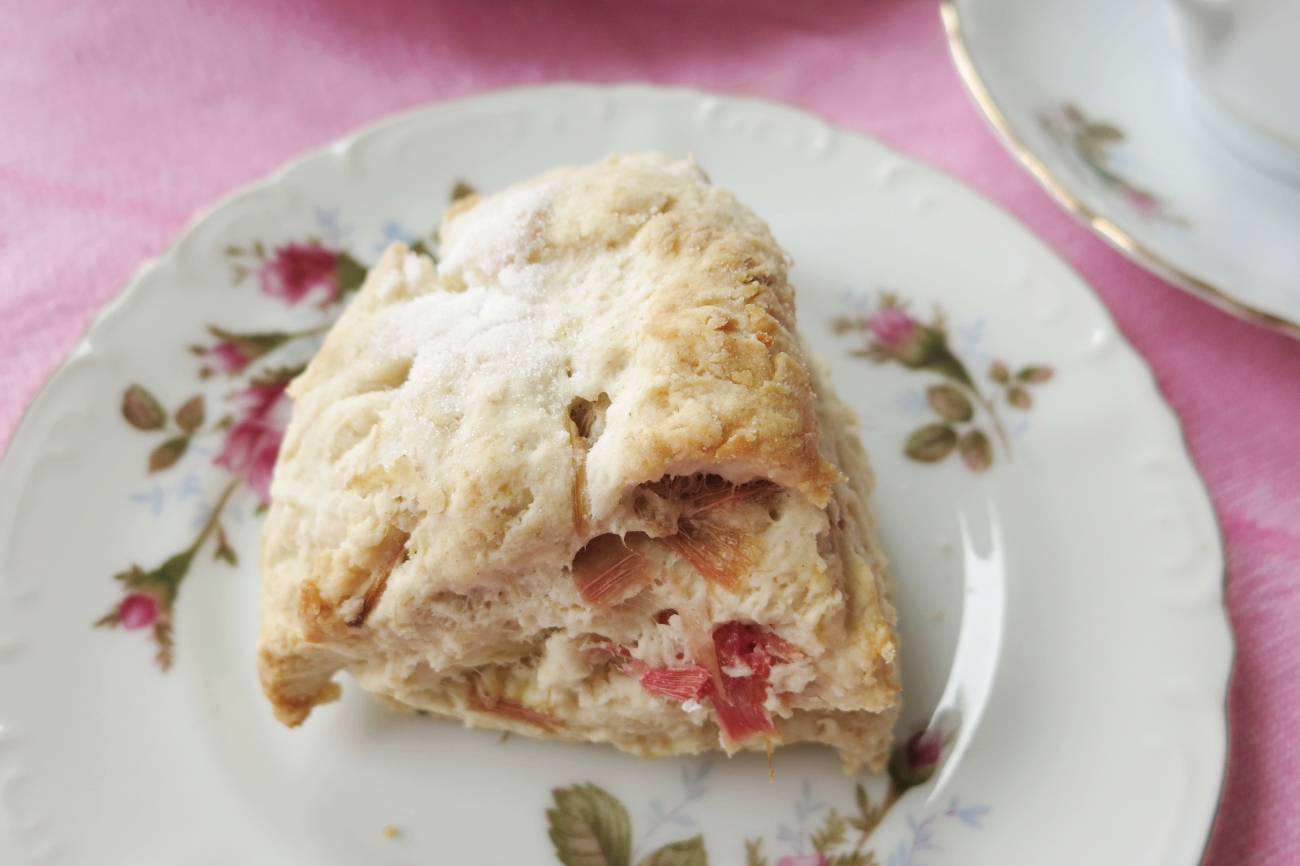 Every year when rhubarb season comes around it's a special time. These blush red and green stalks have a sweet-sour flavor that's unlike anything else. They add a freshness that is unmatched for sweet baked goods, without being overwhelming. In addition to making crumbles and pies with this wonderful vegetable (I know it sounds weird, but it's not a fruit), it also goes perfectly in scones.
For these rhubarb scones I found rhubarb at my local grocery sooner than I needed to make the recipe. So I froze them to use a couple of weeks down the line. This is useful to know how to do since the season is so short that you might want to make sure you can still have your rhubarb desserts for late summer.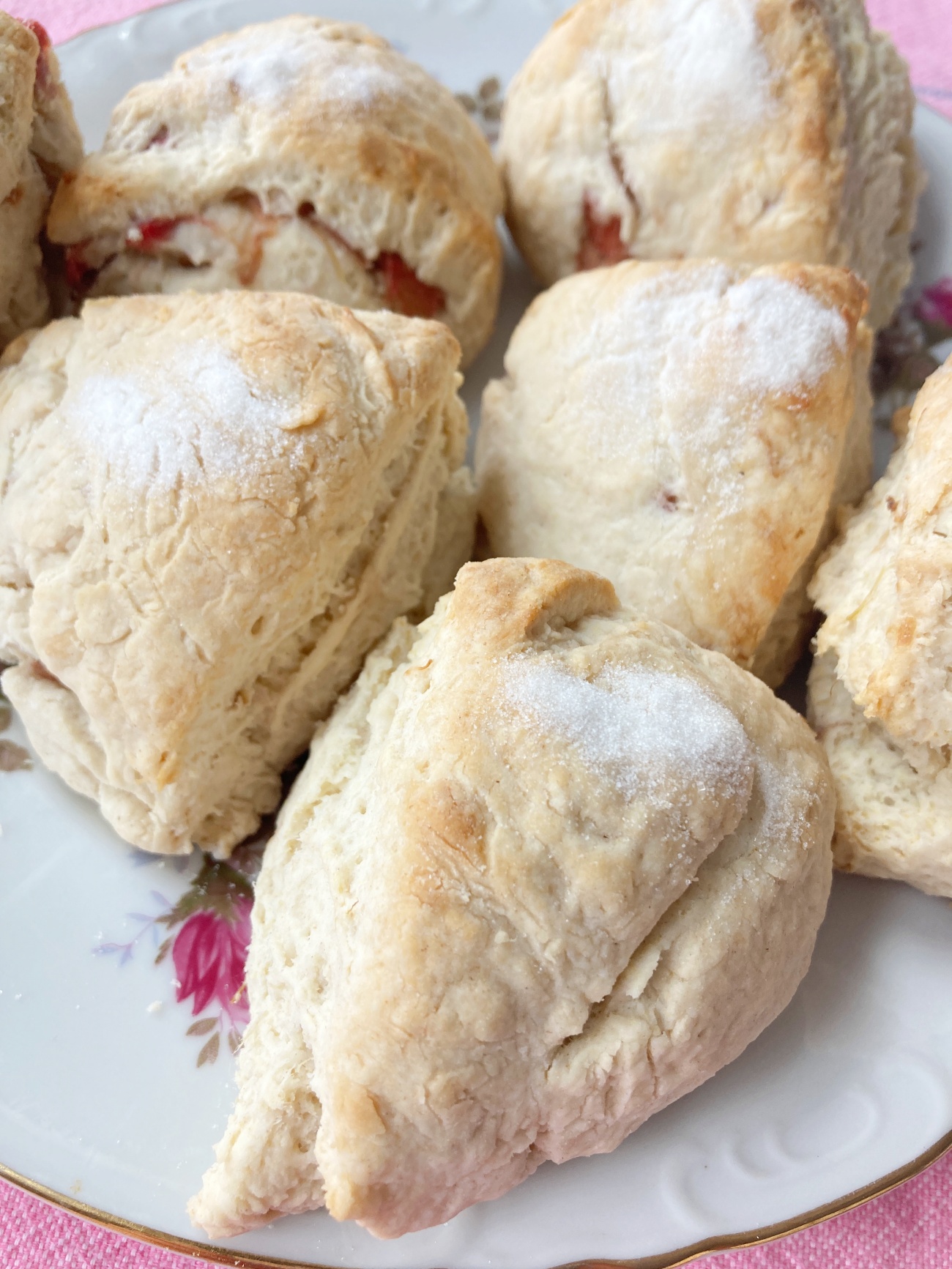 Simply cut you rhubarb into pieces then blanch in boiling water for 1 minute. Scoop the pieces out and then lay on paper towel to dry and cool. After that lay them out on a baking sheet and pop them in the freezer. Once frozen pack them into freezer bags or containers and keep until ready to use, up to 6 months. Freezing the pieces flat makes it easier to measure them out when it's time to use the rhubarb.
I like to double bag mine so that there's less chance of freezer burn. When processed this way they still keep their tender red color. For this recipe you can use either flash frozen or fresh rhubarb- both taste great in the end.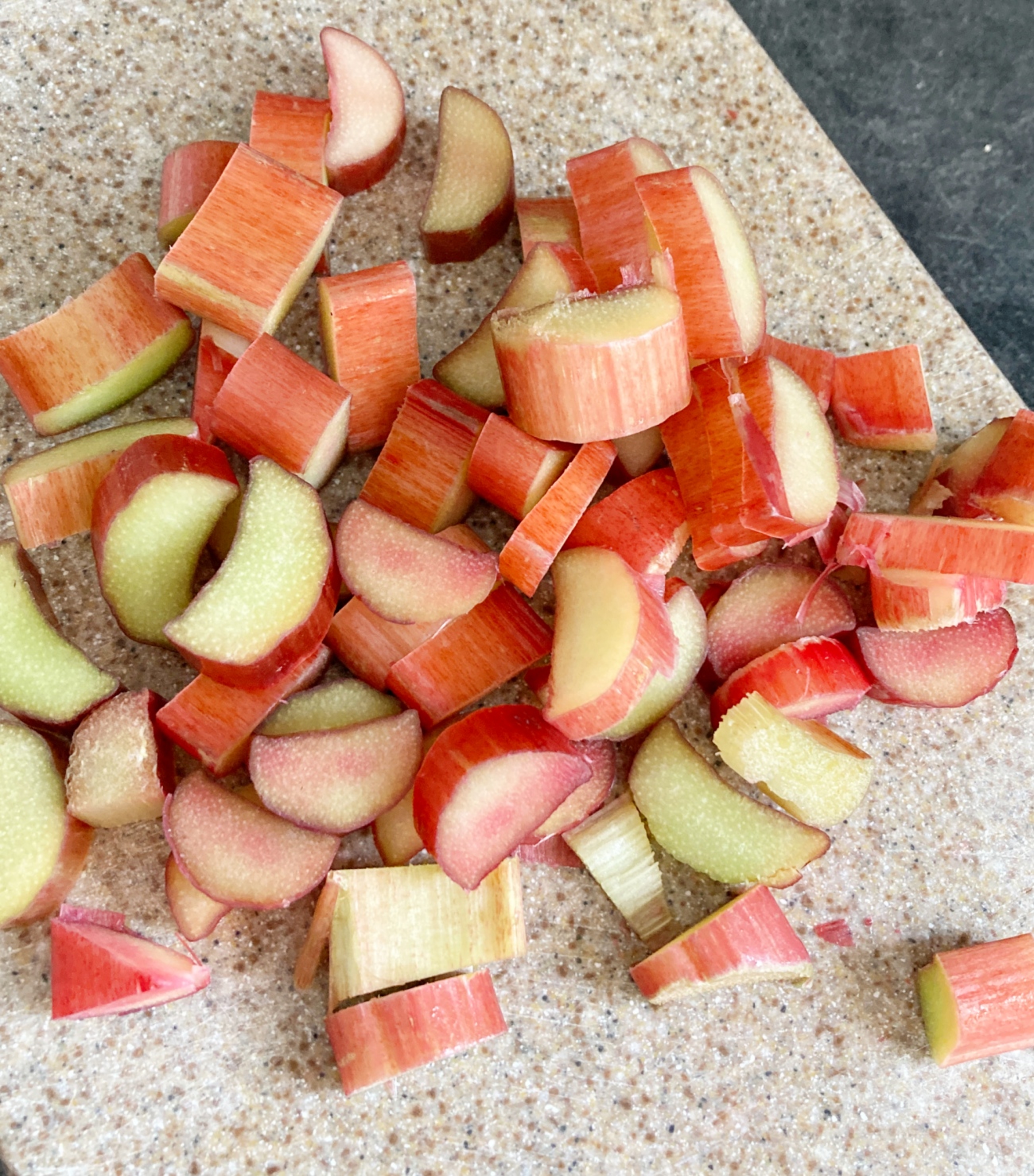 The basic scone recipe that these are incorporated into isn't anything revolutionary, but there are some things you should keep in mind about it. Because the rhubarb adds some moisture I like to leave out a tablespoon or 2 of the cream until I've mixed the dough up. I do this for all shortcrust recipes, like scones, shortbread, and pie crust. This allows me some control over the texture as flour can absorb liquid differently depending on how it's stored and how old it is and what brand it is.
All these factors affect how dry and how workable the dough will be. On the other hand if you have a very dry flour you might end up needing an extra spoonful of liquid.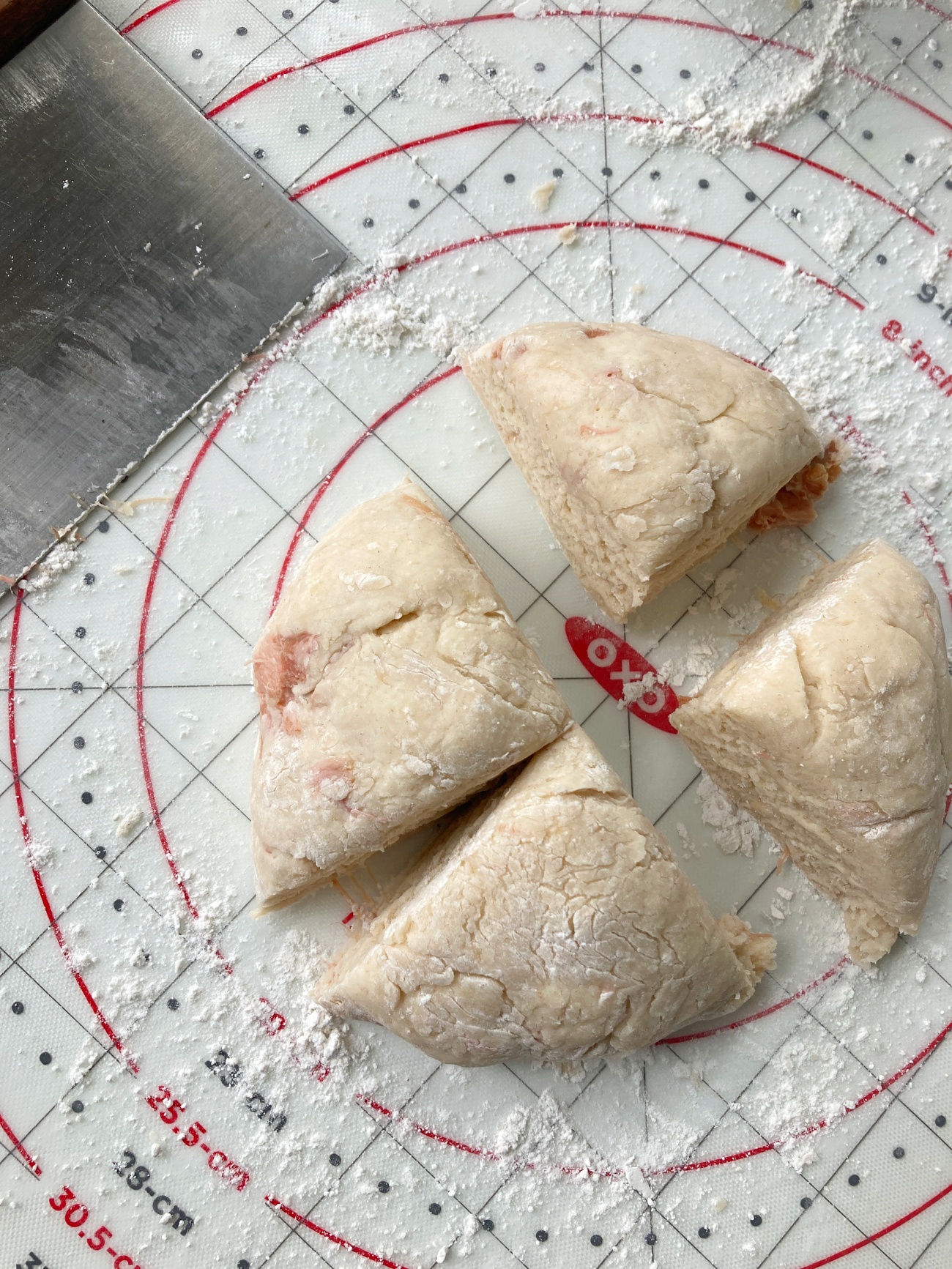 Once you have a dough that's on the drier side gently fold in the rhubarb pieces. For these photos I made two mounds of dough and then cut each one into 4 wedges using my bench scraper. If you prefer round scones you can roll the dough out thick and use a scone cutter to cut them out.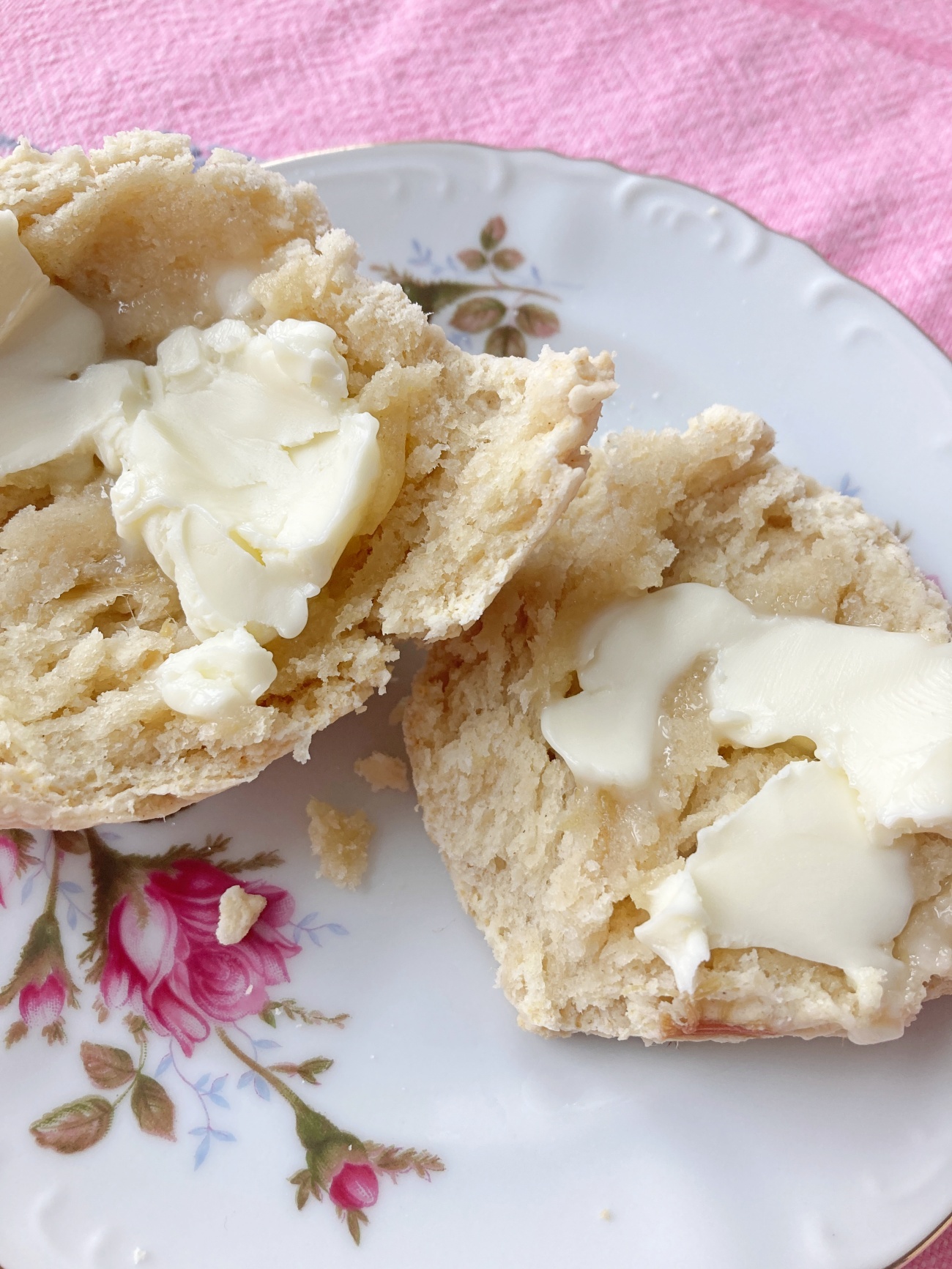 Then simply bake and enjoy with a slather of butter or honey or even some mascarpone cheese for a real treat!
Rhubarb Scones
Makes 8 scones
20m prep time
20m cook time
334 calories
Ingredients
3 stalks rhubarb, chopped
1/2 cup granulated sugar, divided
2 1/2 cups flour, plus extra for flouring
1 tablespoon baking powder
1/2 teaspoon salt
8 tablespoons unsalted butter, cold
2 teaspoons vanilla extract
2/3 cup heavy cream
Preparation
Preheat oven to 375˚F. Place lower rack in center of oven. Place upper rack one level above center rack. Combine rhubarb with 3 tablespoons of sugar. Set aside.
In a large bowl combine 1/4 cup of sugar, flour, baking powder, and salt. Cut in butter using 2 forks or a pastry knife. Or pulse until just combined in food processor. Stir in most of cream, adding more if mixture doesn't hold together.
Fold in vanilla and rhubarb. Turn out onto floured work surface. Form into a round then use a knife or bench scraper to cut in 2 pieces. Form each half into another round, then cut each round into 4 triangular pieces.
Place scones on baking sheet 2" apart and then sprinkle with remaining sugar. Bake for 25-30 minutes or until golden brown on top. Place an empty baking sheet on upper rack after 15 minutes to keep scones from becoming too brown.
Serve with butter, honey, or mascarpone cheese.
Recipe adapted from Food 52.
SKM: below-content placeholder
Whizzco for 12T