Fall flavors wrapped in a savory butter and sage sauce.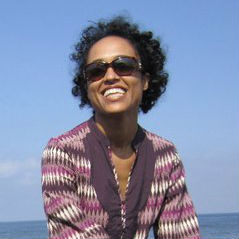 Sarah Cool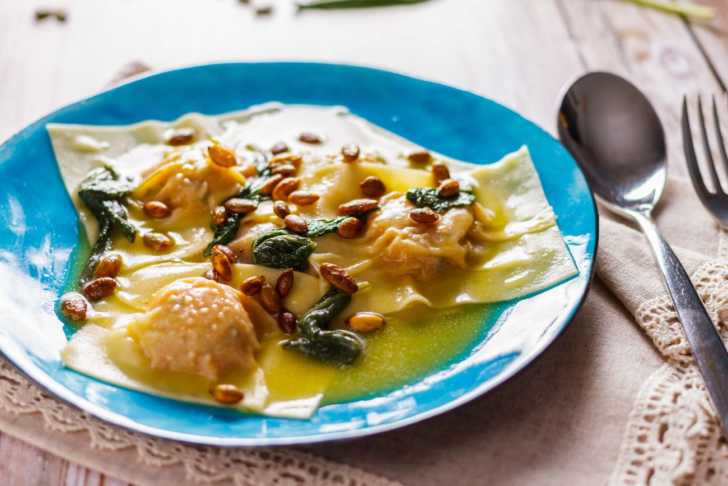 I've got a fun fall recipe that is a delicious nod to the fall season. Pumpkin ravioli is super simple to make and so-so-so good to eat. I use two short cuts, canned pumpkin puree and wonton wrappers, to whip up a batch of ravioli in less than 30 minutes. Don't get me wrong, I love to make homemade ravioli but I also love having a few of these quick and easy tricks up my sleeve. This is one trick that is a real fall treat. Pumpkin, sage, butter, I mean, come on! It's savory and delicious, the perfect fall recipe.
Warm noodles tossed with butter and fresh parmesan cheese is one of my favorite comfort foods. What better way to make this into a more refined meal than by adding savory pumpkin and sage. To stick with that savory fall flavor, I like to add warm spices to the pumpkin puree, like ground ginger and a little bit of nutmeg. They bring a depth and richness that blends beautifully with the pumpkin filling.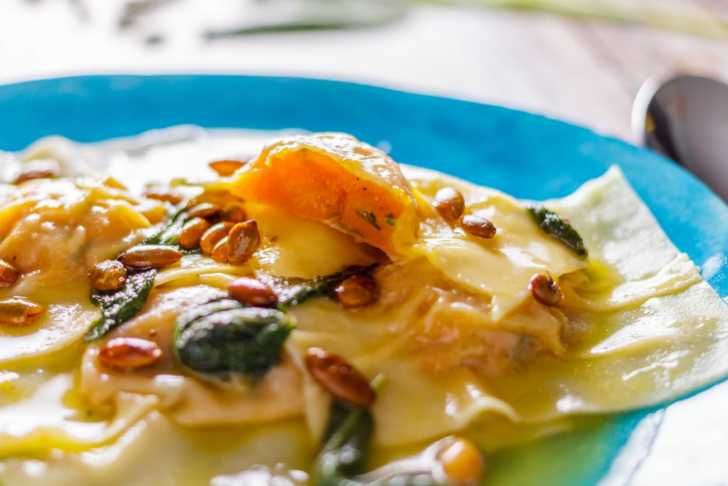 Homemade ravioli is fairly simple to make but mid-week, I'm looking for something a little faster. Pre-made wonton wrappers offer the perfect solution and they're readily available at your grocery store. A spoonful of the pumpkin filling goes right into the center of each wonton square and is sealed with an egg wash and a second wrapper. That's it!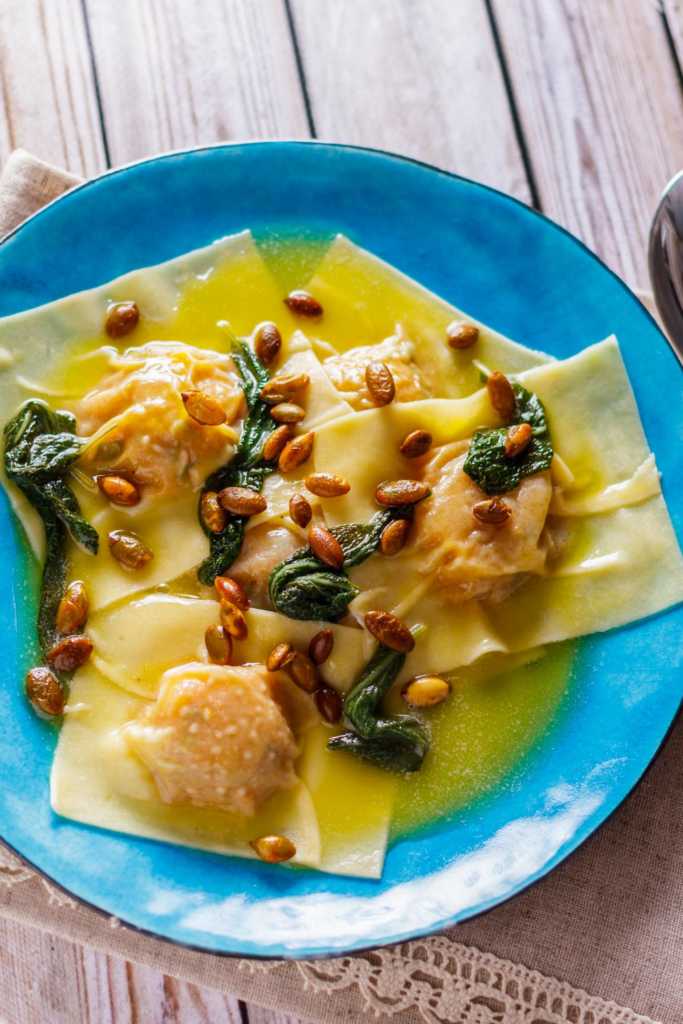 Warm sage butter and toasted pine nuts are the most drool-worthy toppings to this simple yet flavorful pumpkin ravioli. The finished product looks, smells, and tastes like something from a fine restaurant. I love to sit down and enjoy a bowl of these perfect little package of fall flavors.
Pumpkin Ravioli with Brown Sage Butter
4
10m prep time
10m cook time
10m inactive
Ingredients
1 (14 oz package) wonton wrappers
1 cup pumpkin puree
⅓ cup freshly grated Parmesan cheese
½ cup unsalted butter
1 large egg
2 tablespoons olive oil
6-8 sage leaves, thinly sliced
½ cup toasted pine nuts
½ teaspoon nutmeg (optional)
½ teaspoon ground ginger (optional)
Kosher salt
Black pepper
Preparation
Mix pumpkin puree, parmesan cheese, nutmeg, cayenne, 1 teaspoon salt, and ½ teaspoon black pepper in a bowl until well-blended.
Lay 12 wonton sheets on a lightly floured cutting board. Place 1 tablespoon of the pumpkin puree into the center of each wonton sheet.
Beat the egg in a small bowl. Gently brush egg wash onto the corners of the wonton squares. Place a second wonton sheet over the top of each ravioli, then gently press the edges together to remove any excess air.
Bring a large pot of water to a boil. Add 2 teaspoons kosher salt and 2 tablespoons olive oil.
Gently place four ravioli into the boiling water, cook for approximately 2 minutes. Remove with a slotted spoon and drain in a colander. Repeat until all of the ravioli are cooked.
Prepare brown butter by melting 1 stick unsalted butter in a pan. Bring butter to a low simmer until it becomes a nutty-golden brown. Add sage leaves, 1-2 minutes, then remove with a slotted spoon.
To serve, generously drizzle sage butter over the ravioli. Garnish with toasted pine nuts.
Recipe adapted from From A Chef's Kitchen.
SKM: below-content placeholder
Whizzco for 12T