We can't decide which part is our favorite: the caramelized pecans, the cheesecake, or the ginger crust!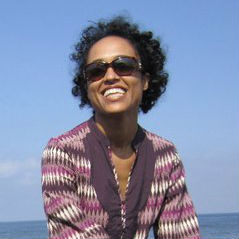 Sarah Cool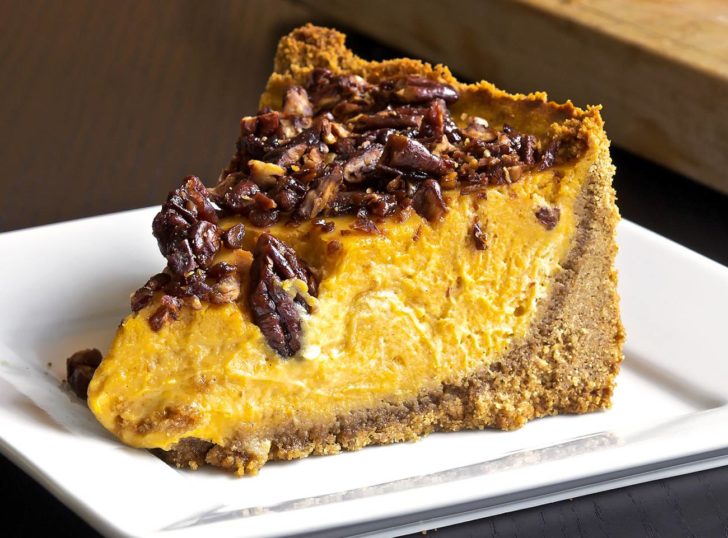 Pumpkin is a defining flavor of fall and one that we've come to enjoy in just about everything from our coffee to our candles, to our home decor and our baking. We're really excited about this last item, baking, and we've got a pumpkin cheesecake pie recipe that is going to win over both cheesecake lovers and pumpkin pie aficionados. There is something just so warm and homey about pumpkin and we're excited to bring this recipe to life because it fills our home (and our bellies) with the smells and tastes of the season.
Pumpkin cheesecake is sandwiched between two layers of delicious crunch, pecans, and ginger cookies. The crust is a crucial foundation for any pie, and in our pumpkin cheesecake, a gingersnap crust is the perfect pairing between pumpkin and spice. We've got a super quick and easy crust recipe and you'll see that it makes all the difference. Next, we move on to the main ingredient, the pumpkin cheesecake, which will come out smooth and creamy and just packed with great flavor. And not to be forgotten here is perhaps the real star of the show – a caramelized pecan topping that will offer the perfect crunch and nutty sweetness. Oh, we're drooling just thinking about this!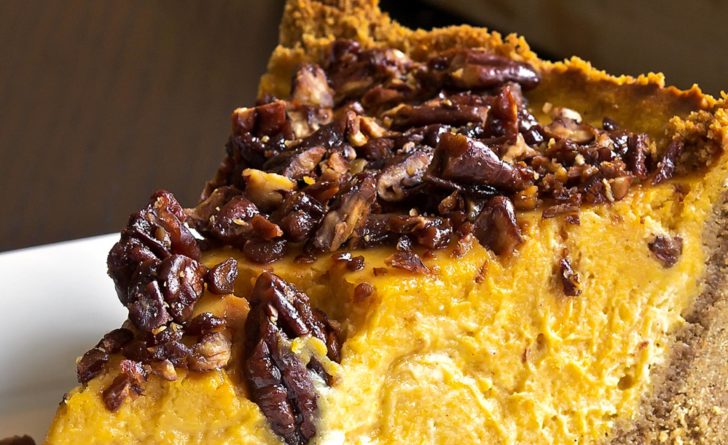 We think this pumpkin cheesecake is blue ribbon-worthy and a dessert that is a nice homage to the season. Our pumpkin cheesecake is perfect for just about any fall event, a Halloween party in October or a "friends-giving" with those we love in November. As much as we love a traditional pumpkin pie, this pumpkin cheesecake with caramelized pecan topping and a gingersnap crust is fully loaded sweet decadent deliciousness (say that five times fast) and downright irresistible. One bite will have folks begging for your recipe!
Pumpkin Cheesecake With Caramelized Pecan Topping
Serves 8-10
1 hour 30 minutes active + cooling time
Ingredients
2 cups finely crushed gingersnap cookies
1 (15 oz) can pumpkin puree
1 (8 oz) package cream cheese, softened
1 ¼ cup brown sugar, divided
½ cup granulated sugar
1 stick unsalted butter, divided
2 teaspoons pumpkin pie spice
1 teaspoon cinnamon
⅛ teaspoon kosher salt
2 teaspoons vanilla, divided
2 large eggs
½ cup + 2 tablespoons heavy cream, divided
1 tablespoon light corn syrup
1 cup chopped pecans, lightly roasted
Preparation
Preheat oven to 350°F.
Mix finely ground gingersnap cookies with ¼ cup brown sugar and 7 tablespoons melted butter. Pour into a 9-inch pie plate and press firmly and evenly around the bottom and sides of pie plate. Bake for 5-8 minutes. Remove from oven and set aside to cool. Leave oven set to 350°F.
Beat cream cheese and ½ cup white sugar and ½ cup brown sugar until smooth. Add pumpkin puree, pumpkin pie spice, salt, and cinnamon, mix until well combined. Slowly add eggs, ½ cup heavy cream, and 1 teaspoon vanilla. Beat until smooth.
Place prepared pie crust onto a baking sheet. Pour pumpkin batter into pie crust, do not overfill. Bake for 40-45 minutes then turn off oven and leave oven door slightly ajar, 10 minutes, for cheesecake to finish baking.
Combine ½ cup brown sugar, 2 tablespoons heavy cream, corn syrup, and 1 tablespoon butter into a small saucepan on medium-high heat. Bring to a boil, reduce heat and simmer for 5 minutes, stirring often. Remove from heat and stir in pecans and 1 teaspoon vanilla extract. Cool 5-10 minutes before pouring caramelized pecans over pumpkin cheesecake. Refrigerate pumpkin cheesecake for 4 hours before serving.
Recipe adapted from Will Cook for Smiles.
SKM: below-content placeholder
Whizzco for 12T