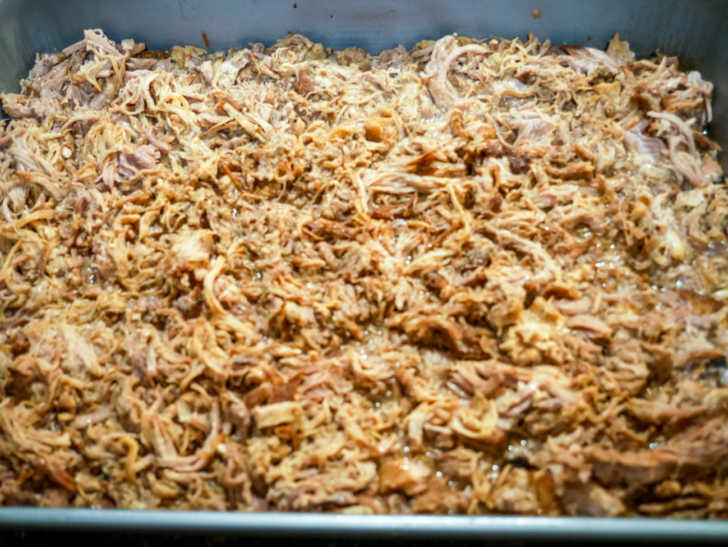 Pulled pork is one of my favorite ways to feed my house of VERY hungry boys. The slow cooker and a big chunk of pork shoulder are all you'll need but why stop there. I have to add a little something extra to my pulled pork and this peach barbecue sauce reduction is so good you'll want to just drink it straight from the pot. Grab a roll of paper towels or a stack of napkins and get ready to dive into this divine pulled pork.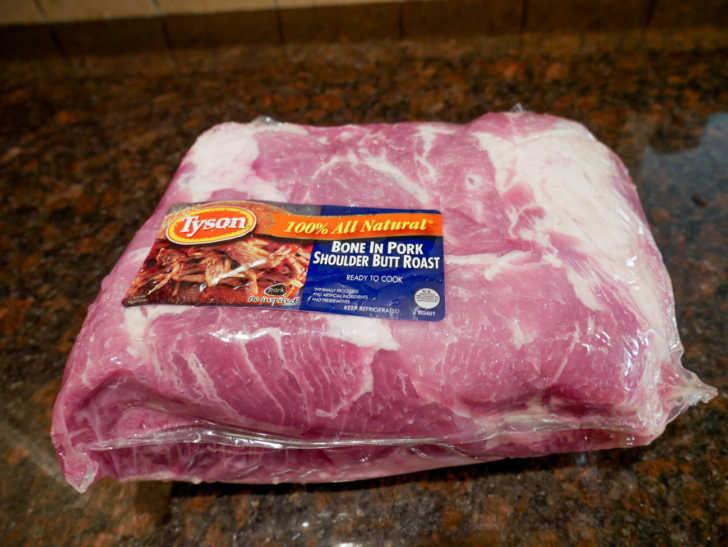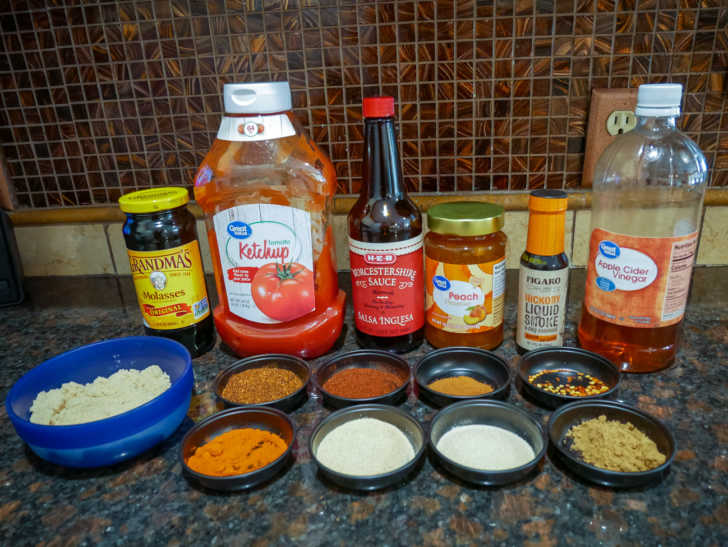 I start with the pork because that needs to get into the slow cooker for several hours. A 4-5lb pork shoulder gets a nice massage with a savory rub mixture, a combination of chili powder, salt, pepper, garlic powder, and onion flakes. These seasonings go a long way to adding flavor, but searing the meat will do wonders for the success of the pulled pork. Not only does it help to lock in moisture but the browning of the meat will contribute to the depth of flavor.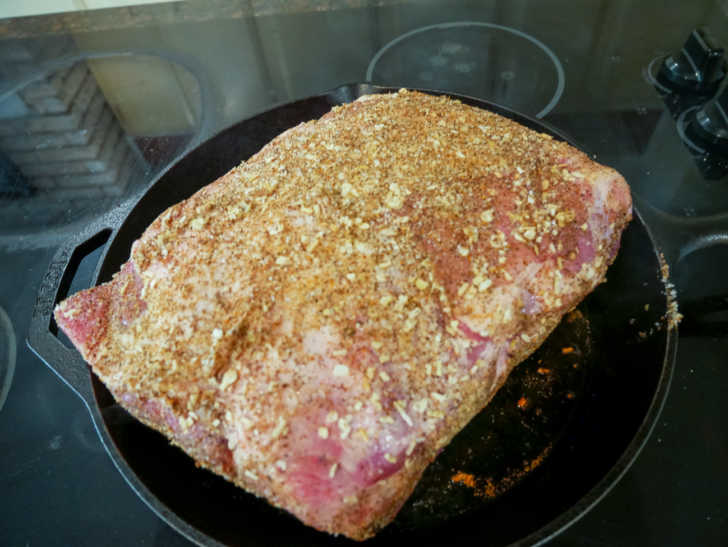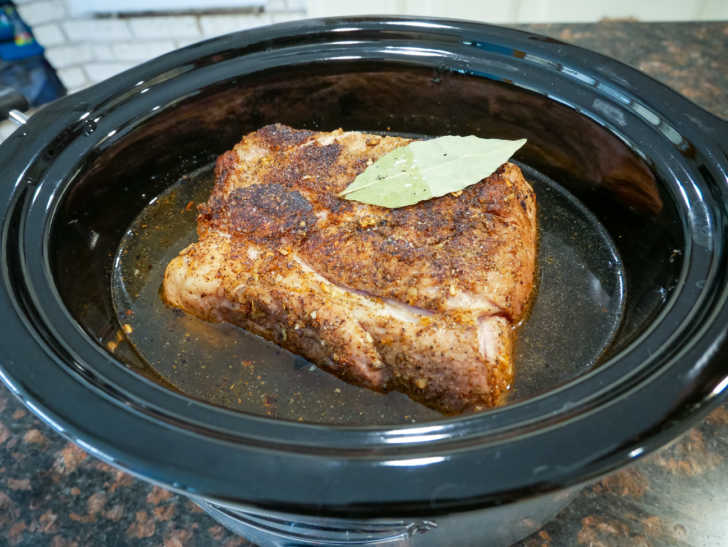 The pork is now ready for the slow cooker, so I carefully transfer the pork shoulder from the pan to the bowl and then pour over the top some apple juice, which will keep the meat tender and add amazing flavor, we're always building layers of flavor. A bay leaf goes in too, it adds a little something extra to the whole flavor profile, and then I set the pot to High for six hours. I clean up and step away while the slow cooker does the heavy lifting.
With about an hour left on the slow cooker, I start to make the peach barbecue sauce. I make up a pretty big batch because it's just that good. Ketchup and peach preserves and a ton of beautiful seasonings, like chipotle, cayenne, and chili for warmth and spice. Molasses and Worchestershire sauce are a beautiful combination of sweet and savory, and just a few more spices to keep the whole thing interesting. This simmers for about an hour in a saucepan until the pork finishes in the slow cooker.
Carefully, I remove the pork from the slow cooker and start to shred the meat – it practically falls apart on its own so there isn't too much work to do here. I like to remove some of the excess fat from the meat so that I'm getting as much meaty goodness as possible. I grab a roll, something that is thick and strong enough to support the juicy meat and this amazing peach barbecue sauce, which I'll generously slather over the top of the pulled pork.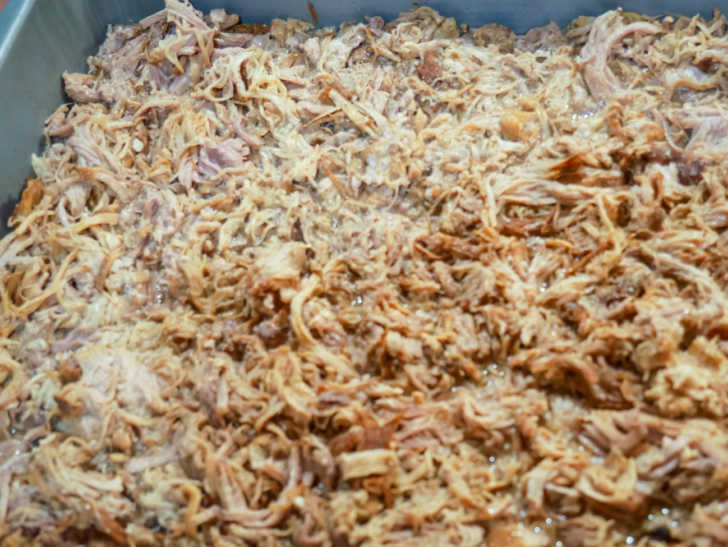 Here's a fun behind-the-scenes fact: I made one that looked picture perfect and went to grab my camera. I turned away for a moment only to find my picture-perfect pulled pork sandwiches had been gobbled up by my husband and kids! So you'll have to make your own to see just how good it looks and to experience how good it tastes!
Pulled Pork with Peach Barbecue Sauce
10-12
1h prep time
6h cook time
5h inactive
Pulled Pork
4-5lb pork butt
2 tablespoons Ancho chili powder
2 tablespoons onion flakes
2 tablespoons garlic powder
1 tablespoon kosher salt
1 tablespoon black pepper
2-3 tablespoons vegetable oil
3 cups apple juice
1 1/2 cups water
1 bay leaf
Peach Barbecue Sauce
64 oz ketchup
2 cups peach preserves
1 tablespoon Ancho chili powder
1 tablespoon chipotle powder
1 1/2 teaspoon cayenne powder
1 tablespoon garlic powder
1 tablespoon onion powder
2 teaspoons red pepper flakes
1 teaspoon cinnamon
1 1/2 teaspoons cumin
1/2 cup brown sugar
3 tablespoons molasses
1 tablespoon Worcestershire sauce
1/2 cup apple cider vinegar
2 cups water
Pulled Pork
Mix ancho chili powder, onion flakes, garlic powder, salt and pepper together in a small bowl or container.
Pat the pork butt dry with paper towels. Trim off excess fat, where possible.
Rub spice mixture over pork butt.
Heat vegetable oil in a large skillet. Sear meat until just brown on all sides.
Transfer meat into the slow cooker. Pour apple juice, water, and add the bay leaf. Cover and cook on HIGH for 6 hours.
Peach Barbecue Sauce
Add all ingredients into a large saucepot. Mix together and bring to a boil.
Turn heat down to low and simmer for about one hour.
To Assemble
Shred the pork butt, removing any more pieces of fat that remain.
Mix in about 1/2 of the peach barbecue sauce and transfer the rest into a serving dish.
Serve on a roll with additional peach barbecue sauce available to drizzle over the top. Enjoy!
SKM: below-content placeholder
Whizzco for 12T