You can't go wrong with this fresh dessert.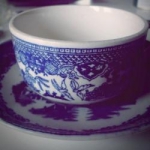 Rose Heichelbech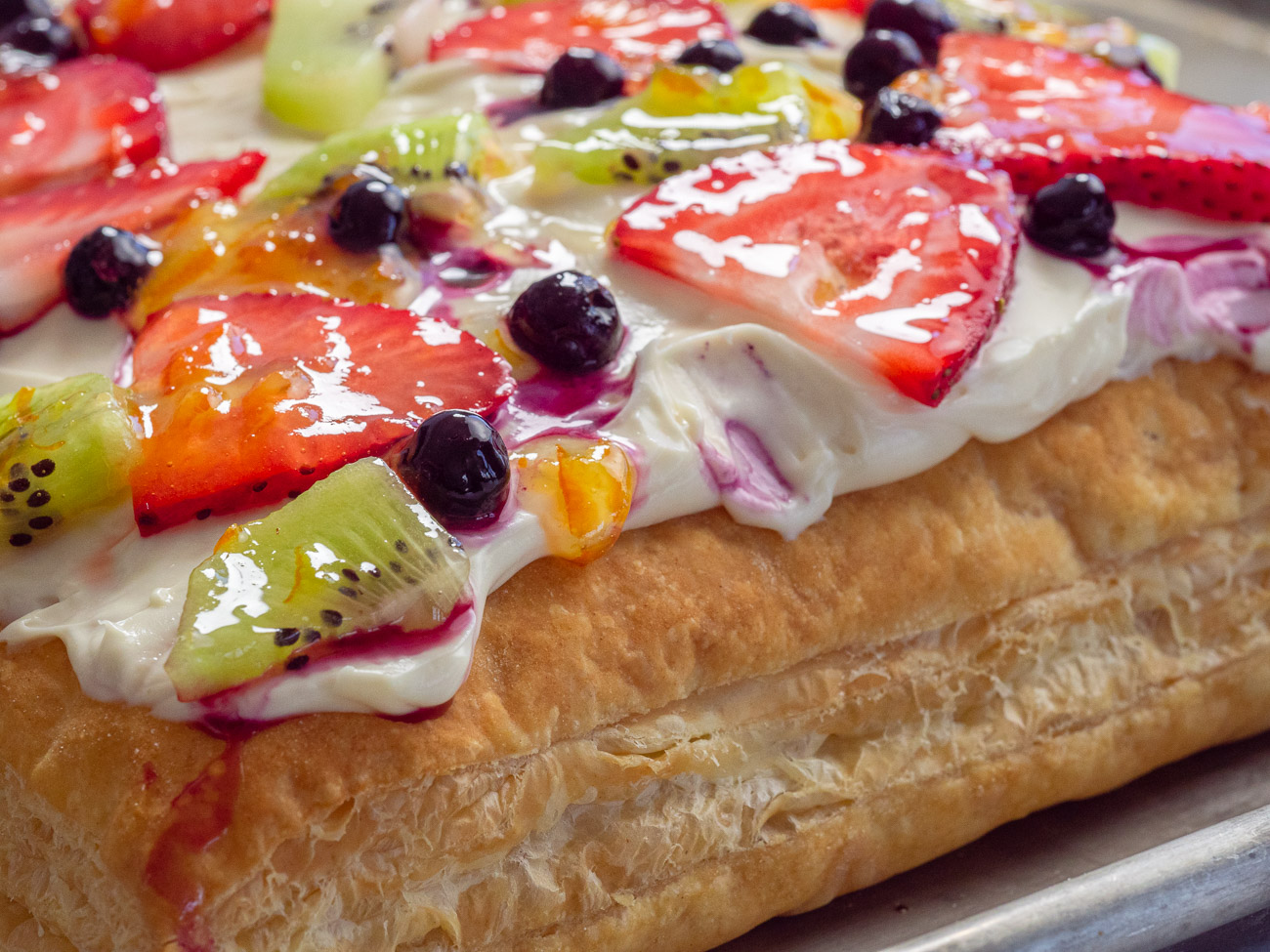 Every time the weather starts to get a little warmer I get a hankering to taste the full bounty of summer. I remember the first time I ever tried fruit pizza and it made my whole day. For this reason, for me at least, it's the quintessential summer dessert. For this recipe instead of using a sugar cookie base the steps are simplified by using frozen puff pastry dough instead. It couldn't be easier if it tried.
This flaky, layered dough makes this fruit pizza just a little bit more sophisticated and slightly less sweet than the cookie version. Plus, with the similarity to Danish pastries this is a perfect dish to serve for a brunch.
For this recipe you'll need half a package of puff pastry dough in its thawed state. Bake this for 20 minutes until perfectly golden. Pastry will be much taller than when it went in. Allow this to cool completely before adding the toppings.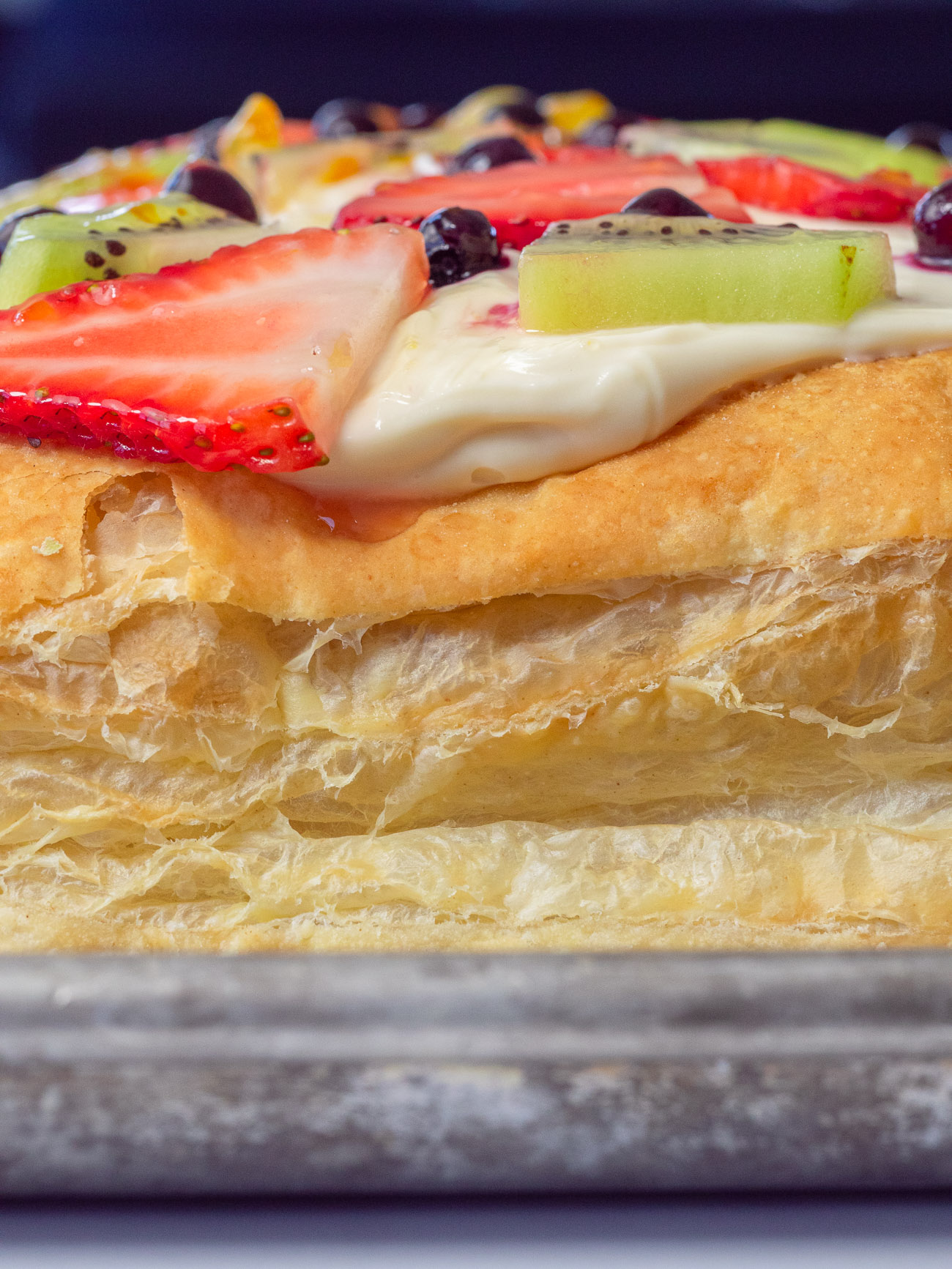 While the pastry is cooling prepare the fruit. You can leave smaller pieces (like blueberries) whole, but the other fruits should be cut into smaller pieces. For this particular fruit pizza we used sliced kiwifruit, sliced strawberries, and blueberries. You can use raspberries, grapes, sliced pears or pears- pretty much any fruit you'd like. There's no wrong combination! However, I wouldn't put cantaloupe or honeydew melon on since the texture is so firm when compared to the other fruits but that's a personal preference.
Next prepare the pizza "sauce" which is a combination of cream cheese, powdered sugar, and vanilla extract. Spread lightly over the cooled puff pastry or use a piping to apply the frosting. Just make sure you don't crush the delicate pastry in the process.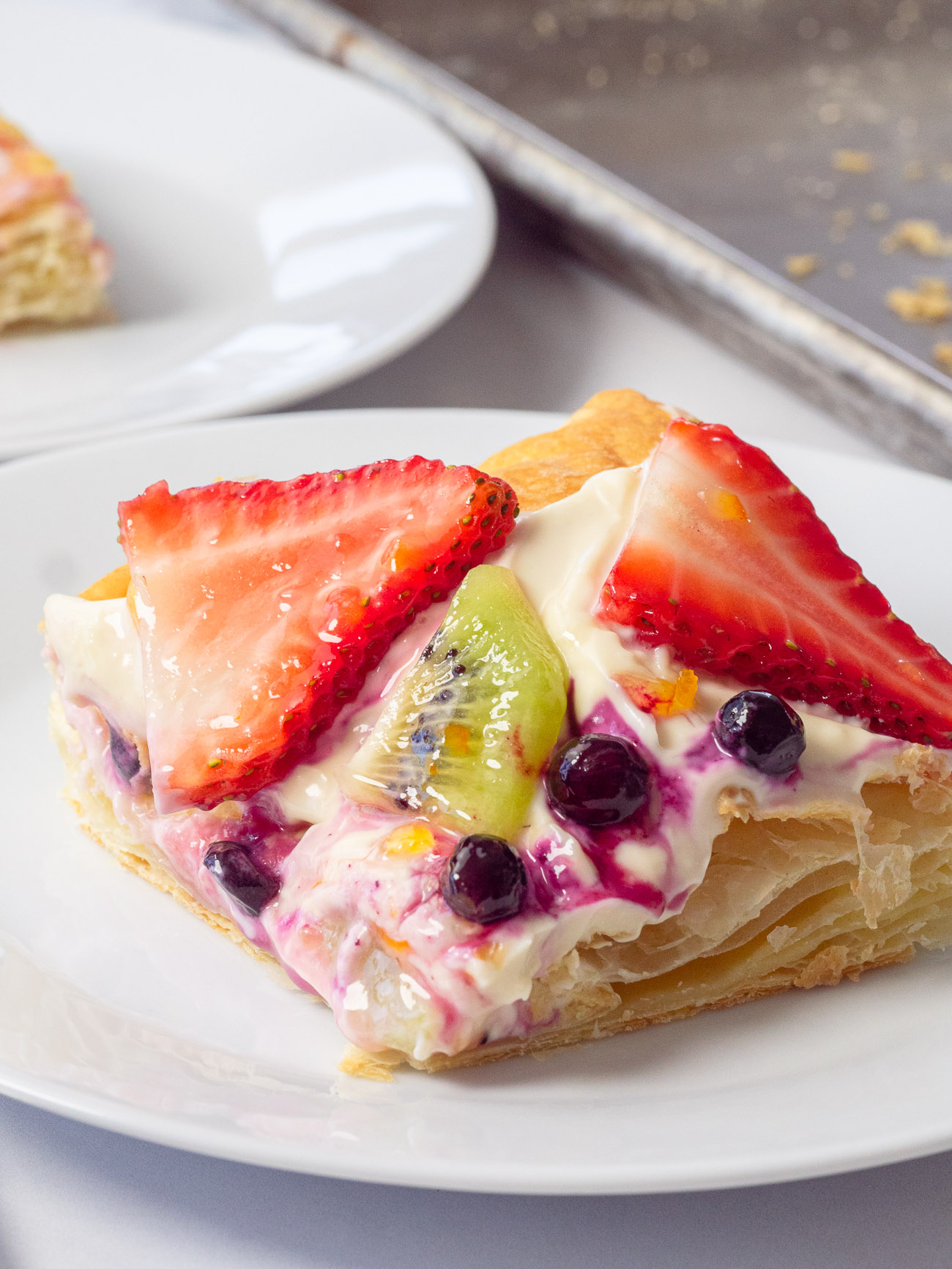 Now add your toppings in a random pattern so that each piece has some of each fruit. The final flourish for this pizza is to brush a little bit of slightly-warmed orange marmalade on top. This adds a hit of citrus and a little more sweetness, but will also keep the cut fruit from turning brown- particularly useful if you've used apples or pears.
This fruit pizza is the perfect brunch centerpiece, but it also makes a wonderful summertime treat. Once you bite into this delectable dessert you'll swear summer is finally here.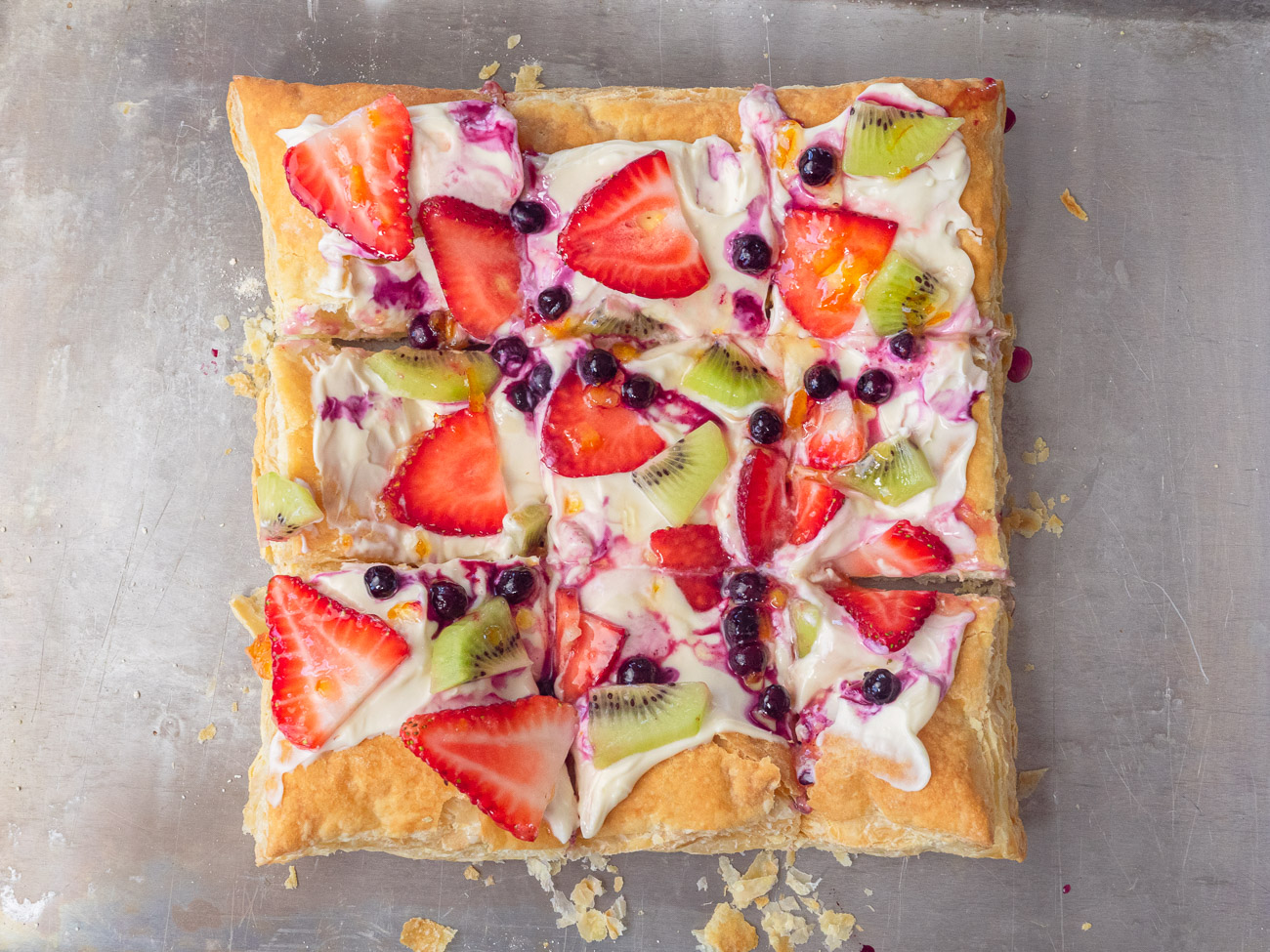 Puff Pastry Fruit Pizza
Makes 9 pieces
25m prep time
20m cook time
Ingredients
Ingredients
1 sheet puff pastry (half of a 17.3-oz package), thawed
1 8-oz package cream cheese, softened
1/3 cup powdered sugar
1 tsp vanilla extract
2 kiwifruit, peeled, halved lengthwise and sliced
1 cup fresh strawberries
1 cup fresh or frozen blueberries
1/2 cup orange marmalade
Preparation
Preheat oven to 400˚F. Unroll thawed puff pastry and lay on baking sheet. Bake for 20 or until pastry has expanded and become golden brown on top. Remove from oven and set aside to cool.
In a medium bowl use a blender to whip together cream cheese, sugar, and vanilla extract. Once pastry is completely cool gently spread cream cheese frosting over the top. You can use a piping bag or zippered plastic baggie to pipe the frosting on instead so as to avoid crushing the delicate pastry.
Arrange fruit on top of frosting. Fruit pieces can be any size you like, but medium-sized pieces work best.
In a small, heat safe bowl microwave the orange marmalade. Heat for 20-40 until just beginning to thin. Use a basting brush to apply the heated marmalade on top of the fruit. This adds flavor, but also keeps the fruit looking fresher.
Cut into squares and serve immediately. Refrigerate any uneaten portions.
Recipe adapted from Adventures of Mel.
SKM: below-content placeholder
Whizzco for 12T