A classic '60s dessert that's just as yummy as you remember.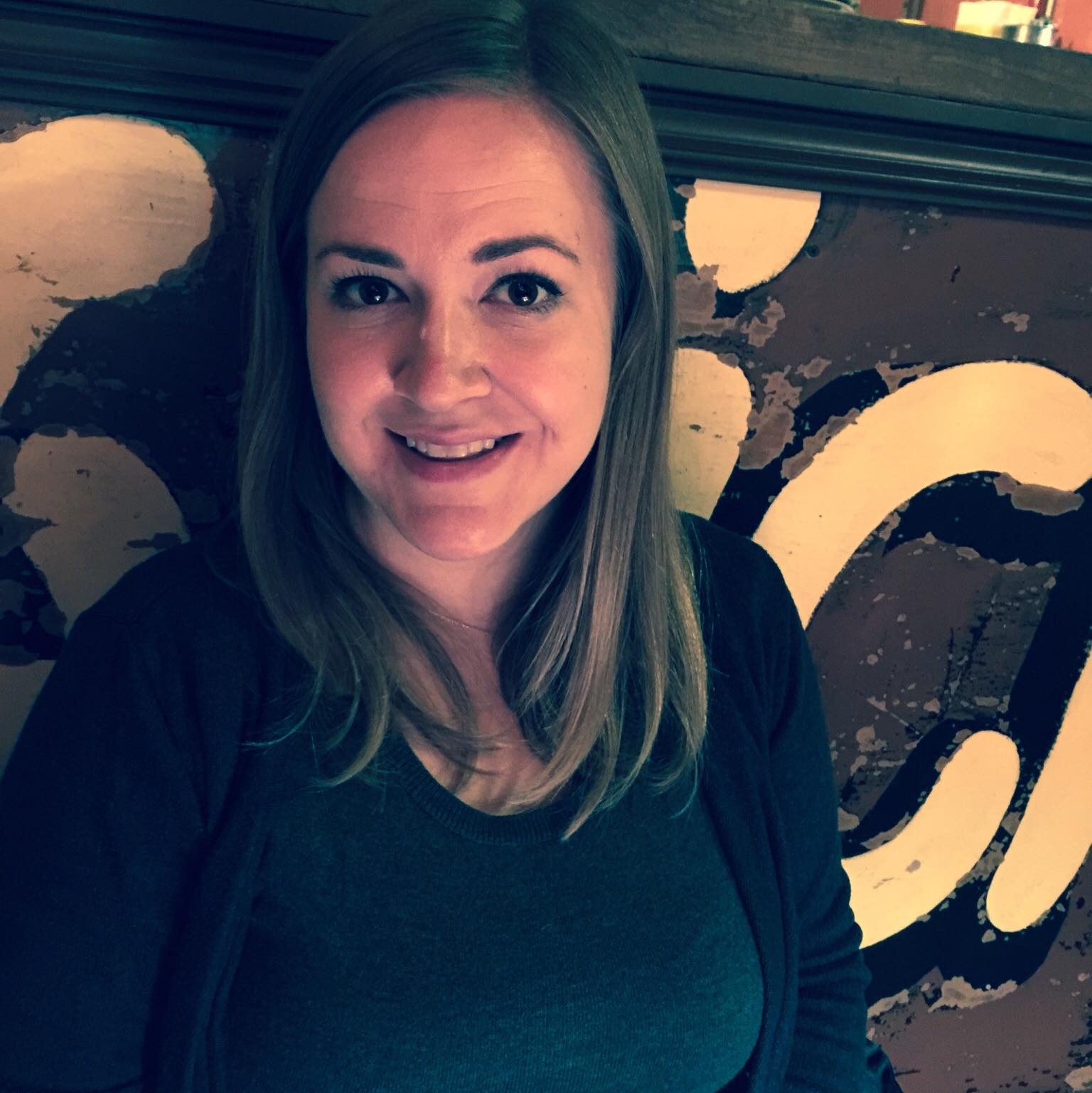 Kristy Norrell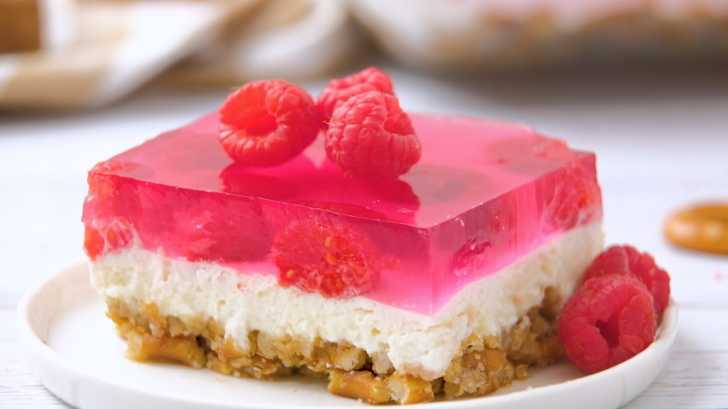 The '60s bore a lot of "jello salad" recipes that had nothing to do with lettuce and a whole lot to do with jiggly gelatin and while it might not be a tragedy that many of those were lost to the annals of time, the Pretzel Jello Salad is one well worth remembering. With a salty and buttery crushed pretzel base, a layer of silky cream cheese filling, and a sweet (and yes, jiggly) fruit topping, it's a dessert that's a study in layering flavors and textures successfully. Nostalgic? You bet. Delicious? You can count on it.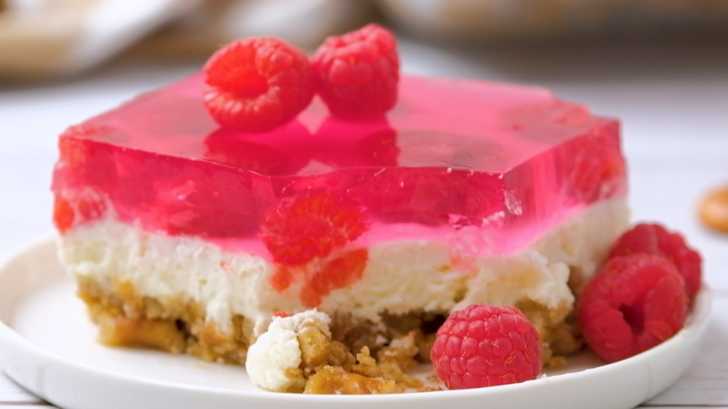 The combination of crunchy, creamy, and jello-ed is really what makes this (not to mention the salty-sweet thing it has going on). We've done a peach version and a strawberry one as well, but I must say that raspberries just might be my favorite fruit option for this dessert. They're a little bit tart and that goes so nicely with the sweet cream cheese filling that they're paired with.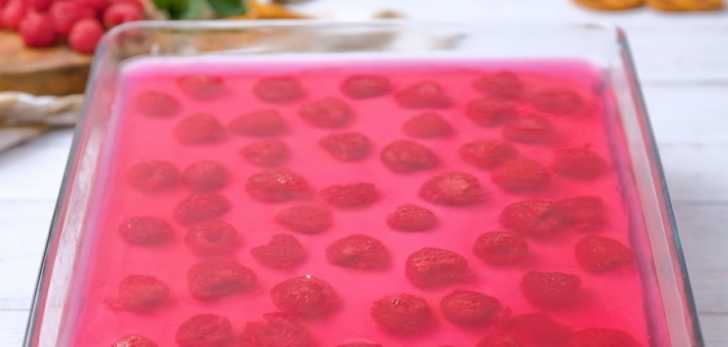 If you haven't had Pretzel Jello Salad in a long while, or even if you're just too young to remember it, trust me that it's a dessert that has a place in the modern-day as well. It's pretty as can be and the combination of flavors is just so yummy. Salty, sweet creamy, crunchy, and jiggly – it really has it all!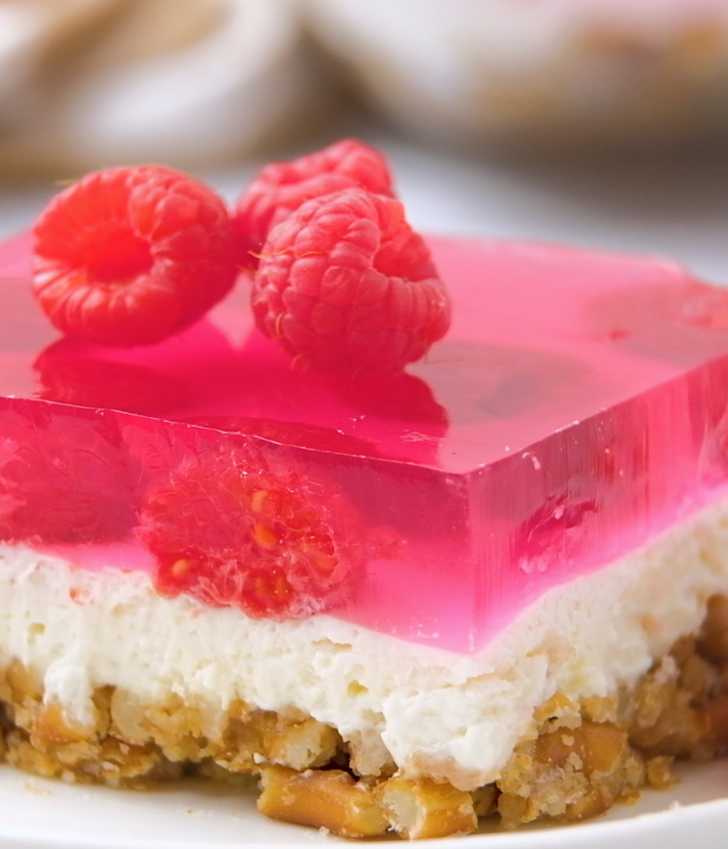 Raspberry Pretzel Salad
Serves 9
10m prep time
10m cook time
4h inactive
For the crust:
2 1/2 cups pretzels, crushed
3/4 cup (1 1/2 sticks) unsalted butter, melted
3 tablespoons brown sugar
For the filling:
1 (8 oz) container frozen whipped topping, thawed
8 oz cream cheese, at room temperature
3/4 cup granulated sugar
For the topping:
2 (6 oz each) package raspberry jello
4 cups boiling water
10 oz fresh or frozen raspberries
Fresh raspberries, for garnish
Preparation
Preheat oven to 400°F and grease a 9x13-inch baking dish with nonstick spray.
In a medium bowl, combine pretzel crumbs, brown sugar, and melted butter and mix thoroughly.
Press mixture evenly into the bottom of prepared baking dish. Bake 8-10 minutes, then set aside to cool.
While crust cools, make the filling:
In a large bowl, beat together cream cheese and sugar with an electric mixer until smooth. Gently fold in whipped topping.
Spread mixture over cooled crust, then chill until set, about 1 hour.
In a clean large bowl, combine jello packets with boiling water and stir until dissolved. Let cool to room temperature.
Top cream cheese layer with raspberries and gently pour gelatin mixture over the top. Chill until set, 2-3 hours. Slice, serve, and enjoy!
SKM: below-content placeholder
Whizzco for 12T