No cans of condensed milk here!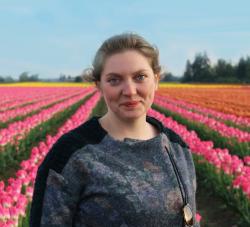 Decatur Macpherson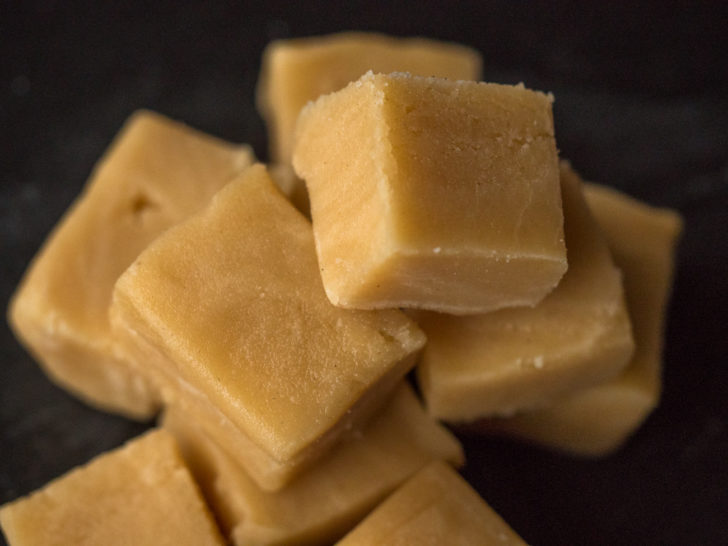 If we were forced to choose, we'd say there's really not much in the way of dessert that's better than homemade fudge. And not just any homemade fudge. We're talking old-fashioned, peanut butter fudge – no cans of condensed milk here! We still love chocolate fudge, but there's something about peanut butter fudge that really reminds us of our childhood and the version our grandmother used to make for us – she even had an old-fashioned way of testing the done-ness of the fudge while it was on the stovetop, so it didn't matter if she had a candy thermometer or not!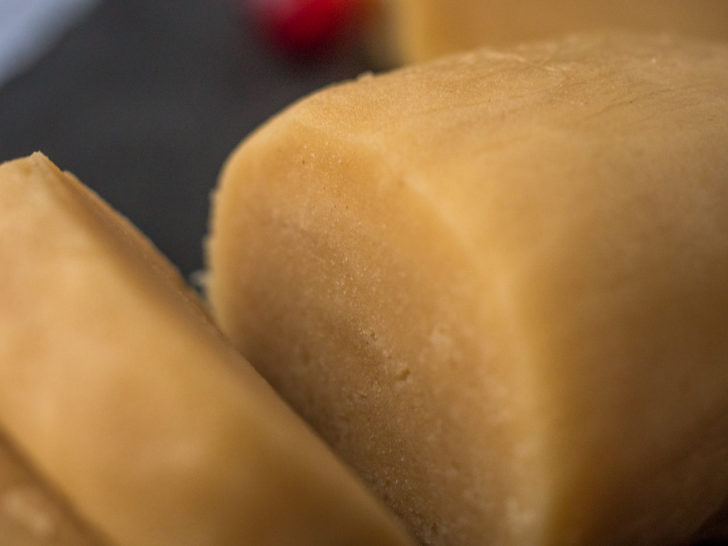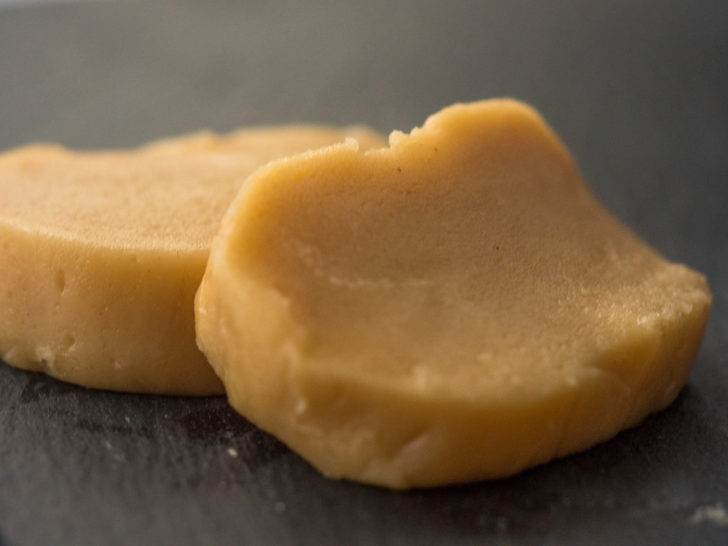 We'll tell you the secret test, so, no matter where you are or what tools you have, you can always make the perfect peanut butter fudge. It's called the Cold Water Test. It sounds simple, and it is! No need to be intimidated by this recipe, since all you have to do is occasionally drop a bit of your hot sugar and corn syrup mixture into a glass of cold water and see what shape it takes. It it clumps into a ball that is soft to the touch – soft ball stage (versus firm ball or hard ball stage); 234º F – it's ready to be taken off the heat and to have the peanut butter, or any other ingredients you like, stirred in. That's it, easy-breezy!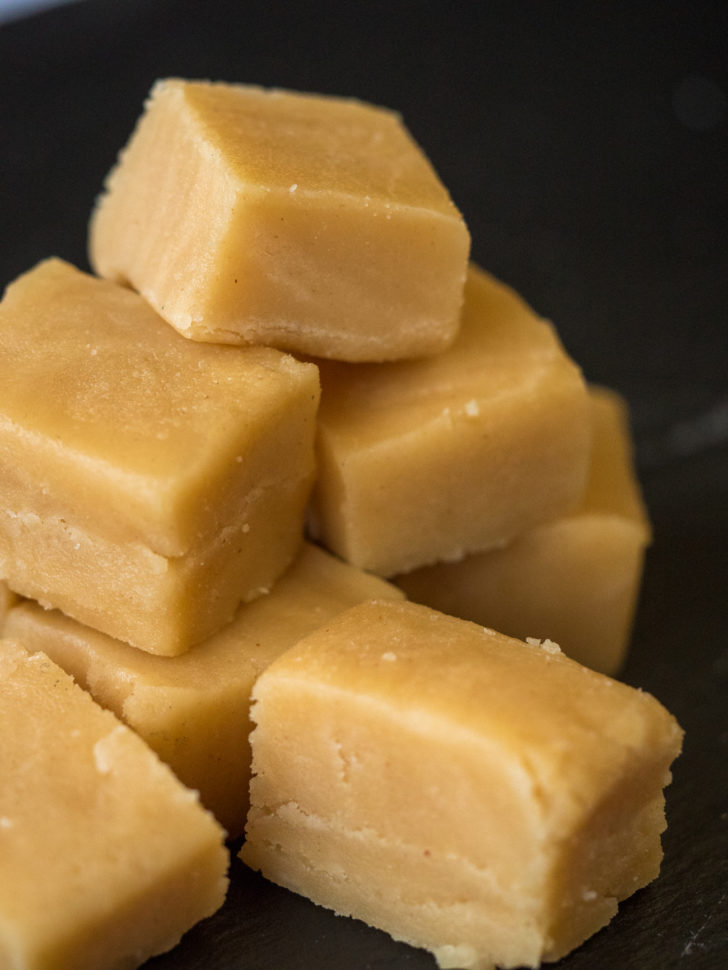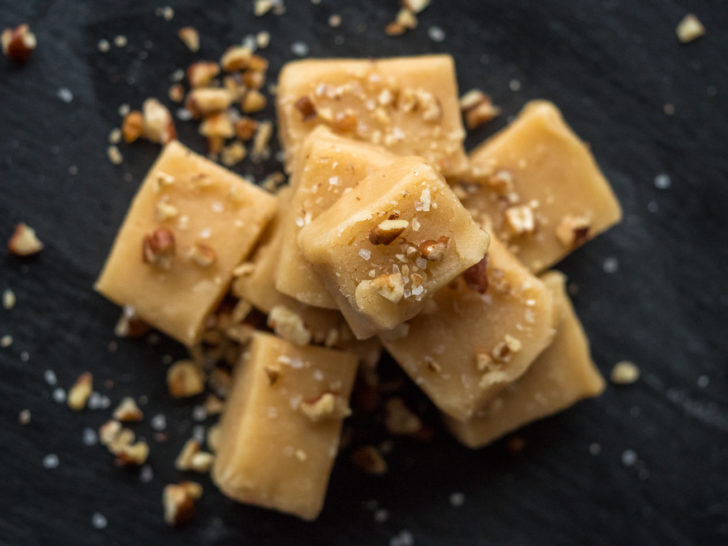 What you get with this recipe is our very favorite consistency of fudge; it's ridiculously creamy and perfectly ooey-gooey: soft to the touch and absolutely addictive. If you feel like adding a sprinkle of sea salt or maybe even some crispy bacon to your fudge you can, but it really doesn't need anything else, because it's perfect on its own – you'll see once you try it!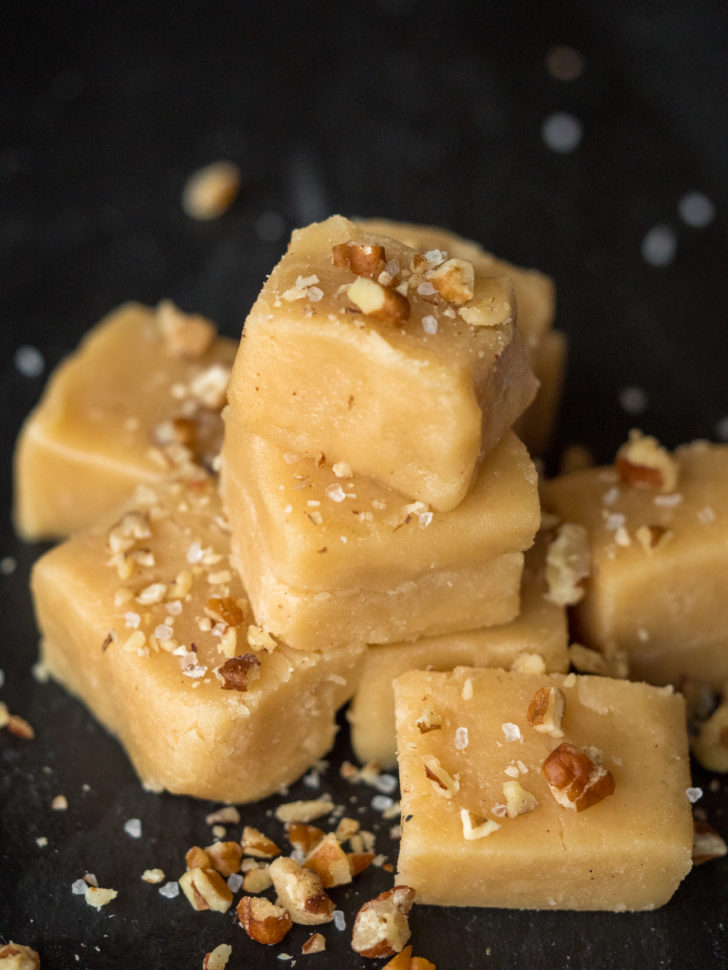 Peanut Butter Fudge
Serves 12-16
20 minutes active; 2+ hours inactive
Ingredients
2 cups sugar
1/2 cup half-and-half
1/4 cup light corn syrup
1/4 cup creamy peanut butter
3 tablespoons butter
1 teaspoon vanilla extract
1/4 teaspoon sea salt
chopped nuts, garnish, optional
Preparation
Line an 8x8-inch baking dish with butter and set aside.
In a large saucepan over medium heat, combine sugar, half-and-half and corn syrup. Whisk continuously and bring to a boil.
Cook until mixture reaches 234º F or soft ball stage. (If you don't have a candy thermometer, you can take the saucepan off heat and drop a spoonful of the mixture into a glass of cold water. If it forms a soft, malleable ball the water (and in your hands, flattening after 30-60 seconds), you've got the right consistency.
Remove from heat and stir in peanut butter, butter, vanilla extract and salt, whisking until smooth.
Pour mixture into greased baking dish and let cool so that it's easy to handle with your hands.
Spread out a large sheet of plastic wrap and pour fudge into the center.
Use plastic wrap to form fudge into a log, then wrap carefully and place in freezer to harden. 20 minutes.
Slice and enjoy!
Recipe adapted from My Country Table
SKM: below-content placeholder
Whizzco for 12T