These pancakes fall into the savory category, rather than the sweet.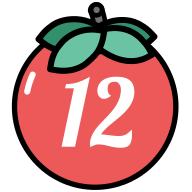 Mark Harris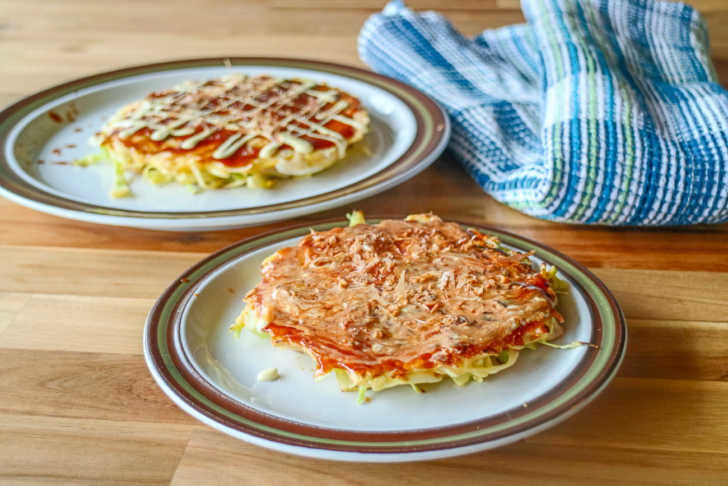 Admittedly, cabbage pancakes don't sound like the most appetizing meal. Pancakes usually bring to mind butter, syrup, and even peanut butter for some – but not cabbage. However, these pancakes fall into the savory category, rather than the sweet. They're typically cooked with meat, seafood, cheese, or whatever else you feel like, and coated with BBQ sauce, mayonnaise, and bonito flakes. The name, Okonomiyaki, literally translates to grill (yaki) whatever you like (okonomi). So don't feel like you have to get everything exactly right here.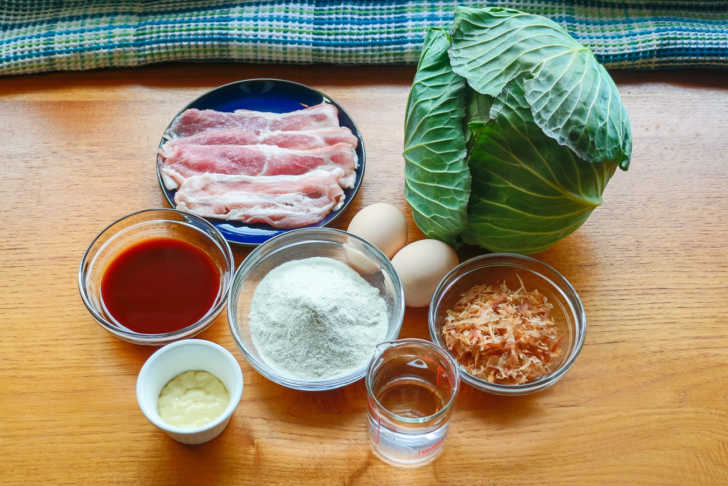 The key ingredient in Okonomiyaki is cabbage, and you want to make sure you slice it very thin. You can even use a cheese grater if you don't feel like chopping. The rest of the ingredients can be whatever size you like. I've had some with strips of bacon latticed across the top. It was delicious.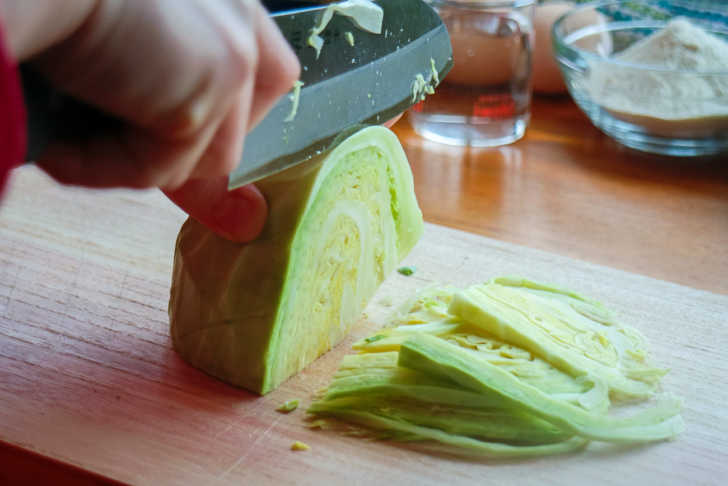 In Japan, Okonomiyaki mix is sold the same way pancake mix is sold in the states. The flour and dashi are premixed so you just need to add water and cook. But since it might be hard to find, I've found an alternative way that's almost as easy. Just use regular flour and some consomme or bouillon cubes.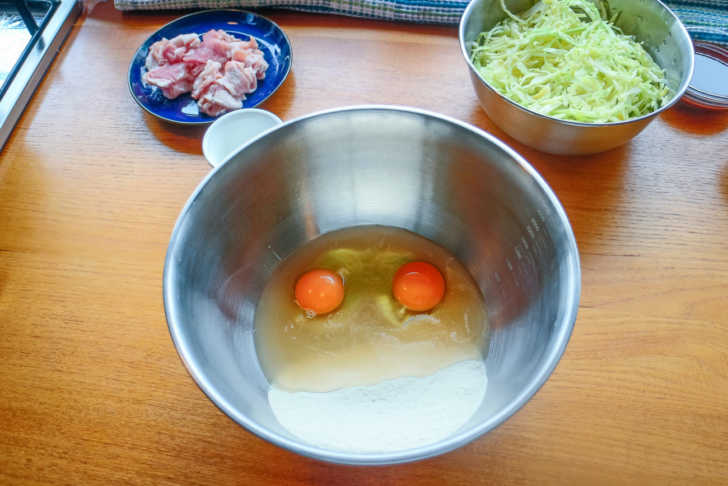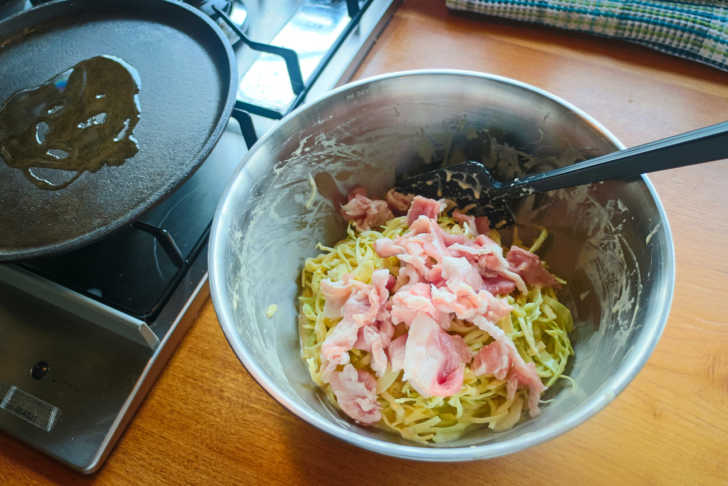 Okonomiyaki is pretty flexible. If you've mixed everything together and don't you have enough batter coating everything, just add some more flour and water. You don't want too much batter though. It's really just there to help hold everything together.
Preheat a large flat pan on medium-low and coat with oil. Okonomiyaki is usually made on teppanyaki grills so you can cook more than one at a time, but any pan will do. You want to scoop just enough of the mixture onto the pan that it makes about a 6-inch pancake a half-inch thick. Don't pour. If you don't think you have enough batter coating the bottom of some areas, then add some from the bowl just coating those sections. Let cook just as you would a pancake, waiting for the bubbles to appear and only flipping once. Don't rush. If you're using pork or chicken make sure you give it enough time to everything all the way through.
Traditional Okonomiyaki sauce is used to coat the top once finished cooking, but I've found any BBQ sauce will work. If you want to try and make your own, it's pretty easy. Just mix 2 parts ketchup, 1 part soy sauce, 1 part Worcestershire sauce, and some sugar. Mayonnaise is then drizzled or spread over the BBQ sauce and bonito flakes are sprinkled on top. That's it, enjoy!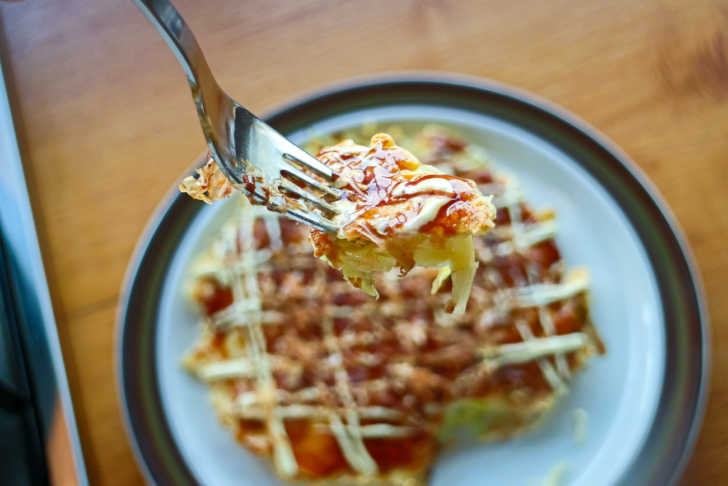 Okonomiyaki, Japanese Cabbage Pancake
Serves 3-4
15m prep time
15m cook time
Ingredients
1 cup flour
1/2 cup water (more if the batter is too thick)
1/2 cup (4 oz) shredded cabbage
2 eggs
1/4 pound (4 oz) pork
1 boullion/consommé cube
BBQ sauce
Mayonnaise
Bonito Flakes
Preparation
Thinly shred cabbage and chop meat into ½ inch chunks.
Mix all ingredients together in a large mixing bowl.
Heat a flat pan on medium-low and coat with oil.
Scoop mixture onto the pan, approximately 6 inches in diameter.
Wait for bubbles to appear in the batter then flip, letting cook enough on both sides to get browned.
Once on a plate, coat with BBQ sauce and mayonnaise, topping with bonito flakes, seaweed flakes, or other garnish of your choice.
Serve and enjoy!
Recipe adapted from Quite Good Food.
SKM: below-content placeholder
Whizzco for 12T