Vegan and gluten-free and also SO delicious!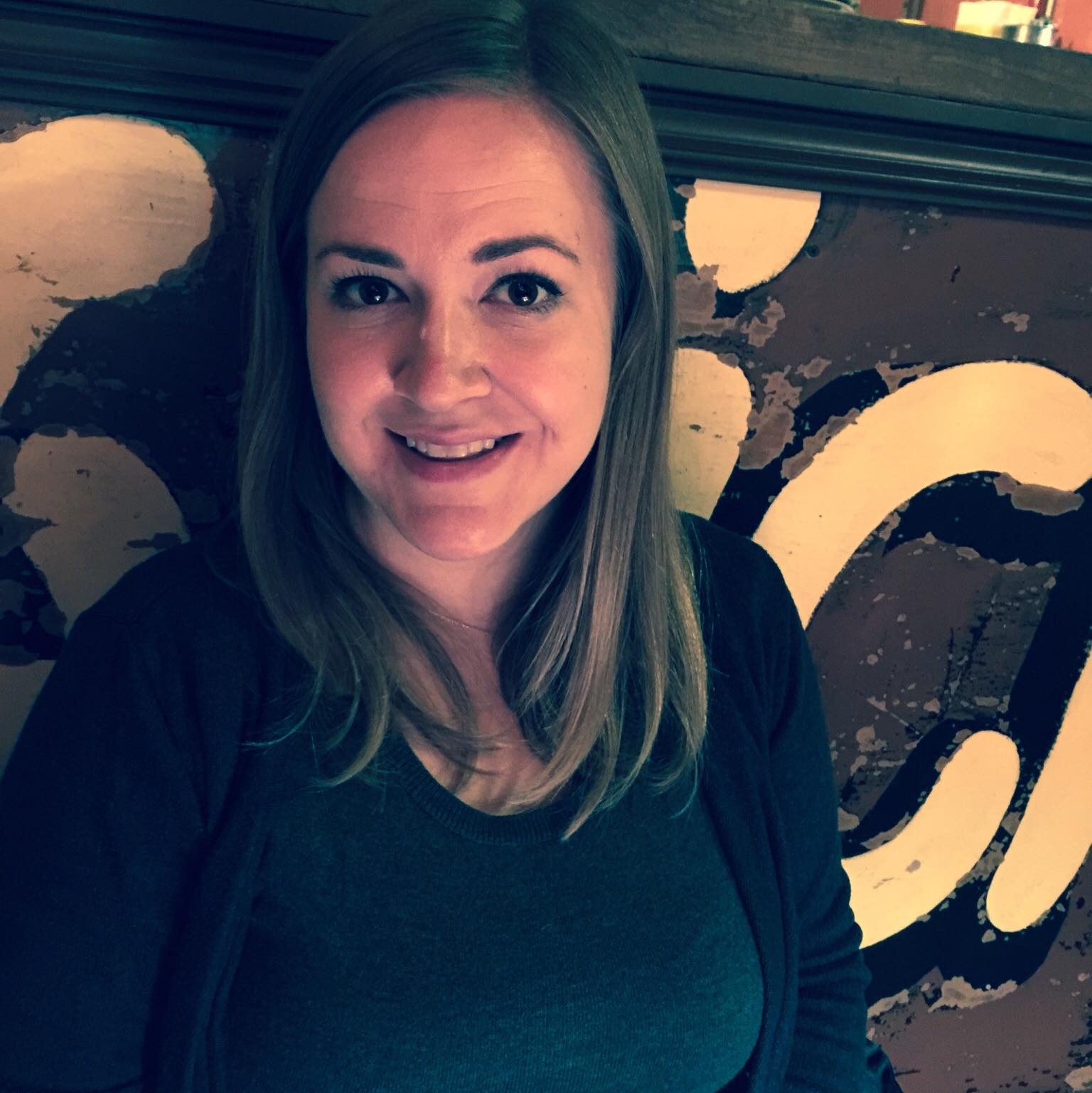 Kristy Norrell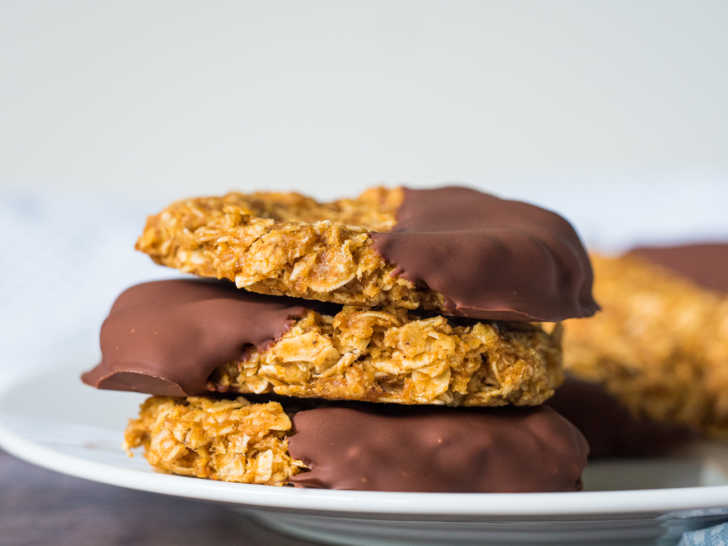 Pumpkin season never seems to last quite long enough, does it? That's why it's important to get in as many pumpkin-eating opportunities as you can while the time is right. Pumpkin bread, pumpkin sugar cookies, pumpkin pie, pumpkin soup… luckily, the pumpkin opportunities abound. But these pumpkin cookies, these are pretty much the perfect way to squash your pumpkin craving. They're full of chewy pumpkin flavor that's backed up by a crunchy chocolate coating, and since they're an easy no-bake treat, you can make them again and again (and again) to your heart's content.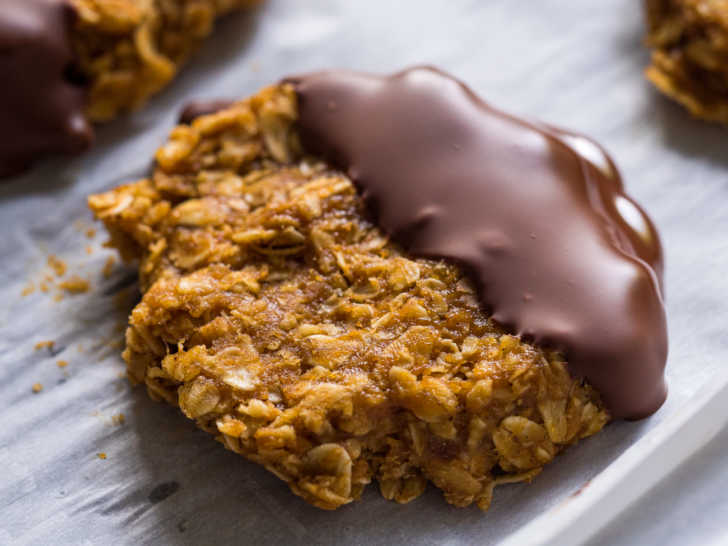 Sometimes you come across a no-bake cookie that really isn't all that cookie-like. But not these. These definitely taste like a cookie… think of a chewy, moist oatmeal cookie with plenty of pumpkin flavor. And yet, they're surprisingly healthy – they're vegan and gluten-free and their chewy oatiness would make them totally welcome at breakfast. And I think cookies for breakfast is a concept we can all get behind.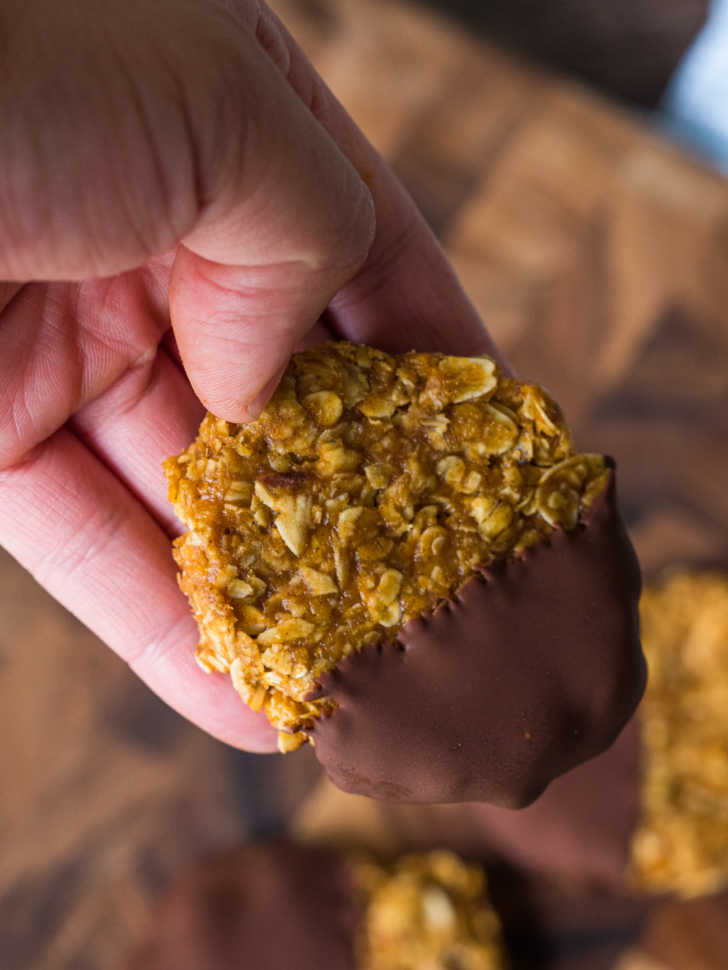 They're made up of peanut butter, pumpkin puree, coconut oil, maple syrup, and some classic pumpkin spices that are all melted together in a saucepan before quick-cooking oats are stirred in. There's no white sugar to speak of, but they still taste lovely and sweet thanks to the maple syrup.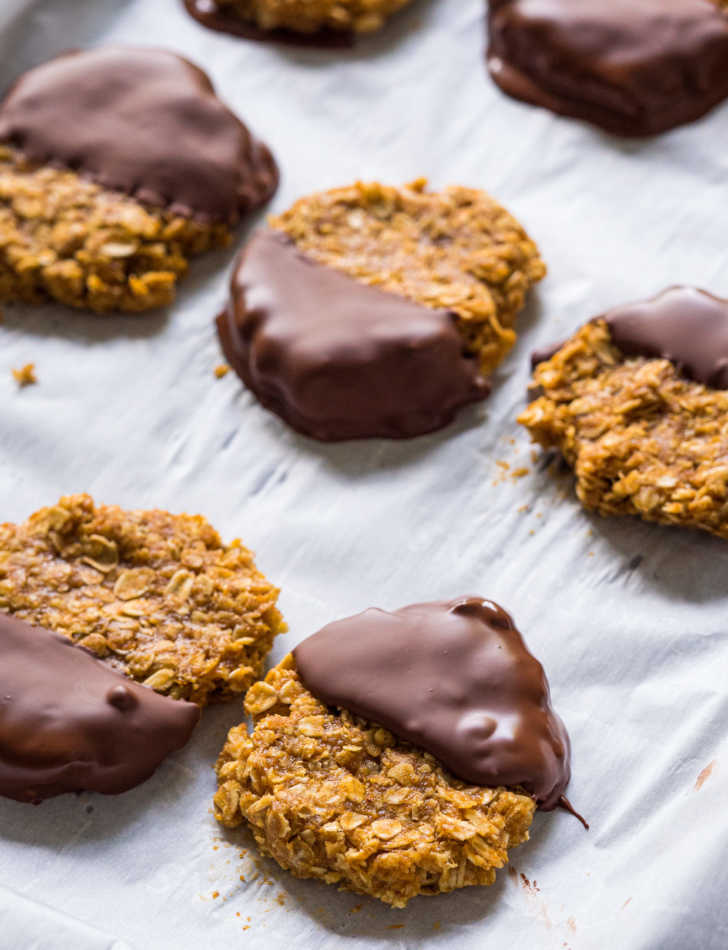 That quick five-minute process makes up most of the work you have to do. From there, they go into the fridge to chill and when they come out, you dip them in a coating of melted chocolate and coconut oil. The coconut oil firms up as they chill, so when the chocolate sets, you have a delicate chocolatey crunch that gives way to the chewy pumpkin spice beneath. Pumpkin may be a harbinger of fall, but these little guys are welcome any time of year.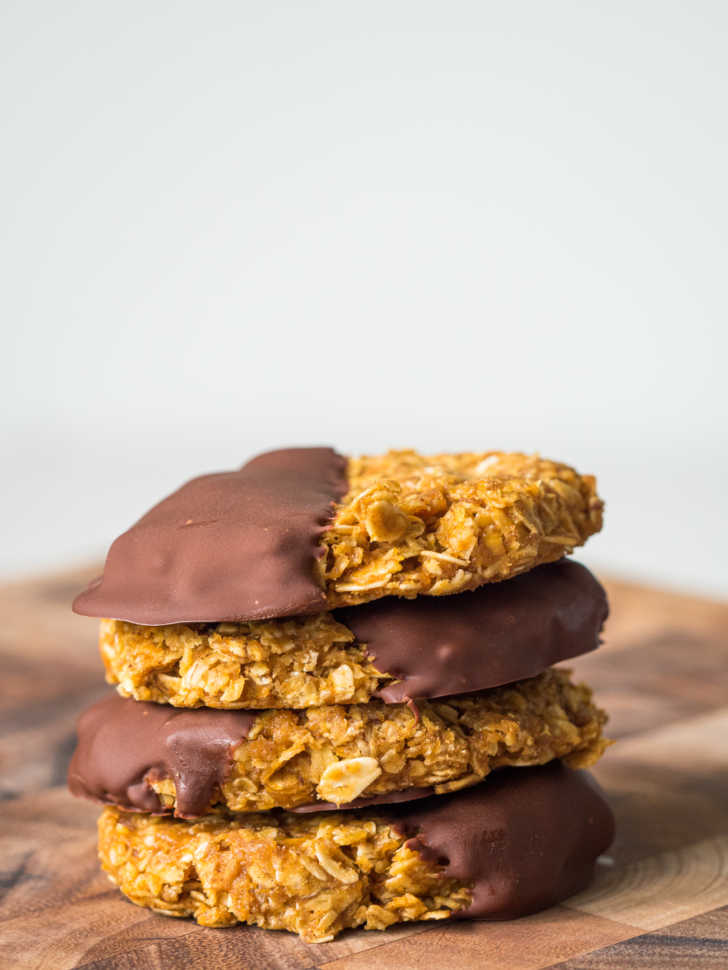 Chocolate Dipped Pumpkin Cookies
Ingredients
1/2 cup peanut butter
1/2 cup pumpkin puree
2 tablespoons coconut oil
1/2 cup maple syrup
1/4 teaspoon salt
1 teaspoon vanilla extract
3/4 teaspoon ground cinnamon
1/4 teaspoon ground nutmeg
3 cups quick-cooking oats
For the chocolate coating:
2/3 cup chocolate chips
1 teaspoon coconut oil
Preparation
Line a sheet pan with parchment paper and set aside.
To a medium saucepan, add the peanut butter, pumpkin, coconut oil, maple syrup, salt, vanilla, cinnamon, and nutmeg. Place over medium heat and cook, stirring frequently, until ingredients are melted together and form a smooth paste.
Remove from heat and quickly stir in oats until well incorporated.
Using a scoop, drop rounded balls of mixture onto prepared sheet pan. Flatten each ball gently with your fingers or a fork.
Chill cookies until firm, about 30 minutes.
Add chocolate chips and coconut oil to a microwave-safe bowl and heat in microwave in 30-second intervals until melted, stirring in between.
Allow chocolate to cool slightly and dip chilled cookies into chocolate, coating half of the cookie. Place dipped cookies onto parchment paper and place entire tray into fridge to chill until chocolate has set. Enjoy!
Recipe adapted from Edwina Clark.
SKM: below-content placeholder
Whizzco for 12T