Every bite is like a celebration of summer!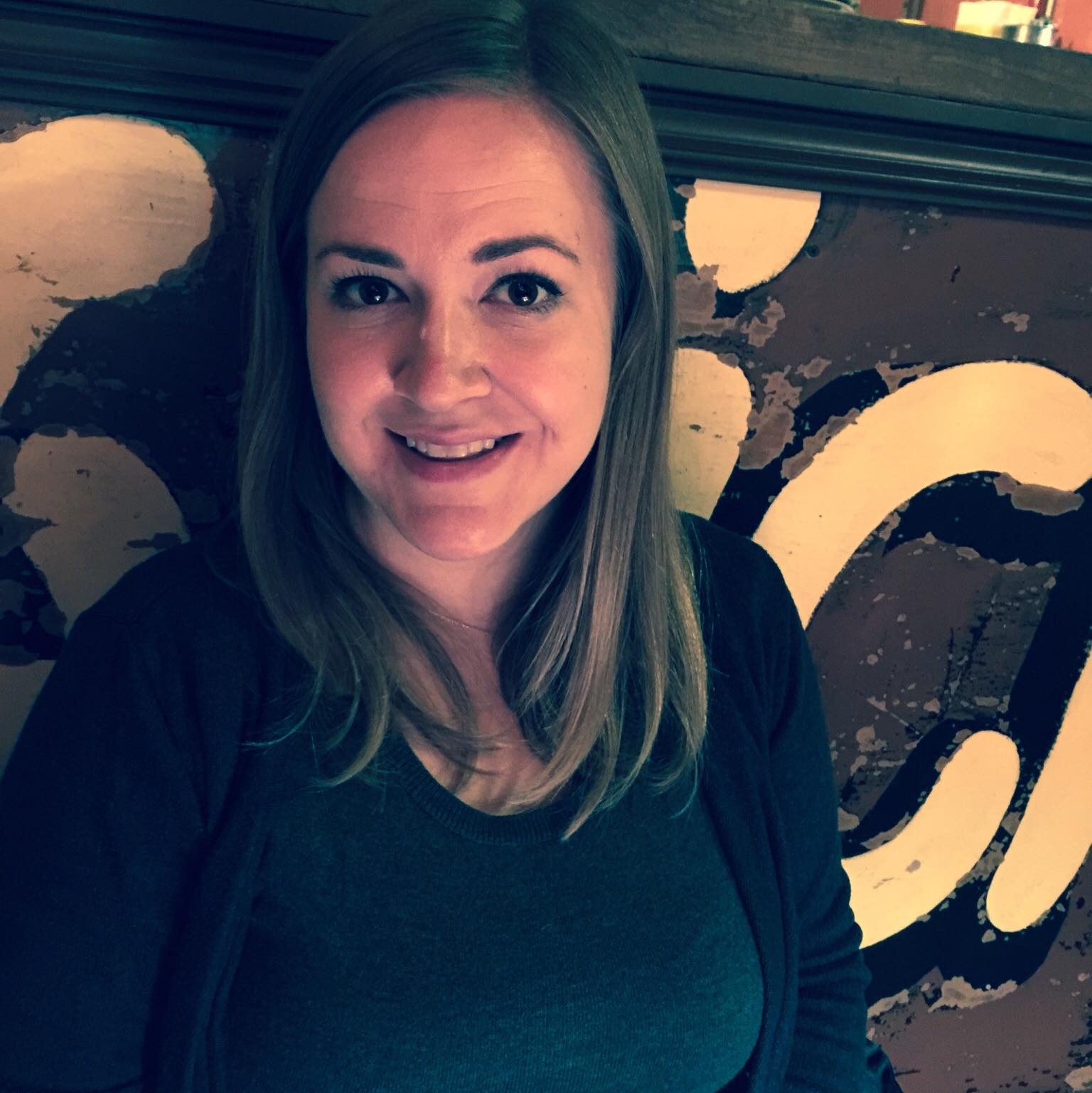 Kristy Norrell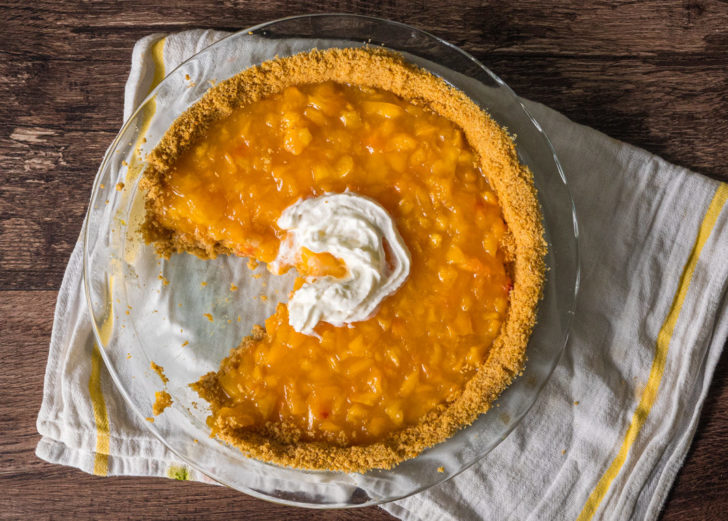 It's no secret that grannies have the best recipes, but the truth is that my Granny B isn't really a granny at all… She's more of an aunt, who has a peach tree, and just wants to be called 'Granny.' Actual granny or not, her No-Bake Peach Pie is a recipe for the ages. It's a dessert that categorically tastes of summer; every cool and refreshing bite is a celebration of the fruit within it. (And it gets extra points since you don't even need to turn on your oven to achieve this level of deliciousness.)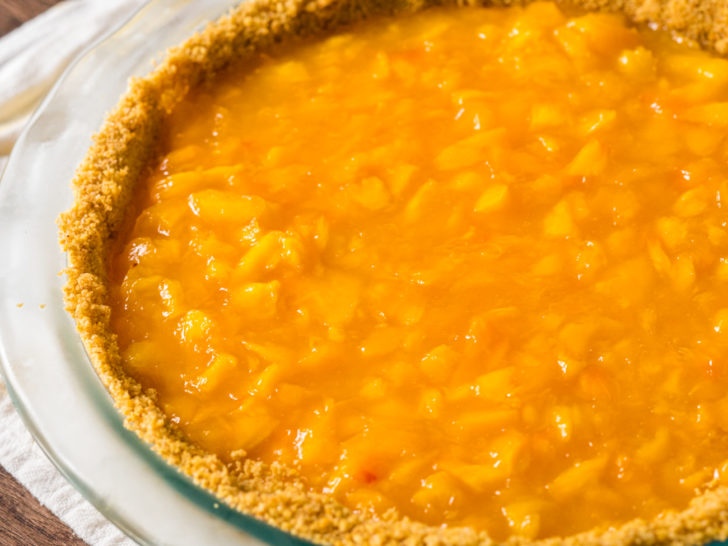 While a blind-baked pie crust would work just fine here, a graham cracker crust makes things super simple, and the sweet crumb goes so well with the soft and sweet peaches within it. This pie is like two parts peach. Chopped peaches go in first to line the crust and then more peaches get cooked down with some sugar and cornstarch to form the filling that surrounds them.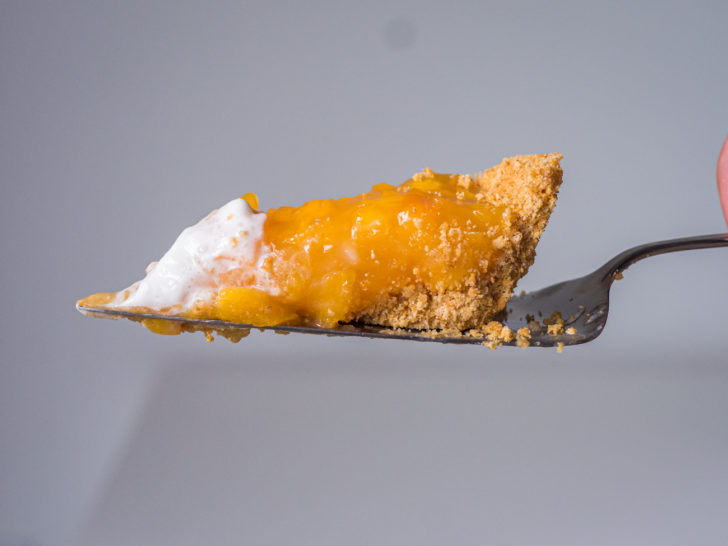 After a little vanilla and butter get stirred in, the whole thing goes into the freezer to set until it's nice and sliceable. While this pie is best as a celebration of fresh peaches, you can use frozen to get that smack of summer any time of year. If you're using fresh, you just want to make sure they're ripe enough that you can easily mash them for the filling. Since you're not cooking half of the peaches, you need them to have a soft and tender bite all on their own.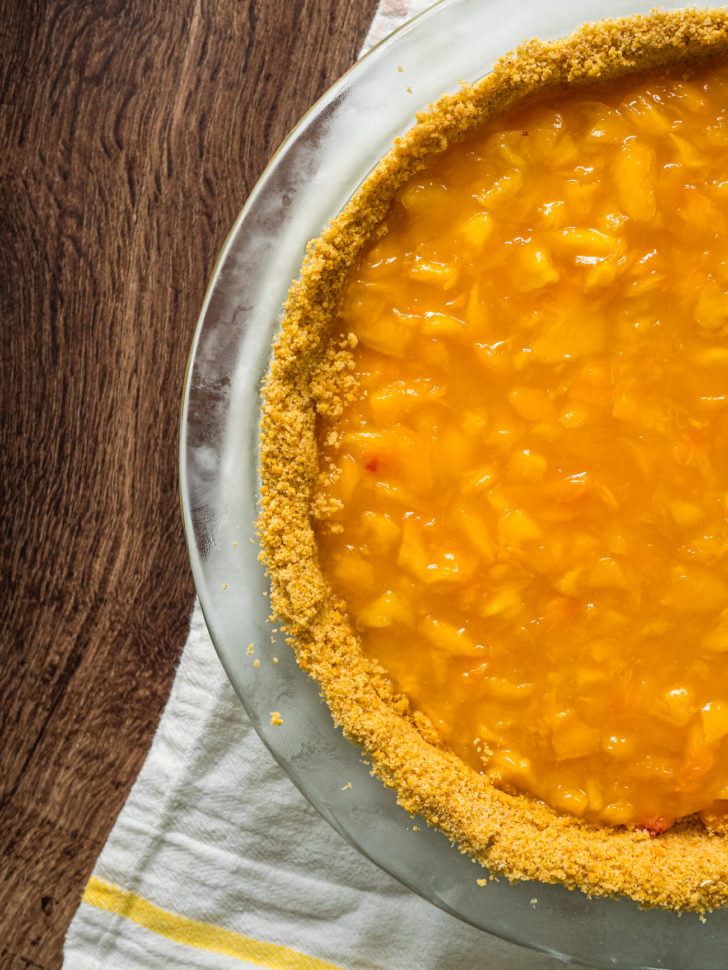 This pie is a wonderful way to use up a ton of peaches when they inevitably all ripen and need attention at the exact same moment… But even if you don't have a peach tree of your own or a glut of peaches lining your fruit bowl, it's a dessert worth loading up on fruit for the next time you hit the grocery store.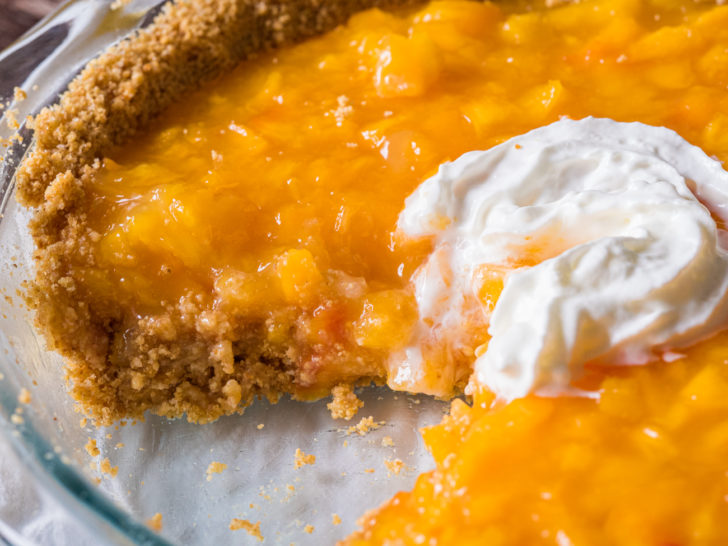 No-Bake Peach Pie
Serves 6-8
20 minutes active, 2 hours inactive
Ingredients
For the crust:
1 1/2 cups graham cracker crumbs
1/3 cup granulated sugar
6 tablespoons butter, softened
For the filling:
2 1/2 cups fresh or frozen peaches, chopped (thawed if frozen)
1/2 cup granulated sugar
1 1/2 tablespoons cornstarch
1/4 cup water
1/2 teaspoon vanilla extract
1/2 tablespoon butter
Whipped cream, for serving
Preparation
In a medium bowl, mix together graham cracker crumbs, 6 tablespoons butter, and 1/3 cup sugar until well combined.
Press mixture into a 9-inch pie plate and press firmly into bottom and sides of dish.
Chill in refrigerator while you make the filling.
Add 1 cup of the peaches to a medium saucepan and mash. Add the 1/2 cup sugar, cornstarch, and water and bring to a boil.
Cook, stirring frequently, until thick, about 3-5 minutes.
Remove from heat and stir in the vanilla and butter.
Arrange remaining uncooked peaches evenly over the bottom of the chilled pie crust, and pour cooked peach mixture over the top.
Place in refrigerator to chill until set, at least 1 hour.
Serve with whipped cream, if desired. Enjoy!
Adapted from Live Like You Are Rich.
SKM: below-content placeholder
Whizzco for 12T