I. Love. Breakfast. Food. I love all forms of breakfast, be it eggs and bacon, French toast, cereal, muffins, or anything in between. And it's not just because it's the first meal of the day. I consider myself a connoisseur of sorts when it comes to breakfast food, so trust me when I say these breakfast casseroles are top-notch! There's a bit of everything on this list – sweet, savory, and even some healthy options. Go ahead and discover your new favorite breakfast casserole!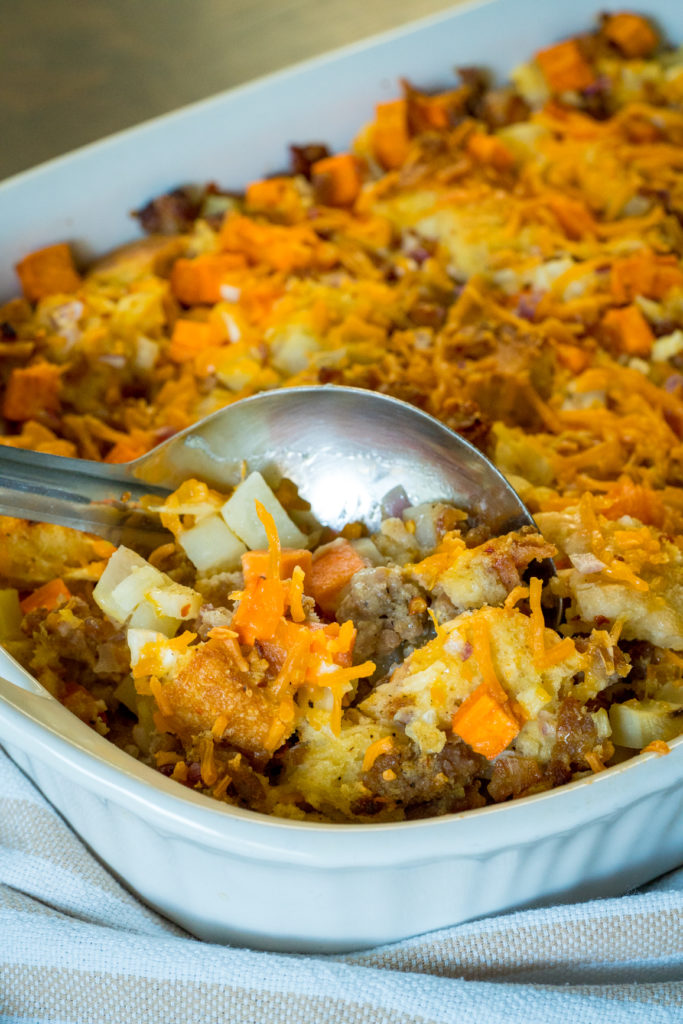 Sort of like a beefed up strata, this casserole has EVERYTHING. Cubed French bread, breakfast sausage, bacon, potato, sweet potato, onion and cheese…seriously, it's got everything but the kitchen sink! And that great thing about that is that you can easily add in or swap out any ingredient that suits you; if you've got leftover bell peppers or jalapeño? Throw 'em in there! If you've got diced ham or ground beef, go ahead and put that in there as well – there's no wrong way to make this recipe as long as you pack it full of all sorts of tasty goodness. Get the recipe here!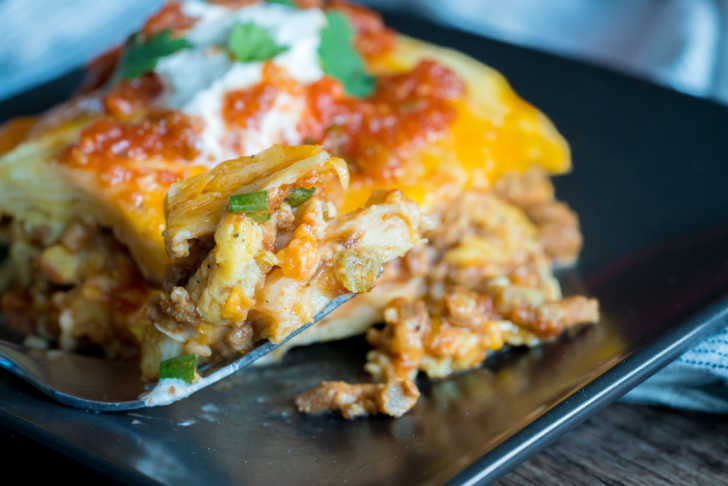 For those of us who are not morning people, the breakfast casserole is somewhat of a godsend. It gives you a make-ahead option that feeds a crowd and the only morning task you have to complete is popping a baking dish in the oven. That's something you might be able to handle even before your first cup of coffee! I love this particular breakfast bake because it brings you one of the morning greats in crowd-pleasing casserole form – the ever-lovable breakfast burrito. There's no rolling or individual portions to worry about – just bake, slice, and serve up this meaty tortilla, green chile, egg, and chorizo bake! Get the recipe here!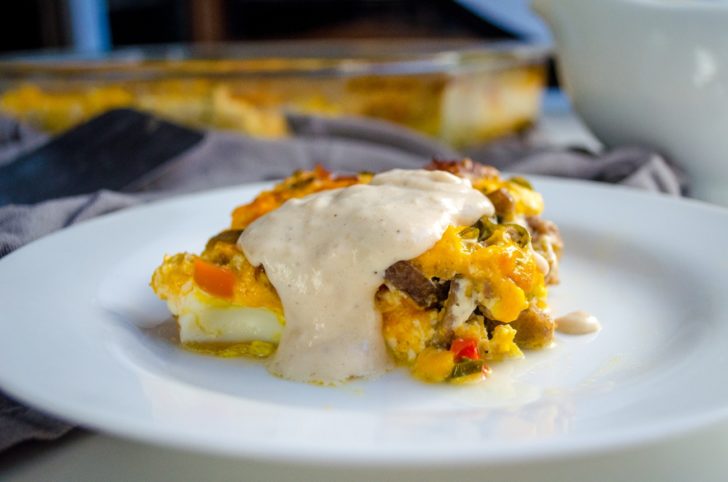 As far as breakfast casseroles go, this is kind of a unique one. There are no hashbrowns or home fries or biscuits involved. Just a whole lot of protein from eggs and sausage and cheese and a medley of flavorful veggies. (Which means it's a great option if you eat low carb, and it'll keep you full all through the morning.) It's definitely a powerhouse of a breakfast. Get the recipe here!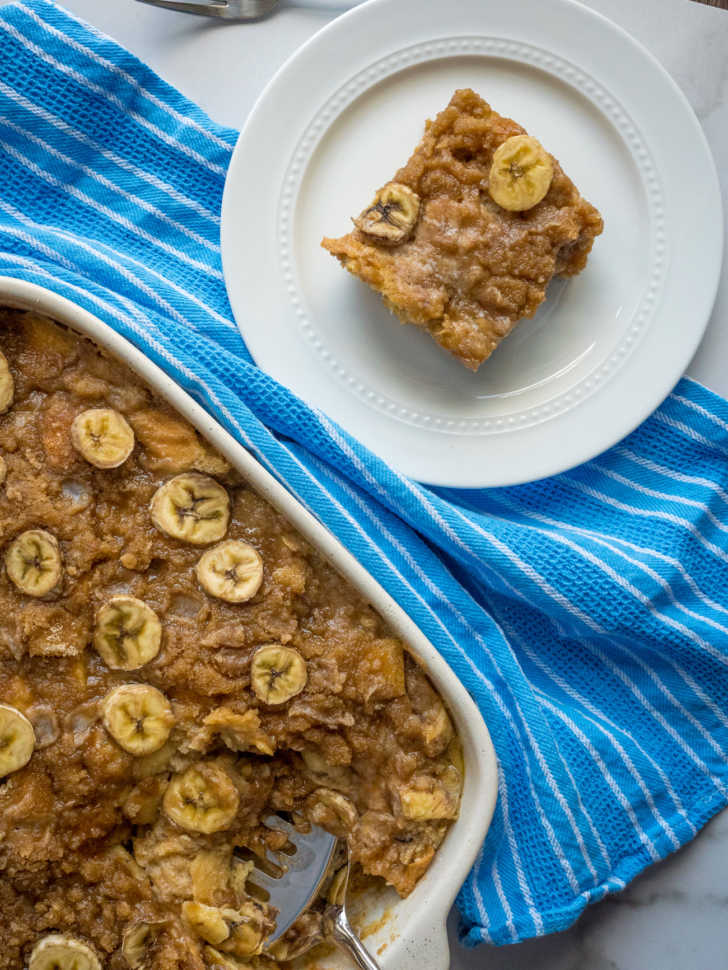 This breakfast casserole is great for all of those reasons, but mostly because of its sweet and cinnamony banana flavor. It's a soft and comforting French toast bake, and if you love bananas, it's certain to become a favorite of yours from the first bite. Get the recipe here!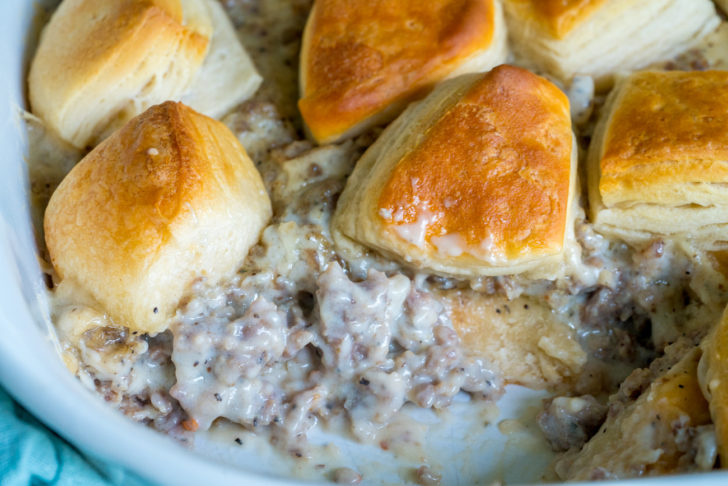 There are two things I know for sure. One, biscuits and gravy is one of the finest comfort food breakfasts out there. And two, with many foods, bringing a casserole dish into the equation often ups the comfort food factor considerably. So then, if you take biscuits and gravy and convert it into a casserole, wouldn't it become even more comforting, an even more satisfying stick-to-your-ribs type of breakfast? The answer turns out to be yes. Get the recipe here!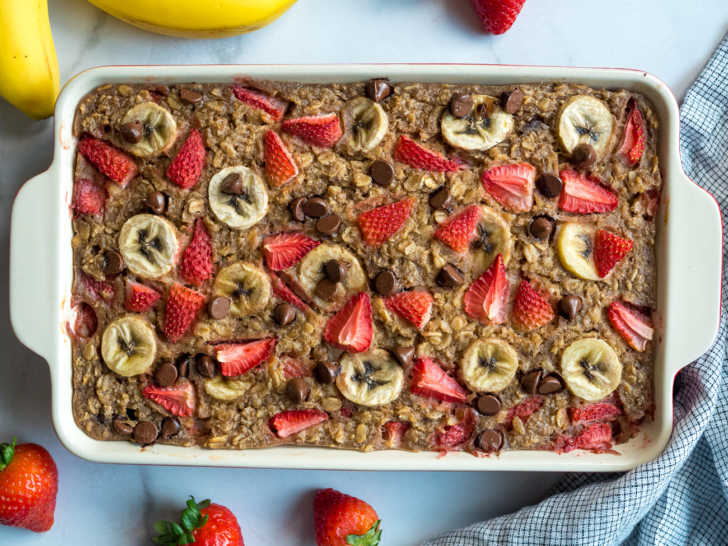 This Strawberry Banana Baked Oatmeal may look like a decadent dessert, but it's actually a healthy breakfast you can make ahead of time and have on hand! Just because this dish is packed with healthy fats, fiber, and lean protein doesn't mean it's bland. Not by a long shot! With maple syrup, strawberries, bananas, and chocolate chips, this is one breakfast you'll want to have over and over again. Get the recipe here!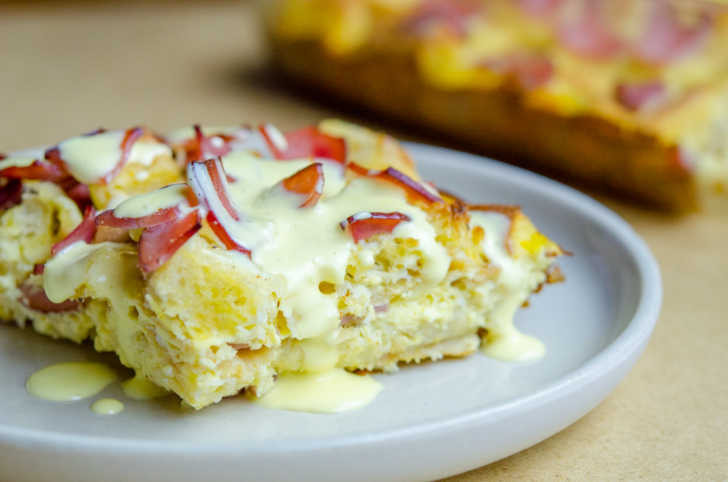 This has all the flavor you know and love from eggs benedict, but it's super easy to throw together. (Including the hollandaise. More on that in a bit.) It's just a matter of layering cubed English muffins and Canadian bacon in a baking dish and pouring a mixture of eggs and milk over them and letting it sit until the bread has absorbed all of that goodness. That can happen overnight, or if you happen to be a morning person, you can just let it hang out for a few hours in the fridge before you want to bake it for brunch. Get the recipe here!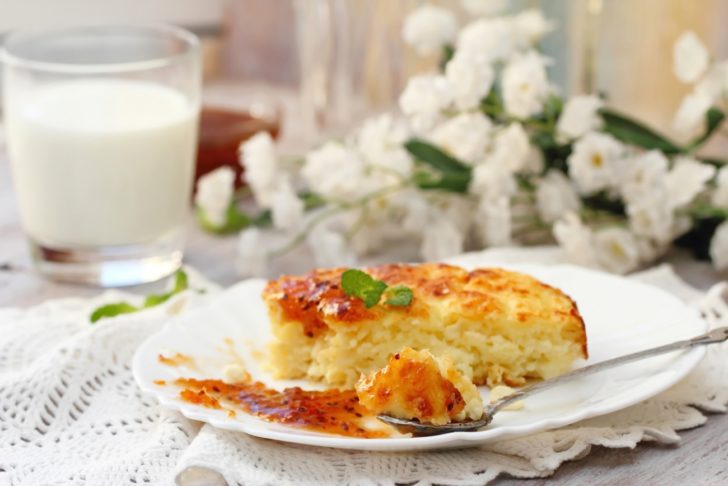 We love baked eggs in many forms, but we especially love this wonderful cottage cheese casserole. It uses both cottage cheese and mozzarella, so it has the perfect amount of stringy melted cheese with a substantial chewy bite. Cottage cheese, like ricotta, is a great base in a dish like this because it retains its shape but still becomes soft and melty. With nearly a dozen eggs, this is quite the cheesy and delicious protein-packed powerhouse to start your day! Get the recipe here!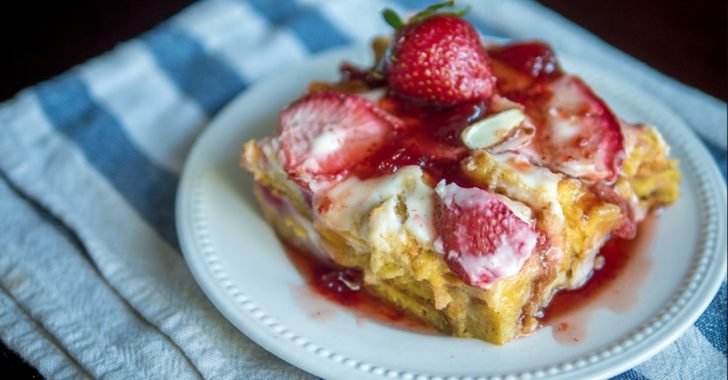 This just might be our family's favorite french toast recipe. It's our ode to strawberry cheesecake, and the perfect excuse to enjoy a decadent treat for breakfast or brunch. Kids and adults alike love this sweet, berry and cream cheese-loaded dish on its own, but we take it to the next level with strawberry syrup – yum! Get the recipe here!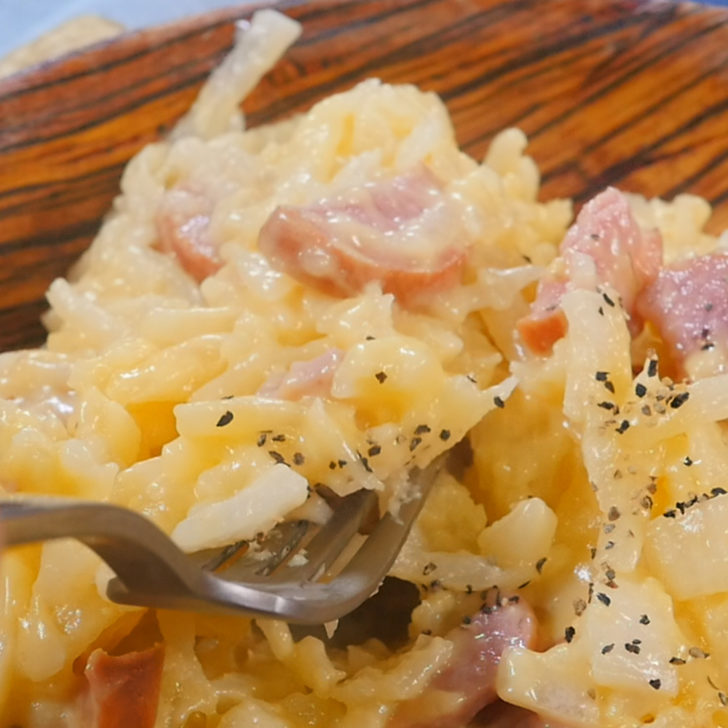 Hash browns, sausage and cheese make up the heart of this "casserole," and all we had to do was throw them together in the slow cooker and turn it on! You can make it the night before and then warm it up in the morning, or you can flip the switch in the morning and have some coffee while you wait – either way you get a delicious (and deliciously easy) breakfast that everyone will love! Get the recipe here!
Which one of these breakfast casseroles are you going to try this weekend?
SKM: below-content placeholder
Whizzco for 12T