We have gotten used to things changing in the past several months, and sometimes, they change in ways that we couldn't have anticipated. The coronavirus pandemic has made life difficult for many of us, and one of the factors that we may find difficult is wearing a face mask. At first, the CDC said it wasn't necessary but now they have changed that recommendation. A nonmedical face covering is recommended for everyone when they are in a public setting, including grocery stores and other areas where it is difficult to stay 6 feet apart.
Face coverings are more than a recommendation, they are making somewhat of a fashion statement. A disposable face covering from the store is suitable but some are making their own in order to make them a little more fashionable. You can even create a face-covering within a few minutes without using any sewing at all! In other words, there is no reason why we wouldn't wear a face covering.
A man by the name of Garrett, however, decided that he was going to go up against the system while visiting Costco. He was in the store for a while without wearing his facemask and was confronted by an employee. Costco's policy clearly states that customers and employees have to wear face coverings if they are inside the store.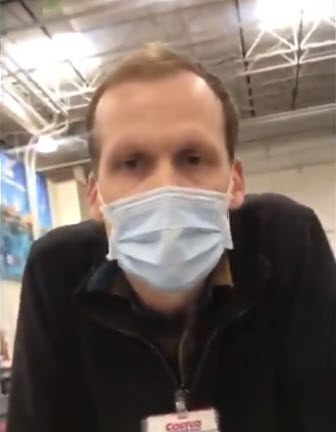 The employee, Tison, told the man that he needed to put a face-covering on or exit the store. Garrett then turned on the video camera on this phone and said he was going to share the video "on my 3,000-follower Instagram feed."
Tison then looked at the camera and said, "Hi, everyone. I work for Costco, and I'm asking this member to wear a mask because that is our company policy."
Garrett continued with his tirade, saying that he "woke up in a free country" so he refused to wear a face covering. He just couldn't wrap his head around the need to wear a mask and was amazed that Tison took his cart away and told him to get out of the store.
You can see the video below:
Kevin and Karen get shopping cart taken away at #Costco || ✌🏼 #wearethepeople #COVID19 #coronavirusuk #COVIDIDIOTS pic.twitter.com/LDeB1hDz9L

— ONLY iN LVNV ➐ (@OnlyInLVNV) May 18, 2020
Garrett went on to say that he was self-isolating for two months at home before he went to Cosco. He also said he didn't have the coronavirus and feels that those who wear masks at Costco are "sheep."
The video has gone viral but not for the reason that Garrett had hoped. Viewers are standing on the side of Tison, with one Twitter user saying, "'I won't put on a mask because I woke up in a free country today.' Did you wake up owning Costco? No? Then put on a mask or get out of the store." Another comment reads, "I wish people understood that their 'freedom' doesn't give them the right to do whatever they want on private property."
In the end, it doesn't matter how you feel about facemask, it is their company policy. Tison did a good job of downplaying a serious situation and taking control when necessary. He had the following to say in a twitter comment: "People of Twitter, thank you for all of the support. I was just trying to protect our employees and our members."
SKM: below-content placeholder
Whizzco for 12T