A cool and crisp make-ahead side for your next potluck or picnic.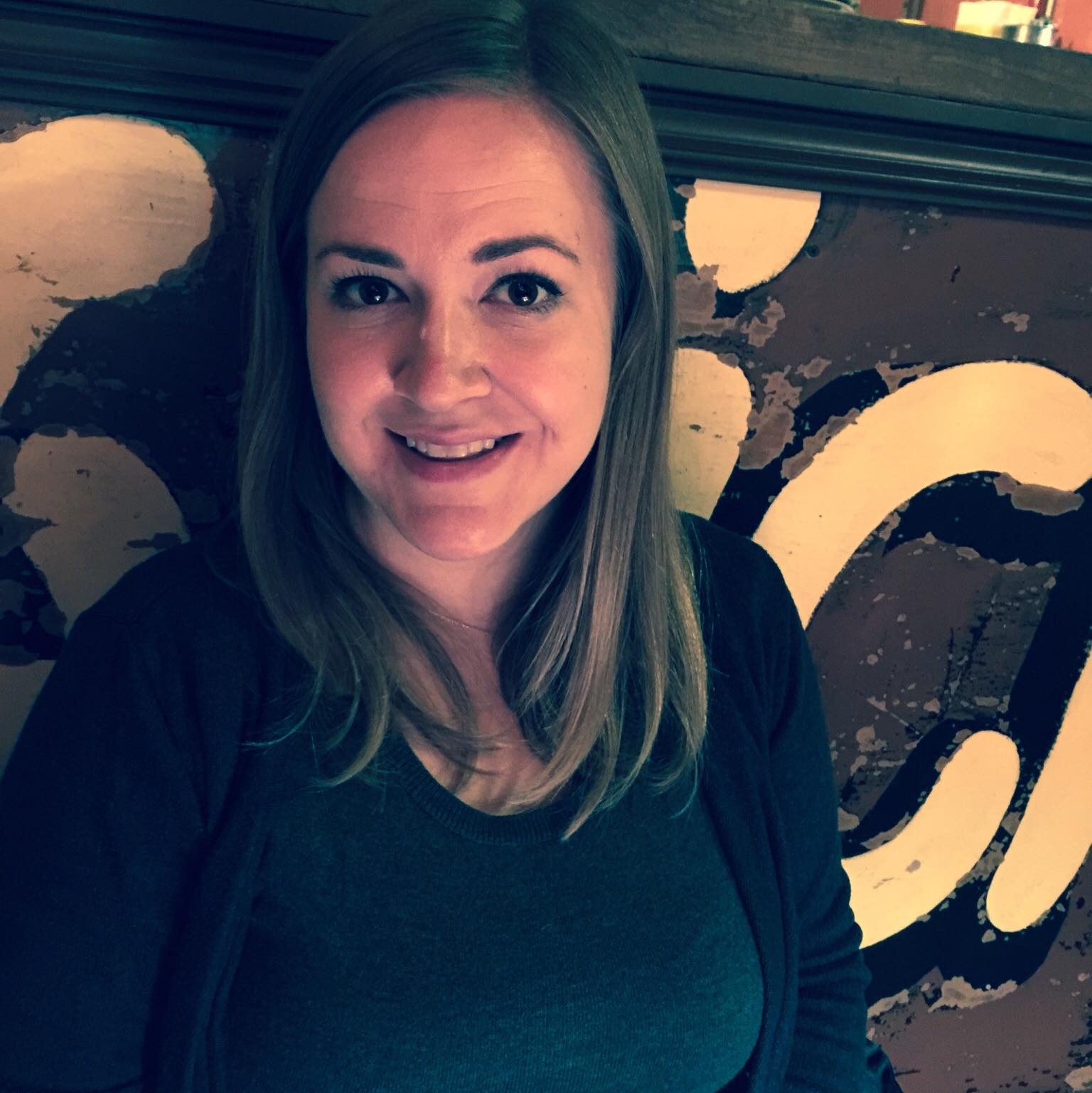 Kristy Norrell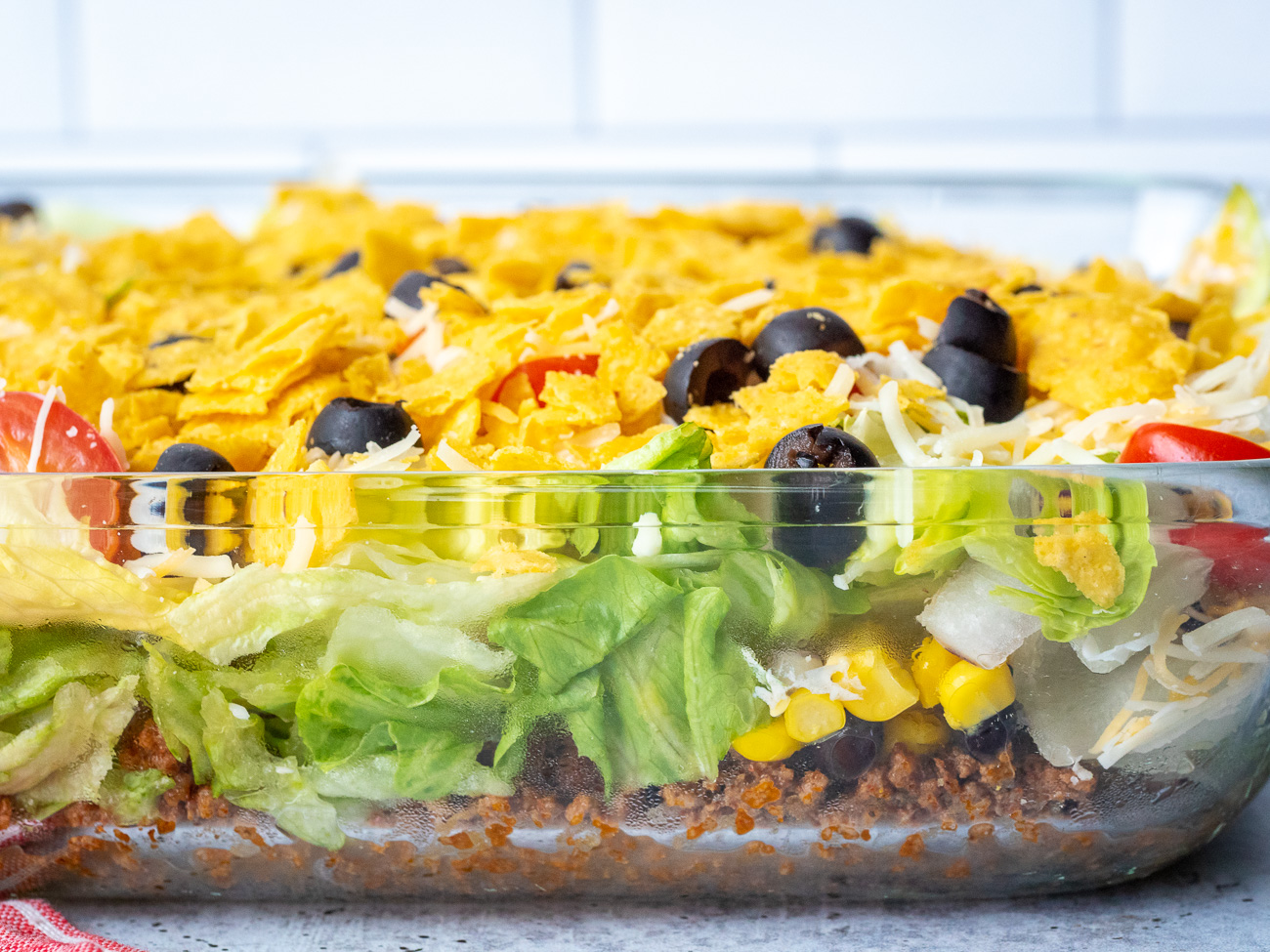 You might be thinking, "Why on earth would I make this when I could just make a normal taco salad?" It's a fair question. But there are a multitude of reasons why you should make a Layered Taco Salad. The first of which is that it's delicious, and that's always the most important point. Another is that it's perfect potluck food, because it's made right in an easy-to-carry serving dish and the layers make it easy to scoop out in portions. Need another? Well, layered salads are amazing because you can make them ahead and they don't get soggy! And one more? Okay. Those layers ensure you get a little of each amazing flavor in every single bite.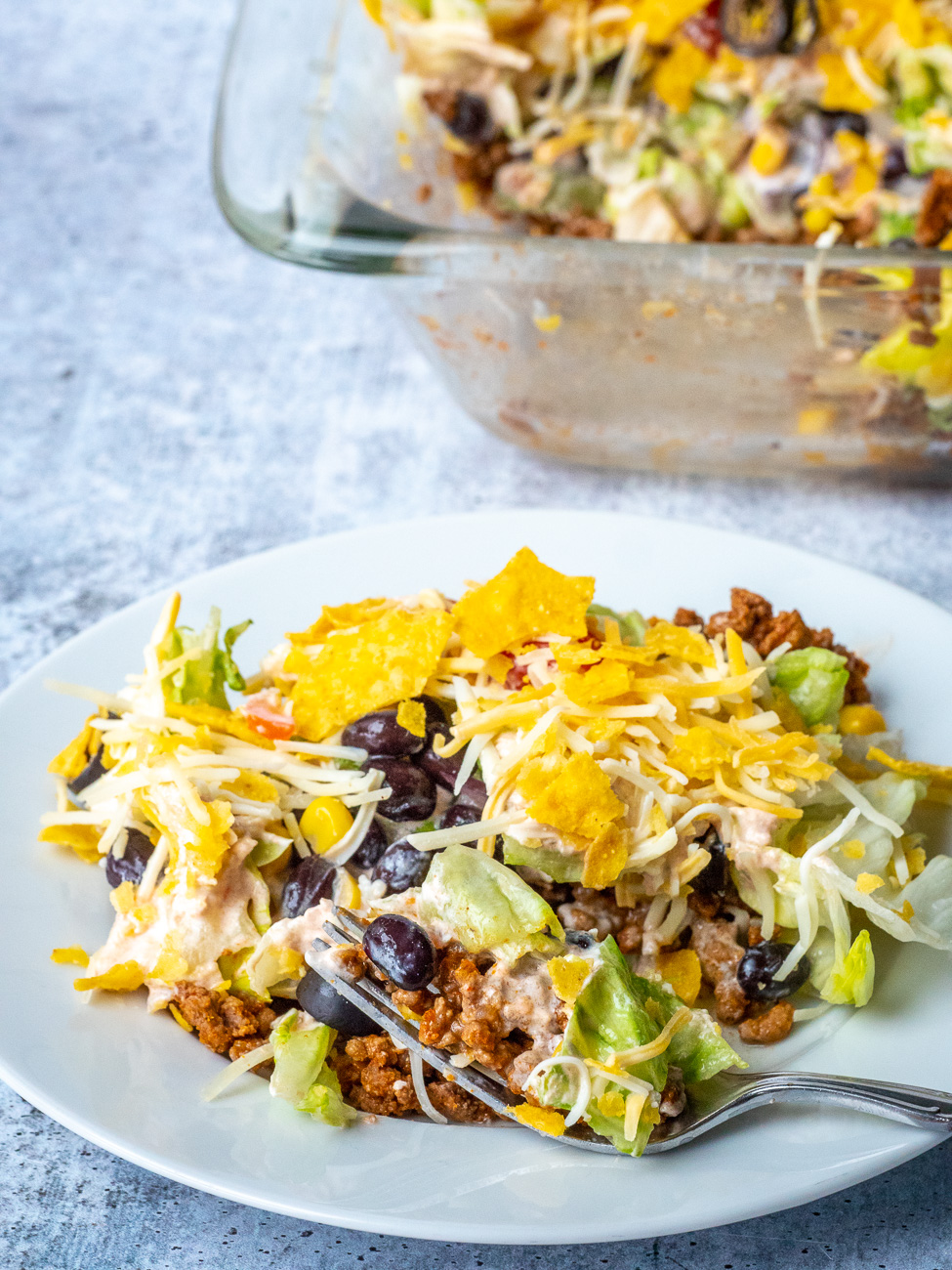 See? There are so many reasons why this Layered Taco Salad is the way to go the next time you're serving a crowd. It might be a little much for lunch for one or two, but if you have company over for dinner or are attending a barbecue, it's the ideal side dish. It's ideal for all those reasons I listed above but also because everyone loves a taco salad, and so this is always a hit no matter where or when you might be serving it.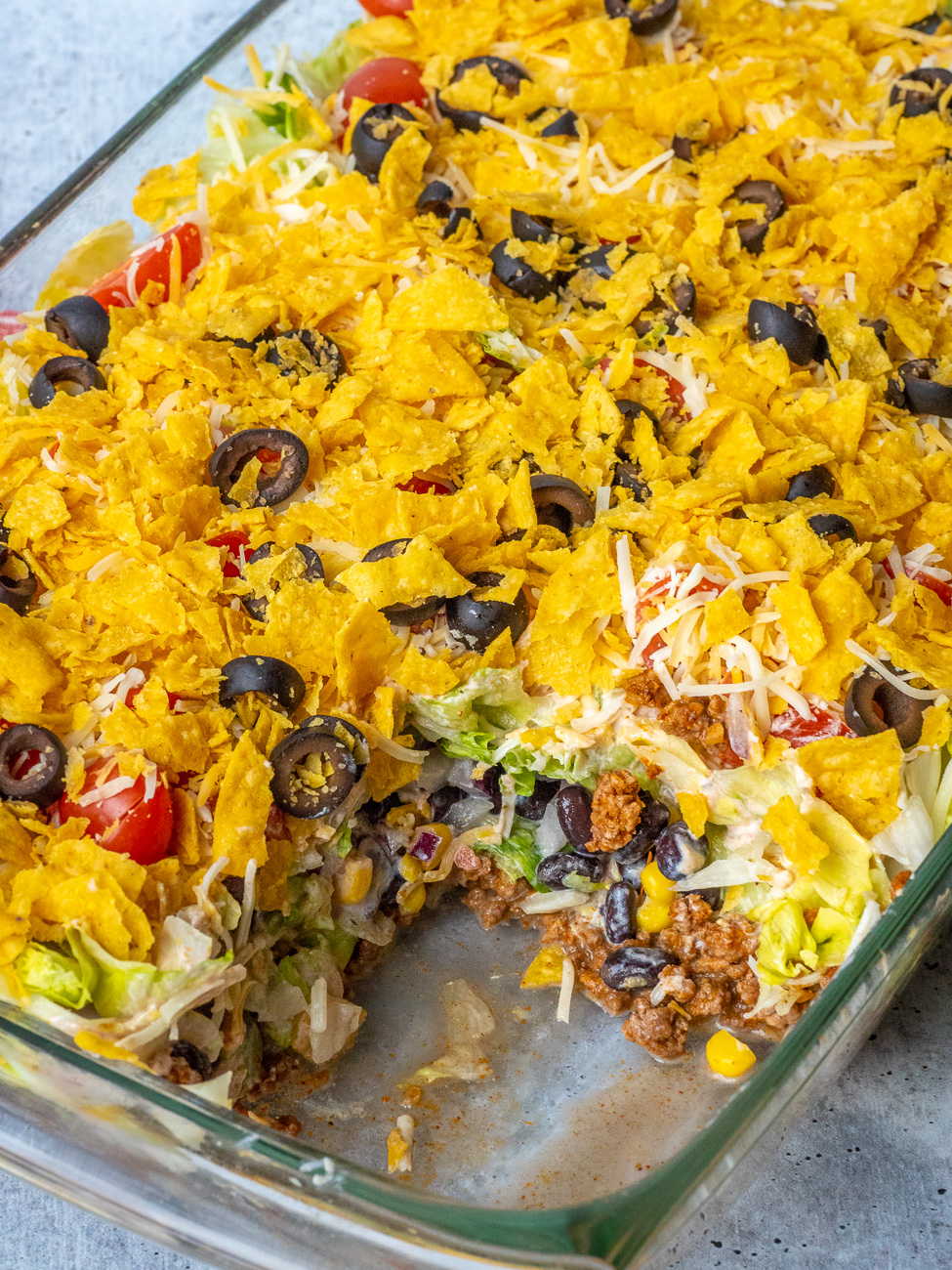 The bottom layer is taco-seasoned ground beef, but you could use ground turkey or even lentils if you're trying to keep things a little leaner. You don't want to start layering the salad until the beef is chilled, so pop it in the fridge after you've cooked it and once it's cool you can arrange it in the bottom of your casserole dish. The dressing is a mixture of sour cream, salsa, and lime so it's creamy and just tangy enough with a little bit of zest. That appears in two different layers of this salad and since you're using the ever-crunchy iceberg lettuce, nothing gets soggy.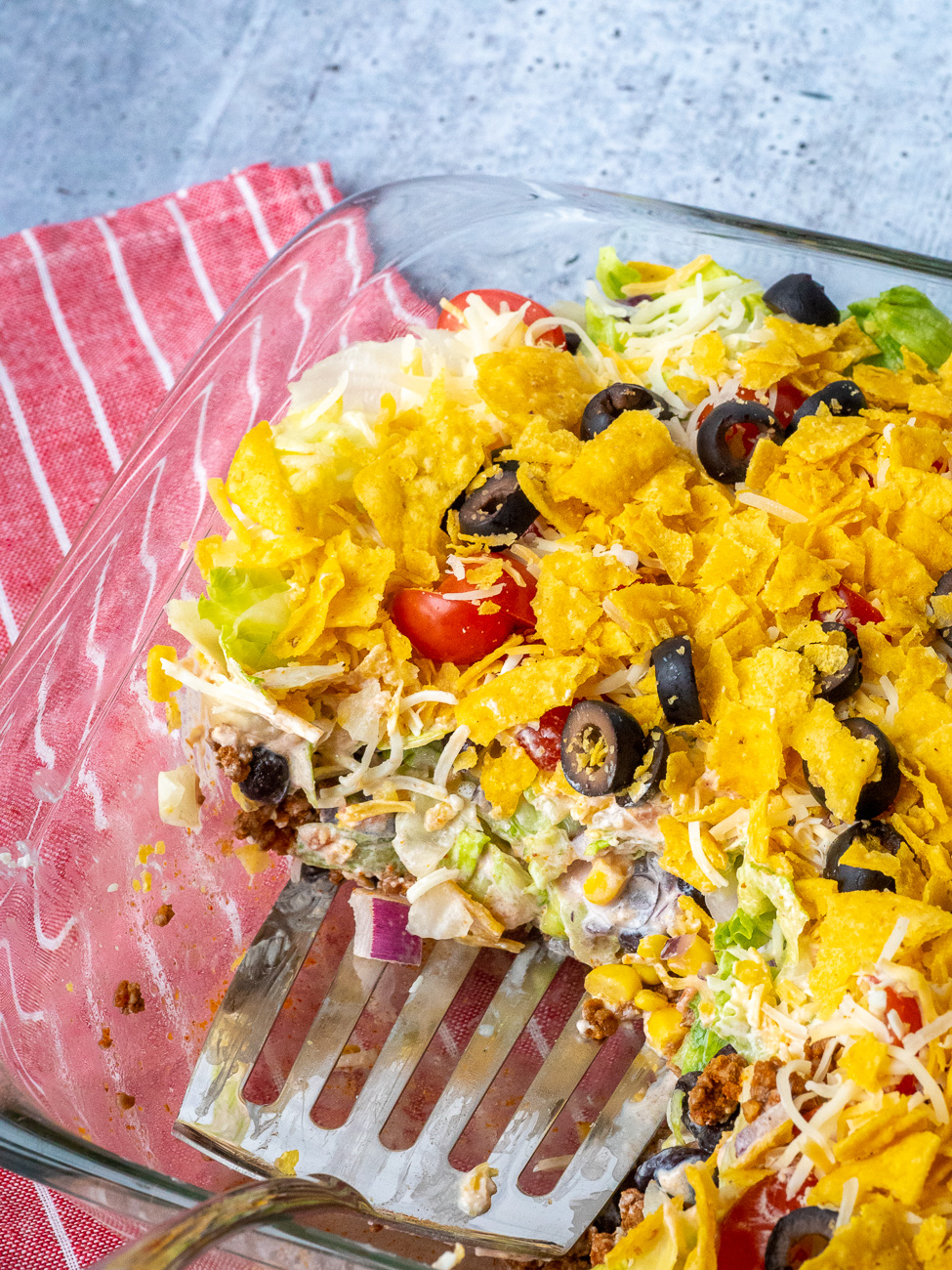 There's black beans and sweet corn and red onion, tomatoes, cheese, and olives too. Oh, and tortilla chips to top it all off. In other words, it's everything you could want a taco salad to be, it's just in make-ahead, lovely layered form.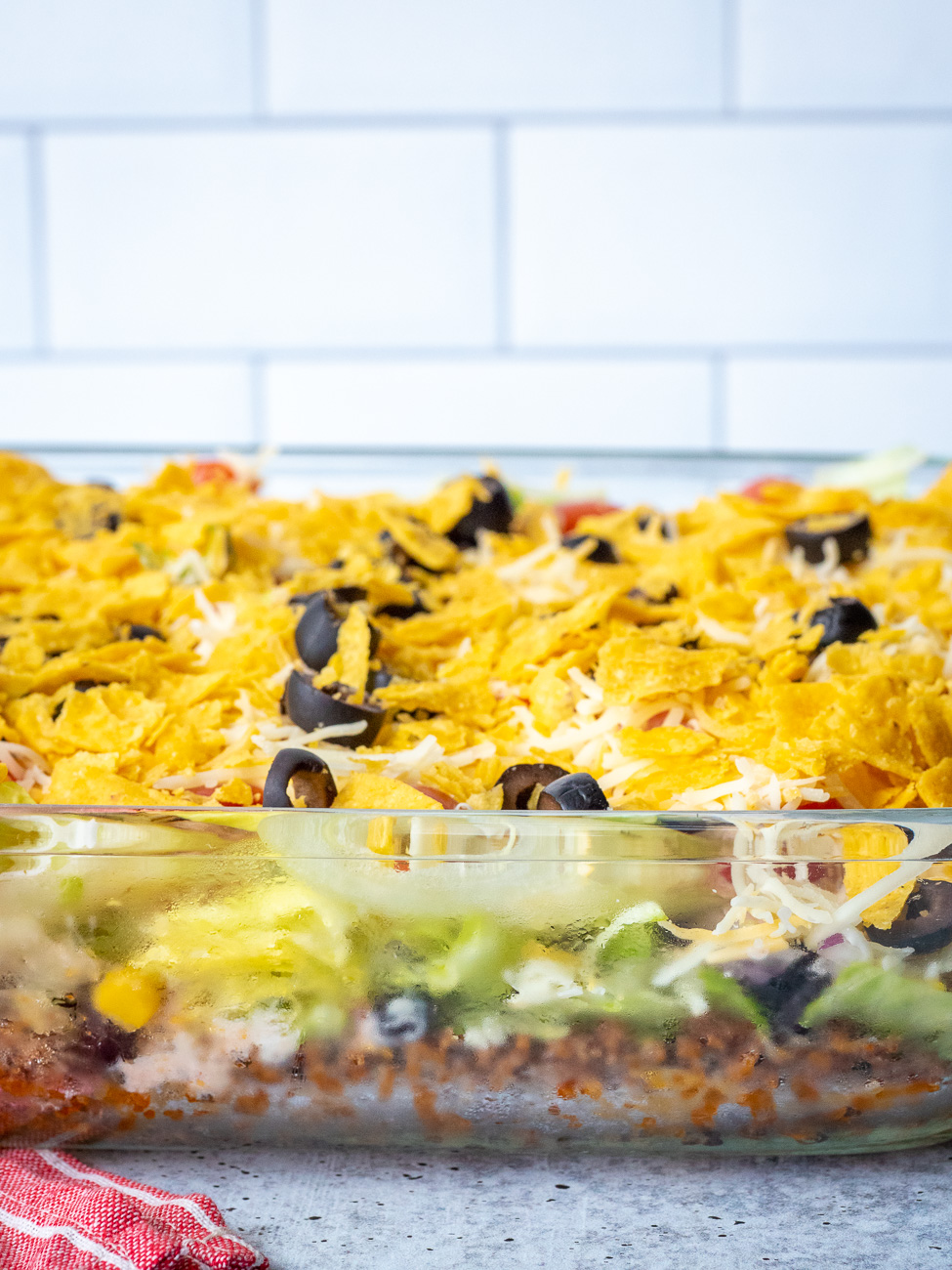 Layered Taco Salad
Serves 8-12
15m prep time
2h inactive
Ingredients
1 lb lean ground beef
1 packet taco seasoning
1 head iceberg lettuce, cored and chopped
1 cup sour cream
1/2 cup salsa
Juice of 1 lime
1 (15 oz) can black beans, rinsed and drained
1/2 (15 oz) can corn, drained
1 small red onion, chopped
1 cup grape or cherry tomatoes, halved
1 1/2 cups shredded Mexican cheese
1/3 cup sliced black olives
Tortilla chips, crushed, for topping
Preparation
In a skillet over medium-high heat, cook the ground beef with the taco seasoning until no longer pink. Transfer to refrigerator to chill until cold.
Stir together sour cream, salsa, and lime juice. Set aside.
Once meat is chilled, arrange in the bottom of a 9x13-inch baking dish.
Top with a thick layer of lettuce, followed by 1/2 of the sour cream mixture, then the black beans, corn, onion, and another thick layer of lettuce. Press down gently on the lettuce to tamp down the layers.
Top with remaining sour cream mixture, followed by the tomatoes, cheese, and olives.
Cover dish with foil and chill until ready to serve, at least 2 hours and up to 24 hours.
When ready to serve, top with crushed tortilla chips and enjoy.
Recipe adapted from Chin Deep.
SKM: below-content placeholder
Whizzco for 12T