A traditional Armenian one-pot meat and potatoes classic.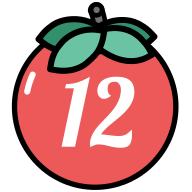 Sedrak Mamulyan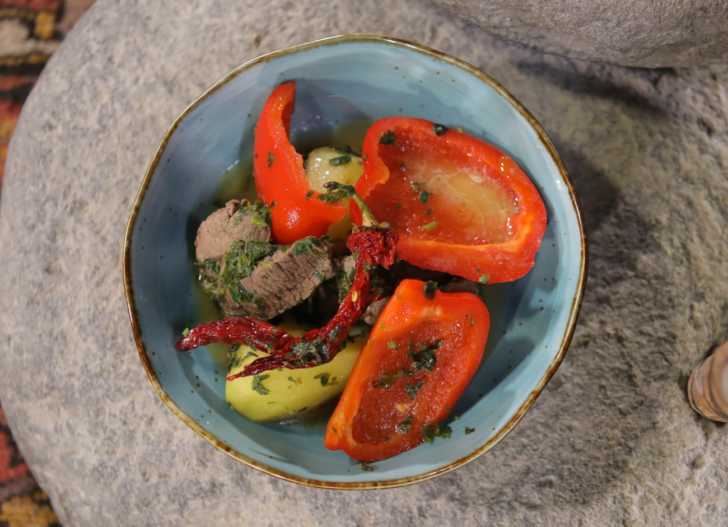 The deliciousness of a hearty meat and potatoes dish is something that translates into every culinary culture around the world and Khashlama is one of Armenia's answers to that comfort food classic. In its simplest form, Khashlama is a dish of boiled meat and potatoes, but thanks to Armenia's habit of adorning its dishes with copious amounts of fresh herbs, it's also a recipe that's full of fresh flavor. This particular version comes from the town of Gavar, which sits among the Gegham mountain range along Lake Sevan.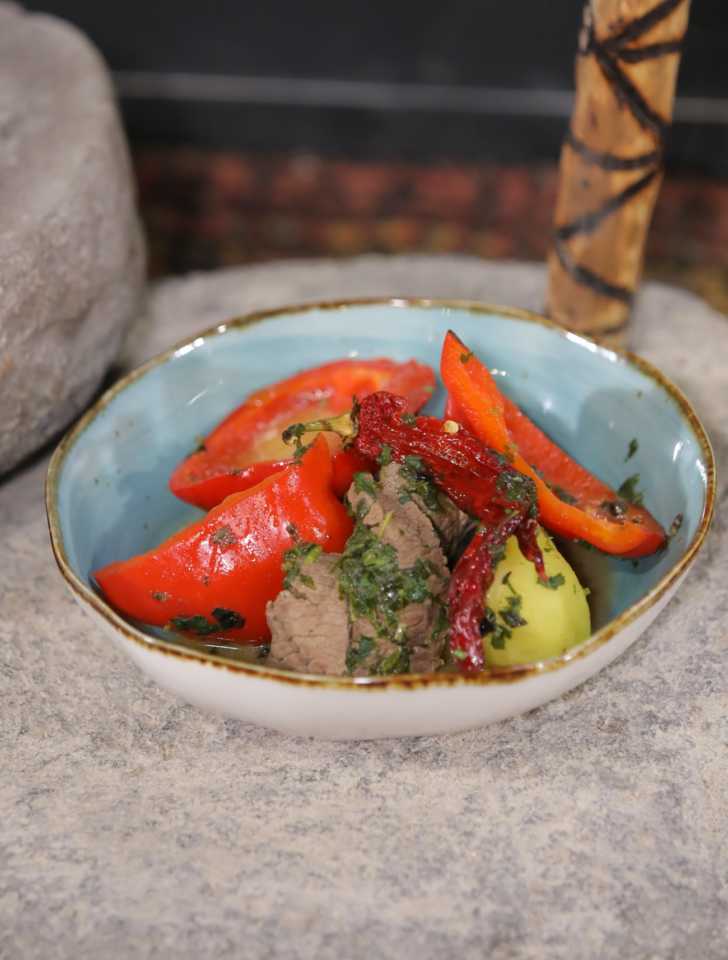 Khashlama is often traditionally made with lamb and relies upon a layering technique for cooking where the meat is topped with different veggies and aromatics before water is added and the whole dish is steamed or boiled. This version follows much of the traditional preparation but relies on sliced beef and some dried red chili for an added kick.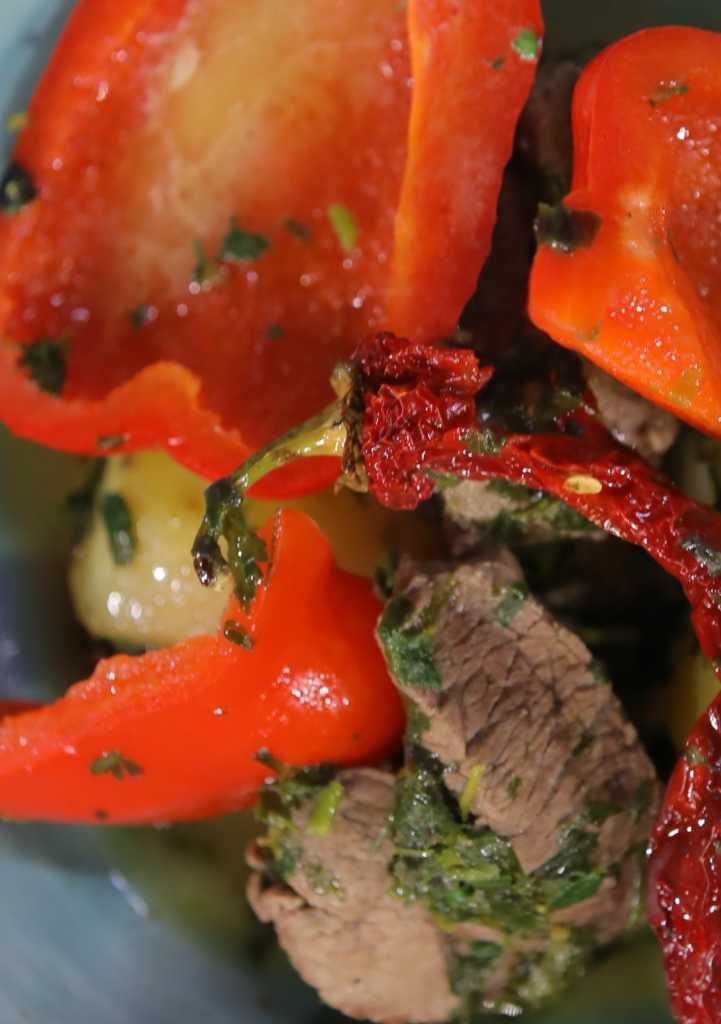 You simply add the beef to a large skillet and cook it, covered, for about five minutes so the meat starts to steam. Then you'll season it with salt, pepper, and butter and give it a stir here and there for about a half an hour – it's long enough and low enough for the beef to start getting tender. From there, you'll layer it with plenty of fresh herbs, some potatoes, bell pepper, and red chili and let it cook for another thirty minutes.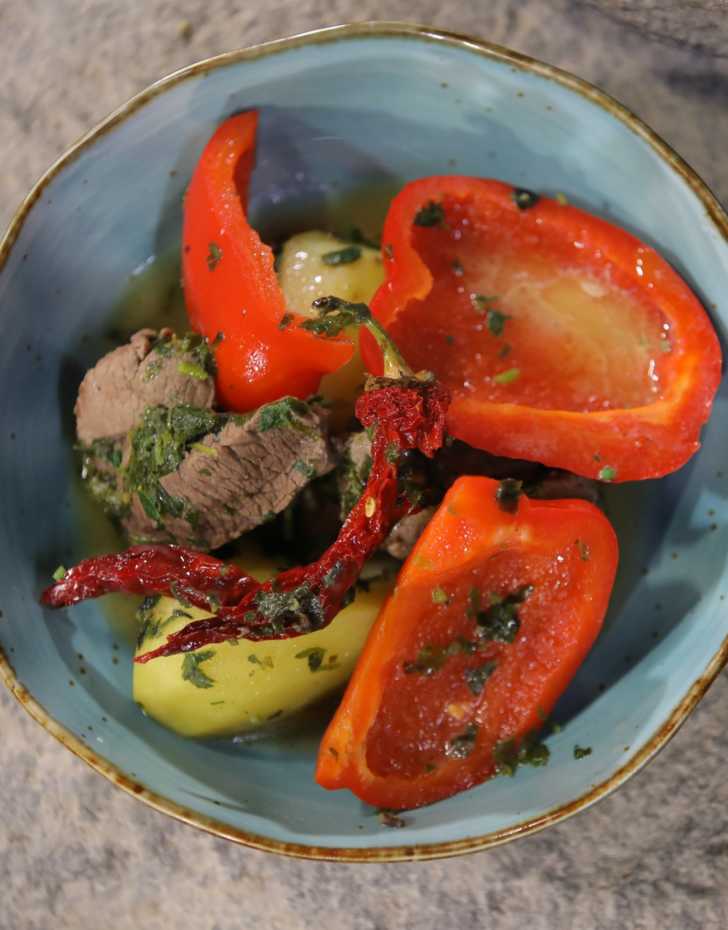 For the last fifteen minutes, you'll add some water to the pan, which brings all the flavors together to mingle into a stew-like harmony. It's a dish that's so easy to appreciate – comforting and full of simple, fresh flavors.
Khashlama of Gavar
Ingredients
3 1/2 lbs beef
2 1/2 cups bell pepper
2 lbs potatoes
1 tablespoon salt
2 teaspoons black pepper
1 dried red chili pepper
1 bunch fresh basil
1 bunch fresh parsley
1 bunch fresh cilantro
14 tablespoons unsalted butter
Preparation
Cut the meat into 3/4-inch thick slices and put the slices in a large skillet. Cover and place on the heat to steam for 4 to 5 minutes.
Mix the meat from time to time, then season with salt, black pepper, add half of the butter, and continue to steam again on low heat with the lid covered for 25 to 30 minutes.
Peel and cut medium size potatoes into two halves.
Cut the bell pepper into 4 pieces.
Finely chop the fresh basil, parsley, and cilantro.
Remove the meat from the heat and add a bit of the herb mixture. Then arrange the potatoes on the meat, again add the herb mixture, add the bell peppers and red chili pepper.
Season with salt and black pepper and cook for 25 to 30 minutes.
Add boiling water from one edge of the skillet until only meat is covered and continue cooking on low heat for 15 minutes.
After turning off the heat, add the rest of the butter, cover the dish, and serve after 2 to 3 minutes.
SKM: below-content placeholder
Whizzco for 12T