Cheesy sausage-y crostini topped with a Pecorino alfredo sauce, tomato bruschetta, and pepperoncini. The new nacho!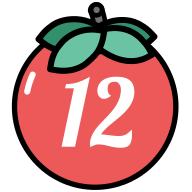 Dom Ruane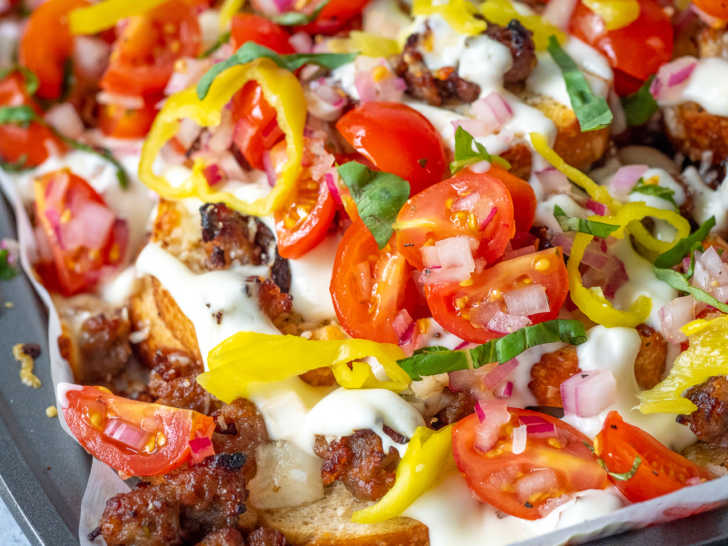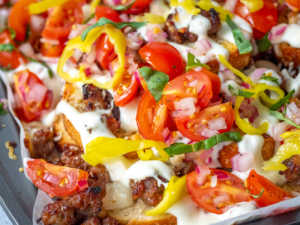 Just when you thought life couldn't get any better you stumble upon this recipe. Italian nachos are the new thing! Does it take some time to prep? Yes. Is it totally, absolutely, and positively worth it? YES! Sourdough crostini melted with crumbled Italian sausage, mozzarella, and parmesan cheese. Topped with a salty Pecorino alfredo sauce, tomato bruschetta, and briny pepperoncini. When I took my first bite my eyes rolled into the back of my head, it was that good. I got the inspiration for this dish from a guy on TikTok who used his own fried tortilla chips with a seasoning blend. I thought crostini would work to support the topping better and hold more. This is an absolute showstopper at your next family party, birthday party, or just a fun night in with friends. You got to get into this one!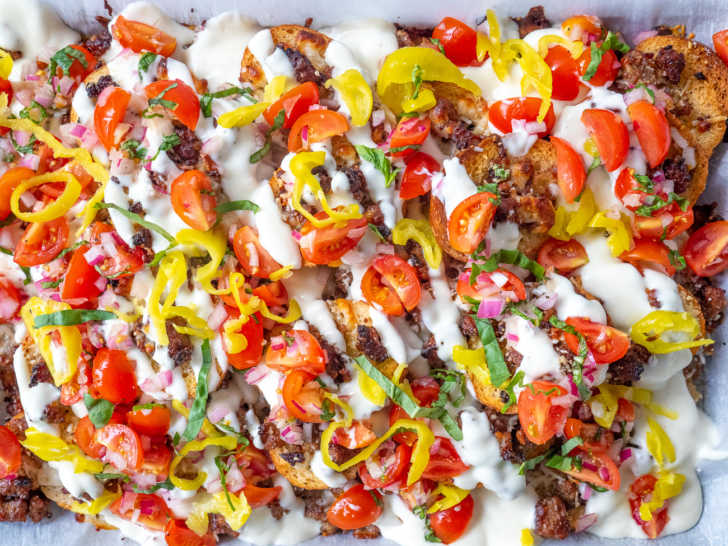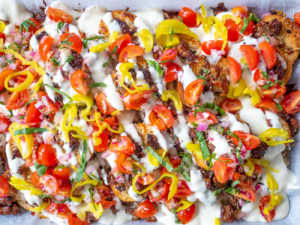 Crostini is the easy choice. Very Italian, very bruschetta of her. You can use store-bought crostini or you can do it on your own. Remember when cutting the slices to consider the bite of each crostini. We want thick enough pieces to hold the toppings and small enough for a bite or two. Nachos are all about proportions. While the cheese is melting over the crostini, we're gonna make the alfredo sauce.
If I was gonna construct a new nacho it had to have the same elements of the classics. A cheese sauce had to be necessary. What are nachos without cheese sauce anyway? Cheese-melted tortilla chips. I dreamed up a funky salty cheese sauce with provolone, Pecorino, and parmesan. Provolone is a melting cheese that helps reinforce the viscosity of the sauce, so it doesn't just sink through the nachos. I knew I needed a salsa component to counterbalance the salty cheeses and meats. What's the fresh tomato version of Mexican salsa? Bruschetta! You can see how this all just makes sense. The bruschetta topping is juicy and vinegary, with a crunchy onion bite and fresh basil flavor. Then you just top it with salty, vinegary pepperoncini… FORGET ABOUT IT!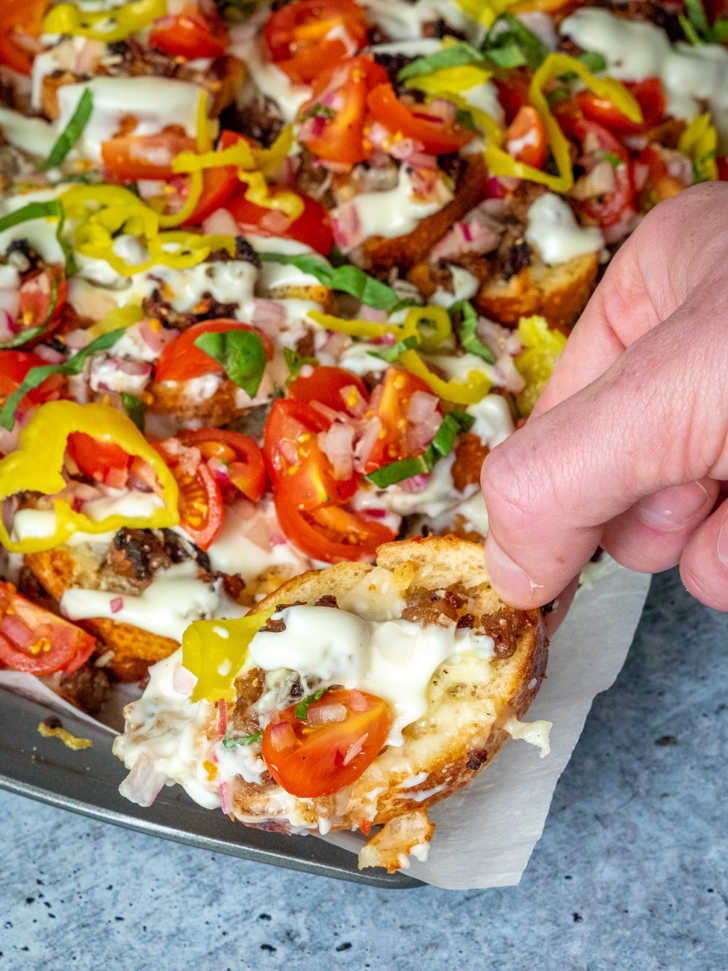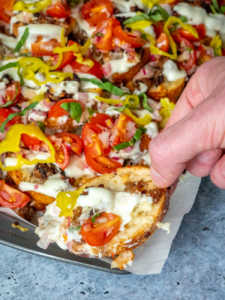 I'm already ready for the vegan version of this. Remove the sausage and make it vegetarian! This recipe and flavor combination is too good to pass up. I've just been so tired of the same old boring appetizers we see over and over at restaurants. I'm looking for more variety in the foods I taste and we all deserve to keep exciting our taste buds. Share this recipe with the people you love. Cooking for others is a way to express your love and gratitude for them. Food can really affect people and create memories. Let's keep spreading our love through food.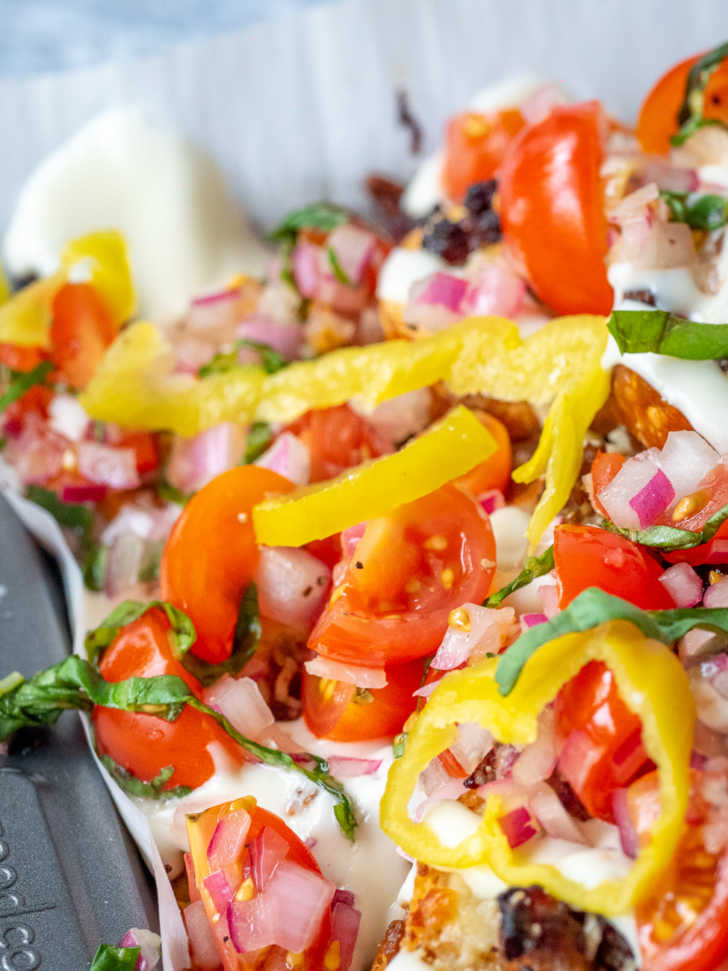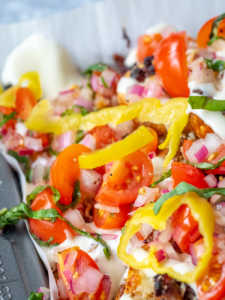 Italian - Style Sheet Tray Nachos
Serves 6 - 8
15m prep time
25m cook time
For crostini:
18' French baguette, sliced into 1" rounds (sourdough ++)
1/2 cup olive oil
2 cups shredded mozzarella cheese
1/2 cup grated parmesan
1 lb. Italian sausage, cooked and crumbled
Kosher salt and freshly cracked black pepper, to taste
For alfredo:
1/4 cup unsalted butter
1/4 cup all purpose flour
3 cups milk
8 oz. provolone cheese, cut into pieces
1 cup pecorino romano
1/2 cup parmesan cheese
For toppings:
1 pint cherry tomatoes, quartered
1/2 cup red onion, small diced
4 garlic cloves, minced
2 tablespoon red wine vinegar
1/4 cup fresh basil leaves, sliced thin and divided
1 cup pepperoncini, sliced into thin rings
Kosher salt and freshly cracked black pepper, to taste
Directions:
Preheat the oven to 400° F.
On two sheet trays arrange crostini evenly, drizzle with olive oil and season with salt and pepper. Bake crostini until slightly golden, 12 - 15 minutes.
To make the sauce, melt butter in a pan over medium heat. Add in the flour and cook roux for 1 minute. Whisk in cold milk and bring to a boil. Reduce sauce to low and cook for 2 - 3 minutes. Add the Provolone, parmesan, and Pecorino cheeses to the bechamel. Season with salt and pepper. Ladle or put in a squeeze bottle.
Combine the tomatoes, onion, garlic, red wine vinegar, and 2 tablespoons of fresh basil in a bowl. Season with salt and pepper.
In a large 9x13 tray, arrange crostini in three layers. Layer crumbled sausage, mozzarella, and parmesan, then repeat with other two layers. Bake crostini for 8 - 10 minutes or until the cheese melts.
Remove tray from oven, drizzle all over with cheese sauce, top with tomato bruschetta, and pepperoncini. Garnish with remaining basil.
ITALIAN NACHO!
SKM: below-content placeholder
Whizzco for 12T