It's baking magic.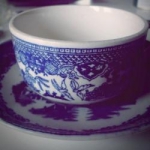 Rose Heichelbech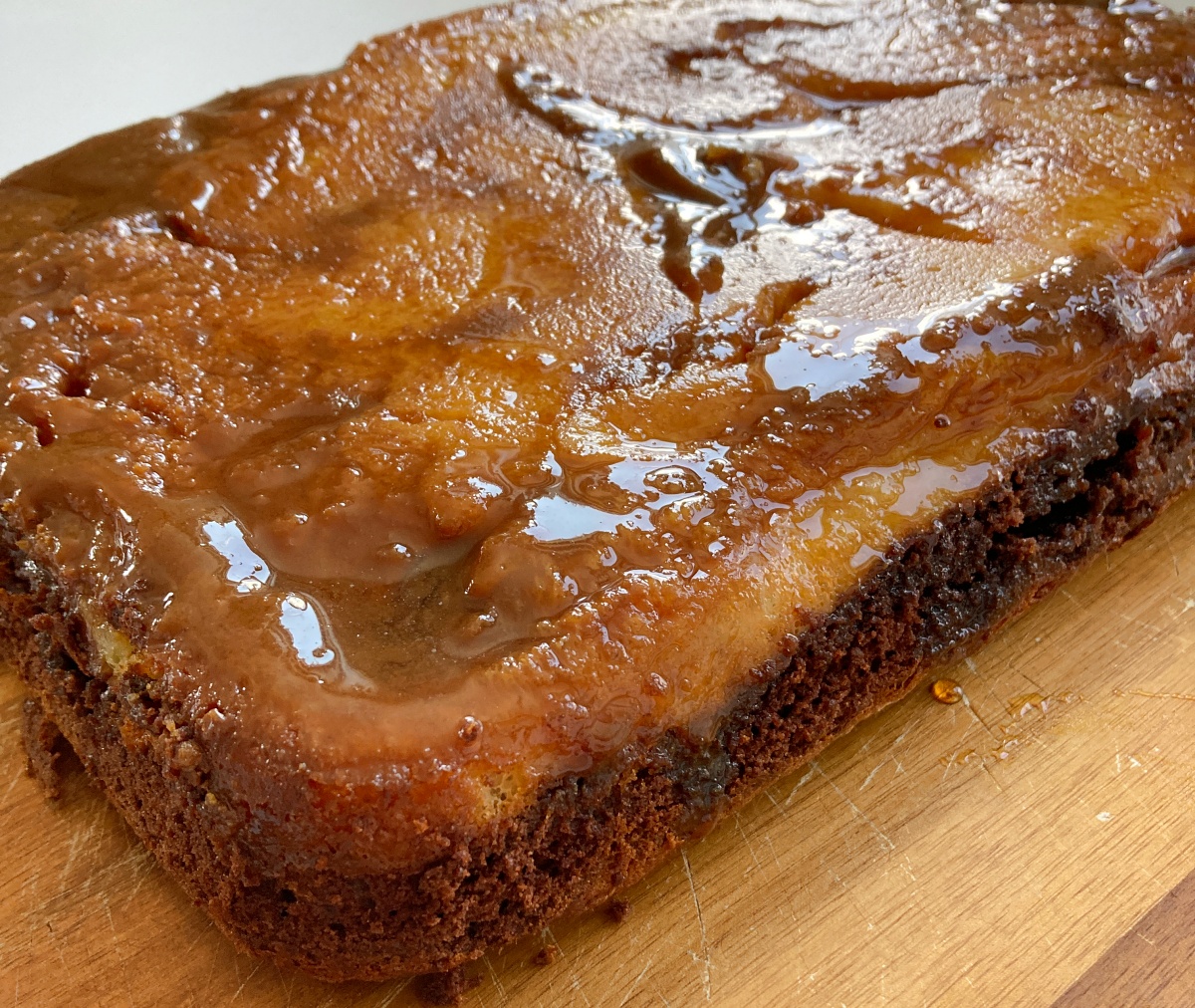 Flan is traditional across Europe, Asia, and Central and South America. But, it isn't always as popular as cake is. Now you can make cake and flan in one with this impossible flan cake. I'm not the biggest fan of eggs, but even I think this cake is delicious and that's really saying something. The rich chocolate cake is dark and decadent thanks to cocoa powder and a little instant coffee. This cake provides the perfect base for the flan layer and the whole thing is coated in caramel sauce. If you're wondering if this dessert is a crowd pleaser the answer is a resounding "YES".
To begin making this cake grease your pan well. I used a 9″x13″ pan but you can use a different type like a round pan or a bundt pan if you like. But, whatever you use make sure every nook and cranny is greased with butter. Then add a cup of caramel sauce to the pan.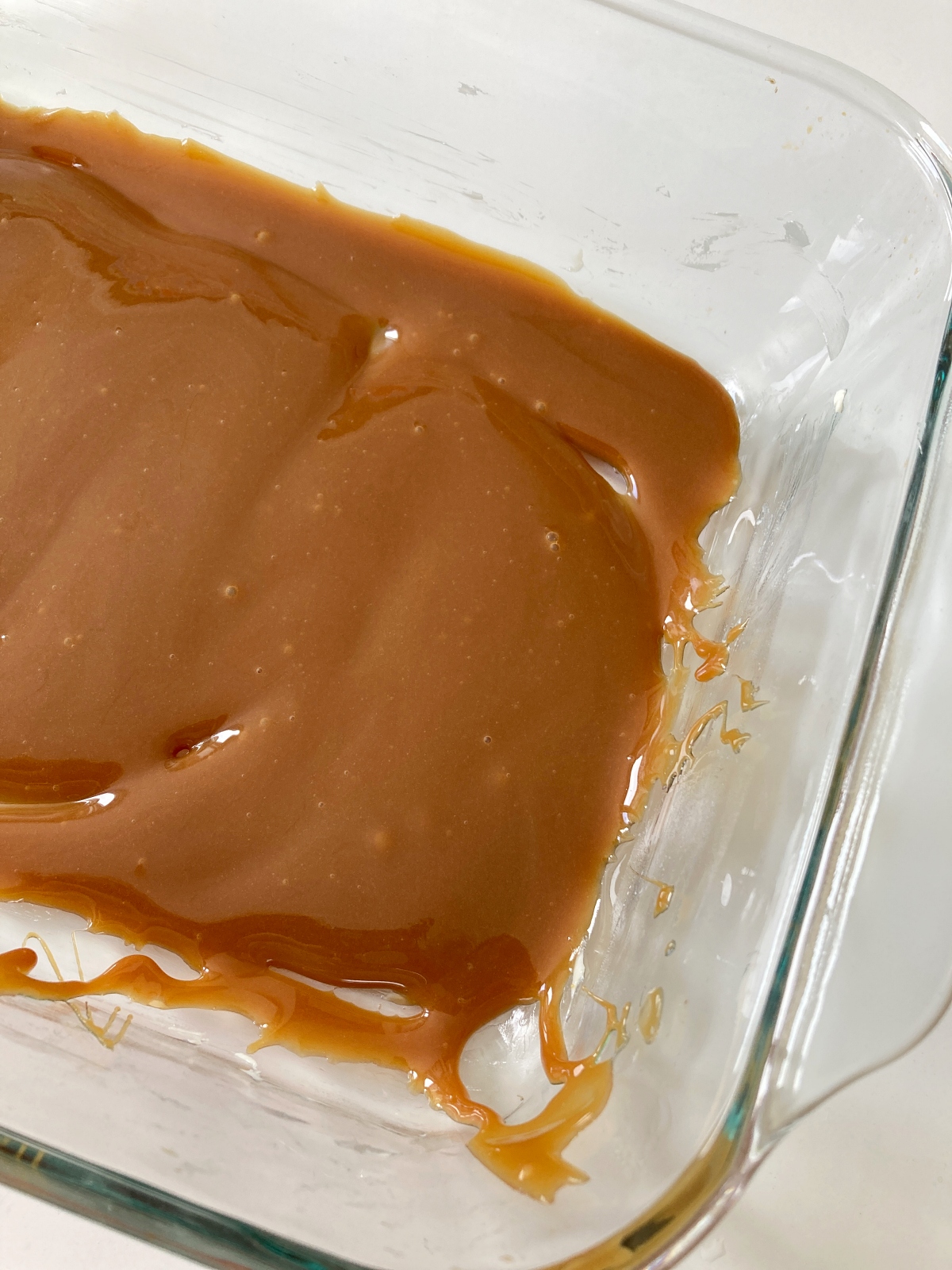 Pour your cake batter right on top of the caramel.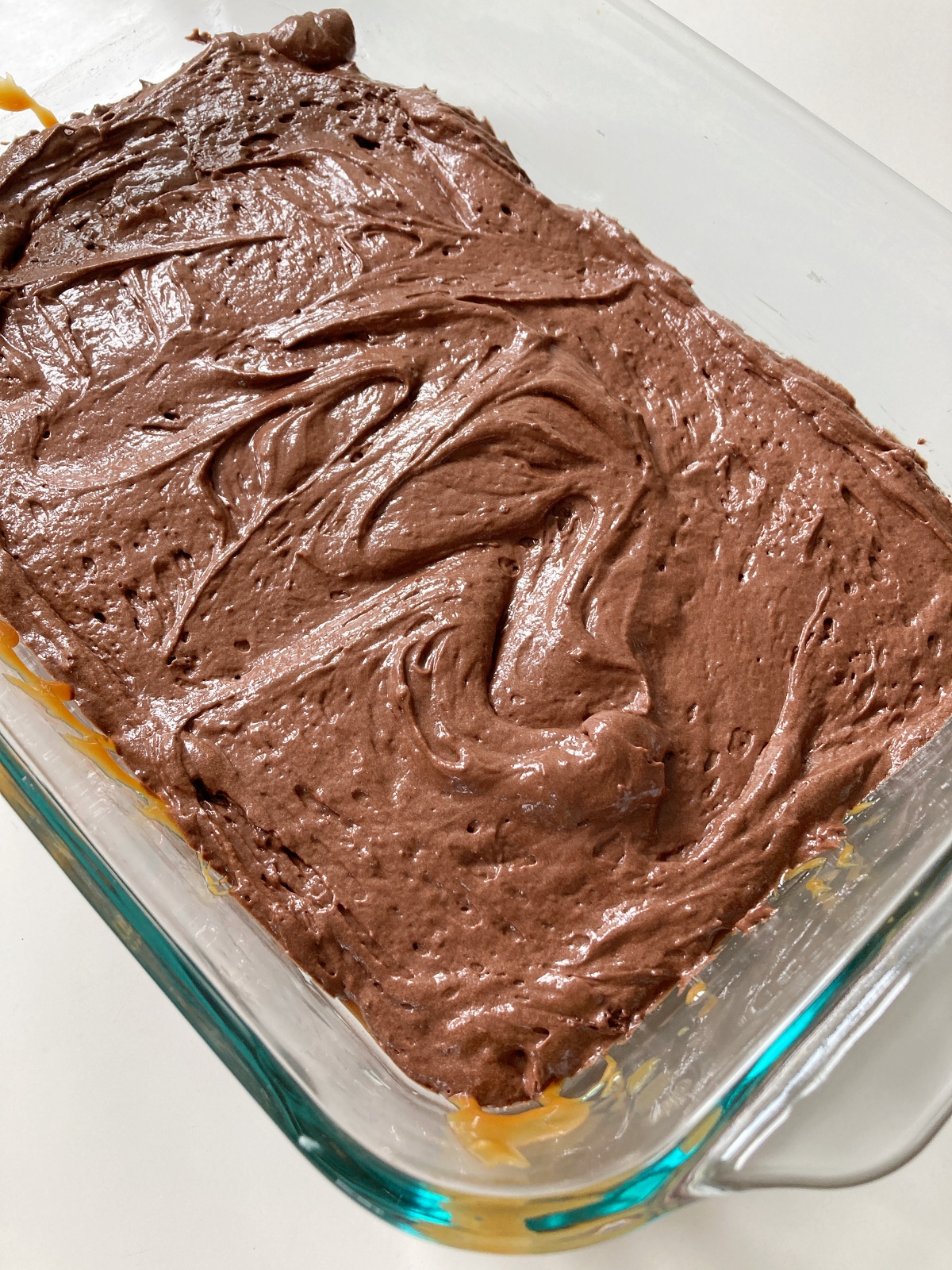 The last layer is the flan layer, made from a simple mixture of eggs, sweetened condensed milk, and vanilla extract. Pour the flan mixture on top and at that point it won't be much to look at.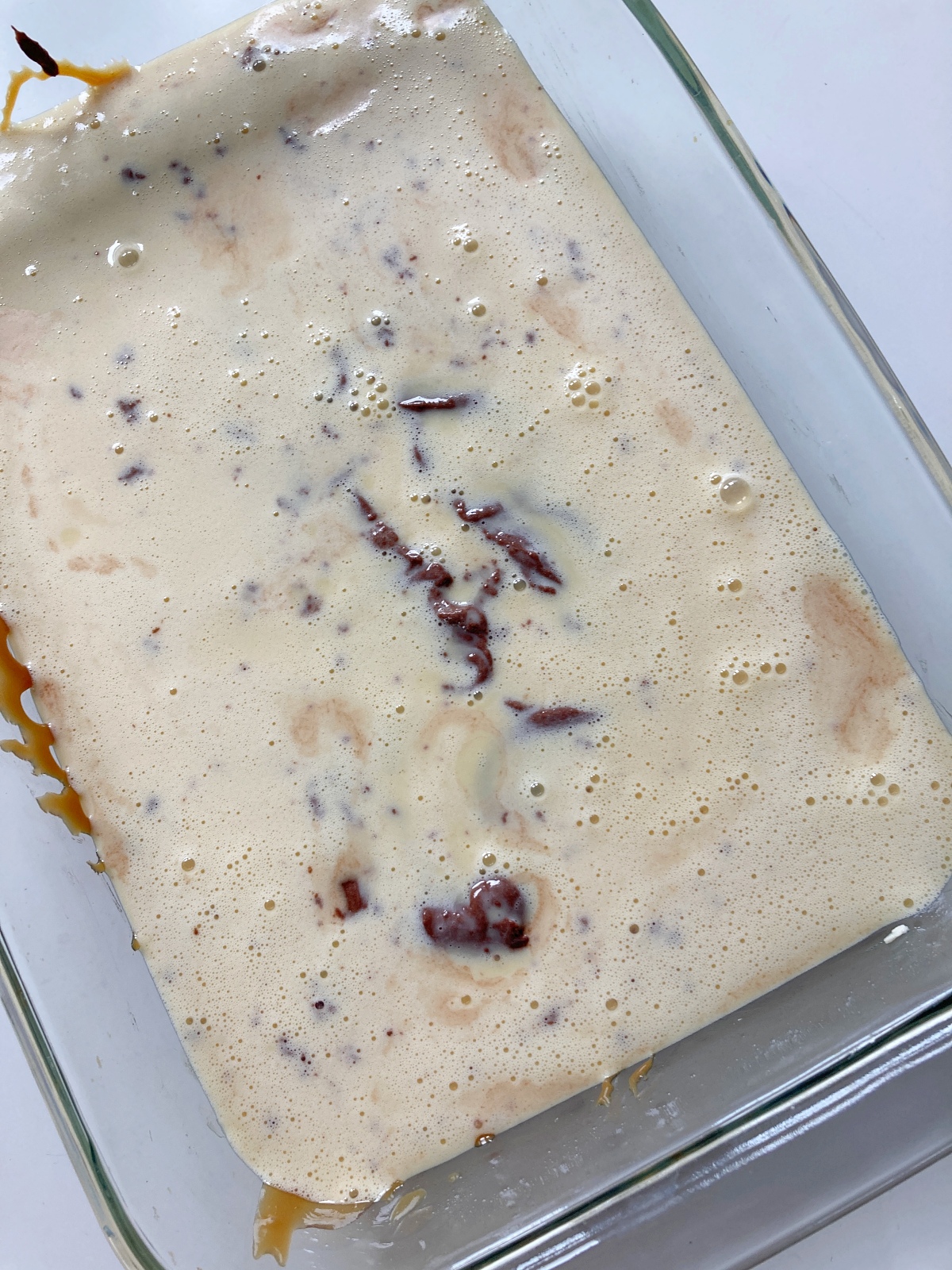 This incredible cake does a magic trick in the oven. You start off with the layers in one order, but they magically rearrange during baking. As it bakes the flan sinks to become the middle layer of this rich dessert, hence the title of "impossible".
Amazingly the flan doesn't break through the caramel layer and the result is that when you flip the cake upside down on a platter it looks like you covered a chocolate cake in flan and then topped it with caramel sauce. You can also add some more caramel on top, too, if you're so inclined.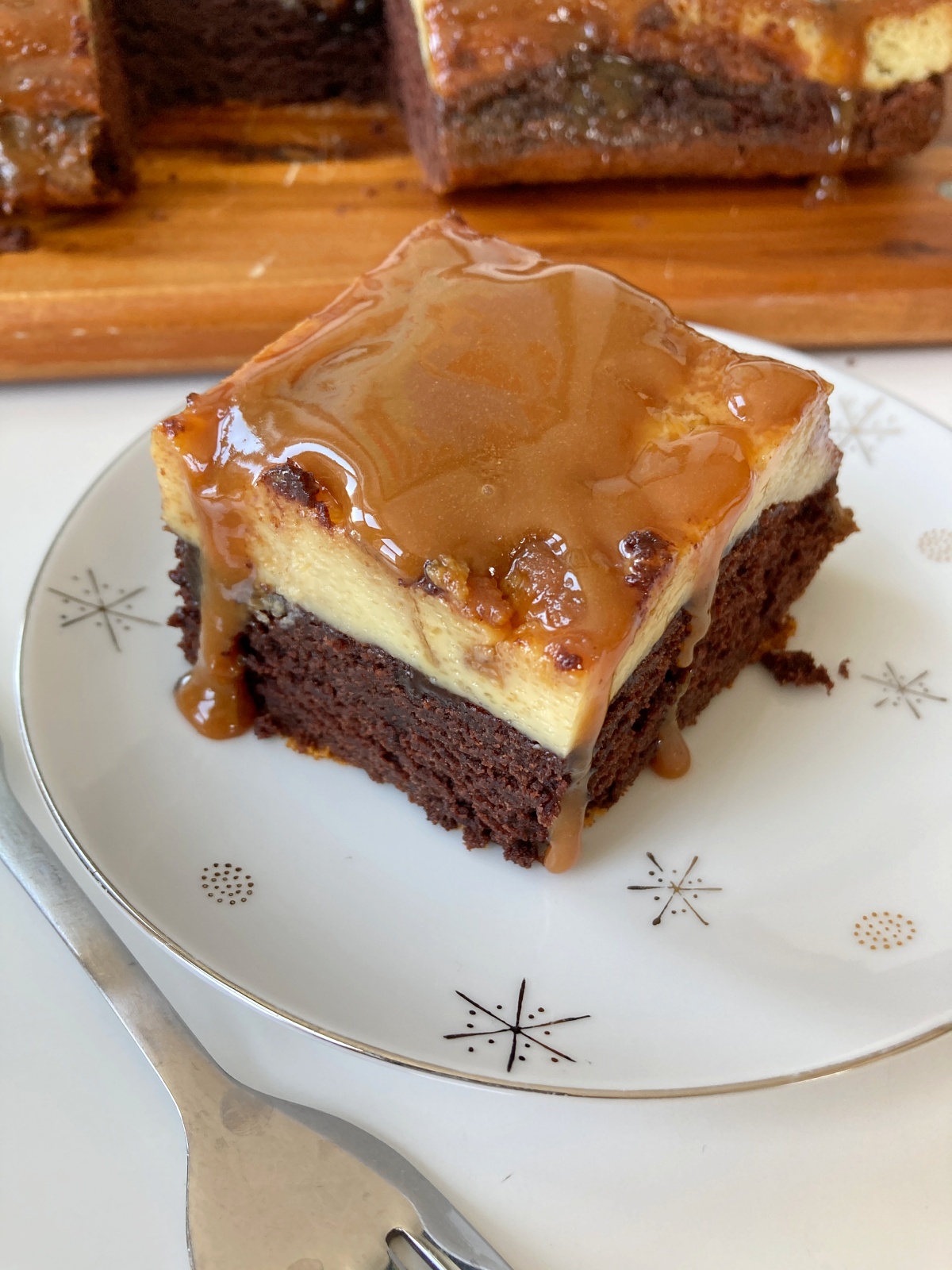 It's the combination of the dark, dense, chocolate cake, the rich caramel, and the dainty layer of creamy flan on top that makes this cake an irresistible sweet course at the end of your meal.
Impossible Flan Cake
Makes 15 slices
4h 20m prep time
50m cook time
320 calories
For the cake:
1 cup caramel sauce
10 tablespoons (5 oz) butter, slightly softened, plus extra for pan
1 cup granulated sugar
1 egg
1 tablespoon instant coffee dissolved in 1 1/2 tablespoons hot water (cooled)
1/3 cup cocoa powder
1 1/8 cup buttermilk
1 3/4 cup all-purpose flour
3/4 teaspoon baking powder
3/4 teaspoon baking soda
For the flan:
1 (14 oz) can sweetened condensed milk
6 eggs
2 teaspoons vanilla extract
Preparation
Preheat oven to 350˚F and move 1 rack to center. Butter and flour a 10"round pan or a 9"x13" that's at least 3" inches deep. Microwave the caramel for 20-30 seconds until just softened. Pour into baking pan and make sure bottom is evenly coated.
In a large bowl cream together butter and sugar, and then add in egg and coffee. In another bowl combine flour, cocoa, baking powder, and baking soda. Sift half of flour mixture into butter-sugar mix and combine. Add in buttermilk and combine again. Finally sift in rest of flour mixture and blend again. Pour cake batter on top of caramel.
In a blender combine condensed milk, eggs, and vanilla. Pour this over cake batter.
Heat 2 cups or water in kettle. Place cake into larger pan and place into oven. Pour the water into the larger pan to provide a steam bath for the cake. If your pan won't fit inside another pan simply place the pan of water on the rack directly below the cake.
Bake for 45-50 minutes. Remove from water and allow to cool completely before placing in fridge to chill for 4 hours. When chilled run a knife along the edge of the cake before unmolding. Invert cake pan on top of cutting board or tray and allow it to release on its own. Cut into slices and serve with extra caramel sauce if desired.
Recipe adapted from Epicurious .
SKM: below-content placeholder
Whizzco for 12T