You might know it as Honeycomb or Seafoam, but whatever you call it, Sponge Candy is the kind of treat that is both nostalgic and delicious. This stuff is hard to step away from – with an airy but firm crunch and a subtle toffee flavor, it has a kind of addicting bite. And while some candies are pretty tricky to make in your home kitchen, this is one that most anyone can handle. The only special equipment you need is a candy thermometer but you can probably find that in your local grocery store!
To start, you want to choose a pretty large saucepan. While your initial mixture won't seem too large, the chemical reaction at the end creates a lot of foaming and you don't want it to bubble over. To that saucepan add brown sugar, corn syrup, and some white vinegar and bring it to a boil. You want to stir constantly until the sugar dissolves and the mixture comes to a boil, but then you want to stop stirring and let it work away on its own until it comes up to 300°F on a candy thermometer.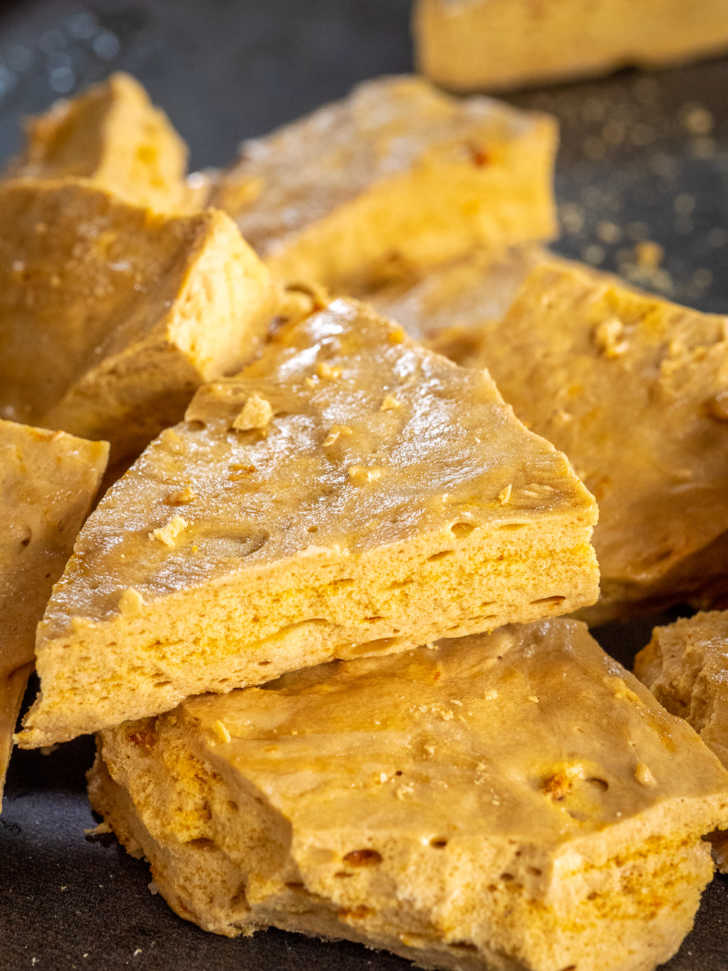 If you don't have a candy thermometer, you can also tell that it's ready for the next step when it's reached the "hard crack stage." You just fill a bowl with ice water and then periodically drop a small spoonful of the candy into it. If it is still pliable and you can form it into a soft ball once it's out of the water, you've got a bit to go. If instead it forms hard, brittle threads that you can crack you've reached "hard crack stage."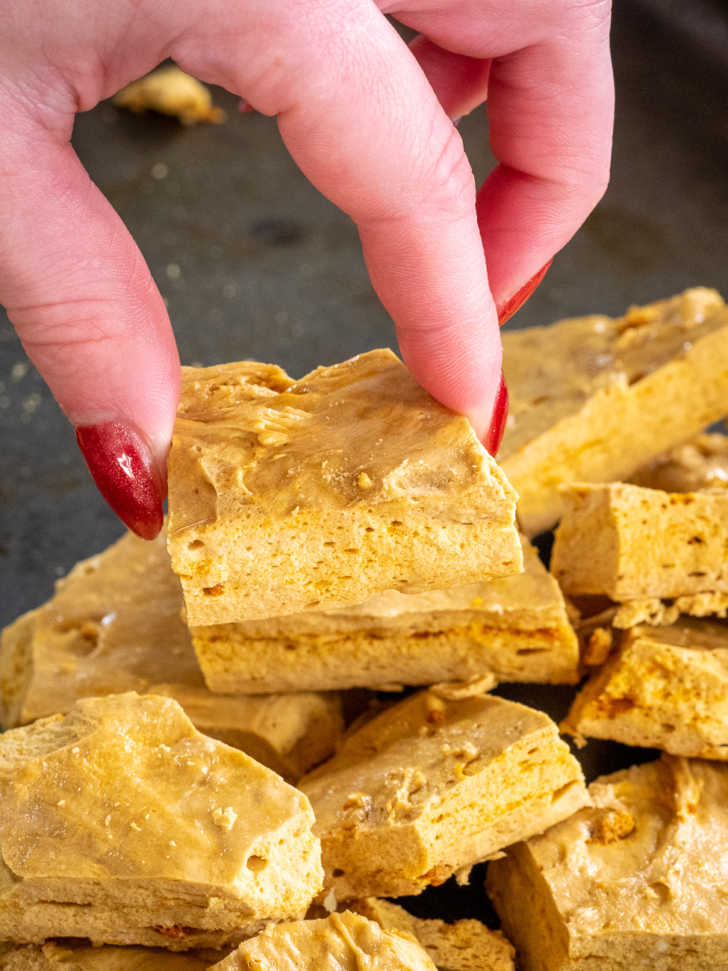 Once you get there, you remove the pan from the heat and stir in the baking soda, working quickly. The mixture will puff up (a lot!). Keep stirring and pour the mixture onto a greased pan but don't spread it out or scrape out the pan. Basically, just get it out of that pan and then let it sit, undisturbed, until it has hardened. Then it's time to snap it into pieces and get to snacking!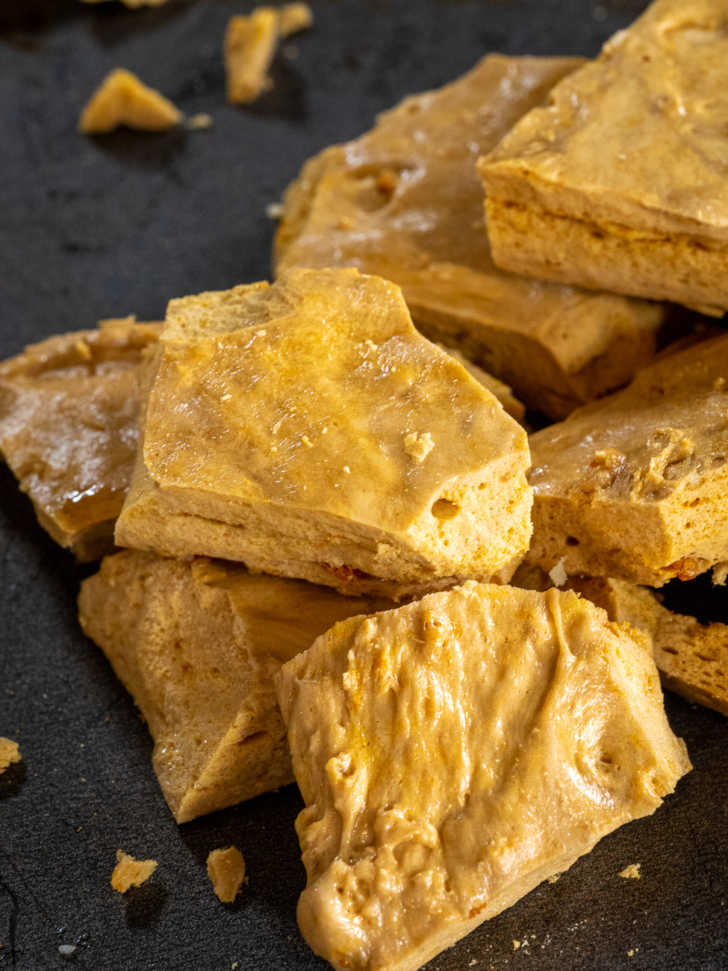 You can eat the broken pieces of sponge candy just as is, but if you're really going for gold you can coat them in some melted chocolate. Either way, it's delicious stuff!
Homemade Sponge Candy
Serves 12
5m prep time
20m cook time
Ingredients
Melted butter, for greasing pan
1 cup brown sugar, packed
1 cup dark corn syrup
1 tablespoon white vinegar
1 tablespoon baking soda
Preparation
Line a 9x13-inch baking pan with foil, then brush thoroughly with melted butter.
Measure out all ingredients and have them ready.
Using a large saucepan - mixture will bubble up so make sure you have ample room - combine brown sugar, corn syrup, and vinegar over medium heat. Stir constantly and cook until sugar has dissolved and mixture has come to a boil.
Continue cooking without stirring until mixture reaches 300°F on a candy thermometer.
Remove from heat and add the baking soda, stirring quickly. Mixture will puff up, continue stirring.
Immediately pour into prepared pan, but do not spread mixture out or scrape out the saucepan. Let candy cool and harden without disturbing it.
Once hard, use foil to lift out of pan, then break into pieces and enjoy!
Recipe adapted from Cookies and Cups.
SKM: below-content placeholder
Whizzco for 12T