Just like you remember, just as easy and quick, but you control the ingredients!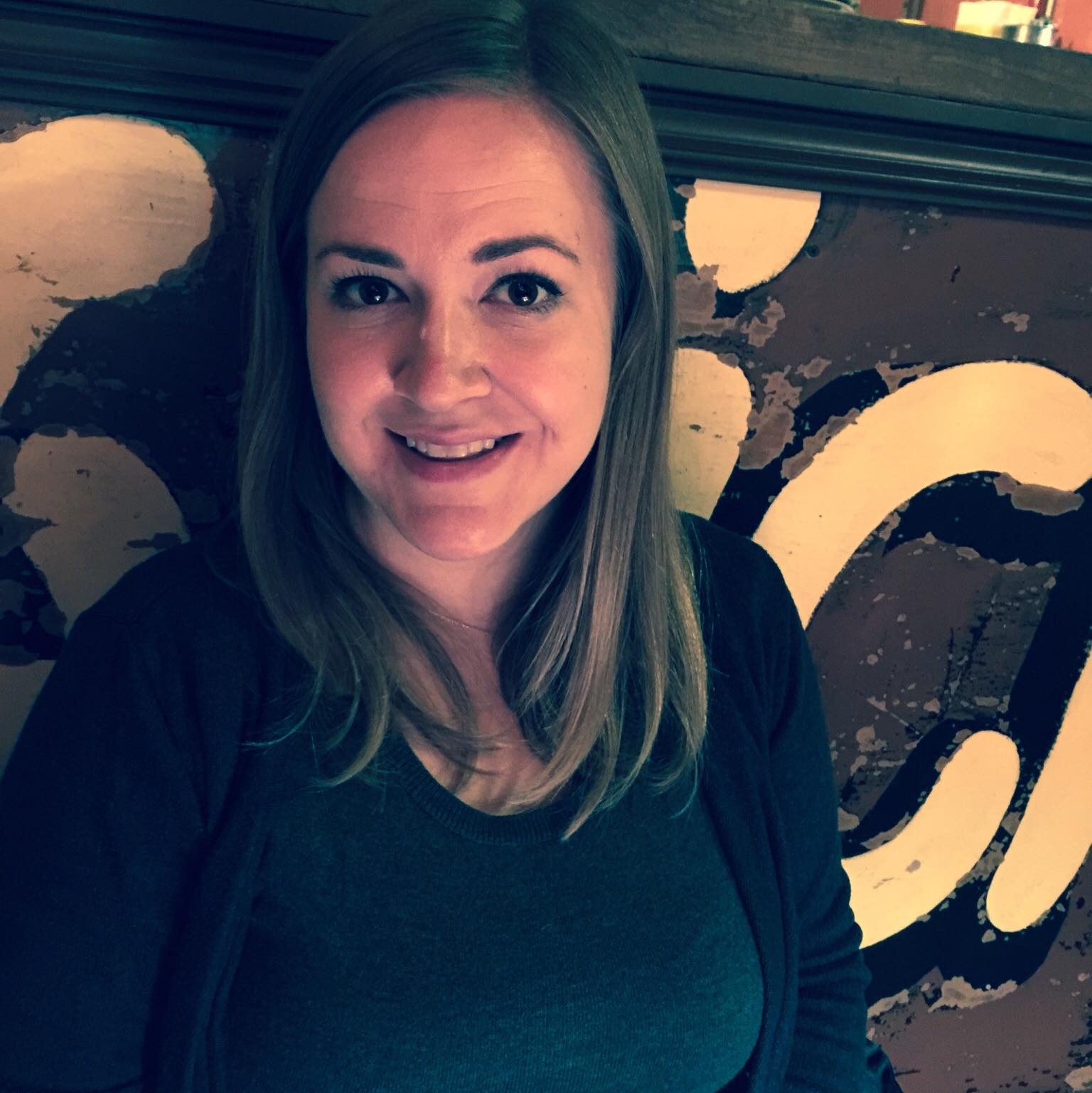 Kristy Norrell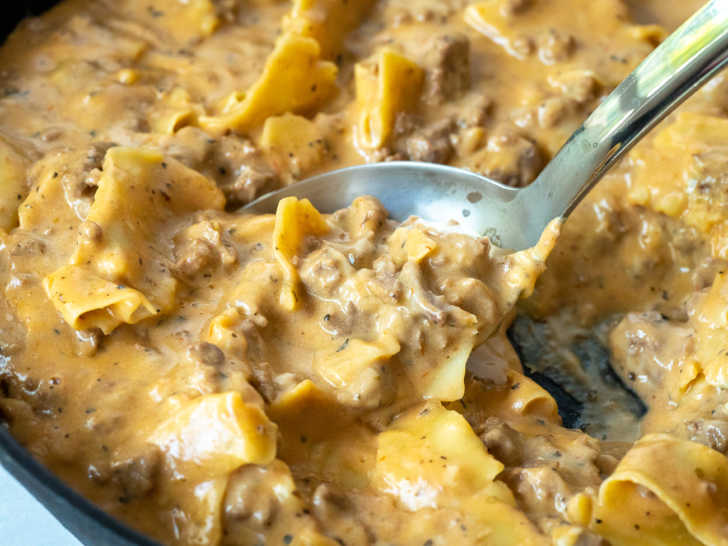 As a kid, I was a picky eater — a very picky eater — but you know what I never complained about? Hamburger Helper. It's easy to see why — it's approachable, comforting, tasty stuff and if you're the cook in the equation, it's a pretty nice kitchen shortcut. But here's the thing — you don't really even need that shortcut. You can make your own "hamburger helper" right at home with ingredients you have right in your pantry. It's just as quick and just as delicious as it ever was. Here's a version fashioned after their lasagna-style box.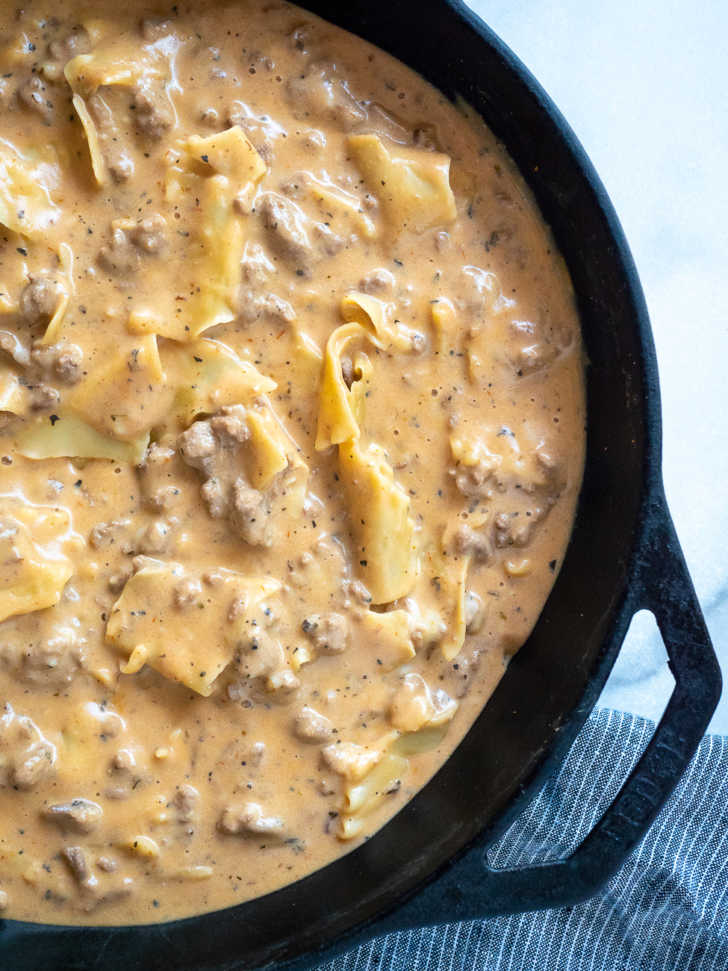 If you can believe it, you're going to start with a pound of ground beef. You'll brown that up and then add some seasonings. The combo that gives it that spot on "hamburger helper lasagna" flavor is tomato paste, oregano, basil, onion powder, garlic powder, and a touch of sugar.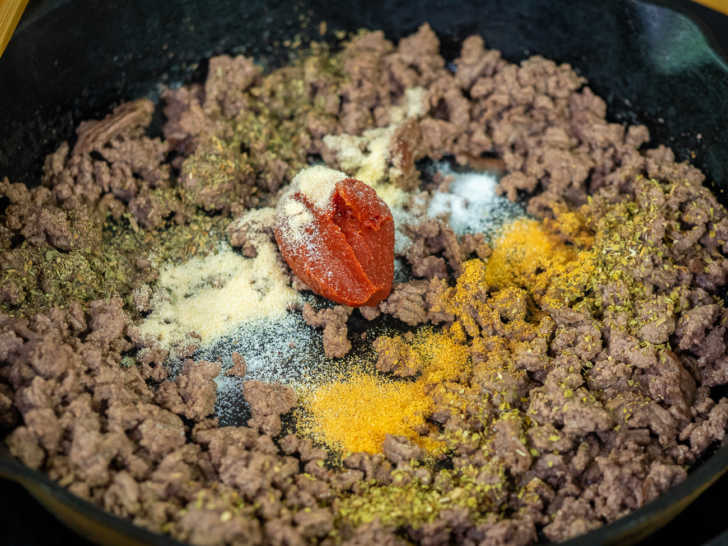 You'll simmer that down a bit with some chicken stock…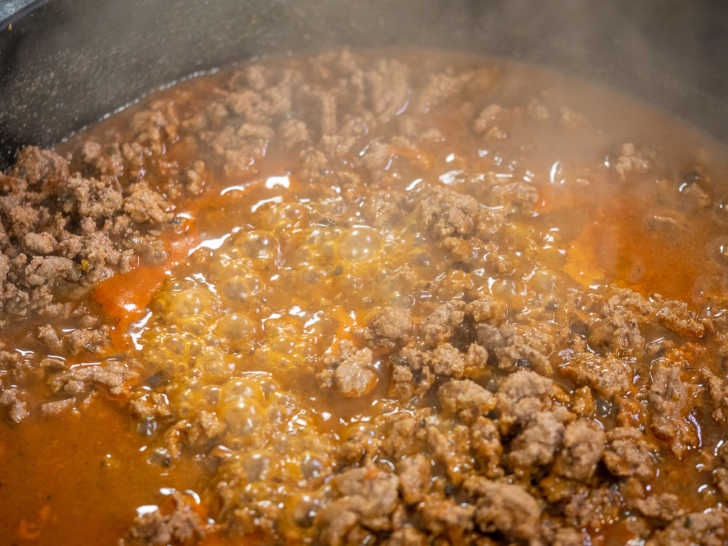 … and then add your pasta and some milk. Now, you can use broken up lasagna noodles here, but if you can find Mafalda pasta (which are like baby lasagna noodles), even better.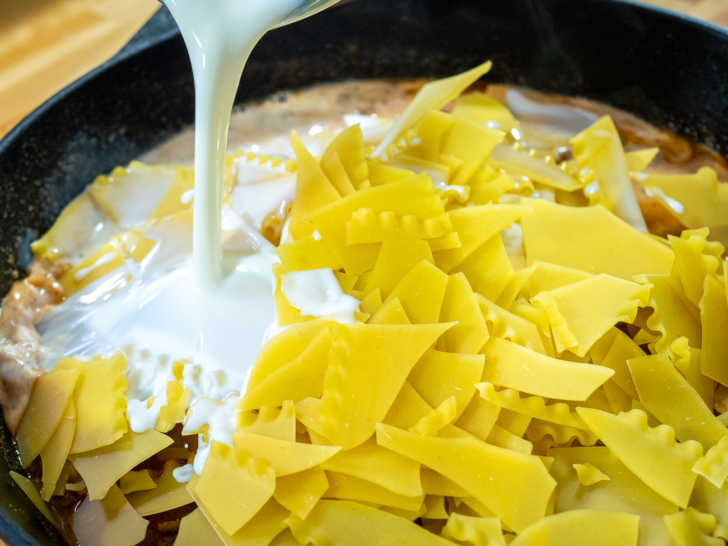 The pasta cooks right in the liquid in the saucepan just like it does with the handy dandy storebought version, but a couple of things first. You want to remove the skillet briefly from the heat before adding the milk and then return it to the stove to cook over low heat, mayyyyyybe medium-low heat to cook the pasta. This keeps the milk from curdling but it also gives the pasta time to cook fully before the liquid cooks out.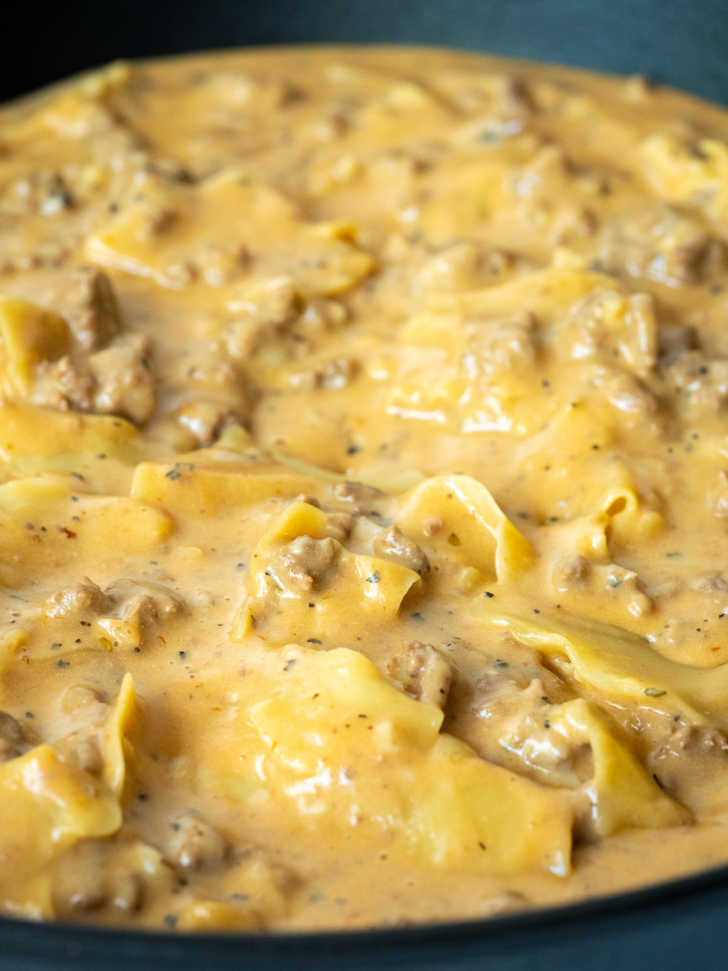 If you do run out of liquid before the pasta is al dente, just add a little more hot water and stir it in, no problem.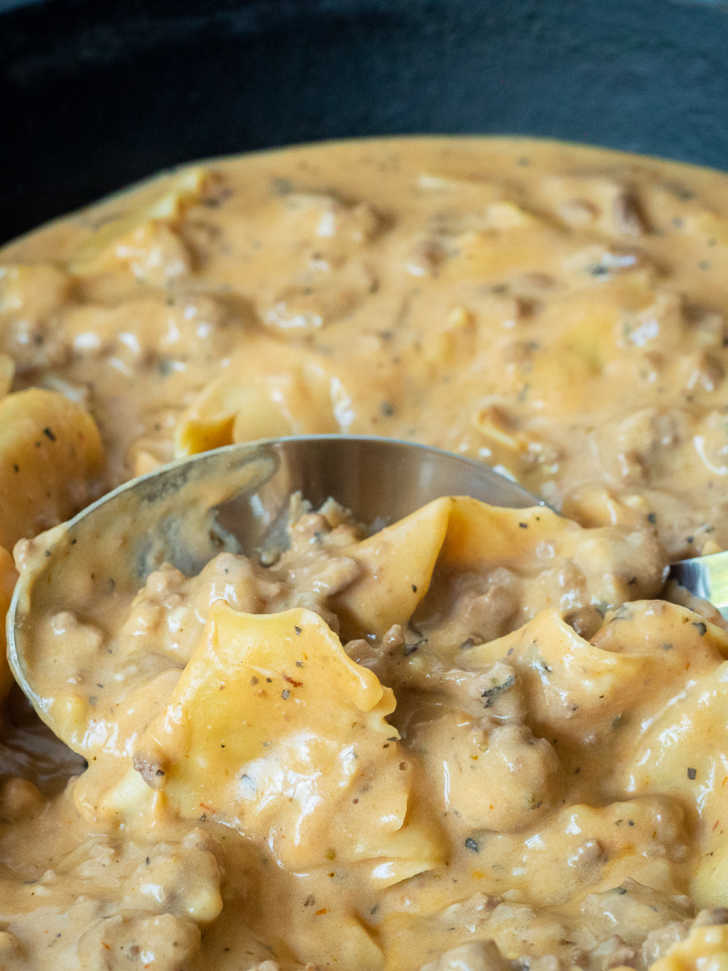 Once your pasta is al dente, stir in some mozzarella, cover the pan, and let it sit off the heat for five minutes or so. The cheese will melt, some of the liquid will reabsorb, and you'll have an easy-peasy, creamy, cheesy dinner to dig into.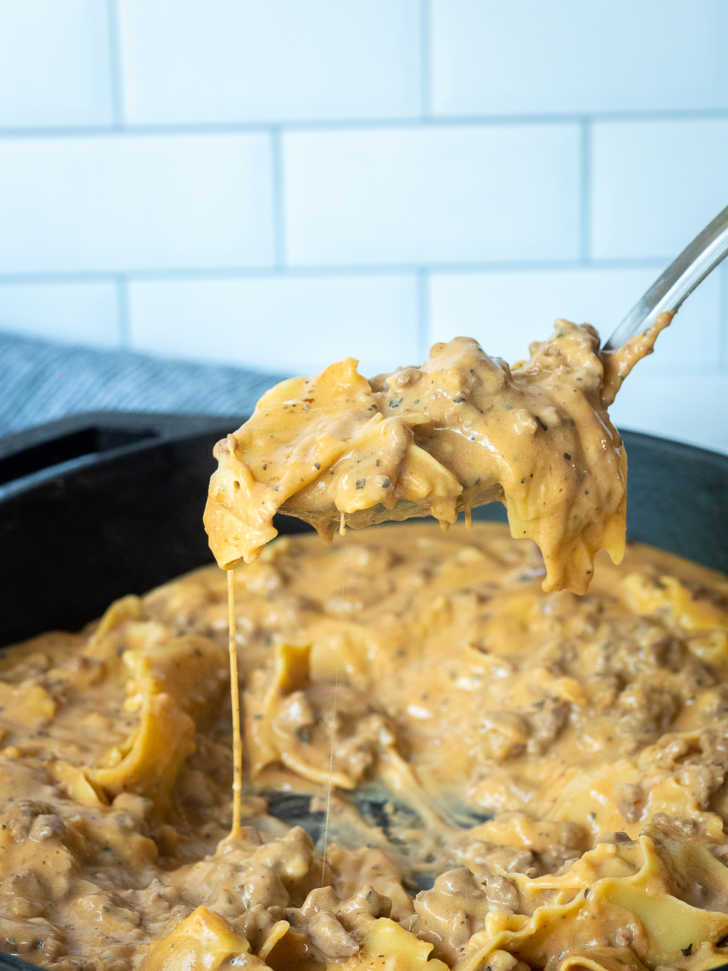 Homemade Hamburger Helper Lasagna
Serves 4
5m prep time
20m cook time
Ingredients
1 lb lean ground beef
2 cups chicken stock
2 tablespoons tomato paste
1 teaspoon onion powder
1/2 teaspoon garlic powder
1 teaspoon dried oregano
1 teaspoon dried basil
1/2 teaspoon sugar
2 cups milk
2 1/2 cups dry Mafalda pasta or broken up lasagna noodles
1 cup mozzarella cheese, shredded
Kosher salt and freshly ground black pepper, to taste
Preparation
In a high-sided skillet, brown ground beef on medium-high heat until cooked through. Drain fat if needed.
To the same skillet, stir in tomato paste, chicken stock, onion powder, garlic powder, oregano, basil, sugar, and salt and pepper. Bring to a boil and let liquid reduce by about half, about 5 minutes.
Reduce heat to low and briefly remove pan from heat. Stir in pasta, along with the milk.
Return to burner, cover, and cook over low heat until pasta is al dente, about 10 minutes. Do not increase heat over medium-low as milk will curdle.
Remove skillet from heat, stir in mozzarella, and cover. Let rest off heat until cheese has melted. Enjoy!
Recipe adapted from The Frozen Biscuit.
SKM: below-content placeholder
Whizzco for 12T