Delightfully simple and refreshing.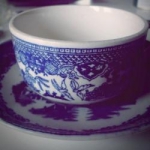 Rose Heichelbech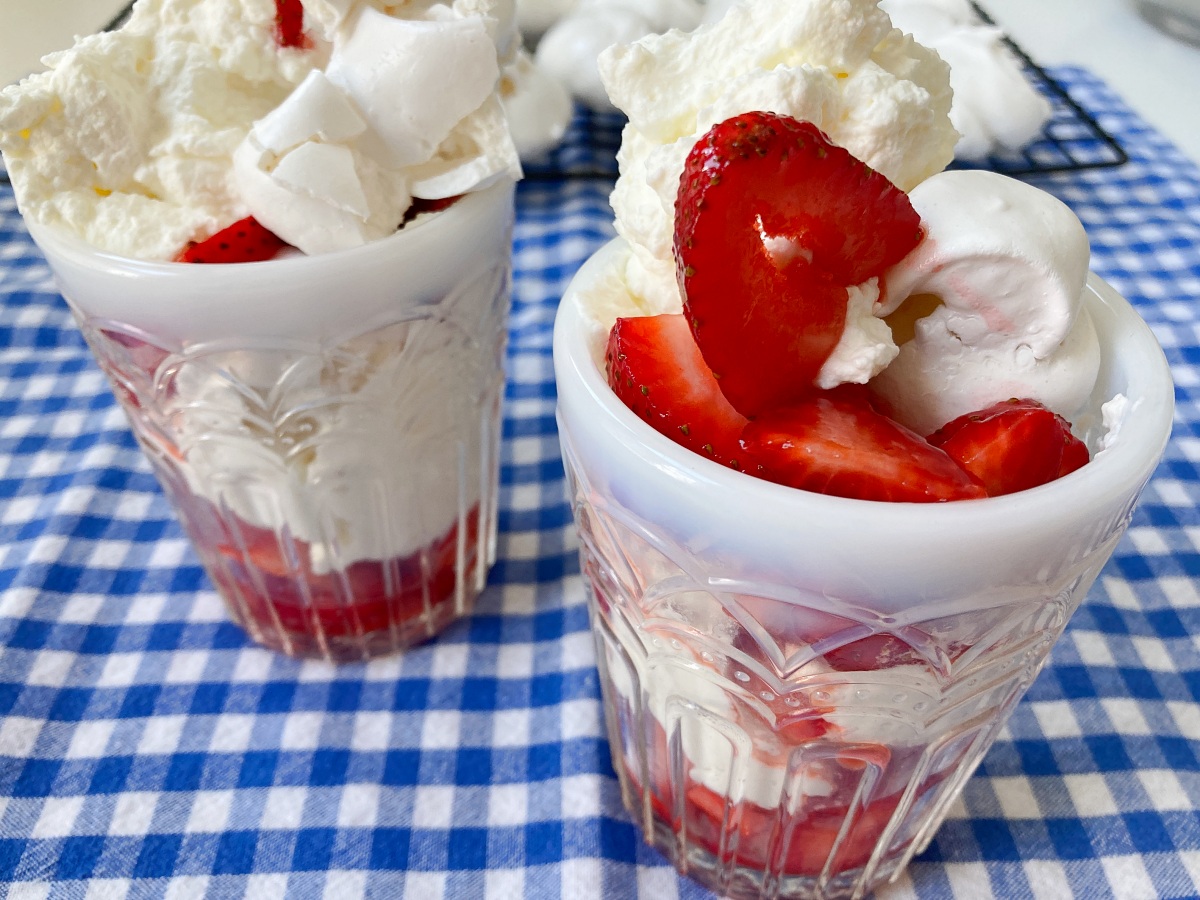 Eton mess has a firm place in the hearts of most British subjects as it's practically a national dish in England. This summertime treat can be enjoyed all year round thanks to how groceries are stocked these days, but is particularly good when the weather is hot. The light texture and refreshing flavor make it an ideal hot weather indulgence. As a bonus this dessert is gluten free, too.
The name comes from Eton College, a prestigious boarding school for boys ages 13-18. The school was formed in 1440 as a place where boys from poorer families could prepare for entry in the sister school of King's College. But, by the late 1800s this institution opened to all income levels and came to be known as a posh school. Cricket developed as one of the primary sports at Eton and it is said that Eton mess was first served at a cricket match, though some legends about the "mess" part are quite humorous.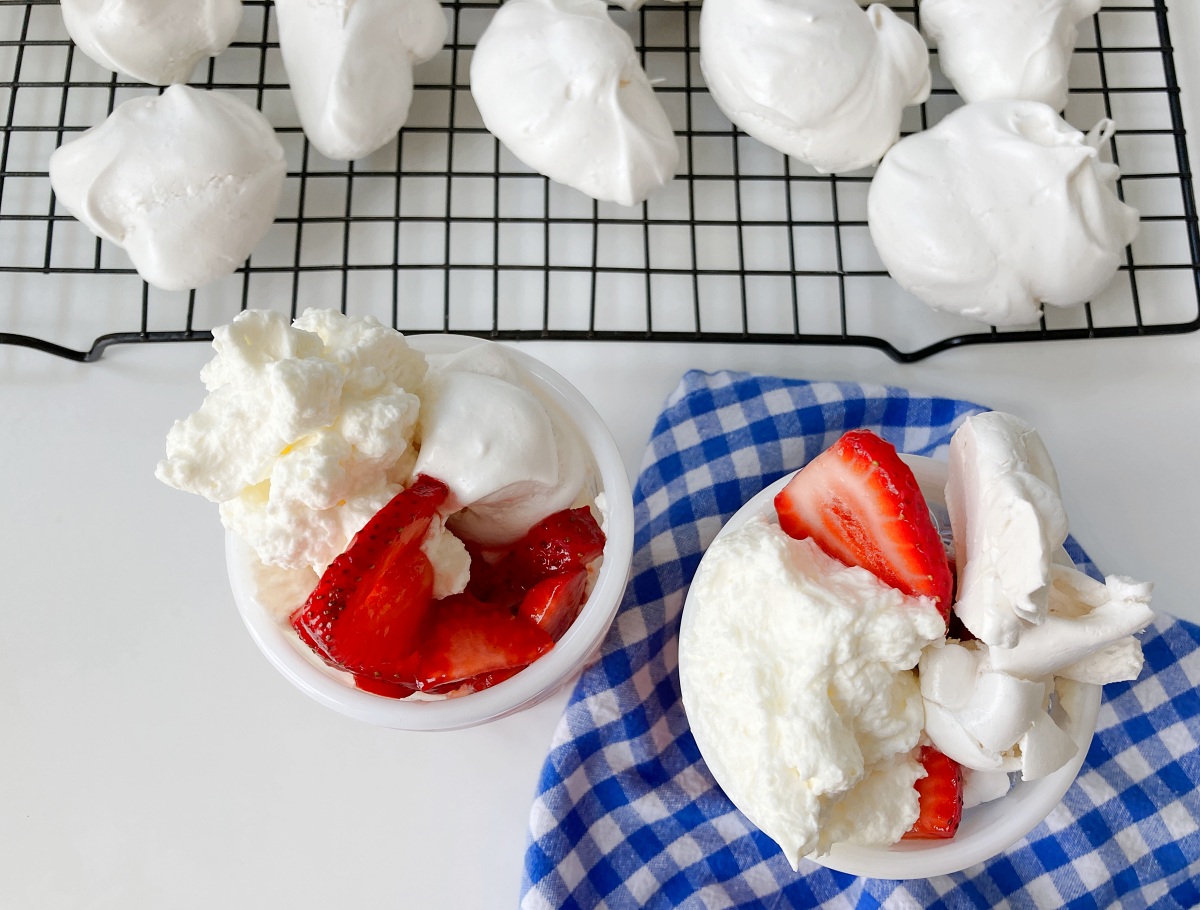 At it's core this dessert is a simple way to dress up fresh strawberries. However, if you prefer another type of fruit then by all means go for it! Guava, passionfruit, sliced bananas, raspberries, cherries, peaches, or blueberries are all excellent in this dish.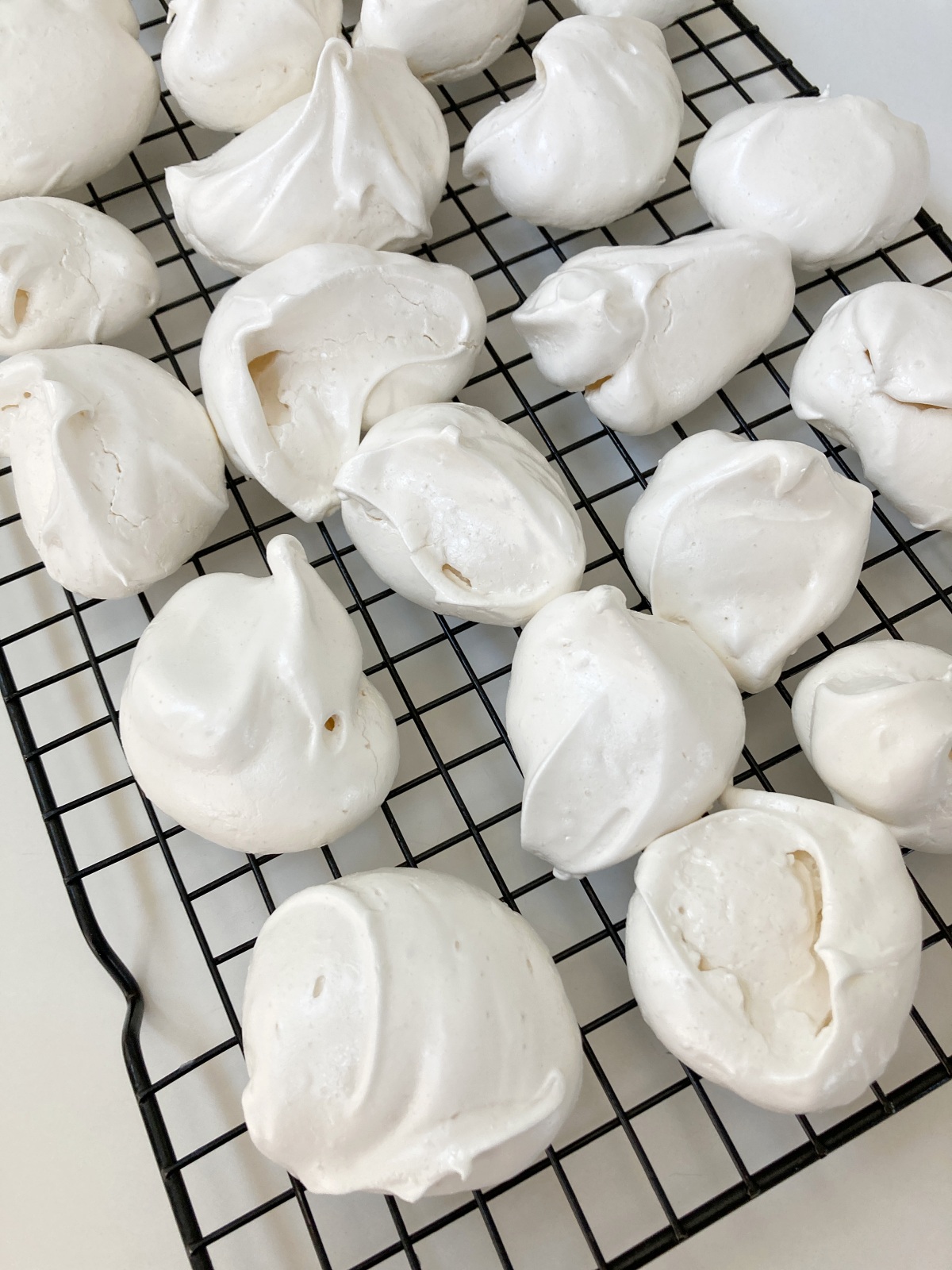 Many Americanized recipes call for making Eton mess with pre-made meringue cookies, but none of my local groceries stock them. However, this is all for the best since there's nothing quite so good as a homemade meringue. You can find meringue powder in the baking section, but these often contain artificial flavors. Best to stick with a simple 4-ingredient meringue made from scratch.
The cookies don't need to be in particular shapes or even piped onto the baking sheet since you'll break them up in the end anyways. But, it's nicer than making a pavlova, one big meringue, since you'll get more crisp edges with cookies and this adds crunch to the delicate cream and berries.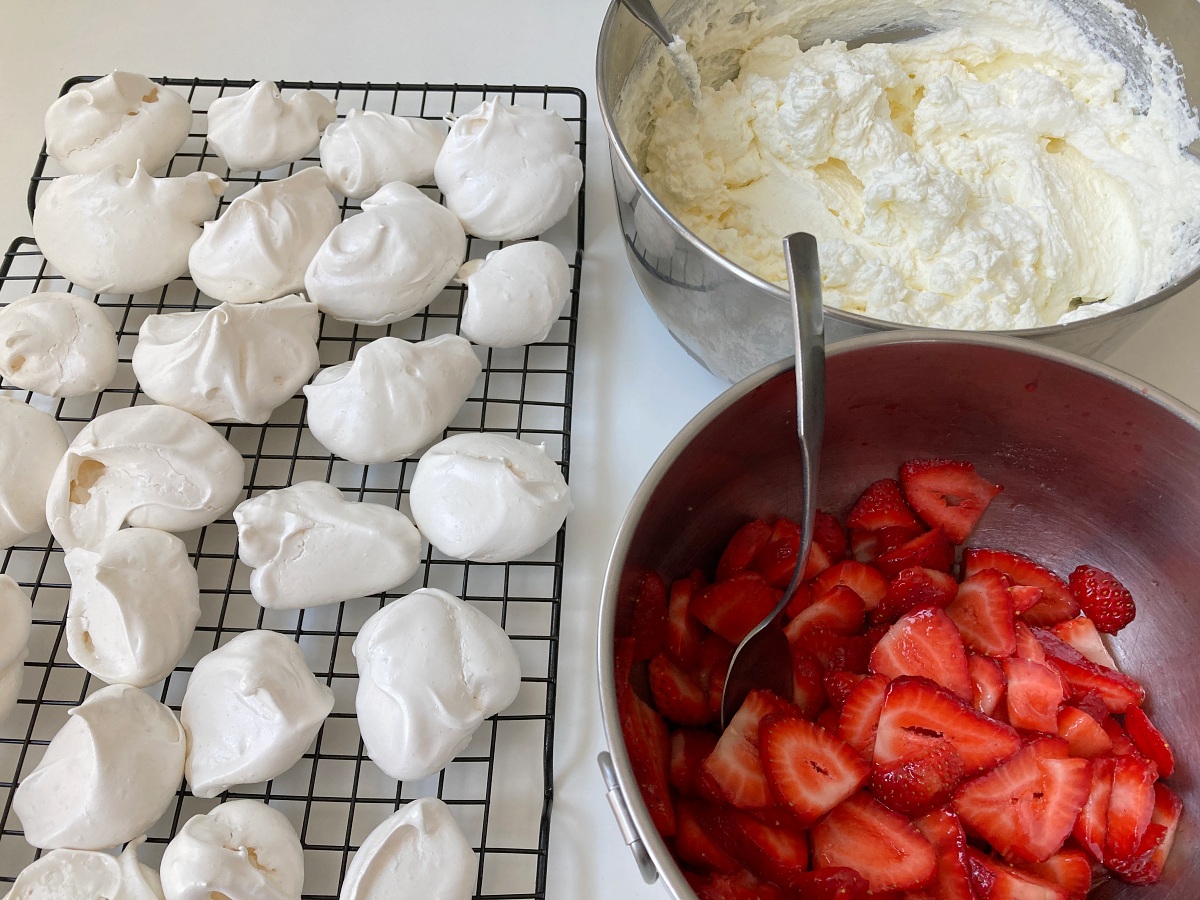 If you want to save yourself some time you can use whipped cream from a can instead of whipping it yourself. The cream is then is fortified with mascarpone cheese and a just a tiny bit of powdered sugar for a rich flavor that's never too sweet.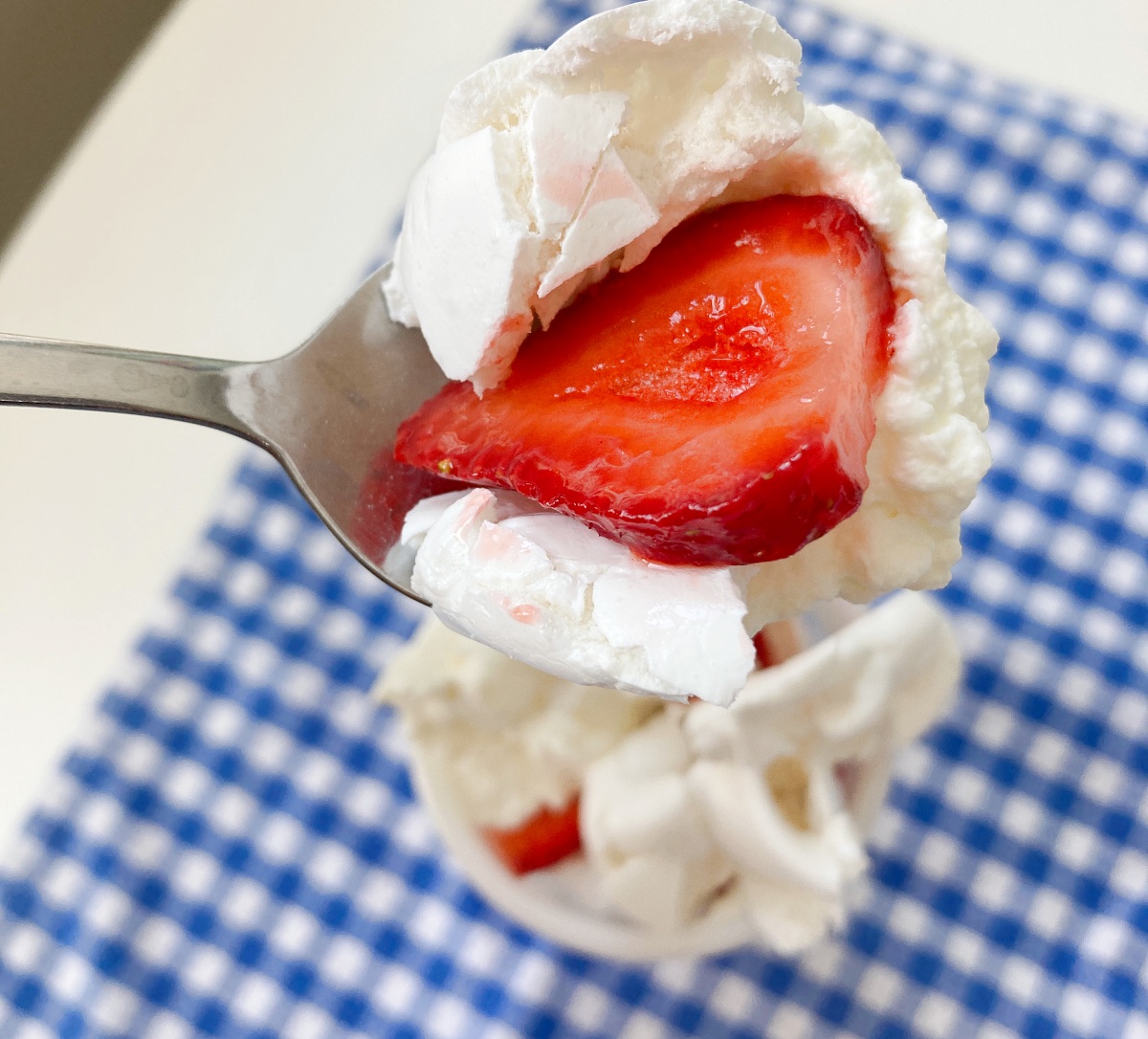 To assemble just layer the berries, broken meringue cookies, and cream in cups or small bowls and you've got a delightful English treat that's sure to please in any location.
Eton Mess
Serves 6-8
50m prep time
1h 40m cook time
282 calories
For the meringue cookies:
4 egg whites, room temperature
1 cup granulated sugar
1 teaspoon vanilla extract
1 teaspoon lemon juice
For the assembly:
1 1/2 lbs fresh strawberries, sliced
2 tablespoons lemon juice
1 tablespoon granulated sugar
2 to 4 tablespoons confectioners' sugar
2 cups cold heavy cream
1/2 cup mascarpone cheese
Preparation
Preheat oven to 200˚F. Whip egg whites and lemon juice together using electric mixer until soft peaks form. Gradually add sugar 1/4 cup at a time, whipping all the while. Add the vanilla and whip again until stiff peaks form.
Use a spoon to create dollop shapes with the meringue on a lined baking sheet spaced 2 inches apart. Bake for 1 hour, then reduce heat to 170˚F. Bake for another 30-40 minutes or until outsides of meringues are crisp. Allow to cool completely before assembling.
When ready to serve combine strawberries with lemon juice and and granulated sugar in a small bowl. Set aside.
Whip cream with powdered sugar until stiff peaks form. Then fold in mascarpone cream. Break meringues up and layer with cream and strawberries in individual serving cups. Serve immediately after assembling.
Recipe adapted from the New York Times
SKM: below-content placeholder
Whizzco for 12T