A Christmas classic.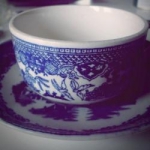 Rose Heichelbech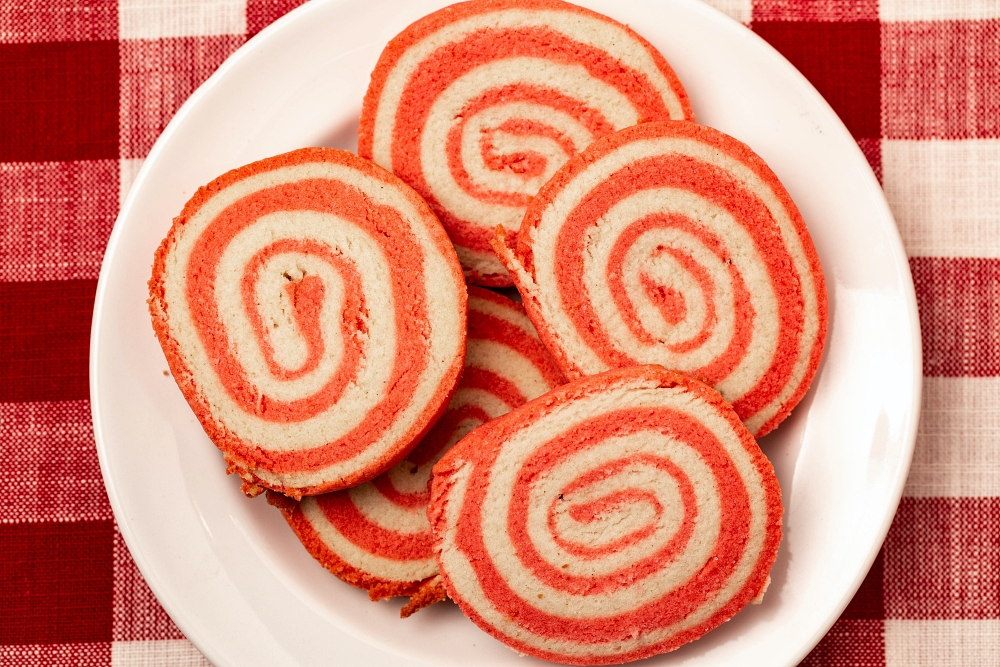 As a child one of the things that I enjoyed most about December was decorating the Christmas tree with my mom, a tradition that often occurred alongside making holiday cookies. My mom always had the best recipes and she could work with very little, yet still end up with yummy cookies. I think one year we made do with red and blue instead of red and green, but they still tasted good! One of her favorite cookies to make were pinwheel cookies. These cookies have a jolly look to them and can be made in colors that suit your tastes. They do take a little extra time to make the pattern, but they're so fun to prepare (and eat) that it's completely worth it in my opinion.
The basis of the dough is simply a sugar cookie recipe with enough sturdiness to hold up to rolling and cutting. You will need make sure your dough isn't too wet and also flour your work surfaces so that it doesn't stick. In this case sticky dough can ruin your rolls, so aim for a slightly drier dough. I have never had an issue adding just a little extra flour to get it there, but don't go overboard.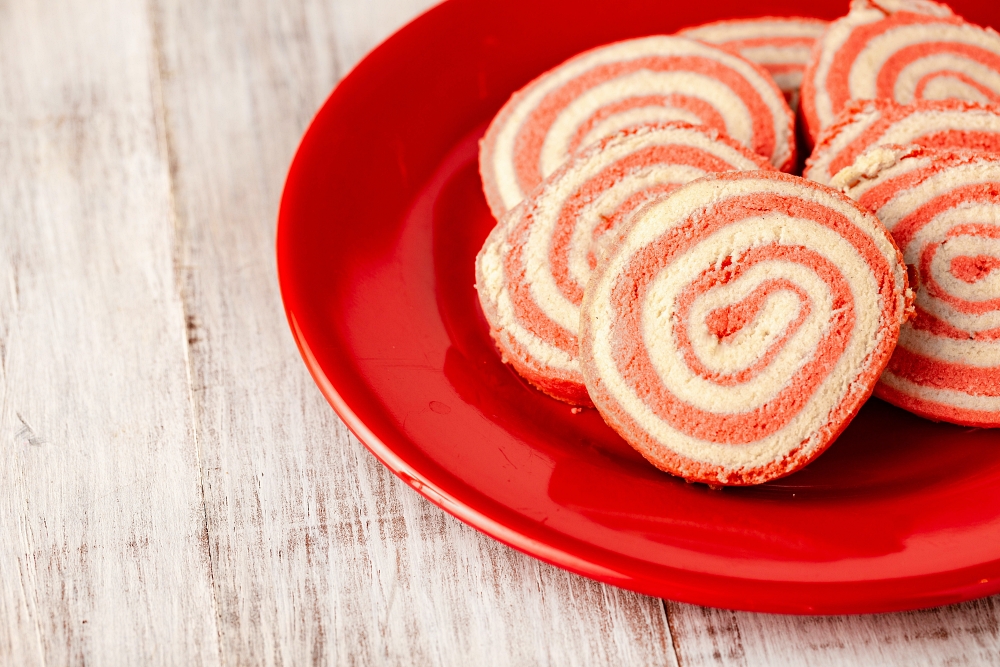 However many colors you're aiming for that's how many balls you'll divide the dough into. The easiest by far is to use cookie dough color (no food coloring) as one color and then either red or green as the other color. But, you can add a little cocoa to both color and flavor your dough all in one go. Yellow is probably the color that shows up the least, so in my experience it doesn't work well with this type of recipe.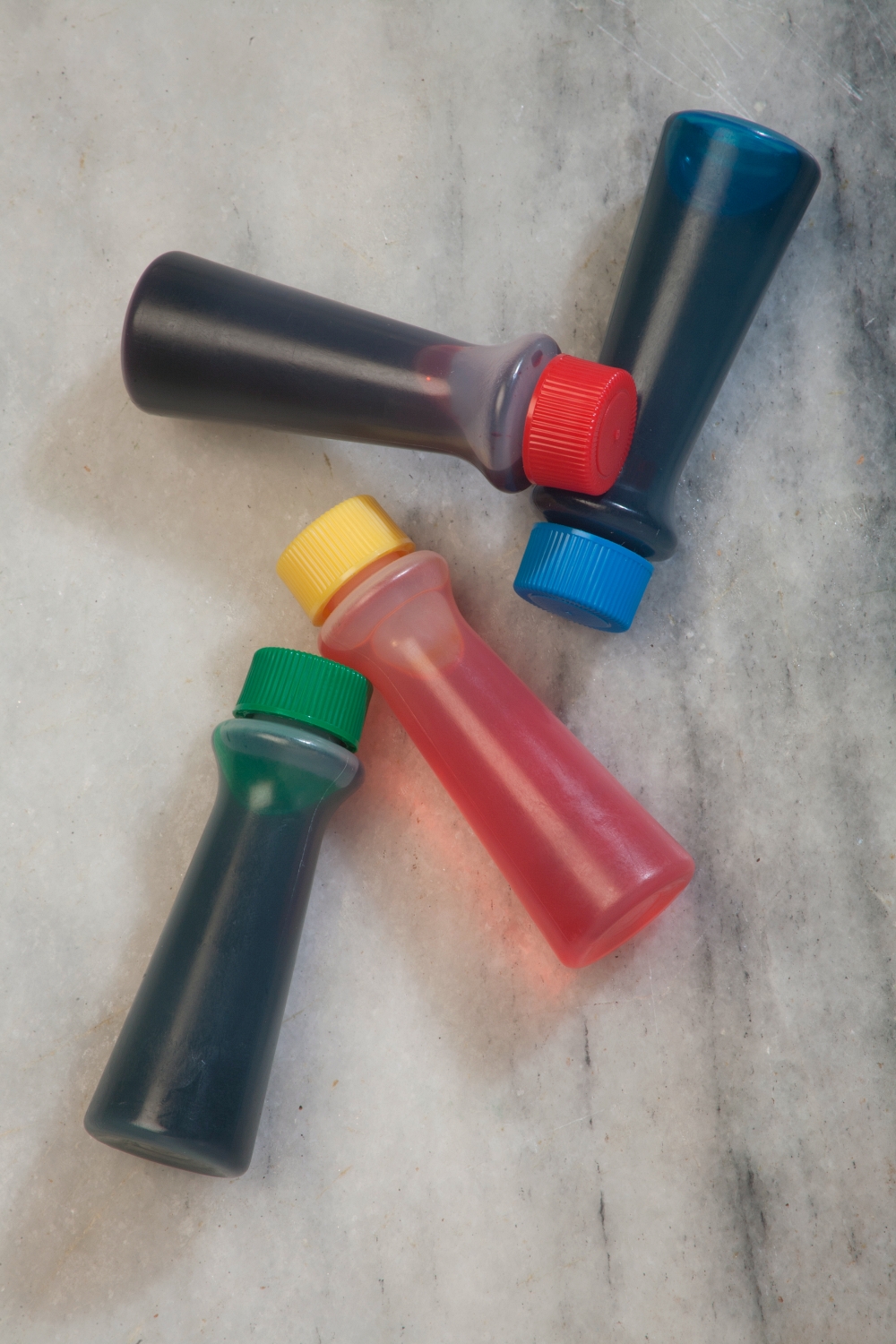 Once your dough is colored you'll need to roll it out into squares and then wrap and refrigerate them. The key to good cookies is often to chill them first so that they cooke evenly and correctly in the oven.
Next remove the parchment paper and stack one dough color on top of the other. Then roll this into a log shape. Put back into the fridge for an hour before baking. When you're ready to bake cut the log into 1/4″ slices.
These only need 12-15 minutes to bake, but can become burned pretty easily so keep an eye out. The hardest part is letting these cookies cool before digging in, but the layers can fall apart if you try to move them too much while still hot.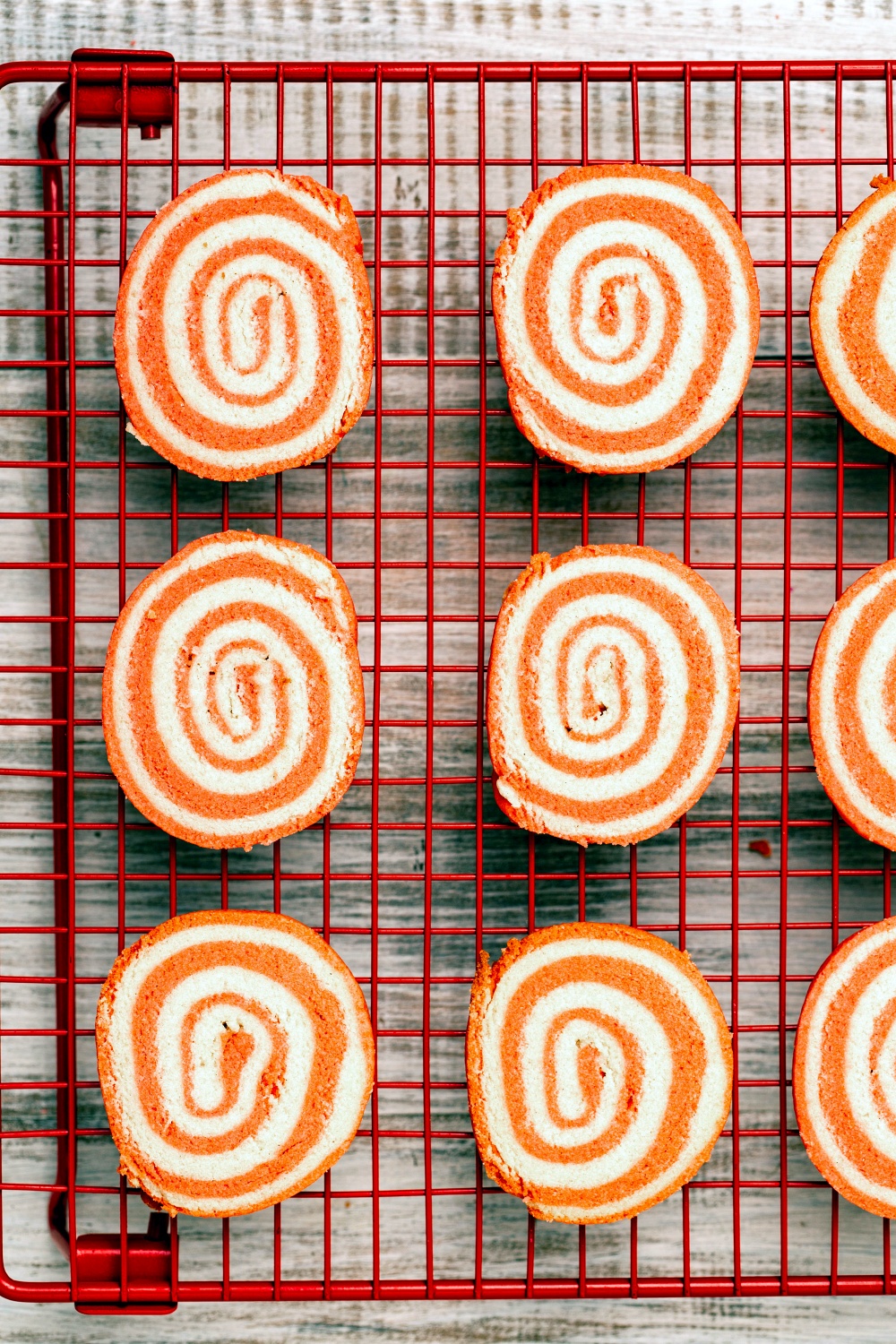 Once they're cooled off these cookies made an eye-catching addition to any holiday spread or cookie tray. And, if you make them with little ones you can make more than just treats- you could be making memories that last forever.
Holiday Pinwheel Cookies
Makes 16
3h prep time
15m cook time
Ingredients
2 cups all-purpose flour plus more for dusting
1/2 tsp baking powder
1/4 tsp salt
12 Tbsp butter, room temperature
3/4 cup granulated sugar
1 egg
2 tsp vanilla extract
1/2 tsp liquid food coloring each in your chosen colors
Preparation
In a medium mixing bowl combine dry ingredients. In a larger bowl cream together butter and sugar until fluffy. Add egg and vanilla and blend until combined.
Add dry ingredients to wet a little at a time. Divide the dough into 2 or 3 sections depending on how many colors you'd like your pinwheels to be, counting the plain dough as one of the colors. If only using one colored dough and one plain dough divide into 2 balls for example.
In mixing bowl add food coloring to dough, keeping each color in separate bowls. Clean utensils between colors or use new ones so that colors don't become muddled.
Roll each section into a ball and then cover with plastic wrap. Refrigerate 1 hour.
Remove dough balls from fridge. Roll each one flat, flouring your work surface well each time. Recipe yields 2 10" square rectangles. Dough is prone to sticking so a dough scraper will be useful here.
Stack squares on cookie sheet using parchment paper between the first layer and the pan and then between each dough layer. Refrigerate for at least 30 minutes.
Unwrap dough squares and stack them one on top of the other on a floured countertop. If using only 2 colors make 2 sets of these doughs. Line up the edges as much as possible. Use a pizza cutter to trim any uneven edges.
Carefully roll into a log shape using parchment paper as a sling to help you get the roll started. Gently press seam closed. Wrap in plastic wrap and refrigerate 1 hour.
When ready to bake preheat oven to 350˚F. Remove dough log(s) from refrigerator. Cut into 1/4" thick slices. Discard ends where dough isn't lined up. Place on baking sheets lined with parchment or silpat liners. Bake for 12-15 minutes or until cookies look firm. Do not overbake.
Allow to cool for 5 minutes before transferring to wire racks to cool completely.
Recipe adapted from Bread Booze Bacon.
SKM: below-content placeholder
Whizzco for 12T