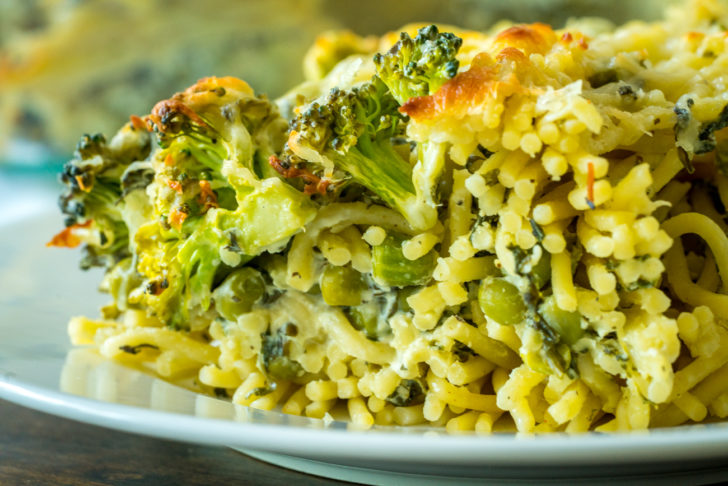 Does anyone else remember getting swept up in the green goddess dressing fad?? For a little while there it seemed like green goddess anything was all the range, what with it being cool, creamy and refreshing, and, though it's not quite as popular as it once was, we still love it and order it every chance we get, so when it occurred to us to try making a green goddess dressing-inspired spaghetti bake…oh my gosh, it's like the heavens opened up and sang to us – we knew it was a great idea!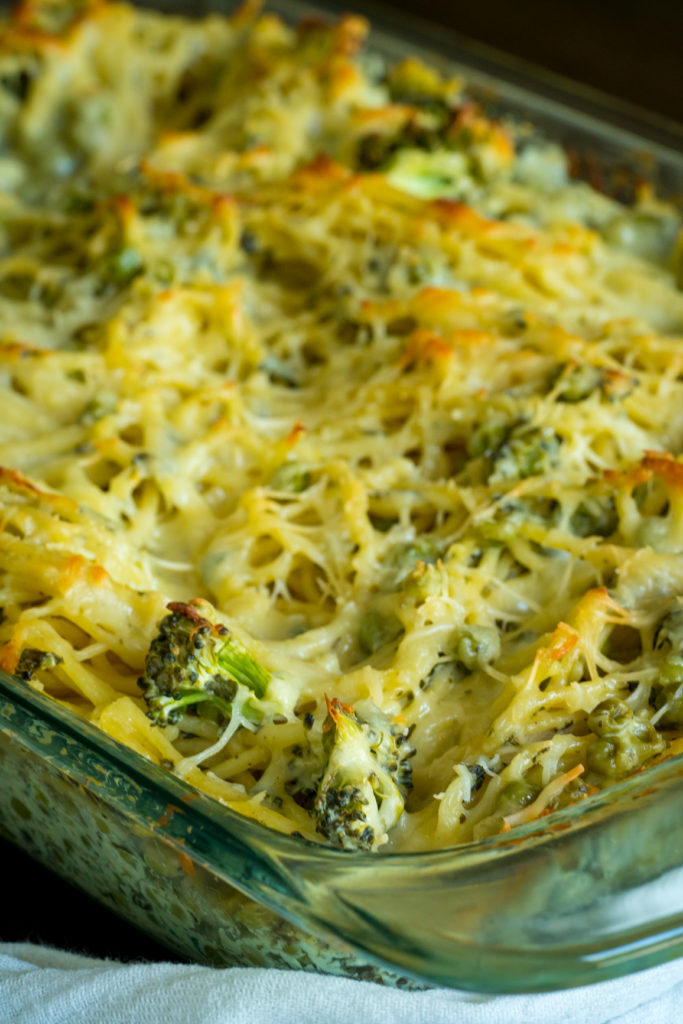 In an attempt to keep things at least slightly healthier, we lightened this recipe up from most of our other spaghetti bakes. It's packed full of spinach, broccoli and peas, definitely covering the "green" element of the dish, then we used Greek yogurt and low-fat cream cheese and mozzarella to lend a subtle creaminess that tastes amazing, but it still healthier than your average pasta bake. You could even swap in whole wheat spaghetti if you really want to be virtuous, but we couldn't quite bring ourselves to do that just yet.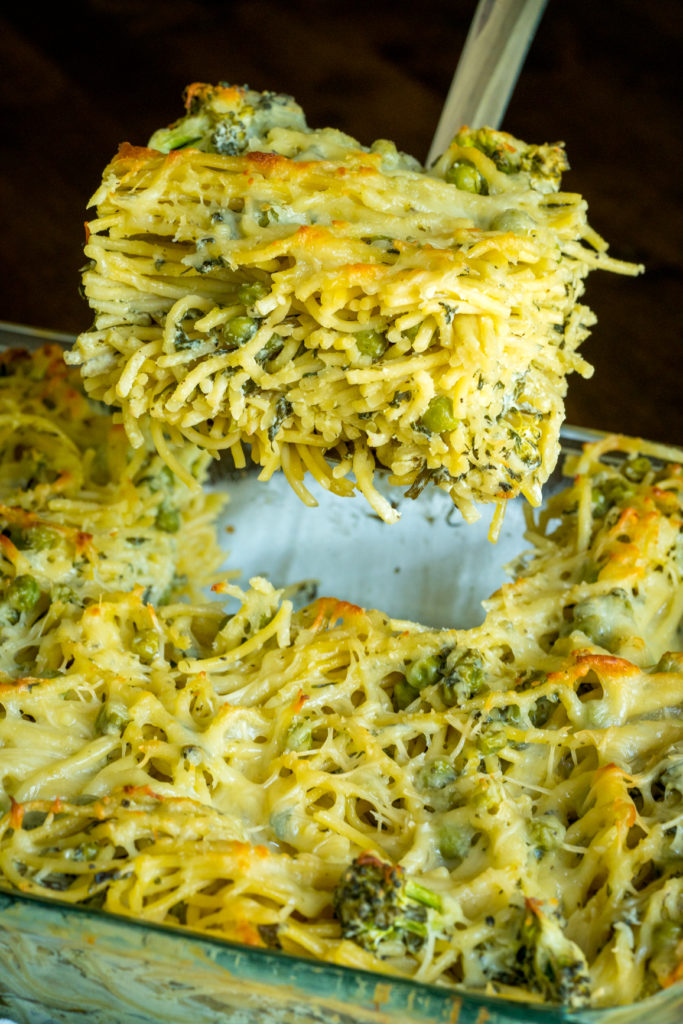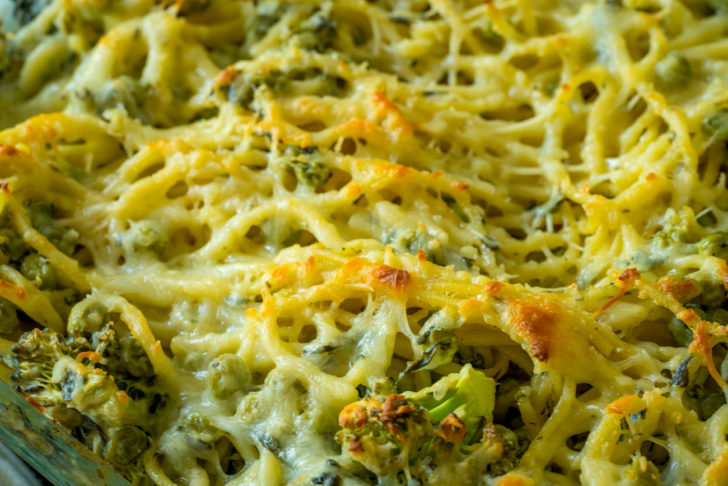 Once you've got your veggies, pasta and cream sauce taken care of, you just toss everything together, give it a light dusting of cheese and pop it in the oven. You get a perfectly melted and bubbly casserole dish of green goddess perfection that you'll be obsessed with after the first bite, you'll see! This is easy to prep ahead of time and just bake when you're ready, but it's also easy enough to put together on a weeknight. Everyone will love how yummy it is, and you'll love that they're all getting a hearty serving of veggies!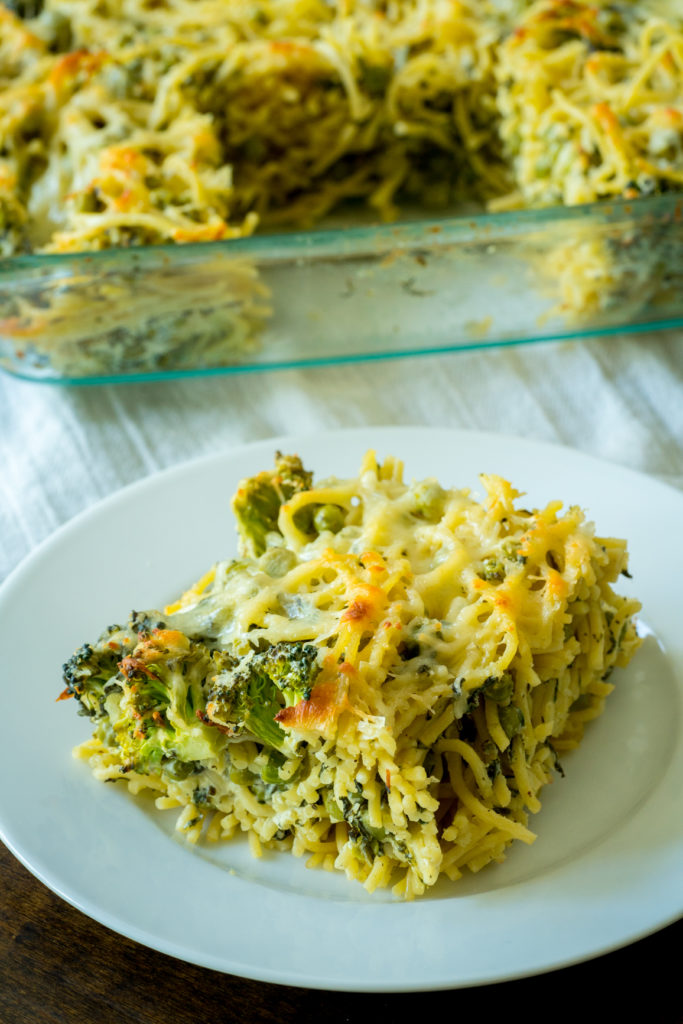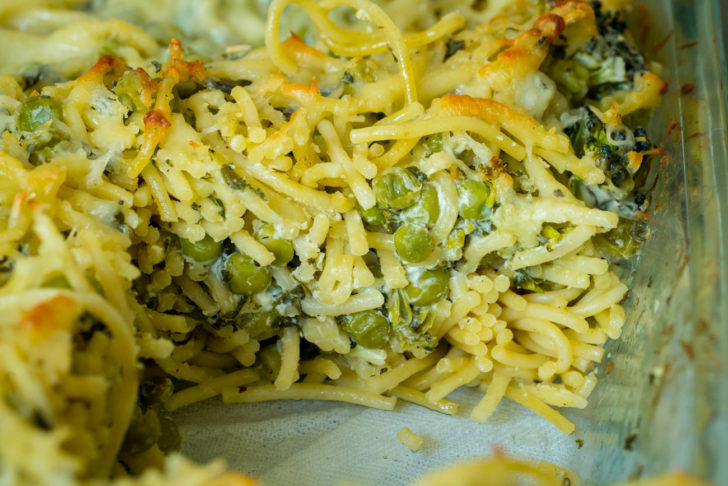 Green Goddess Pasta Bake
Ingredients
1 (16 oz.) package spaghetti, cooked and drained
4 cups spinach, roughly chopped
2 cups broccoli florets, steamed
1 cup frozen peas
2 cloves garlic, minced
1 (8 oz.) package low-fat cream cheese
2/3 cup Greek yogurt
1/2 lemon, juiced
1 cup low-fat mozzarella cheese
1/4 cup parmesan cheese, grated
1 teaspoon onion powder
1 teaspoon dried parsley
1 teaspoon dried basil
2 tablespoons extra-virgin olive oil
kosher salt and freshly ground pepper, to taste
Preparation
Preheat oven to 350º F and lightly grease a 9x13-inch baking dish.
Heat olive oil in a large pan or skillet over medium-high heat and sauté spinach until just wilted. Add garlic and cook for 30-45 seconds, or until fragrant, then add peas and toss together.
Season with salt, pepper, onion powder, parsley and basil, mixing everything together until evenly coated.
Reduce heat to medium and add low-fat cream cheese and Greek yogurt to mixture, stirring until smooth, then stir in lemon juice and remove from heat.
Place cooked spaghetti and broccoli in greased baking dish, then pour spinach sauce over the pasta, using tongs to coat noodles and broccoli in sauce.
Sprinkle mozzarella and parmesan cheeses on top, then place in oven and bake for 25-30 minutes, or until cheese is melted and bubbly.
SKM: below-content placeholder
Whizzco for 12T