Calling all corner-piece lasagna fans!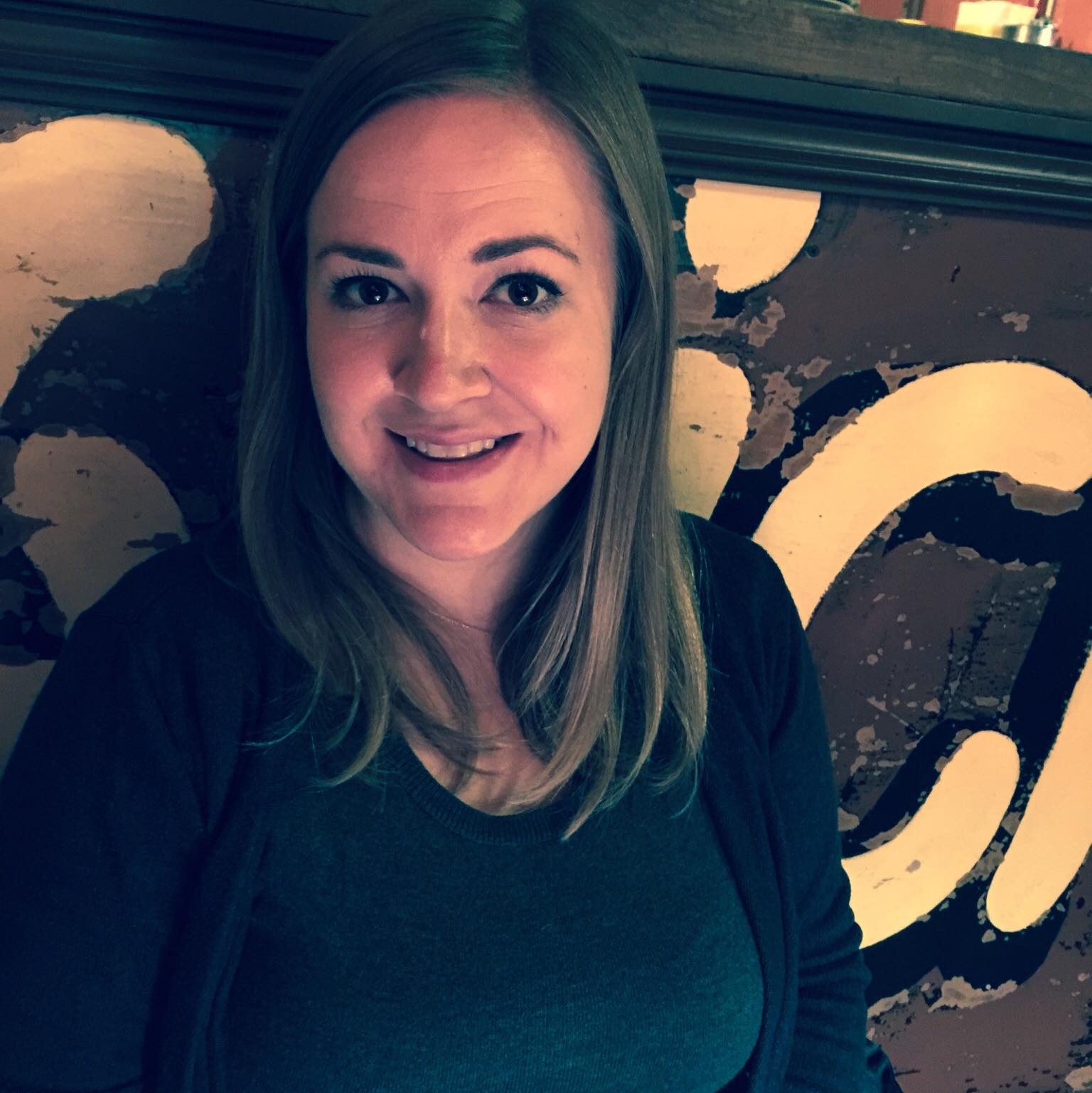 Kristy Norrell

When you share or print a 12 Tomatoes recipe,
you're making mealtime meaningful.
100%
of the Share to Care sponsor fees fund meals for families in need.
Learn More
CLICK ANY LINK BELOW TO JOIN OUR CAUSE!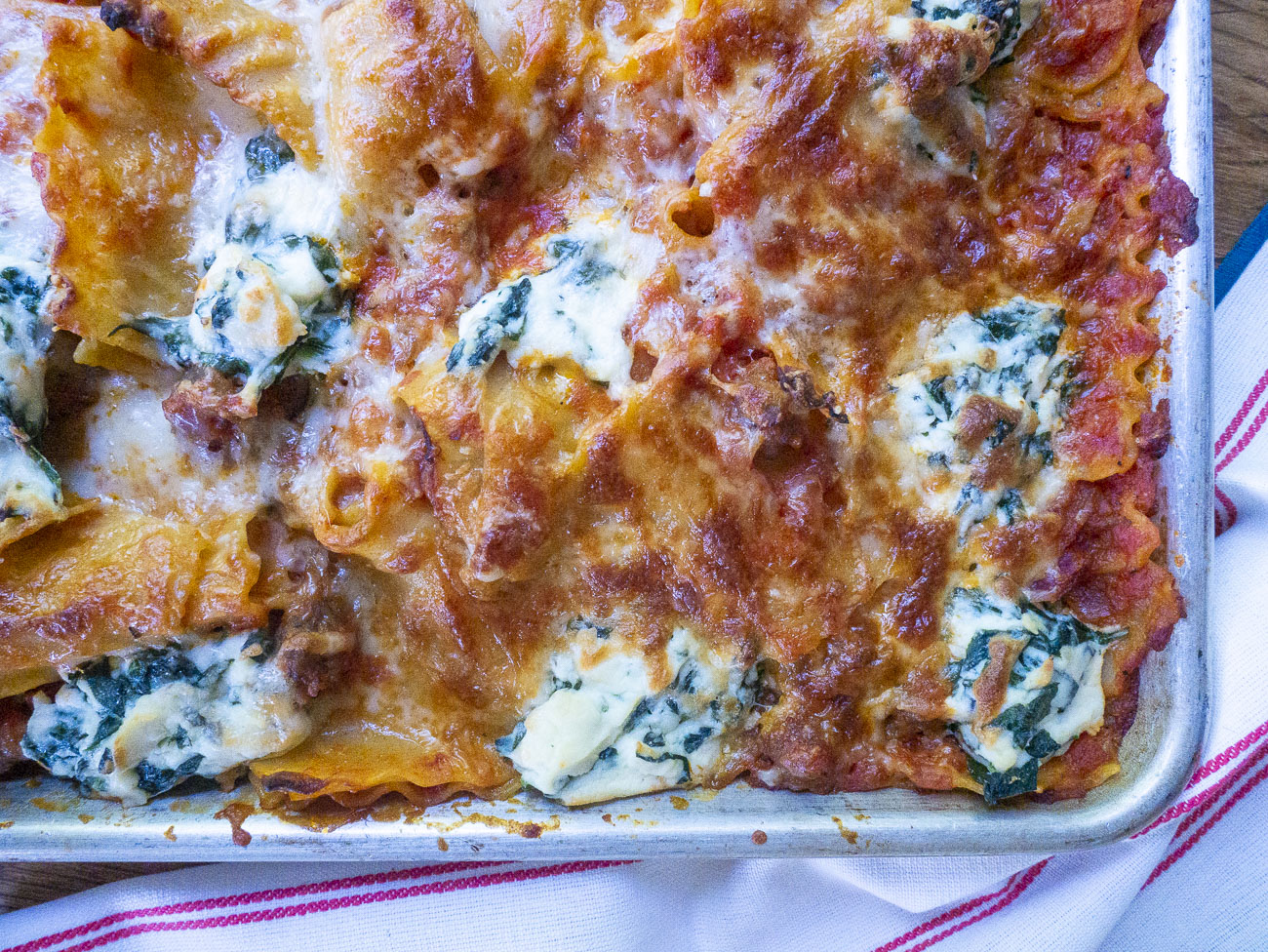 As soon as I saw this recipe circulating the internet, I knew I had to make it. Just look at that title — Crispy Sheet Pan Lasagna. That sounds like a dream! Lasagna with no layering and tons of crispy edges? That's all I could ever want. I love lasagna but I'm pretty lazy about it, so I had to give Giada's recipe a try. Here's how it went: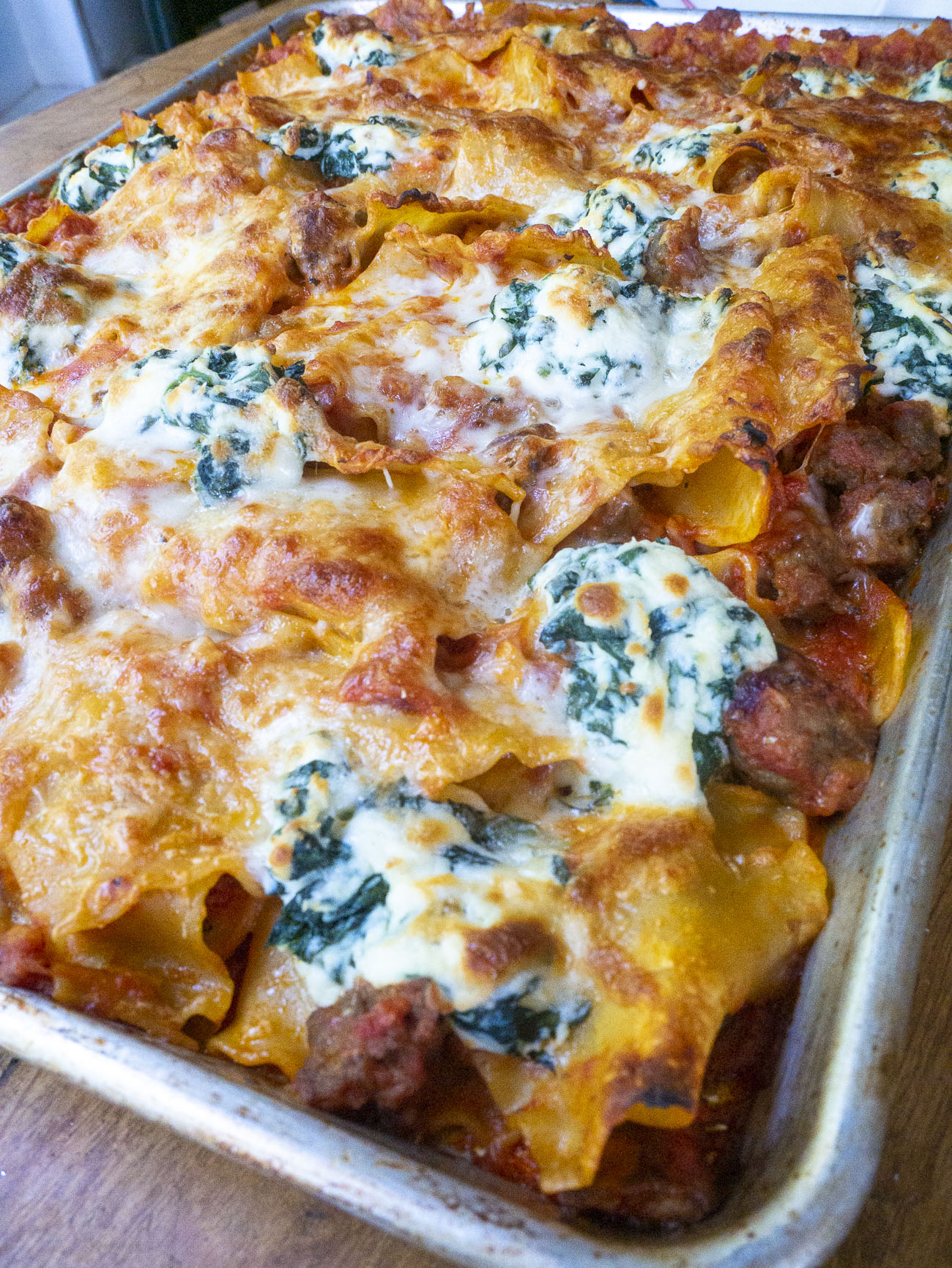 Giada has you start by cooking down some baby spinach in olive oil with a bit of garlic and chili flake. After it has wilted, you squeeze out any excess water and cut it into strips with some kitchen scissors. (A less messy way to go about getting chopped spinach — I like it.)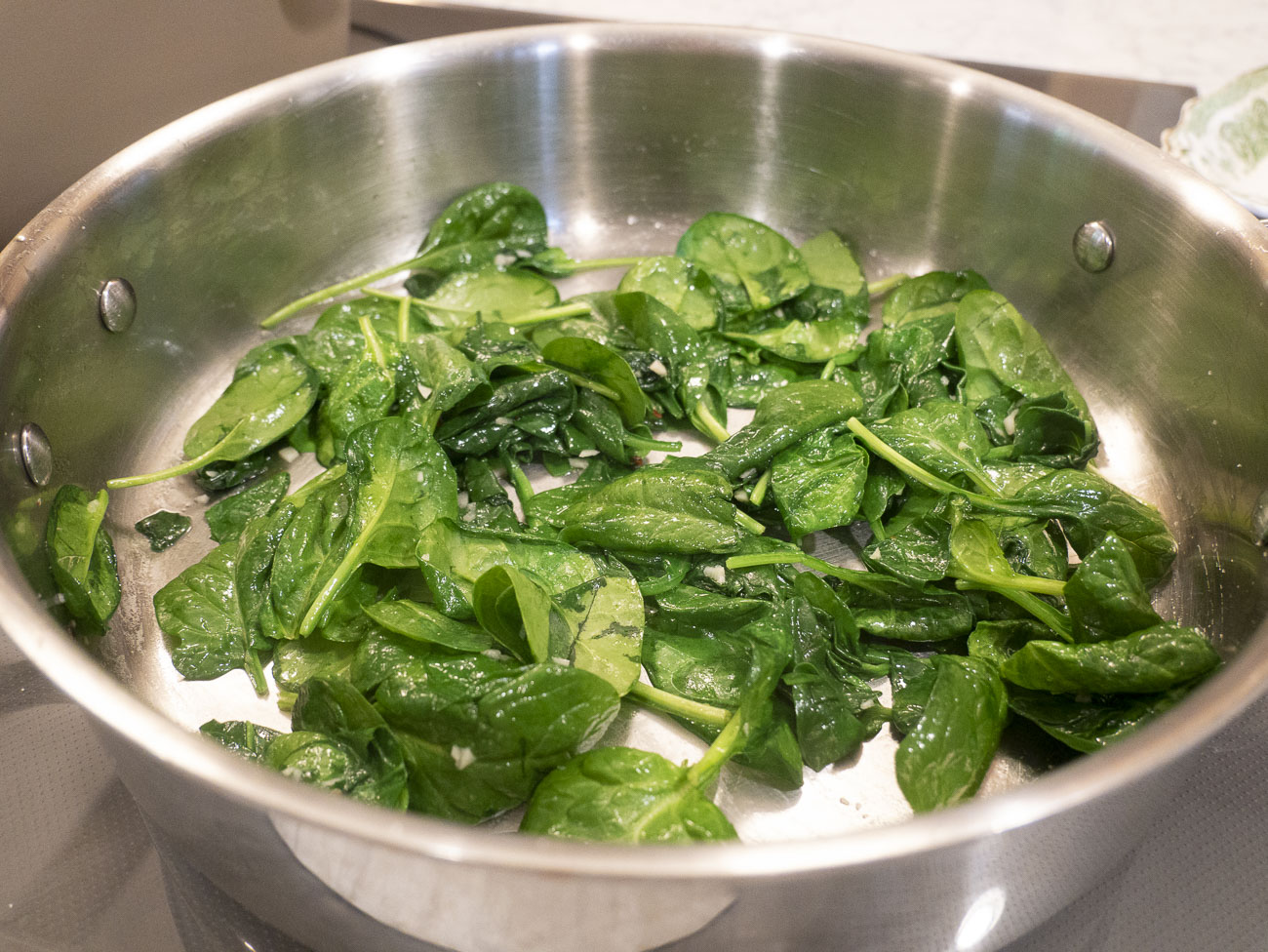 Then you mix that spinach into some ricotta and set it aside.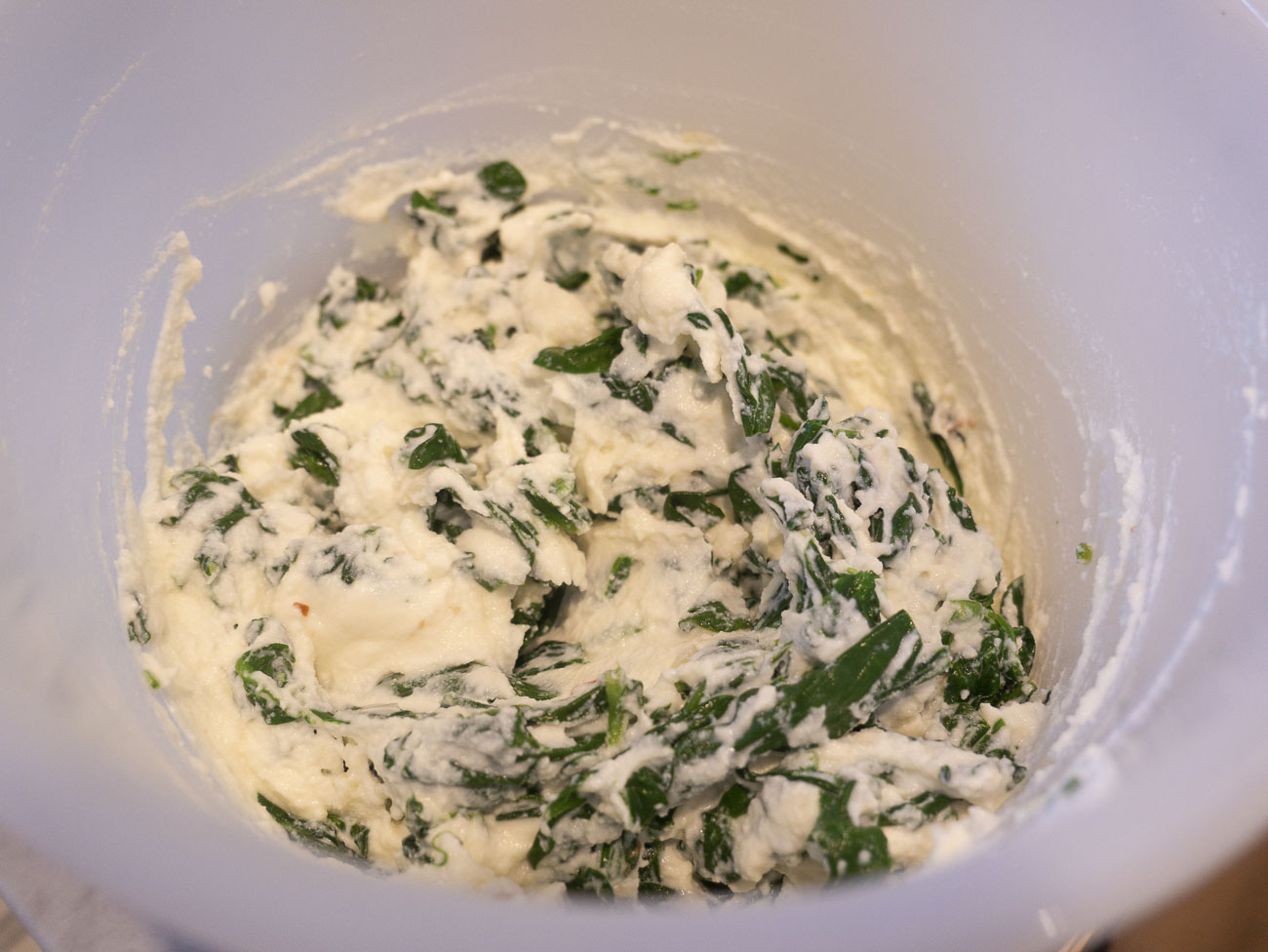 In the same skillet you used for the spinach, you brown up some Italian sausage, breaking it into bite-sized chunks as it cooks. I accidentally grabbed sweet Italian sausage and I would not go that route in the future — spicy or mild would be much better here. The sweet was TOO sweet. Speaking of which, she asks you to add red onion to the skillet too, which imparts a little more sweetness than its white or yellow cousins.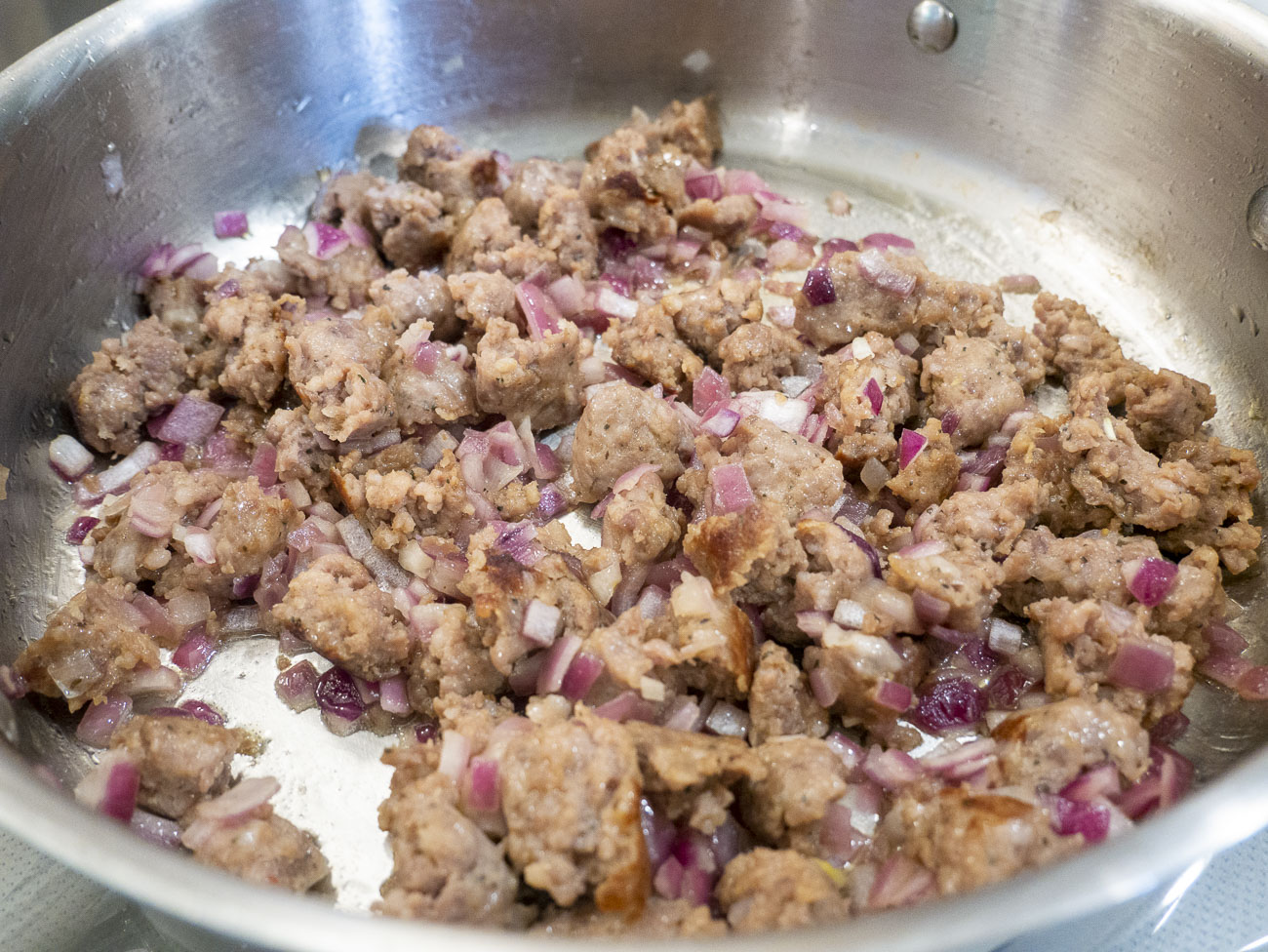 While the sausage cooks you boil a large pot of water and then you have two choices. You can find taccole pasta, which are basically like tiny lasagna shapes. (I could not find them.) Or, you can break lasagna sheets into chunks and boil them. I went that direction.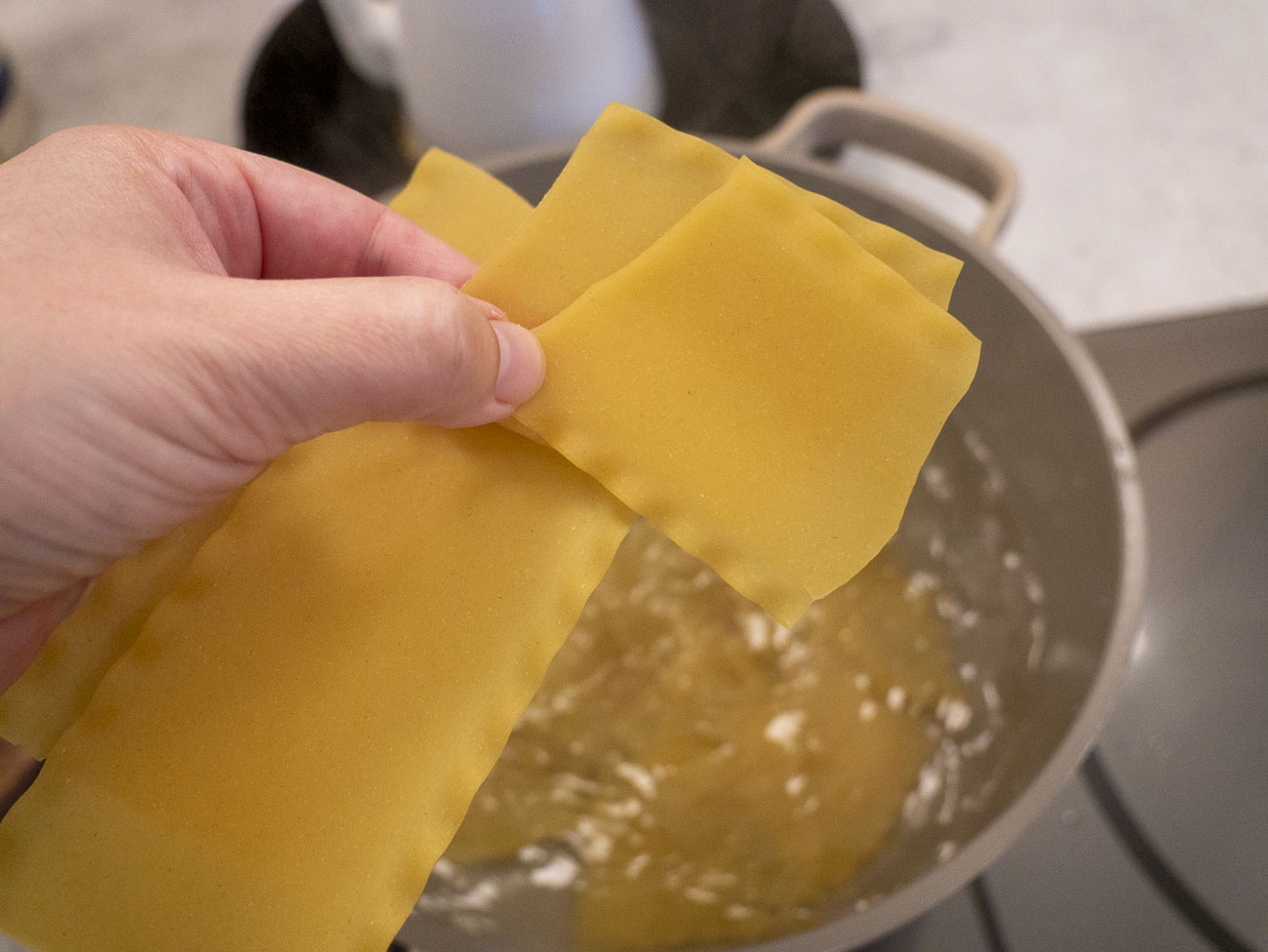 You add some marinara to the sausage and then stir in some mozzarella, which is good news, I was concerned about the cheesiness.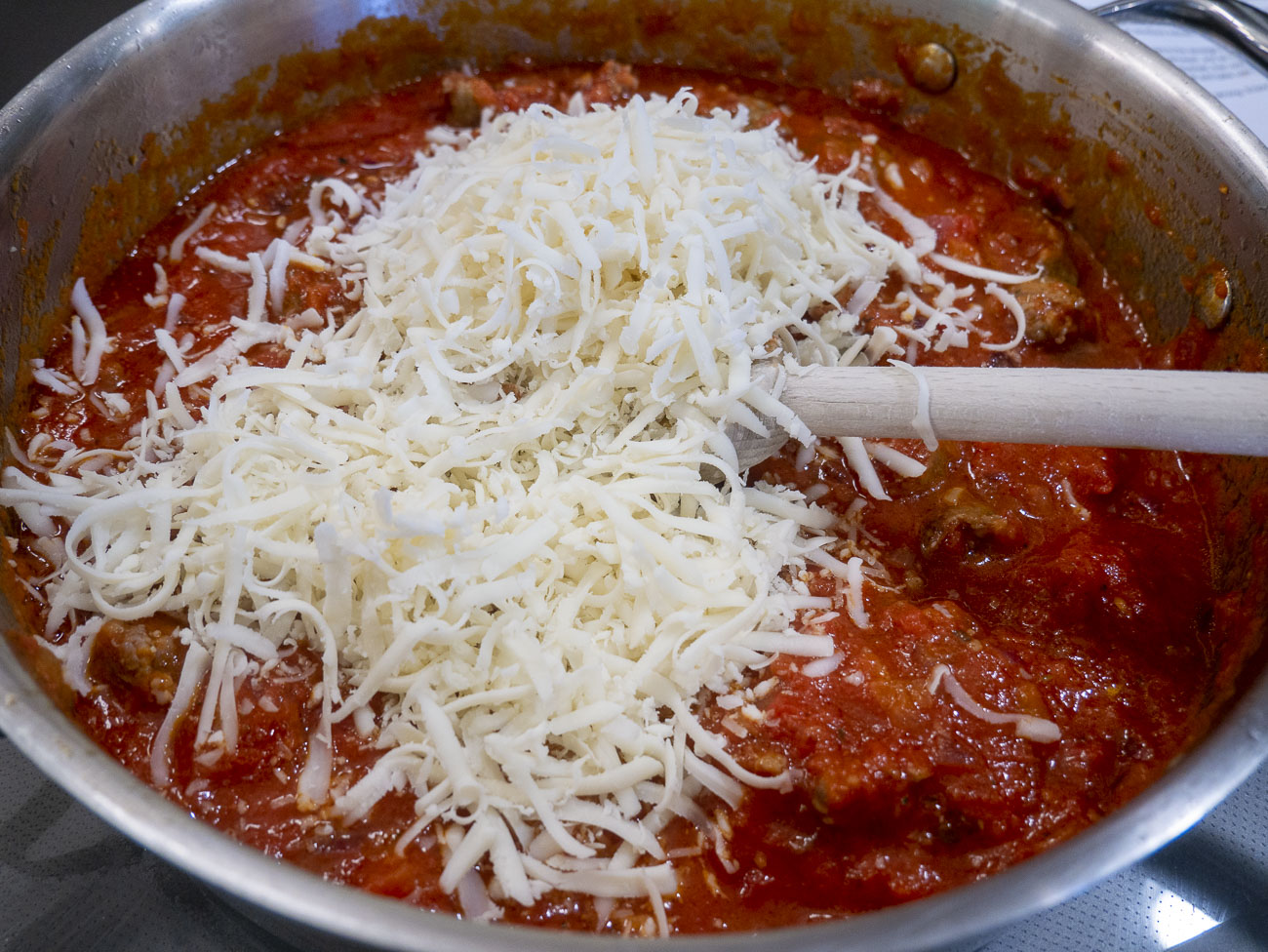 You stir in the cooked pasta (which really wants to stick together) along with some parmesan and a bit of pasta water.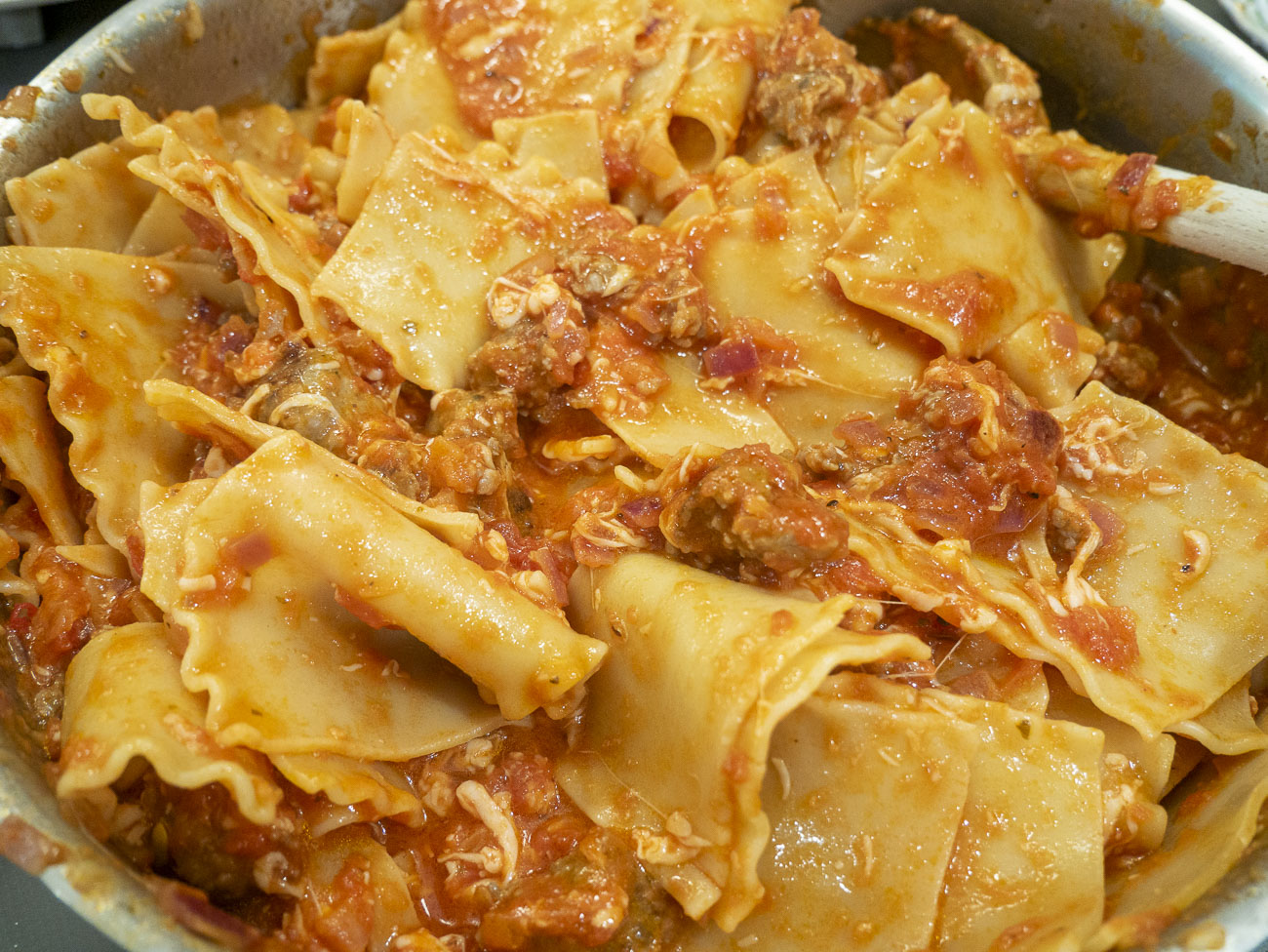 Then you spread that all out on a sheet pan. No stacking, no layering — just spread it out!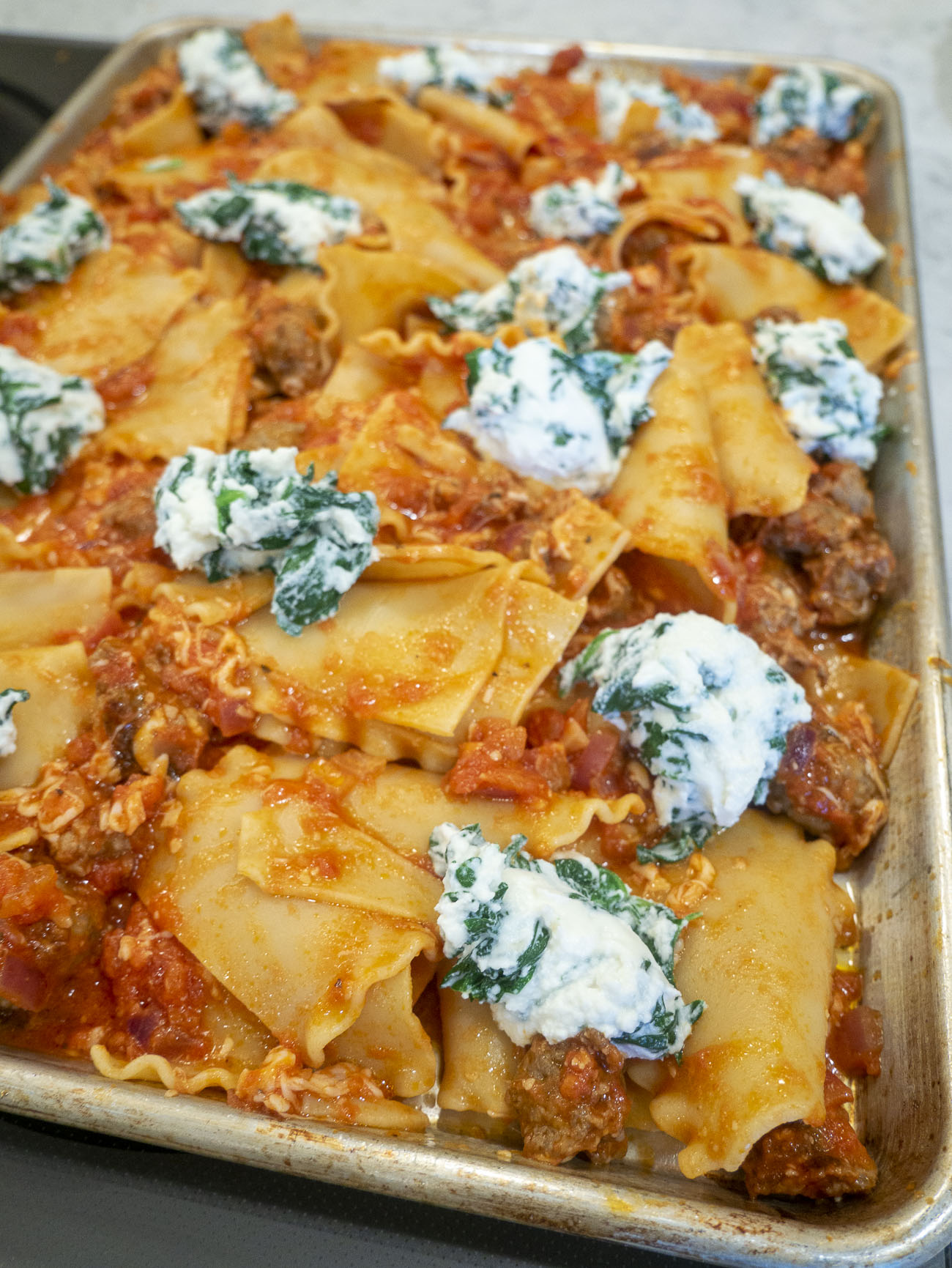 You dollop the ricotta/spinach mixture around the pan and then top it with more mozzarella. (I didn't need to worry about the cheesiness after all.)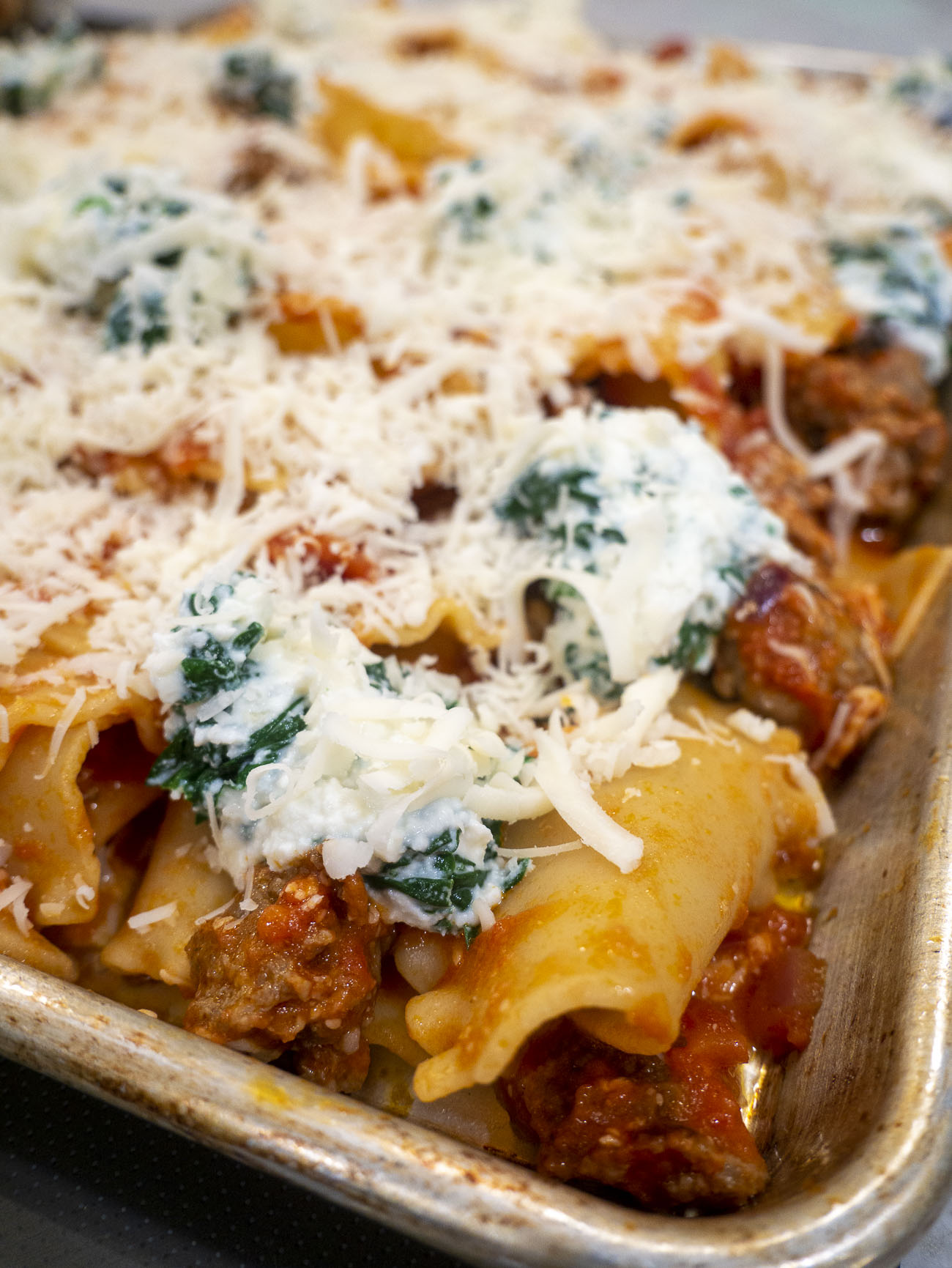 And then you bake for thirty minutes.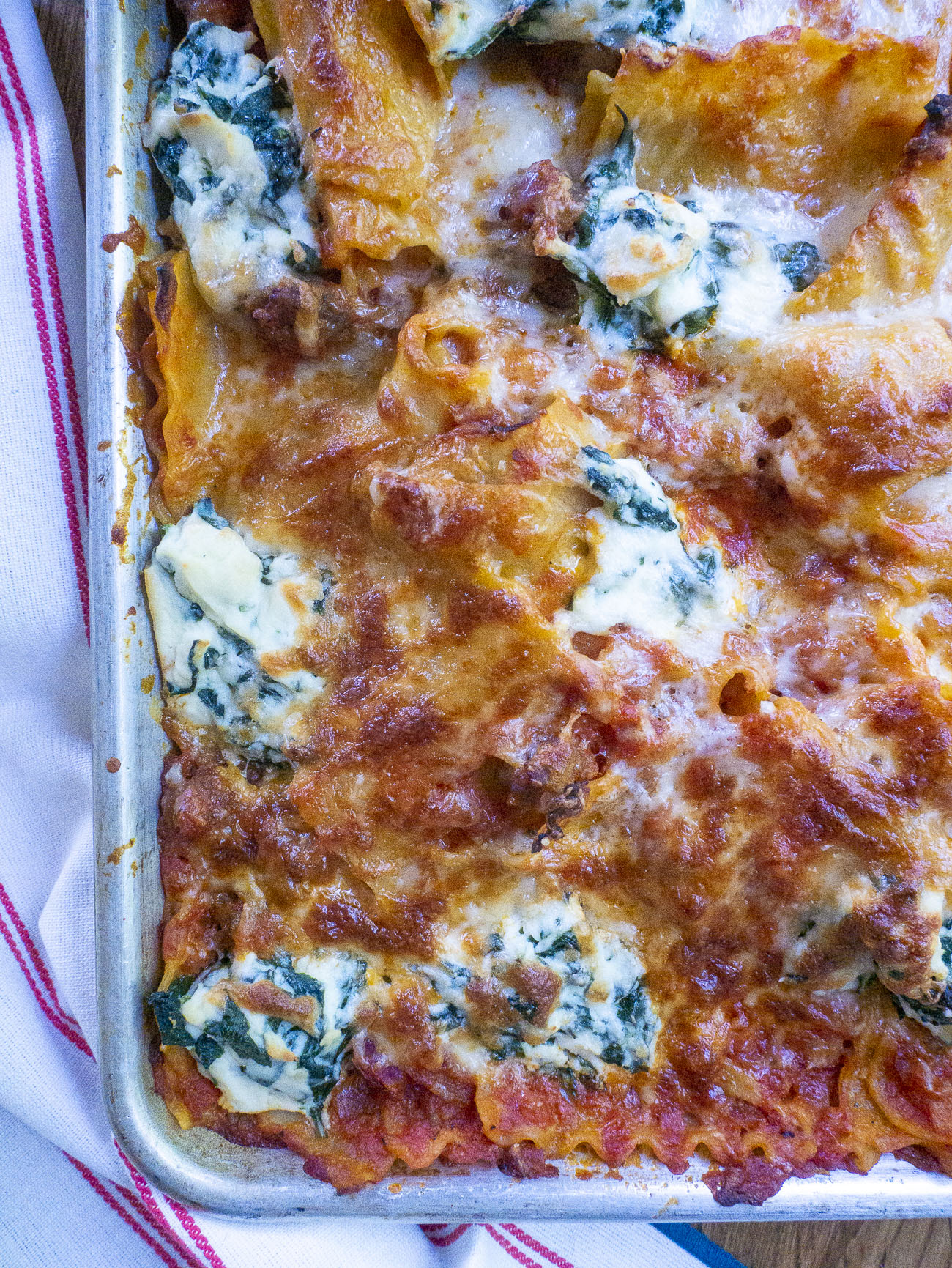 And let me tell you — you get SO many crispy bits. But there are plenty of cheesy bits too. And creamy ricotta pockets. Is it less work than a traditional lasagna? Not really, no. But if you're an edge-piece lasagna person then this is the lasagna for you. And besides, there's surely a way to cut a corner or two here to simplify matters more.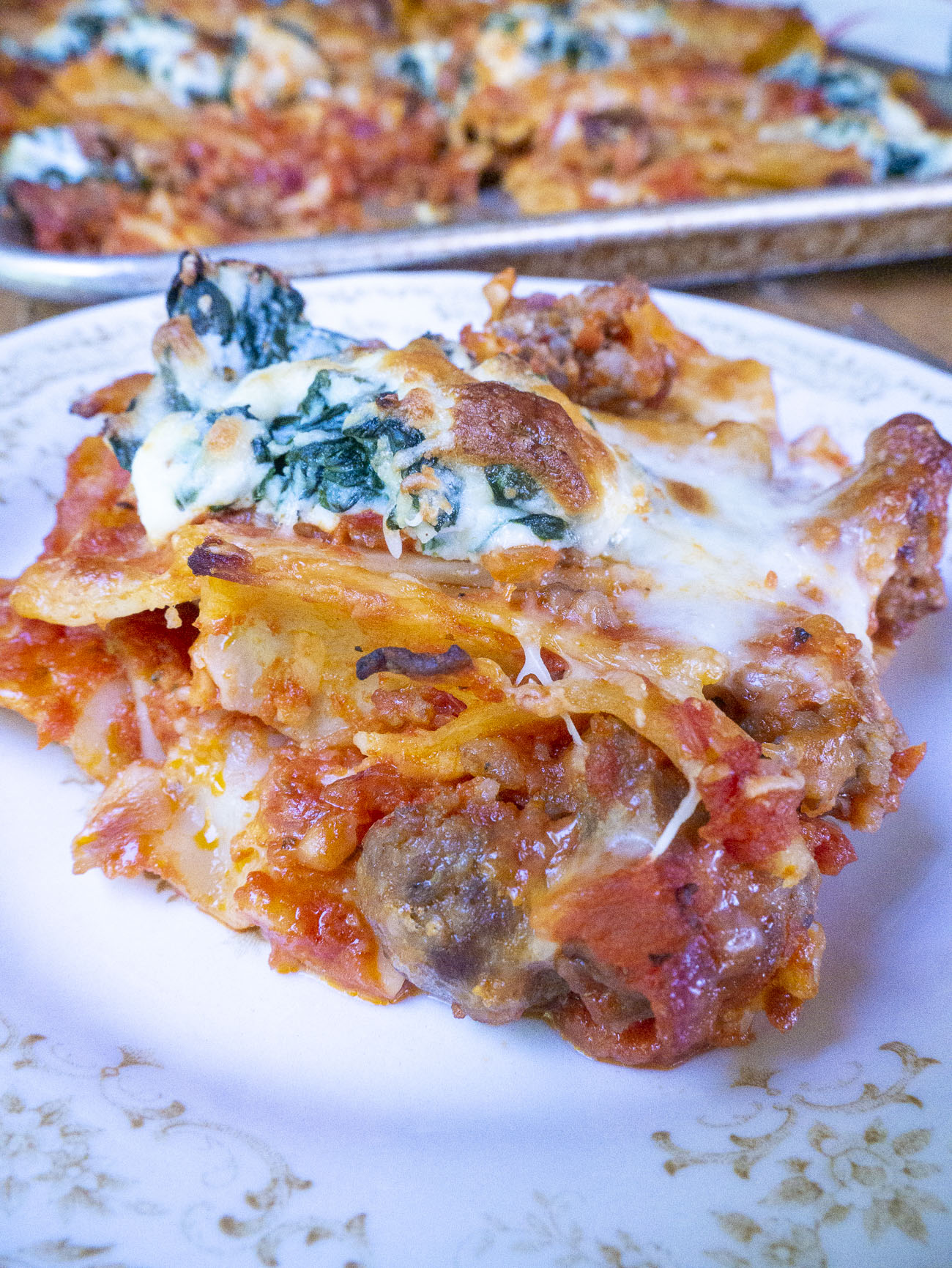 Giada's Crispy Sheet Pan Lasagna
Serves 6
15m prep time
45m cook time

When you share or print a 12 Tomatoes recipe,
you're making mealtime meaningful.
100%
of the Share to Care sponsor fees fund meals for families in need.
Learn More
CLICK ANY LINK BELOW TO JOIN OUR CAUSE!
Ingredients
4 tablespoons olive oil, divided
1/2 teaspoon kosher salt
1 lb dry lasagna noodles, broken into 2-inch pieces (or taccole pasta)
2 cloves garlic, minced
1/4 teaspoon red pepper flake
1 (5 oz) container baby spinach
1 cup part skim ricotta cheese
1 lb spicy Italian sausage, casings removed
1 red onion, diced
4 cups marinara sauce
2 1/2 cups mozzarella cheese, shredded and divided
1 1/2 cups parmesan cheese, freshly grated and divided
Preparation
Preheat oven to 425°F and grease a 12x17-inch baking sheet with 1 tablespoon of the olive oil. Set aside.
In a medium skillet over medium heat, heat 1 tablespoon olive oil along with the garlic and pepper flakes. Cook until fragrant, stirring often, about 1 minute.
Add spinach and salt and cook, again stirring often, until the spinach is mostly wilted, about 1 more minute.
Remove spinach to a colander and press out any excess liquid. Remove spinach to a bowl and using kitchen scissors, cut spinach into small pieces. Add ricotta and stir to combine. Set aside.
Wipe out skillet and set over medium heat. Add remaining olive oil, then add sausage and brown undisturbed until the first side has browned, about 3 minutes. Using a wooden spoon, break apart the sausage into bite-sized pieces. Continue cooking, stirring frequently and breaking apart the meat as needed, until sausage is cooked through and lightly brown, about 5 minutes more.
Add onion to skillet and cook until starting to soften, 3 minutes more. Remove from heat.
While sausage cooks, bring a large pot of salted water to a boil over high heat. Cook pasta 1-2 minutes less than package directions indicate, stirring often. Drain and reserve 1/2 cup pasta water.
While pasta cooks, add marinara to the sausage mixture. Add pasta water, drained pasta, 1 cup of the mozzarella, and 1/2 cup parmesan, and stir to combine.
Spread mixture on prepared baking sheet, then dollop with the ricotta mixture. Sprinkle with remaining mozzarella and parmesan and bake until pasta is tender, sauce is bubbly, and top is lightly browned, about 30 minutes.
Let rest 5 minutes before slicing and serving. Enjoy!
Recipe from Giadzy.
SKM: below-content placeholder
Whizzco for 12T