We just can't get enough.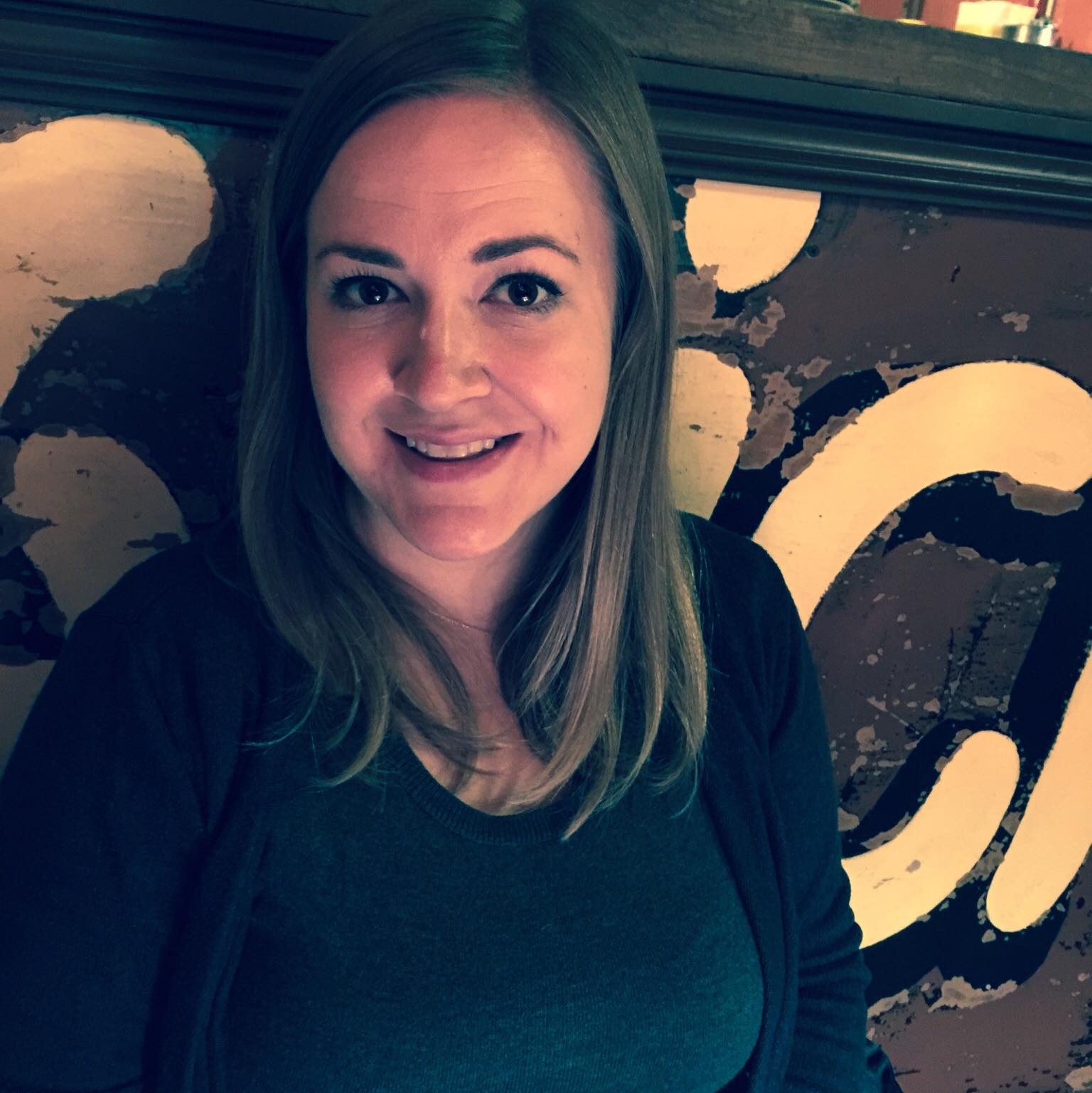 Kristy Norrell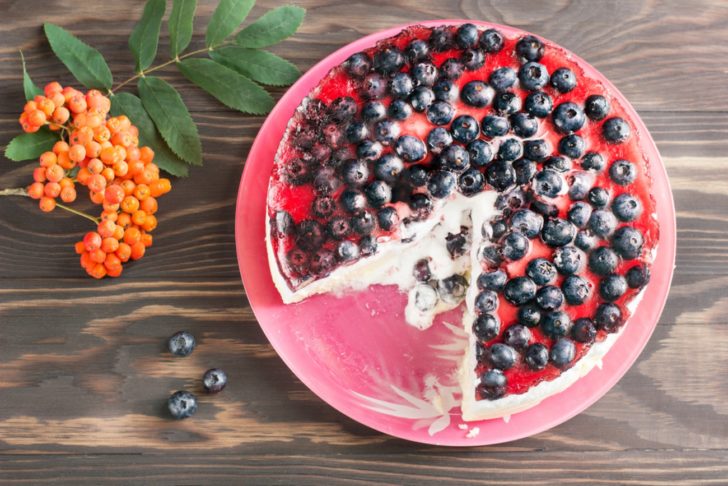 You probably know as well as we do, it's hard to resist a good cheesecake. There's just no match for that sweet and creamy goodness. But making a crust and dealing with baking in a water bath can be a pain, which is why we love German Cheesecake so much. It's simple and easy to make and is a little bit lighter than its American counterpart. This one here has a light and fluffy layer of meringue and is finished with a beautiful jellied blueberry layer, so while it does have a few steps to it, we promise none of them are hard. And all of them are well worth it!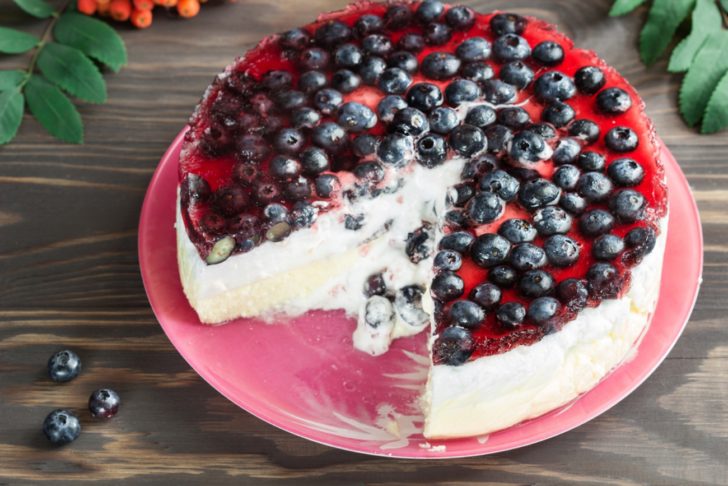 German cheesecake either has a rolled pie crust or no crust at all, and it uses quark rather than cream cheese. Quark is a soft, fresh cheese with a mellow tang and a creamy consistency. It's common in Germany and many European countries, but it's hard to find in the United States. It's easy to make your own, but cottage cheese is a good substitute; you just need to puree it in the blender first to get a similar consistency. The cheesecake layer here is tender and fluffy with a delicious mellow tang.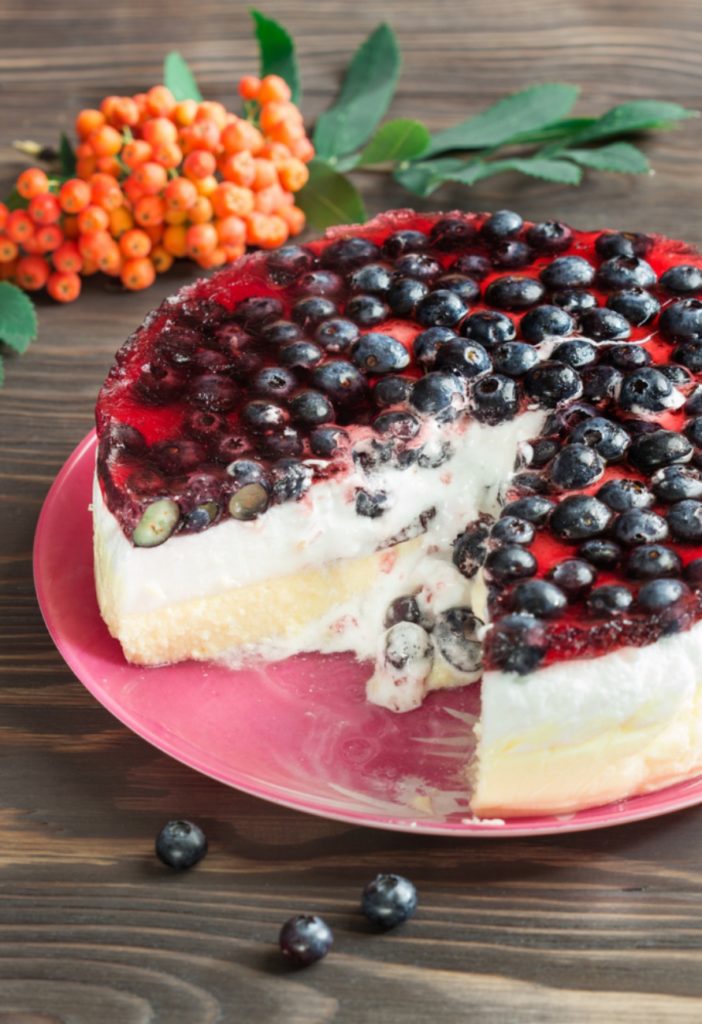 We've used an easy stovetop meringue as the middle layer. Because the sugar and syrup are cooked on the stove, they cook the eggs as they're added and there's no need to brown the meringue in the oven. The meringue brings even more levity to this beautiful cake. It's like eating a sweet little cloud. The final touch, and what we think might be the piece de resistance, is a final layer of blueberry gelatin and fresh blueberries. The sweet pop of fresh blueberries nestled in jello against the creamy, fluffy layers beneath is just heavenly.
German Cheesecake
Serves 8-10
1 hour active, 3 hours inactive
Ingredients
Cheesecake:
1 cup granulated sugar
1 cup (2 sticks) butter, softened
6 eggs
3 1/2 cups cottage cheese, pureed in a blender
1/2 cup cream of wheat
3 tablespoons fresh lemon juice
1 teaspoon vanilla extract
1/2 teaspoon salt
Meringue:
1/4 cup granulated sugar
1/4 cup light corn syrup
3 tablespoons water
2 egg whites
1/8 teaspoon cream of tartar
1/4 teaspoon salt
Blueberry Topping:
1 1/2 cups fresh blueberries, divided
1 cup water, plus 1 tablespoon cold water
1/4 cup granulated sugar
1 tablespoon unflavored powdered gelatin
Preparation
Preheat oven to 325°F and prepare a springform pan by placing a round of parchment paper on the bottom and then greasing the bottom and sides with butter or nonstick spray.
In a medium bowl, beat sugar and butter with an electric mixer on medium-high until light and fluffy, 3-4 minutes.
Add eggs, two at a time, beating after each addition. Add vanilla and lemon juice, mix on low until combined.
Add pureed cottage cheese and mix on low. Then, add cream of wheat and mix until incorporated.
Pour batter into prepared springform pan and bake in oven until top is golden brown, 60-70 minutes.
While cake bakes, make meringue and blueberry topping.
For meringue:
Combine 1/4 cup sugar, corn syrup, water, cream of tartar and salt in a saucepan and cook over medium heat, stirring constantly, until mixture comes to a boil. Remove from heat.
Place egg whites in a medium bowl and beat with an electric mixer until foamy. Slowly add the hot syrup mixture while beating on medium speed. Turn mixer to high and continue beating until stiff peaks form.
For blueberry topping:
In a saucepan, combine 1 cup blueberries and 1 cup water and bring to a boil. Remove from heat and use an immersion blender or regular blender to puree the mixture. Strain the mixture and return the juice to the saucepan.
Meanwhile, in a small bowl, sprinkle gelatin over the tablespoon of cold water and let sit until it becomes spongy, about 3 minutes.
Return saucepan with blueberry juice to stovetop over low heat, and add sugar, stirring until dissolved. Add gelatin, stirring constantly until dissolved. Remove from heat and allow to cool to room temperature.
When cheesecake is done baking, remove from oven and smooth meringue over the top.
Once blueberry gelatin has cooled to room temperature, pour it over the meringue and arrange remaining 1/2 cup fresh blueberries over the top.
Refrigerate entire cake until chilled and gelatin is set, at least 3 hours and preferably overnight. Run knife around the edges of the pan before releasing sides of pan. Serve and enjoy!
Adapted from International Desserts Blog.
SKM: below-content placeholder
Whizzco for 12T