They're just tastier than other pickles.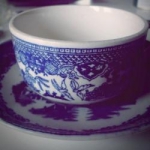 Rose Heichelbech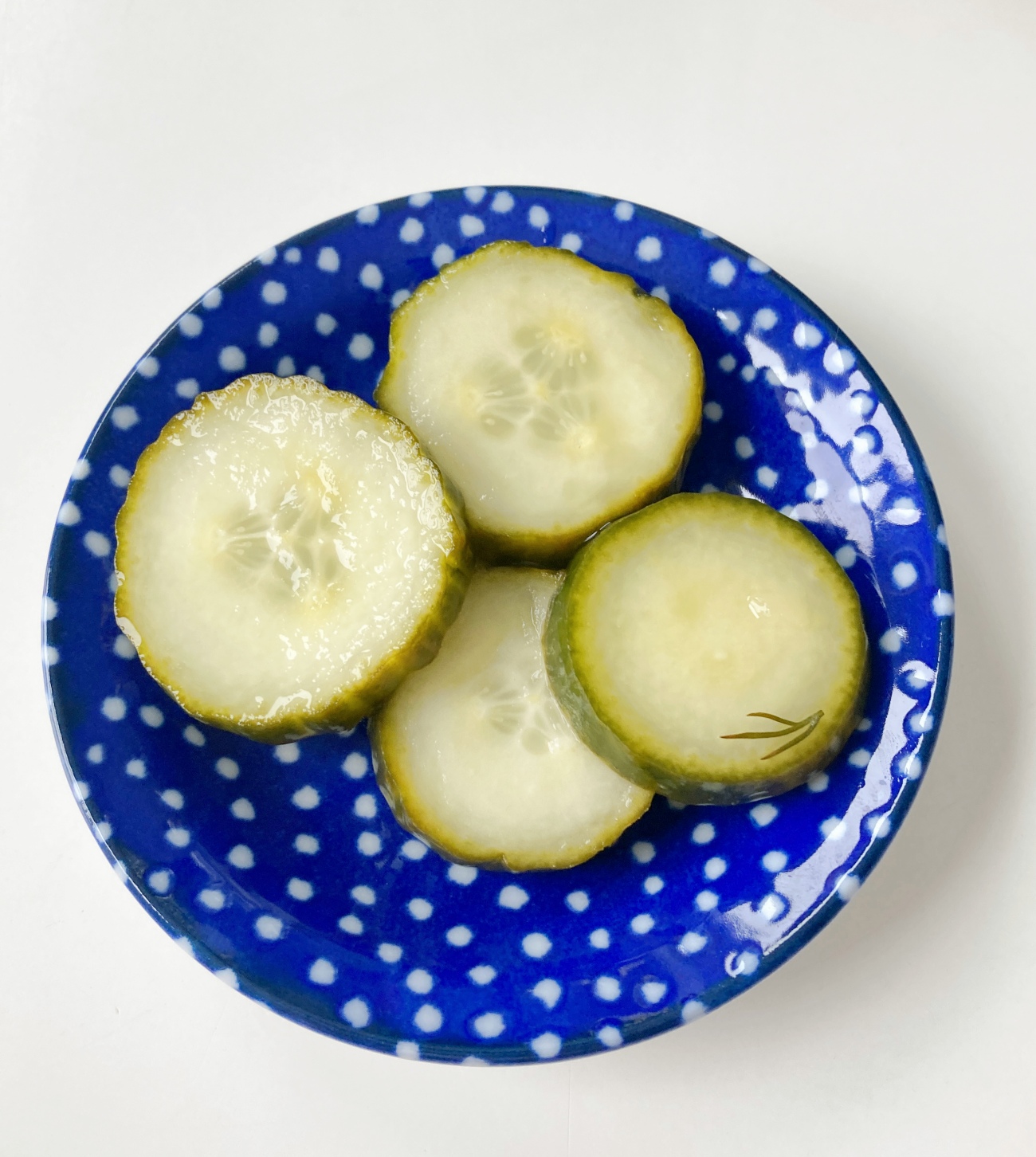 If you're a pickle person then you'll likely have already tried every pickled thing to come across your view, from pickled red onions to Southern chow chow. But, these German barrel pickles can be hard to come across here in the states, so making your own at home is the easiest way to taste these fabulous pickles.
These dill-y slices are somewhere in between Kosher dill pickles and sweet pickles. They have more spices than some pickle recipes and this gives them a wonderful flavor. You might be asking "what makes them German?". Well, there are quite a few ingredients that are not traditional American fare in these pickles. They're also known as mustard pickles for the heafty dose of mustard seed in the brine.
To start with the cucumbers are the European variety, the ones that come wrapped in plastic with almost no seeds inside. They have a thinner skin which means they pickle quickly and they have a mild flavor that takes on the spices well.
And speaking of spices: there's coriander, ginger, allspice, fresh dill, and caraway seeds in the mix which is already sort of exotic. But, the ingredient that gives these pickles a lot of flavor is juniper berries. These aren't available at every store, but Whole Foods and specialty spice shops carry them. You can also buy these dried berries online, too.
These berries are common in the western US, but are also a traditional ingredient in most gins. They have an herbal, fresh, rich flavor that's hard to describe. Their contribution to the taste of these pickles isn't overwhelming, but taken with the other unusual ingredients the overall flavor is delightfully complex.
This recipe does call for a lot of sugar, which will help to preserve the pickles. But, if you prefer less sweetness feel free to reduce the sugar to your liking. You can taste some of the brine before pouring it over the cucumber slices to get a sense of how sweet the end result will be.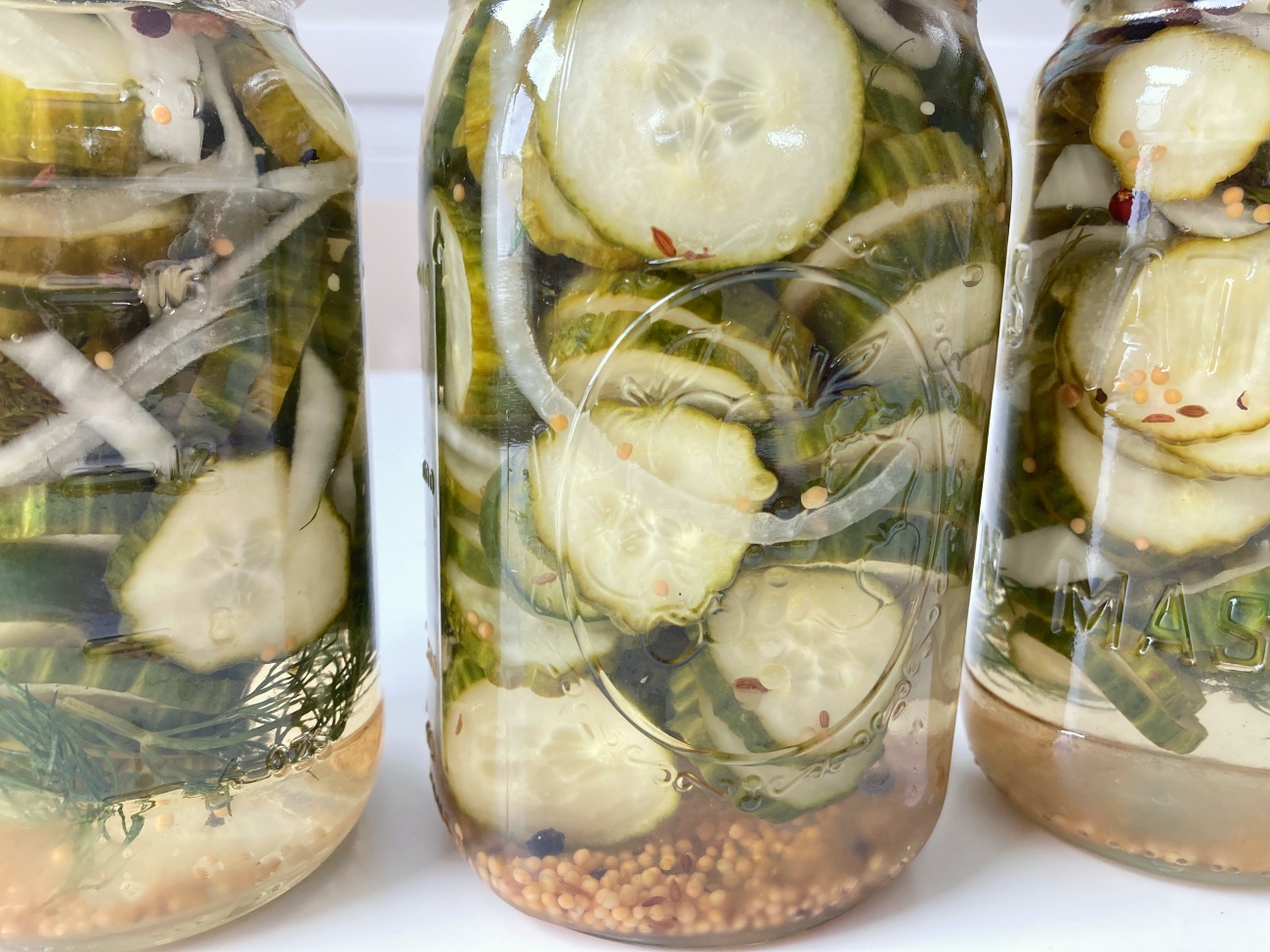 The recipe calls for 2 3-quart jars, but I had to use 3 jars of different sizes. Whatever gets the job done I say!
These pickles won't be "canned" so they are not shelf stable. But, they should keep in the fridge for a good few weeks, getting more flavorful the longer they sit. But, as I mentioned before the skin on these cukes is thin so you can enjoy them the day after making them if you'd like.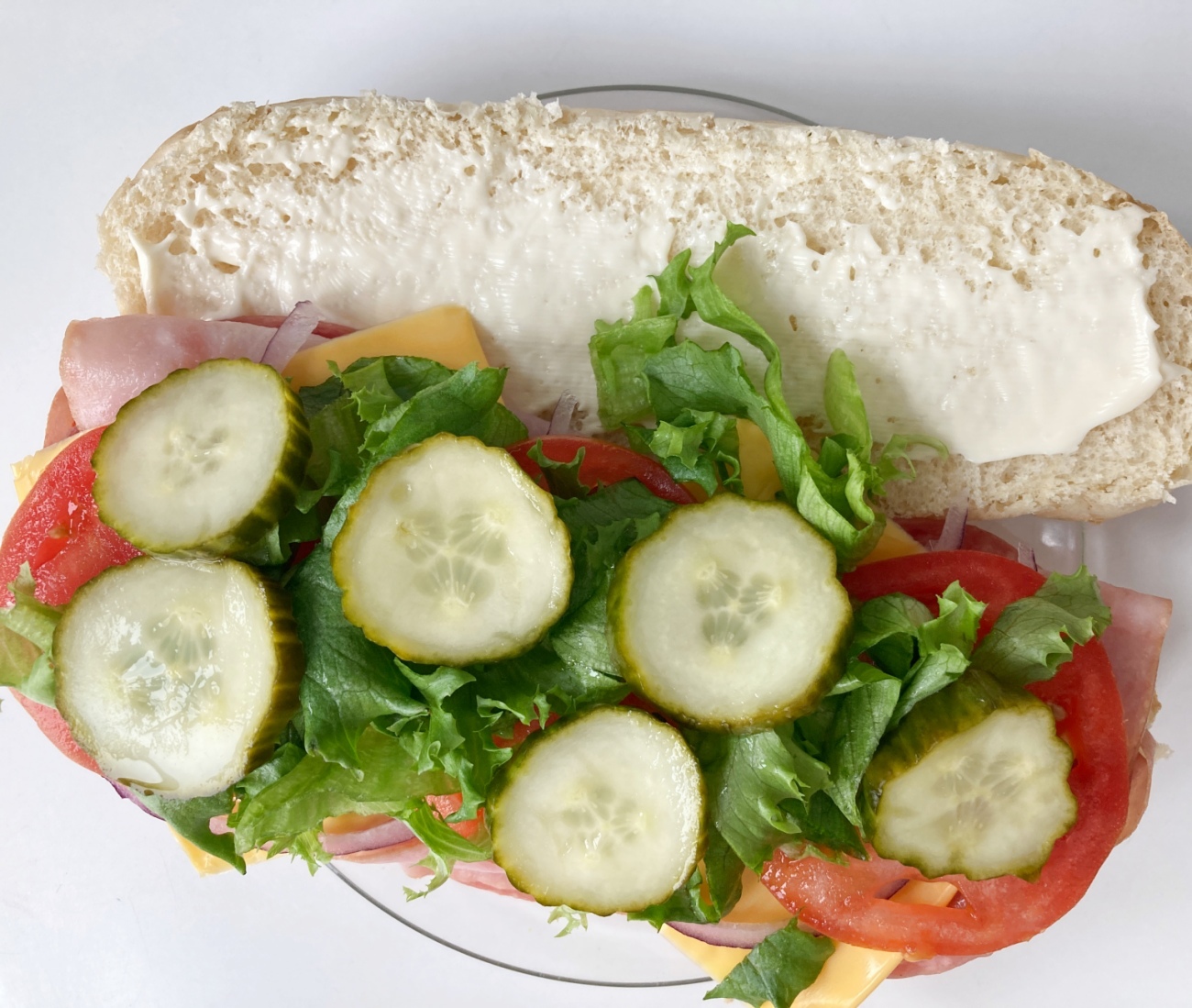 They're perfect on sandwiches and I sliced mine on the thick side for some extra bite. You can also makes spears if you prefer. There's no wrong way to make delicious homemade pickles!
German Barrel Pickles
Makes 50 servings
26h 20m prep time
5m cook time
Ingredients
2 1/2 lbs English cucumbers, sliced into chips
1/2 yellow onion, sliced
4 sprigs fresh dill, torn into chunks
2 cups white vinegar
2 cups water
1 3/4 cups sugar
1 tablespoon yellow mustard seed
6 dried juniper berries
1/2 teaspoon coriander seeds
1/2 teaspoon black peppercorns
1/4 teaspoon caraway seeds
1/4 teaspoon dill seed
1/2 teaspoon allspice berries
1 bay leaf, torn
4 cloves garlic, peeled
1/8 teaspoon candied ginger, minced
2 tablespoons salt
Preparation
Layer cucumber, onion, and dill into 2 3-quart jars. Add remaining ingredients to stainless steel or enameled saucepan and bring to a boil. Cook until salt and sugar have dissolved, about 3-5 minutes.

Pour spice mixture over cucumbers, leaving 1/ 4" space at the top. Allow to cool for 2 hours before screwing lids all the way down. Refrigerate for at least 4 hours before serving for flavors to combine. Store in refrigerator for up to 3 weeks.
Recipe adapted from The Spruce Eats
SKM: below-content placeholder
Whizzco for 12T