The king of all salads.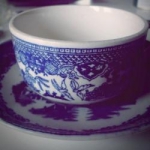 Rose Heichelbech
Making a salad for dinner at my house is often tossing together something leafy with one or two other ingredients and putting a bit of salad dressing on top. Rarely do I take the time to make my own dressing or to add in a lot of veggies, but for this fattoush (bread salad) the extra work of doing both was very much worth it. And it's no exaggeration when I say that this is hands down the best salad I have ever tasted in my entire life.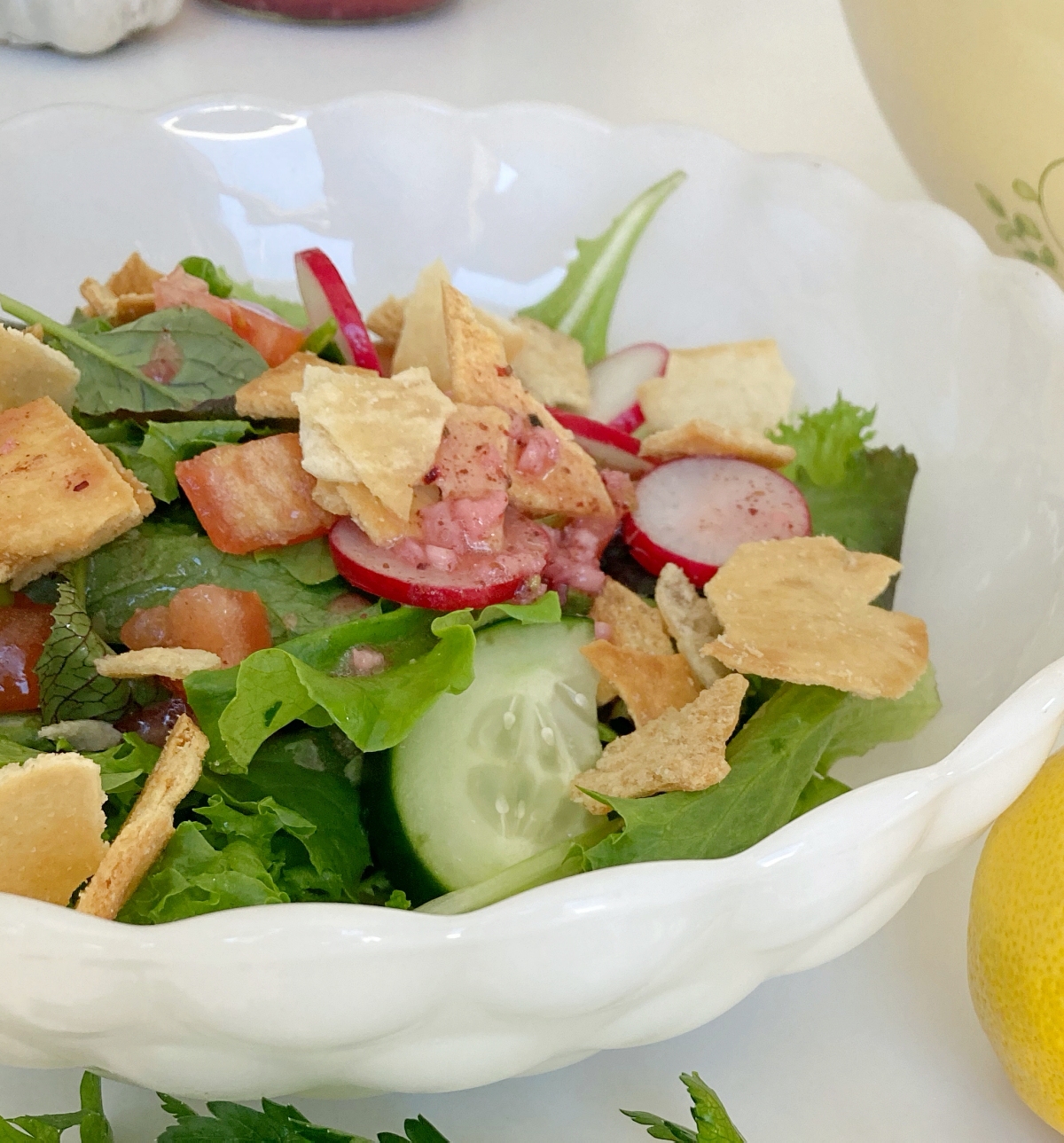 Fattoush is a popular salad across the Levant, particularly in Lebanon. The base of the salad is usually lettuce or another green, but then parsley and mint add a lot of flavor to the lettuce. For this recipe I used a butter lettuce mix and it was perfect with all the other ingredients. I say if you love spinach or arugula then use that, but it might affect the flavor since they tend to be stronger.
To the lettuce I added 1 cucumber, but you can use 2 if your cukes are small. Sliced radishes, green onions, and tomatoes makes this a colorful and crunchy salad. And, you can change up the veggies to what's in season or what you have on hand. Bell peppers, carrots, or black olives would be great additions/substitutions in this dish. But, the magic really happens when you make the dressing.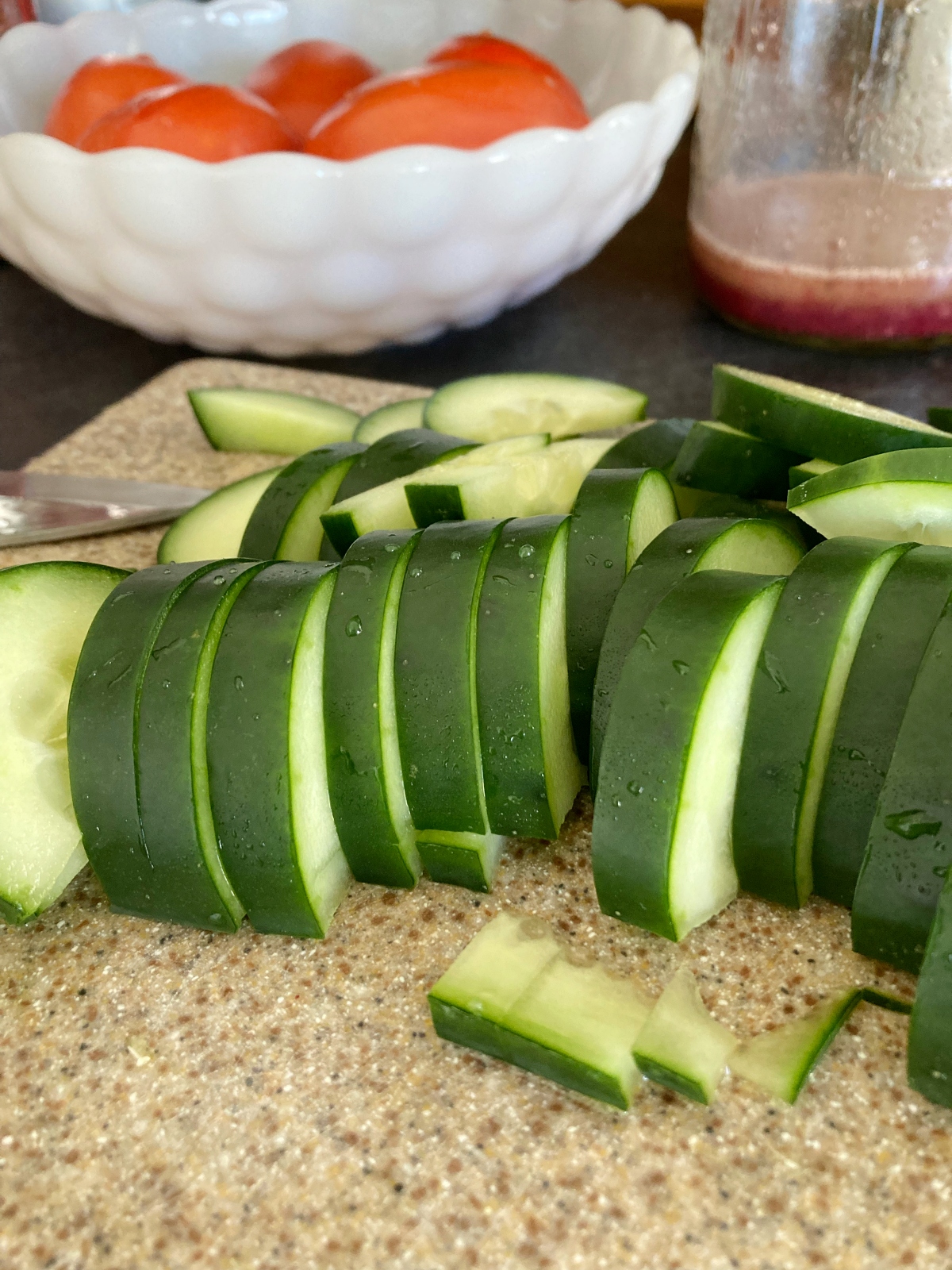 To make the dressing you'll need to squeeze some fresh lemon juice from 1-2 lemons depending on their size. Mix this with some fresh garlic, honey, and the very special ingredient of sumac. This reddish spice is common in Middle Eastern and Mediterranean dishes. Based on what I had heard about the spice before actually buying I thought it would be sour or bitter. But, sumac is tart without being at all sour. I can see why it's such a popular spice.
I happen to live not far from several international groceries, but after I had acquired my sumac I discovered that it was also to be found in the spice section at the supermarket as well. I'm looking forward to using it in other recipes, especially if I don't have lemon on hand since the taste is quite tangy, but not at all bitter or mouth-watering. If you can't find sumac you can use some lemon zest instead, but the dressing might be more sour.
For the "bread" part of this salad it's traditional to toast pitas or flatbreads in the oven with some olive oil. You can do this by cutting the pitas up into small pieces and then drizzling olive oil on top. Then bake for 10 minutes at 300˚F. To save time and effort I cut corners here by using Stacy's plain pita chips which you can usually find in the deli section of the grocery.
Even though the pita chips weren't all that large, I still broke them up further so that they would fit nicely with each bite of salad. To break them up place your 2 cups of pita chips in a freezer baggie and then gently smash them with a cup or jar. Don't go too crazy, though, otherwise you'll end up with dust.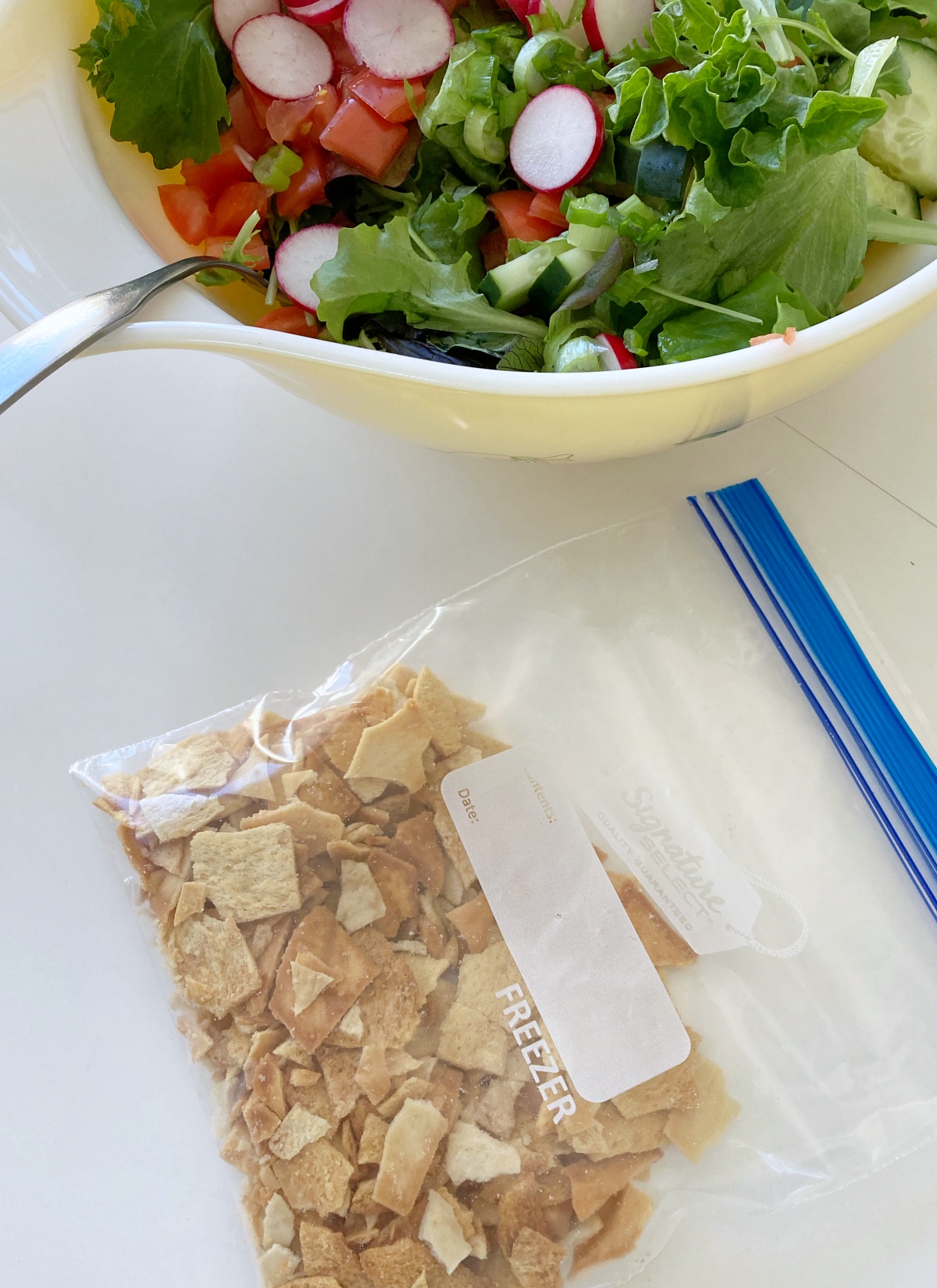 You'll want to add the dressing and the chips at the last minute before serving lest the chips become soggy. The brilliance of this bread salad is the savory crunch of the pita chips.
As an optional finish you can sprinkle on some feta cheese. Having had the salad with and without I can say either way is delicious. The crisp flavors of mint, lemon, sumac, and green onion marry perfectly in this versatile and satisfying salad. If salads at your house have become a bit boring this one is sure to add some zing back into your dinners and lunches.
Fattoush (Bread Salad)
Serves 6
20m prep time
324 calories
For the salad:
1 (4 oz) package mixed salad greens or Romaine lettuce leaves
4 Roma tomatoes, diced
1-2 cucumbers (depending on size), halved and sliced
1 small bunch radishes, stems removed and radishes sliced
2 green onions, chopped
1/4 cup fresh chopped parsley
2 tablespoons fresh chopped mint
For the dressing and topping:
2 tablespoons lemon juice (from 1-2 lemons)
3 garlic cloves, pressed or grated
1 teaspoon sumac (or lemon zest)
1 teaspoon honey
1/2 teaspoon salt
Freshly cracked black pepper to taste
3 tablespoons olive oil
2 cups (2 oz) pita chips, broken
Preparation
In a large bowl assemble greens, vegetables, parsley, and mint. In a small bowl whisk together lemon juice, garlic, sumac, honey, salt and pepper. Drizzle in olive oil while continuing to whisk to emulsify the mixture.
Place pita chips in freezer baggie and close top. Gently break them up by hitting the bag with a cup or jar.
Pour dressing over salad and toss lightly to combine. Top with broken pita chip pieces and serve immediately.
Recipe adapted from Feel Good Foodie.
SKM: below-content placeholder
Whizzco for 12T