Crispy golden rice balls cooked with minimal oil in the air fryer!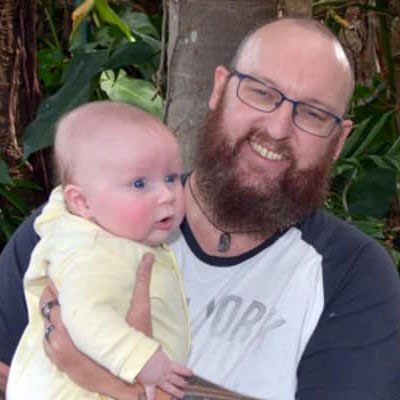 Jono Elderton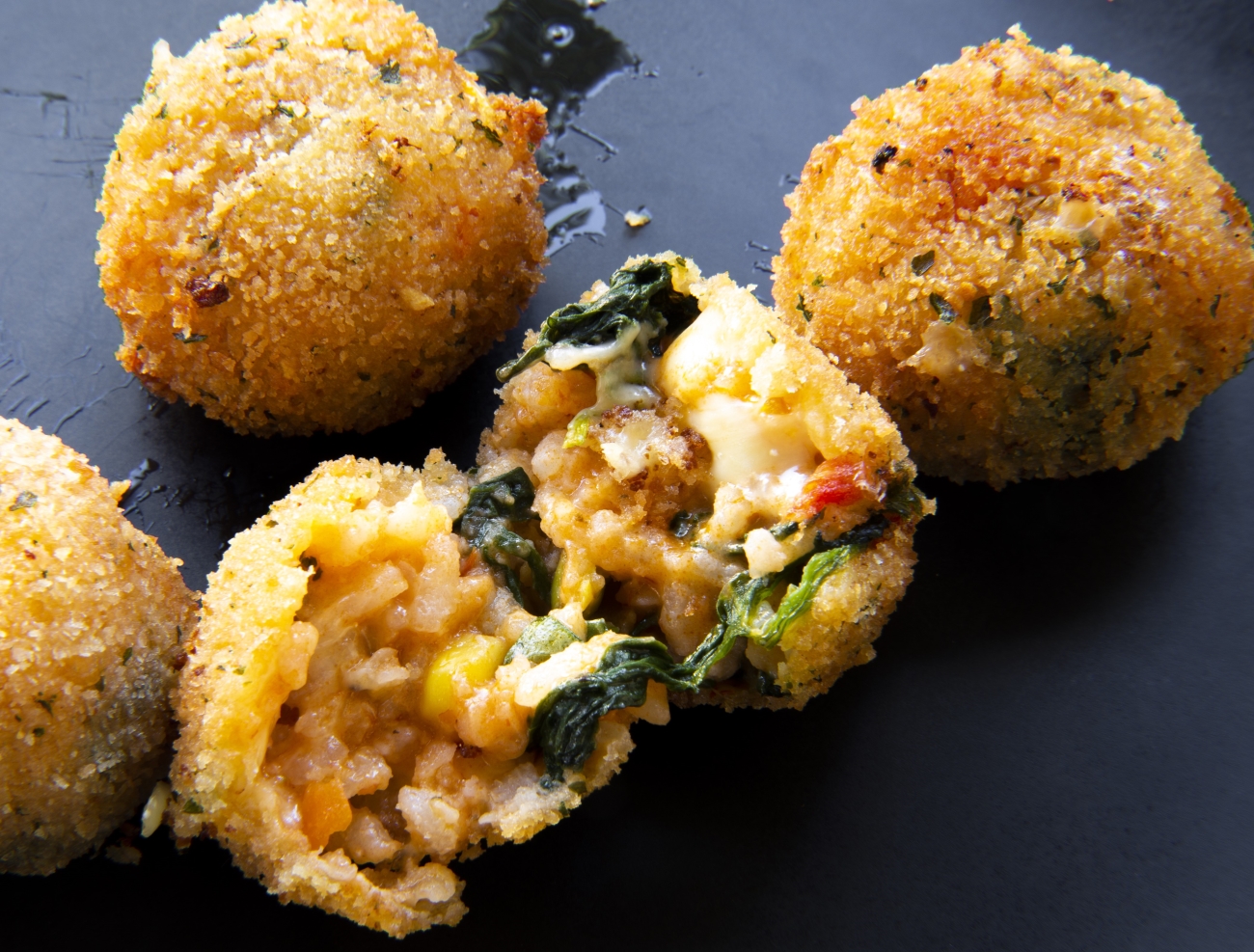 Arancini are savory treats that shine as elegant appetizers when entertaining, or as an enjoyable homestyle snack for the family. Synonymous with Sicily, Arancini are a delicious mix of arborio rice (or leftover risotto), veggies, herbs and spices, and mozzarella cheese, encased in a delightfully crispy shell that's just begging to be dipped into your favorite sauce! Plus, they're quick to pull together and cook for family or guests.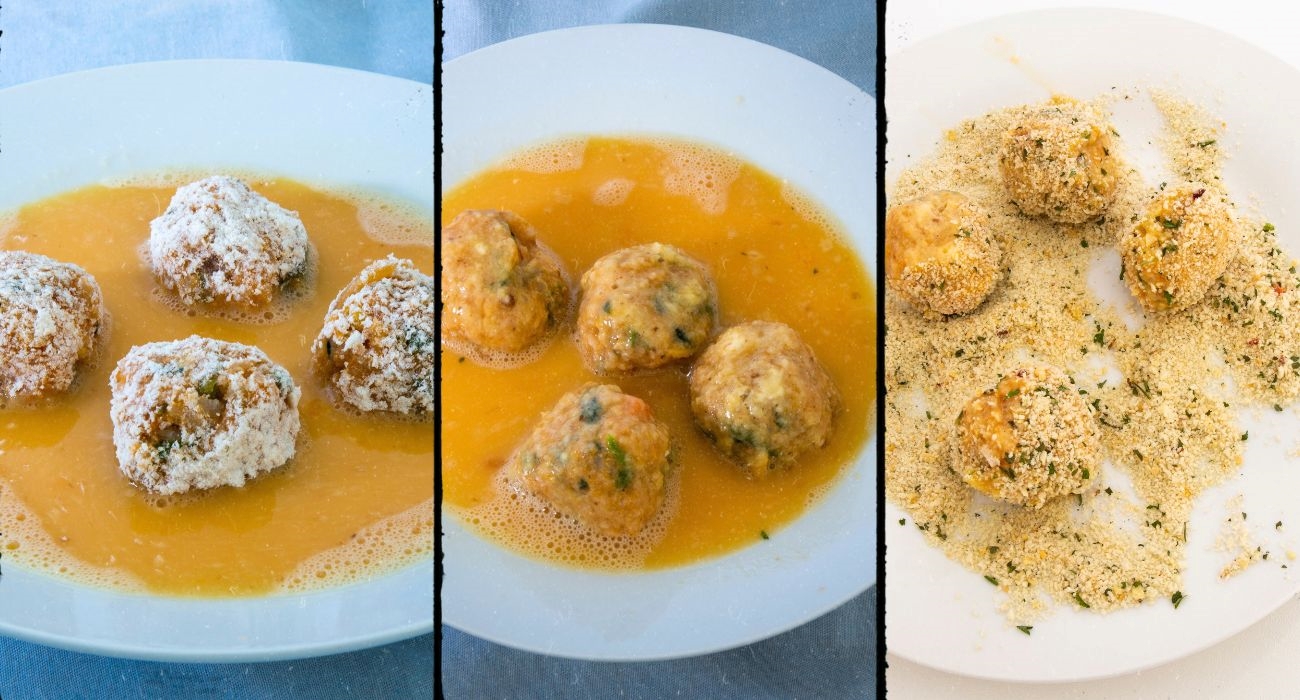 Our Easy Air Fryer Arancini recipe creates the simplest, healthiest version you'll find anywhere – but no flavor is sacrificed by cooking the rice balls in my air fryer. I use significantly less oil and I can maintain a healthier, more versatile mix of ingredients, yet still utilize a gooey mozzarella center to make a yummy, but not too melty, middle. I've also found that using less oil results in bold, more interesting flavors in the Arancini and breading.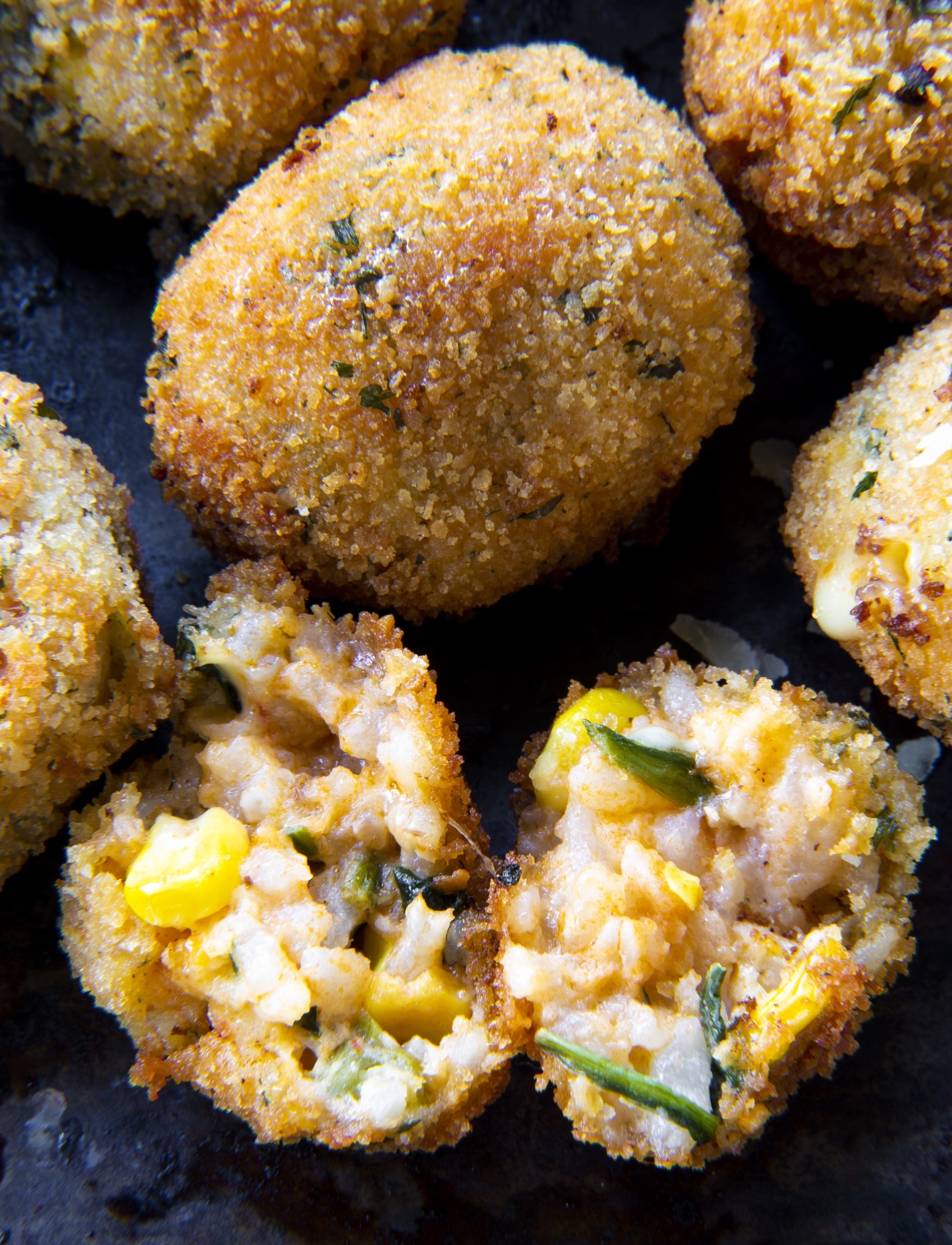 Cheesy arancini takes little time to put together yet they're packed with comfortable, everyday flavors that you can find easily in your pantry. The toughest part of the process is getting the balls round and covered with breadcrumbs. I use a bit of water on my hands when rolling the balls to ensure that the meatballs stay nice and round – and don't stick to my hands – while I often double dredge each ball to make them extra breadcrumb crunchy!
This recipe makes the rice balls from scratch, however it's even easier when you can replace the internal ingredients with leftover rice and veg, or risotto from a previous meal. Arancini are especially useful for spur-of-the-moment get-togethers, off -the-cuff gameday feasts, or for clearing the fridge of some tired veggies. While eight doesn't seem like a lot, they're larger than they look and are quite filling, which suits two adults and three small children quite well.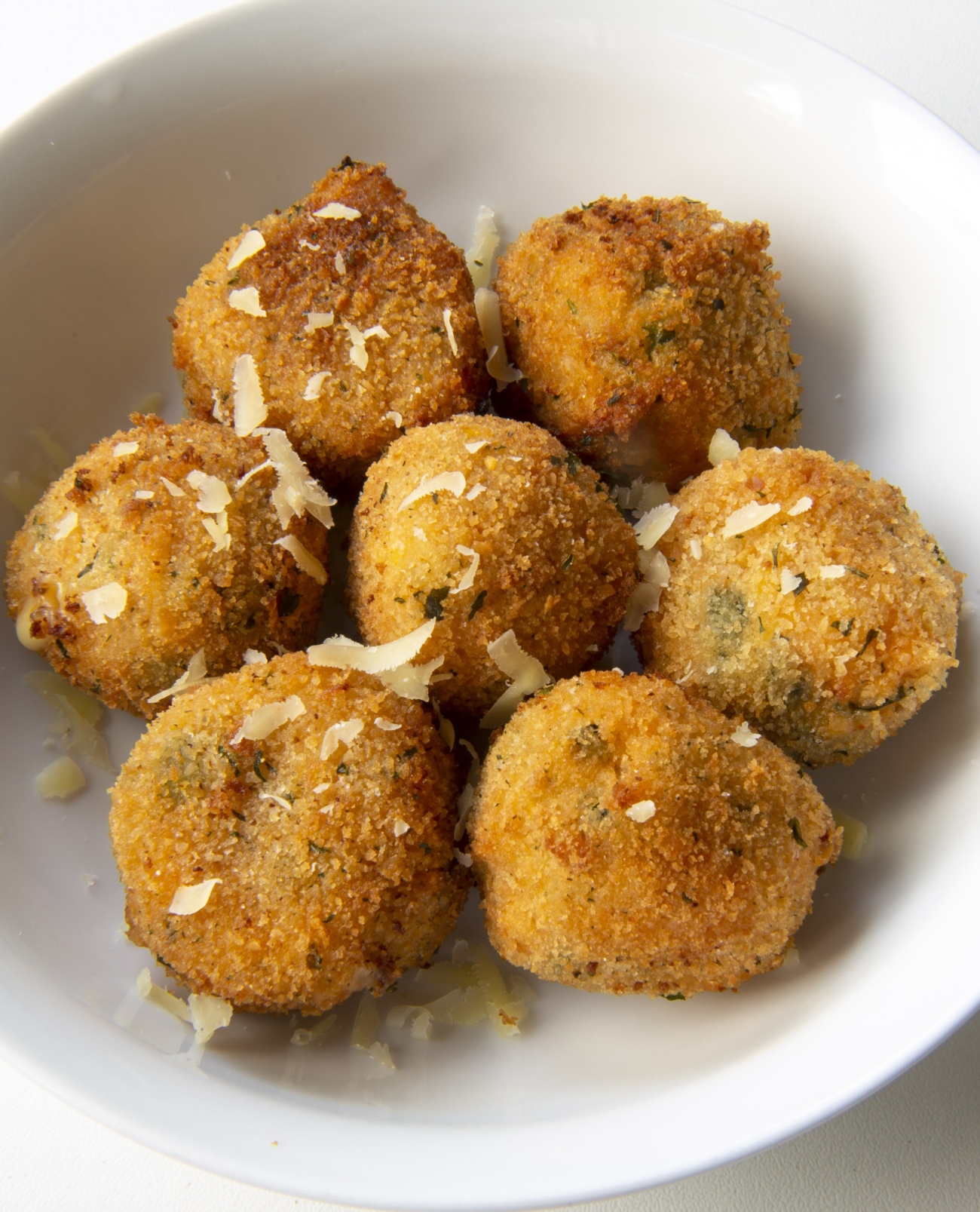 Easy Air Fryer Arancini
Makes 8
15m prep time
15m cook time
For the Breading:
1/2 cup all purpose flour
2 eggs, lightly beaten
2 tablespoons cornstarch
1-2 cups plain breadcrumbs
2 tablespoons Italian herb mix
2 tablespoons Parmigiano-Reggiano
Kosher salt and black pepper, to taste
For the Rice Balls:
2 cups pre-cooked arborio rice (or leftover risotto)
1 small yellow onion, finely chopped
1/2 bell pepper, finely chopped
1/4 cup corn kernels
2 tablespoon fresh basil, finely chopped
1 teaspoon chili flakes
1 teaspoon garlic powder
4 oz mozzarella cheese, cut into 1 inch cubes
Kosher salt and black pepper, to taste
Spray cooking oil, for air frying
Garnish: Parmigiano-Reggiano as required
Preparation
Preheat the air fryer to 400°F.
Prepare the crumbing station. In one mixing bowl, add the flour, add the eggs to the second, and in the third combine breadcrumbs, cornstarch, Parmigiano-Reggiano, Italian herbs, and salt pepper.
Mash the arancini ingredients (except for mozzarella) together thoroughly in a mixing bowl, then divide into 8 equal-sized balls (max 2-inch diameter). Take a 1-inch cube of mozzarella, place it into one rice ball, and then roll it into a sphere, ensuring the cheese is covered. Repeat the process with remaining rice balls.
Dip each rice ball into the flour, then into the egg wash, and then into the breadcrumb mixture. Make sure each ball is thoroughly covered, and there are no gaps. If you find it difficult, moisten your hands with water to help you smooth the ball's outer coating.
Drizzle the basket of the air fryer with spray cooking oil. Place the arancini balls into the air fryer, lightly dust with spray oil, and cook at 400° for 6 minutes. Flip, then cook for another 6-8 minutes, or until each arancini is crispy and golden brown.
Remove the arancini from the basket. Sprinkle generously with salt and pepper, and Parmigiano-Reggiano if desired. Serve with the dipping sauce of your choice.
Recipe adapted from My Cooking Journey
SKM: below-content placeholder
Whizzco for 12T