But do not skip step #6.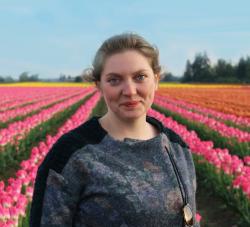 Decatur Macpherson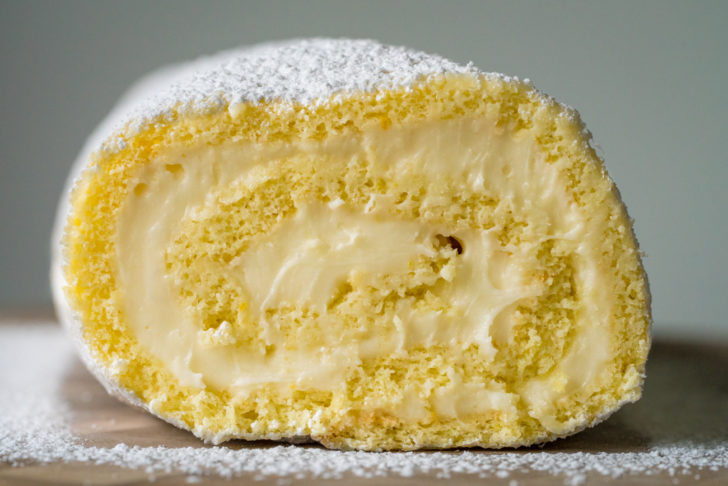 If you've ever wanted a delicious dessert that looks absolutely amazing, this is the one for you. Perfect for spring or summer (or really anytime you want to remind yourself of warmer months), this is a lemon cream cheese frosting-filled lemon cake that looks just as good as it tastes. There's nothing worse than putting a ton of effort into a beautiful dessert that ends up tasting bland or dry – thankfully that's not an issue here. The cake is packed full of that fresh and zesty lemon flavor, and because it's only cooked for a short period of time, it's taken out of the oven while it's still moist and before it has time to dry out.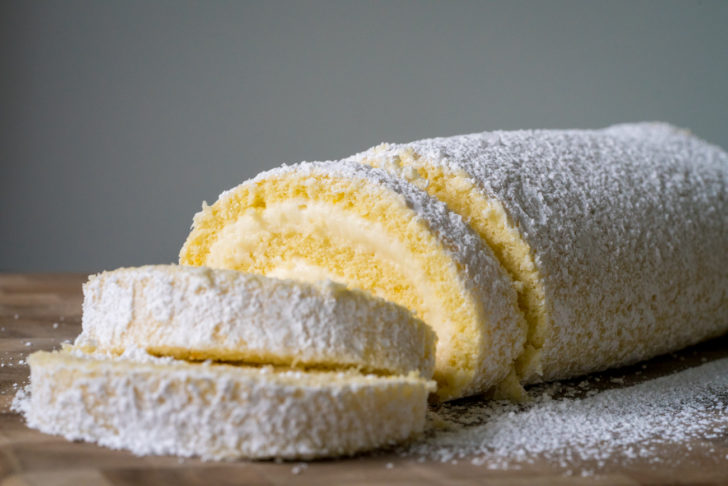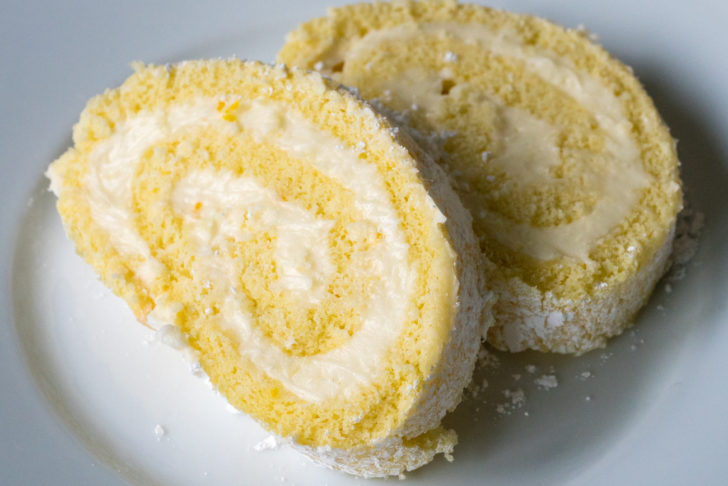 Bake time and technique are important in this recipe, but don't let that gorgeous spiral fool you into thinking this is hard to make or complicated. Since your baking surface area is so large (instead of deep), your cake only needs to bake for nine or ten minutes before it's ready to go. Then you just need to take a dish towel (that's larger than the baking sheet) and dust it generously with powdered sugar. This ensures your cake won't accidentally get stuck to the towel once it's wrapped up. Speaking of wrapping up, you'll want to roll your cake into a tight spiral – starting at the short end – right when it comes out of the oven. Rolling while it's still warm means you're less likely to get cracks in your cake, because it's still so flexible when it's warm that it will take the shape of the spiral as it cool and will be easier for you to frost and roll back into a spiral later on. So. Dust your dish towel with powdered sugar, turn your cake out onto the towel, roll it up real tight, then let it chill. Once it's fully cooled, unroll your cake, frost it and re-roll it. Easy-peasy!
Now let's just take a minute to talk about this frosting for a second, okay? The cake is already super lemony on its own, since it's got lemon juice and zest, but it's really all about that tangy, lemon zest-filled, cream cheese frosting. Oh my gosh, it's so, so good. We went ahead and used a little bit of lemon extract to really punch up the flavor – we didn't want lemon juice to thin out the frosting too much – and then let the remaining lemon zest bring out the rest of that bright, citrus-y flavor. You end up with a perfectly proportioned frosting-to-cake ratio and a gorgeous spiral that's sure to impress any guests. This is a great choice for any brunch or birthday party and will have everyone raving about and begging for the recipe, you'll see!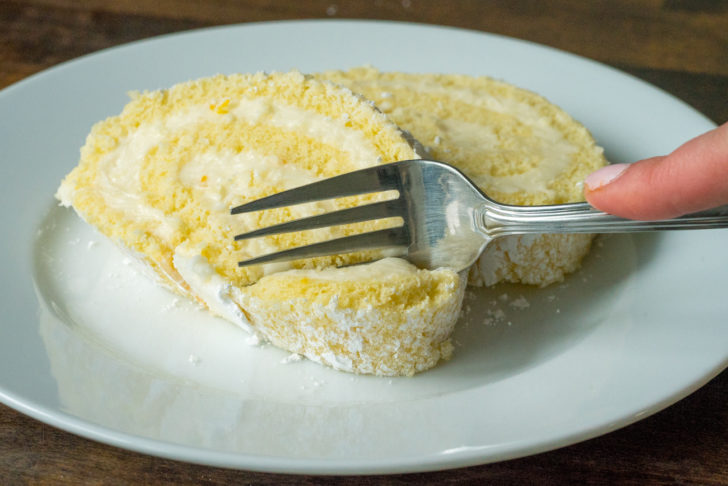 Double Lemon Roll Cake
Serves 8-10
1 hour 20 minutes
Ingredients
Cake:
1 cup all-purpose flour
1 teaspoon baking powder
1/4 teaspoon salt
3 large eggs
1 cup sugar
2 tablespoons fresh lemon juice
1 1/2 tablespoons lemon zest
1/2 teaspoon vanilla extract
powdered sugar, as needed
Frosting:
1/4 cup (1/2 stick) unsalted butter, room temperature
1 (8 oz.) package cream cheese, room temperature
3-4 cups powdered sugar, plus more, as needed
1 teaspoon lemon extract
1/2 teaspoon lemon zest
2 tablespoons milk, plus more as needed
Preparation
Preheat oven to 350º F and line a jelly roll baking sheet with parchment paper and non-stick spray.
Whisk together flour, baking powder and salt in a medium bowl and set aside.
In a large bowl, beat eggs until frothy, then beat in sugar, lemon juice, zest and vanilla extract.
Fold dry ingredients into the wet ingredients until just combined, then pour batter into greased and lined baking sheet.
Use a rubber spatula to spread batter evenly across the pan and into the corners, then place baking sheet in oven. Bake for 9-11 minutes, or until top is golden brown and springs back when touched.
While cake bakes, spread a large kitchen towel on your workspace and dust generously with powdered sugar. (Towel should be larger then baking sheet.)
Remove cake from oven and turn it out onto sugar-coated kitchen towel. Remove parchment paper, then, starting from one of the short sides of the cake, flip the edge of the towel onto the cake and tightly roll cake into a spiral.
Set cake aside or refrigerate until cooled completely.
For the frosting: beat cream cheese in a large bowl for 1-2 minutes, or until fluffy. Add butter and beat until smooth and combined, then beat in 3 cups powdered sugar.
Mix in lemon extract and lemon zest, stirring in milk if you prefer frosting to be a little thinner.
Remove cake from fridge and unroll, then spread frosting on, making sure to get up to the edges of the cake.
Re-roll cake, without the towel, being careful to gently pull the cake away from the towel if it sticks slightly.
Return to the refrigerator for another 1-2 hours, or until chilled.
Dust with powdered sugar, slice, serve and enjoy!
Recipe adapted from Crazy For Crust
SKM: below-content placeholder
Whizzco for 12T