A Cornish miner's meat pie that's popular all over the world.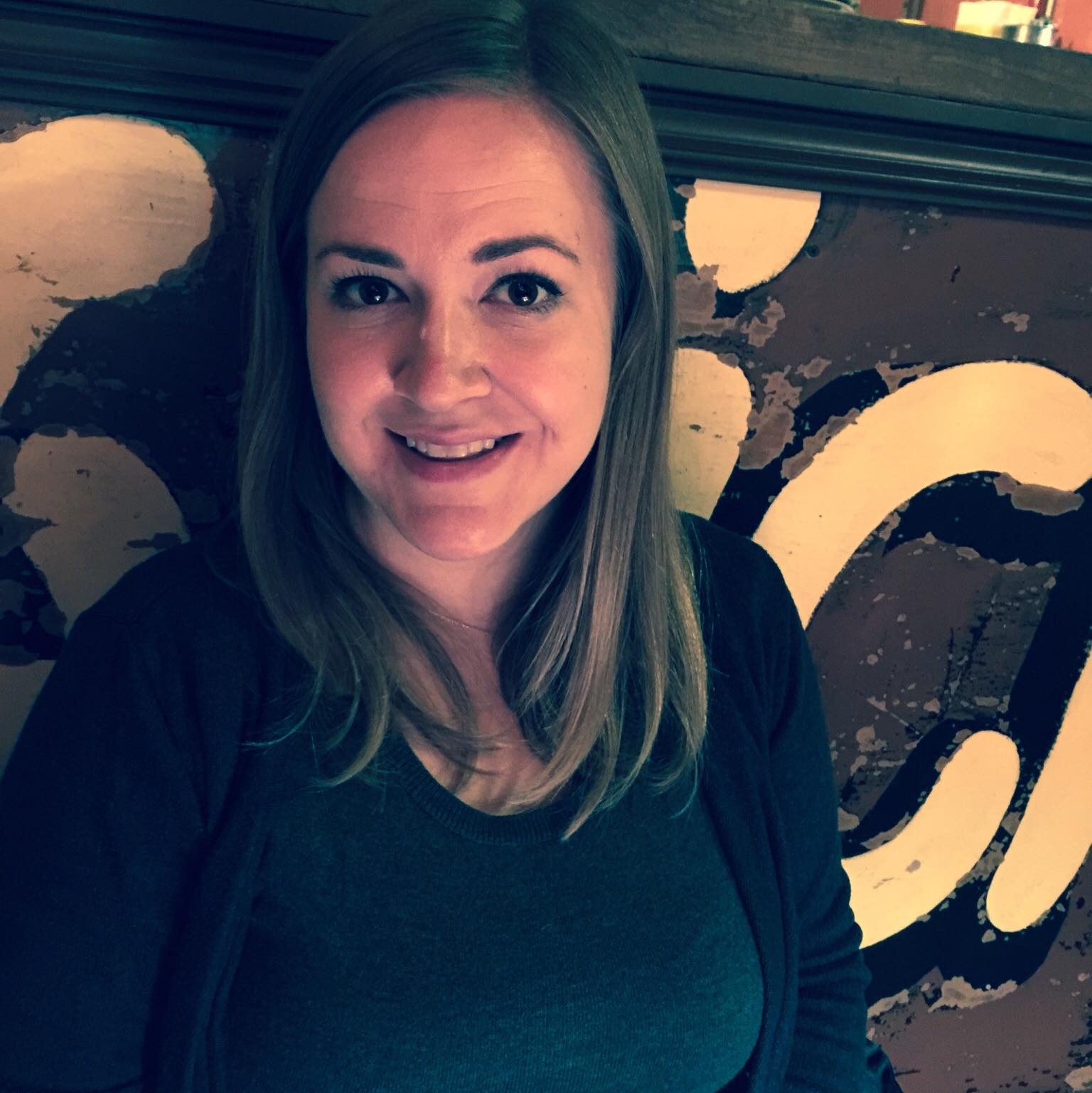 Kristy Norrell

When you share or print a 12 Tomatoes recipe,
you're making mealtime meaningful.
100%
of the Share to Care sponsor fees fund meals for families in need.
Learn More
CLICK ANY LINK BELOW TO JOIN OUR CAUSE!
While maybe not everyone knows what a pasty is, most everyone knows how delicious a meat pie is and so it shouldn't take a lot of convincing to get you to try out a Cornish Pasty. That's really what they are in essence – a meat pie that's wrapped up in flaky, buttery crust, making it perfect for a handheld meal on the go.
I happened to grow up in a small Gold Rush mining town where these were very popular, so I've been eating them for decades because we had not one, not two, but three local pasty shops. (In fact, my family has a weird tradition of eating them on Christmas Day!) See, Cornish Pasties were made popular all over the world as Cornish miners made their way around the globe, so this delicious little pie is popular in places like Michigan as well as small mining towns in Northern California.
Before we get too far, I'm going to tell you that it's pronounced pah-stee and not pay-stee, lest you read the rest of this with visions of twirling tassels filling your head.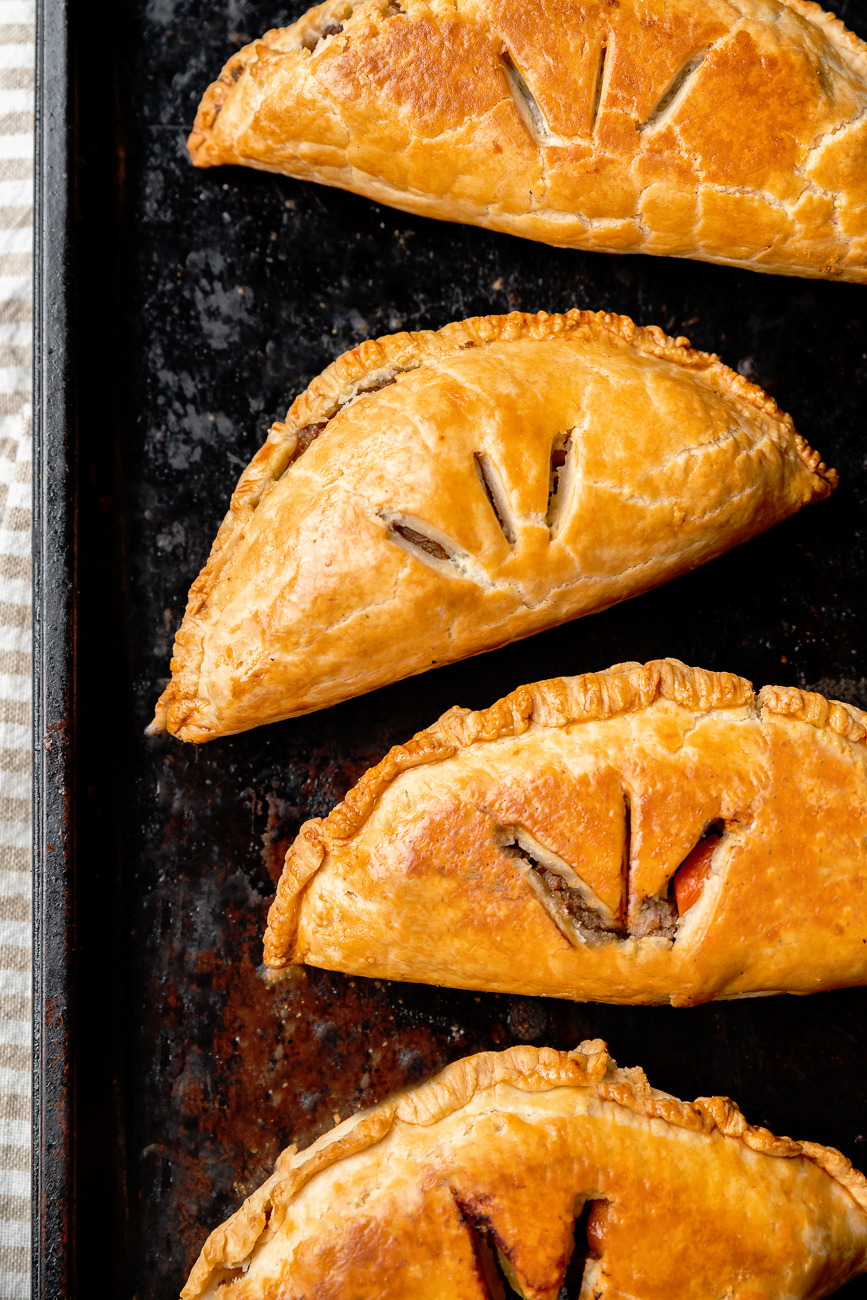 Now that we have that covered, we can get to a bit more interesting trivia. I have always been told that pasties were popular with miners because it was an easy meal to bring down into the mines, since it was handheld, filling, and delicious. But what's more than that, originally pasties were often made with savory filling in one half and sweet filling in the other, so you could eat your way through your beef pasty down in the darkness of the mine and finish up with a sweet berry pie filling at the end. I haven't seen them made that way in the modern-day or made them that way myself – my favorite filling is beef and vegetables, though there are about 101 different ways to go about filling them.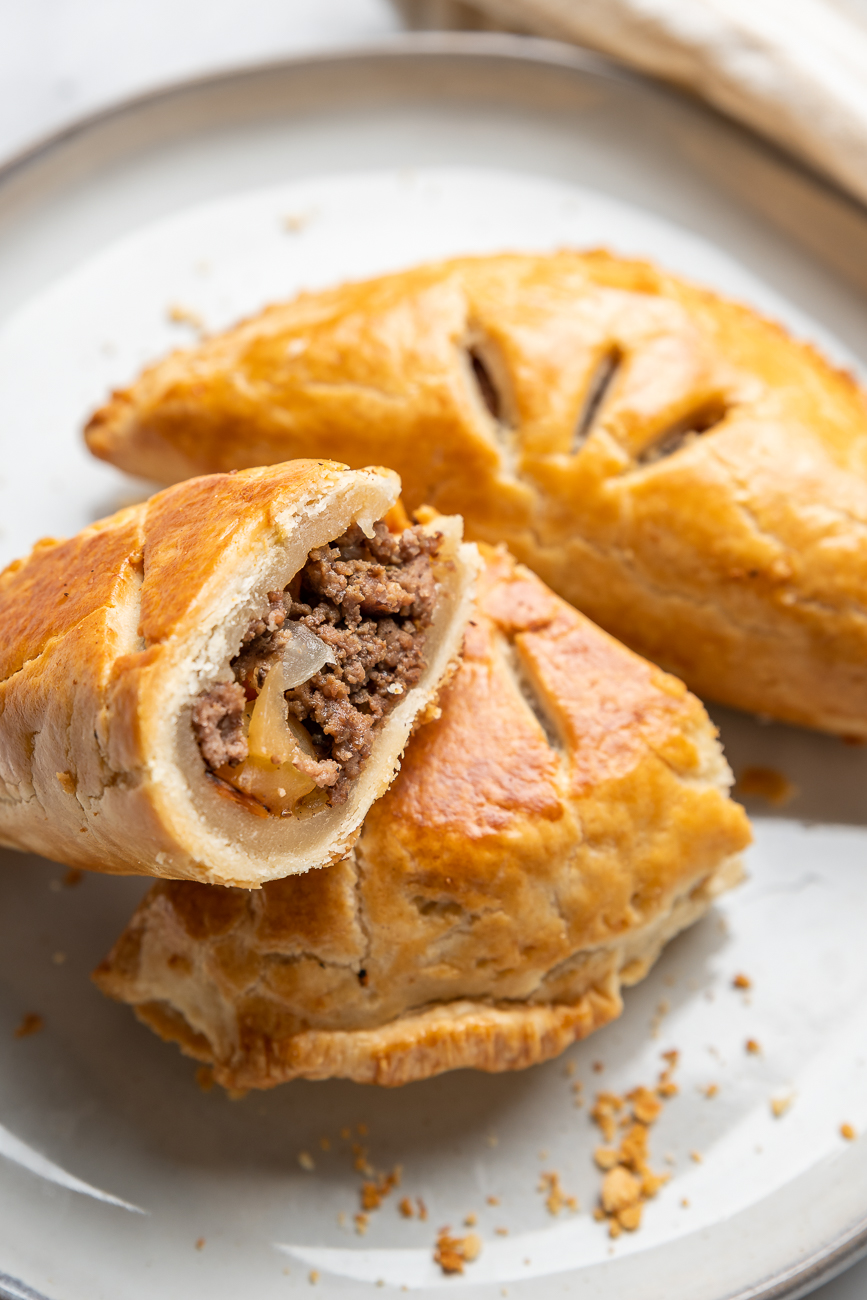 The traditional Cornish Pasty (it literally has protected status) is the Oggy pasty, which includes beef (either minced or diced), potatoes, onions, and swedes (which you might know as turnips). Mine is not totally traditional, but they are made just the way I like them. I use ground beef simply because it's easier and pair it with carrots instead of turnips, and a few more seasonings than the simple salt and pepper a Cornish miner's wife might have used.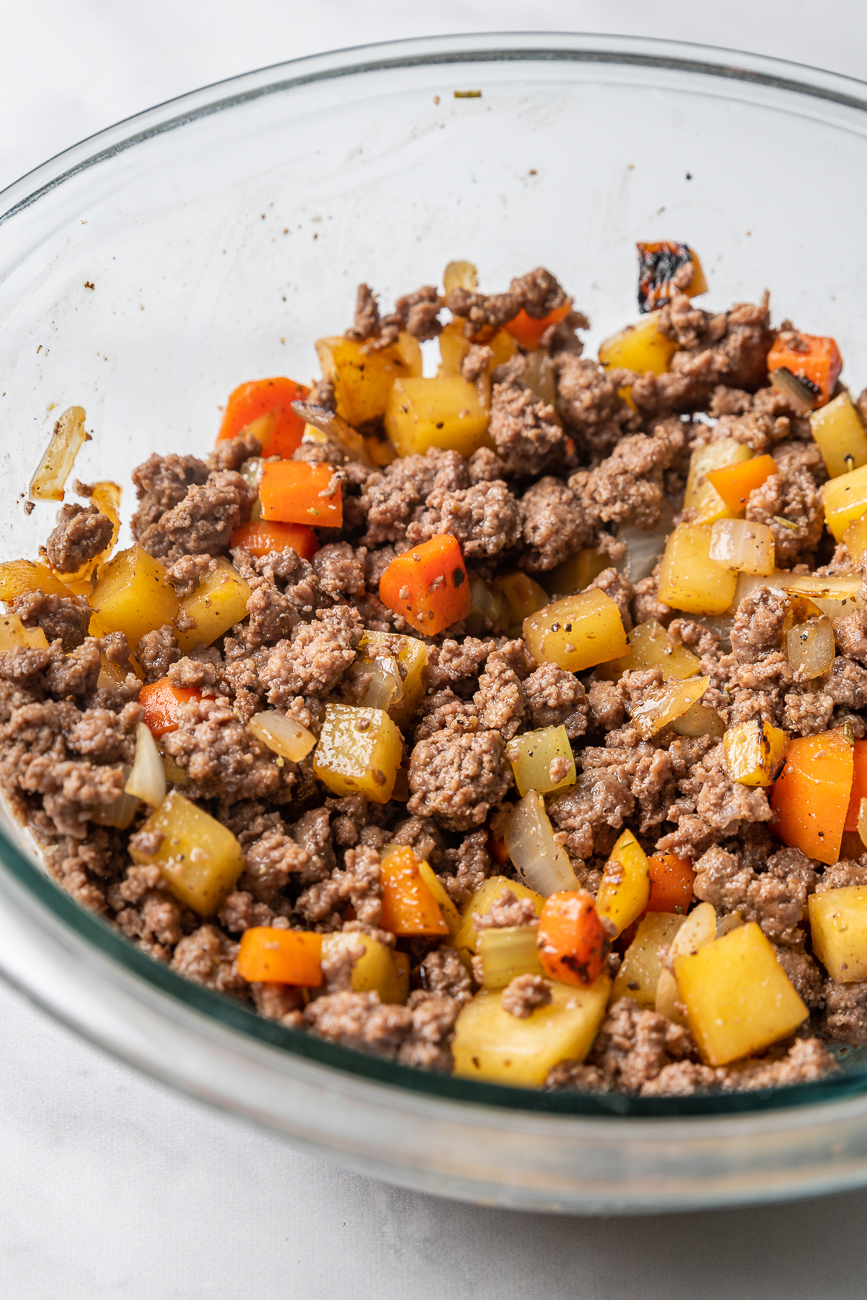 There are plenty of recipes where the filling cooks fully in the oven, but I've always preferred to start it on the stovetop, which is just a matter of browning up some ground beef with onion, potato, and carrot and seasoning it with Worcestershire sauce, garlic, rosemary, and thyme. While your filling cools off, you can work on your crust, which is an all-butter dough that has some egg yolks for added pliability.
Once your dough has chilled, you'll portion it out into six balls and roll each one out. You want a thickness of about 3/8 an inch, but you can go a little thinner if you'd like. (I like a sturdy crust here!) You'll line up your filing on half of the circle and leave a border of half-an-inch.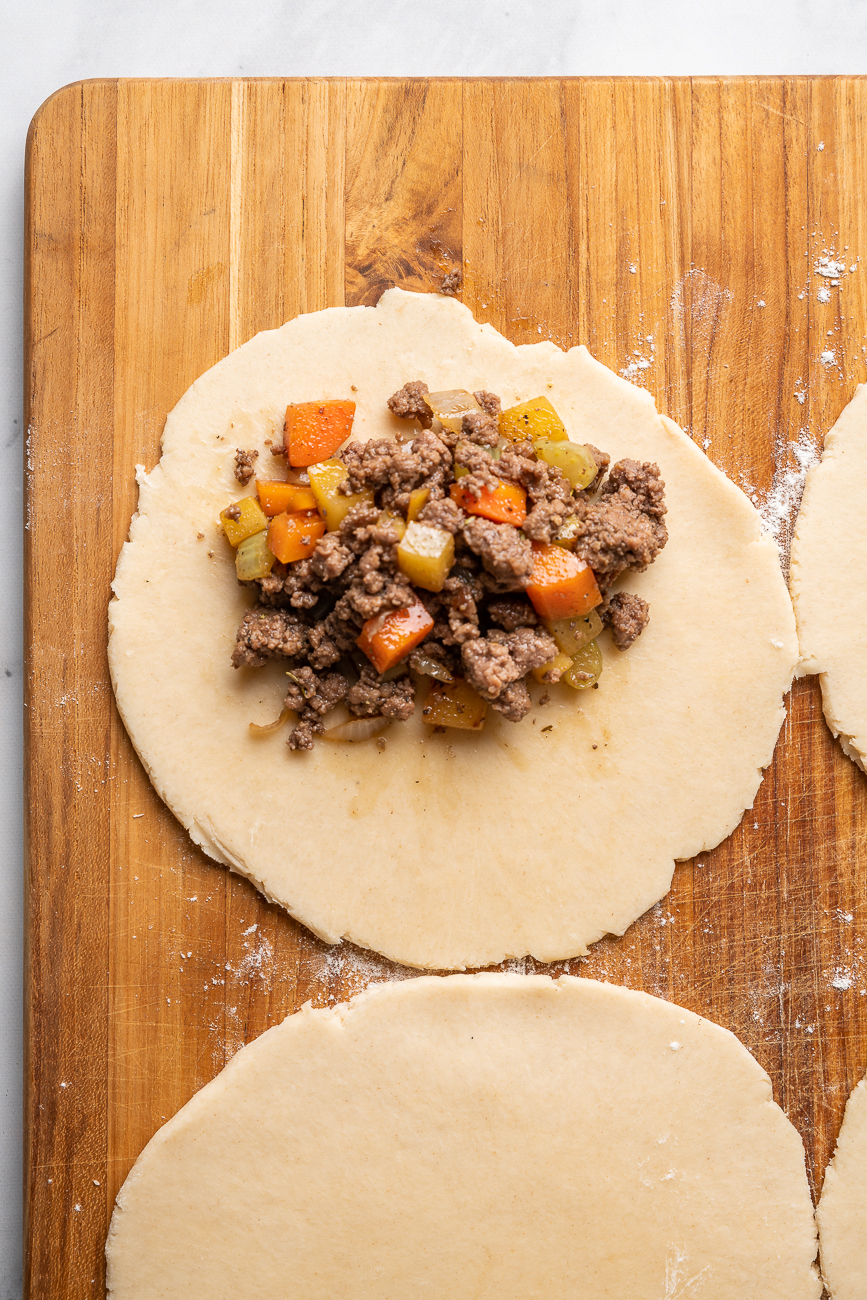 Then, wet the edges of the dough and fold it over, crimping or twisting the edges to seal your pasty shut.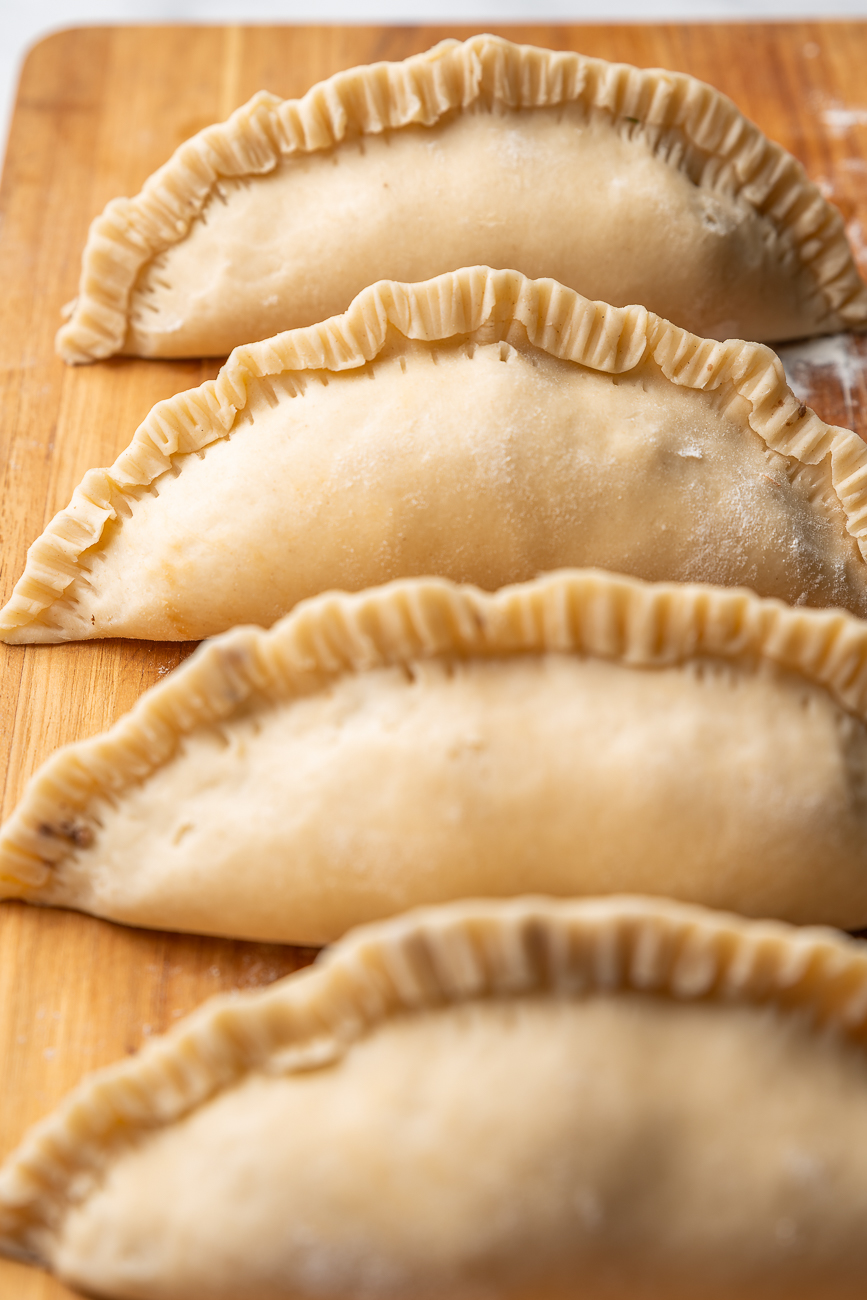 Three little slits on top is enough of a vent for steam to escape…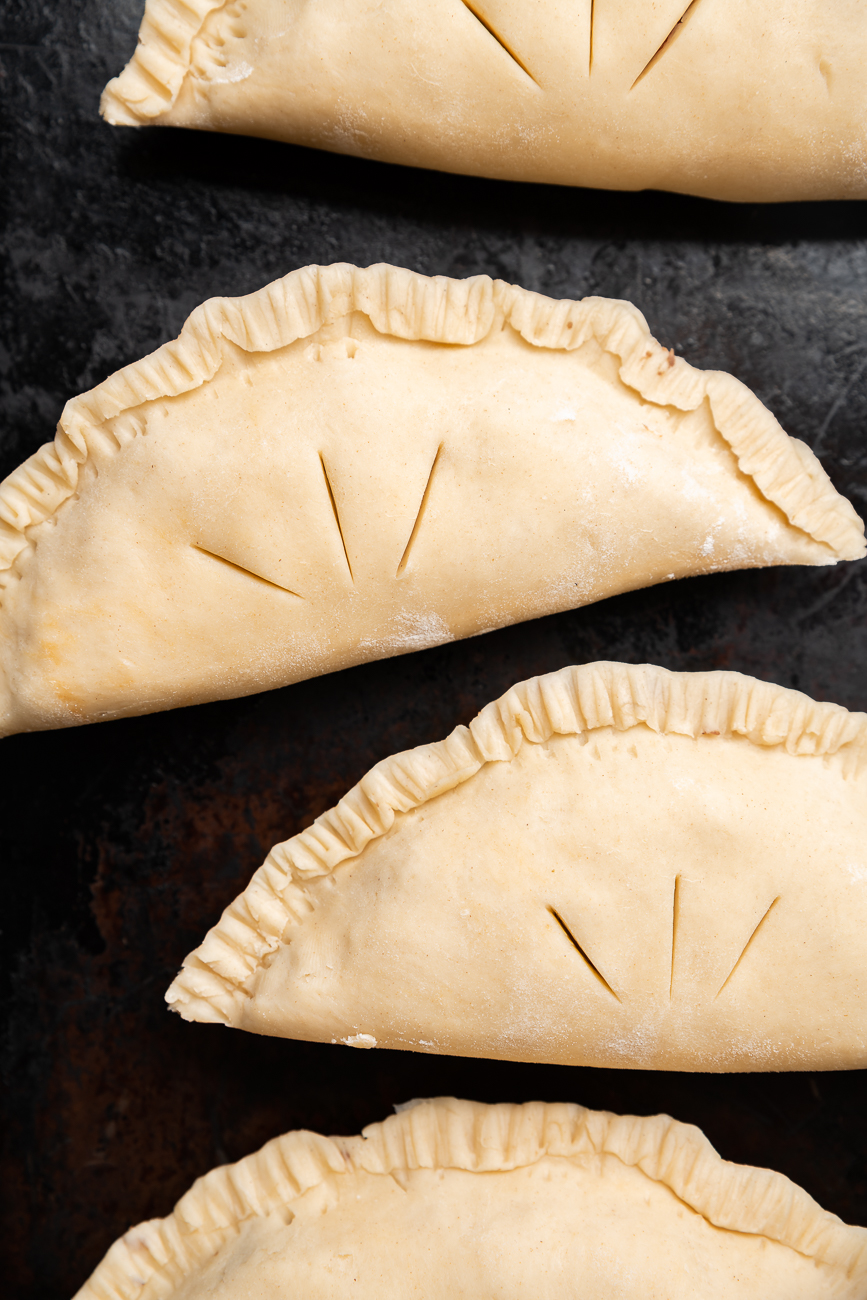 … and after about thirty minutes in the oven, you'll have a crusty, golden brown, beefy, piping hot hand pie to enjoy. These are so easy to love it's no wonder that they've become a time-honored tradition in so many corners of the world and I'm pretty happy about the fact that I grew up with them as a part of my life. I've since moved from my hometown, but my new town happens to have a pasty shop too. Lucky me!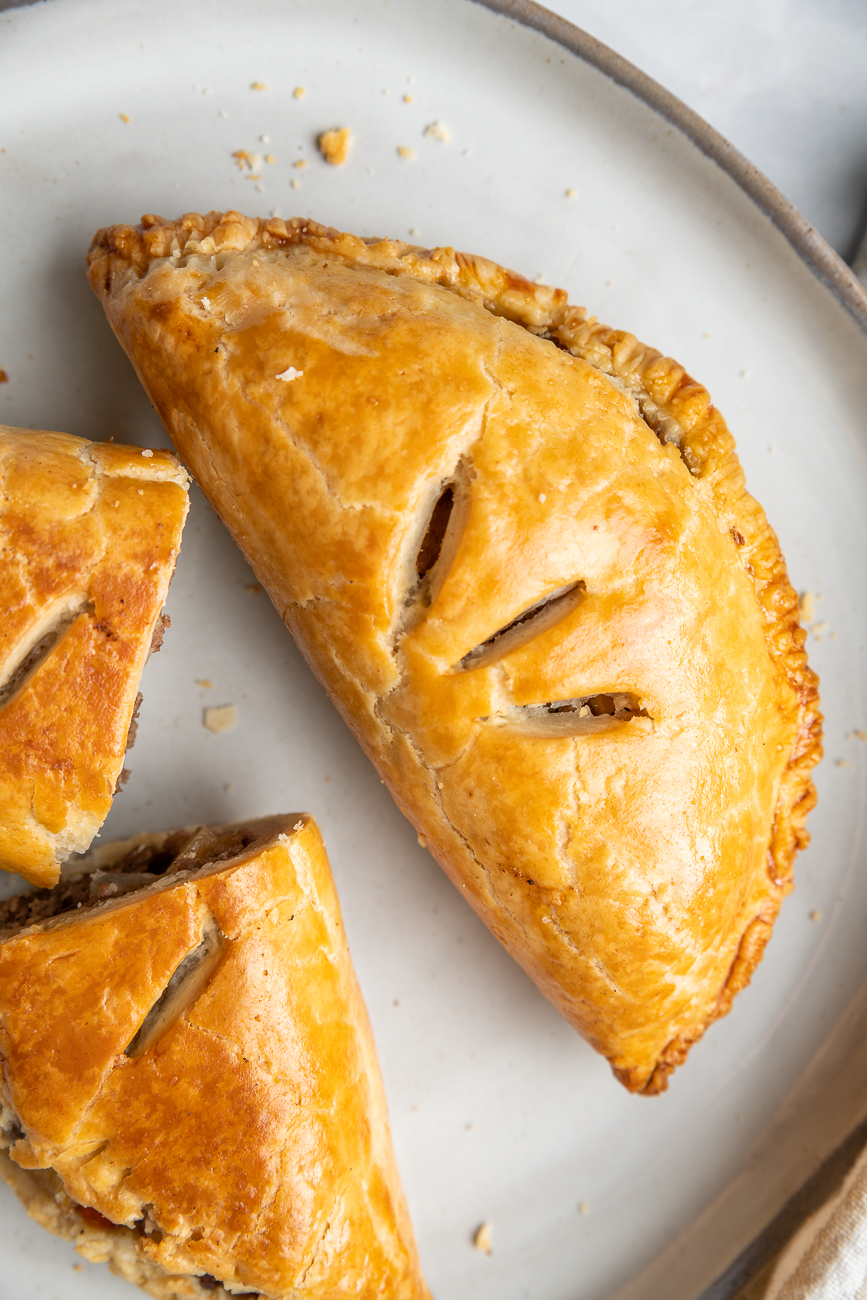 I still make them for myself (and my family) a time or two per year and the good news is that they freeze beautifully. Just par-bake your assembled pasties for twenty minutes, and then let them cool before you wrap them up and pop them in the freezer. When you're ready to enjoy them, just bake the frozen pasty for another twenty minutes. They're a delicious dinner to have on hand! And pro-tip — a few dashes of malt vinegar is the perfect accompaniment to cut through the beefiness.
Cornish Beef Pasties
Serves 6
30m prep time
40m cook time
30m inactive

When you share or print a 12 Tomatoes recipe,
you're making mealtime meaningful.
100%
of the Share to Care sponsor fees fund meals for families in need.
Learn More
CLICK ANY LINK BELOW TO JOIN OUR CAUSE!
For the dough:
3 cups all-purpose flour
1 teaspoon salt
1/2 cup (1 stick) unsalted butter, chilled
1/2 cup cold water
2 egg yolks, divided
For the filling:
1 lb ground beef (can also use 1 lb leftover roast, chopped)
1 lb waxy potatoes, such as red or Yukon gold, diced
2 carrots, peeled and diced
1 small onion, diced
2 tablespoons Worcestershire sauce
2 cloves garlic, minced
1/2 teaspoon dried rosemary
1/2 teaspoon dried thyme
Kosher salt and freshly ground black pepper, to taste
Preparation
In a large mixing bowl, whisk together the flour and salt.
Cut butter into small pieces and using two forks, a pastry blender, or your fingers, work it into the flour until it becomes a crumbly mixture.
Mix together water and one of the egg yolks, then add to the flour mixture. Mix until all flour is incorporated, then turn out onto a clean surface and knead until the mixture comes together completely.
Wrap in plastic wrap and chill dough at least 30 minutes.
When ready to bake preheat oven to 400°F and line a baking sheet with parchment paper.
To make the filling:
In a large skillet over medium-high heat, season the ground beef with salt and pepper and brown until no longer pink. Remove meat to a bowl and set aside.
To the same skillet, add potatoes, onion, and celery and cook until mostly soft, 6-8 minutes. If there isn't enough fat leftover from the beef, add olive oil or butter to the skillet before adding vegetables.
Add garlic, rosemary, and thyme and cook until fragrant, about 1 minute. Add Worcestershire sauce and cook 1 minute more.
Add vegetable mixture to bowl with beef and stir to combine. Season to taste with salt and pepper and set aside to cool.
Once filling has cooled to room temperature, you can assemble the pasties.
Flour a clean surface and divide dough into 6 portions. Roll each ball out into a 3/8-inch thick circle, trimming edges to neaten, if needed.
Wet the edges of your dough with some water, then spoon cooled beef mixture over a little less than half of the dough, leaving a 1/2-inch border.
Fold dough over the filling and seal edges by crimping or using a fork to press the dough layers together.
Transfer pasty to prepared baking sheet and cut three small slits in the top as a vent. Repeat with remaining pasties.
Whisk together remaining egg yolk with 2 tablespoons water and brush over the top of each pasty. Bake until golden brown, 30-40 minutes.
Note: If you plan to freeze some of the pasties, skip the egg wash and bake for only 20 minutes. Later, brush frozen pasty with egg wash, then bake at 400°F for 20 more minutes.
SKM: below-content placeholder
Whizzco for 12T