This sushi rice makes an excellent side dish served warm or cold.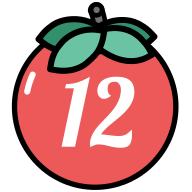 Dom Ruane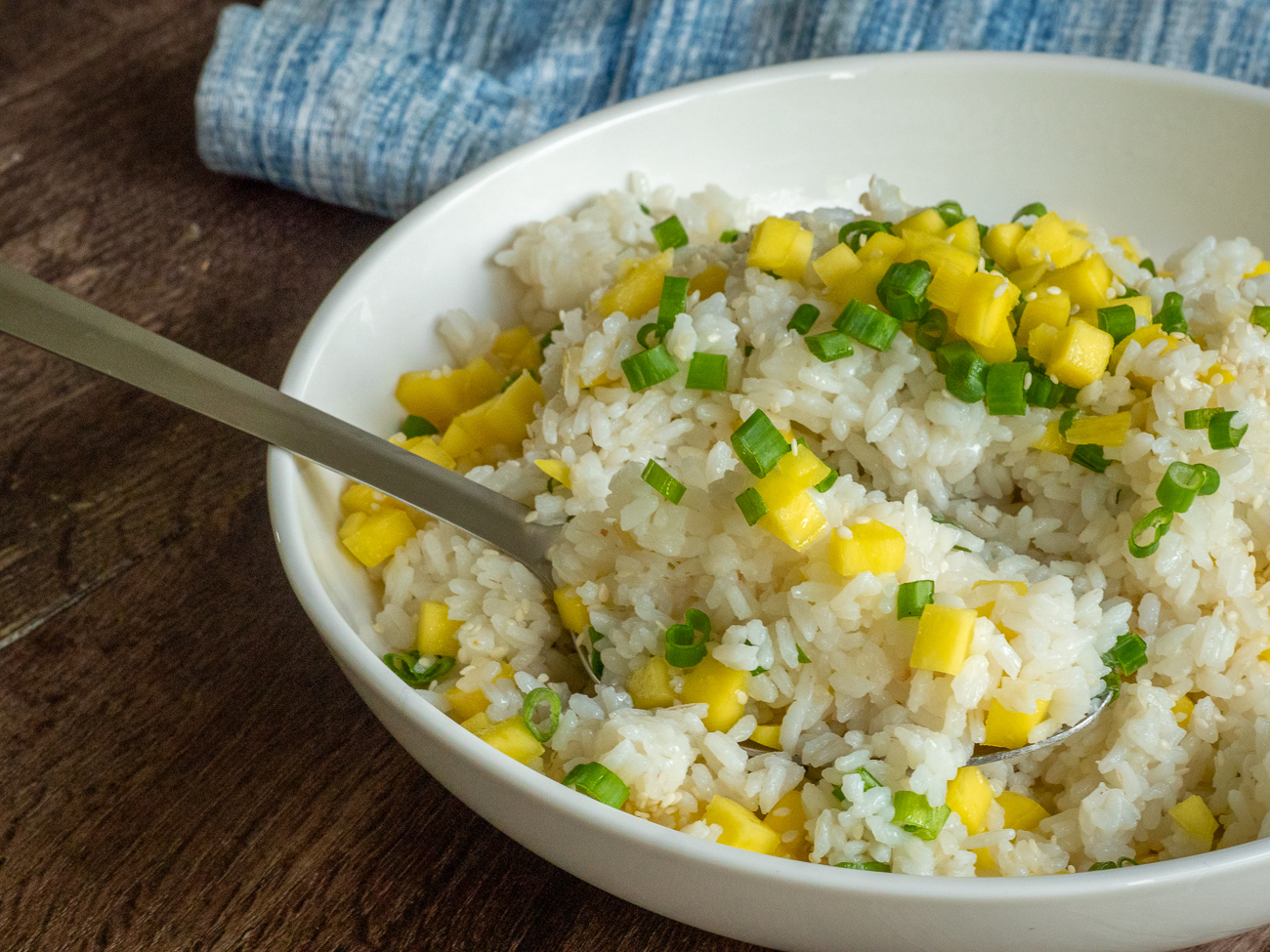 Let me set the scene — it's the summer of 2020. My mom and I are throwing a surprise 30th birthday for my brother at my uncle's lakehouse in Kankakee. Covid seemed to be simmering down, but it still ruined his planned dream trip to Hawaii! We decided a Hawaiian theme was the way to go with a full tiki bar and buffet spread. I was in charge of food and rice had to be the star side! I wanted to incorporate mango, so I stumbled upon "mango sticky rice" which is dessert rice served with sliced mango. What if I didn't add condensed milk, cooked the rice in coconut milk, and tossed it with chopped mango? THUS Coconut Mango Sushi Rice was born!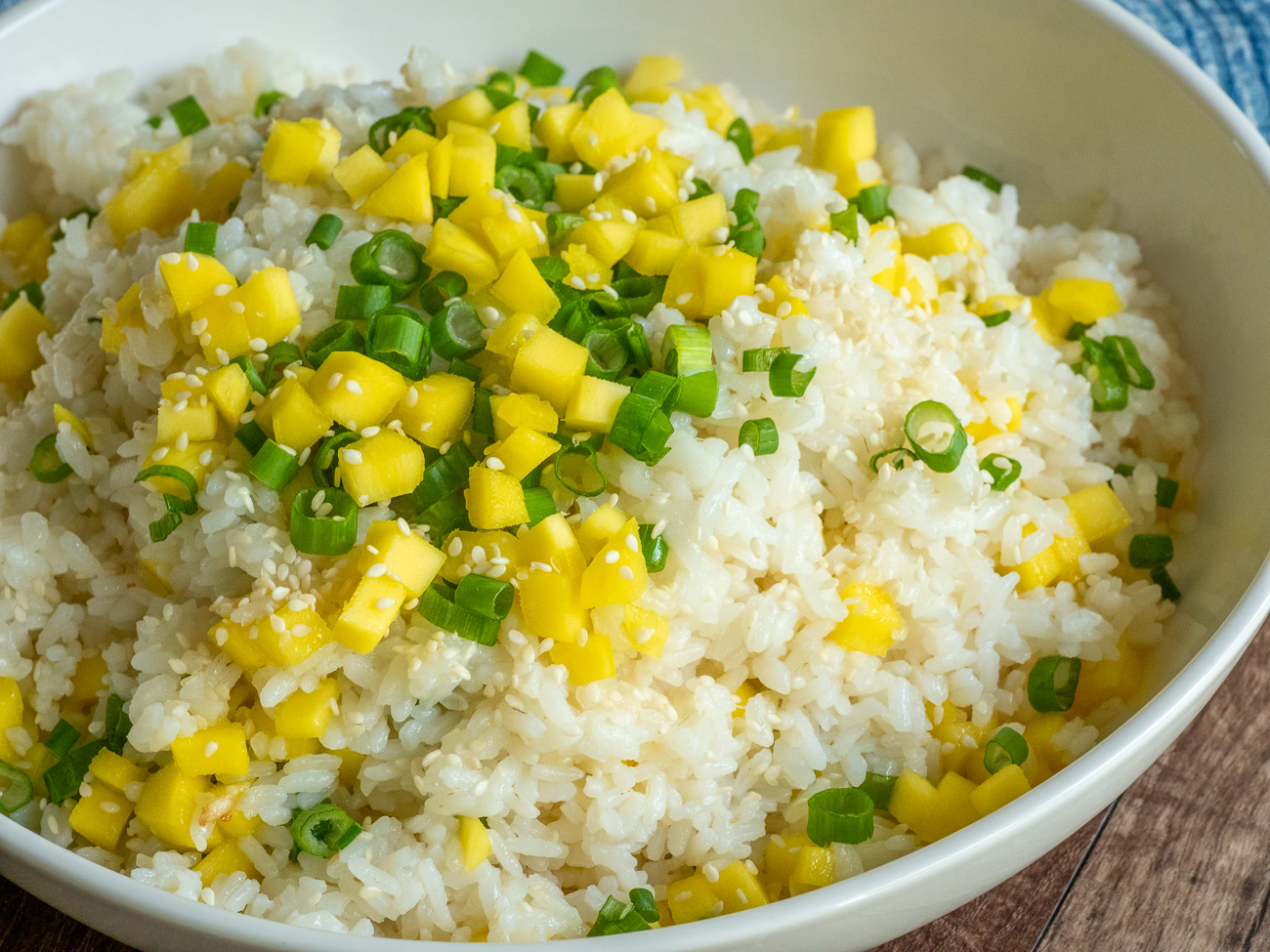 How did it come out Dom? Well… when I tell you even the picky eaters liked it — that's HUGE! Those picky eaters only eat what they know and in my experience, rarely go out of their comfort zone in terms of food. I made it a mission of mine to introduce my family to more tasty food combinations when I decided to be a chef. I felt such pride hearing how much even the picky eaters loved the rice. The Hawaiian party turned out amazing and even included a choreographed hula dance to "Hawaiian Rollercoaster Ride" from Disney's "Lilo and Stich" led by yours truly.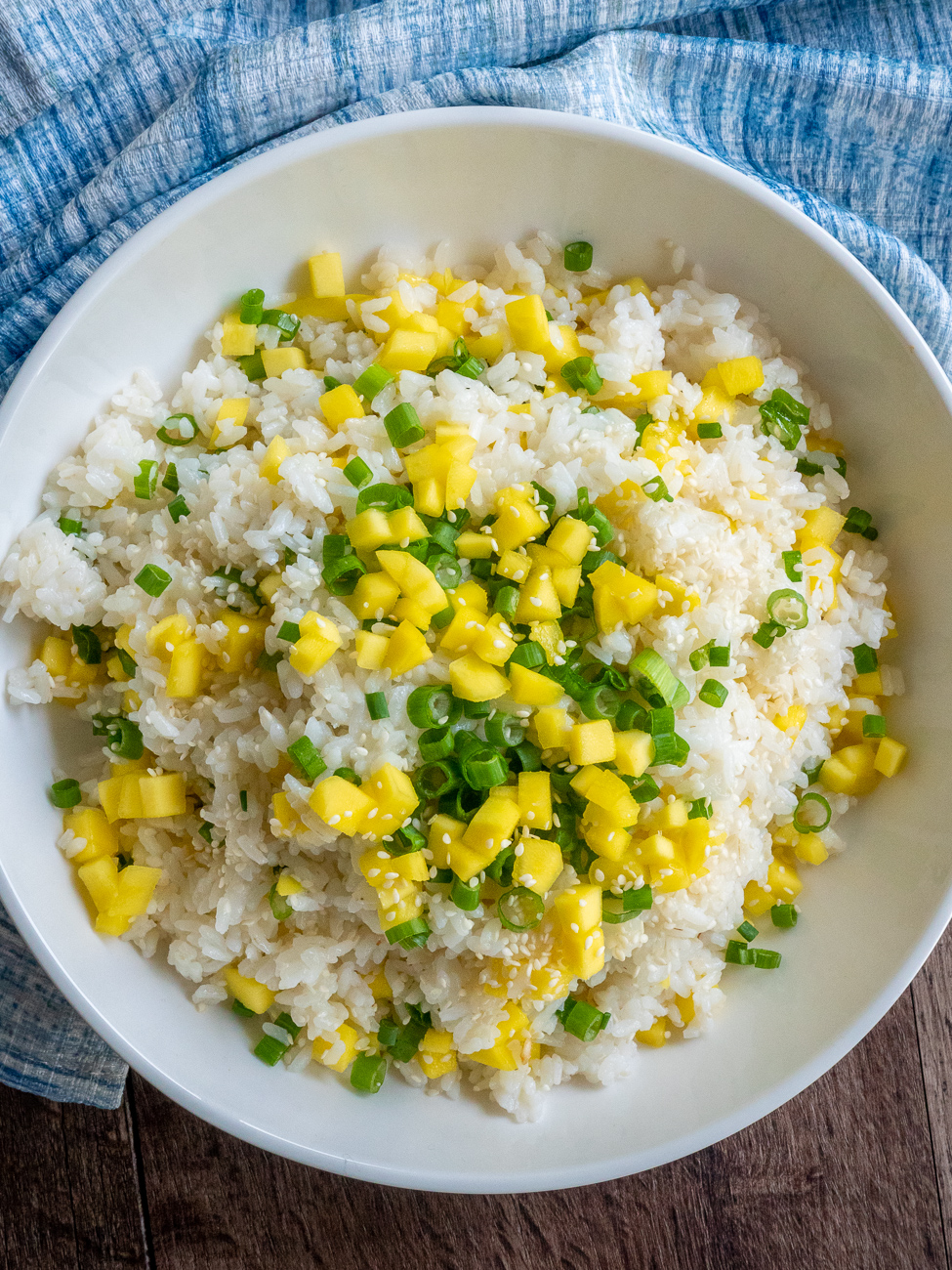 Rice is weird! Some rice you have to wash, some you boil in a bag, and some are even par-cooked to make cooking faster. Sushi rice is short-grain rice like arborio rice, which means it has a lot of starch around the grain. The starch is what makes the grains stick together, hence creamy risotto and sticky rice. One important rule for this rice is you have to rinse the rice in a fine colander under cold water until the water runs clear.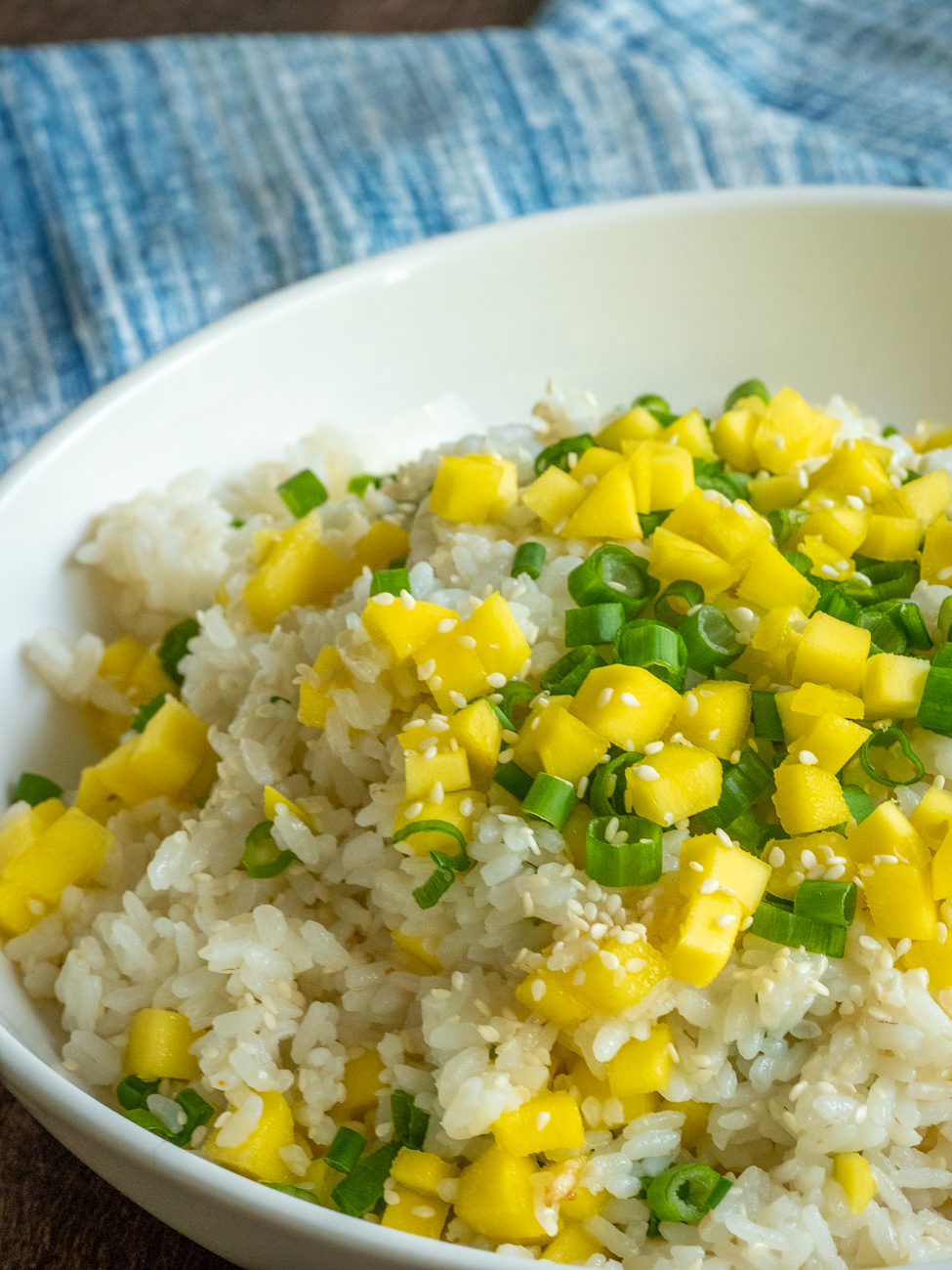 Cooking the rice is easy, but it's precise, like baking a cake. We use a 1:1 ratio for rice to liquid, meaning we use 2 cups of rice and 2 cups of coconut milk and water to boil. This precise measurement is to ensure consistent rice grains because it's pretty easy to overcook/undercook your rice. I've done it manyyyy times. Timing is the next measured step. You simmer the rice covered for exactly 10 minutes and let cool with the lid on for 5 additional minutes. You will be amazed at how great your rice turns out!
Coconut Mango Sushi Rice
Serves 4 - 6
10m prep time
30m cook time
For Rice
2 cups sushi rice or short grain rice
1 (13.5 oz) can coconut milk , shaken
1/4 cup water
For Seasoning
1/4 cup freshly squeezed lime juice or rice vinegar
2 tablespoons sugar
1.5 tablespoons kosher salt
For Toppings
1 mango, diced small
3 stalks of green onion, thinly sliced
Furikake or toasted sesame seed garnish
Directions:
Rinse the rice in a fine mesh strainer under cold water until the water runs clear.
Add cleaned rice to a large sauce pot with coconut milk & water and bring to a boil.
Reduce heat to low and quickly scrape the bottom of the pot with a wooden spoon to release any stuck rice grains.
Cover the pot with a tight fitting lid and simmer for 10 minutes, remove from heat and let stand covered for 5 minutes.
In a small mixing bowl, combine rice seasoning until the sugar and salt dissolve.
Scrape rice onto a sheet tray and drizzle with rice seasoning, toss lightly until the rice tastes seasoned.
Add mangos and green onion to the bowl and gently toss.
Itadakimasu!
Recipe adapted from Sullivan Street Eats
SKM: below-content placeholder
Whizzco for 12T