These are rather versatile pastries.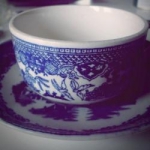 Rose Heichelbech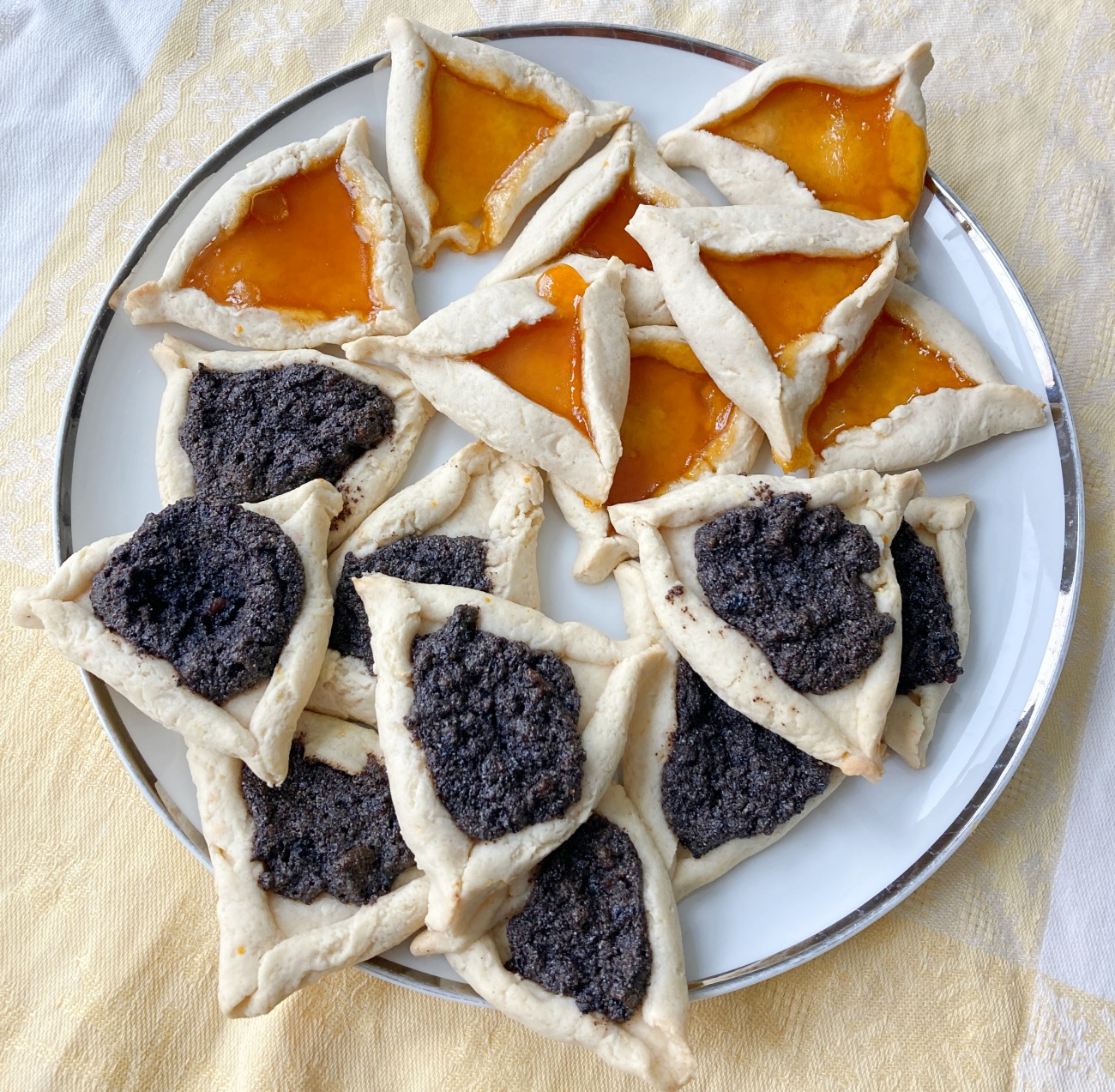 For Purim the traditional treat is hamantaschen, triangular baked goods that can come in many flavors. This joyous holiday in March celebrates the plot by king Ahasuerus' advisor, Haman, to kill all the jews in ancient his ancient Persian city, which was foiled by the king's wife, Esther and her uncle Mordecai. The word "purim" in Hebrew means to draw lots, as Haman had drawn lots to determine the date of the impending massacre. The word "hamantaschen" is named after the villain in the story and it's traditional to give presents of candy or food during this holiday, in addition to dressing up in costume.
These delicate triangle cookies have a pastry or crust-like shell that contains the filling. In recent years savory hamantaschen have also become popular. I made 2 varieties for these photos, one with poppy seeds and one made with apricot preserves.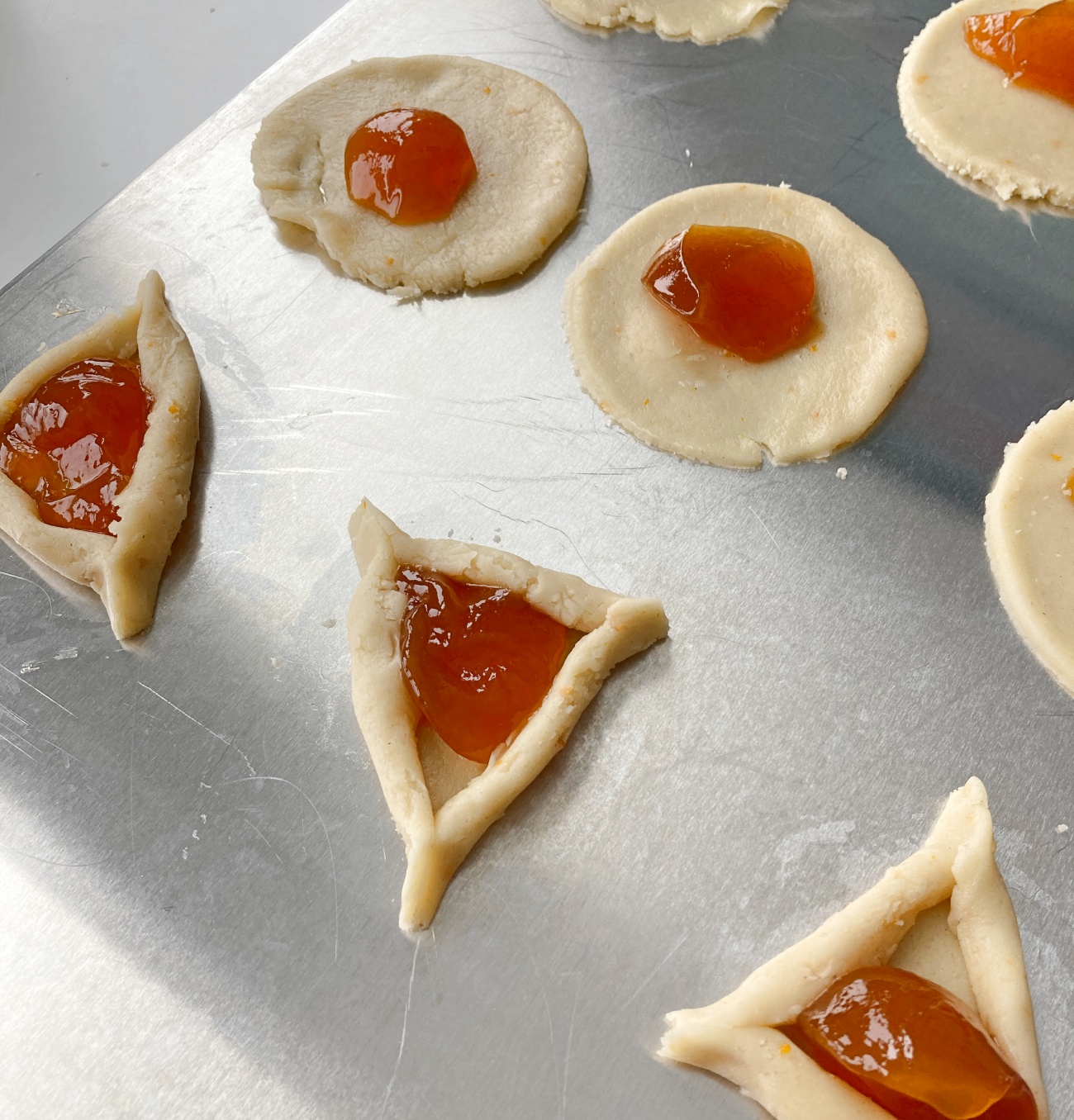 The crust layer is made with some grated orange zest for just a really special hit of flavor. I didn't have a 3-inch cookie cutter so to make the disks of dough I used a little glass custard cup to cut them out and it worked perfectly.
Then add a dollop of the filing the center and fold over 3 sides to make a pocket. You can use any type of preserves you want or even almond paste. Or make a savory filling of pesto, tomatoes and basil, or cheese and onion. The possibilities are endless. But, if you do decide to make some savory ones you'll want to make up some dough that has no sugar or vanilla in it.
I found that the apricot hamantaschen were more likely to leak once they got hot so the firmer your fillings the better. And, make sure you pinch every corner tightly together.
While these little delights were not usually eaten outside of Purim in the past, they have grown in popularity even for non-jews and at various times of year. Perhaps their delicious flavor and buttery cookie base can bring them into the all-year-round cookie club.
They are such a great treat that can be made totally custom to any taste. I highly recommend them!
Classic Hamantaschen Cookies
Makes 30-40 cookies
3h prep time
15m cook time
106 calories
For the dough:
3/4 cup unsalted butter, room temperature
2/3 cup granulated sugar
1 egg, room temperature
1 teaspoon vanilla
1 teaspoon grated orange zest
2 1/4 cups flour
1/4 teaspoon salt
1-3 teaspoons cool water (if needed)
For the fillings:
6 tablespoons poppy seeds
3 tablespoons maple syrup
1 1/2 tablespoons butter, room temperature
1 teaspoon vanilla extract
1/8 teaspoon salt
2 tablespoons raisins
1 (11 oz) jar kosher apricot preserves
For the dough:
Combine dough ingredients in a food processor until dough just forms into a ball. Only add full amount of water if dough is too dry. Roll into a ball and cover with plastic wrap.

Refrigerate for 2 hours or up to overnight. When ready to bake roll out to 1/8" thickness and cut into 3"- 3 1/2 " wide circles.
For the filling and baking:
Grind poppy seeds in a spice grinder or clean coffee grinder. Pour into clean food processor along with along with maple syrup, butter, vanilla, salt, and raisins. Pulse until smooth mixture forms.

Preheat oven to 350˚F. Place poppy seed filling into center of each circle. Fold over one side, then a second one, then a third one to make an open-faced pocket for the filling. Repeat with apricot filling. Place on lined baking sheets and bake for 13-15 minutes.
Recipe adapted from Tori Avery and Unconventional Baker.
SKM: below-content placeholder
Whizzco for 12T